Destinations
Best Satellite Communicator of 2023: off-grid messengers reviewed
Which is the top of the satellite communications devices for off-grid messaging in 2023? We've reviewed the best on offer and here's our opinion.
There are many devices vying for the tag of best satellite communicator, but working the best option for you can be difficult. Understanding the pros and cons of data rates, subscriptions, GPS, and messaging capabilities isn't for the faint-hearted, but we've got you. Jake and I have tested and operated a large number of satellite messengers over the past 7 years which means we know what we're talking about.
Scroll down for our choice of the best options in 2023.
What is a satellite messenger? Really?
At the most basic level, a satellite messenger is a device that provides at least one-way communications. Other less obvious features include GPS, location sharing, weather reporting, and voice calls, but these aren't built into all devices, and this is a topic we'll cover later.
Is there a difference between a communicator and a messenger?
No. The words communicator and messenger are interchangeable as you'll when we progress through this review.
Where do satellite phones fit into this category?
satellite phone fits into the communicator category as most devices provide both voice and SMS functionality. The key point to note is satellite phone subscriptions have two options:
voice-only – calls to sat phones, mobile phones, and landlines over networks such as Iridium, Thuraya, and Inmarsat;
voice/data package – voice calls and data, the latter of which can be used for SMS, email, and, with the launch of the Iridium GO! Exec, WhatsApp!
Whilst satellite phones don't provide email or web browsing services you will need to pay for a data package if you're planning to use the SMS feature as the messages are sent over the data network. Some time ago, before the GO! was launched, Iridium sold the Axcess – an add-on that turned their satellite phones into a WiFi hotspot. This item has now been discontinued, but you can still find them in second-hand marketplaces such as eBay and through FaceBook groups.
Note: buy, or rent, a satphone if you only need voice communications for emergencies.
Is a satellite phone better than a communicator?
Although technically in the same category, the current range of satellite phones has limitations. The key points to note are satellite phones:
provide only voice and text capabilities;
do not provide geo-location data, tracking, or location sharing;
are more expensive to buy and run when compared to the most dedicated messengers.
Before weighing up your choice of device I recommend writing out a list of features you absolutely must have and matching them to the various devices.
Our list of recommended satphones:
Given the range of options available, it's fair to say there is no one 'best satellite phone' on the market. What makes the difference to your choice is the subscription cost and coverage. The latter is covered below.
Satellite communications companies
Let's look at some of the satellite communications companies offering consumer services. We haven't written a comprehensive as that's not the focus of this review post. Instead, we've chosen our preferred service provider based on our own experiences.
Iridium Communications
Iridium Communications, an American company, was originally founded in 1998 under the name Iridium SSC. Due to mismanagement and poor coverage, the company found few investors and even fewer people willing to use the service. As a consequence, Iridium SSC filed for bankruptcy in 2001.
But the US government intervened, funding the company with $72 million in return for a two-year contract. From the ashes rose Iridium Communications, which now has an annual turnover of a little under $200m (as of December 2022).
In 2007, Iridium Communications announced the NEXT generation of satellite communications: a programme to replace existing systems with broadband-speed connectivity. In 2017, the first of the NEXT satellites were sent into orbit. Backward compatibility with devices has been maintained to allow owners of products such as the Iridium GO!, 9555, etc to continue using the service at slower data rates.
Coverage
Global. Iridium Communications offers one of the few services providing true pole-to-pole (North Pole to South Pole) connectivity. This page shows real-time tracking of all Iridium satellites.
Starlink
Starlink is the brainchild of Paypal creator and Tesla investor Elon Musk. Founded in 2014, the first of Starlink's 3,580 satellites was launched as a payload in one of the SpaceX rockets in 2019. This satellite network takes a different approach to Iridium with a large number of small satellites in orbit to provide greater resilience whilst reducing the cost of development, launch, and maintenance.
Starlink was originally positioned as a way of getting broadband connectivity via a satellite link and, as a result, the original modems and routers were not portable. IN 2019, Musk announced the launch of Starlink RV – a mobile system, powered by battery, and aimed at off-grid travelers in Remote Vehicles.
There are rumours Starlink is working with the US military to produce a handheld communicator capable of broadband speeds. Once complete, it's expected the technology will soon become available as a commercial option for hikers, backpackers, and expeditions.
Coverage
Starlink coverage includes North America, large sections of South America, Western Europe, Australasia, Japan, Philipinnes, Nigeria, and Burundi. Many other countries are due to come online in 2023/2024.
Thuraya
Founded in 1997, a year before Iridium SSC, Thuraya is based in the United Arab Emirates and was built to provide telecommunications in the Middle East. Since the first launch, Thuraya has expanded and now has three satellites in orbit, servicing the Middle East and Europe. A fourth satellite – a replacement for the now outdated Thuraya 2 – is due to launch in 2024.
Voice and data services are comparable, although a little slower than, those of Iridium Communications. Downlink speeds of up to 60 kbp/s and an uplink speed of up to 15 kbp/s are available on Thuraya satellite phones. Speeds of up to 444 kbp/s are available on a laptop-sized mobile terminal.
Coverage
Thuraya's range of C, Ka, Ku and L-band satellites provide coverage for the Middle East, Europe, Africa, South America, and Asia.
Inmarsat
Inmarsat, a UK company, was founded in 1979 making it the oldest of the satcomms companies in the business. In 2021 Viasat, a rival US company acquired Inmarsat for $7.5 billion (£5.4 billion). With a total of 13 satellites in orbit, the company doesn't have the reach of its main competitor, Iridium Communications.
Most of the Inmarsat terminals offer higher base-data rates with figures ranging from a minimum of 32kbp/s to 492kbp/s on portable terminals such as the f
Coverage
Inmarsat devices provide global coverage, but not into the polar regions. Coverage covers latitudes -82 degrees to 82 degrees and when you are close to these latitudes the quality of communications can be low.
Globalstar
Based in Covington, Louisiana, Globalstar was formed in 1991 making it one of the more recent companies to join the race providing satellite communications. The creation of the company started as a joint venture between Loral Corporation and Qualcomm (the producer of, amongst other things, CPUs for smartphones). In 1994 a further 8 financial backers joined the project.
Globalstar operates 48 active satellites with 4 standbys. This constellation provides both data and voice communications, much like Iridium, but at much slower data speeds of 9.6kbp/s. As yet, Globalstar has not invested in broadband data rates via satellite and is unlikely too unless there is a demand for more bandwidth-intensive applications such as email.
FindMySpot is owned and operated by Globalstar.
Coverage
Globalstar coverage includes Australasia, most of North and South America, Europe and a small part of East Asia.
Satellite communications provider coverage
| Company | Pole to pole (PtP) coverage | Coverage (if not PtP) |
| --- | --- | --- |
| Iridium | Yes | |
| Inmarsat | No | -82 deg to 82 deg latitude |
| Globalstar | No | North and South America, Europe, Far East, South East Asia, Australasia, North and South of Africa (no coverage for Central Africa. |
| Thuraya | No | Europe, Africa, the Middle East, South America, and Asia |
The top satellite communicators reviewed
Iridium GO! Exec
The Iridium GO! Exec was launched in JANUARY 2023 and finally delivered on failed promises that came with the predecessor, the Iridium GO! I'm not the latter isn't a useful communicator for off-grid activities, but there are issues (more on that soon). The Exec is a response to Starlink's off-grid, portable satellite terminal and, as of now, I see it as the more capable and useful of the two devices. With 22kbps up/88kbps down, the unit provides users with email, crystal clear voice, SMS functionality, and true, albeit a little slow, web browsing.
At 1200g, 42 oz, it's not the lightest communicator on this list but it does outclass every other device we've tested. The battery life is a little lower than the original GO!, but 6 hours of talk time and 24 hours of standby are more than adequate. And these figures are conservative; during testing in Alaska, where temperatures were a near-constant -40C, the battery lasted around 40 hours on standby. Likewise, the talk time was higher than advertised – around 8 hours before needing a recharge.
Unlike the GO! the Exec does not provide a location display, but many third-party apps exist to cover this gap. Read our review of the Iridium GO! Exec.
Iridium GO!
The Iridium GO! is the original global hotspot designed for off-grid satellite communications on the move. With GPS, SMS, email, web browsing, and voice communications it was supposed to revolutionise the way we communicated from those far-off and very remote locations. The only issue was this – a fair amount of the announcements were hype. For a start, the bandwidth was limited to an agonisingly slow 2.4kbps, voice calls were punctuated by echo and a rhythmic beeping whilst the call was connected, and web browsing was death by boredom.
But, and this is a big BUT, the Iridium GO! was, and still is, a pretty effective satellite communicator. The messaging works well, the email function worked albeit a little slower than we're used to, and being able to call other Iridium devices, landlines, and mobile phones was a useful feature. Sure, Inmarsat had been offering voice capabilities for years, but not in a package this small yet so ridiculously expensive their offering was beyond the reach of everyday hikers and outdoorsy people.
One feature I found really useful – I still use it now – are longs and lats display on the screen when the device is idling. The GO! Exece doesn't provide this, which is a shame. I find it useful to be able to read the coordinate and plot them into a real map rather than using an app.
Note: both the original GO! and Exec require the installation of a smartphone app in order to access the full potential of these messengers. Read our full Iridium GO! review.
Garmin InReach/InReach Mini
I've put the Garmin InReach Explorer + and Mini under the same heading as they have pretty much identical capabilities: GPS, two-way messaging, SOS/emergency messaging, and a range of other features you'll need for off-grid activities. The key difference between the two satellite messengers is this: the InReach Mini requires a smartphone connection in order to access the full range of functionality. The Garmin InReach Explorer+ is a standalone unit that can be connected to an app if you feel the need to do so.
Unfortunately, the Explorer + and SE models have now been discontinued by Garmin, but you can still pick them up from outdoor gear stores, eBay, and FaceBook groups. If you're looking for a solid satellite communicator that has great battery life, is robust, GPS, SMS, and tracking then I recommend you buy one of these – the prices are good right now. Check out either of our Garmin InReach Explorer + review and Garmin InReach Mini review posts for a comprehensive look at these devices.
Note: the InReach communicators do not support voice calls.
Bivy stick
The ACR Artex Bivy stick is a two-way satellite messenger that turns your smartphone into a, well, a two-way satellite messenger! Yeah, that's an odd way of looking at it, but it's a highly effective tool. The Bivy stick uses the Iridium constellation of low-orbit satellites to provide users with mapping, global positioning, SOS, and geolocation… for free.
To reach its full potential – the glories of two-way messaging and a dedicated telephone number – you'll need an Iridium subscription. But fear not – the price is far lower than a subscription for a messenger like the GO! Exec. For as little as $20 per month, you can send 26 messages, or 50 minutes of call time – enough 'nearly' one a day if you're on a month-long trek. For most people, this is plenty as we go outdoors to enjoy nature, not spend hours talking on a phone.
The icing on the cake is the free, unlimited check-in messages you get with most plans. These are preconfigured, one-way messages sharing your GPS coordinates with people you designate during setup. Very nice touch, Bivy stick.
Zoleo
The Zoleo satellite communicator is, like the Bivy stick and the two InReach models, designed for backcountry trips and hikers. That's not to say it's not a decent choice for a major expedition, but should only be considered if you already have voice comms e.g. Inmarsat or one of the Garmin satellite phones. It has no screen as it's designed to be paired with a smartphone and controlled via the Zoleo Mobile Messaging app (App store, Google Play).
What sets it apart from InReach is connectivity. Messages will be sent by any means available. If you have a cell, or WiFi, signal the Zoleo will use those networks which save you money. Only when these networks aren't available will it fall back to a satellite link.
SPOT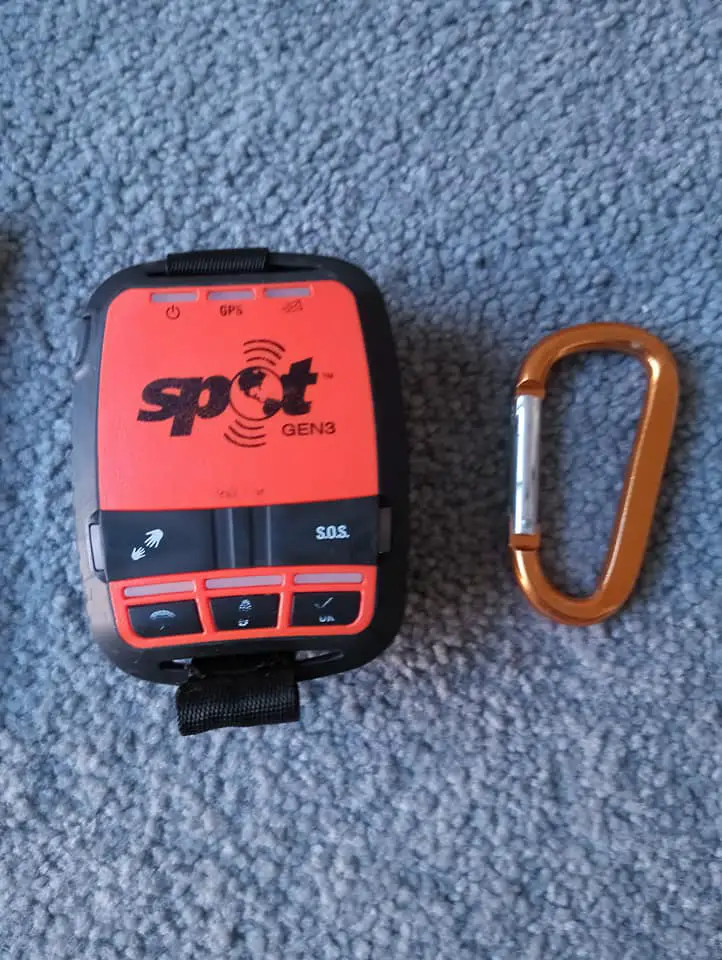 Manufactured by Findmyspot, the SPOT and Spot X are powerful devices offering connectivity over the Globalstar network. I've used the SPOT in both the UK and Russia and wrote a head to head of the Gen 3 vs Garmin's InReach Explorer+. They're both capable devices – read the writeup and let me know if you agree.
Like the other devices on this list, the SPOT offers SOS messaging, location-sharing services, and custom messages, but the SPOT Gen3/4 are one-way messengers and to get the full benefit of two-way chats you'll need to upgrade to the SPOT X.
What about the Garmin GSPMAP?
The GPSMAP range of devices is excellent, to a point. The pluses:
no requirement to pair with a smartphone as each model will work as a standalone device;
full colour mapping;
support for Iridium one and two-way messaging (on the GPSMAP 66i);
the 66 sr supports multi-band technology giving you information on incline gradient, woodland density, and data indicating challenging terrain;
top of the range models support GPS, GALILEO, GLONASS and QZSS
But there are some negatives:
price. The least expensive GPSMAP will set you back just under £400/$500. At the top end of the price range, these units come a shade under £600/$750;
none of the units support Iridium connectivity AND multi-band tech. It's one, or the other;
at the lower end of the technology spectrum, the 65sr only supports GPS and GALILEO.
For some of your team expeditions and hikes, a global hotspot might be a better option to accommodate the needs of the many.
What is a global hotspot?
A global hotspot is a WiFi-enabled satellite messenger that allows multiple smartphones/apps to connect for the purpose of sending and receiving an SMS, email, and web browsing (where supported). The most obvious candidates for this type of functionality are the Iridium GO! and the Iridium GO! Exec, but smaller devices such as the Somewear provide the basic connectivity you'll need.
In most cases, the number of apps you can connect to the hotspot is limited, ranging from 2 – 10.
A few examples of global hotspots include Somewear, Iridium GO!/Exec, and Inmarsat BGAN 710.
Key features to look for
Although we pride ourselves on the detail of each review, we would never suggest our word is Gospel. When you are researching devices, there are several important points to consider, each of which can make or break your decision process.
So, what features make for a great satellite communicator?:
Supported satellite networks;
Battery life;
SOS function;
Standalone device;
Acquisition time;
Two-way messaging;
Pricing;
WiFi.
Supported networks and the reliability of each
At a minimum, the communicator you choose should support GPS and GALILEO. GLONASS, the Russian satellite network is nice to have but doesn't give full coverage of the globe, and you never know if, or when, they might turn off access. QZSS (Quasi-Zenith Satellite System) is the Japanese military network covering the South East Asia and Oceania regions which is useful if you are traveling in that area and need a backup network.
Reliability is another key decision point. GPS and GALILEO are reliable satellite positioning systems with huge resilience built in. GLONASS is marginally less accurate than GPS (5-10m VS 3.5-7.8m), and less reliable. There are suggestions that few Russians use the network due to the lack of compatible hardware. Whilst having a high degree of reliability and accuracy, the QZSS network coverage is small.
Which is the most reliable satellite network?
The Iridium satellite network is the most reliable. With 66 low Earth orbit satellites in place, their coverage is global – pole to pole – and uptime is unparalleled.
Battery life
A decent battery life for any satellite communicator is 6 hours or more. A few devices, such as the Bivy stick can run for 120 hours (5 days) before needing a recharge with is ideal if you need or want to send regular geo-location reference points whilst you're on the move. My preference is to reduce battery drain, only turning on the device and sending a message when I pause for a break.
The table below shows the battery life of some of the most popular messengers:
Make and model
Battery life in standby
Battery life in day-to-day use
Garmin InReach
No standby.

Up to 3 years when switched off.
Up to 75 hr when 10-minute tracking send and 1-second log intervals are enabled.

Up to 1100 hours when in standalone (upaired) mode with 30 minute tracking intervals enabled.
Zoleo
Up to 200 hours of battery life when configured to check for messages every 12 min.
About one day when 'always on' and checking for messages.
Bivy stick
up to 120 hours when configured for standard usage (wake up and check for messages every 15 minutes)
About one day when 'always on' and checking for messages.
Iridium GO! Exec
24 hours in standby mode. Note: the Exec does not check for messages when in standby.
6 hours talk/data time when in constant use.
Iridium GO!
15.5 hours standby. Note: like the Exec, the GO! does not check for messages when in standby.
Up to 5.5 hour talk/data time when in constant use.
Garmin InReach Mini
No standby.

Up to 1 year when switched off.
Up to 14 days when continuously on and configured to the default 10-minute tracking mode.

This figure climbs to 30 days when intervals are set to to 30-minute checks.
SOS function
To be honest, I have yet to find a device that does not have an SOS function. But my key demand is that device must have an SOS message or emergency broadcast button, and not only be available through an app. If your smartphone is discharged, or you lose it, there's no other way to call rescue services.
SOS frequency
We'll cover off this topic in more detail when we come to the emergency satellite communicator section. For now, I recommend you choose a device that transmits an SOS message on 406MHz rather than at a lower frequency.
Standalone device
Some of the more recent lightweight satellite communicators require a smartphone and app to leverage full functionality, which is a big mistake. Your choice of going as light as possible on your off-grid adventure might be appealing, as is removing the need to carry a sizeable and powerful charging system. But there are a number of issues that could see you without any form of navigation, messaging, or SOS function.
Losing your phone, or finding your battery discharged could be a disaster if you're relying on an app to plan and follow routes;
Apps can crash and if you can't access patches or bug fixes, you will no longer be able to use your device;
Carrying a phone and a satellite communicator means you'll need more power to charge both devices.
Satellite acquisition time
Whilst not the most important consideration on the list, the time taken for a communicator to acquire a satellite signal is a good measure of the quality of service you can expect. Back in 2016, when I first used the Iridium GO!, the acquisition time was around 90 seconds. The Exec model takes about 15 seconds.
Whilst these times don't make a huge difference, even in an emergency, I find it useful to know a device will have a lock in a matter of seconds which allows me to get on with sending/receiving messages.
Two-way messaging
What's the difference between one-way and two-way satellite messaging? One-way allows sending only, whilst two-way allows your contacts to send messages to your communicator. I find the latter useful when there's a need to receive SMS and emails about events going on in the outside world. On one occasion a friend notified me of a huge storm sweeping across Greenland which gave me time to set up camp and build a snow wall.
If you only need to send geolocation updates whilst you're on the go, don't get sucked into the belief you need two-way messaging.
Pricing including subscriptions
This section conveniently follows on from messaging because there are a number of pricing models available and your choice of messenger, and network provider, will dictate costs. The table below shows the pricing for each of the messengers in this review:
| Model | Free messaging | Subscription-based messaging | Notes |
| --- | --- | --- | --- |
| Iridium GO! Exec | No | Yes | Iridium's subscription provides SMS, voice, web browsing, and email. |
| Iridium GO! | No | Yes | Iridium's subscription provides SMS, voice, and email. |
| Garmin InReach | Yes | Yes | Garmin uses the Iridium satellite constellation to provide SMS, one-way messaging, and weather reports |
| Bivy stick | Yes | Yes | |
| Inmarsat | No | Yes | |
| SPOT Gen3/4 | Yes | No | Uses the Globalstar network for messaging, tracking, etc. |
WiFi connectivity
Having WiFi connectivity built-in is only applicable if multiple devices, and users, intend to connect to it. If you don't need a hotspot, don't buy one.
Which is the best emergency satellite communicator?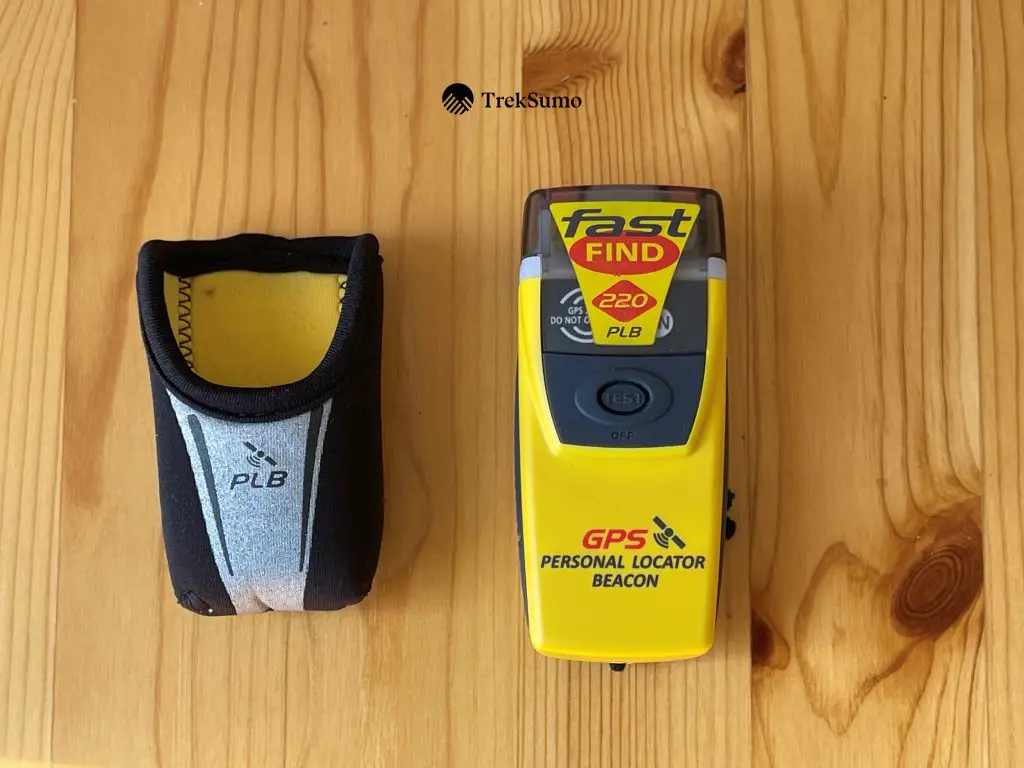 For anyone needing SOS only, a product like the McMurdo FastFind 220 is the best satellite communicator we can recommend for an emergency. We've written a quick review here, which gives you all the info you need. We've also written a 'head to head' – a showdown – in this post: Garmin InReach vs PLB.
Here are the key differences between devices such as the FastFind and other messengers:
one job. An ePLB is designed to send a one-way message in the event of an emergency, and nothing more.
simplicity. The FastFind has a single button you press to activate the beacon and draw in the emergency services.
huge battery life. An ePLB is designed to be turned only when needed which results in it having a huge battery life. McMurdo recommends changing the battery every six years.
frequency. ePRBs work on 406Hz, a frequency range able to punch through dense foliage and overhead trees. Most two-way messengers work on a lower frequency.
Is the iPhone 14 satellite connectivity a good alternative to a messenger?
In 2022, Apple launched the iPhone 14 and one of the big announcements we heard was the phone's ability to communicate via satellite networks. But, as we soon discovered, there are limitations to this feature i.e. you can only send SOS messages. The iPhone 14 is not a two-way satellite communications device.
Which satellite network does the iPhone 14 use?
The iPhone 14 emergency location and messaging services use the Globalstar satellite network.
What the iPhone 14 can and can't do
As mentioned, the iPhone 14 is not yet capable of sending two-way messages via satellite, but we have a feeling this capability will come at some point in the near future.
For now, the iPhone 14 provides the following satellite-reliant services:
geolocation services;
one-way text messaging to emergency services;
location sharing via the Apple 'Find My' app.
So, it's only really useful as an SOS/emergency device?
No. Whilst the original aim was to provide iPhone 14 users with a means of sending an SOS when off-grid, the location-sharing feature is useful. As with location-sharing tools found in devices such as the InReach, Bivy stick, etc, 'Find My' allows friends and family to track your location every step of the way. And share their location with you (iOS 16.1 upwards required).
Whilst these features are basic, they represent a huge leap forward and one the likes of Garmin, Zoleo, etc will be keeping an eye on. And whilst it's unlikely the iPhone will ever deliver free two-messaging I can see Apple eroding the prices, which is good for the customer.
Will a cell phone ever allow you to talk to Mars?
Elon Musk seems to think so and the progress being made by the Starlink satellite network would suggest that capability is moving closer. But who are you going to call?
Camping vs hiking vs trekking communications
Can I rely on only a mobile phone?
No, the key failing of any mobile phone is it requires connectivity to a phone network in order to work. Whilst certain apps such as Garmin Earthmate and Connect will still show your location, you will not be able to send SMS messages and emails or make calls without connectivity to a mobile phone cell, or tower.
Which is the best satellite communicator in 2023?
The Iridium GO! Exec wins hands down.
Why? There are few, if any other satellite communicators capable of providing comparable functionality for the price of an Iridium subscription. Whilst it's easy to argue Inmarsat have the same offering, the price you pay is hefty when compared to Iridium.
I'm assuming you need the full spectrum of satellite connectivity:
broadband-speed up and downlink;
crystal clear voice calls;
email;
SMS;
web browsing.
Yes? Then this is the messenger for you.
But if you're looking for something a little less expensive, and you only need location sharing and messaging, the InReach is your new best friend. And whilst it's true Garmin no longer produces the Explorer+ and SE, these two units still work with Garmin's apps.
So, my top choices for the best satellite communicator of 2023 are:
Iridium GO! Exec
Garmin InReach