Finding a good quality sleeping mat that will keep you warm on those chill nights filling your rucksack to the brim, and leaving only enough room for a pair of gloves, has long been hit and miss. Get it wrong and you'll be either cold or hungry (or you'll have to scrimp on a change of clothing). Jake and I have trialled several sleeping mats over the years, from dense foam mats to self-inflating (and, when you lay on a sharp rock, deflating) including the likes of Therm-a-Rest and Nemo and we find it hard to beat ME's offerings (which is why I'm writing this review of the Mountain Equipment Helium 3.8.
The Mountain Equipment Helium 3.8 sleeping mat is a warm, comfortable mat that weighs 750g and measures 183 x 51 x 3.8cm. Whilst not the lightest sleeping mat available to hikers, it provides adequate cushioning and a good degree of insulation. As you can see, the Helium Warmzone is about 3 times the size of my coffee cup…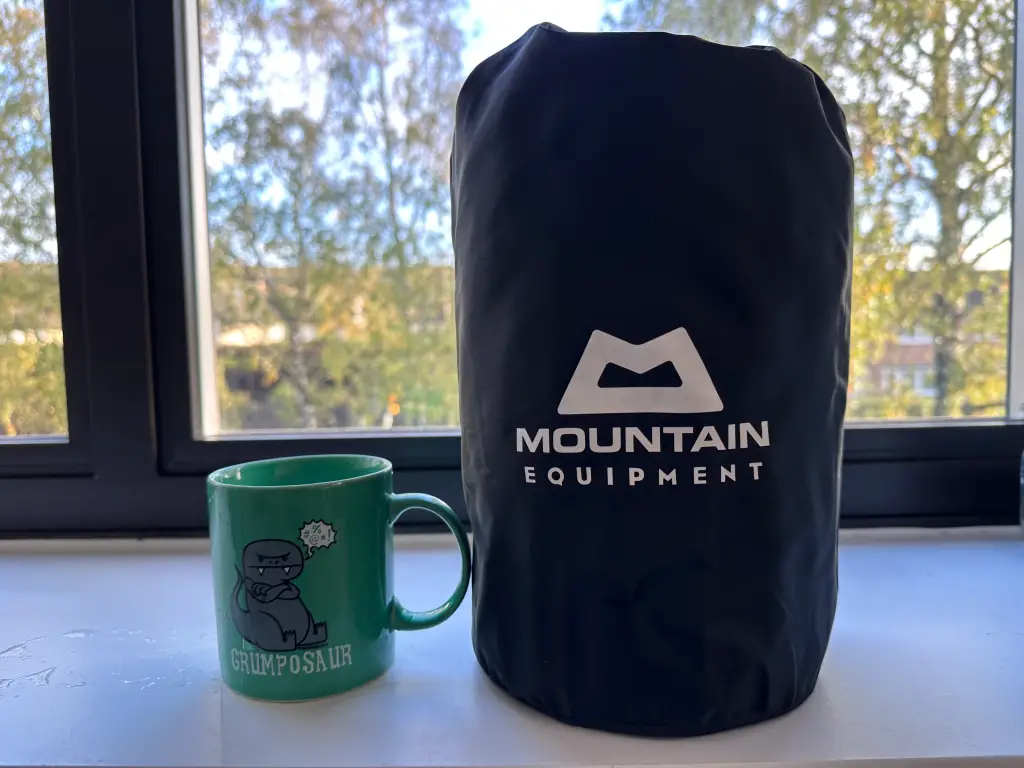 Background
As many of you already know, some of my jaunts take me into very cold environments and with this in mind I decided to source a sleeping mat meeting the following criteria:
it must be a comfortable, lightweight, insulated self-inflating sleeping mat;
packs up small and doesn't weigh you down;
reasonably priced.
As you're probably aware, there are plenty of sleeping pads on the market and they all claim to be the very best at what they do. Well, apart from NatureHike- they don't make any claims, which is good as I'd start unpicking them straight away.
Living close to London, where countless outdoor gear stores are holding a good range of stock means getting my hands on equipment is easy. Let's dig a little deeper and see what the Mountain Equipment 3.8 has to offer.
Materials
The pad is constructed using 2 materials: 75 Denier base and top surface. The base has a non-slip finish applied to it which is kind of okay. It's not going to prevent you from waking in a crumpled ball if you pitch your tent on a hillside, but the grip is sticky enough to keep the mat in place if you toss and turn at night.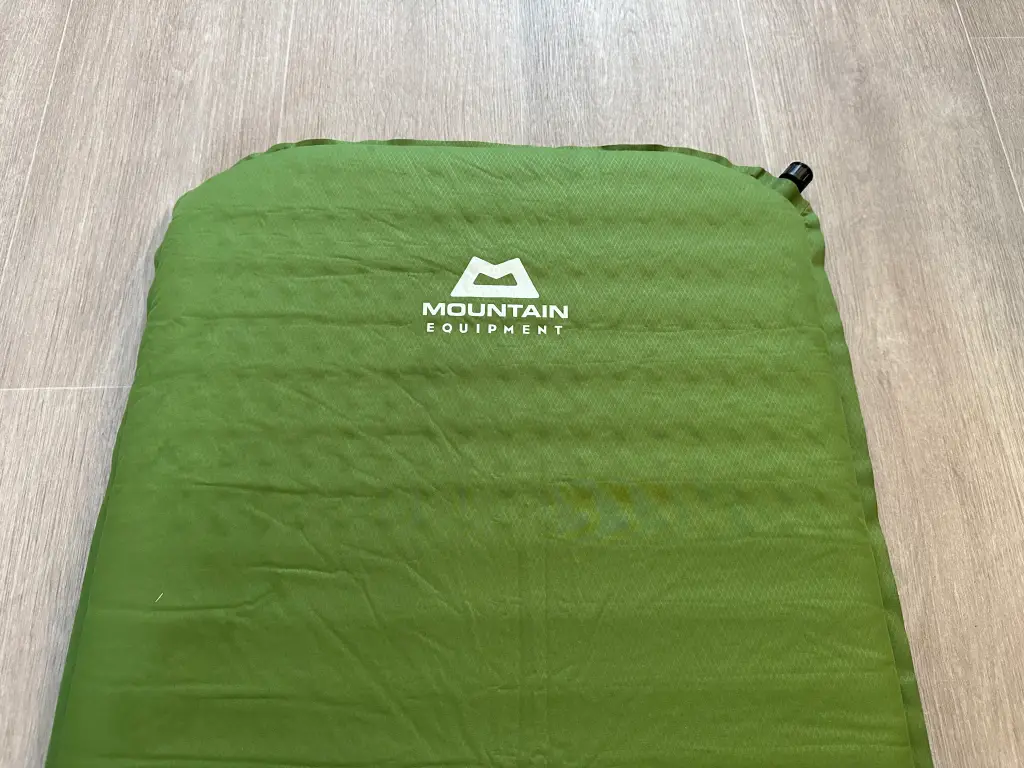 The second material, inside the Helium, is a bilateral core constructed from foam. Lightweight and resilient, the core is part of the self-inflation system. When you lay out the mat and open the
ve, the foam decompresses pulling in air to inflate the pad. A point to note – this system isn't 100% efficient and you'll need a little extra lung power to give the mat that 'plump, comforting hotel bed' feeling.
My only concern is the resilience of the foam. I'm sure that, after a time the foam will lose more and more of its ability to bounce back leaving you with what will likely feel as if you're sleeping on a hardened shoe insole. I owned the Helium 3.8 for a short time and can't comment on this just yet.
Warmth and Comfort
Whilst weight and price are important (we'll cover these shortly) you have to ask yourself what a good sleeping mat is if you spend the nighttime hours cold and feeling every bump and twig digging into your back.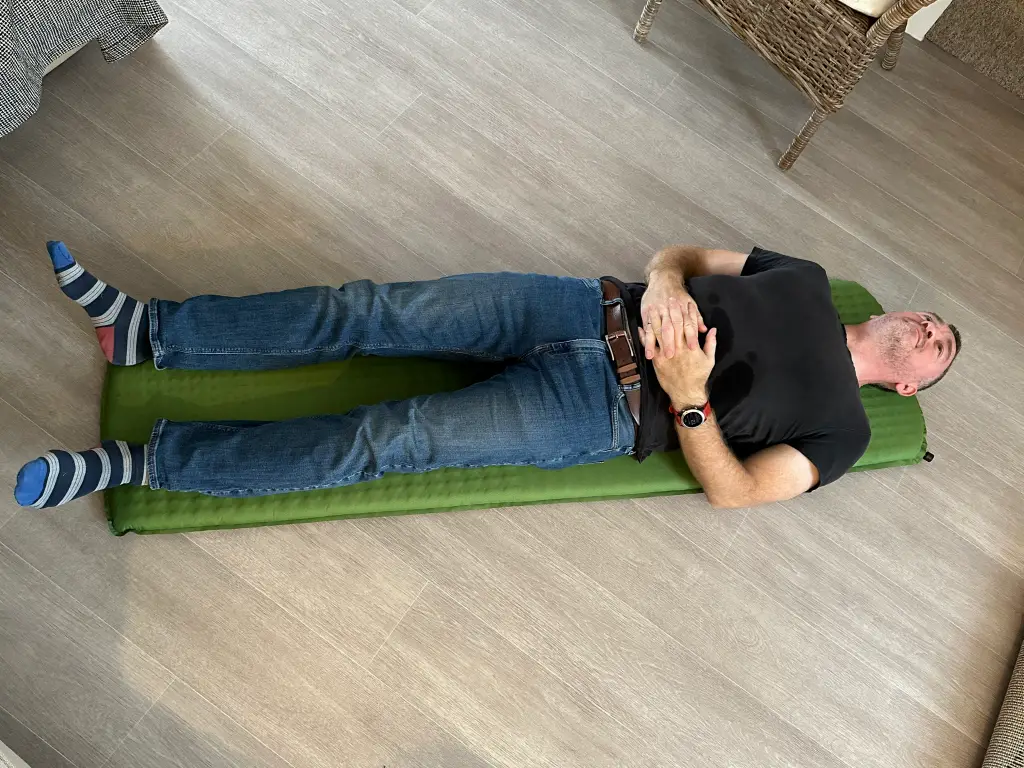 Note: if you're a first-time sleeping pad buyer, don't scrimp. These factors are important – nobody wants to be hiking with a grumpy teammate who wriggled through a couple of hours of sleep during the dark hours.
Temperature rating
The most obvious, and jarring, comment I found when first starting the research phase of buying a mat was this: "The Mountain Equipment Helium 3.8 Warm Zone Sleeping Mat give comfort no matter where you may be camping out". Statements like that make my eyes bleed!
For anyone planning to camp out in severe winter conditions, you'll soon discover that comfort evaporates faster than your hot breath on a day in -20C!
So what is the temperature rating of the Helium 3.8? To be honest, that's hard to say because Mountain Equipment like many other gear manufacturers have applied an R rating of 3.8 to this pad. When you look at the charts and guides, this rating suggests a working temperature range of between 10C and -10C (a pretty big spread which isn't helpful if you're tailoring your gear to a specific environment). But what I will say is the mat kept me warm and insulated from ground frost on a night when the thermometer dipped to -2C.
Comfort
At 38mm deep and supported by the bilateral core, the Helium provides a good degree of comfort, and protection, from rough ground. But, as you've no doubt guessed, the more uneven and jagged the surface under your tent the less likely you are to get a good night's sleep. There are more comfortable mats available, but with the extra level of comfort comes and weight penalty, which we'll talk about in a minute.
In fairness to Mountain Equipment, the Helium 3.8 gives the level of support and protection you'll need in what could be classed as moderately rugged terrain.
Weight
At 750g, the ME Helium 3.8 isn't the lightest of sleeping mats nor the smallest. While it compresses into a fairly small space it's not the best option for ultra-lightweight backpacking (unless your ruck is big, or you're scrimping on food).
For me, the weight isn't a big deal – a few grammes extra here and there has never broken the back of any of my hikes.
Construction
As with pretty much Mountain Equipment I've used over the years, the construction of the Helim 3.8 is pretty solid and comes with a few quality considerations I particularly like. The first, and most obvious, is the valve used to inflate the mat. The locking system has a double security feature to reduce the risk of 'nighttime deflation' (keep it clean, this is a family blog…) as a result of a poorly secured valve
Twist and pull to open, then push and twist to lock off the valve after the mat is inflated. Sure, this feature has been available on many mats for some time now, but I've previously had issues with them. So far, the Helium's valve feels like a safe bet.
Note: don't expect the mat to fully inflate (the term 'self-inflating' applies only up to a point and is by no means firm enough for a good night's sleep).
The edging is neat and tidy, with little chance of snagging. Some of my less expensive sleeping mats seemed to have an excess of material at the joins, almost like a frilly tablecloth you'd expect to see laid on your grandmother's dining table. I did some digging on the bonding process used to create the mat and the stats suggest it's good about 10 years of use with an average load of xxx kgs of body weight placed on top. Go too heavy on the pies too often and the lifespan will shorten.
Price
At the time of writing this review, the mat costs around £70 ($65) which puts it firmly in the mid-range of pricing for this type of product. Could it be cheaper? Yes and one way to source a better deal is to look for a second-hand option (but beware of punctures and slow leaks!)
Summary: Thoughts on the Mountain Equipment Helium 3.8 sleeping mat
We've taken a slow, sarcastic meander through this review. But, is the Mountain Equipment Helium 3.8 a sleeping mat Jake and I would recommend? Here's a summary:
Pros: buy the Helium 3.8 if –
you need a reasonably priced sleeping mat;
space in your rucksack is not a major issue;
you'll be sleeping on a surface that's not too uneven, or jagged.
Cons: don't buy the Helium 3.8 if
you're an ultra-lightweight hiker;
temperatures will be close to, or below, -10C;
you're heading into the mountains.