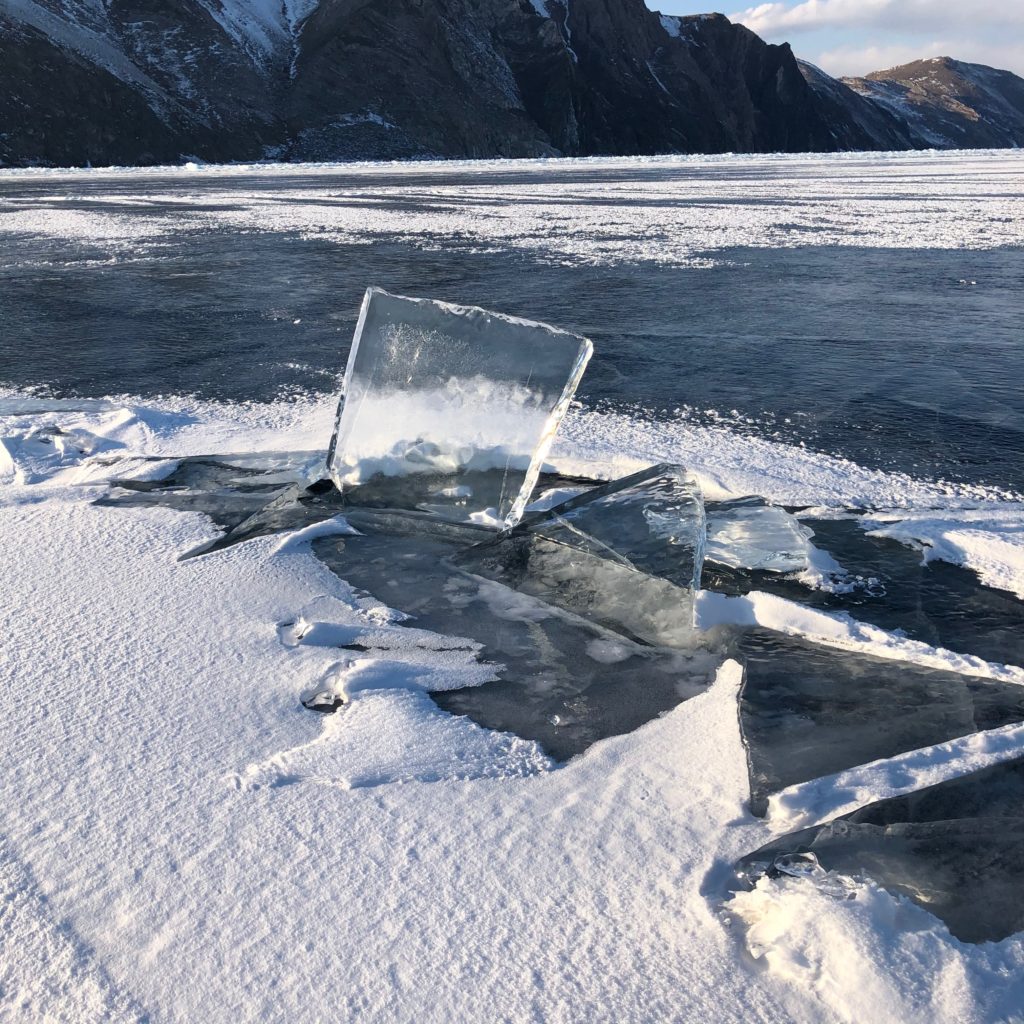 This year I decided to go the next step up from my long distance UK hikes and travel the length of Lake Baikal. And what a journey it was – this is one destination you have to add to your expedition bucket-list.
So, if you're planning a trip to Baikal, here are some tips for hikers. All of them are were learned during my 400 mile winter run/hike/ski traverse of this vast expanse of frozen water.
Lake Baikal: The Facts
1 mile deep and over 400 miles long, Lake Baikal is the largest source of fresh water on planet Earth. The dark abyss is also probably home to more cars than the all the scrap yards of the world combined.
Okay, I made up that last 'fact'. Truth is, the bottom of the lake is a burial ground for vehicles that that gone through the ice (during winter, many Russian locals use the frozen surface as highway. Their routes vary: from town to town; fishing site to fishing site; family outings to Olkhon island).
Located in southern Siberia, Baikal experiences the full force of Arctic winter, with temperatures dipping as low -30C (the coldest recorded temperature being -61C).
Wildlife is abundant. Bears and wolves roam the forests for three seasons of the year, the former hibernating at precisely the time peoplelike myself mount expeditions to traverse the lake. In the east, freshwater seals spend their time feeding on golomyanka (a local fish) and rearing their young, whilst avoiding being eaten by bears and wolves.
Note: Lake Baikal is the only known home to this species of seal.
In total, the lake's basin supports a human population of around 100,000.
Getting to Lake Baikal
There are a number of steps involved in getting to Lake Baikal, below is an outline of the process for UK nationals, please check your country's visa application process. These include:
Letter of Invitation
Before you can apply for a visa you'll need a letter of invitation (LOI). Requests for this document can be generated by a visa company, or a tour company in Russia. In order to get an invitation issued you'll need to have accommodation booked in Irkutsk, or whichever town you plan to stop in before you hit the ice. I left this task to Eugene at A – B Tours.
Russian Visa Application Process
Before you head to Russia you're going to need a visa. The application process is pretty simple: you need to fill in some personal details with a third-party company, hand over a fee and submit.
Tips: apply for your visa well in advance. The embassy offers an expedited service, but if you use this service you'll pay over double the standard fee.
Your passport will need to be handed over in person at the visa office. The process takes about a week to complete and your passport will be returned in the post.
Links to visa services in the UK can be found in the resources section of this point.
Flights
Traditionally you arrive at Irkutsk airport. My journey took me from the UK to Irkutsk, via Moscow. There are no direct flights to the city from the UK hence a 6 hour stopover in Russia's capital.
Note: if you fly into Moscow at night look out for Red Square – the air corridor takes in a relatively low flight pattern that gives breath-taking views of the illuminations decorating the square.
Traversing south to north requires you to start your expedition from Kultuk, a town at the most southerly point of this huge expanse of water. The journey from Irkutsk to Kultuk will take about 1 1/2 hours by car. I recommend using companies such as A-B Tours, run by Eugene (a great guy who was recommended to me as a facilitator of expeditions). Once you arrive in Kultuk you can be dropped by the edge of the lake to begin your journey.
Hotels In Irkutsk
When you finally arrive in Irkutsk you're going to need some admin time to prep for your journey. The general rule of thumb is to spend two nights in a hotel to decompress and rest after what will be a whirlwind of activity as you rush across the Russian Federation.
There are quite a few options available. On my outbound journey I stayed in the Ibis hotel. The staff were great and even allowed me to use their conference room as an admin area where I could prep my equipment and pack my pulka.
On the way back to the UK I stayed in the Empire hotel. The rooms in this hotel are larger than the Ibis, although not quite as luxurious as, the Ibis making them great for post-expedition admin.
Takeaways:
Book your visa well in advance.
Use a local logistics company to co-ordinate in-country activities (A – B Tours is a great company, very efficient. Eugene, the owner is a cool guy).
Be prepared for a long journey – 1 ½ days, on average.
Plan for at least one night in a hotel.
Ibis at Booking.com. Empire hotel at Booking.com
Maximise Travelling Time on the Lake Baikal Ice
You're going to be travelling during the winter which means short days. Even in the run up to Spring there are only 11 hours a day available during which you can move. I did move at night a few times, but only because I'd lost time during the day.
From February onwards, a time when the ice on Lake Baikal is still thick enough to support cars, you'll have about 11 hours of daylight. You can reasonably expect to be on the move from about 0700 onwards and to stop at 1900.
Covering the most miles you can every day requires you to be efficient. Wake at 0500, cook and prepare hot water for the day (more on time saving measures that will speed up this process in just a minute) and be packed, ready to move, by 0700. Easy.
Likewise, your evening routine needs to be slick. Learn how to pitch your tent in the twilight hours. In fact, practise this task before you leave for you journey. Get so good at it that you can put up your tent in the dark, with your eyes closed. If you're ever caught in an emergency situation this skill might just save your life.
Evening admin consumes more time than morning admin. Why? Because boiling extra water in readiness for the next day is tedious but will save time in the mornings when your focus should be on eating and then heading off for the day.
Setting aside 10 minutes to prepare your snacks is a vital requirement and one that will save huge amounts of time during the day. There are two approaches:
Pack trail rations individually before your trip (one bag per day)
Have one large bag of loose snacks. At the end of each day transfer what you need into a smaller bag that fits into your pocket
Fancy some hot ramen during your halts? Before you set off on the first leg of the day tip your noodles into an insulated mug (I highly recommend the Primus Thermo food container – an awesome piece of gear) and top with a very small quantity of hot water. Later in the day simply add boiling water from your flask and your pre-soaked ramen will be ready in just a few minutes, not 15 (I can't stand eating partially hydrated noodles).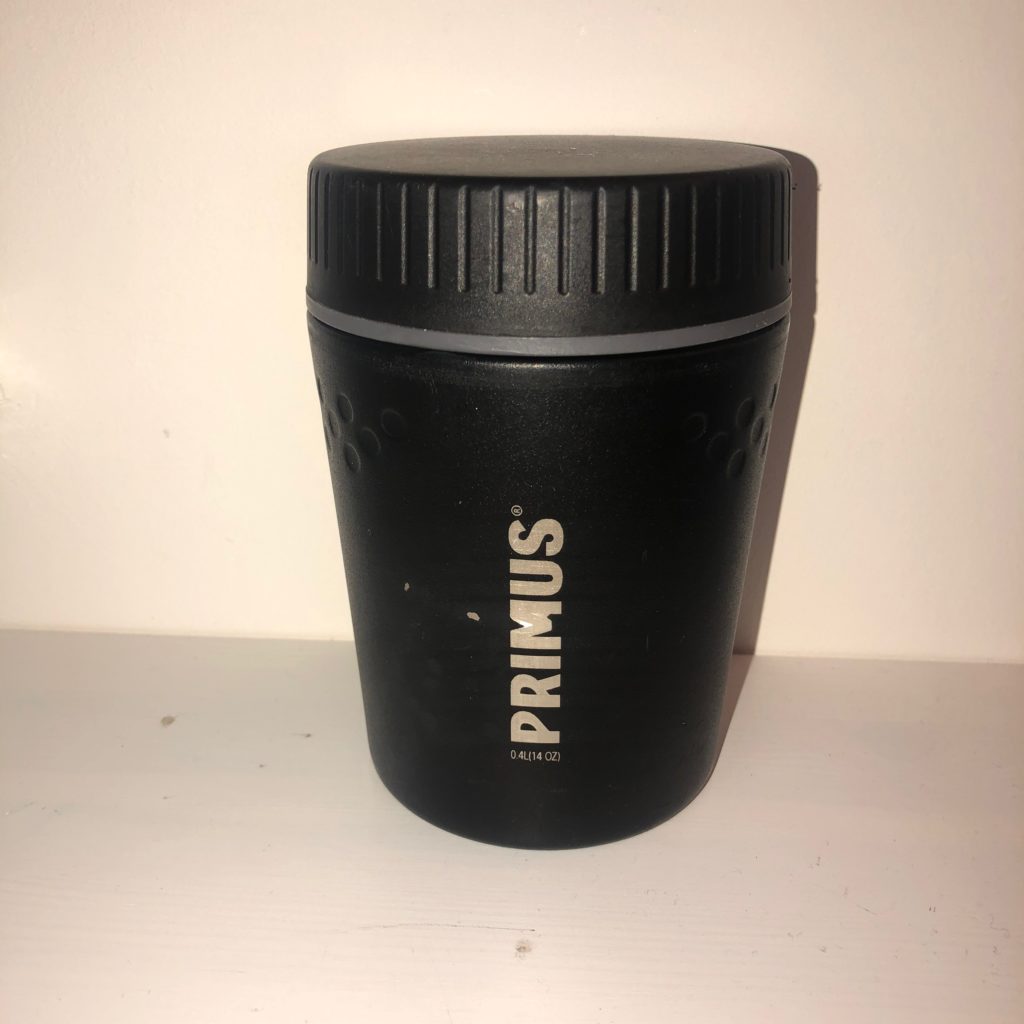 Takeaways:
Wake early and maximise your use of daylight.
Evening prep work e.g. boil water for next day
Prepare snack bags in advance, either before the trip or the night before each new leg.
Save time on noodle preparation time by adding a small amount of hot water before setting off
Beat the Siberian Chill: Dress in Many Layers
During the late winter months cold permeates every aspect of life in and around Lake Baikal. Temperatures can dip as low as -30C and most sensible animals go to sleep for those chilly months. Your expedition will need to take the weather into consideration, especially the fluctuations.
When I skied to the North Pole the temperature was constant – about -20C to -25C. The lack of variation made cold management an easy task. Lake Baikal is a very different prospect.
Temperatures will vary hugely depending on position and coverage of sunlight. For example, one day I was jogging along the ice, pulling my pulka, wearing only my base layer clothing. The sun was glorious. When the clouds gathered, everything changed…
Temperatures dipped and, even though I was moving fairly fast, a deep chill ran through me. An accompanying breeze loped out of the north and further ruined my happy place!
Minutes later I was dressed in my PH Designs windproof suit and was on the move again.
Less than half an hour after the clouds peeled back and I was once again bathed in the sun's welcome glow. Time to strip off.
Layers are key to protecting your body from the effects of cold. More important, that extra clothing needs to be easily accessible and quick to pull on. And don't be afraid to travel in your base layer if you get too warm.
From time to time, when the temperatures dipped really low I pulled on my Rab Microlight Alpine Jacket.
Think about your hands too, in particular your fingers. Pull on a second pair of gloves whenever your feel the first nip of cold on your fingertips. Windproof mitts, like those made by Satila, are windproof and ridiculously warm.
Tip: your hands can get warm fast and sweat. Wet gloves will make you susceptible to frost injuries. Pay active attention to how warm your hands get and vent as necessary.
Note: You'll appreciate the need to layer clothing when you round the northern-most tip of Olkhon island. It's here you'll first face the brutal Siberian wind racing down the lake.
Takeaways:
Use multiple thin layers of clothing
Outer layer must be windproof
Add layers as soon as you feel cold
Reduce risk of sweat and hypothermia by monitoring and venting accordingly
Use The Right Tent
Over the years I've trialled a number of tents in order to find the optimal living space during my expeditions. Weight isn't the main consideration I have when selecting a tent – living space is key.
But on this trip I decided to focus on the weight of my tent. Bad mistake. I took a Hilleberg Soulo which is an excellent tent, but not the best fit for me in this case. The interior had ample space for sleeping. But there was little space inside for cooking (it was necessary to cook inside due to the extreme cold conditions).
For solo trips I take the Hilleberg Nammatj 2. This 2 person tent provides ample space for me to sleep with all my gear stowed inside. It's fairly light and incredibly robust.
One recommendation I will make is that any tent you take should have valances fitted. These are extra sections of material stitched to the hem of the flysheet. When pitched, the flaps can be weighed down to prevent the wind from howling through the tent.
Takeaways
Choose a tent that will provide ample living space e.g. for a solo expedition, take a 2 person tent
Valances will help keep windproof your tent
Where possible, take the lightest option
If you have a tent that works for you, don't be tempted to change.
Calculate Your Calorific Requirements, Then Add Some…
Keeping your body fuelled is one of the most important factors you'll need to focus on. On my expedition I was burning between 5,000 and 6,000 calories per day.
When planning your meals, don't be afraid to take on too many calories. In fact, there's little chance you will as the long distances travelled combined with the chill will soon burn off any excess. I lost over 14lbs in two weeks!
And make sure you take on plenty of fats, which are an excellent source of energy.
My personal preference for breakfast, main meals and desserts is to use freeze dried foods. They're easy to rehydrate and have a very long shelf-life. Plus, there's an endless supply of water in the form of ice and snow.
I did experiment with boil in the bag meals, but they took longer to prepare than the freeze dried food.
When you're on the move you're going to need a handy source of fats and sugars. My 'trail rations' consisted of a mix of chocolate, nuts, cheese and salami. And quite a lot of Kendal mint cake (for my cousins across the Atlantic, this 'cake' is actually a block of pure sugar. Mint flavoured. Delicious and guaranteed need for dental surgery).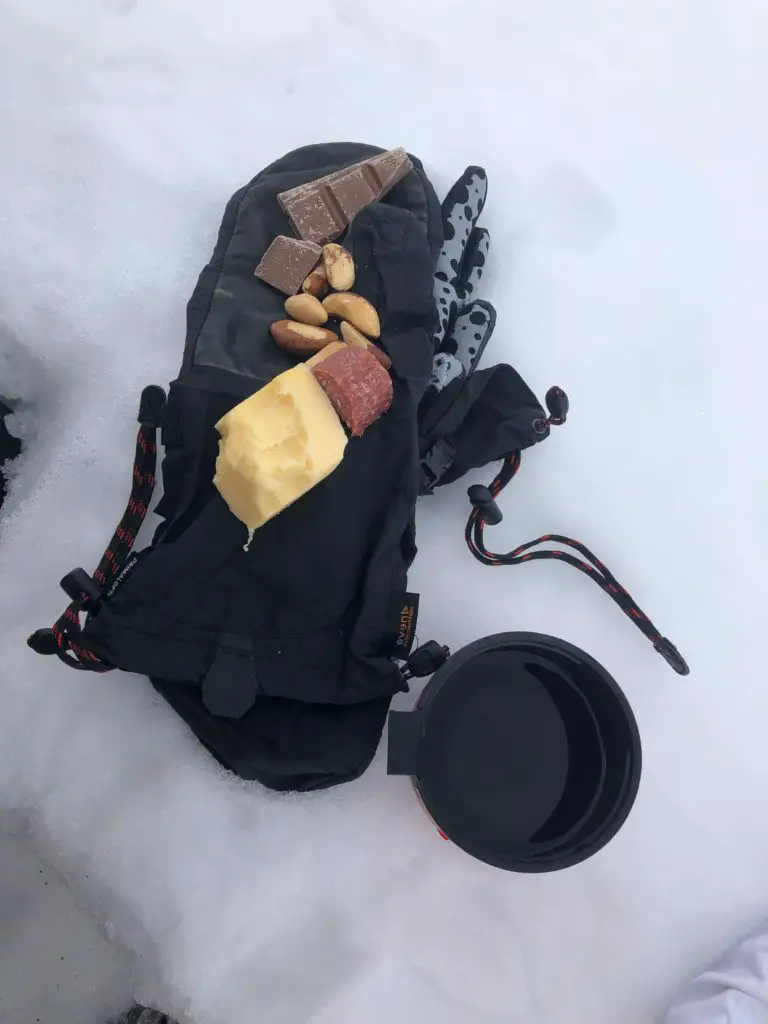 Takeaways
Plan to burn between 4,000 and 6,000 calories per day
Freeze dried foods cook faster than boil in the bag
Nuts, salami and cheese provide fats and protein your body will need and crave
Kendal mint cake will kill your teeth, but tastes soooo good
Expect to lose weight
Keeping Fit and Healthy
A Lake Baikal traverse is a long and hard journey and your body is going to take some wear and tear. Keeping yourself fit and healthy is a vital, but not always easy, task. During your trip you'll have to contend with extremes of weather, dehydration and fatigue.
If you're really unlucky (like I was) you'll experience some nasty bugs. I had mild food poisoning which left me weak and sometimes delirious. Then there was the vicious pain in my guts at precisely the place where my pulka harness wrapped around me.
Let's have a closer look at how you can keep your body happy so that you get to most pleasure out of your expedition.
Beating the Weather
Keeping the cold at bay is a key skill you need to learn long before you set off for Baikal. As one of my Army instructors said during Basic Training: "Any idiot can be cold and uncomfortable." What he meant was that even a little knowledge and forethought will increase your likelihood of a comfortable time in the wilds.
As mentioned earlier, you need to use multiple layers to keep the cold at bay.
But of equal importance is knowing when to strip off those layers, even getting down to your thermal underwear.
When the sun is high, and the clouds have faded the temperatures can rise fast. The risk here is that you don't ventilate and increase the possibility of dehydration. Remember that your water supplies are limited and can probably only be replenished when you set up camp.
If you become severely dehydrated, you run the risk of death.
Adding and removing layers should be natural. If you feel too warm i.e., you're sweating hard, then remove layers. If you've been moving for a reasonable amount of time (about 20 minutes) and you're still cold, then add layers.
Keep Clean to Beat The Bugs
My regular hand cleansing was meticulous. Before cooking I washed my hands with anti-bacterial cleanser. Likewise, after going to the toilet I did the same.
Time was put aside for washing in the evenings. Washing my feet with ice and snow was bliss. Afterwards I gave the rest of my body the same treatment. This might sound extreme but trust me when I say that an ice scrub is a fantastic feeling.
But my routine didn't prevent me from experience the pain and discomfort of mild food poisoning (I know the symptoms from a previous occurrence). My food was all in date. Every drop of water was boiled for at least 5 minutes. Still I was hit hard.
The only reasonable conclusion I have drawn from this is that, on a particular day, I was less than meticulous about my sanitation.
Keep your body as clean as you can. Especially your hands. Wash, wash and wash again. Don't risk cutting your trip short due to illness.
Blister Prevention and Foot Care
One of the most painful and debilitating injuries you can have is a blister, or two. Expect to experience these injuries, even if your footwear is worn in. I picked up two blisters on my journey: one was fairly large and painful, the second was minor.
Most prevention advice hinges around wearing two pairs of socks (a thin, close fitting pair and a second, thicker pair over the top). My approach was to wear one layer. I've written a Sealskinz waterproof trekking sock review post that goes into details. But let me just say they are an amazing piece of outdoor gear.
Rather than regurgitate what you already know, I'll simply say this: don't let hotspots get out of hand. Treat early and don't let blisters cause your expedition to falter or fail.
Don't be afraid to clean your feet in the snow. Have a towel, foot powder and dry socks to hand. The feeling of clean, dry feet is bliss. Especially after a hard day of hiking.
Rest Is Vital
That might seem like an odd statement, but it's true. Travelling 400 miles on foot is hard work and tiring. Your body can only absorb a limited number of calories. Let's assume you cover about 30 miles per day and consume 6,000 calories. You'll still be in deficit which manifests as fatigue.
When you halt at the end of every day, you're going to be tired. Then you need to find a place to pitch your tent. And cook, eat, carry out admin tasks, etc. Your body will be crying out for sleep. So, sleep.
Once you've completed all the vital tasks you have to sleep, let your body recover. Don't be tempted to read a book or write a blog post. Just sleep.
And try to get at least 8 good hours of sleep. To be fair, this last point should be easy to achieve once you've finished eating. During my traverse the sun set around 1900 and rose at 0630. All my admin jobs were finished by 2130, at the latest, which gave me 9 hours of sleep per night. Perfect.
Takeaways
Know when to add and remove layers.
Be aware of how to treat cold and heat injuries.
Carry anti-bacterial hand sanitiser and wash meticulously.
Boil all water for at least 5 minutes.
Eat as much as your body can take.
Sleep as soon as all your admin tasks are completed.
Treat hotspots as soon as they are detected.
Keep your feet clean and dry.
Lake Baikal Resources
Here's a list of resources you might find useful when planning your trip to Lake Baikal. Some of them are affiliate links, that's how I earn money to help keep this blog going.
Do you have any additional information, or thoughts, you think would be useful to other readers? Please do send it over and I'll add it in.
A – B Tours, Irkutsk
email Eugene at kaplunenko06@mail.ru
Russian Visa Services:
https://www.visitrussia.org.uk/visas/getting-a-russian-visa/
https://www.starvisaservices.co.uk/ (I used this service – very friendly and efficient)
Hotels in Irkutsk
Ibis at Booking.com
Empire Hotel at Booking.com
Recommended Equipment
Primus Trailbreak/Thermo at Amazon
Sealkinz Waterproof trekking sock (cold weather)
A full list of recommended gear, including my experiences with each item and thoughts on improvements will follow soon.
Food
Expedition Foods, great service and fantastic meals (especially the curries)
Flights to Irkutsk
Aeroflot
Skyscanner
Future Expeditions
Sadly, future expeditions might be limited, or even impossible. Climate change is having a having a huge impact on both the environment and wildlife. With each passing year the ice covering becomes thinner making a traverse more hazardous.
But for the time being, a Lake Baikal winter crossing is still a viable option and one not to be missed.