Hiking watches are a personal thing: some of my fellow explorers and hikers take an approach of simplicity over tech. Others prefer to wear a watch that not only looks cool but is also packed full of the latest gadgetry. I'm one of the former – for me a watch should not be at the epicentre of events that mean the difference between life and death. That said, I've used some pretty cool gear over the years and today we're going to look at the best hiking watch options currently available in 2023.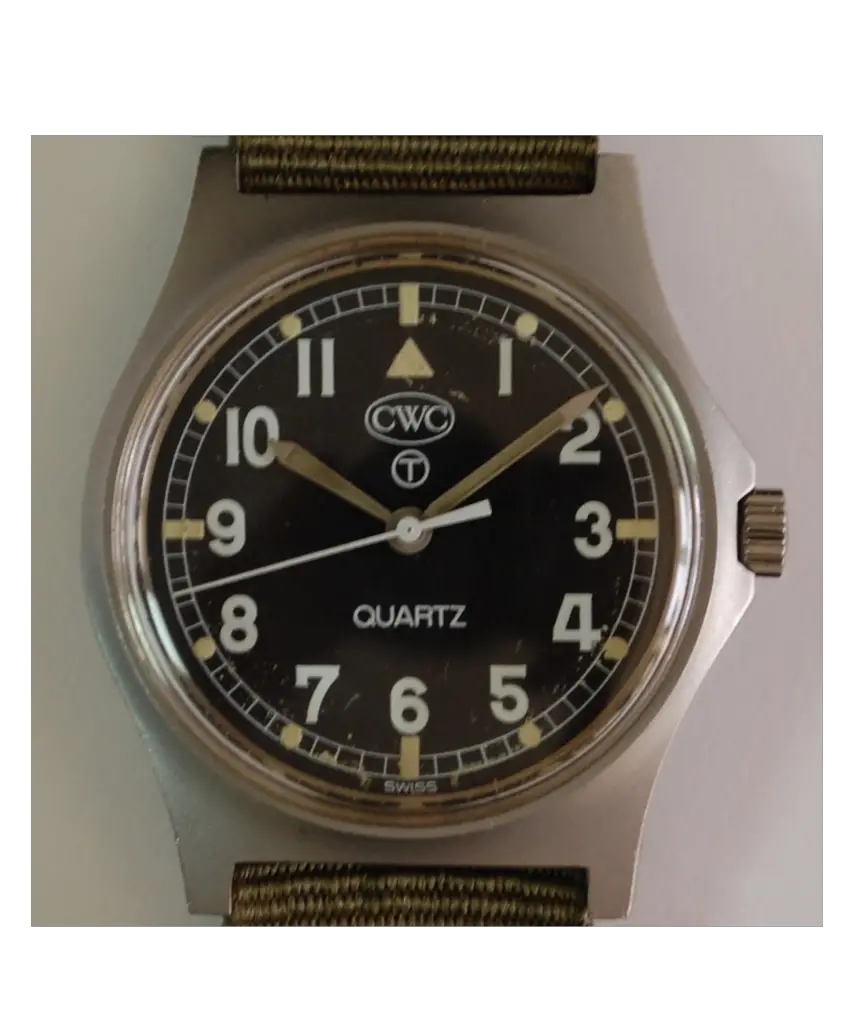 All the watches you'll see here have been tested by either myself, or my friends and travelling companions.
Before we take a tour of hiking watches and their merits, or lack of, let's take a few moments to consider the basic, must-have features of these devices.
A Hiking Watch Must Have Amazing Battery Life
No ifs, or buts here. A watch that can only hold charge for a few hours is a liability. If you're an old school hiker who prefers compass and map (with a standalone GPS as a backup), you'll probably be using a simple timekeeping device. Maybe something like the G10 watch above.
Although I'm a bit of a dinosaur I realise that many of my fellow wanderers prefer wearables that cater for pretty much every eventuality. Which means battery life is key. I own several sports watches all of which have varying battery capacity with my Garmin Vivofit HR+ being the one with most endurance.
Also consider ease of battery change. Some more modern devices are sealed and require specialist tools to access and change the batteries. If you can, buy a watch that uses a battery that can be easily changed (covered later in this post).
Your Watch Should Be Comfortable
The best hiking watch I ever owned was not incredibly accurate, it was the most comfortable. Down to the metre GPS accuracy is useful, but not the most important tick box on my list.
No matter what sport or activity your watch is used for, the fit needs to be snug and secure. Some watchstraps are hard and rigid. Whilst it might feel 'right' at first, a few hours into an arduous event wearing a digital manacle is going to feel like have your wrist bones ground to dust!
Many sports watches are sold with a selection of watchstraps in the box: elasticated, flexible rubber, etc.
I highly recommend a soft, rubberised strap that grips the wrist gently even when you get sweaty. The feeling conjures up childhood memories of my mum's soft hands holding mine as went on long walks in the country. Ah, sweet nostalgia… minus the sweat, of course.
New vs Used Hiking Watches
Any kind of specialist gear is going to cost you if you buy new. I recently bought a new GPS for hiking over the Brecon Beacons and it cost me just shy of £400 (about $600 for those of you working in dollars). A few days after I bought the device a 6-month-old, used model was posted for sale on Facebook… £250!
The new vs used debate simmers. Some of my fellow hikers and trekkers will only buy new. My collection of gear includes both new and used devices and equipment (I saved £450 off the price of a new Hilleberg tent by going down the second-hand route and have never had cause to doubt my decision).
Here are some thoughts for anyone thinking of buying a used hiking watch:
Buy from a reputable seller who is well known within a community e.g. FaceBook's Outdoor Gear Exchange.
If at all possible, buy a device that still holds some of the manufacturer's warranty.
Agree a returns policy with the seller (anyone worth their salt will be willing to offer you the option to return a faulty device)
Take your watch to an authorise dealer/technician and have it tested as soon as it arrives.
If the thought of wearing someone else's sweat ingrained wrist strap makes you want to barf then buy a new strap.
Does Your Hiking Watch Really Need to Walk the Dog?
What I mean is, does your watch need to have absolutely ever new cutting-edge feature that you'll probably never use? More important, do you really want to use just added, current generation functions that are usually bug-riddled (as I've found from bitter experience)?
More often than not the earlier models of hiking watches are bomb proof. The bugs have been ironed out and the functions are stable. True, you might not be able to use voice recognition, or brag about how your watch can boil a pint of water at the flick of a voice command, but do you really need to?
Equally important for many cost-conscious travellers is the fact that older tech is cheaper, even when bought new.
Although not a hiking watch, an example of how I saved money on pricey tech was by buying a DeLorme InReach rather than its more recent incarnation, the Garmin InReach (which I also own).
Touchscreen vs Chunky Buttons
My biggest frustration (and decision point) is over the choice of touchscreen vs traditional buttons on my watch. My eyes are frequently drawn to shiny watches featuring touchscreen controls and voice activated functions. Then bitter memory reminds me of how irritating it is for your carefully planned route to be reset by the whiplash of undergrowth against an unlocked bezel (I swear nature conspires to thwart my hikes).
Old school chunky buttons might be irritating for some, but they are less likely to be affected by accidental contact with branches and foliage as you crash through the countryside.
Pretty much every touch screen watch has the option to lock the bezel, which is great. Unless, like me, you frequently forget to check!
Push button devices are not infallible. Over the years I've experienced a number of fails. On a recent ten-mile cross country run my part of my route was along the edge of a wheat field. My Vivosmart HR+ was subjected to the constant battering from the ears of corn. Natures erratic hammering of the buttons was coordinated enough that my entire session was reset (boom! Take that chaos theory!)
Buttons aren't always best, but I've found them less prone to interference than touch screens.
Screen Size
I've never been a fan of big watches. A screen you read on is important, but having a watch the size of a bin (trash can) lid looks a bit ridiculous. But each to their own.
Joking aside, some gear manufacturers seem to be moving towards a model whereby devices need to be coupled with a smartphone app in order to get the best out of them. Whilst this approach moves us further from fiddly buttons and touchscreens, it also means we become reliant on multiple, power hungry devices.
The best piece of advice I learned during my time in the British Army: KISS (Keep It Simple Stupid). Buy a device with a screen large enough to be read at pretty much any time, particularly low light conditions. Don't rely on a hiking watch that 'hides' aspects of usability behind an app.
Heart Rate Monitor
Personally, I don't need an HRM to tell me my heart is about to explode after dashing up a gigantic hill. If your approach to hiking is more scientific than, 'I'm still breathing, which is a positive', you'll need a heart rate monitor.
In recent years many manufacturers have moved to integrated HRMs that detect your pulse through your wrist. I sometimes use this type of monitor (a feature of my Vivosmart HR+) ,but am also happy to revert to the old-fashioned cheststrap type of HRM as found on my Garmin GPS 410 – a rock solid watch that is going strong after 7 years.
Pick A Durable Hiking Watch
Which goes without saying. The last thing you need is for you watch to crumble to dust at the slightest nudge or prang.
For those of you who opt for a touchscreen watch, choose one built with a product like Garmin's Sapphire Glass. If this option is not for you, buy a screen protector.
What About Global Positioning System (GPS)?
It goes without saying that any watch you choose for your hikes should have a GPS tracking system built in. Whilst I wouldn't advise you to rely 100% on your watch's tracking function, it does provide a useful back in the event your handheld GPS fails.
On every hike, or expedition, I've been on devices such as my InReach, and eTrex 10, have been the primary tools for satellite positioning. My watch has always been my fallback tool.
My Best Hiking Watch Selection for 2023
Table could not be displayed.
Garmin Vivosmart HR+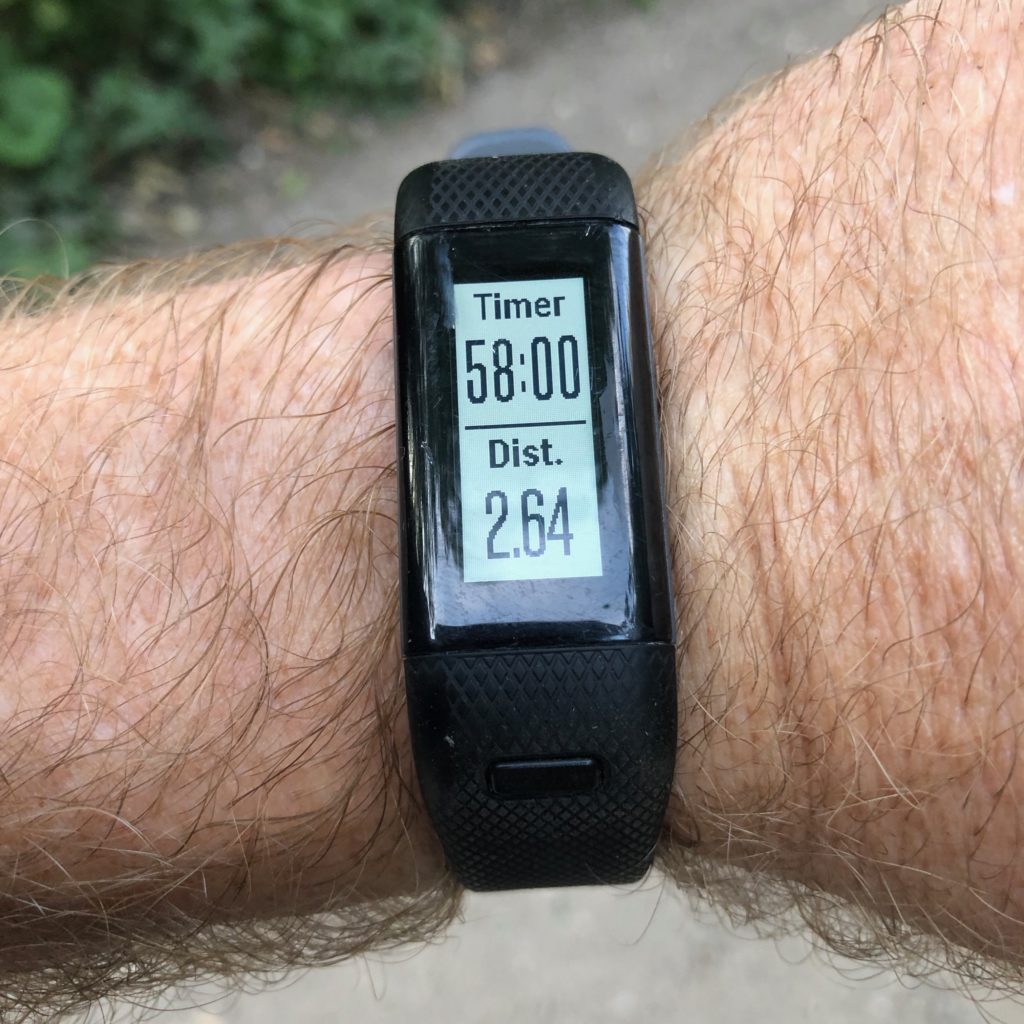 Two years ago I was given a Garmin Vivosmart HR+ as part of a sponsorship deal with Microsoft. I'd been working with a team of their developers to build an app that could track and capture health metrics, GPS waypoints and distance travelled. The data would then be uploaded to my website via the Iridium GO! satellite communications device I rank a comparison test on.
The Vivosmart is aimed at runners who need a rugged sports watch. What I discovered was that it's actually a great piece of equipment perfectly suited to hiking and long-distance expeditions.
This Vivosmart model is brilliant. Well nearly. Let's scratch the surface…
It's compact. I mean really compact. The entire package – GPS, HRM, watch, etc – is crammed into a chassis that measures only 6.4 x 2.1 x 1.2 cm. At only 25.3 mm x 10.7 mm, the screen could be bigger, and the size might be an irritation for some. But this works for me as the menu system is very basic and easy to navigate.
There is a smartphone app (Garmin Connect) that pull data from the watch and turns it into really cool and very pretty charts and graphs. Although not a huge fan of needing multiple devices I do love the data visualisations (because they look amazing on my Instagram feed).
It's also more comfortable than an old pair of slippers. Made from soft rubber, the watch strap provides just the right degree of grip – not too tight, or uncomfortable, but secure enough not to slide up to your bicep when you get a little sweaty.
All the key functions are accessed via a touchscreen. Not my first choice, but in this case I'll let it pass. Easy to use and intuitive. There are some minor irritations, which I'll talk about in a minute.
Compared to other options available, this sports watch is pretty inexpensive, and you can pick one up for about £90 (around $120).
As with any device, there are negatives.
Accuracy is vital to many hikers who rely on a watch. At times the tracking and GPS data has been a little inaccurate. Most annoying is the watches periodic inaccurate distance calculations. From time to time I've gone on an 'out and back' run i.e. along a track to a halfway point, then turn around and follow the same route home. Every now and then my HR+ will report a longer outbound leg than the return. Strange, although I can live with this as the watch is not my main navigation device.
Did I mention this watch is incredibly rugged? The screen has taken some hard knocks over the past two years and the only scratch is barely visible. It's also travelled across Greenland with me – 600km of frigid cold and still lasted an average of over a day before the battery ran flat.
Stopping and the starting the activity timer is controlled via a single button (which also provides access to configuration and historical data settings, amongst other menu options). Given that many of my hiking and running routes are off-road I frequently travel through tall, dense foliage which strikes the button and pauses, or even resets, the activity. Grrr!
Garmin Vivosmart 3 HR+ at Amazon UK
Garmin Vivosmart 3 HR+ at Amazon US
Garmin Fenix 6 Multi Function Watch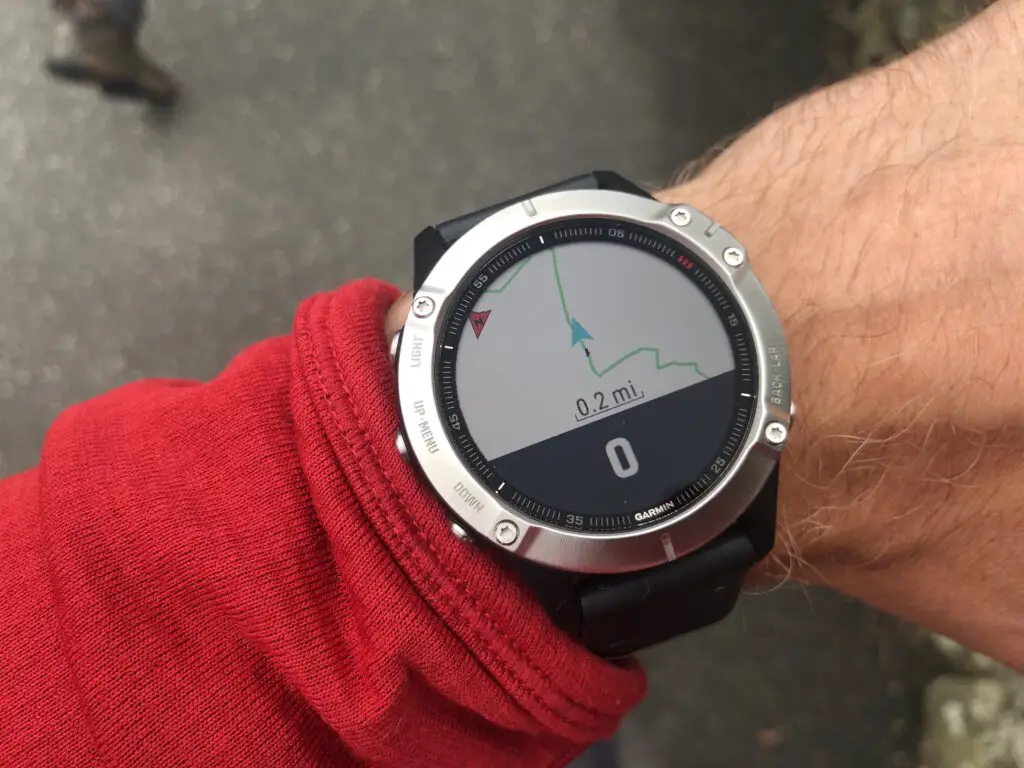 Essentially the top-end of the Garmin range the Fenix 6 is one of the most fully-featured multi-sport, adventure, and hiking watches on the market. It does come at a fairly hefty price, of course.
For the hiker, you'll probably be drawn to the Fenix 6 for it's superb navigation and route-following functionality although if you want full terrain mapping you're going to need to stretch to the Pro version. Either way, though, it's what's under the hood that really separates the Fenix from cheaper competitors when it comes to hiking: a magnetic compass, barometric altimeter, and access to both GLONASS and GALILEO satellites for increased GPS accuracy.
Other hiking-specific features include the ability to vary the frequency with which GPS points are recorded when you are tracking an activity. This reduces the detail of your route track but offers such substantial battery-life savings that the Fenix 6 can be realistically used for all-day hikes and even multi-day treks. Given that previously I would have had to use the chunky Foretrex, with its replaceable AAA batteries, that's a huge advantage.
For hiking, in common with all the other dozens of activities supported by the Fenix, a huge range of metrics are available. This includes the obvious speed, pace and distance data as well as a bunch of detailed health/fitness measures that cheaper watches rarely offer; VO2 max, blood oxygenation, and respiration rate for example, alongside as the more standard sleep, HR and stress levels.
Build quality is excellent, as with all Garmin watches, but the Fenix is especially chunky and robust, though sleeker and less obviously 'ruggedised' than the Instinct. It weighs a fair bit more than other watches which may be a negative for runners but for most people just gives it a pleasing weight that lets you know it's there. It's also available in three different sizes to suit different sizes of wrist, and an absolute tonne of different colour options.
Users of the Vivoactive might miss the touch-screen functionality and the simplicity of only having one physical button (the Fenix has five) but this makes it far more reliable in cold, wet conditions or when wearing gloves so is a better option for hikers.
The price varies from less than £500 to not far off £1,000 depending on which model you go for. At the lower-end of the range, I think it offers superb value-for-money. At the higher-end that's perhaps more questionable but if you need/want one of the features only available in the Pro, Solar or or Sapphire models then your own assessment of the value might differ.
Read our Garmin Fenix 6 review
Coros Apex Multisport Watch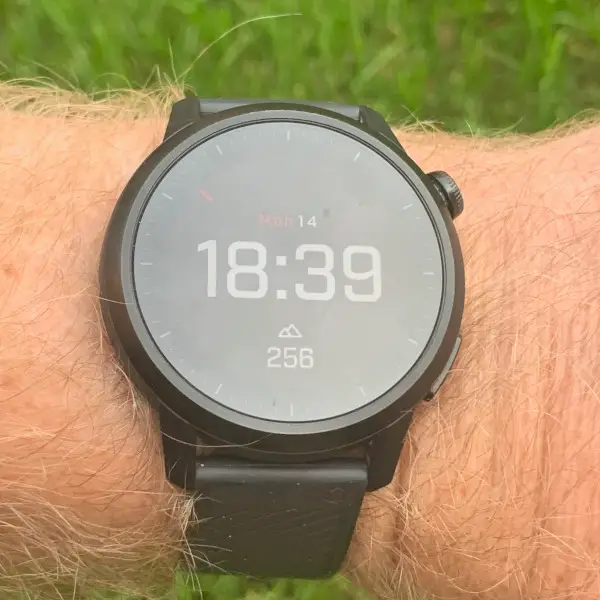 Coros are a new addition to my stable of sports watches and one that I've been pretty impressed with so far. Don't get me wrong – that's no huge accolade as even a low to mid-range activity tracker such at the Garmin Vivosmart HR+ ticks most of the boxes I've drawn for my running and hiking sessions. Rather than the tech (most of which is annoyingly hidden away until you connect the Coros app) being above average, the Apex hits the simplicity nail on the head.
I really like the build quality of this watch and, although I did find it a little light for my liking, the fit is comfortable and secure. The watch comes with a rubber strap that can get a little sweaty when your body heats up, but this minor irritation can be remedied with ease by buying a different strap.
It's also very light when compared to other watches of a similar specification, which is great if you prefer not to lug around what feels like a granite sundial when you're training.
One of the most noticeable differences between this and other watches is the button configuration, which as I hinted at earlier, takes navigation to a new level of simplicity. Featuring two buttons – a dial and standard button – there's not much you can get wrong when setting up this watch.
As for price – it competes with other high-end models from the likes of Garmin. You're going to pay a premium for the Pro model and you probably want to decided if those few extra features are worth the extra green you're going to hand over!
The main reason most people come to our site is for the hiking gear reviews we write which means it would be sitlly for me not to give a 'hiker's eye view' of the Coros Apex. For me, the hiking mode seems to be a little bit of an afterthought, but it's one that been executed well. In the same way that most of the metrics relating to running are hidden away, so is the data related to your hiking routes. And that's great, because we all know how easy it is to get sucked into the world of on-demand stats. You know what I mean: what should be a steady hike through the woods turns into a wild-eyed obsession with pace and distance. So, yeah, Coros have done a good job on adding (and hiding) the features that will prove useful for your hikes.
Prices for Coros products range from about £169 ($220) to, 'Darling, we need to remortgage the house.' – £685 ($885). In all honestly, the high end models of the Apex don't really bring much to the party unless you're a serious athelte intent on delving deep in your blood oxygen levels, and other dark arts associated with the world of very, very fit people.
Garmin Vivoactive 3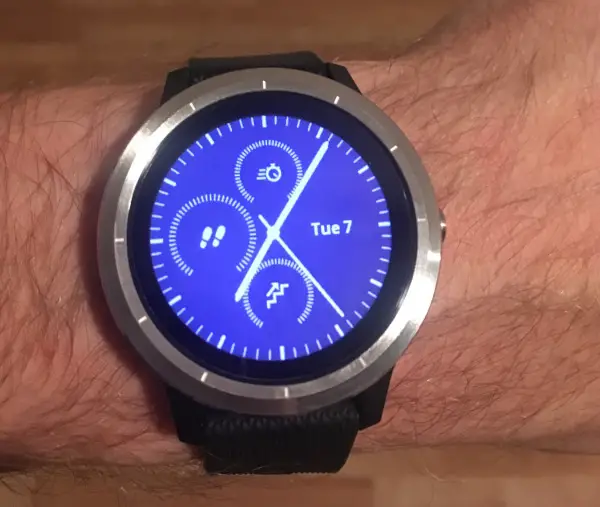 The Vivoactive 3 has been selling for about 5years now, probably because it's robust, packed full of features and has a pretty decent battery life. It's the kind of product you'd expect from a mid-reange device: rugged, functional and not expensive.
And that brings me onto the cots – as I said, the Vivoactive 3 inhabits that zone between amazing functionality and serious price. You can pick up one of these watches for about £150 ($295), a good price considering the tech under the dial.
Built into the Vivoactive 3 are a number of tools aimed at runners that are equally useful for hikers and other outdoor enthusiasts. Admittedly, it lacks some of the really high-end functionality found in gear like the Fenix 6 and Coros Apex, but both those are considerably more expensive. All the data a hiker really needs is readily available: steps taken, GPS tracking and elevation. If you need more than those few datapoints you need to look at higher specification models.
One aspect of this watch really stuck out: the screen size makes creating a custom layout so easy that you can't help but love this watch, even if only a little. Configuring the information you want to see at a glance can be done with minimal fuss and a few seconds of tinkering with the settings. The default layout seems to be more than adequate for those friends of mine who own this watch, but for everyone else there are downloadable options to cater to you needs.
Battery life is okay. We got an average of 12 hours usage when training with the GPS enabled. This figure is ideal for anyone who is training close to home, or heading out on short distance day hikes where the relatively short battery life is not going to be an issue. If you need more hours out of you watch you have two options: take a means of charging the battery with you, or find a watch that has the kind of battery life you need.
Somewhat annoyingly, there is some work for Garmin to do on integrating with products other than Apple! Not being to control Spotify using the widgets made Jake feel very sad. Personally, I have no issue with this as I'm a massive Apple fan and love the integration into their ecosystem.
There's no touchscreen. On the side of the watch is a touch-sensitive scroller used to move through the menu system. It's simple, but prone to suffering the effects of being knocked about during a training session i.e. the timer can be unintentionally stopped, or paused.
A decent multisport watch suitable for both beginners and anyone wanting to learn more about their training sessions and progress.
Read our Garmin Vivoactive 3 review
Garmin Instinct
The Garmin Instinct is billed by Garmin as an 'outdoor watch', and although it lacks some of the features of the Fenix, is probably the most obviously hiking-centric wearable in Garmin's range, especially for below £300.
Like the Fenix, it offers a magnetic compass, an altimeter and highly accurate GPS with GLONASS and GALILEO. These combine to allow for similarly excellent and easy-to-use navigation and route-finding functionality, with the key difference being that no version of the Instinct offers mapping. It is probably worth bearing in mind that the smaller black-and-white display on the Instinct may not lend itself quite as well to looking at complex routes on your watch, but there is certainly enough here to follow a path, move between waypoints or navigate to set coordinates.
Crucially, and this is the real killer feature that makes the Garmin Instinct a legitimate hiking watch, it offers coordinates in any one of a number of different formats including lat/long, MGRS and Ordnance Survey format. This makes it an invaluable addition to a map and compass, especially when hiking in unfamiliar terrain without clearly marked paths.
The Instinct also offers an additional level of battery-saving for longer hikes by reducing the number of GPS points recorded, but this is aimed more at extending your hike to a full day or a couple of days back-to-back, and may not go as far as the multi-day treks that the Fenix can support.
Other activities on the Instinct are numerous, from the obvious running and cycling to more surprising options like yoga and stand-up-paddleboarding. It's notable that it supports both indoor and outdoor swimming, but it does not have a multi-sport mode, meaning that it's probably not the best option for triathletes.
The looks of the Garmin Instinct will inevitably be divisive. It has a chunky, plastic case reminiscent of a G-shock watch. It screams 'rugged' and, for the unsurprising large number of military users, 'tactical' but doesn't quite have the ability of the Vivoactive or Fenix to blend in as an everyday watch – particularly given that it doesn't have an option for an analogue display.
At between £250-300 depending on the exact model you go for, the Garmin Instinct is substantially cheaper than even the cheapest Fenix, despite having a lot of the same hiking features, and is roughly in the middle of the pack of the Garmin's extensive Forerunner series of running watches. It probably wouldn't be my first choice for someone who is primarily a runner, but it absolutely is the clear go-to for any hiker or military user who doesn't want to spend the extra £200 or so needed to get into the Fenix range.
Read our Garmin Instinct review
Garmin Tactix Delta
Perhaps the ultimate hiking watch, the Garmin Tactix Delta is pretty well at the top of Garmin's watch pyramid, containing all of the most cutting-edge features available anywhere within its wearable range.
That means that not only does it have a huge range of activites to choose from, as well as all the day-to-day smart-watch features you'd expect, but it incorporates some of the most hi-tech health and fitness metrics available anywehre on the market and has an absolute tonne of features for the serious hiker.
Of most interest will probably be the full-colour topographic maps and, while these may seem a little unecessary to anyone using a paper map or a decent handheld device, it does make it extremely easy to keep track of your position and do point-to-point navigation especially when you are moving fast (trail-runners and orienteers will love this watch) or when poor weather makes you less keen to stop and get your phone out.
Maps aside, highly-accurate GPS, barometric altitude, a magnetic compass and the ability to show coordinates in two formats, including common grid references such as MGRS and Ordnance Survey, means that it is a top-notch aid to navigation wherever you are in the world. Our reviewer was also impressed with the long battery-life in the power-management options which means that, in its most pared-down setting, the watch can track your location for days or even weeks at a time. That makes it ideal for lengthy expeditions away from reliable power sources.
All this naturally doesn't come cheap and, depending on the exact model you go for, it's not hard to find a Tactix Delta that takes you over £1,000. If that price makes it unattractive, we'd definitely recommend looking at the Fenix, which has many of the same features at a reduced price, or even the Instinct. But if the Tactix is affordable for you, then you really can't do better.
Read our Garmin Tactix Delta review
Six independent reviews and each one staking a claim to the best hiking watch crown. In my opinion, and having owned a number of these devices, I'm inclined to say that all of the above watches will be suitable for your hiking and trekking activities. Whichever you choose, happy trails.