Hiking watches are a personal thing: some of my fellow explorers and hikers take an approach of simplicity over tech. Others prefer to wear a watch that not only looks cool but is also packed full of the latest gadgetry. I'm one of the former – for me a watch should not be at the epicentre of events that mean the difference between life and death. That said, I've used some pretty cool gear over the years and today we're going to look at the best hiking watch options currently available in 2019.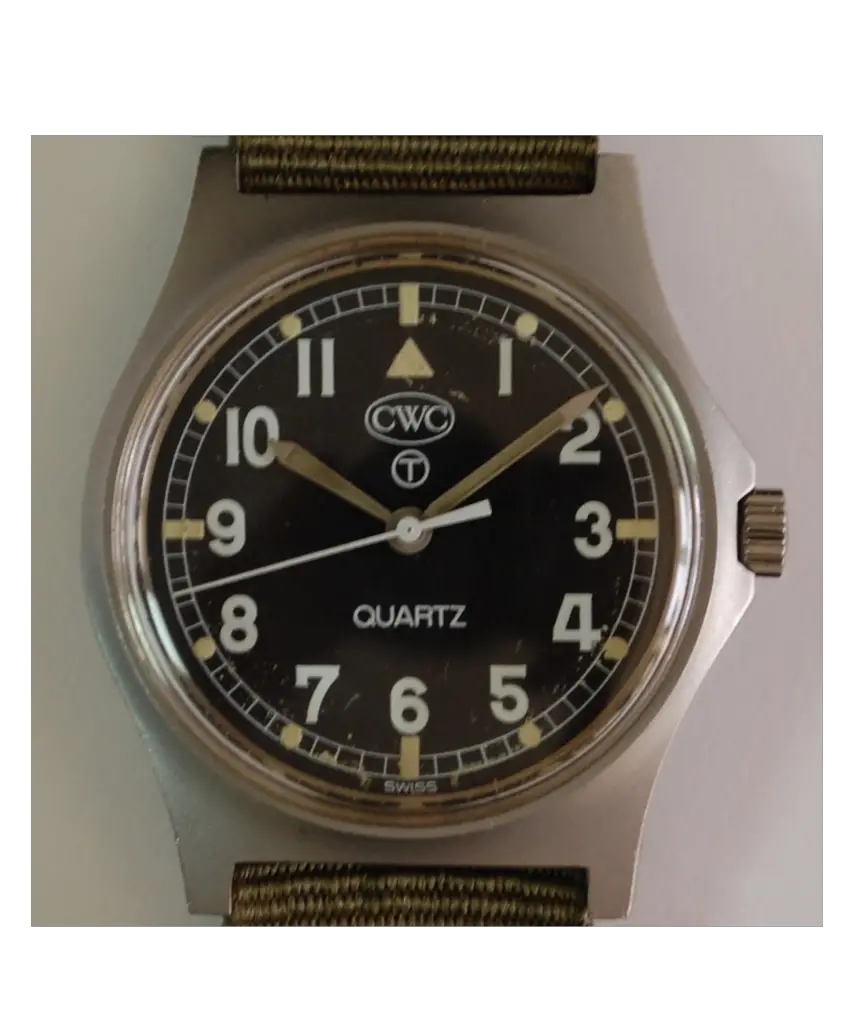 All the watches you'll see here have been tested by either myself, or my friends and travelling companions.
Before we take a tour of hiking watches and their merits, or lack of, let's take a few moments to consider the basic, must-have features of these devices.
A Hiking Watch Must Have Amazing Battery Life
No ifs, or buts here. A watch that can only hold charge for a few hours is a liability. If you're an old school hiker who prefers compass and map (with a standalone GPS as a backup), you'll probably be using a simple timekeeping device. Maybe something like the G10 watch above.
Although I'm a bit of a dinosaur I realise that many of my fellow wanderers prefer wearables that cater for pretty much every eventuality. Which means battery life is key. I own several sports watches all of which have varying battery capacity with my Garmin Vivofit HR+ being the one with most endurance.
Also consider ease of battery change. Some more modern devices are sealed and require specialist tools to access and change the batteries. If you can, buy a watch that uses a battery that can be easily changed (covered later in this post).
Your Watch Should Be Comfortable
The best hiking watch I ever owned was not incredibly accurate, it was the most comfortable. Down to the metre GPS accuracy is useful, but not the most important tick box on my list.
No matter what sport or activity your watch is used for, the fit needs to be snug and secure. Some watchstraps are hard and rigid. Whilst it might feel 'right' at first, a few hours into an arduous event wearing a digital manacle is going to feel like have your wrist bones ground to dust!
Many sports watches are sold with a selection of watchstraps in the box: elasticated, flexible rubber, etc.
I highly recommend a soft, rubberised strap that grips the wrist gently even when you get sweaty. The feeling conjures up childhood memories of my mum's soft hands holding mine as went on long walks in the country. Ah, sweet nostalgia.
New vs Used Hiking Watches
Any kind of specialist gear is going to cost you if you buy new. I recently bought a new GPS for hiking over the Brecon Beacons and it cost me just shy of £400 (about $600 for those of you working in dollars). A few days after I bought the device a 6-month-old, used model was posted for sale on Facebook… £250!
The new vs used debate simmers. Some of my fellow hikers and trekkers will only buy new. My collection of gear includes both new and used devices and equipment (I saved £450 off the price of a new Hilleberg tent by going down the second-hand route and have never had cause to doubt my decision).
Here are some thoughts for anyone thinking of buying a used hiking watch:
Buy from a reputable seller who is well known within a community e.g. FaceBook's Outdoor Gear Exchange.
If at all possible, buy a device that still holds some of the manufacturer's warranty.
Agree a returns policy with the seller (anyone worth their salt will be willing to offer you the option to return a faulty device)
Take your watch to an authorise dealer/technician and have it tested as soon as it arrives.
If the thought of wearing someone else's sweat ingrained wrist strap makes you want to barf then buy a new strap.
Does Your Hiking Watch Really Need to Walk the Dog?
What I mean is, does your watch need to have absolutely ever new cutting-edge feature that you'll probably never use? More important, do you really want to use just added, current generation functions that are usually bug-riddled (as I've found from bitter experience)?
More often than not the earlier models of hiking watches are bomb proof. The bugs have been ironed out and the functions are stable. True, you might not be able to use voice recognition, or brag about how your watch can boil a pint of water at the flick of a voice command, but do you really need this feature?
Equally important for many cost-conscious travellers is the fact that older tech is cheaper, even when bought new.
Although not a hiking watch, an example of how I saved money on pricey tech was by buying a DeLorme InReach rather than its more recent incarnation, the Garmin InReach (which I also own).
Touchscreen vs Chunky Buttons
My biggest frustration (and decision point) is over the choice of touchscreen vs traditional buttons on my watch. My eyes are frequently drawn to shiny watches featuring touchscreen controls and voice activated functions. Then bitter memory reminds me of how irritating it is for your carefully planned route to be reset by the whiplash of undergrowth against an unlocked bezel (I swear nature conspires to thwart my hikes).
Old school chunky buttons might be irritating for some, but they are less likely to be affected by accidental contact with branches and foliage as you crash through the countryside.
Pretty much every touch screen watch has the option to lock the bezel, which is great. Unless, like me, you frequently forget to check!
Push button devices are not infallible. Over the years I've experienced a number of fails. On a recent ten-mile cross country run my part of my route was along the edge of a wheat field. My Vivosmart HR+ was subjected to the constant battering from the ears of corn. Natures erratic hammering of the buttons was coordinated enough that my entire session was reset (boom! Take that chaos theory!)
Buttons aren't always best, but I've found them less prone to interference than touch screens.
Screen Size
I've never been a fan of big watches. A screen you read is important, but a watch the size of a bin lid looks a bit ridiculous. But each to their own.
Joking aside, some gear manufacturers seem to be moving towards a model whereby devices need to be coupled with a smartphone app in order to get the best out of them. Whilst this approach moves us further from fiddly buttons and touchscreens, it also means we become reliant on multiple, power hungry devices.
The best piece of advice I learned during my time in the British Army: KISS (Keep It Simple Stupid). Buy a device with a screen large enough to be read at pretty much any time, particularly low light conditions. Don't rely on a hiking watch that 'hides' aspects of usability behind an app.
Heart Rate Monitor
Personally, I don't need an HRM to tell me my heart is about to explode after dashing up a gigantic hill. If your approach to hiking is more scientific than, 'I'm still breathing, which is a positive', you'll need a heart rate monitor.
In recent years many sports watch manufacturers have moved to integrated HRMs that detect your pulse through your wrist. I sometimes use this type of monitor (a feature of my Vivosmart HR+) and the old-fashioned strap type of HRM as found on my Garmin GPS 410 – a rock solid watch that is going strong after 7 years.
Pick A Durable Hiking Watch
Which goes without saying. The last thing you need is for you watch to crumble to dust at the slightest nudge or prang.
For those of you who opt for a touchscreen watch, choose one built with a product like Garmin's Sapphire Glass. If this option is not for you, buy a screen protector.
My Best Hiking Watch Selection for 2019
Garmin Vivosmart HR+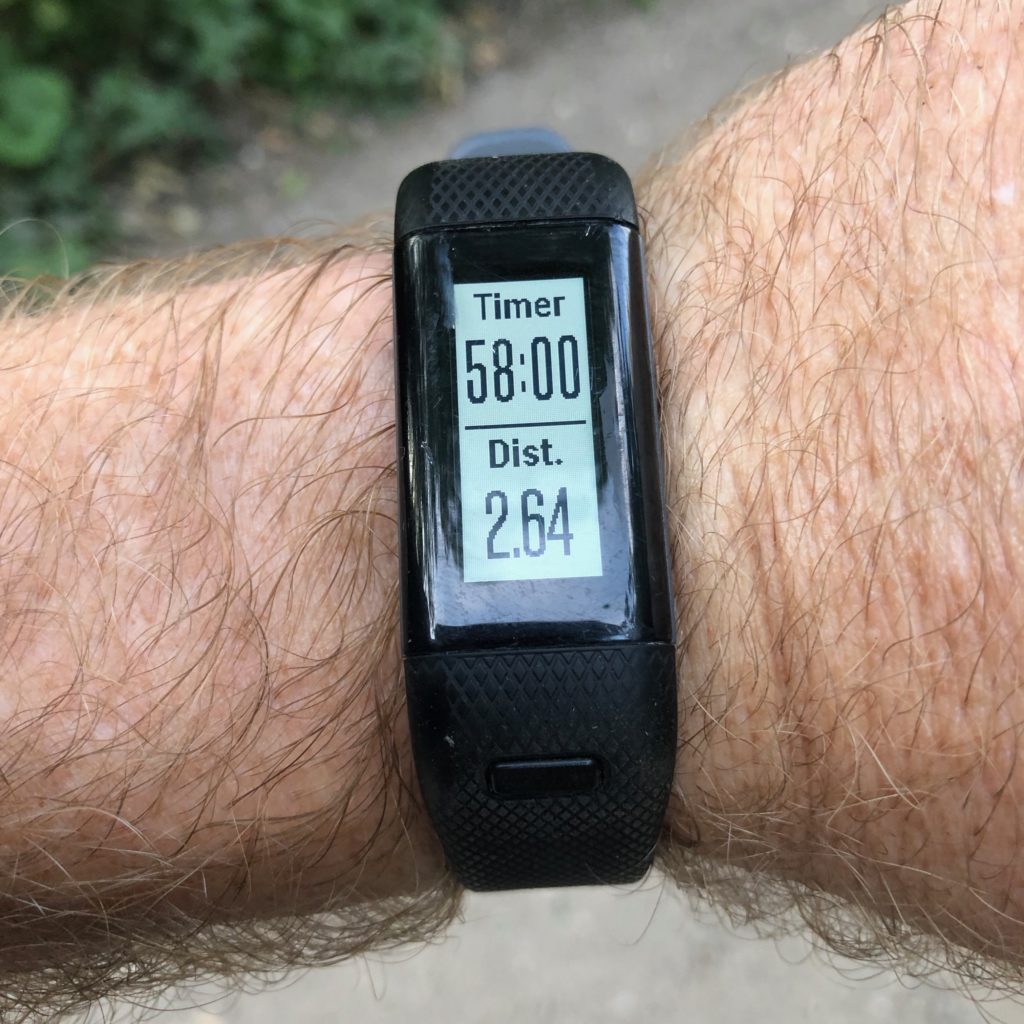 Two years ago I was given a Garmin Vivosmart HR+ as part of a sponsorship deal with Microsoft. I'd been working with a team of their developers to build an app that could track and capture health metrics, GPS waypoints and distance travelled. The data would then be uploaded to my website via the Iridium GO! satellite communications device I rank a comparison test on.
The Vivosmart is aimed at runners who need a rugged sports watch. What I discovered was that it's actually a great piece of equipment perfectly suited to hiking and long-distance expeditions.
This Vivosmart model is brilliant. Well nearly. Let's scratch the surface…
It's compact. I mean really compact. The entire package – GPS, HRM, watch, etc – is crammed into a chassis that measures only 6.4 x 2.1 x 1.2 cm. At only 25.3 mm x 10.7 mm, the screen could be bigger, and the size might be an irritation for some. But this works for me as the menu system is very basic and easy to navigate.
There is a smartphone app (Garmin Connect) that pull data from the watch and turns it into really cool and very pretty charts and graphs. Although not a huge fan of needing multiple devices I do love the data visualisations (because they look amazing on my Instagram feed).
It's also more comfortable than an old pair of slippers. Made from soft rubber, the watch strap provides just the right degree of grip – not too tight, or uncomfortable, but secure enough not to slide up to your bicep when you get a little sweaty.
All the key functions are accessed via a touchscreen. Not my first choice, but in this case I'll let it pass. Easy to use and intuitive. There are some minor irritations, which I'll talk about in a minute.
Compared to other options available, this sports watch is pretty inexpensive, and you can pick one up for about £90 (around $120).
As with any device, there are negatives.
Accuracy is vital many hikers who rely on a watch. At times the tracking and GPS data has been a little inaccurate. Most annoying is the watches periodic inaccurate distance calculations. From time to time I've gone on an 'out and back' run i.e. along a track to a halfway point, then turn around and follow the same route home. Every now and then my HR+ will report a longer outbound leg than the return. Strange, although I can live with this as the watch is not my main navigation device.
Did I mention this watch is incredibly rugged? The screen has taken some hard knocks over the past two years and the only scratch is barely visible. It's also travelled across Greenland with me – 600km of frigid cold and still lasted an average of over a day before the battery ran flat.
Stopping and the starting the activity timer is controlled via a single button (which also provides access to configuration and historical data settings, amongst other menu options). Given that many of my hiking and running routes are off-road I frequently travel through tall, dense foliage which strikes the button and pauses, or even resets, the activity. Grrr!
Garmin Vivosmart HR+ Ambit 3 Pro at Amazon UK
Garmin Vivosmart 3 HR+ Ambit 3 Pro at Amazon US
Suunto Ambit 3 Pro
The following review of the Suunto Ambit 3 Pro was written by a friend of mine, Max. We served together and, like me, he's a huge hiker and runner. All of our reviews are real and, if not written by me, come straight from the hiker's mouth.
Over to Max…
I bought the Ambit 3 Pro after losing my Garmin 305. To cut a long story short, I'd been out on a long trek and, after arriving back at my car, changing and heading home I realised I'd left my watch on the roof. Circling back round, I scoured the road until I found the crushed remnants of my 305, its tiny circuits seeping from the huge cracks in the body. RIP old hiking companion.
I'm not a huge fan of hiking watches that claim to do everything which means I rarely use the GPS function. On the occasions when I have needed the set any waypoints, I did find the coordinates to pretty accurate – more accurate than Garmin. The testing method I use is to navigate to a known grid reference taken from a map, capture a waypoint on the Ambit, the check against the known position.
Most of the time, my watch is used only to record time and distance. There is a built-in HRM, but I don't use it, opting for perceived effort rather than getting fixated on HR stats (which is easy to do and not always a great way to track fitness)
So far, I've used the watch for mountain biking, hiking and running. At every step of the way it's proven to be reliable and rugged enough to shrugs off the numerous knocks and scrapes experienced each time I've crashed and burned (which is more than a few).
One aspect of the Ambit 3 Pro that I really appreciate is the application integration. Setting up Movescount and linking to Strava is relatively simple. As soon as you connect the watch to the USB via cable, the Movescount app fires up and downloads the data. You then get a notification from Strava that your workout is ready to view. Clean, simple and easy.
There is one minor issue with Movescount and that a slight difference between distance and pace between Strava and Movescount. I tend to find that Movescount is accurate as per the data on the watch.
In terms of usability, the Ambit 3 Pro is comfortable, and the buttons respond well. It's necessary to give the functions buttons a firm press which I like as it prevents you from accidentally pausing, or erasing, your workout.
Like most GPS enabled devices, the Ambit 3 Pro can be loaded with routes which you can then follow. Knowing the Finns and their love of tech I'm sure this hiking and sports watch can do far more than I've explored.
Suunto Ambit 3 Pro at Amazon UK
Suunto Ambit 3 Pro at Amazon US
Garmin 920XT
The Garmin 920XT is another GPS-enabled sports watch that fits nicely into the category of 'best hiking watch'. Originally intended for triathletes and long distance runners, the XT is the latest in a long line of devices that have made a positive impression on the tech-savvy world of hiking and expeditions.
Wayne has supplied the following review of the watch.
I've been using the Garmin 920XT for about six months. At first, I only used it when training, but now it's become a general everyday watch that has been my go-to training device on many hikes and skis. Although this watch was originally aimed at triathletes, I've found it to be a versatile training companion for pretty much every activity I compete in.
A major issue with the XT is battery life. On average, when using the GPS in training mode I get about 24 hours of juice from the watch and then it needs to be recharge. Switching to 'UltraTrac mode' gives me another 16 hours of battery life for a total of 40 hours on one charge. I know some dedicated hiking watches last longer.
Although I've read research that suggests the accuracy of certain GPS-enabled watches is lacking, I have never had a major issue with the 920 XT. Speed, pace and even the altitude tracking data is accurate (I use maps and a compass as navigation aids and always cross-reference the watch's readings with my location on the map).
Being a Garmin means you can easily upload and download routes. I'd never use this as a safety feature, but the fast and easy access to my plotted trails and waypoints is appreciated.
Robust devices are a hallmark of Garmin products and this model from the Forerunner range is a tough cookie. The buttons are large and easy to use, and the layout is definitely 'prettier' than a number of other devices I've owned.
Whilst it might seem tiny when compared to dedicated GPS units, the 920XT's 1.1 x 0.8-inch display (205 x 148 pixels) put a lot of information in front of your eyes at a glance. And if you're interested in viewing only one piece of information the display adjusts accordingly to present the metric in large, easy to read numbers.
Like most other decent products on the market, the Forerunner 920XT just works with Strava – upload of my hikes and training sessions is automatic.
I love this watch. It's not a dedicated hiking watch and it is a little pricey, but I've found it to be way more capable than some of the competition.
Garmin Fenix Multi Function Watch
Arguments still rage over exactly which is the best hiking watch of 2019. To be honest there's probably no right or wrong – it's all comes down to you personal preference, needs and budget.
When I was putting this review together, I realised that there was no way I could expect to cover all the available options on sale. The price alone would have emptied my bank account. It also became apparent that many of friends and fellow trekking enthusiasts might be better placed to provide the bigger picture, so I asked them
Why all these thoughts? Because, above all others, one watch stands head and shoulders above the rest: the Garmin Fenix.
Garmin have been manufacturing this watch for 7 years now and a number of models are available. For the purpose of this review, we are going to focus on the Fenix 5S.
In terms of comfort, durability and looks the 5S gets the thumbs up across the board. One particular friend of mine, Kenny, has owned Fenix watches since they first launched, and he's always been impressed with the light weight and comfort.
Here are Kenny's thoughts.
I'm used to wearing quite a heavy watch – one with a large dial and easy to read display – but, when I switch into hiking mode, I frequently have to double check I'm still wearing my Fenix. It's so light and comfortable that I forget I'm wearing it."
What I also like is that, unlike some sports watches, you can easily change the straps to one that suits your needs. A lot of options exist, and my favourite is the silicon strap which is easy to wipe clean after a hard training session. My only grumble is that this strap option is not the most durable and I've replaced it twice due to tears that have formed around the clips.
The watch itself is incredibly tough. If there was an award for durability, the Fenix would win every time. Over the past six months, the screen has been scratched a few times by impacts that would probably cause other multi-function watches to disintegrate. To be honest, I've had a smaller, less violent, tumble that smashed a previous sport watch I owned.
The Garmin Fenix 5S is relatively small in size. At only 42mm the screen space isn't the largest option, but I chose this watch because I have small wrists. I did try the larger and bulkier F5, but it looked like I was wearing a brick on my arm.
Due to the smaller screen size and resolution the default display can be a little difficult to read. This issue was easily fixed by going into the Connect IQ store and modifying the colour scheme.
Price is the only major issue for me. The Fenix 5S costs the princely sum of £350 from Amazon, or $480 (I bought my watch in the US whilst travelling). Lower cost alternatives do exist and, if you don't require an extremely rugged watch, I recommend you check these out (in particular, the Vivosmart HR+ that James reviewed here in this post). Like Suunto devices, a Fenix is an investment in your training and a particular lifestyle.
For me, the Fenix 5S is the best hiking watch of 2019. Unless Garmin's competitors get into the game the 5S will continue to dominate the market for quite a few more years.
Garmin Tactix Multi-Activity Watch
Simon, a friend from way back, is now based out in the United States. He's a keen runner and hiker. Amongst his repertoire of achievements, he's completed a number of ultra-marathons, regularly canoes long distance along the rivers in New York state and skis. His preferred hiking watch in the Garmin Tactix (I'll be doing a full review soon).
Here are Simon's thoughts on this watch:
I love it. It does everything that I need especially as I do a large range of activities… snow shoe, xcountry ski, hike, run, indoor run, row, bike, kayak etc
There are many pros to this watch, too many to list so here's a quick rundown of the points that matter to me.
Garmin's regular updates of the Tactix help keep the watch at the forefront of the multi-activity sports watch clan. I'm sure there will come a time when technology leaves it behind in favour of cutting edge devices, but for now it does exactly what I need it to.
Great to create bespoke workout screens. This lets me multi activity workouts. Whilst we're on the topic, the hardened screen is great. As you'd expect from any watch aimed at serious hikers and sportspeople, it has been engineered to be rugged and then some. Even though it's no spring chicken and has taken a few knocks there is very little sign of wear (the surround has a few scuffs and scrapes
In my opinion it's… 'One watch to rule them all, one watch to find them, one watch to bring them all… and in the darkness bind them' :@)
I can't finish this review without adding a few cons.
The Tactix is a little too bulky to wear all day and especially at night to gain sleep data. I use a Vivosmart during the day and night when I am not specifically exercising which is far smaller and lighter.
Large form means it is liable to get knocked about when wearing all day. The black finish tends to take abuse and show nicks and therefore seems much older than it is.
Slow screen changes when you put a bespoke screen on (see pic). Once I created my own screen the change to other screens sometimes takes seconds.
Plastic strap breaks quite easily… specifically the 'ladder rungs' on the non-clasp side that the clasp locks into.
5 independent reviews and each one staking a claim to the best hiking watch crown. In my opinion, and having owned a number of these devices, I'm inclined to say that all of the above watches will be suitable for your hiking and trekking activities. Whichever you choose, happy trails.