Reviewed: the Garmin Tactix Delta
I made the decision to buy a Garmin Tactix Delta after borrowing a Fenix 6 earlier in the year for review purposes. Much as I love my Garmin Instinct, it was a little hard to go back to it after a few weeks with the Fenix's big full-colour screen, detailed health-tracking functionality, weeks-long battery life, and advanced navigation features.
However, there were a couple of features missing from the Fenix 6 model I reviewed (the standard, non-Pro model) that I felt I'd have to have if I was going to go to the expense of upgrading. Most notably, full-colour mapping, route creation, and inbuilt music. To get those meant the Garmin Fenix 6 Pro and, since I also wanted the largest size available, I realised I might as well buy a Garmin Tactix Delta because (with the exception of a few small details) they are essentially the same thing.
If you're not sure the Tactix Delta watch is the right watch for you, then, check out these posts:
Garmin Fenix 6 vs Tactix Delta
Best hiking watches (of 2022)
So I did, and so here is my review of it. I should say at the outset that there will be a lot of overlap with my previous review of the Fenix 6 edition because so much of the functionality is the same. However, rather than copy-pasting, I have started from scratch, field-tested the Tactix again as an entirely new watch, and written my review accordingly. Hopefully this might bring a few different features to the fore that I didn't focus on in the other review, or highlight different aspects of how the watch works. I will also focus especially on the features that are unique to this particular model.
Let's dive into this Garmin Tactix Delta review.
Choosing between the Garmin Tactix Delta and Garmin Fenix 6
As referenced above, there are a lot of similarities between the Garmin Tactix Delta edition and the Fenix 6 Pro. Both watches are available with various options:
The Fenix is available in Standard or Pro (which adds maps, music, PacePro and route creation), in three different sizes, and with either Solar charging or the Sapphire scratch-resistant lens. The latter two features are only available on the Pro model, and are mutually exclusive – you can't have both solar and sapphire on the Fenix. The Fenix is also available in a bunch of different colours and even with leather straps.
The Tactix, on the other hand, has the Pro features by default, has the sapphire lens by default, and is only available in black and in the largest size. So the only choices are whether you want solar charging (which, unlike the Fenix, is also sapphire) and whether you need the applied ballistics calculator which, let's face it, almost no one does.
If that sounds pretty complex, let me sum it up: the Garmin Tactix Delta watch is, in almost all respects, a Garmin Fenix 6 Pro Sapphire 51mm, with slightly different styling and three additional tactical features: stealth mode, night vision support, and a 'kill switch' (more on which below). It is also around £40 more expensive, which is probably fair enough.
If you want sapphire and solar, your only option is a Tactix Delta.
If you want night vision support or a kill-switch, you need a Tactix.
If you just like the look of it, you need a Tactix.
If you don't care about those things but want the Pro features, you can choose between a Tactix Delta or a Fenix Pro.
If you don't want the Pro features and want a cheaper watch, you should go for a Fenix Standard.
If you want a smaller watch, or the ability to choose a range of colours, you should go for a Fenix.
Check out the video version of this review below – including some footage of the watch in action.
Tactix Delta Review criteria
As with the Fenix, reviewing these big beasts of watches, with all their dozens of functions, isn't easy and I choose not to offer a single score or rating. Every Garmin product I've ever used has been fundamentally a 'good' product, but the question is really whether it's right for you, your budget, and the purpose you propose to use it for.
So, I'll go over all of the major use-cases and features and cover off pros and cons as I go, and then sum up with some thoughts on who the watch is for and who it is probably not for. What I am mainly thinking about as I test each activity is:
The physical form of the watch: comfort, durability and (to a lesser extent) looks.
The display: how easily I can see and access key data.
The interface: how easy it is to understand and navigate through screens and functionality.
The usefulness of the data: how useful the data gathered actually is.
The accuracy of the data: how accurate the data gathered actually is.
Build and appearance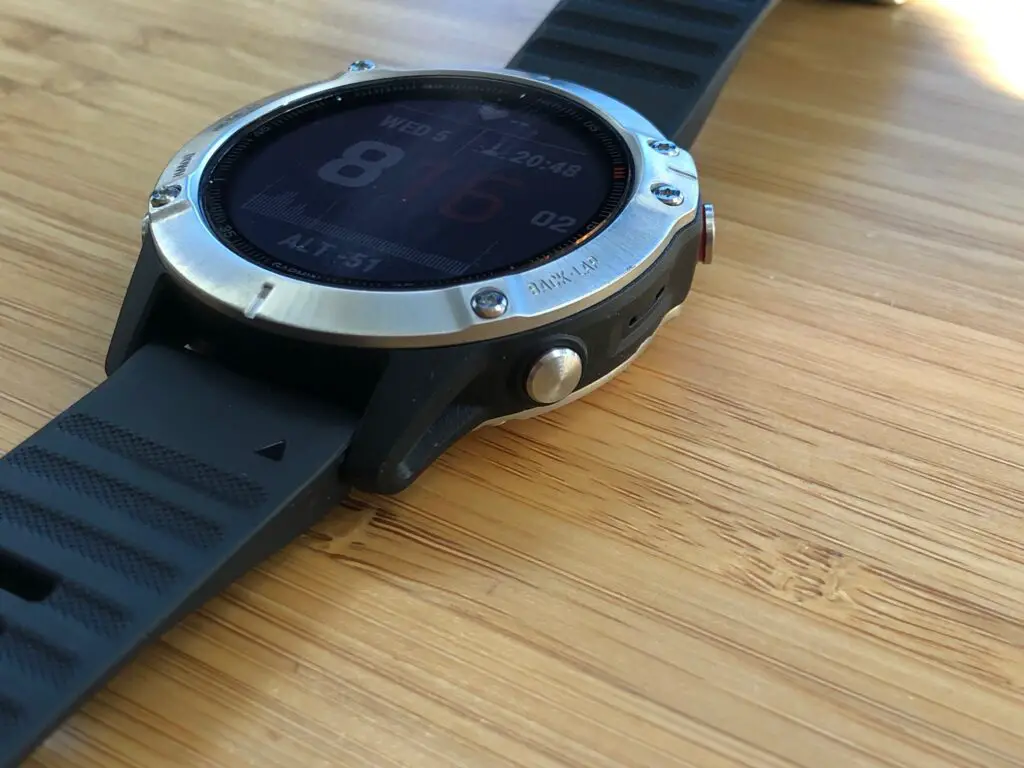 I thought the 47mm Fenix I reviewed was pretty chunky, but the Garmin Tactix is undeniably a big beast. With a 51mm case and weighing in at 80g, it feels chunky in a way that I personally like, but takes a bit of getting used to after a series of fairly small and feather-light running watches.
The construction is largely polymer, but with a brushed-steel plate around the top, with small visible screws that give it a 'rugged' and slightly industrial look. It's this steel top that is the most notable difference with the Fenix: while the Fenix has a beveled edge around the display that slopes down to meet the sides, the Tactix has a flat edge with a pronounced lip or ledge. The differences are essentially purely aesthetic; the Tactix has a slightly more military appearance while the Fenix is more in-keeping with lifestyle watches like the Vivoactive.
Build quality appears excellent, not quite as 'plastic' as the Instinct, and with big chunky buttons that give a positive click when pressed. It's built to military standard 810G for thermal and shock resistance as well as being able to withstand 10ATAs of pressure, or 100m underwater – a depth that only the most advanced technical divers are ever likely to go anywhere near. (On that note – an aside: Garmin have finally got into the dive computer game and, while I recognise that they are wisely keeping such safety-critical technology to specialist watches for now, I can't help wondering if a future iteration of the Fenix or Tactix will simply have a diving activity inbuilt. Just a thought.)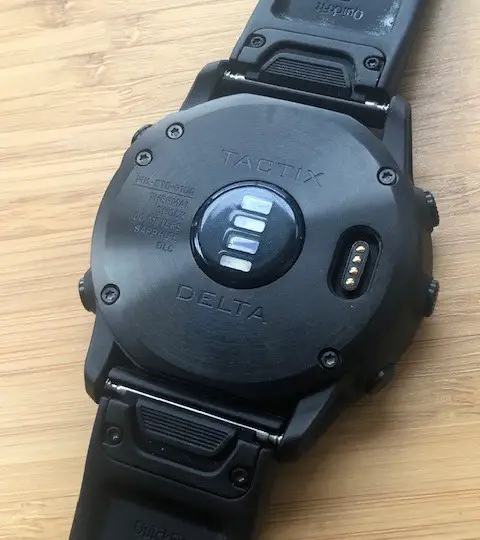 The back of the watch is also brushed steel with visible screws, and has the multi-coloured lights of the HR and pulse-ox sensors, as well as the charging port that Garmin have (thank goodness) finally made standard across their range, meaning that the third-party charging base I bought for my Instinct will also work with this.
Everyday use
The features on Garmin's Tactix Delta, like most other activity watches, can be broadly split into those you'll use day-to-day – essentially smart-watch features – and those that are only relevant when doing an activity, like GPS. There is some cross-over between the two, and all of the day-to-day features are also available when in an activity, but this is probably a useful way to break down the review. So, to begin with let's go through the standard features you'll use when wearing the watch most of the day.
Watch faces
Like the Fenix and Vivoactive, the Tactix watch face can be customised with a handful of default options and a limitless number that can be downloaded or purchased through Garmin IQ. Both digital and analogue displays are available, with varying colours, watch-hand styles, text styles, and so on. Each also has a number of additional fields that can show other information such as date, HR, battery life, altitude, and so on. In some cases certain fields can only show one of a select few types of data which seems arbitrary and is occasionally frustrating if, for example, you particularly want to show battery life somewhere that appears only to be capable of showing HR or sunset/sunrise. That said, given the number of options available to download (and presumably to create for yourself if you are so inclined) it ought to be possible for everyone to find a layout that works for them.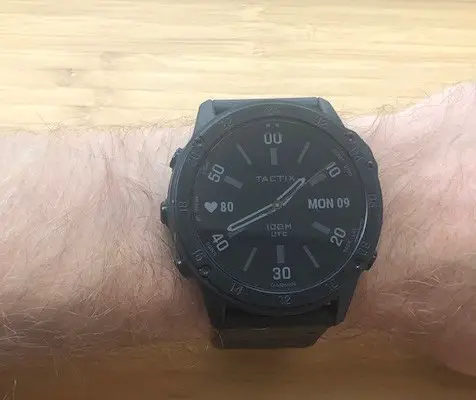 Widgets on the Garmin Tactix Delta Watch
Aside from the watch face, the other features you will use when not in an 'activity' are the widgets. You can select a whole range of widgets from the defaults in the watch as well as more that can be downloaded from Garmin IQ, and these are accessible by scrolling up or down from the main watch screen. Each widget shows a limited amount of information within the scrolling list, and can then be clicked into to show a more detailed display. Obvious useful widgets include things like weather, notifications, calendar, and so on – but the potential list really is endless and much of the time you spend setting up the watch will be figuring out which widgets you really want.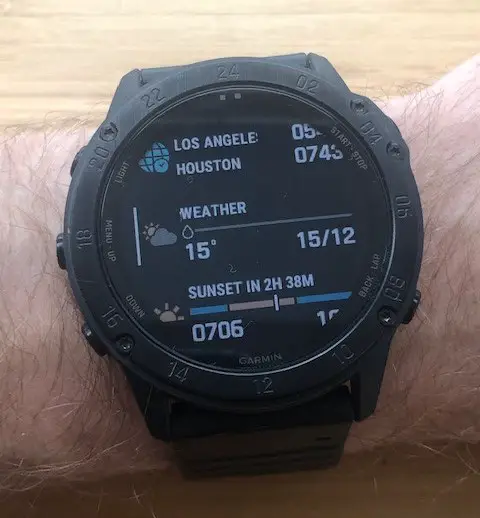 The widgets, and the sheer range of information they place at your fingertips, are incredibly useful, and it's worth remembering that even without the activity-tracking functionality, Garmin's latest offerings would make for pretty decent smart-watches.
There's not a lot by way of widgets on the Tactix that aren't also available on Garmin's other smart/lifestyle watches. However, firstly it does collect some data not collected by the lower-end watches, especially in the health stats category and, secondly, it's huge display really shows off the widgets to their best advantage and makes them particularly easy to read at a glance.
Notifications
Obviously it wouldn't be a smart watch without notifications – and you can enable the Garmin Tactix to display notifications from your phone. The functionality is available in much cheaper watches, including the Instinct, but the big full-colour display definitely makes reading a long text much easier than it was on the little black-and-white screen of the Instinct.
Garmin Tactix battery life
One of the biggest selling-points of the Garmin Tactix, much like the Fenix, is its absolutely stellar battery life. Garmin claim up to 21 days in smartwatch mode and, while I haven't fully validated that because I simply never go three weeks without doing an activity, it's clear that the battery life when not using GPS features is long. Even running almost every day it regularly lasts a week.
When you are in GPS mode, on the other hand, it can last up to 60 hours which means even all but the very longest ultra-marathons ought to be within reach. Both of these figures are substantially better than any other Garmin device I've owned before.
In addition, the watch has a bunch of different tracking modes to maintain battery life even when you are in an activity – essentially by reducing the number of GPS points it registers. This makes tracks less accurate, especially if you're moving quickly (running, and even more so for cycling) but works perfectly for hiking where a) you are moving slower b) tracking distance and speed very precisely may be less of an issue and c) you are more likely to be out for days at a time without access to a charger.
Garmin even boasts of being able to maintain the battery for 46 days in 'expedition mode', which tracks the lowest number of GPS points but is ideal for, as the name says, expeditions where you are away for long periods at a time.
I'm a huge fan of this; when I bought the Instinct I finally got rid of my old Foretrex 301, the main selling point of which had been that, unlike the running-focused watches I'd had previously, it displayed OS grid references. However, what the Foretrex also offered that none of these other watches have is the ability to take a AAA battery. That means that with an Instinct, Fenix or Tactix you are always eventually going to be constrained by your ability to recharge the watch, and so it's great to be able to set it to a mode that will keep it working and tracking me for potentially weeks at a time if I'm off on a really lengthy hike.
A final point that I love on the Garmin Tactix is that, whatever mode you are in, it displays an estimate of the amount of battery time available in that mode. No need to try and guess whether 12% battery is going to be enough for a 90 minute run – the watch will tell you.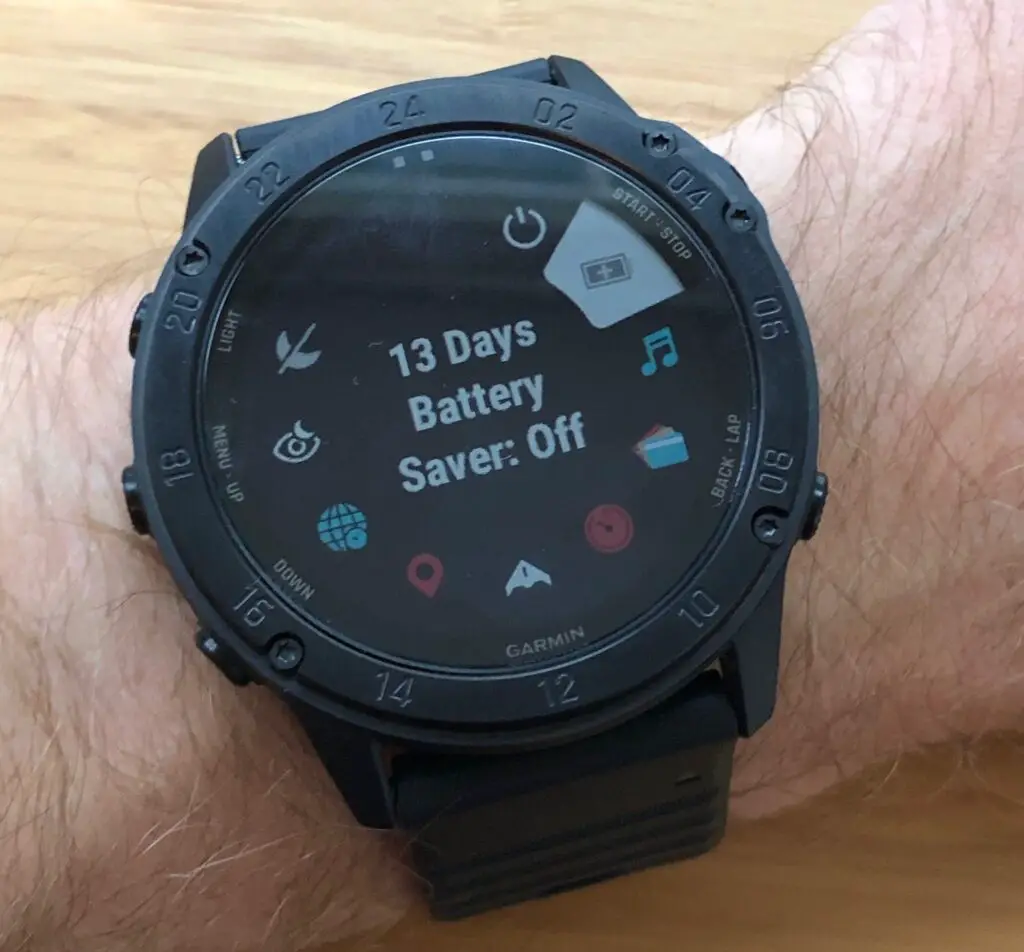 Battery management may seem like a really boring selling-point for a watch, but I'd absolutely point to this as one of the major benefits of the Fenix and Tactix and a key reason for buying one, especially if you run multi-day ultra-marathons or do a lot of properly off-the-grid hiking.
Running
The core running functionality on the Garmin Tactix is, in most respects, very much as you can find on almost any of the Garmin Forerunner series, the Vivoactive, or almost any other watch Garmin makes. You can set up any number of screens with almost any number of fields per screen, showing all sorts of data including speed, pace, distance, heart-rate, climatic conditions, and so on. Then you go into the run activity mode, press start, and begin running. The GPS tracking is highly accurate and the resulting nice maps, along with gradient and heart-rate data, can be viewed on the Garmin Connect mobile app or (more likely) sync'd to Strava.
The reasons a runner would buy the Garmin Tactix, then, aren't so much about the core running functionality that's available on much cheaper watches, but about some of the pro features that are especially aimed at runners and cyclists. In particular:
The really in-depth health and fitness metrics that can help a serious runner to manage their training. I'll talk more about these in a separate section below as they apply to more than just running.
Mapping and, especially, route creation which I'll go into right below this list.
PacePro – which is a huge selling point for any runner that enters races on a regular basis.
Course creation
One of the pro features only available on the Fenix Pro or the Tactix Delta watch is the ability to generate round-loop running or cycling courses of any distance, on the fly, from your current location. This uses 'Trendline Popularity Routing' to create routes that are not simply technically possible based on the map, but which follow popular running or cycling tracks, based on the enormous amount of activity data Garmin has at its fingertips, to generate routes that are fun and safe to run on.
I completely love this feature. Before Covid changed our world, I used to travel a lot for work, and one of my common experiences is waking up and going for a run in an unfamiliar city, spending half my time looking at my phone trying to work out where I'm going, and still somehow ending up running on streets with no pavement, on roads with no street lighting or accidentally ending up alongside a four-lane carriageway. Even when I'm not travelling, this feature will be a fun way to just find new runs of different lengths from home, so I'm pretty excited about it.
The course creation is simple and easy to use. You select your activity (running or cycling), then press up for options, select navigation, and 'round-trip course'. Set your distance, choose the direction you want to head in (North, South, East, West or any direction) and then wait. Creating the course then takes a bit of time, sometimes as little as 10 seconds but occasionally a lot more, before presenting you with a course option. You can click down to see more options, although each one takes more time to create, and then select one to follow.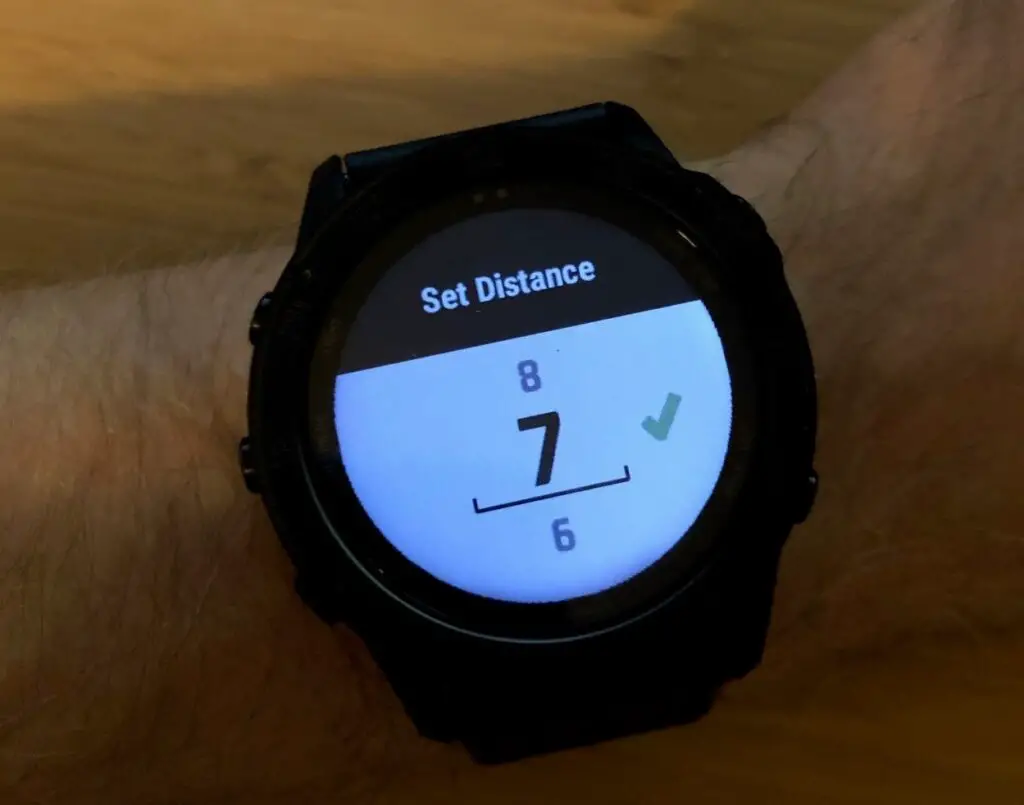 I've been really impressed by this feature – it consistently creates interesting routes that are clearly 'good running routes' not simply 'a loop of random streets that roughly meets the distance set'. It's become one of those things that I wouldn't have necessarily thought I wanted, but which I'd now really miss if I didn't have it and, whenever I'm somewhere new, I trust to the Garmin to create me a running route rather than staring at Google Maps trying to work out what will be a nice route and what will accidentally take me through a swamp.
Garmin PacePro
PacePro is another big selling point for runners. Simplistically, it tells you what pace you need to hit to get a particular time for a particular distance, but adds a degree of smart adaptation to that figure in three main areas:
It adapts that pace to reflect how fast you've been running so far. In other words, if you've missed your pace for the first few miles, the pace you'll need for the rest of the race will be higher, and vice versa. This alone is worth the price of entry for me, having spent an awful lot of my time in races doing mental arithmetic to work out what split I now need for the remaining distance in order to hit my target.
It allows you to decide in advance whether you want to negatively split (i.e. run each mile/km faster than the one before) or positively split (the opposite) and by how much, and will then guide you to the correct split for each mile (while also adapting on the fly based on how fast you actually went).
So long as you are running a course that you have in Garmin Connect mobile app, either because you've run it before or downloaded the GPX data for it (which can be done for most major races), PacePro will also automatically adjust your pace to allow for slightly slower uphills and slightly faster downhills. Again, this can be adapted to your taste. Although even the minimum setting allows only for running everything at the same speed, you can't go in the other direction and opt to run faster uphill because, well, we're not crazy.
So far I've only tested this feature out in training runs but, the more I use it and the more I experiment with the settings, the more I can't wait to try it on a race. I won't pretend that my consistently disappointing performance at Marathons is down to the lack of dynamically adjustable pacing, of course. However I have run enough races (including the annoyingly rolling Brighton Marathon and the disgustingly hilly San Francisco Marathon) to be well aware that:
a) It can be difficult maintaining a steady pace on a race day, due to excitement, overcrowding of the course in the first few miles, and slowing down at aid stations – so having a pacing guide that adapts and updates based on what you've done so far will be invaluable.
b) Any race with a few hills becomes tricky – you know you'll slow down going up them, but trying to work out whether you're slowing down 'too much' and then whether you'll be able to make that time back up on the downhill is beyond the mental arithmetic of most runners.
c) Negative splitting is a good race strategy but quite hard to do in a systematic way and still hit a target time, unless you have all your splits pre-calculated and written down. More realistically, in a Marathon I'm personally far more likely to positively-split. So perhaps I'd be wise to accept that and create a race plan that allows for a very slight positive split, then try to stick to it, rather than worry that I've 'gone off too fast', try to slow myself down artificially, and then fall to pieces in the last six miles anyway and miss my target time.
PacePro can be set up on your watch but it's easiest to do in the Garmin Connect mobile app, where you create pre-defined strategies for particular distances or courses. You'll be able to set a target time and/or target pace (though changing one naturally changes the other) and then adjust your pacing strategy for positive/negative splits, and easier/harder uphill effort. The former option is available if you are basing your race plan on both a distance and a course, while the latter is only available if you select a course, as it requires the gradient data.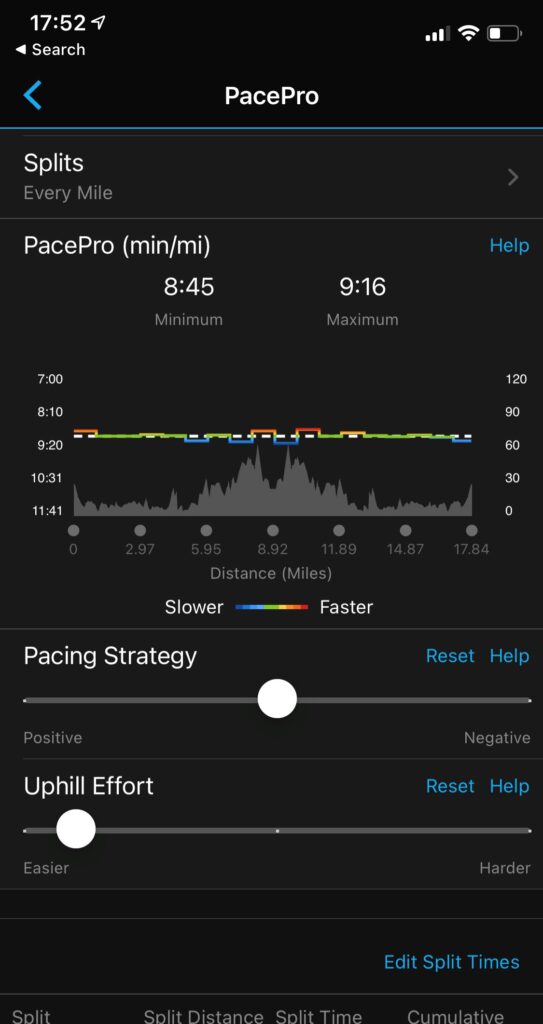 Individual splits are then output, and you can save the resulting plan, sync your watch, and then select it when starting a run activity by going to 'settings' and 'training'.
Hiking and expedition
The core hiking functionality is broadly no different to running, or any other outdoor (i.e. GPS-tracked) activity. You can set different data screens for hiking and, if you wish, use a different power mode that will allow your battery to last longer, but really there is no difference aside from how the resulting activity is labelled.
That brief overview, however, doesn't really do justice to the fact that the Garmin Tactix is a superb hiking watch. With detailed, full-colour maps; the ability to show latitude and longitude alongside any one of a number of different grid reference systems; route following; altimeter and barometer; three-axis compass; and half a dozen different navigation options, it's probably the best hiking wearable out there, with functionality that you'd usually need a handheld device to get.
Because most of that functionality is more about navigation in general than hiking specifically, and the navigation functionality is available both standalone and within any outdoor activity type, I'll discuss that more in a separate section.
Finally, as well as Hiking, there is a second 'Expedition' activity type which saves battery by disabling heat-rate tracking and phone connection, and only records a GPS point once an hour. That means your track will be fairly rough, but the battery will last for literally weeks.
A quick point to note for anyone wanting to plot and review their hikes and expeds – Garmin's Tactix Delta integrates with the Garming Connect phone app, a very useful GPS and tracking tool and one that's distributed free by the watch maker.
As discussed above, the navigation functionality on the Tactix Delta can be accessed through a navigation-specific activity, or as a sub-option within any of the outdoor activity types. So, I'll talk about the options in general terms, but bear in mind that you can access any of these while running, hiking, cycling, skiing, or doing any of a number of other activities.
First off, one of the big benefits of the Garmin Tactix Delta (or Fenix Pro) is the presence of pre-loaded, full colour maps. These are both detailed city maps with streets, shops, restaurants and other points of interest, as well as decent topographical maps, and more can be purchased or downloaded from Garmin to cover almost anywhere in the world.
There are numerous slightly different navigation options available, but they can be roughly broken into three types:
Navigating using pre-set locations on the map
To begin with, you can find particular items around you; food and drink locations, fuel stations, and other points of interest (all marked using the GPS system). You can search for these by name, scan the map for them, or look up particular categories. Then, once you select one, you can navigate to it using turn-by-turn navigation along streets. You could think of this as sort of the 'Google maps' option. It works great and, because it uses pre-downloaded maps, can be really handy in areas where you don't have any 4G.
Navigating using courses
Next up you have the option to navigate by using a course. This can be one you've previously done, one you've downloaded and sync'd to your watch, or one the watch generates for you (as discussed above in course creation). This is probably the most likely approach you'll use for hiking, as it's possible to either find GPX files (an import/export file-type for the GPS) for a lot of hiking routes, or create a route by drawing the legs on your phone, and then follow it on your watch. I did this a lot with both the Instinct and the Fenix, where it's a simple line on a plain white background and, while that was undeniably good, I can tell you that having the route overlaid on a proper map makes it a million times more useful and easier to follow.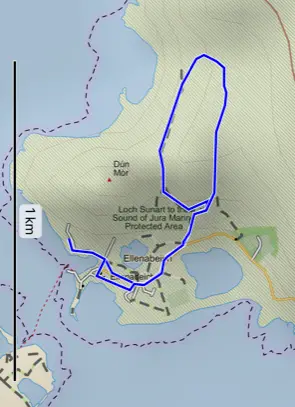 If you are following a course, you'll get a lot of useful information such as how far is left and your estimated time to complete, so if you do have the opportunity to set courses up in advance it's well worth it.
Navigating to a point
The simplest and quickest way to navigate with the Tactix is simply to navigate to a point. That could be a pre-defined waypoint, coordinates you enter, or a point you project by specifying a heading and a distance. These options are particularly useful in a military context where being able to follow a neat pre-downloaded course is less likely, but they're also great for hikers who aren't sticking quite as rigidly to a pre-set route but want to keep themselves roughly on target for their destination.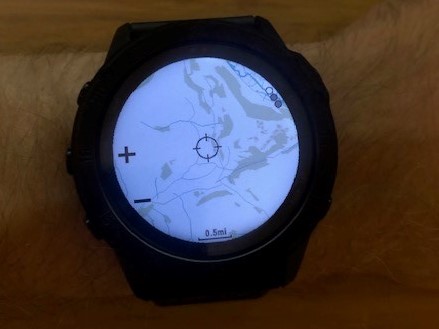 Gym
The 'strength' activity allows you to track a gym workout, using free-weights, machines, or body-weight exercises. In free exercise mode, the watch counts reps while you press the lap button to start a new set and, if you wish, you can manually enter the weight so you have an accurate record of your workout. The Tactix also does a decent job of detecting what lift you are doing, although this isn't perfect; it invariably detects a squat, but (understandably) can't usually distinguish between a bench press and a strict press. Its rep counting is also a little shaky with certain lifts, especially those with more than one distinct movement such as a clean and jerk.
Overall, though, I like the strength function and pretty much always use it. If nothing else, it helps me with remembering which set I'm on if I lose track, as well as timing my rest between sets.
Detailed workouts with numerous different exercises and set/rest patterns can also be created and then followed on your watch. While my pretty simple 5×5 standard workout doesn't really justify this, I can definitely see it being useful for more complex workouts and crossfit-style WODs where it might be harder to remember exactly what you are doing, in what order, and for how long.
The Tactix also comes with a few inbuilt workouts: a '30-minute blast', a 'back-to-basics workout' and an upper-body workout. I gave the 30-minute blast a go and can confirm that it's a pretty decent workout and it was easy to follow each step on my watch – especially as it showed nice little animated diagrams for each lift.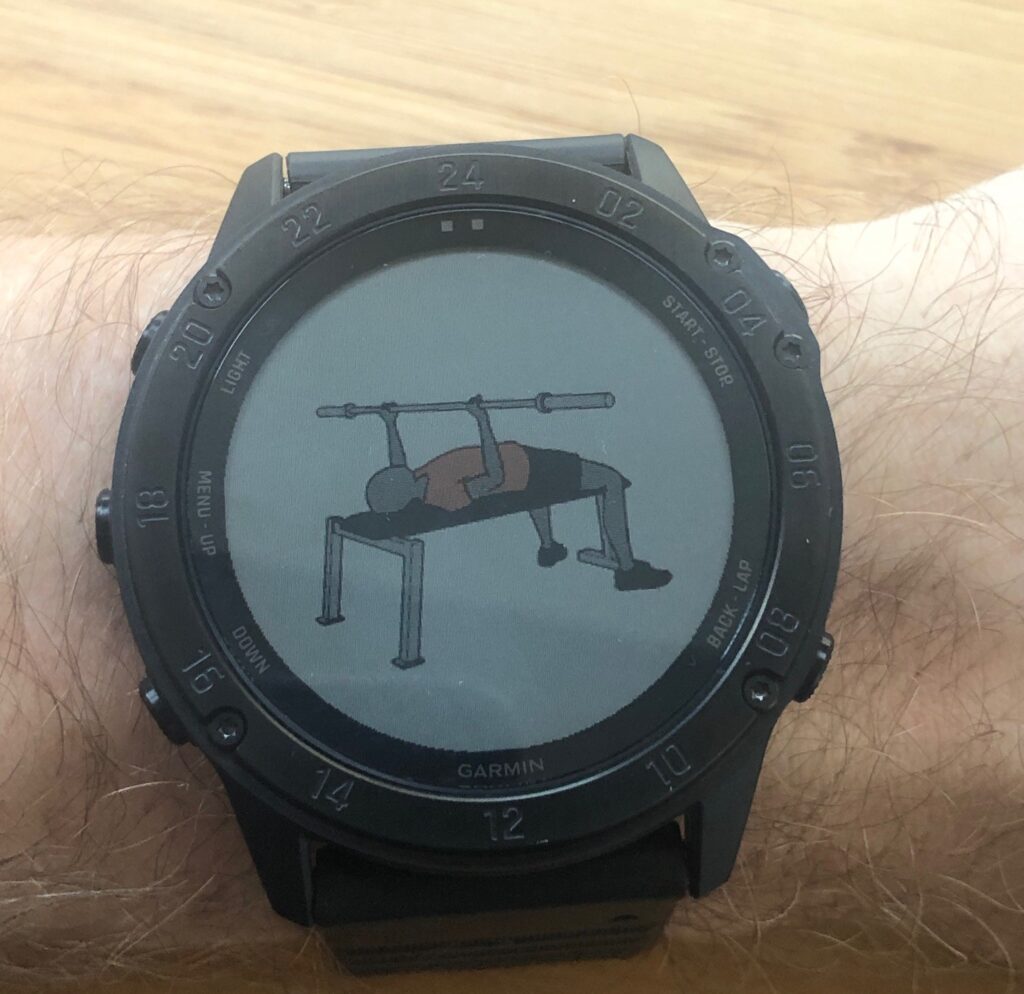 I can imagine the strength workouts being an area where the connectivity and being able to download custom sessions would be of particular value. A crossfit box making its WOD available as a Garmin workout, for example, or a virtual coach being able to create workouts and send them to you. It's all really nicely implemented and adds a tonne of value over and above simply counting reps and sets.
Triathlon and Multisport
In common with the Fenix, the Garmin Tactix Delta has multisport/triathlon capability. This means not simply that you can do swim, bike and run activities on the watch (which is possible on almost any Garmin watch now) but that you can switch instantly between pre-defined sports and keep certain activity details, such as distance and elapsed time, running from one to another – which is essential when doing a multi-sport race.
The watch actually has three multisport activities – triathlon, swimrun, and multisport. The former two are essentially just pre-set multisport activities for two of the most common types, while the multisport is open to you to set up your own. Using this you can set up multi-sport activities that combine almost any of the activities available on the Garmin, and you're not restricted to just three events. Want to do a parachute/golf/ski/strength event? That's possible. Want to do snowboard, pilates, and stand-up-paddleboard? Go for it.
Swimming
The Tactix Delta supports both pool and open water swimming, although they work in very different ways. Open water swimming works essentially just like running or cycling: it uses GPS to track your location and uses that to work out speed, distance, pace and other metrics, which you can choose to display on the screen. Older Garmin models struggled with open-water swim tracking due to the water blocking the GPS, especially if you did a stroke such as breaststroke that keeps your wrist mostly underwater. However, the Tactix appears to have almost completely solved that problem and I found that I got highly accurate swimming tracks when swimming in open water.
In the pool, it works differently – you enter the length of the pool and then the watch counts laps by detecting you pushing off the wall, determining distance (and therefore speed and so forth) from that. It can also detect your stroke count and even what stroke style you were doing, with reasonable accuracy.
With the old Garmin Swim, which was a standalone watch that did the same thing, the accuracy wasn't great and it was fairly easy to accidentally count additional laps. That seems to have been completely sorted out with the latest watches and I found the Garmin Tactix rock-solid with its lap count, refusing to add extra laps even when I deliberately tried to trick it.
The availability of open water swimming is going to make this a pretty appealing option for any triathletes (although Garmin does make cheaper multi-sport watches such as the Forerunner 745) as well as adventurers and outdoorsy types of all sorts. Pool swimming is a more standard feature on most of the Garmin range now, but it works brilliantly and makes this a very useful gym watch alongside everything else it does.
Tactical Features
As mentioned in the intro, the only real difference between the Garmin Fenix Pro Sapphire and the Garmin Tactix Delta, aside from the styling, are three tactical features that only the Tactix has, plus one that the Fenix also has. All of these very much fall into the category of being very useful for military users and almost completely irrelevant for everyone else, so I won't dwell on them too much:
Stealth Mode
Stealth Mode disables track logging and any wireless communication (i.e. with ANT+ accessories or via bluetooth). Activities will still show 'in-the-moment' data like location, time and pace but none of this will be stored. For most users this is the exact opposite of what they want, but it is relevant to military users who might be concerned either about detection via electronic snooping devices picking up on wireless signals from the watch, or the risk of someone being able to discover all their previous movements if they somehow accessed the watch.
Night Vision Mode
This very slightly changes the display so that it can be viewed through night vision devices. It is still visible to the naked eye, but the screen can be easily read through a set of night vision goggles, which is impressive and certainly very useful if you're likely to be using it while wearing NVGs. Again, completely invaluable to the military but mostly irrelevant to everyone else.
Kill Switch
The kill switch, if you have it configured, allows you to configure a hot-key combination (pressing and holding either one or two buttons of your choice) that will perform a full factory reset of the watch, destroying all stored data. This is, for obvious reasons, not enabled by default and, again, is the last thing that most civilian users would ever want to do. For the military, however, Garmin devices can hold an awful lot of very sensitive information so being able to quickly clear it all is definitely a useful feature. Though I don't expect ever to use this, I'm impressed that Garmin added it and I think it shows a nice awareness of what the military community need from a device.
Playing music on the Garmin Tactix Delta
In common with several of Garmin's other higher-end watches, including the Fenix 6 Pro, the Garmin Tactix has the ability to not only control music played via your phone, but also to store and play back music directly from the watch, allowing you to run without a phone if you wish.
This certainly wasn't a killer requirement for me – I like running with a phone anyway for safety reasons (and for the occasional snap of a glorious Brighton sunset) but with phones getting bigger and bigger, there's no denying it is a hassle; requiring a bulky belt or running vest to hold it. With the Garmin Tactix's ability to play music, I've started to really enjoy being able to go out on a run with just watch, headphones and a key.
The actual mechanics of doing so are a little on the clunky side, however. The watch has a Garmin app (other music apps are available, including via the IQ store, but I only tested Garmin) which you connect to your Spotify account by setting it up in Garmin Connect and then syncing your phone. Both a WiFi connection and a connection to your phone are then required every time you want to download additional tracks, which can be done by browsing through menus of music in your library or podcasts you follow. Only tracks/podcasts from your library are available, searching for something entirely new does not seem to be possible.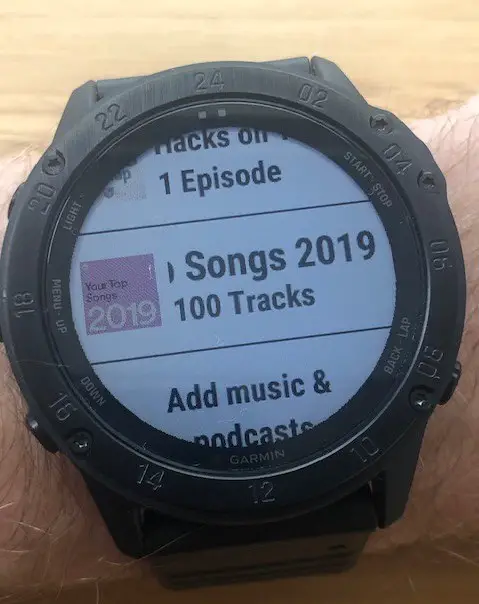 I found every stage of this surprisingly slow and occasionally unreliable: connecting to your phone to find tracks takes several seconds each time; downloading them takes an age, occasionally fails half-way through, and cannot be done in the background while you use the watch for anything else; and even connecting my Bluetooth headphones has occasionally been patchy, requiring a bit of 'turn it off and turn it on again' at times.
None of this is terrible, and once you have tracks downloaded and headphones connected the experience is rock-solid and frankly a joy, but perhaps I've been spoilt by the seamlessness with which I listen to music and podcasts on my iPhone, and switch between various different bluetooth devices. The Garmin experience is fine if you're going to set everything up in advance and then go for a run, but it probably isn't what you'd choose if you like to flick through music while on your commute.
Safety and live-tracking
One of the things I particularly appreciated about the Garmin Fenix, and which the Tactix also has, is a little suite of safety and live-tracking features built into the smartwatch. There are essentially three, somewhat overlapping features, all of which need first to be configured within the app (although I noticed that as I had already configured these when I borrowed the Fenix, it was already set up – so if you are upgrading from a watch that already had these features you won't need to do it again).
It's worth bearing in mind that all three of these features rely on the watch being linked to your phone, and your phone having signal. So, if you're enjoying the freedom of running without a phone now that the watch has integral music, that isn't going to work for you. And if you're off somewhere truly remote and want a device to summon help in an emergency, you probably need something from the Garmin inReach range, which communicates via satellite to ensure it can summon help from almost anywhere on earth.
Live-tracking. This allows you to send out a link on which people can track your location while you are in an activity. You can set it to auto-create that link every time and either tweet it or send it to select individuals, although that seems like a level of openness that I'm definitely not up for, and is rather at-odds with the secrecy/privacy-focus of the tactical features! For one-off events, however, this is brilliant and a feature I've been wanting literally since my very first marathon. Finally if I'm doing a race, people can follow me live either just to see how I'm doing or to make it easier to watch me on the course. Equally, if I was off doing a big hike I could give my partner or family access to the live-tracking link so they could keep an eye on where I was.
Assistance. This is a hot-key which, when you press and hold it, sends a message to your pre-set emergency contacts telling them that you need help, and giving them a link to your live location. A very handy feature but, again, it relies on a phone connection and a bit of signal.
Incident Detection. Similar to the assistance button except this can be triggered automatically in run, hike or cycle events if the Garmin detects a shock or impact consistent with an incident. I can see cyclists being pretty keen on this, especially if they cycle on quiet roads, and likewise as someone who often jogs on country lanes in the dark, it's a nice-to-have but of course not something you can completely rely on. And bear in mind it only notifies a contact, it doesn't summon emergency services, so it's still down to your contact to receive the message and take the right steps.
Garmin Pay
Despite my love of technology, I'm aware that there are areas where I'm significantly behind the times, and cardless payment is one of them. I've only just bothered setting up my main debit card on Apple Pay and I still never use it, preferring the physical card. So, on the list of 'features I was excited about' on the Tactix, Garmin Pay came fairly far down the list.
Which is a good thing too, because I have cards with Monzo, Barclays and AmEx, none of which currently work on Garmin Pay (which is largely down to the banks, by the way, not Garmin).
The list of banks participating can be found here and, well, it's not huge in the UK. Of the big high street banks only Santander is on the list, although both Revolut and Starling (Monzo's main competitors) are participating.
Unfortunately that means I haven't been able to test the feature out. I can definitely see it being useful, especially if I'm off on a long run and want to quickly buy a bottle of water or something, but it's not a deal-breaker for me and until more banks sign up I think it's likely to stay fairly niche.
The list in the USA is, unsurprisingly, much bigger and so it'll probably be a more mainstream feature there.
Garmin Tactix Delta health and fitness metrics
The final big category of features is Garmin's health and fitness metrics, which I've sort of lumped together here. Some of these (notably Garmin's stress score) are now available on most of the watches while others (Vo2 Max and Training Effect) are more premium, and a few (Pulse Ox and Respiration Rate) are only available on a handful of the top-end watches. The Tactix, being basically at the top of the pyramid, has everything so here's a quick run-down of the key metrics.
Heart rate
The most basic stat the Tactix tracks is heart rate, which it measures all day and at rest, giving you useful averages for resting heart rate, which is a decent measure of fitness.
Stress score
Stress score has been around for a while now, at any rate I've had it since my Vivoactive 3. I explain a lot more about how the Garmin Stress Score works here, but in brief it measures heart rate variation to give an indication of the physiological stress your body is under, and therefore tell you how ready you are for intense training.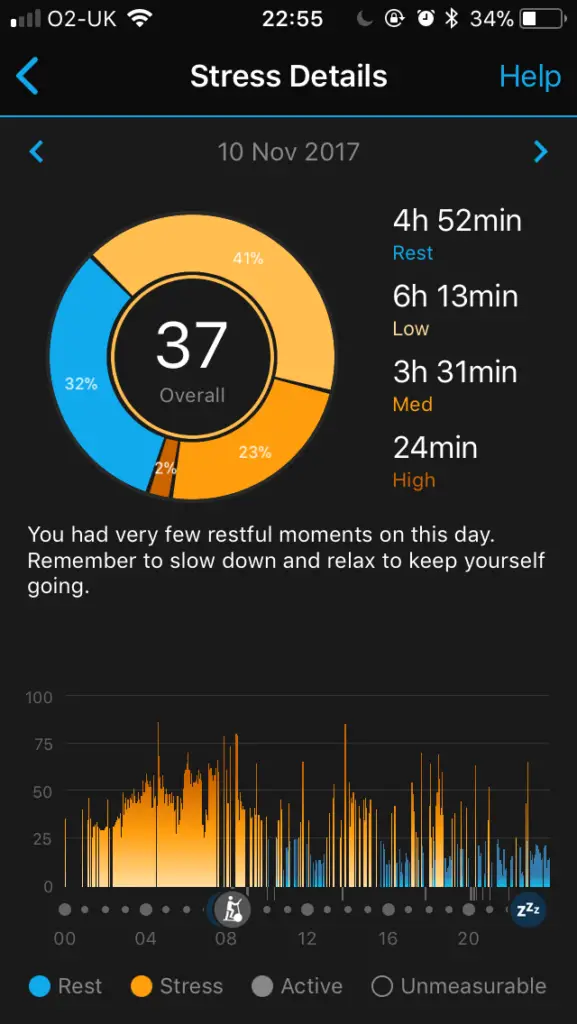 It does a decent job of picking up on illness, hangovers, overtraining and work stress and can be a decent guide as to whether I should push myself in training or ease off a bit, especially if I think I'm coming down with something or recovering from being unwell.
VO2 Max
VO2 max is a measure of the body's ability to consume oxygen and is a pretty useful gauge of cardio-respiratory fitness. So, unsurprisingly, for a lot of athletes, VO2 max is the gold standard fitness measurement. It can only be properly measured with expensive equipment involving working out on a treadmill or bike while wearing a mask, but the Garmin does a decent job of estimating VO2 max based on heart rate at different levels of exercise. I'm not sure it's a hugely useful figure in the sense of being able to make changes to your training program off the back of it, but it does tell you roughly how fit you are and can use that information to predict race times for different distances (although I'd note that my predicted marathon time is nearly an hour slower than my actual PB, so I'm not sure what that says).
Pulse Ox
Pulse Ox is a new one for me and of particular interest for reasons I'll come onto. It's a measure of the amount of oxygen in your blood, and the Garmin detects it using the same array of sensors on the wrist that it uses for detecting HR. You can track it all day, or save battery by choosing only to track it at night and at specific times when you want to check it.
Pulse Ox has been in the news a bit this year because it's potentially one measure of when a case of Covid-19 is getting particularly concerning, and I know of at least a few people who have bought themselves pulse oximeters so they can measure this at home. I'm not qualified to talk about the medical efficacy of this, but given that the first thing almost any medic will do if you feel unwell is check your blood oxygen levels, I can certainly see the value in being able to monitor it and get familiar with what is 'normal' for you, and thus what might be concerning.
The second reason I found this of particular interest is that I've been aware for a long time that I find my breathing feels a bit congested when I lie down to sleep, and I occasionally snore. I tend to prop my hand against my face in a way that opens my nasal passage a bit, but of course as I fall asleep I change position. Anyway, I was interested after a few days of wearing the Tactix to note that indeed my pulse ox was a little on the low side overnight (in the low 90s, so not concerning but definitely below normal). The question with all this data is often 'ok, but what can you actually do with it' and this is one of those cases where I could do something very specific; it spurred me on to finally try buying some nasal strips (springy plasters, essentially, that you stick over your nose and which opens your nasal passages) and wear them at night. Sure enough, my pulse ox went straight up to 98-99% at night and I felt way better in the morning.
So, while I was pretty skeptical or just uninterested in this data to begin with, I'm now a convert to what this smartwatch can offer!
Respiration rate
Respiration rate is a fairly straightforward measure – quite simply, of how many times you breathe per minute. It's potentially useful as a measure of if you're becoming unwell and it's also interesting to see how it changes over the course of a run, especially comparing it to your perceived exertion. However, aside from confirming that I have a pretty normal respiration rate most of the time, I haven't yet worked out any clear use for the data.
Training effect
This is one of the most useful metrics provided by the watch, and one I can see myself making a core part of my training planning. It uses heart rate and activity data to give you two scores for each activity (and also overall scores each day, if you did more than one activity): one for anaerobic training effect and one for aerobic training effect. Each score falls into one of six zones that goes from 'no benefit' through 'improving' and 'highly improving' to 'overreaching'.
So, for example, on a day that I went for a long, steady run, I can see that I was 'improving' my aerobic fitness but only 'maintaining' my anaerobic fitness, which makes sense and is in fact really useful information. It's brutal but helpful to be coldly informed of those runs which are basically just pointless trots, having no real training benefit, or of those runs where I pushed too hard and was overreaching.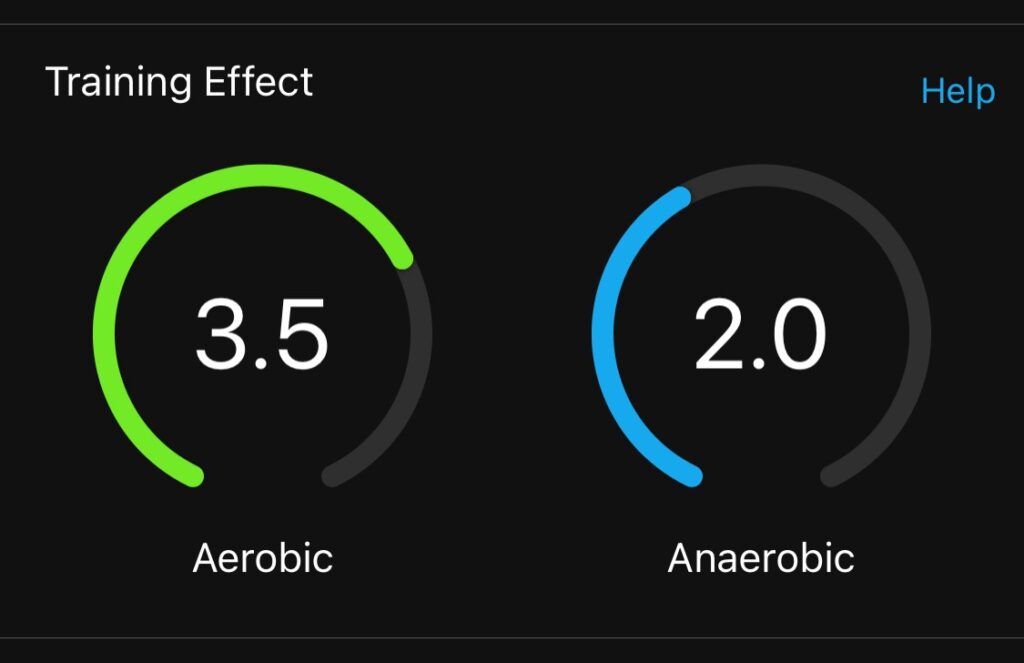 This sort of data is likely to make me far more inclined to plan my runs, think about how I mix in sprints and intervals, look at my HR while I'm running, and then look at the training effect at the end and consider whether I achieved what I wanted.
Summary
Despite being quite a lengthy review, this can still only really scratch the surface of everything the Garmin Tactix Delta smartwatch can do. It is such a fully-featured watch that it can be almost overwhelming and it's easy to think you'll never use everything it has the ability to do. However, if you are a keen hiker, a fairly serious runner or cyclist, generally interested in health and fitness stats and measuring yourself, or in the military – you will find so much benefit from this watch if you learn everything it can do and find ways to use it that work for you.
For many runners and cyclists at the higher end but not quite at the stage of having a coach, the Tactix can provide a lot of the insights that a dedicated coach would be able to. For hikers, it makes navigation an absolute breeze. And for military personnel it puts all kinds of critical information right at your fingertips and makes planning routes and sticking to timings a million times easier.
Buy the Garmin Tactix Delta if
You want a watch with just about every single feature available anywhere in the Garmin range.
You're a runner or cyclist taking your training seriously and want the pacing, training and health/performance features.
You want full mapping for hiking or skiing.
You need a watch that can keep tracking your location for several weeks while on an expedition.
You want function AND form found in highend smartwatches.
You want a big, chunky, 'tactical'-looking watch!
Don't buy the Garmin Tactix Delta if
You primarily want it to listen to music. It works, but it's not an easy user-interface.
You want a range of colours options.
You don't need the pro features, and you need a cheaper watch.
You don't have roughly £750 to spend.