Destinations
Walking the Ridgeway: an iconic UK hiking route
Walking the Ridgeway: an iconic UK hiking route
I wasn't walking the entire route!
This is my big admission – I didn't walk the entire length of the Ridgeway. Instead, I decided to go ultralight and fastpack most of the route, which I completed in about 17.5 hours. The last 20 miles were at a pace shifting between a slow run and a fast-paced walk. In theory, I have walked the Ridgeway.
But what matters is the experience, and that's why I'm writing this post.
The Ridgeway National Trail
Starting in Avebury, Wiltshire, and ending at Ivinghoe Beacon, Bucks (or vice versa, depending on your chosen direction), the Ridgeway is an 87-mile walking route (further if you have a 'map error'). Established over 5,000 years ago as a trading highway, the trail has been in and out of use since that time. Nowadays you'll be hard-pressed to spot farmers guiding livestock or goods along the way, as modern transport systems have long since taken dominance.
That said, you will run into a huge variety of animals along the course of walking the Ridgeway especially if you decide to hike through dusk and into the night.
Established as a National Trail in 1973, the Ridgeway cuts through many villages and towns as it meanders North East from its origin in Wiltshire to the endpoint in Berkshire. Yes, you read that right – your walk along the Ridgeway will take you through 3 of the UK's largest counties, and some of the most stunning countryside you can imagine.
In places, you'll find remnants of Britain's history ranging from Neolithic burial sites (no ghosts there) to more recent and abandoned, structures dating back to the Second World War. If like me you're a history buff as well as a hiker you'll find yourself pausing at regular intervals to capture photos of this spread of historic England.
Ridgeway route: South to North
The walk starts in Avebury, Wiltshire (a World Heritage site containing a staggering amount of Neolithic and Bronze Age settlements) and meanders through Wiltshire (along the way, and near White Horse, you'll be able to look down on the beautiful city of Swindon… I'm joking. Please, look right and not left). As you leave the subtle mix of rolling hills and plains that are Wilthsire, you come to Oxfordshire which is home to a fairly famous university and many training locations used to train SOE operatives in WWII. One of the small towns in this county is Chinnor which is just over halfway along the walk, and the place where I live.
The last county, home to the endpoint of Ivinghoe Beacon, is Buckinghamshire. 
Point of interest: the Wiltshire and Bucks sections of the Ridgeway are by far the more rural of the three. The middle section through Oxfordshire feels far more urban as you walk through a few villages and small towns.
Where shouldn't you walk?
For the most part, the Ridgeway is well-marked. There are some areas where the route becomes little more than a well-worn footpath but there is plenty of signage to keep you on track.
The most obvious piece of advice is to avoid crossing fencelines into farmers' fields or onto private land. Respect the signs and you'll avoid 'farm rage'.
Points of Interest
This is where it gets a little more interesting, and I'm sure this is the section you've been waiting for. Aside from the scenery, the Ridgeway walk is like many of the other national trails in that it edges past some of the most historic sites in the three counties (trust me when I say the views from the heights of the Chilterns are staggering).
So what are the highlights?
The Avebury Stone Circle (Wiltshire)
At around 2850 years old, the Avebury Stone Circle is likely more ancient than its rocky sibling Stonehenge. Consisting of 98 huge chunks of weatherworn granite, it's believed the circle was used as a site for pagan rituals. It goes without saying – Christianity had not arrived in the UK so pretty much everything was 'pagan' at that point in time.
I recommend you pause for a short time and explore Avebury if only for historical curiosity.
Barbury Castle (Wiltshire)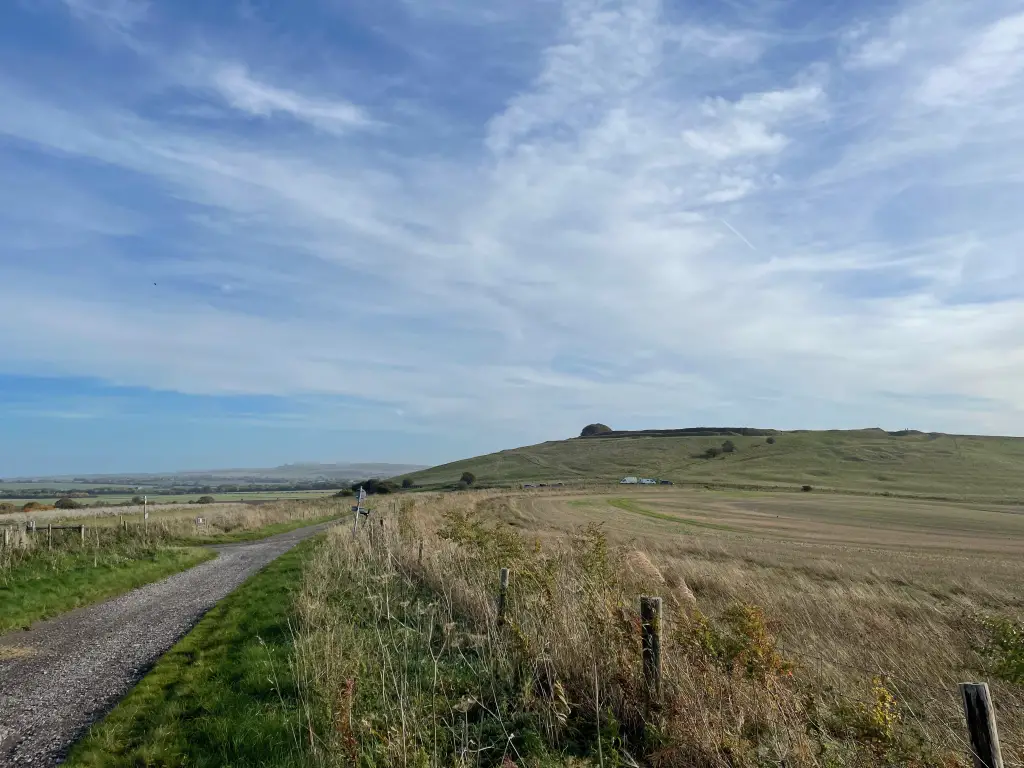 The origins of the castle date back well before its more modern, and ruined incarnation. Built on top of a 2,500-year-old hill fort the castle was established around 700 BC and has been home to Anglo-Saxons, and even Romans.
Sadly, there is little remaining of the castle but as you can see from the image below, the origins of the hill fort are clearly etched into the ground.
I'm impressed by the engineering and effort used to build a structure of this size and complexity in a time we modern Britons consider 'ancient'
Uffington White Horse (Oxfordshire)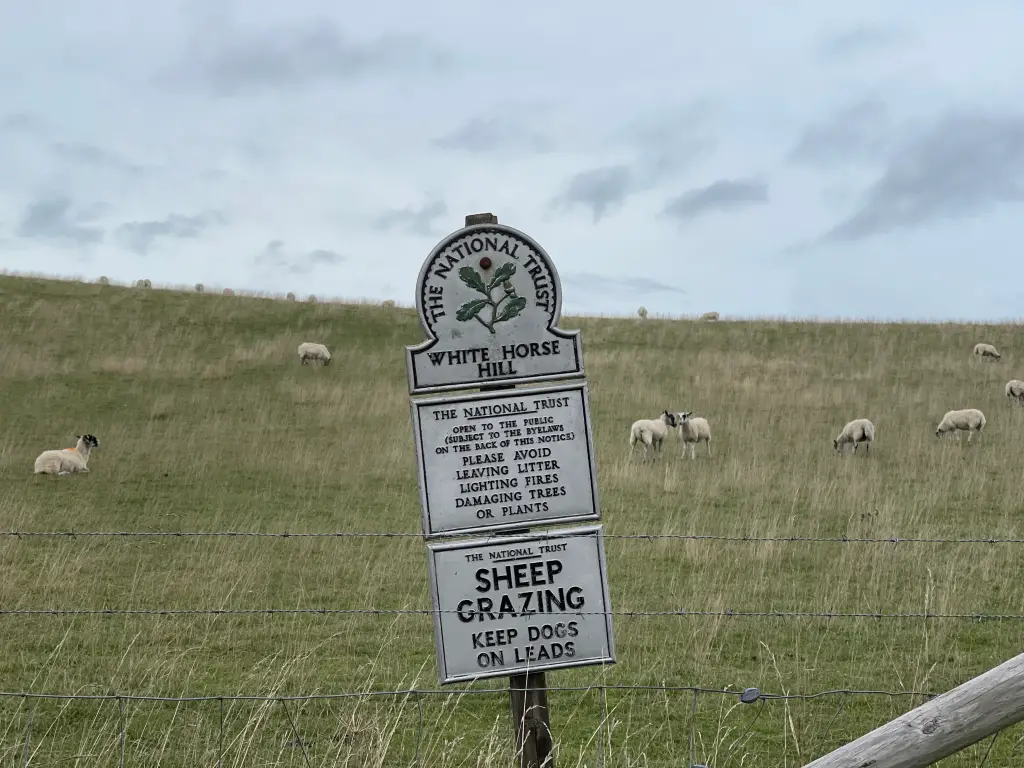 Often, when I come to sites like this I wonder what must have been going through our ancestors' minds when they decided to engineer these vast structures.
"Hey, I'm bored. Let's etch a 360 feet tall horse into a hillside."
"Cool idea, let's do it!"
Please don't let me put you off visiting the White Horse – taking some time to experience the vast scale of this carving, which dates between 1700 and 250 BC (nobody is really sure) is a pleasure in itself.
St. Botolph's Church
Churches feature large along this walking route and rightly so – the UK population once was very religious and we now have a stunning legacy of buildings to support that fact.
St. Botolph's church seems unimpressive from the outside unless you pause to consider the structure is over 1,000 years old (which makes it more aged than St. Paul's Cathedral in London). But take a closer look and I think you'll be staggered by the beauty and intricacy of the stained-glass windows that are the centrepiece of the building. Better yet, go inside St. Botolph's and immerse yourself deeper still.
Chequers (Buckinghamshire)
Officially the country residence of the UK's Prime Minister, whoever that is right now, Chequers has been standing since at least 1565 although research suggests the building is constructed on top of an older structure.
The Ridgeway walk takes you across the Chequers estate, but I would advise you to stick to the trail and not approach the house which is protected by armed police officers. You can pause to take photos but don't linger. Keep moving, don't get arrested.
Coombe Hill Nature Reserve (Buckinghamshire)
Here you get a double dose of history and beauty. Crowning Coombe Hill is a large tract of woodland which, in itself, contains a complex web of footpaths and bridleways. On the northern edge is a huge monument to those who have fallen in wartime (including one of my predecessors who lost his life in the Boer War).
If you don't know the area well, steer clear of the woodland trails and walks. Follow the Ridgeway marker signs, but do pause to get some photos of the monument, and take some time to appreciate the views from the hilltop.
Other notable points of interest on the Ridgeway
In all honesty, it's impossible to list every interesting location on this walk – there are simply far too many. But here's a few more to capture your imagination:
Cross at Lockinge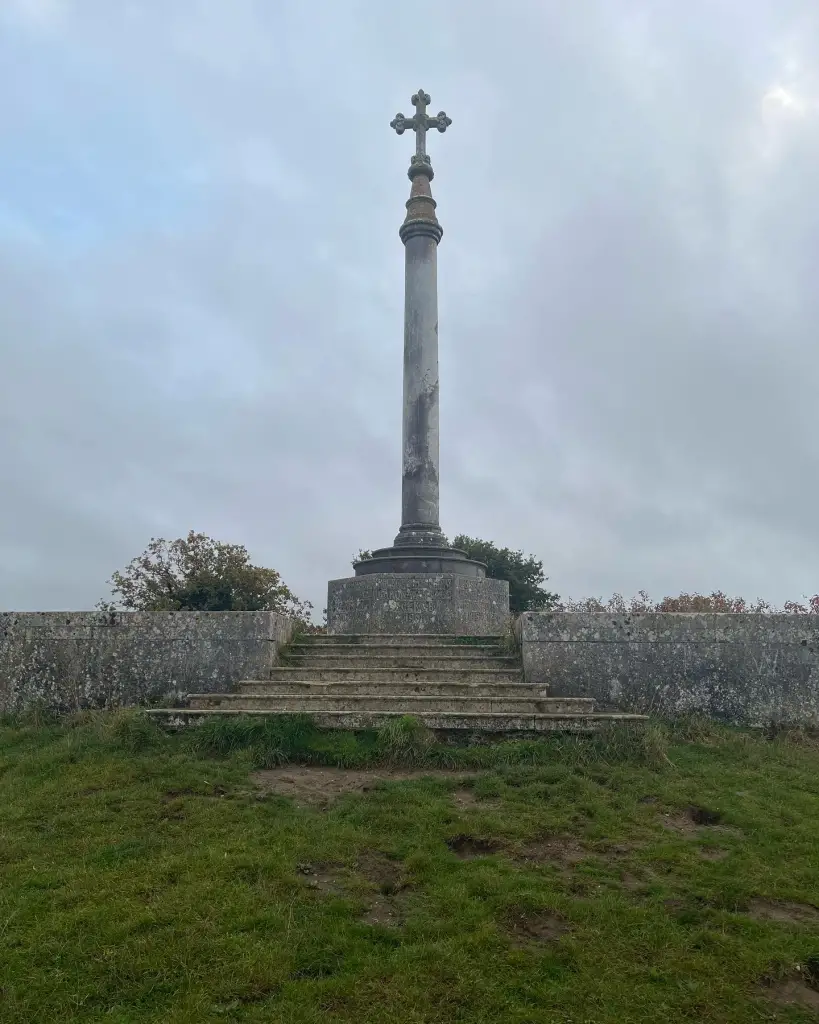 I came across this cross towards the end of my first day hiking (well, running at that stage) and couldn't help but pause to get a photo. Afterwards, I did some digging and it turns out the cross is a memorial erected in the early 1900s.
The M40 Bridge near Chinnor/Aston Rowant
Confession: this has nothing to do with history and everything to do with my love of the Netflix series 'Black Mirror'. The bridge is also familiar as I regularly run through it on my Sunday long-running sessions. The M40 bridge was featured in an episode of Black Mirror entitled 'Smithereens' and I recognised it an instant.
Military Bunkers and Observation Posts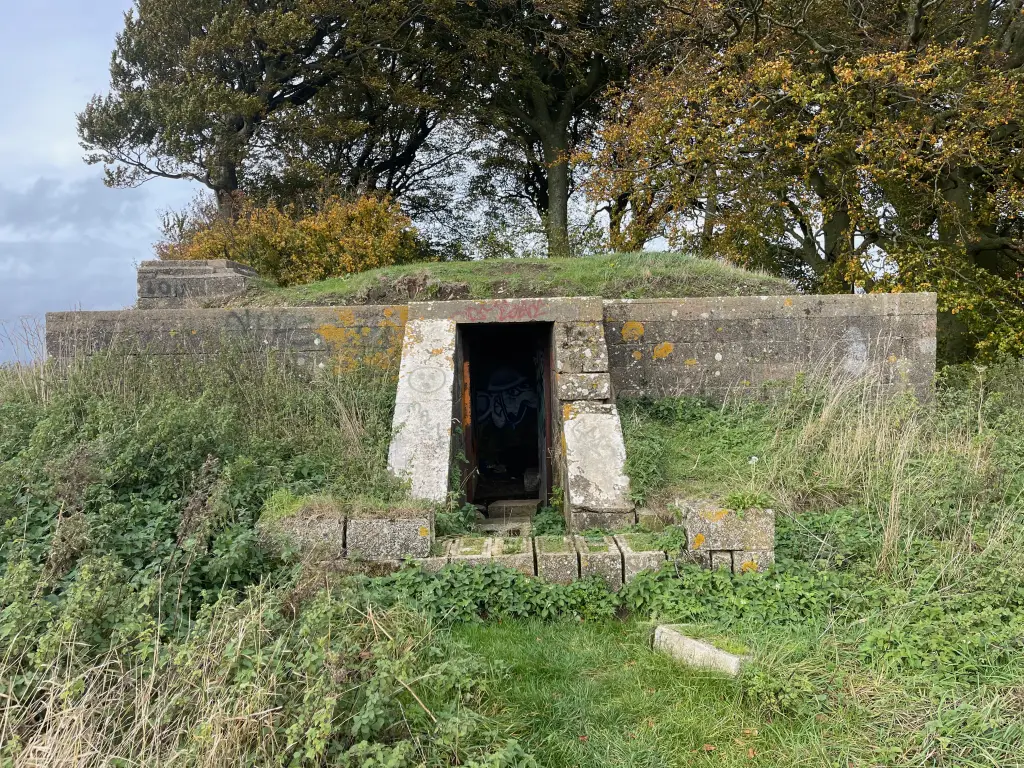 Much of the UK is dotted with the remains of military buildings. In fact, I was in the North of England some time back, driving down a road, when I noticed a barn with an unusual layout. I had to check it out. Turns out the building was at some point a military store and further snooping revealed and now disused nuclear shelter. 
And Wiltshire is at the epicentre of this history. All along this walk, you'll find military structures that, once built to withstand bombs and bullets, are now holding their own against the effects of time.
Thoughts on Hiking the Ridgeway
The Ridgeway is not the most difficult walking or hiking route you can find in the UK (the Caingorms is one of the toughest we know of, thanks to the erratic weather). The path is well marked, even when it cuts through woodland, as many people walk this national trail every year. For the most part, the walk is flat but like any path, there will be some ups and downs along the, especially in the early stages in Wiltshire, and when you approach the final 20 miles. The last climb to the top of Ivinghoe Beacon is a little cheeky, especially if you've been on the move all day.
What about the 'purity' of the walking route? Some parts of the Ridgeway cut through villages and towns, as you'd expect what with this being an ancient trading route, but the respective stretches are short. For the most part, you'll find yourself hiking, running, or walking through fields, along trails and into woodlands.
And there are some roads to cross, some of which can get pretty busy.
How long does it take to walk the Ridgeway?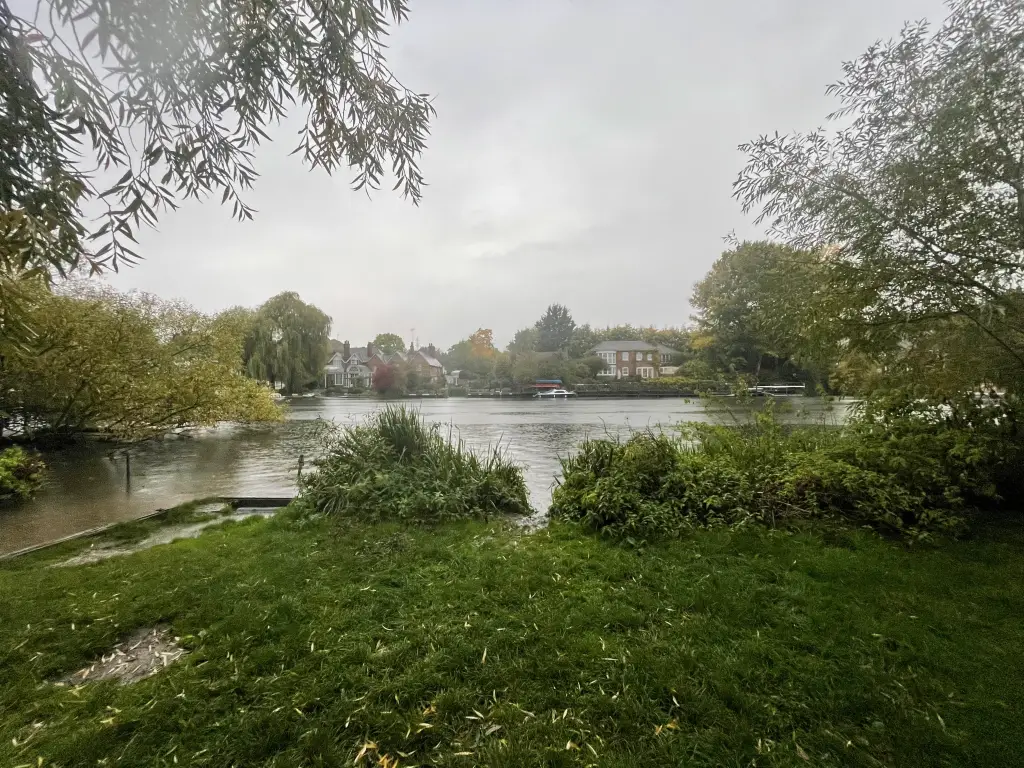 I have a few friends who've walked the full distance and, on average, it takes about 6 days to walk the Ridgeway from end to end. A couple of my more nimble hiking pals have completed the walk in a little under 4 days. I ran it in 17.5 hours (please don't think I'm bragging – this figure shows you how fast you can complete the journey when you go non-stop).
If you're new to walking national trails, or any other kind of long-distance walk, there are less demanding walks you can complete. By this, I mean shorter. The distance can feel, and be, a little overwhelming for some people and if you feel is an issue I advise you to break the walk down into manageable chunks e.g. walk each third of the way over three consecutive weekends.
Ridgeway Accommodation
If you decide not the camp, finding Ridgeway accommodation is pretty easy. The most obvious stopping point is around the halfway mark, at the YHA in Streatley. Many of the villages cater for travellers with pubs and private locations listed on AirBnB.
Best places to stay along the Ridgeway
If you don't like wild camping, then the most obvious place to pause is in Streatley. The facilities are minimal i.e. a place to pitch your tent well away from the trail, but this is the purest form of accommodation I can think of. If you're feeling brave you can camp in some of the wooded areas that dot the route.
The YHA at Streatley. Basic accommodation with just enough facilities for when the weather turns nasty and you need to pause your walk. The village has some great places to eat and I recommend you check them out, especially the Bull Inn.
Wrapping it all up
The Ridgeway is a suitable walk for anyone who has a desire to complete a long-distance trail, but one that doesn't involve too much hill work or navigation. Along the way, you'll travel through stunning countryside and have the opportunity to explore some of the most ancient historical sites in the UK.
If you're a purist, there are ample sites for you to wild camp. For those of you who like your dinner served on a plate or cooked in an oven, there are numerous places to pause and hang up your walking boots for the night.