Ever heard the myth that choosing hiking boots is a minefield that could result in nightmare injuries that will ruin your hikes and hillwalks? Well, they are myths. The best walking boots for you are the ones you feel most comfortable in.
Let me explain…
20+ years ago your choice of hiking boots consisted of heavy, inflexible chunks of leather that required many weeks of pain and miles hiked to make them even barely comfortable. Times have moved on. We now have more options that just work out of the box, and without the agony of blisters (can be easily avoided).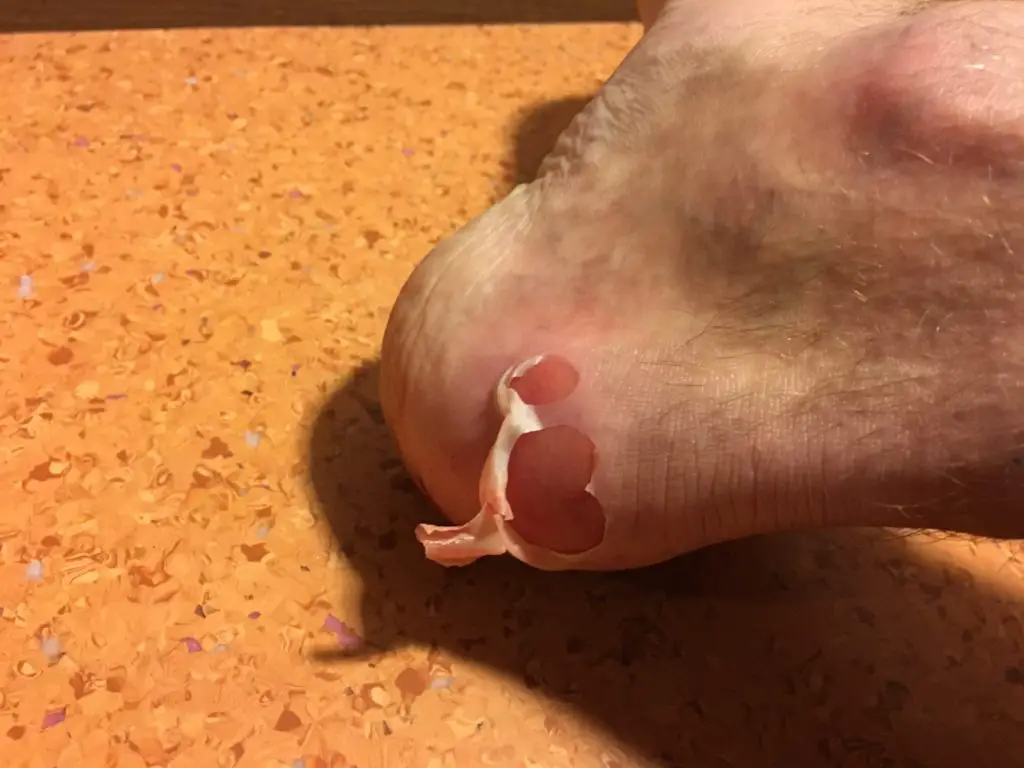 I can assure you this blister was as painful as it looks.
Time has moved on. And the technology woven into outdoor equipment has evolved at a pace I could have never imagined as a child. Let's put it another way; if the human race had advanced at a similar speed we'd have gone from gilled mudskippers to dome-headed geniuses in the time it takes to the boil a kettle!
What does this mean for you hikers, hillwalkers and ramblers?
Simple: all you really need to consider is the best fit for your needs and not how long it will take to break in your boots.
Now that we've got the elephant out of the room (and back into the wild where it belongs), let's take a look at what Jake and I think are the best walking boots for 2021. A quick note – some of the boots listed were launched before 2021 and are still on our list because they are brilliant.
Merrell Moab 2 GTX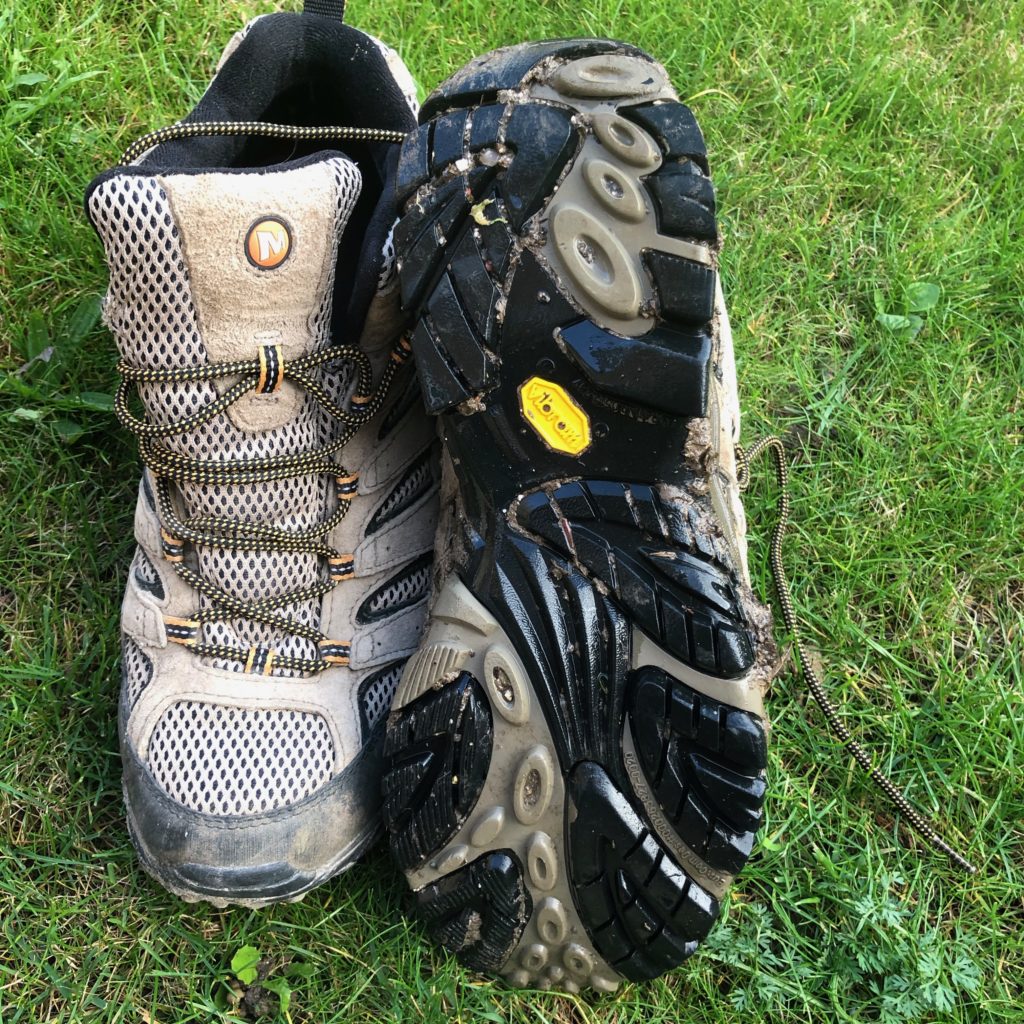 The Merrell Moab release date was way back in 2017, which is a very long time in internet years (when compared to dog years…) So why have these walking boots remained one of Merrell's bestselling boots of forever? Because they tick many boxes.
Such as?
Well, you could either read our full Merrell Moab 2 review, or skim the list below…
Thoughts on the Merrell Moab 2 GTX boots:
Hi, I assume you didn't read the big, big review of the boots and you're looking for a quick rundown of what makes the Moab so awesome. Cool, here goes:
Lightweight. Not superlight like the Inov8's Roclit, but way less heavy than boots like the Arcteryx Acrux TR. Weightier boots add to the overall load on your body and weight reduction you can find will make your travels so much more enjoyable.
Good support. For clarity, I'm referring to the Moab 2 mid which has pretty good ankle support. There is a low-cut version of this footwear that I have not tested and cannot vouch for.
Flexible. The Moab 2 is designed for short to medium distance walks and hikes and the sole is made from a soft, flexible combination of EVA and Vibram that protects your feet from those really skipy rocks. Now let me dispel any fears you have about…
Durability. You could be forgiven for thinking these boots might not be tough enough to handle the worst nature can throw at them. They are rugged! I ran/hiked 400 miles in these boots when crossing Lake Baikal and they took every mile of the -16C temperatures in their stride and without falling apart.
The price is right! For a mere $115/£100 you get a boot that, in my personal experience, works out of the box. No hassles, no blisters and no fails.
Boom! If you want more info, let me know in the comments section at the end of this post, or email me.
I wore these boots during my winter crossing of Lake Baikal. They aren't the best walking boots for ice and snow, but they did perform well i.e. my feet were never cold.
Altberg Peacekeeper Boots
A quick declaration on the Altberg Peacekeeper boots: I've worn these boots, but have yet to write a full review (life is so hectic!) Now, for anyone who hasn't heard of Altberg: they're a UK-based company that opened its doors way back in 1990. They crafted made to measure boots for the military.
And they were excellent from day one.
Soldiers of my era will remember the long trek to the store in Richmond to have their feet measured for a custom fit. This was a big deal back in a time when boots supplied to the British Army were, well, 'not so great' (I'll let you work out the actual thoughts hidden behind those words). A few weeks after fitting, and for a reasonable price, your boots arrived, and they fitted like a glove.
I can remember the looks of envy when I first stepped out in a pair Altbergs.
And the company continues to produce excellent footwear suitable for military operations and hard hiking terrain.
Thoughts on the Altberg Peacekeeper boots:
Rugged. Tougher than a scrapyard guard dog! The leather might scuff over time, but my Altbergs took some real beatings over the years and always came out on top. You'll notice cracks and scars over time, but we're outdoors people and those marks are trophies achieved through our adventures and hardships.
Waterproof. The Peacekeeper boots are not lined with Gore-Tex. Instead, they are coated with Altberg wax and you'll need to treat them when the wax wears down. This is no big deal and an be quite therapeutic.
Fit like a slipper. Like the Moab 2, these boots were worn out of the box with no issues.
Stiff sole. I prefef soft, flexible soles but in this case the rigidness helps prevent twisting and jarring when moving over difficult, uneven terrain.
Salomon X Ultra GTX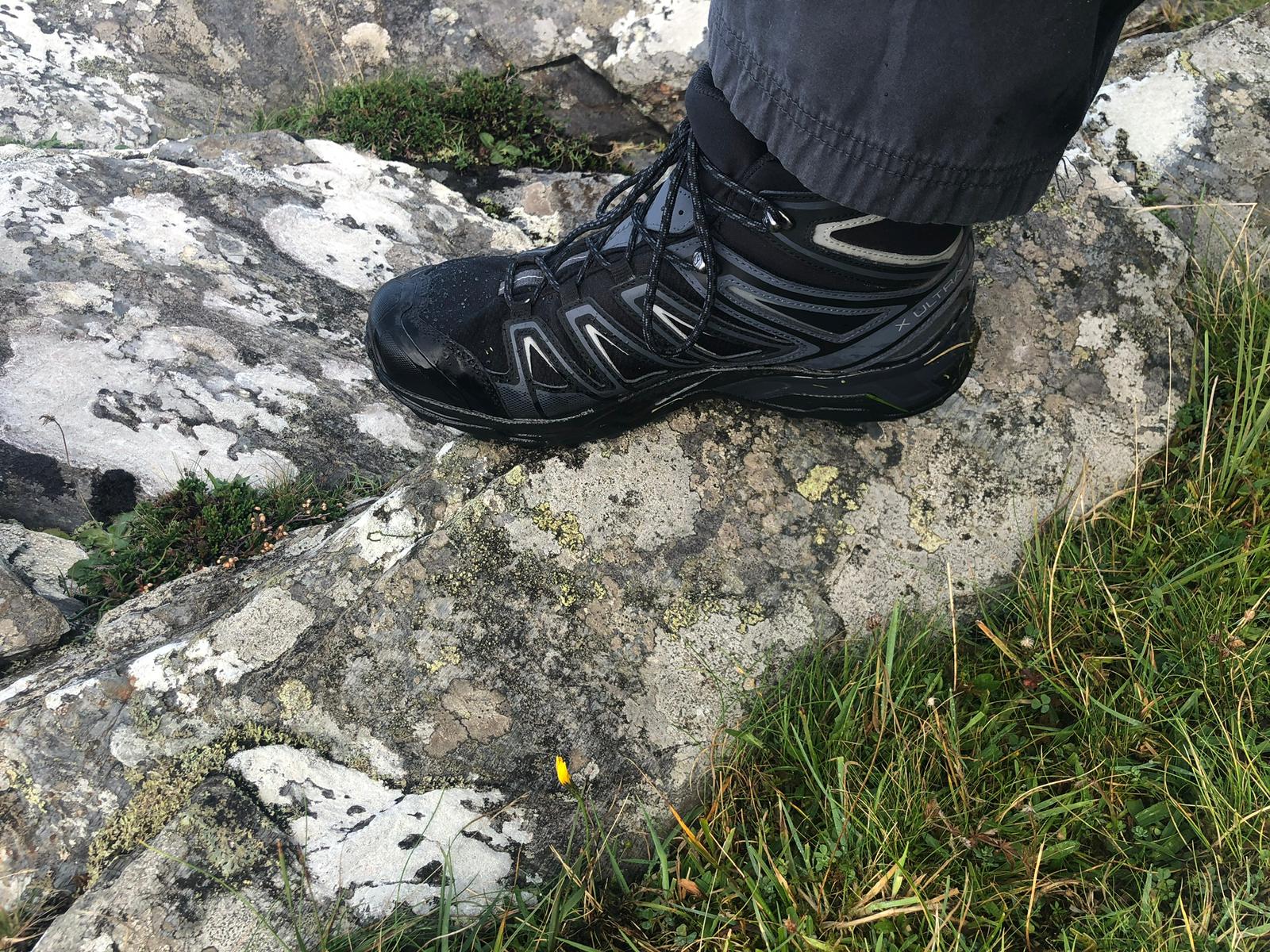 A little while back Jake reviewed the Salomon X Ultra GTX (here's his in-depth analysis), and gave them a huge thumbs up. Which isn't surprising. Salomon have a strong history of creating quality sports gear going way back to 1947.
The early days of producing ski edges are now a distant memory and the company has become a global leader in the outdoor sports niche.
I've also use some of Salomon's running shoes (I owned some pretty chuncky, and very uncomfortable trail running shoes, the name of which I have fortunately forgotten. They were uncomfortable and inflexible, which led to many blisters). Now, when you look at Jake's notes, you can see the company has come a long way since my nightmare days of blood-filled blisters and pain!
The Salomon X Ultra GTX are a great example of how walking boots should be made. Not only do they provide a comfortable ride out of the box, but they are also tough enough to handle routes like the Presidential.
Jake's Thoughts on the Salomon X Ultra GTX:
Comfort: Very comfy and light, they wear 'like trainers' and need little to no breaking in.
Weatherproofing: Very waterproof but being GTX they are less breathable so that's obviously a consideration for some people.
Fitting: I like the quick fasteners. They make it easy to tighten the boots when your fingers are cold.
Soft sole. I like the feedback that comes with thinner, softer sole. Whilst this can also lead to some uncomfortable moments, like stepping on the tip of a pointed rock, it's a small price to pay.
Vivobarefoot Tracker FG
Vivobarefoot are a UK company famous for their five finger range of running shoes, which are as minimal as minimal shoes can get! The brand got so popular that, as you'd expect from any company that makes sports gear, they branched out into the world of hiking. Now we trail walkers and hikers have the more options to live as nature intended – barefoot style.
For the record, I have tested the Tracker FG hiking boots and they are awesome. They have the same feel and ride as my Altra Lone Peak 4 running shoes (great footwear that double up as very capable hiking shoes).
As you've probably guessed, the minimal design of the Tracker FG makes them incredibly light (~472g per boot). And very tough! The surprisingly tough soles are puncture resistant and make very light work of scrambling over rugged terrain.
One point to note: get used to a few days of ankle aches. Don't panic! Wearing minimal walking boots with less support forces your body to adapt by building muscle in your legs and ankles (it's an unusual feeling at first and soon passed as the muscle strength improved in my legs).
Thoughts on the Vivobarefoot Tracker FG:
Minimal soles. The zero drop soles give plenty of feedback and are tougher than even the most grizzled of mountain goats.
Wide toe box. Perfect for people like me (think: hobbit feet) who appreciate a less restrictive fit. The roomy fit allows your toes to spread to provide better support when you're hiking.
Lightweight. Really light! You get the sense of freedom that comes with barefoot running without the pain of pine needles piercing the soles of your feet.
Multi-direction lugs. Great on firm to medium-soft ground, but can be a little slippery in wet weather.
Hoka One One Stinson Mid GTX
If you've heard of, or worn, Hoka running shoes then you need no introduce to these rugged walking boots. Note: this review is not mine, it's been supplied by Simon who is a friend of mine and hiker based near New York, USA.
Now, for anyone else who hasn't heard of Hoka, let me give you a quick rundown. Hoka running shoes are awesome, mostly. I use a pair of Hoka ONE ONE ATR 6 shoes for my cross country and trail running. They tough and well cushioned.
And the Stinson Mid GTX boot has inherited a fine lineage. How fine? Well, the organisers of 6633, labelled the toughest ultra-marathon on Earth, recommend the use of Hoka running shoes.
I'd say that's a pretty good endorsement.
Released back in the 2020, the Stinson has gained a legion of fans in the world of hiking. The boots have more cushioning than a plush and very deep sofa. In fact, wearing these boots is like strapping a pair of firm, but hardy pair of pillows to your feet.
The flexible soles have a pretty aggressive tread which worked well in wet, muddy conditions. Moving over wet, moss-covered rocks can be a little bit of an adventure as the grip simply doesn't feel 'sticky' enough. But that's an issue with most boots.
One of the interesting features is the minimal drop of 5mm, which gives a very simply ride to the Vivobarefoot Tracker FG boots.
The Stinson features a Gore-Tex membrane which your toes and feet will love, because who likes getting wet feet on a hike? A minor issue, common with all boots with a Gore-Tex lining is that your feet will sweat hard in warm weather. It's no big deal.
Thoughts on the Hoka One One Stinson Mid GTX:
Comfort. The thick cushioning found across the range of Hoka's footwear is amazing, providing protection from hard, uneven terrain.
Zero drop. Can feel a little strange at first, but over time I came to like the more natural walking position of my feet.
Soles. Pretty good, unless you're going to be scrambling over wet, mossy rocks. Otherwise, they handle mud and uneven ground with ease.
Gore-Tex lining. Will definitely keep the water out for at least a few hours. Maybe not your feet's best friends when the temperatures start to rise.
Flexibility. Based on Hoka's mostly running shoes, the Stinson have a flexible sole with, when combined with the cushioning, make you feel like you're walk on air (not Air…)
A final thought: Jake and I are men. We have quite a few ladies subscribed to our email who are looking for the hiking and walking boots for women – we can help with that. As we speak, some of female friends and partners (we both have only one of the latter) are putting some of the newest hiking shoes and boots through a rigorous testing programme (aka enjoying testing equipment and being paid to get out into the fresh air, and review outdoor gear they love. Living the dream.)