Destinations
Hiking Route Guide: Ben Vorlich from Lochearnhead
As a keen hiker, mountain climber and hillwalker, it's inevitable that one of the first things on my list to do when I moved to Scotland would be to start ticking off Munros. A Munro, for those who don't know it, is a hill or mountain that is over 3,000 feet (914 metres) and which – in a slightly circular "it's a Munro if we say it's a Munro" kind of way – is listed on the Scottish Mountaineering Club's list of Munros. Some Munros are more prominent than others, many are little more than hills in a fairly high-altitude landscape, some can be difficult and dangerous climbs in winter but most are achievable day-walks in the summer. Some people make a hobby of trying to do them all, but for me they're just a useful landmark of 'hikes worth doing'.
Our nearest Munro is Ben Vorlich (the one near Loch Earn, not the other Ben Vorlich on the western side of Loch Lomond), and so of course this was the first one we did. It's a popular climb, and for good reason, so here's a little guide to taking it on.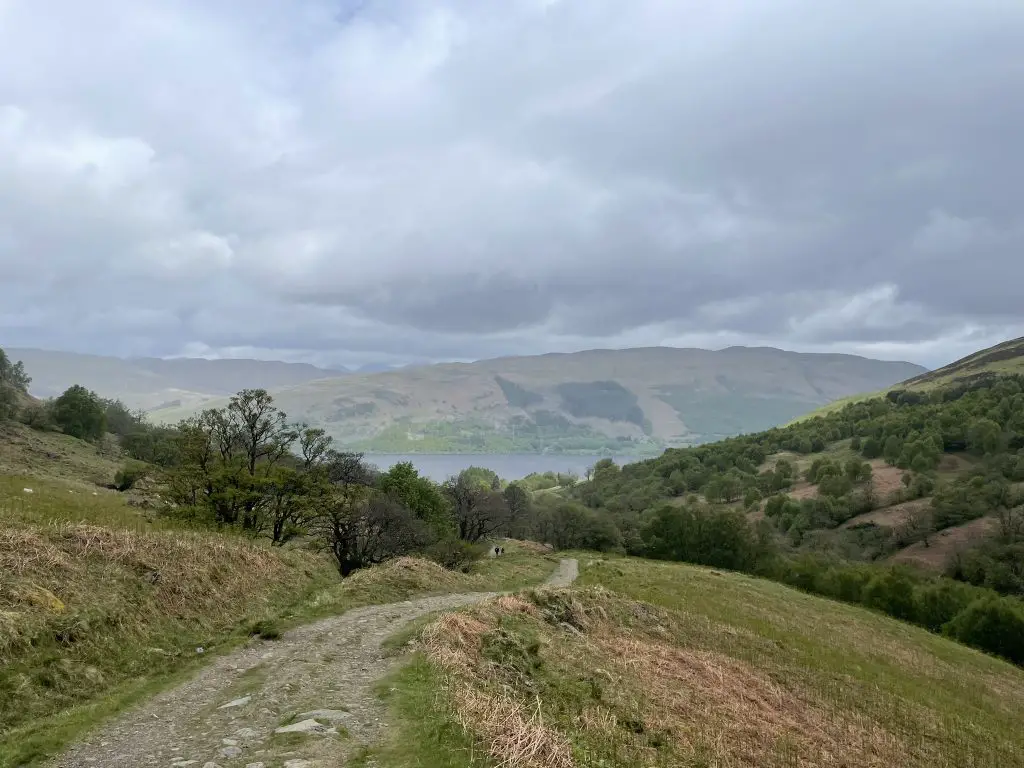 About Ben Vorlich
At 985 m (3,232 ft), Ben Vorlich is a fairly lowly 165th on the list of Munros, although it's position in the Trossachs and it's relative prominence means that it is more visible than many and, on a clear day, has excellent views. It's a relatively easy and accessible hike, and located just off the well-travelled A84, making it a popular Munro in the busier months. In Winter, like most hills in Scotland, it can be snow-covered and it's important not to let its relative accessibility and proximity to civilisation disguise the fact that hiking in winter conditions requires specialist equipment and skills, solid navigation abilities, and carrying essential safety equipment including a torch, excess warm clothes, and plenty of food and water.
How to get to Ben Vorlich
Getting to Ben Vorlich by car
In principle, the easiest way to get to Ben Vorlich is by car, allowing you to park on the South Loch Earn road (which, as you may gather, runs along the south side of Loch Earn – accessible from near Lochearnhead, or near St Fillans) and have more or less direct access to the footpath that leads up the hill.
The benefit to this option is that you can park only around 3.5 miles from the summit, in a pretty lochside position, making this a very achievable half-day hike if all you want to do is summit Ben Vorlich.
The risk with relying on this method in busier months and especially on a sunny weekend during school holidays is that the limited parking spots along the South Loch Earn road can quickly become full, and you then have little option but to abandon your hike, or park much further away and be ready to add as much as 3 or 4 additional miles to your round trip. If this circumstance does arise, do not be tempted to try and shove your car somewhere that is clearly not a parking spot, and especially not in a passing place. Doing so is inconsiderate and dangerous.
If the added distance doesn't bother you (or, indeed, is an advantage in that it extends what is otherwise a fairly brief hike) then you are better off parking in Lochearnhead where there is a free car park with public toilets and, a short distance away, a hotel with a little bar where you can coffee and snacks.
Getting to Ben Vorlich by public transport
For hikers without a car, Ben Vorlich isn't hugely accessible, with relatively few train stations in the area. Crianlarich may be the closest, and is a stopping point for the magical but extraordinarily expensive Caledonian Sleeper train. From there, a bus (the 913) does run to Lochearnhead, allowing you to walk along the South Loch road to the start. I'm not sure I'd be inclined to rely on this method, though – on the return journey in particular there's a chance you'd be waiting some time for one of the infrequent buses. If public transport is your only option then I'd consider spending the night in one of the many hotels, B&Bs and AirBnBs in the area, giving you more flexibility and less pressure to make a specific bus.
Getting to Ben Vorlich by bike
One of the joys of hiking in this area is that it's extremely well-served by the N7 cycle route, an almost 550 mile long cycle track, largely segregated from the road, that runs from Sunderland in the north of England all the way to Inverness. Near Ben Vorlich, it passes by the excellent Mhor84 for a pre-hike breakfast or post-hike beer, and takes you up to Lochearnhead. You could leave your bike here, although there's a distinct lack of official bike parking to lock your cycle to. I'd be tempted to take my chances cycling all the way to the start of the cycle track and then find somewhere out of the way to secure my bike.
Hopefully it goes without saying to be considerate in where you leave it, and not fix it to private property or anywhere it would block a gate, damage a fence, or otherwise inconvenience people.
Hiking Ben Vorlich
Route and terrain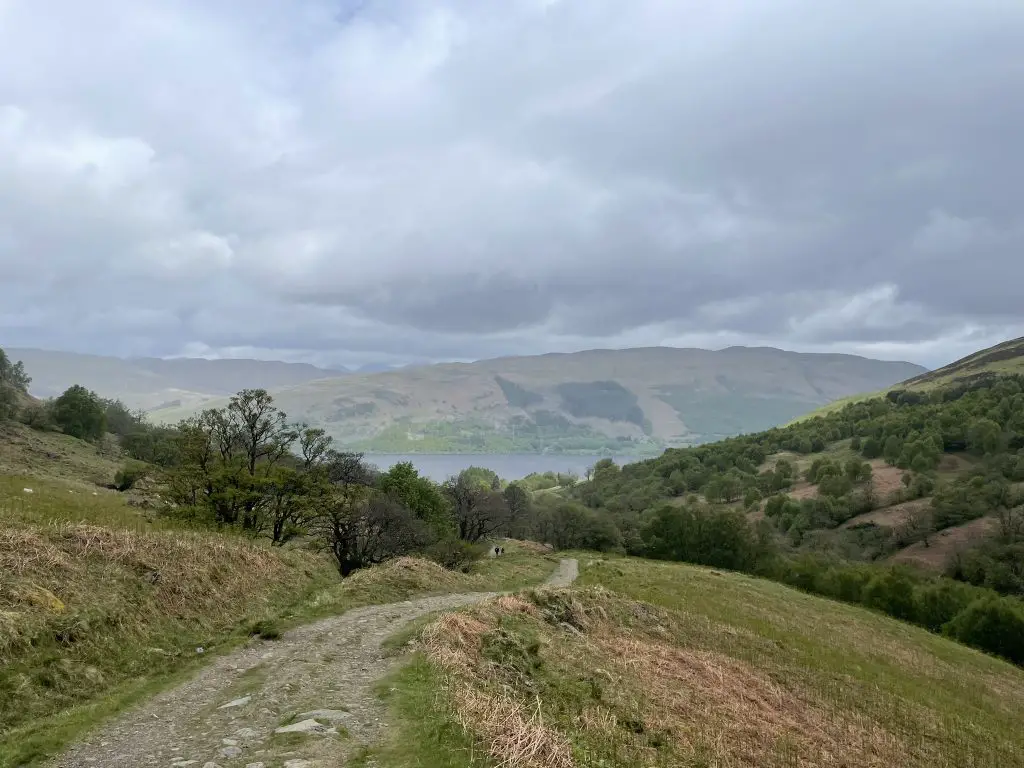 Most of the hike is a well-marked, well-surfaced footpath that leads more or less directly up the hill. This makes it a fairly stiff climb (though that's the nature of walking up a hill, isn't it) but otherwise fairly un-demanding in non-winter conditions. As you ascend, views back down the path towards Loch Earn become steadily more and more pretty, although this isn't the most striking scenery I've ever seen from a Munro and views will inevitably depend on visibility.
The very last bit becomes a little scrambly, with the path slightly harder to follow as it ascends across a rocky area, before finally plateauing where a trig point marks the summit. From here, one can either descend the way you came, or continue to Stùc a' Chròin – a slightly more difficult hike.
Hiking with a dog
Ben Vorlich is a good hike to do with a dog – it's only six and a half miles round hike if you simply summit and return, and have managed to park on the loch-side. That makes it not a bad starter hike for less experienced hiking dogs or those with a little less endurance. The path does pass through some fields early on, which may have sheep in depending on the time of year, so be sure to keep dogs on a short lead at this point.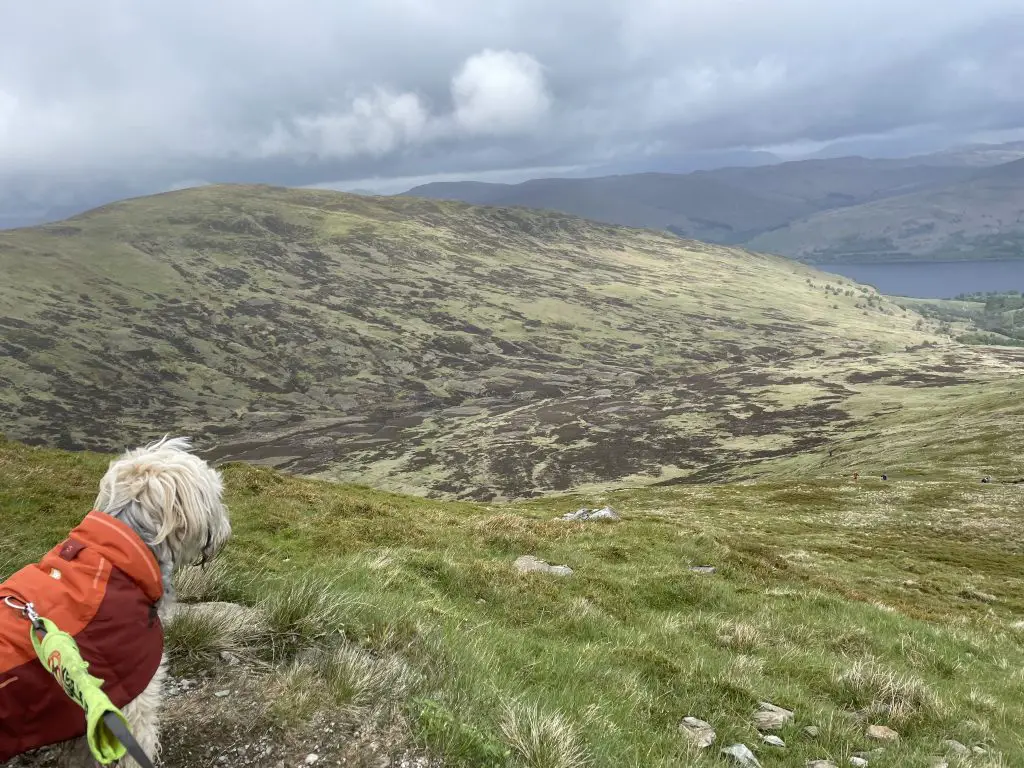 If you don't already hike with a dog regularly, be sure to consider their comfort as well as your own. Some dogs feel cold more than others, but the temperature at the top of a Munro can be significantly lower than at the bottom, so even on a warm day your dog may want a coat or jumper, or even just a blanket to wrap them in if they do start feeling cold. Be sure to take some water and a way for them to drink it and, if you do keep them on a lead, be careful on the sections where you may need both hands to steady yourself.
What to take and wear
As always, I advise any hiker even on the warmest day to take more warm kit, food and water than they think they'll need. A torch is sensible even on long summer days, and a map and compass is wise although in practice this route is extremely well-marked and little navigation is needed unless you are hiking in very low visibility. Anyone who has spent any time in Scotland knows that the weather can change fast, so I'd advise a raincoat no matter how blue the skies are. You'll also need proper hiking shoes or boots with a decent tread, especially for the last section close to the summit.
In cold weather, and especially in full-on winter conditions, you should take plenty of extra gear including something that could keep you warm if you were stranded on the hillside for an extended period; a very warm coat, a sleeping bag, a rescue bag, or some combination of those may be a good option. In proper winter conditions you should also have crampons, an ice axe, and the knowledge and experience to use them.