Jöttnar – despite the Scandinavian-sounding name, are a British brand that are a relative newcomer to the world of high-end outdoors gear. They have an excellent pedigree, having been founded by former UKSF operators, and produce a relatively small, focused range of serious outdoors kit. Everything in the range makes sense and fits into a well-ordered layering system – which I find satisfying, personally.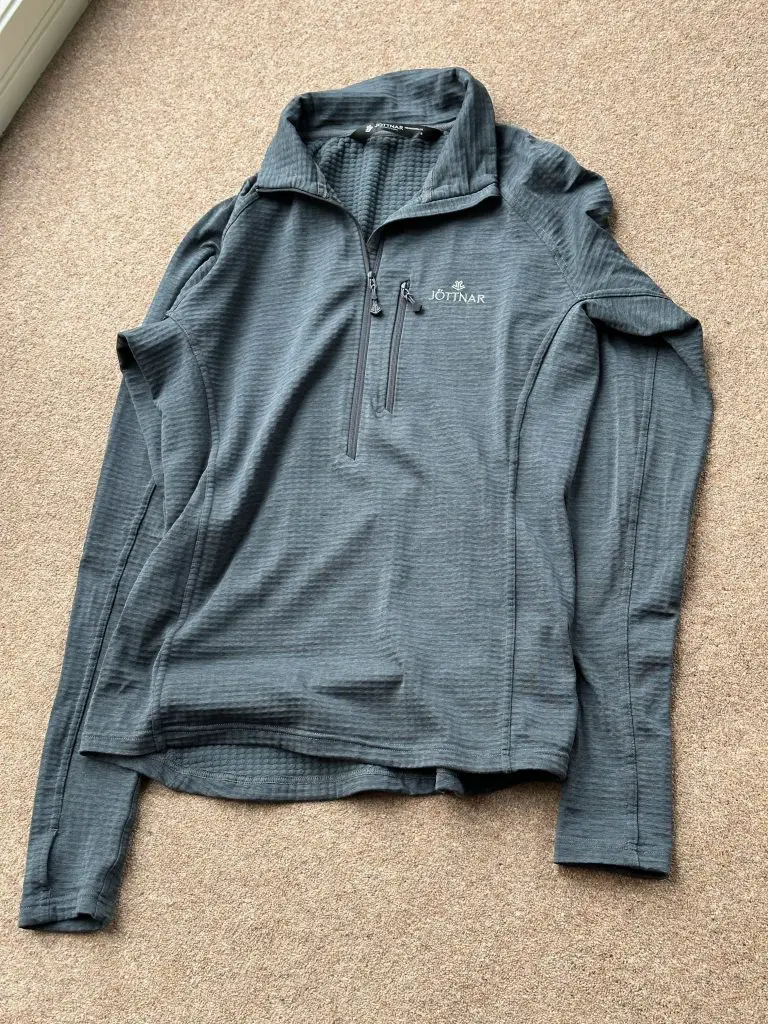 Style, purpose and construction
This particular item is a fleece mid-layer and, specifically, a hoodless quarter-zip (or, really, more of a half-zip), although similar full-zip and full-zip-with-hood options are available. It's designed to be worn directly over a base layer such as a merino or technical shirt, and as such its main role is to provide a little extra insulation while remaining as breathable as possible. On a cold day, you could add an insulated down or synthetic jacket on top of it, and if needs be a hard shell on top of that, while on warmer days you might comfortably hike with just the Hemming LX as your outer layer.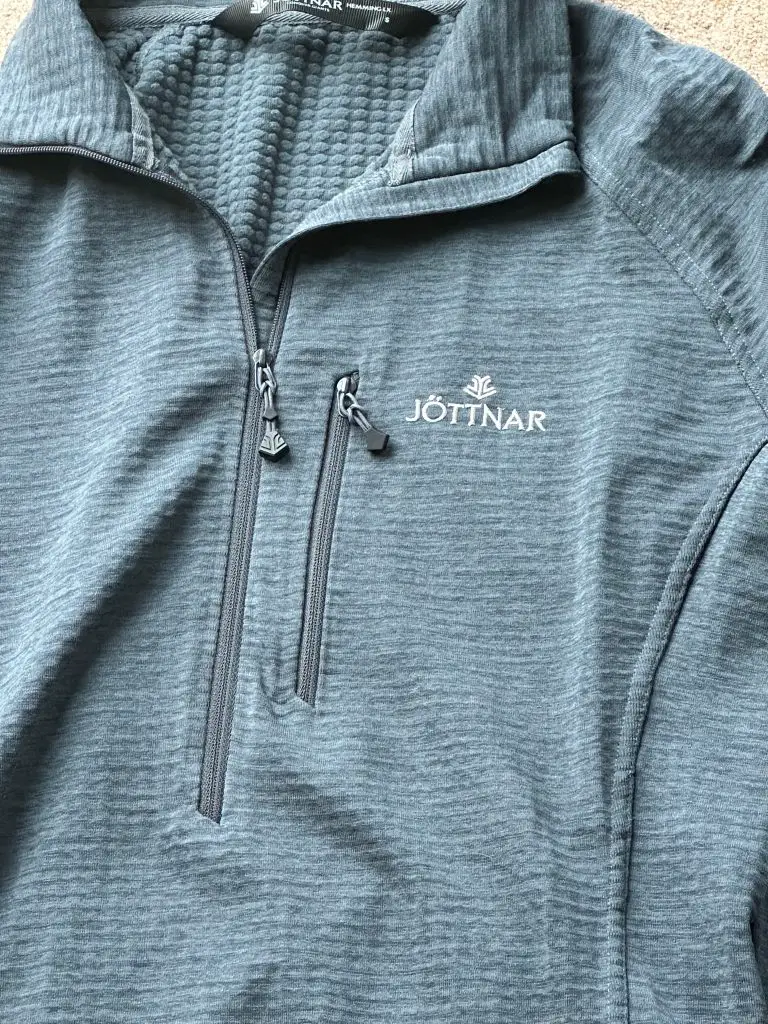 Other options
The Hemming LX is very similar in style and function to my Rab Nexus pull-on – same half-zip, little collar that can be pulled around the next for extra warmth, and single vertical chest pocket.
Most other outdoor brands sell something similar, at price points ranging from North Face's pretty cheap option at around £30, to Arc'Teryx's rather more expensive one at £130, and everything in between. The main variations are the fit, the exact weight of the fleece, and whether it does or doesn't have a pocket (or, in Arc'Teryx's case, whether the pocket is on the upper arm because… tactical?).
Table could not be displayed.
Performance
It's a little hard to review the Jöttnar product specifically, and not just end up reviewing this whole category of products, because – especially the higher-end ones (Rab, Patagonia, Arc'teryx, Jöttnar) are all going to perform quite similarly.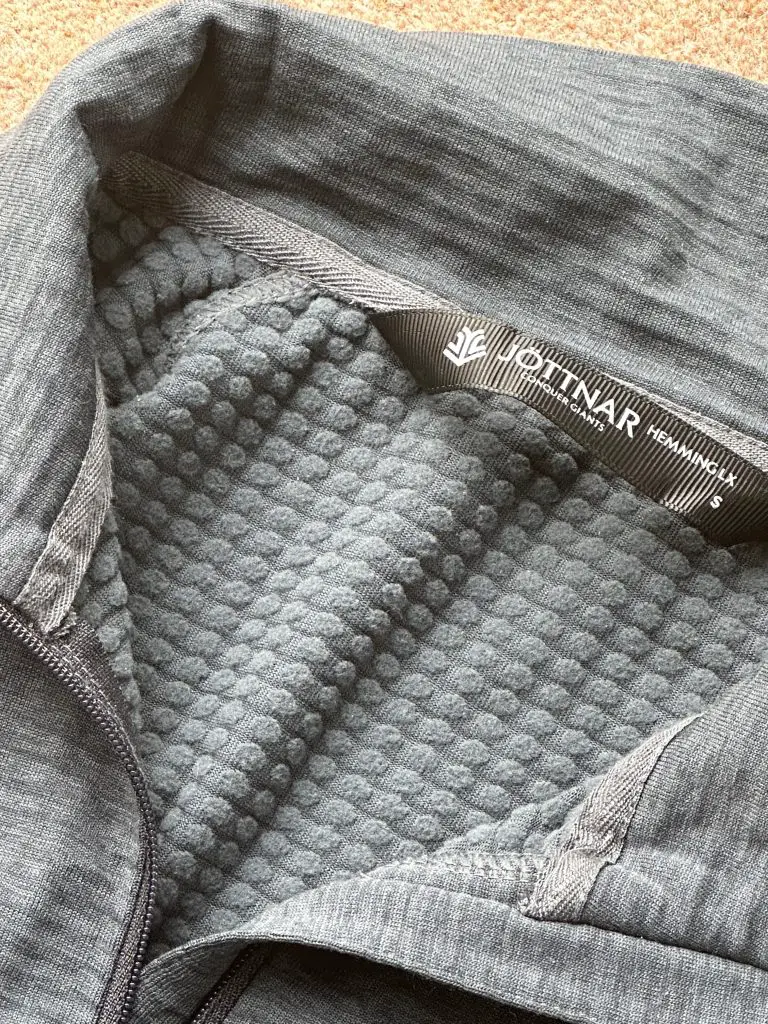 The micro-fleece does a great job of insulating when worn underneath another layer, but is less wind-resistant and so less effective when worn on its own in chilly, windy conditions. On its own, it's perfect on a mild day where you need something a bit more than a t-shirt though, and the ability to pull the zip down to the bottom of your rib-cage gives you plenty of opportunity to vent if you start heating up. And worn with other layers, it's a great extra piece of insulation and, crucially, moisture-wicking between you and your heavier mid-layers with their typically less wicking fabrics.
The fleece dries quickly, and if it does get damp it still maintains most of its insulating properties and doesn't get overly heavy and uncomfortable.
Less of a performance question, but when buying one of these it is worth thinking about whether the half-zip style is right for you, compared to a full-zip and/or a version with a hood. (Half-zips with hoods are much less common, incidentally). Personally, I much prefer not to have a hood on a mid-layer like this. Most of the time I'd rather wear a hat unless it's extremely cold, and if it is extremely cold then I'll be wearing other layers on top, and having three or four layers all of which have a hood just becomes uncomfortable. As for full vs half-zip, the main advantage of the half-zip is a small weight saving and perhaps a very small improvement in insulation. They're also usually a little cheaper. The advantage of the full-zip is a greater ability to vent when you get warm, and they can be a bit easier to get on and off.
Ultimately it's a personal choice really, and depends on how you expect to use the top. If it's going to be your main layer for hiking on warmer days, then a full-zip with hood might be useful. If it's going to only ever be a mid-layer buried under other insulated coats on very cold days then I suspect the half-zip with no hood is a better option.
Final thoughts
MZe Rab and Patagonia, but there's certainly nothing about this fleece to suggest they aren't playing in the same league as those high-end producers. The fleece is one of my favourite items of clothing, used for hiking, climbing, golf, casual wear with jeans, and even wearing over a collared shirt for smart-casual work events. It's immensely flexible because it's comfortable, warm but not too warm, and fitted nicely enough that it can look fashionable when needed.
In fact, it's so good that I'm thinking of buying a second one, possibly a full-zip, in which case I'll update this review with my thoughts on that as well!