Gear Reviews
Brooks Caldera 6 review: the best Brooks trail runner?
The Caldera lineage
The Brooks Caldera 6 running shoe is the latest iteration in a line of trail running shoes that originated in December 2016. This is the first pair of Brooks shoes I've owned (I'm a massive fan of Hoka and Altra – more on those later) and, as you'd expect, I put them through a rigorous testing plan to ensure the information is in this review is both accurate and fair. As they're designed for trails, I ran across various terrains – deep mud, loose gravel and tracks – to ensure they were put through their paces.
Brooks Caldera 6 first impressions
As with any running shoes, I'm always cautious about putting words to paper – in many cases my initial enthusiasm wains after a short duration (normally following a few weeks of running) – which is why I tend to write these reviews after at least a month of hard training. I'll also admit the Brooks Caldera wasn't my first choice; I'd been looking for a pair of Hoka ATR Challenger 7 shoes which are sadly no longer stocked with my favourite shop, Up and Running (I have a feeling they may have had a falling out with Hoka as U&R have been missing from their shelves for quite some time). So, after trying on a few alternatives, I settled on the Brook Caldera 6.
What do I think of them? Are they really worth a review?
To be honest, the aesthetics didn't set my world on fire. The outsole is huge – like a kid's bouncy castle and I went back to the store 3 times, checking out the Caldera 6 each time, until I made a decision and parted cash for what I came to learn are true trail shoes.
Another concern I had was the very thick tongue and collar. Issues with my feet (see the Comfort and fit section below) make finding a shoe that fits well a difficult task. As you'll see shortly, the Brooks Caldera 6 fit is excellent.
Looking back, I feel I was a little unfair as the Brooks Caldera 6 was being compared to my previous shoes, the Hoka Challenger ATR6 (which are not true trail shoes – they are a superb hybrid shoe capable of handling both on and off-road running with ease).
A deep dive into the Caldera 6 shoes
Build
As you'd expect from any top name in the running shoe world, the Caldera 6 build engineered by Brook is more than exceptional. Not only do they look good, but they have that quality feel to them that assures you they can take anything you throw at them whilst keeping your feet comfortable. The design of the Caldera shoes has changed little over time – yes, there have been some tweaks but in the main, they're still the same comfortable, easy on the shoes launched in 2016. The lacing loops are formed of a solid strip of polyurethane that's folded over and stitched to the upper with what looks to be some pretty heavy-duty cotton (I don't have the specifics on this as I can't find them on the Brooks site, or in any of their literature). Needless to say, they look like they can cope with many hard runs (and they have so far)
One of the biggest annoyances I have when preparing to write a review is finding imperfections, or what seems to be sloppy workmanship. You know, spots of glue that haven't been cleaned away or a loose strand of stitching here and there. Most shoe manufacturers have a rigorous quality process that, for the most part, prevents poor-quality equipment from making it to the shop floor, but some defects still make their way through the system. This is not the case with Brooks Caldera 6; when I opened the box, they looked amazing.
I checked the bonding of the outsole to the upper and couldn't find even a faint trace of glue and I'm not entirely sure an adhesive has been used to merge the two pieces of material. What this means is the lines are very clean and there's no hint of any weak spots which could, over time, fail and cause the shoes to fall apart.
Like most decent trail running trail running shoes, they have front and rear attachment points for gaiters (velcroa on the back, and built-in eyelet cut into the upper at the front of the shoes).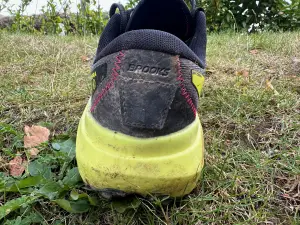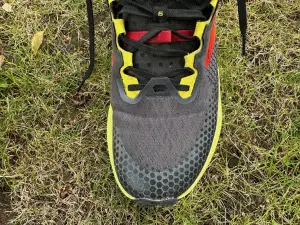 All in all, the build is exceptional and this is the first thumbs up Brooks gets from this review.
TL/DR
An exceptional level of build quality that not only looks good but feels good.
Upper
The mesh upper of the shoe does an excellent job of providing a snug and comfortable fit when laced. What's more, there's plenty of space (volume) for runners with larger feet and the Calderas don't feel in any way restrictive. The toe box has been re-engineered (the previous versions were more tapered and not accommodating of wider feet) making for a good fit for my feet.
If you have average to narrower width feet the Calderas will fit – you'll need to wear a thicker pair of socks.
The only shortfall I could find was when running long distances (20km+) in technical terrain when the extra width did allow some slippage, which I cured by wearing thicker socks.
TL/DR
A mesh upper with plenty of space for those of you with larger feet. The shoes don't feel restrictive. You may need a thick pair of socks if you have medium to narrow width feet.
Outsole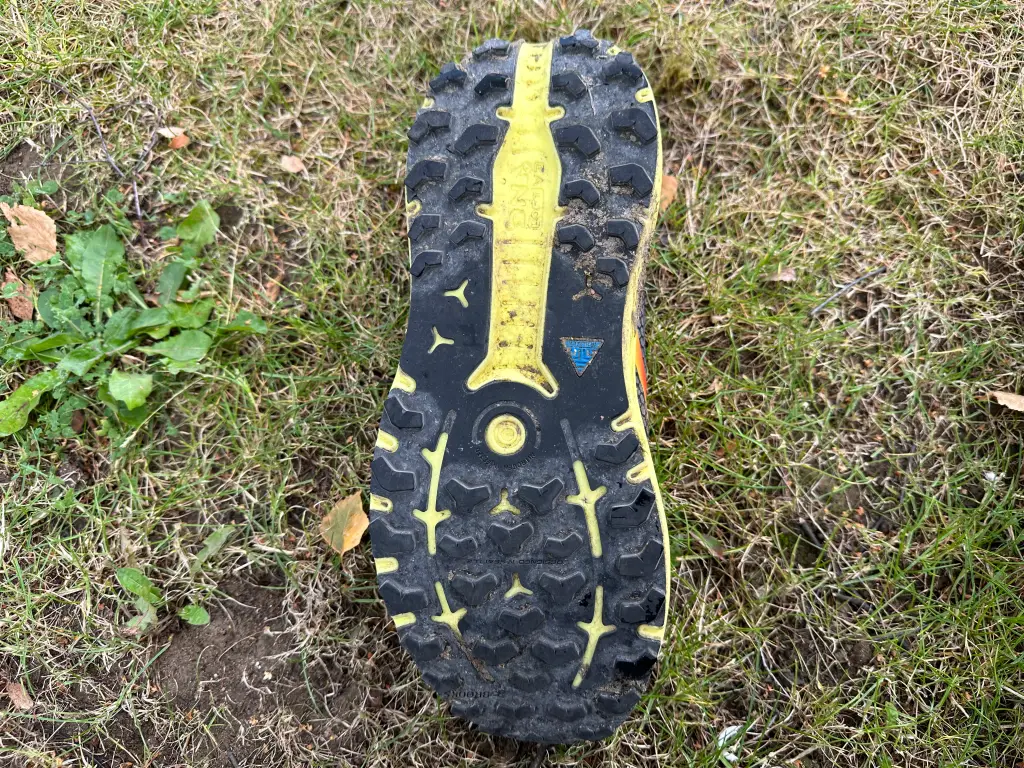 The outsole of the Brooks Caldera 6 is manufactured from a proprietary rubber called TrailTack which, despite the fancy name, feels pretty much like any other branded material. If you read the Brooks literature, you'll see this statement, "…outsole offers excellent traction on wet or dry surfaces" which is what I'd expect any quality manufacturer to say. Altra, Hoka, Nike, etc… all have similar statements. So, what's the reality?
Yes, the outsoles do provide excellent traction in most conditions. Where you will find a lack of grip is in the deep, cloying mud that is part of the thrill of cross country and trail running. But that's not a negative – the only time I've had what felt like 100% traction was way back during my military service when I wore a pair of football (soccer for our US readers) boots on a 10 mile run across what can only be described as 'intense' ground (big hills, deep mud and forest trails).
P.S. Don't try running in football boots unless you want huge blisters.
The lugs are not as deep as I'd expected – they're nowhere near as aggressive as those on the Altra Lone Peak – but they provide more than enough grip when you're racing along the trail.
What did surprise me is, given the flexibility of the outsole, the toe bumper. Made from TPU, it's a hard piece of material that has little give and the Caldera can therefore easily absorb serious knocks and bumps that are part and parcel of any form of running.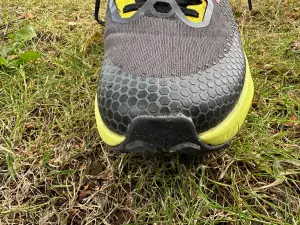 TL/DR
The Caldera 6 will handle most terrain with ease, but are not best suited to deep, sloppy mud!
Midsole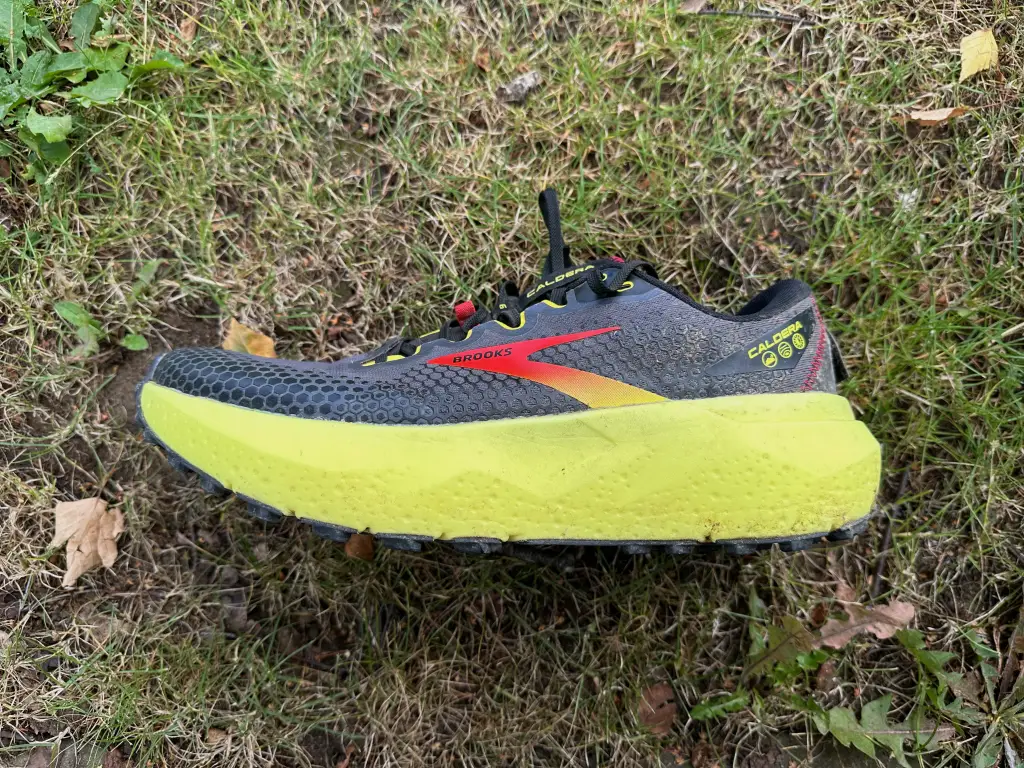 As part of the redesign, Brooks gave these shoes a new insole built from Loft v3 foam with a rockered shape which, in my experience, improves the responsiveness. As with the outsole, the midsole looks huge and that's in part because it has been designed to wrap around your foot to provide more stability on loose and uneven ground (which it does exceptionally well).
But a big insole is not the real point of interest – it's the nitrogen infused foam used in the manufacturing process. This addition adds extra cushioning, makes the shoe faster to respond (it really does), and apparently adapts to your foot. In the old days, we called that last point 'wearing in' but times have moved on. The redesigned midsole gets 10 out of 10 from me.
TL/DR
A thicker, nitrogen infused midsole that gives a new level of cushioning and a more responsive ride.
Durability
The literature says the Brooks Caldera 6, in particular the outsole, is a durable running shoe, and this is true but only if most of your running routes cover trails, cross-country, loose gravel, etc. Running on long sections of tarmac will cause the soles to wear out much faster, which is a given for every shoe review we've ever written but is of particular importance when it comes to trail running shoes. I have seen a number of reviews suggesting the Caldera 6 shows little wear and tear to the outsole even after running 10 miles on roads – I could write the original thoughts that came to mind when I read these statements, but they're very rude. Needless to say, and as with any other trail running shoes, they are designed for off-road training – repeated long runs on roads will prematurely send your Caldera 6 to a shoe recycling centre.
TL/DR
They look and feel durable having, so far, remained intact following some pretty tough runs.
Waterproofing
Admission time: before writing a review for TrekSumo I always spend a little time browsing the web to see what other sites are saying about a particular piece of equipment or clothing. Not because I want to steal their content or ideas, but to compare review notes against my own. So what does that have to do with the waterproofing of the Brooks Caldera 6? They are not waterproof. In fact, if you find yourself running through wet grass your feet will soon be wet.
The upper of the Brooks Caldera 6 is crafted from recycled polyester, with no water-repellant layer which means you're at the mercy of the weather. But is this a poor design feature? No, here's why…
Although not the least bit water resistant, these shoes dry fast. Really fast. Water can ingress fast, but it also drains quickly and even though your feet will still be damp, mainly because socks tend to hold a lot of moisture, you're not going to suffer from immersion foot even on a very long run.
TL/DR
The Brooks Caldera 6 are not waterproof, but they drain fast and the material dries quick which means the sounds of nature on your trail run won't be accompanied by the constant squelching as each of your feet strike the ground.
Comfort and fit
I have large and wide feet which can make finding the right pair of running shoes problematic. The same goes for hiking boots and any other footwear, which is why I have a preference for Merrell and Hoka. One of the reasons why I settled on the Brooks Caldera 6 is the ample toebox which accommodates the width of my feet with ease, including the deformities of my broken toe and metatarsal.
The first and most obvious concern for me is these two injuries as they make it difficult to find a good fit. When I started poking around these shoes my instant response was they have too much cushioning and would be too restrictive and uncomfortable to wear, but I was wrong. The thick tongue and heel collar create extra comfort and the initial feelings of restriction or tightness faded after only a few days of running. That's not to say they lose resilience fast – it's simply a case of the cushioning moulding to your feet in a short space of time.
When laced up tight, the shoes have a snug fit that hugs the upper of my foot without being too restrictive or feeling uncomfortable which is important when you're on a long run, over covering uneven ground or loose gravel. The deep, cushioned insoles add to the comfort level as your feet feel as if they're nestled in a well of supportive love.
TL/DR
Comfortable and well-cushioned, the Brooks Caldera 6 fit is snug and supportive, and won't slip even on long runs over difficult ground.,
Weight
When you first look at the Brooks Caldera 6 shoe you get the impression it's heavy shoe, but as I found this is an optical illusion created by the chunky midsole. Yes, there is definitely more weight than some trail shoes but it still feels light on the foot and lighter than expected when you're trail running. I believe this is due, in part, to the relatively soft yet responsive outsole.
Ride
The constant iterations that have culminated in the Brook Caldera 6 have produced a running shoe that offers a superb ride on every kind of trail you can imagine. In preparation for this review, I took these shoes on a number of running routes near the village where I live in Oxfordshire and found the hardest, most unforgiving terrain available and put the Calderas through their paces. Up muddy hills, along loose gravel trails and over the undulating hills of the Chilterns, and at every turn the ride was more than impressive. This fact is likely due to a number of reasons, in particular the snug fit and deep insoles mentioned in the previous section of this review, but there are other reasons for the superb ride…
The redesigned midsoles are built with raised side walls which improve stability and reduce the risk of turning your ankle on uneven terrain, and the outsole has been widened to create a stable platform that also reduces the rolling and the risk of a jarred, twisted ankle. This combination holds your foot securely for a stable ride.
One additional note regarding the outsole – the toe cap is incredibly effective. Made from TPU, it's hard wearing with very little flex or give and provides excellent protection when you invariably run into a raised rock, or some other immovable object that would ordinarily break at least one of your toes.
TL/DR
I'll keep it simple – the ride is amazing. Honestly!
Price
How much is the Caldera going to cost you?
£130/$165. Brooks running shoes are on the premium end of the scale, but not so high they're prohibitively expensive and whilst I'm happy to pay for expensive shoes that protect my feet, I try to find a good balance when it comes to picking up running footwear.
There are lower-cost shoes, but based on this review I'm hard-pressed to find a pair that offers the same level of protection, smooth ride and stability the Brooks Caldera 6 gives. Most of my more minimal trail shoes priced in a similar range have far less cushioning and although I enjoy the responsive, fast ride they can be uncomfortable when running for long periods over rocking ground.
TL/DR
At  £130/$165, they're not the least expensive but the overall running experience provided by these Brooks is superb and hard to beat.
Caldera 6 review: summary
I'll be blunt – this is one of the shoe reviews I've most enjoyed writing because Brooks has engineered an amazing pair of trail runners and as long as you understand the very small number of limitations I believe you'll agree with me. Although I'm a newcomer to the Caldera model I have the distinct feeling previous versions were equally capable (if you've owned any of the Caldera shoes, version 1 – 5, let me know your thoughts in the comments on this post).
What you get for your money is a maximally cushioned shoe which is stable protective, and comfortable for us runners with wider-than-average feet. For some of you, the lack of waterproofing may be an issue but when you consider how fast the Caldera shoe dries out this shouldn't be a major issue – after all, can anyone really say they don't get wet feet running in GORE-TEX lined shoes?
The relatively deep well of the Caldera insole embraces your foot and to my mind, this provides an added degree of confidence when you're running over uneven ground, or a trail with a loose surface.
As mentioned at the start of this review, I bought these Brooks shoes about a month before writing this post. Over that time I ran approximately 160km of trails, with daily distances ranging between 7km and 20km. The routes I chose varied: one day I might spend most of my time running through fields and up hills, another day I might be running along part of a huge national trail (the Ridgeway – read this…) which is a mix of mud, gravel, very short stretches of tarmac, and everything in between. And the Caldera performed exactly as I would expect from a shoe of this calibre.
There is only one point to note, and this is important for fans of zero-drop running shoes: the Caldera drop is 6mm and I found transitioning to this from 0 drop did apply some pressure to my lower back and I did have a slight ache in my lower back for a few days, but once my body was accustomed to the change I felt great.
In all honesty, these are an amazing pair of shoes and one I've been very pleased to review. It's not often I find myself torn over what footwear to run in as, for a very long time, I was a Hoka/Altra-only man! Brooks has changed my mind and I look forward to the coming winter months when the trails are wet, the mud deep and the rain torrential as I feel this will be a time when the Caldera really comes into its own.
So far, and after many reviews, I've found the Caldera to be as near to perfection as a maximal cushioned shoe can be and I intend to be running in the next iteration of this trail shoe.
Other trail running shoe reviews
Similar trail shoes
We review a lot of shoes. A lot. Some don't make the grade and we simply refuse to write reviews for them as it would be a waste of your time wading through a review of a pair of running shoes we wouldn't wish upon our worst enemy. With that thought in mind, here is a selection of trail shoes we do recommend; shoes designed to be worked hard on track and trail, without giving you blisters, black toenails, and aching arches!
Hoka Challenger ATR 6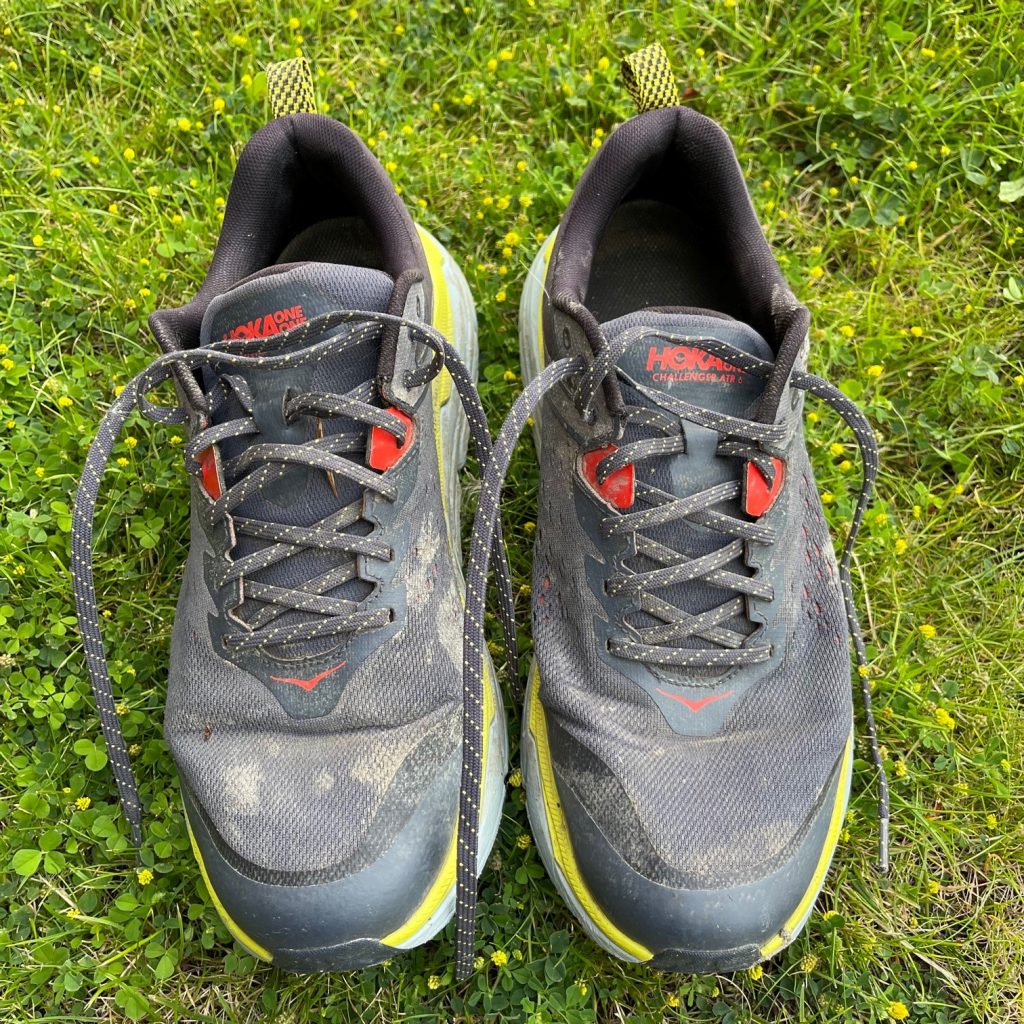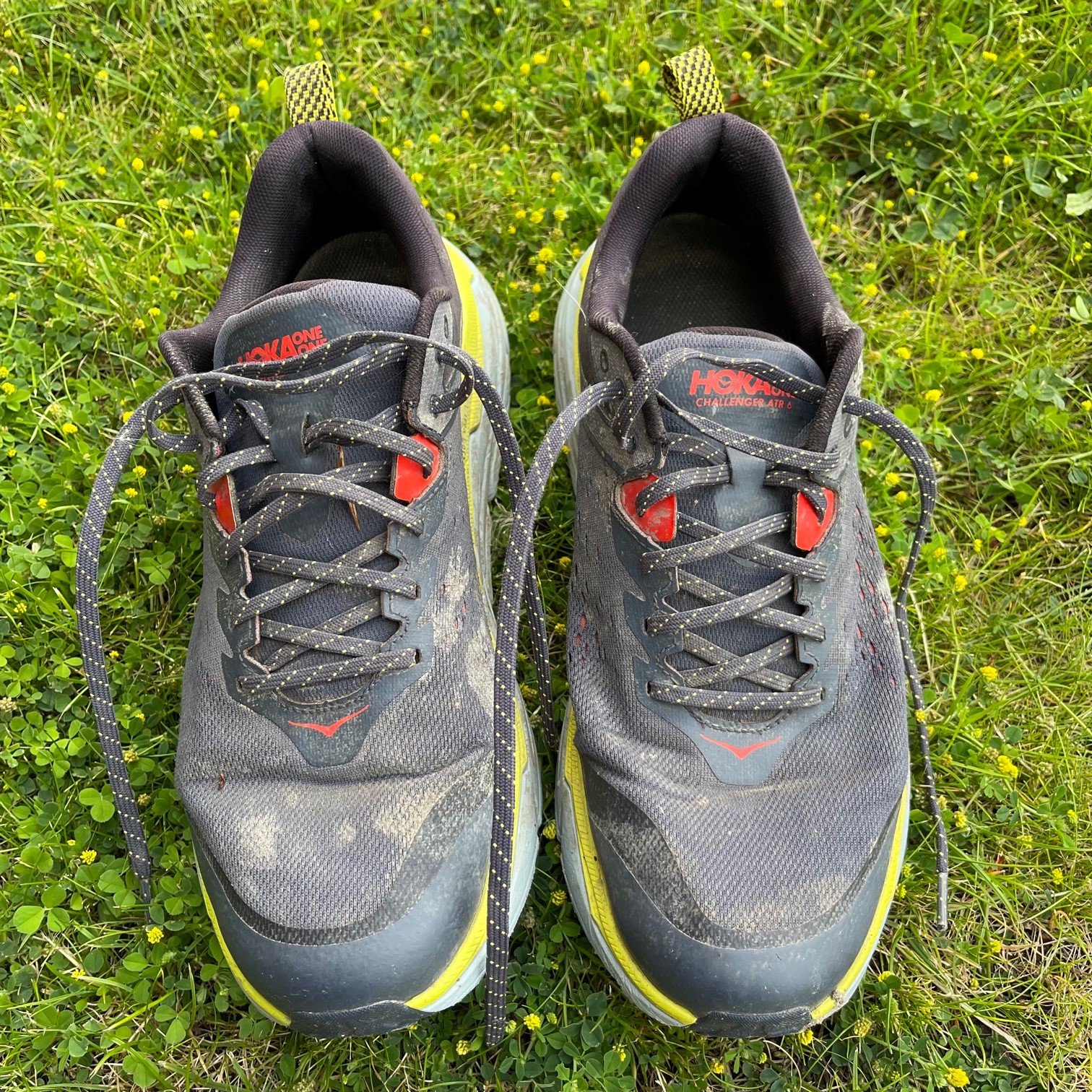 Whilst not a true trail running shoe, this hybrid engineered by Hoka is one of the most capable I've ever had the pleasure to wear which is why it's one of the reviews I most enjoyed writing. I've been using these shoes for three years, going back to the fourth version, and they are an excellent hybrid.
Durable, they're what I consider to be one of the best shoes for runners who mix up the terrain they run in.
Check out Hoka Challenger ATR6 review for a full breakdown
Altra Lone Peak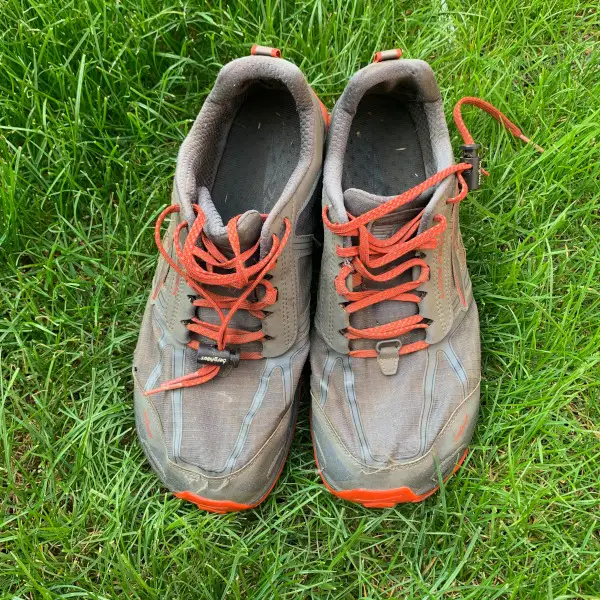 If you're after a pair of shoes that let you feel the terrain – and I mean really feel every undulation underfoot – the Lone Peak is a running shoe for you. Designed to be minimal in a way I could only have dreamed of, this shoe is the pinnacle of what I consider to be the true trail runner. Lightweight, incredibly rugged, and completely porous, they eat tracks and trails for breakfast. What I love even more is the almost non-existent cushioning which is the main reason why you get so much feedback back through your feet.
Joking aside – these shoes do have a reasonable amount of cushioning, but way less than the likes of Hoka and Brooks, but they do feel pretty close to a barefoot running experience. If you don't like zero drop and you don't want to feel the same way your ancestor did, running across the plains with minimal cushioning underfoot, these aren't the shoes for you.
Check out Altra Lone Peak review for a full breakdown
Altra Outroad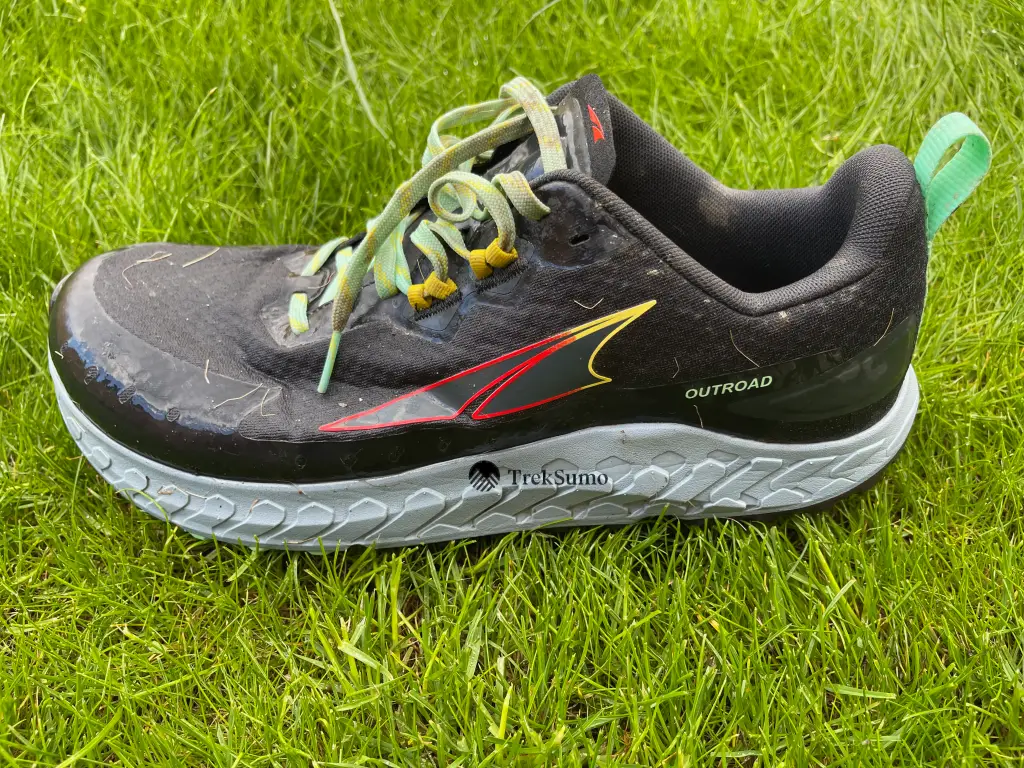 This shoe is Altra's hybrid offering – you can read our full Altra Outroad review here – and it's one I fell in love with from the moment I pushed my feet into those wide, accommodating running shoes. They're lightweight – at 10oz/283g they're a little lighter than the weight of the Caldera but that's in part due to the minimal design. And when I say minimal, I mean it: the midsole is 27 mm and zero drop , the upper is not at all water resistant but the Outroad drains and dries fast, and the canvas-like material is rugged like no other shoe I've run in.
Check out Altra Outroad review for a full breakdown
FAQs
What is the drop on the Brooks Caldera 6?
The Caldera has a 6mm drop.
What is the difference between Caldera and Catamount?
Both the Caldera and the Catamount are trail running shoes, and the critical difference between them is the weight and speed. Both shoes are made by Brooks, but the Catamount is a lighter, faster shoe with a more streamlined profile. 
What is the stack height of Caldera 6?
The stack height of 31mm in the heel and 25mm in the forefoot.