Gear Reviews
Hiking Boot Alternative: The Altra Lone Peak 4 Review
Treksumo was created with hiking and trekking in mind, but from time to time we step off the well-beaten hiking routes in order to explore and review gear we think should have a place in your packing list. A good example of this is the hiking boot alternative category as today we're going to be walking through a quick Altra Lone Peak 4 review.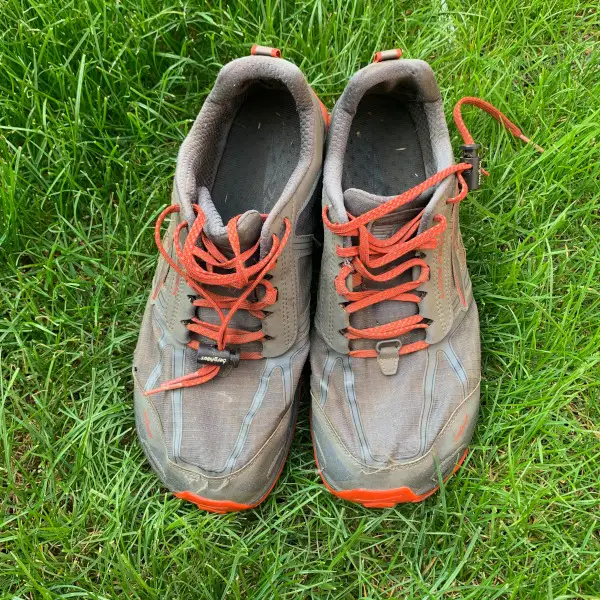 We originally looked at this topic when we answered the question should I use hiking boots or trail runners for my hikes? Check out that post for thoughts and advice we've collected over the years.
You've probably already guessed that Altra are a company that make footwear for road and cross country running. So why are we reviewing running shoes? Because I've found they make an near-perfect alternative to hiking shoes and walking boots as you'll see.
Preamble over. Time to review the Lone Peak 4 trainers.
What Are Lone Peak 4s Shoes Designed For?
They are what is known as a zero drop trail running shoe (drop refers to the height difference between the heel and toe. Unlike most running shoes, there is no difference between the height of the toebox and heel of the Lone Peak). For some reason, I find these running shoes a more natural fit and ride when running on trails and rugged terrain.
A word of caution: as you'll see, these are tough trainers, but don't be tempted to use them for only road running. The aggressive tread of the soles will quickly be worn away leaving you with flat spots that fail to grip when running off-road.
Design
A little while back I bought a pair of Lone Peak 3.5 shoes for my crossing of Lake Baikal. As you can from the images below, I made a few adaptions needed for extra grip when running across ice (yes, those are carpenter's screws superglued into the sole).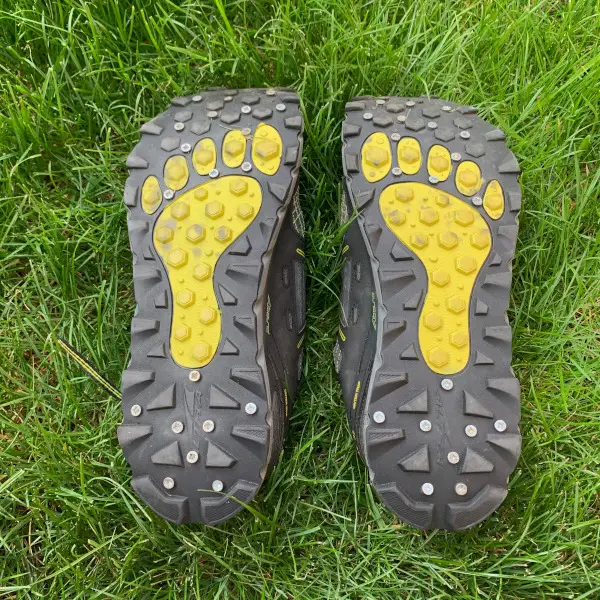 Now compare the 3.5 to the 4: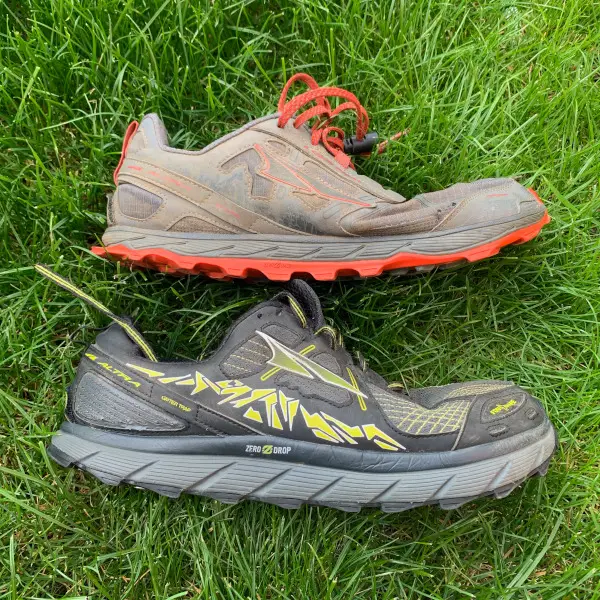 As you can see, the tread on the 4 are deeper than the 3.5, but there are two more key differences:
The model 4 toe box is a little more generous than in the 3.5;
The soles of the 4 are thinner than their predecessors.
Everybody has their preference. For me the thinner soles give useful feedback when I'm travelling cross country, hiking or running.
But what design features make this shoe a good fit for hikers?
Wide toebox
Not just wide, huge. This aspect of the fit was the first thing that struck me when I slipped them on. I have huge, hobbit-like feet as well as broken toe that was never treated and, as a consequence, is now an unusual shape that doesn't fit well into standard width boots and shoes.
The Lone Peak toe box is massive. Really, I reckon I could sell up my house and move into my shoes to save money on the mortgage!
As seasoned hikers, we all know the importance of a good pair of socks. Most hiking socks are thick (check out these Sealskinz cold weather socks – super warm but pretty bulky) which means most running shoes are too tight fitting to be used on the hills and hiking routes. There are no such issues with Lone Peak.
The fit is good, even when wearing two layers of socks.
Aggressive Tread
The tread is pretty aggressive. Note: aggressive is a term used to describe the depth of tread in footwear rather than how angry your shoes are! I've found that hiking through water and mud is just as easy in my Lone Peaks as it is in a pair of boots.
One point to note: the design of the tread makes is less likely for mud to build up between the 4mm lugs. This is really useful when moving over muddy and rough terrain.
As I mentioned earlier, the tread is pretty hard wearing (the photo below was taken 16 months after I bought the shoes and having clocked up many hundreds of running miles).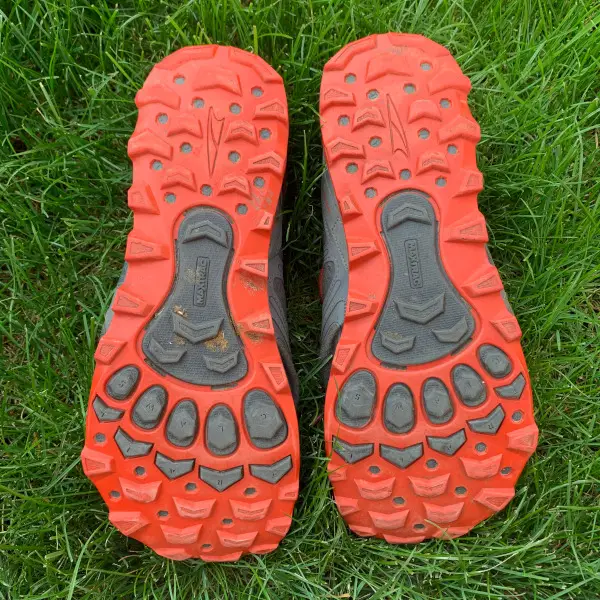 Zero Drop
This feature might not be for everyone, but I love it. These are the first running shoes I've owned that don't have the traditional wedge-shape design. And to my mind this makes them a great alternative to heavy walking shoes and boots.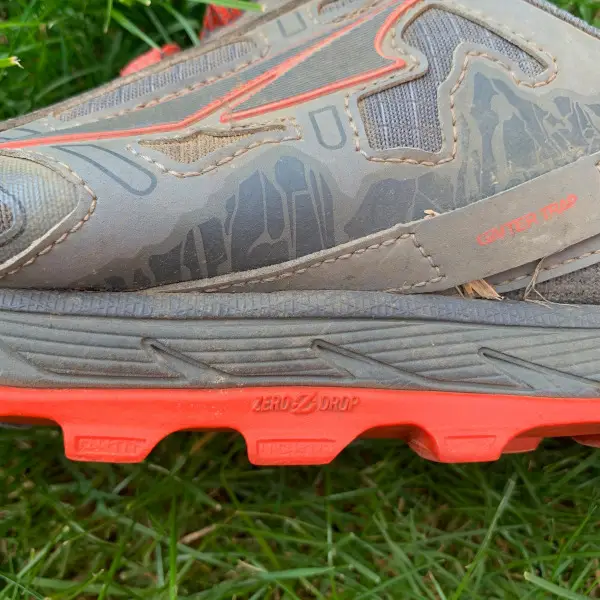 Over the course of my lifetime I've had the misfortune to pick up a lot of injuries. I can't complain too much – most of the aches and pains were the results of damage sustained in some far-off places, doing exciting 'jobs'. But having to carry the constant grumble of aching knees and hips over a 20-mile hike can take some of the fun out of your day.
And this is where I find the zero drop Lone Peak 4 shoes come into their own. The lack of a heel wedge removes much of the pressure you experience in your knees and lower legs that is common in standard footwear.
No Breaking In Required
Let's face it – your hiking boots have probably taken a beating over the years, but now they're settling into that comfortable middle-age zone and you don't want to give them up for a pair of young pretenders. But at some point, your faithful boots will walk into the night, never to be seen again.
And then you'll have the joys of breaking in new boots.
Unless you decide to take a pair of Lone Peak shoes on the trail. As you've no doubt guessed, there is no need to break them in. Not even when they're fresh out of the box – on the same day I bought these trail running shoes I took them out for a 10-mile run. No blisters. Ever.
They're Tough as Old Boots
Altra has crafted these shoes from a mix of ripstop nylon and TPU overlays. Although not as hardy as some leather boots, the material has proven robust enough to stop any but the most stubborn of thorns from penetrating the upper and lodging in one of my feet!
I love the toecap, which is made from a broad strip leather designed to protect your toes from being smashed and battered by rocks. The leather isn't reinforced, or hardened, but still gives you adequate protection from all bar the worst Mother Nature can hurl you way.
The midsole features a layer of Altra's StoneGuard technology. Made from a flexible piece of plastic, StoneGuard is designed to take away some of the sting that comes with standing of jagged rocks. I know, I know… just the thought brought tears to my eyes.
Lighter Than Lightweight Hiking Boots
When it comes to finding the right footwear for a hike there's always a tradeoff, no matter how far you're planning to travel. Leather boots tend to have the most support and protection for your feet, but they're normally heavy, or at least heavier, than synthetic fabrics. There's also a breaking in period with most leather shoes and boots, an indeteriminate period where you can expect the joys of blisters (unless you have a plan to prevent them).
But if you can justify going super-lightweight, then the Altra Lone Peak 4 shoes are near-perfect, to my mind. Although they give little ankle support, the various layers of protection and durable uppers provide a protective barrier between your feet and the most inhospitable terrain.
And, like hiking boots, they have gaiter fittings:
Other Factors That Make the Lone Peak 4 an Ideal Replacement for Hiking Boots
I could go on and on, really. But that's not helpful. Here are a few final thoughts on why I've been using my Lone Peak 4 shoes as replacements for my hiking boots:
They pack almost flat which makes them far easier to cram into my rucksack when I'm travelling to the start of my hiking route.
Less expensive than many brands of hiking shoe, or boot. I won't say 'all' as this isn't the case for all brands and models.
Easy to repair when you use a little ingenuity. For example, the weak point in these trail running shoes is the crease where the material flexes at the toe joints. Over the past year tiny tears formed in the nylon and these were easily fixed using superglue and a small patch of ripstop.
The lacing system and stay-put tongue have been updated to help keep the fit snug and secure.
Plenty of flex across the entire shoe, which gives a more natural ride when running or hiking or uneven terrain.
Fast drying. They're not waterproof and that's not a problem for me as I often use a decent pair of Gore-tex socks (like these), but they do dry really fast.
Breathable. The ripstop nylon allows a good flow of air to circulate through the shoes which helps to wick away sweat.
Lone Peak 4: Final Thoughts
I really like Altra's Lone Peak 4 shoes, both for trail running and hiking, and highly recommend them to anyone looking for a robust, wide fitting trainer. The only sticking point for some people is the price – they're cheaper than some hiking boots – but not all. And that's when eBay becomes your new best friend – I picked up a hardly worn pair of Lone Peak 3.5 shoes for peanuts, then used them to cross Lake Baikal.
As a hiking boot alternative, these shoes get a 4.5 out of 5. If they had more ankely support I'd give them a 5.