The claim: the Hoka Challenger ATR 6 running shoes are light, adaptable, and apparently defy convention. Rugged and well-cushioned, they are designed for optimal grip no matter what terrain you're running on. And they're environmentally friendly. At least to a degree – the yarn used in the ATR 6's construction is manufactured from recyled material.
So, how good are they? Do these running shoes really live up to the hype Hoka has conjured? That's what we're here to find out in this Hoka Challnger ATR 6 review…
If you're a runner who frequently switches between trails, cross-country, and road running you'll know how hard it can be to find trainers that bridge the divide between different types of terrain. You've probably tried countless brands and models, only to find some niggling issue when you transition between terrain. If you're a road runner who has no intention of hitting the trails, you might want to check out our Nike Zoomx Vaporfly Next 2 review…
If you've never worn a pair of Hoka OneOne shoes, I have good news for you. But before you see the verdict, let's take a deep dive into the Challenger ATR6 trainers.
Already sold on them? You can get them on Amazon…
Personal history
I've been running in Hoka shoes for a little under 2 years. My first pair, the Challenger ATR 5 shoes, split after about 2 months of use. And even though they took a really battering on hard cross-country runs of distances up to 50km, the very kind people at Up and Running replaced them with no questions asked.
I was sad when my first pair crashed and burned. They were a great pair of trainers.
And the ATR 6 have followed in the mold, and I've been running in my current pair for about 6 months (as you can see from the mud-spattered upper, they have seen some hard runs).
Before moving to Hoka, I ran in a pair of Altra Lone Peak 5 (awesome trail running shoes which I wore when crossing Lake Baikal). I have asked Santa for a pair of Lone Peak 6 shoes!
Hoka Challenger ATR 6 first impressions
The Hoka Challenger ATR 6 is a pretty lightweight shoe, weighing in at 9.8 ounces. It's not the lightest shoe of its kind available, but I haven't yet found a similar running shoe that gives the same deep cushioning. I broke my right big toe several years ago and have yet to find a pair of trainers that support my grizzled toe in the way the ATR 6s do.
Big thumbs up for cushioning.
You may have noticed mention of recycled materials being used by Hoka and, for me, this is super important. the more products and can be reused the better. Knowing your old running shoes aren't being thrown in a huge landfill site does give you a sense of satisfaction.
One point to note about the weight: these shoes do absorb a fair amount of moisture which can make them feel heavy when you splashed through a muddy puddle. On the plus side, the drainage is good and the feeling of 'lead boots' soon fades as you continue running.
The lacing system is good, providing a locking system that keeps a secure fit even if your laces come undone halfway up a long winding trail (we've all been there!)
Overall, a good first impression.
Next…
Protection
There's plenty to keep your feet feeling comfortable and protected.
Look at the front of the ATR 6 and you'll notice a thick toe bumper that acts like a toecap to provide some resistance against injury when you stub your toe on a rock. But it's not like armour plating and a heavy strike will result in bruising, or worse.
The 4mm EVA midsole is thick enough and dense enough to reduce the shock and the pain that comes with running over jagged rocks and uneven ground. I'd like to add that, so far, none of the many hawthorn needles I've pulled out the sole have managed to penetrate through the midsole and into the sole of my foot.
Like the midsole, the heel collar has a thick layer of padding. This took a little getting used to at first, but once you've run a few miles the collar will mold to the shape of your heel and any discomfort soon fades.
One complaint I've heard on a few occasions is the toebox width, which seems to be getting narrower with each version of the Challenger. I have felt like a hobbit – huge and hairy, a genetic thing – and the simple solution was to choose a wider fit. Hoka offer three fittings: standard, wide, and extra-wide. Unless you have clown feet, you should be able to find a pair that fit right.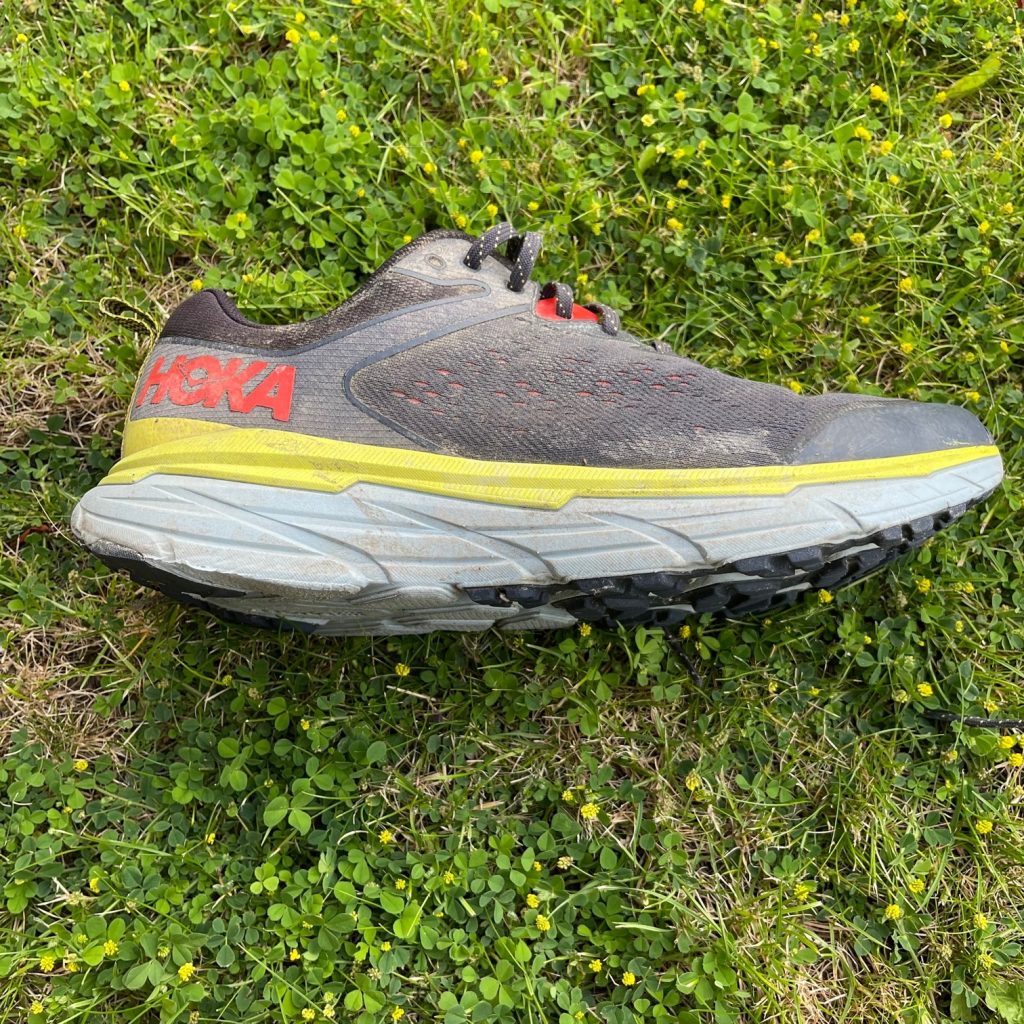 Durability
If you take a look at the image below you'll see some wear and tear on the soles of my ATRs. This is the result of road racing, which makes up about 30% of my overall mileage. So, yeah, they're pretty durable.
If you used these shoes purely for running on roads, the soles would wear down fast.
So far, the lugs have survived pretty well regardless of the terrain I've run on. If you decide to use the ATR 6s on hard surfaces you can expect them to wear out fast.
One point to note about the lugs: I've read a number of posts that suggest that lack grip in the wet. I haven't found this to be the case. The grip is good, even when you're running through thick mud, which I do often.
Fit and Speed
As I mentioned earlier, the fit is good although the thick heel cuff can feel a little uncomfortable during your first few runs in these trainers. But we're runners and comfort is our enemy, so this is good news. No pain, no gain.
For clarity, the padding hasn't caused me any blisters. Unlike some shoes.
The chunky midsole is formed from 29mm of compression-molded EVA which gives excellent cushioning. If you're like me – 6′ 1″ and about 200lbs in weight – you'll really appreciate the comfortable ride.
Now, if you're into serious speed work this is not the shoe for you. It works well for running on moderate terrain – trails and cross-country – but is not design for all you speed merchants out there. It's simply not responsive enough for your needs.
That said, if you're like me and you need a shoe that will support your mangled toes and protect you from vicious hawthorn needles, you need to check them out.
Hoka Challenger ATR 6: final thoughts
The ATR 6 is a good shoe and works well over medium and long distances. During my periodic 50km runs, they perform well, remain comfortable, even when wet, and don't slip.
Hoka's famous chunky look hides the fact that they are both comfortable and provide a huge amount of cushioning and protection for runners of all sizes and weights.
You will need to get a few miles notched up before they are fully broken in. That said, they're no uncomfortable to run in.
Another point to note is that, like my Altra Lone Peaks, they make a great alternative to lightweight hiking boots. Built with rugged soles that give adequate grip on even loose terrain, they make easy work of hills and mountain tracks.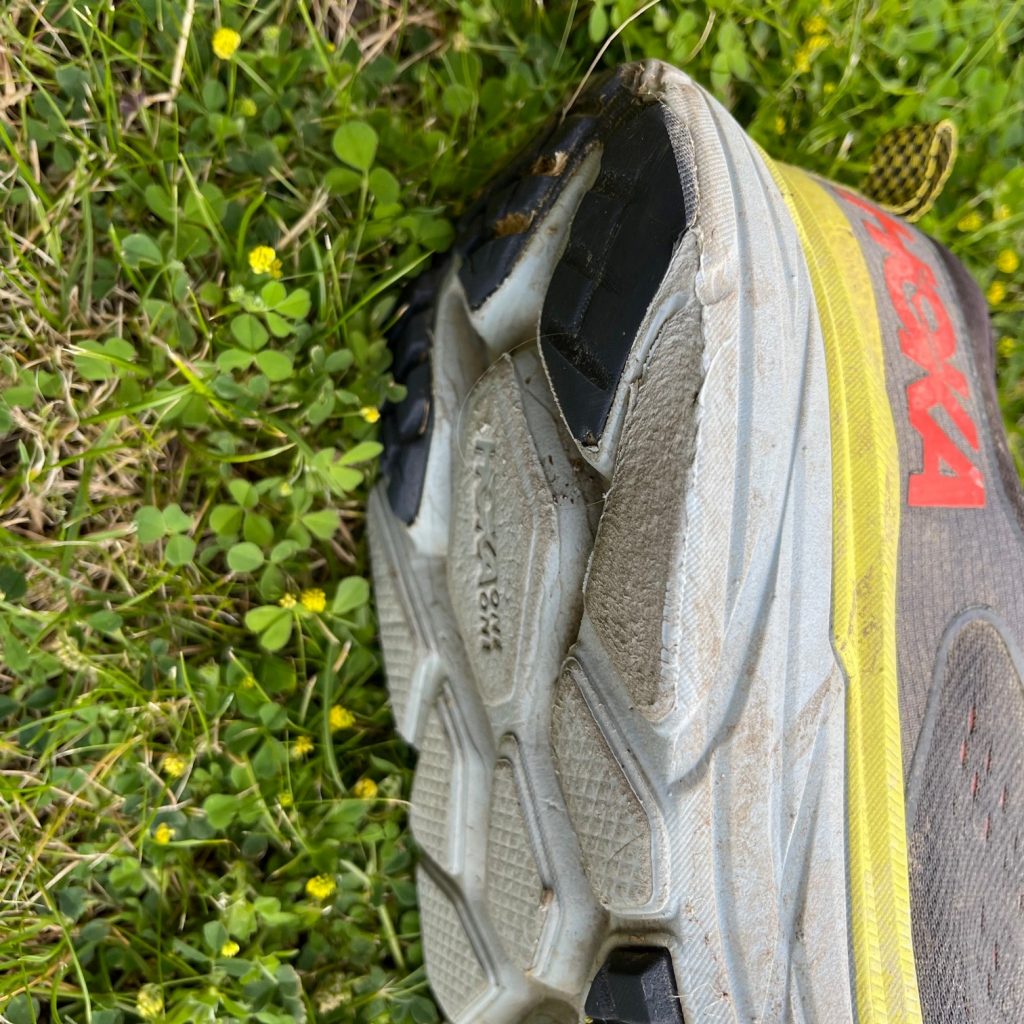 Yes, there are better, more responsive shoes like Lone Peak, but they don't provide anywhere near the comfort of the ATR 6.
And if you're more inclined to road running, these aren't the shoes for you.
My verdict? A sound 7 out of 10. Now if Hoka could make them more water-resistant and faster drying this number would shift up a notch to an 8.