Nike ZoomX Vaporfly Next-% 2 Review: The hype is real; these are one of the fastest shoes on the market for marathons and personal bests.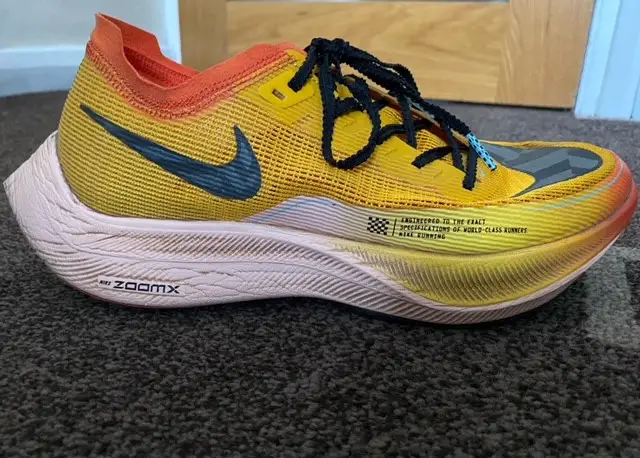 The Nike ZoomX Vaporfly 2 being my first pair of super shoes I really didn't know what to expect. I had heard great things about these new running shoes with carbon plates in and I had read umpteen reviews regarding the Nike versions being lauded as the king of the super shoes. Was it all marketing hype and the loyal Nike fanbase just raving about a new design or was there really something to it?
What I felt was, most reviews didn't quite do these Nike running shoes any justice. With that in mind, here are my thoughts on this latest version of the ZoomX.
A quick note before we move on: I've previously worn an earlier edition of the Nike Air Zoom (which had a pretty smooth ride), and I loved them, and this fact left me with high hopes for the VaporFlys.
VaporFly Features
Upon taking them out of the box, I was surprised at how light they are. Now, I know they are designed to be lightweight, but finally holding them in my hands confirmed just how air-like they truly are, and they feel very different to any running trainer I have ever owned before. I can't say I'm overly enthusiastic about the Ekiden design, but these are meant to be about performance and not aesthetics, right? That said, there's nothing wrong with looking good on your runs, in particular training sessions.
Hands on: A pretty smooth look and feel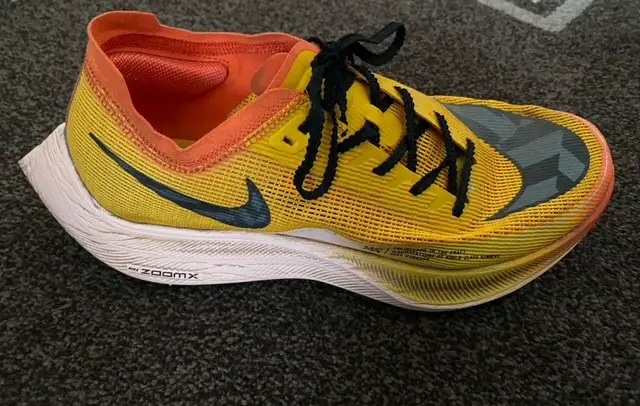 When handling them and pushing the front of the sole upwards you can feel how sturdy and rigid the carbon plate is between the two sets of foam that form the springy insole. This is a new sensation in running shoes for me and this is exciting to try out these new running shoes Nike has engineered.
Putting them on for the first time I noticed the shoe has quite a snug fit, I don't mean as in coming up tight/small in regards to size but as in they fit and contour your feet in a different way in to which I am accustomed. You can instantly just feel the responsiveness provided from walking in them which comes from the heel of the shoe; these feel like a shoe built for racing!
In the first few steps, I was reminded of how soft and cushioned the forefoot of the Vaporfly is. They are one of the softest carbon plate shoes on the market. These running shoes have an 8mm drop from heel to toe, which is great for mid-foot strikers, but the unusual and unique heel design will certainly encourage any heel-strikers to quickly engage with the mid-sole and reap the benefits of these carbon plated racers.
Weight and performance
The Vaporfly Next-% 2 weigh just a tiny 6.6 oz (187g) which makes them one of the lightest carbon fibre shoes you can buy on the market. The light nature of these shoes coupled with the speed they provide is a sure-fire winner in my book.
Within my first few runs at my local parkrun, I managed to knock off some good time off my 5k pb. These shoes felt light, responsive, and fast, and I really didn't feel as if I was putting in the effort to warrant a pb that day. First impressions: pretty damn good!
I have since tried some slower runs in them and whilst you can feel an element of responsiveness to them, this is not what they are for, and I don't feel they are particularly beneficial in that respect.
Off-road running performance
Equally, I have tried them off-road and on softer surfaces and at varying paces. Again, they felt good to run in (although not quite a smooth as the Hoka ATR 6 shoes) but the benefits of having the punchy and aggressive carbon plate was somewhat lost. I am fully aware that they are a road racing shoe, but I just wanted to experiment in them to see where else benefits and gains could be made. I think they would still give you a slight edge if racing on surfaces that are flat e.g. flat parkland/grass, but they really come into their own on hard and flat surfaces as this is where you can feel the full effects of the carbon plate at work. I did not find them particularly useful on surfaces that were uneven as you don't get the full contact with the ground to engage the carbon plate.
I would also add that trying to run recovery or slower runs in them is quite futile, particularly on road surfaces as the springiness of them just encourages you to run faster.
I have loved using these for quick 5k – 5 miles distances and look forward to experimenting in them when I decide to run further distances at greater speed.  I can't see them not being beneficial for any distance provided it is a flat and hard surface.
Durability
However, on the downside I can start to see a bit of wear on the soles already on the VaporFly Next and I have only done around 40 miles in them upon writing this review. I can really understand why people recommend these solely for speedwork or racing as the price tag is quite high to warrant these for an everyday running trainer.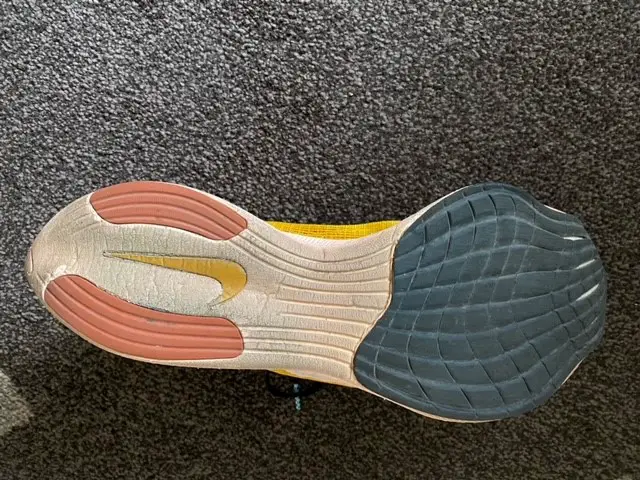 The ankle collar on these shoes is also an issue. I feel you really must crank down the laces on these shoes to prevent your heel from moving around. Therefore, the fit on these shoes is not the best for those with wide feet, they are definitely a bit on the narrow side. Other than this, the shoe is pretty comfortable.
My last criticism is that I don't necessarily like how the VaporFly Next looks. They are quite flashy; the pointy heel does not necessarily look great in my opinion, and I am not over-enamoured with the other colour choices to choose from.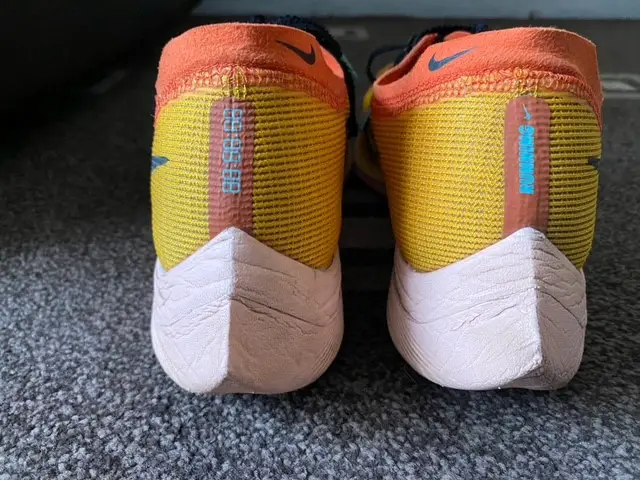 The pros and cons
So far, so good, but as you've already gathered these running shoes are the panacea some runners are searching for. Whilst the VaporFly carbon plate and springy insoles make for a good ride, there are a number of minor niggles as well.
Let's deal with them.
Pros
Maximum level cushioning: great for reducing the effects of constant heel strike, something I look for in all my running gear.
Super lightweight shoes: great for pace work, particularly on roads and hard, even surfaces.
More breathable forefoot: because who really wants hot feet, soaked in swear when they finish their run?
Good grip for dry surfaces: I'm not a great fan of running in the rain as the roads and paths can be slippery.
Springy midsole with carbon plate: I love this feature, it makes runs seem so much easier.
Fantastic for any race of any distance: my Nike running shoes are used for short, medium, and long distances, and they perform brilliantly.
Cons
Expensive – considering the expected lifespan.
Poor heel stability – especially when running up hills creating a sloppy and unbalanced feel.
Low durability: the minimum outsole rubber seems to wear down quite fast due the constant strike when running on hard surfaces.
Lock down lacing is not very comfortable: this might not be such an issue for runners used to this style of lacing, but me for it felt unusual.
Not ideal for wide feet: if you have even slightly larger than average feet, you may want to search other a different option.
General comfort: Nike's ZoomX foam paired with the carbon fiber plate is hard to beat for anyone looking for comfortable run (which helps to give them the most efficient ride of all my shoes).
Conclusion: are the Nike ZoomZ Vaporfly running shoes worth investing in?
The Nike ZoomX Next-% 2 Vaporfly remains on top for a marathon racing shoe. I enjoyed using these shoes for tempo runs, and intervals sessions because of how soft and cushioned the thick slab on these shoes works to protect your feet and the geometry of the carbon plate which pushes you forward and up on your toes almost urging you to make your run faster and more efficiently. The soft and springy foam make the Vaporfly shoes ultra-responsive with a level of ride comfort that's just right. For me, the next step is to take them on more long-distance running routes to max out the durability testing.
However, the durability on these shoes is low. Personally, I wouldn't be using these shoes for back-to-back runs. It's a shoe to use for a race and some training sessions, as opposed to an everyday trainer. The lacing system on the Nike Vaporfly shoes is also slightly wonky and while it is supposed to lock down the foot, I had difficulty with my heel feeling like it was going to slip. This was particularly the case whilst running on hills. I also felt if the laces were not in the correct place, they create numbness and pinching in your feet which I have never previously experienced with any other running shoe. It's a running shoe that is best set aside for races and tempo runs, as it is a little too unstable to use for your general running.
Whilst there are some mild flaws with this shoe lacking some heel stability, I have a feeling the Nike Vaporfly Next-% 2 will still be the top-notch shoe for fast runners. I have enjoyed running in these shoes, and in my honest opinion, they are worth every penny. I'd recommend these shoes for people who take racing seriously and want to crush their personal bests race after race because it will happen with these shoes.
All in all, I feel these are a great addition to the Nike Air Zoom family and don't hesitate to recommend that ZoomX VaporFly to (road) runners.