Gear Reviews
Altra Outroad review: a hybrid running shoe for all terrains
The Altra Outroad review – a deep dive into what we believe is an awesome pair of running shoes for every terrain
Released in January 2023, the Altra Outroad is the latest addition to the award winning running shoe company's lineup of trail runners that have hybrid capabilities. In this Altra Outroad review we're going to delve into what we think makes them a great option for runners who switch back and forth between rough trails and roads. As well as being ardent hikers, Jake and I long time runners with a number of ultra marathons, marathons (Jake ran London), and varying distance runs under our belts.
Who are Altra?
The Altra shoe company is based out of Logan, Utah, in the USA, with manufacturing plants in Logan, China, Vietnam, Thailand and Indonesia. They've been building running shoes since 2009 and have a great lineup of footwear for just about every ask a runner could have. More on that later in this post.
The Altra Outroad Specs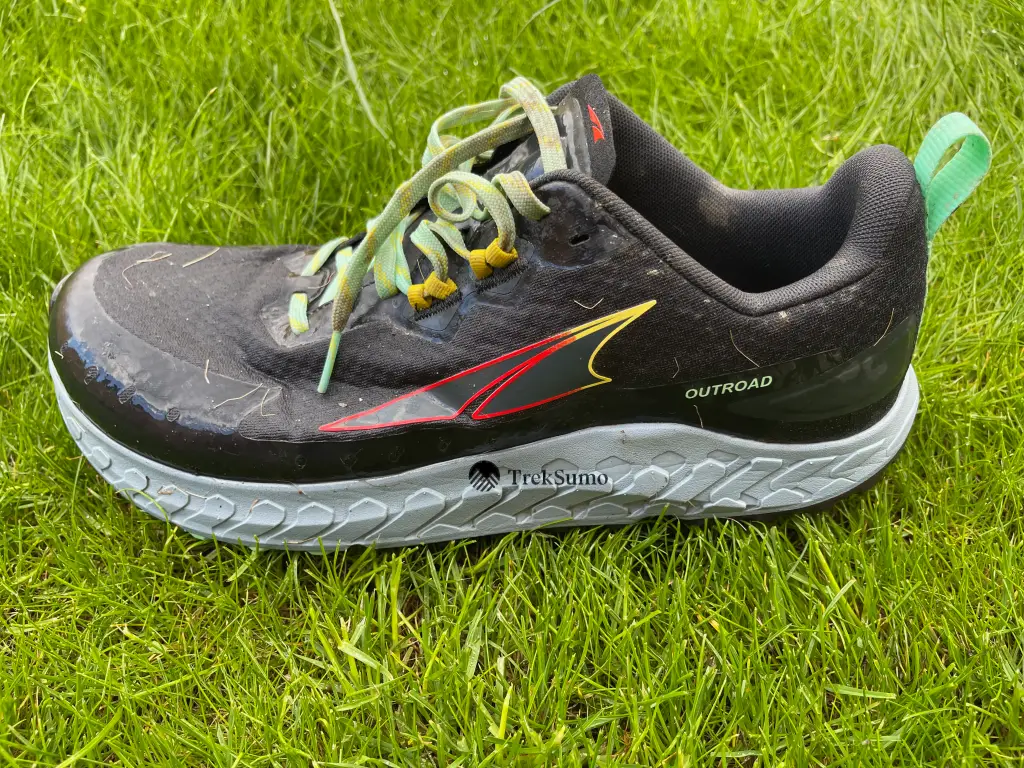 The technical stuff
Weight
At 10.2 oz (303g) they're not the lightest running shoes you've ever slipped onto your fee and nor would you expect them to be. Like the Lone Peak (a zero-drop trail runner with minimalist features), the Altra Outroad is designed to cope with rugged terrain and keep your feet and ankles intact no matter where you run. But, compared to shoes such as the Asics Gel (which weigh in a touch heavier at 10.9 oz), they're still pretty lightweight. 
But why so heavy when compared to the likes of Nike's ZoomX? Well, it's all about the midsole which uses a denser, heavier layer to protect the soles of your feet from rocks, gravel and rough ground. Without this additional protection, you're going to suffer from sore soles after a few hours on the trails.
At 61 1″ and weighing 90kgs, a few hundred grams of weight means little to me, but if you really feel you need something lighter then try The One.
Lugs
The lugs are probably the most important part of any shoe designed for cross-country running and I have to admit to being surprised they weren't as deep as I'd expected. The Lone Peak has much deeper lugs than the Altra Outroad and my major concern was there would be a lack of traction in wet mud, but I was very wrong. The lugs are more than adequate for handling all but the very worst conditions, at which the lugs of most trail shoes clog with dirt and you get that 'ice skating' feel as you slip up and down hills.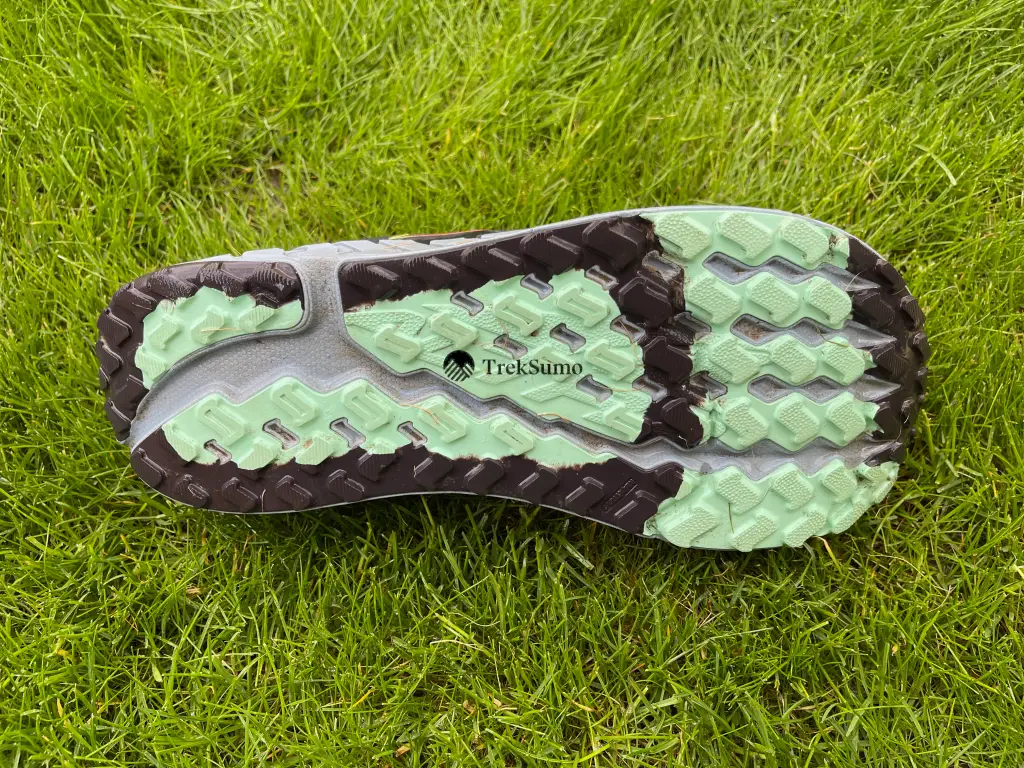 I've heard some people complain there is little to no grip, but this is simply not true. Sure, if you're a technical, or elite, trail runner there are running shoes with more grip and traction, but they often come with a price tag way higher than that of the Outroad.
One recommendation I will make is to clean the soles after a muddy run. If you don't, the dirt and debris will harden, clogging up the lugs and causing you to lose grip. Trust me, a strained IT band courtesy of constant slippage is not fun.
Comfort
This is a subjective topic. I love the Altra Outroad for the 'fairly' minimal style as it lets your feet 'feel' the ground as you're running. For me, feedback, in particular when running over hills and rocky ground, is far more important than having a dense insole and thick midsole which, when combined, rob you of much of the pleasure I feel when running cross country (much as I love them, the HOKA ATR 6 shoes are guilty of this 'theft'). Putting aside the cushioning, it's comfortable as the shoe has been designed for runners with larger feet.
The heel cuff grips well and there is little to no slippage even when hauling yourself through the thickest, stickiest mud on the trails.
A wide toe box gives ample space for those of you who, like me, have wide feet. We'll go more in-depth on this in the next section.
But what about road running? This is where it gets a little more interesting. My personal thoughts are these shoes were designed more with off-road runners in mind. Now, that's not to say they don't handle tarmac well – they do – but you do feel the ground under your feet as you're running. My cure is to wear a thicker pair of socks and I often pull a pair of hiking socks to provide an additional layer of cushioning when I move between trails and roads/paths.
What makes this shoe for me is the EVA foam midsole  (aka Ego) which gives just enough cushioning, flex and density for what is a great running sensation.
For me, this is an extremely comfortable shoe.
Toe box
In keeping with Altra tradition, the toe box is roomy with plenty of width. Maybe not as roomy as the Lone Peak, but there's plenty of wiggle room for people with big feet. In fact, the literature I read before buying the Outroad shoes suggests the fit of this shoe is slim although I disagree. Now, if you're going to wear a thicker pair of socks, as suggested, then opt for a half size larger when you buy your Outroads.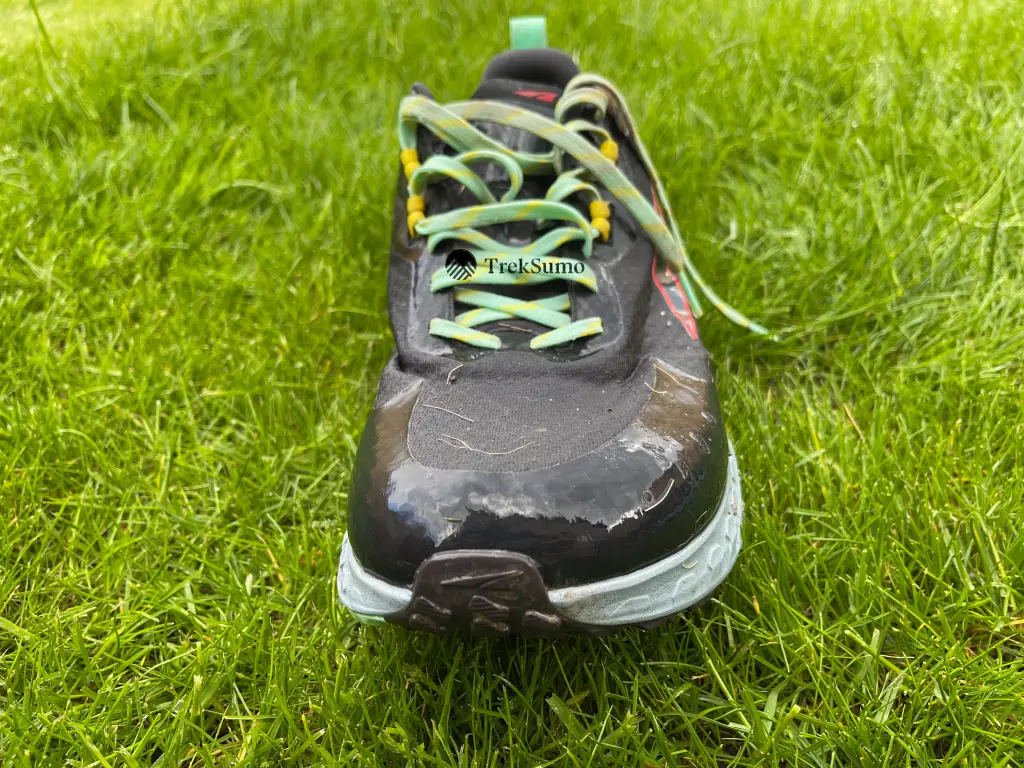 Tongue
When I first slipped on my Outroads there was a short period of discomfort. Like the Lone Peak tongue, which has a spandex-like material attached to the tongue and inner of the shoes to hold it central when you're in motion, the Outroad has what feels to be a similar material to achieve the same result. When new, the band placed a small amount of tension on my upper foot which was noticeable for a few days but soon faded.
For the sake of argument, I've called it a bungee!
Putting aside that small irritation, the tongue is well-padded and, thanks to the bungee, doesn't slip off to one side when you're on a long run.
Weather resistance
None! But, really, who wants a waterproof running shoe? For me part of the pleasure that comes from trail running is getting wet – it's bliss. Jump in a deep puddle and the water will come through the ripstop material in a millisecond and your feet will get wet. Don't let this put you off; the lightweight shell sheds water fast and, assuming you don't relive your time as an excitable 5 year old leaping into deep pools of water, will quickly dry out on a longer run. 
Material
The Altra Outroad has an upper made of ripstop – which is a huge departure from the tight weave mesh found in the shoes like the Lone Peak 6 – which goes some way towards explaining the relatively high comfort level you feel when pulling them on. Glide forward to the front of the shoes and you'll find an extra layer of TPU on the rand (aka toe bumper), an important addition considering these shoes are designed for both road and trail running.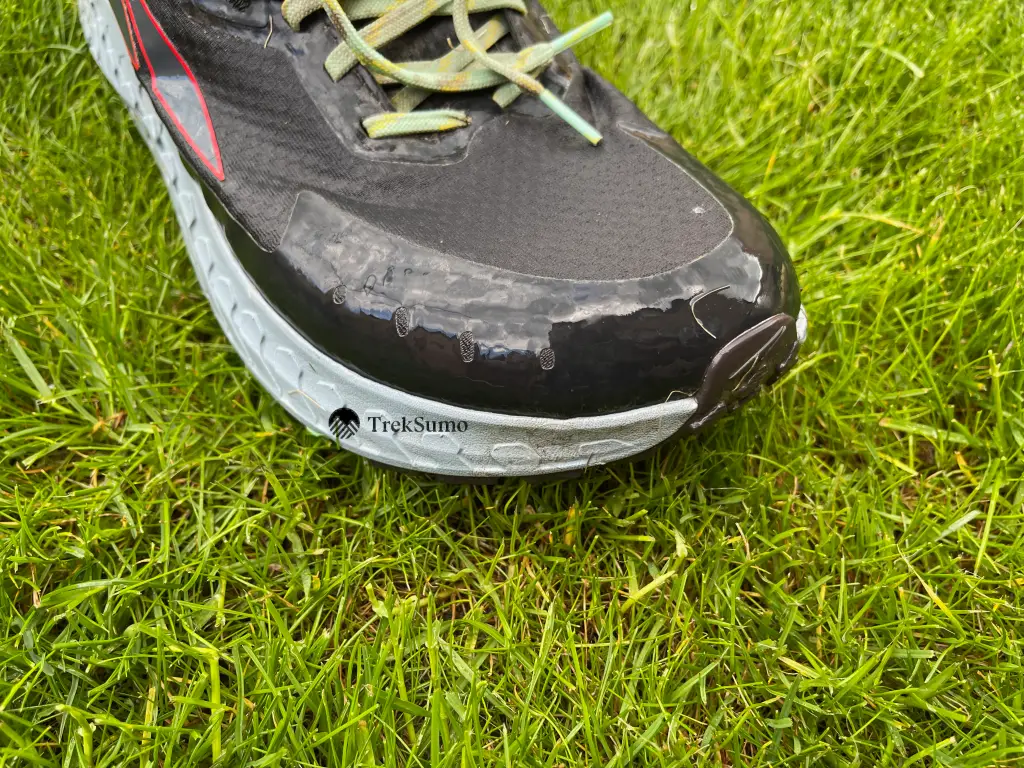 Outsole
Altra took the decision to switch from Vibram to their own brand, 'MaxTrac', which surprised some commentators and reviewers, but I think Altra made the right choice here. Vibram is great for road running – the 'sticky' materials grip hard and provide the high levels of traction needed when you're in race mode, but that same stickiness is all but useless when you're running through mud, or on loose gravel. And considering most running will be using these shoes in hybrid mode and not road racing, there's less need for the kind of traction Vibram provides.
Lacing
These shoes have a pretty standard lacing pattern – 8 eyelets on each side with a ninth eyelet that gives you the option of further tensioning your Outroads. I find the lacing system gives a snug fit that hugs the shoe to my foot.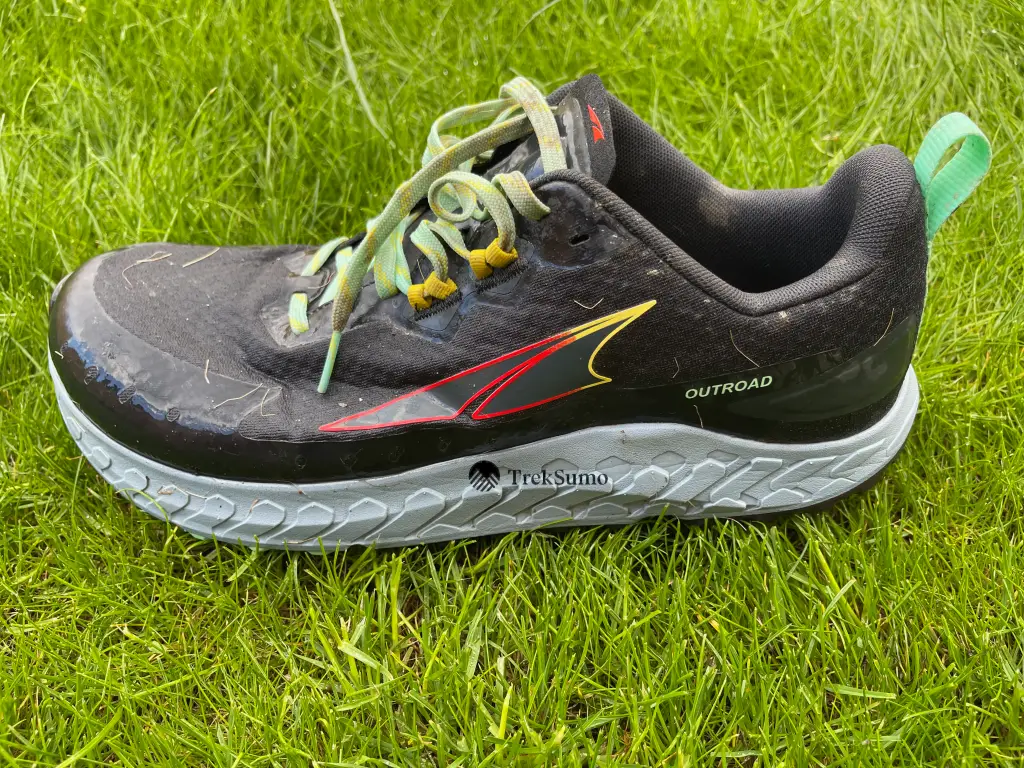 Price
The Altra Outroad shoes sit mid-range of pricing. At around £120 RRP/$120 MSRP they're not to break the bank, but they're not the lowest cost option you can choose
Are these the best trail running shoes you can buy?
The Outroad shoes certainly tick many of the boxes for a mix of trail and road running:
Comfortable – they're sized right, the fit is good and snug and whilst the band connecting the tongue to the inner can feel restrictive on your first few runs, they have that 'faithful old pair of slippers' feel about them
Traction – is good except in the very deepest, wettest mud which is the case for just about every pair of trail running shoes I've ever run in.
Pricing – the recommended retail price is £112 ($139), but if you do some digging around the web you can pick them for around £90 ($112) which is a reasonable amount given the quality associated with the brand.
Free flow thoughts on the Outroad
Let's put the technical details to one side and look at my thoughts on these shoes. But before we do I have to admit to being a huge fan of Altra having bought my first pair during the 2020 lockdown (if you want a pair of running shoes aimed solely at trail runners, read out Altra Lone Peak review here). And I was super impressed by the build and comfort.
My next pair of shoes was the Hoka ATR 6 and after these went to the great sports gear pile in the sky I decided to try out the Outroad, which has just launched a few months before.
Being a pretty heavy guy (I weigh in at 90kg, naked… not the image you want in your head) I needed a shoe that would give adequate cushioning on and off-road, had good traction and is made with a sole that won't wear flat after 50 miles of pounding the tarmac. My local Runners Need store recommended the Outroad for my wider than average feet.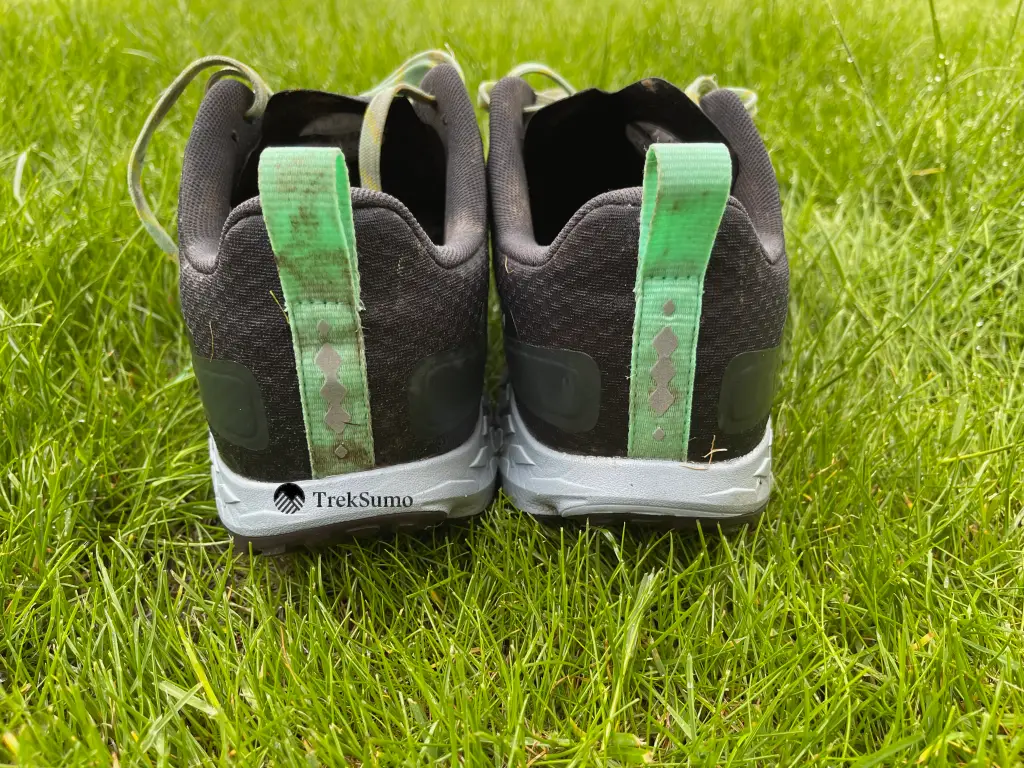 That was around 3 months ago and since that time I've used them for a variety of distances ranging from 10km up to 28km, and they've been all that I could hope for. I'm not saying this because I, or Jake, have any kind of relationship with Lone Peak – the fact of the matter is that, for me, the Outroad is probably the best hybrid running shoe I've used to date (and that's coming from someone who loved his ATR 6s).
These aren't the most technical shoes I've worn, and they don't need to be. They're quite simply a very capable all-terrain piece of running footwear, durable and priced so they're not only accessible to athletes and runners with large wallets. in other words, it's a perfect hybrid shoe.
Buy the Altra Outroad if:
you want a good all-terrain shoe that won't break the bank, or cause a divorce;
all-terrain (hybrid) running is the absolute love of your life;
weight of the shoe isn't an issue.
Don't buy the Altra Outroad if:
you don't like getting wet feet when you're running;
road running is the love of your life;
huge toe boxes aren't something you need.
Similar shoes we've reviewed
As I mentioned earlier, Jake and I have run in a fair few different shoes over the years and we've written a number of reviews you might be interested in reading:
Altra Lone Peak
The first pair of Altra shoes I bought, the Lone Peak design is rugged and very basic. Well, that's not the whole truth – there's a lot of tech under the bonnet, but you're not going to know unless you read the review. For me these are quite simply the best trail runners I've ever worn. Check out our Altra Lone Peak review here.
Hoka Challenger ATR 6
Coming in a close second, the Challenger ATR 6 is a great running shoe designed to work well on and off road. The distinction between the two is this – the ATR 6 has a little more cushioning in the sole which makes for a more comfortable, but slightly less responsive, ride. Read our Hoka Challenger ATR 6 review here.
Hoka Speedgoat 4
We gave a pair of Hoka's Speedgoat 4 shoes to Michelle, one of our friends, to review and she gave them a pretty good rating. That said, she did have some irritations and it's well reading her Women's Speedgoat 4 review.
FAQs