Gear Reviews
Hoka Speedgoat 4 review: testing the Women's Model
Today we're going to review the wide fitting women's Hoka Speedgoat 4. We gave a pair of these running shoes to one of our friends, Michelle, just after they launched. Over the next few weeks, she subjected them to a severe pounding, on and off road.
Our criteria were pretty strict: treat them mean! And she did. Her running routes took her over rocky ground, hard packed trail, soft mud and roads.
What did she think of them?
Let's find out…
Looking for a pair of training/running shoes that are home on and off road? I've got good news for you – I think the Speedgoats 4s are the perfect middle ground for runners like you and me.
I'm a long time fan of Hoka running shoes and this is my second pair of trail runners from the company. Before slipping my feet into the Speedgoats, I owned a much loved, much missed pair of Hoka ATR 6 shoes (reviewed here).
The briefing for the review process was simple: run on every possible terrain and give your honest feedback.
I run between 5km and 10km during the week, covering a longer distance of up to 15km on Saturdays. These sessions gave me the perfect opportunity to put the Speedgoats through their paces. The ground I covered was a mix of hard road surfaces, foothpaths and cross country routes.
And I added some short hikes into the mix. Why? I wanted to understand how the Speedgoats stacked up against my ATR 6s, which were great for hiking in. In fact, they were so supportive and comfortable that I've never felt the need to buy hiking boots.
First Impressions of the Speedgoats
They are a great looking pair of running shoes (I have the Provincial Blue/Luminary Green style). And they're stable.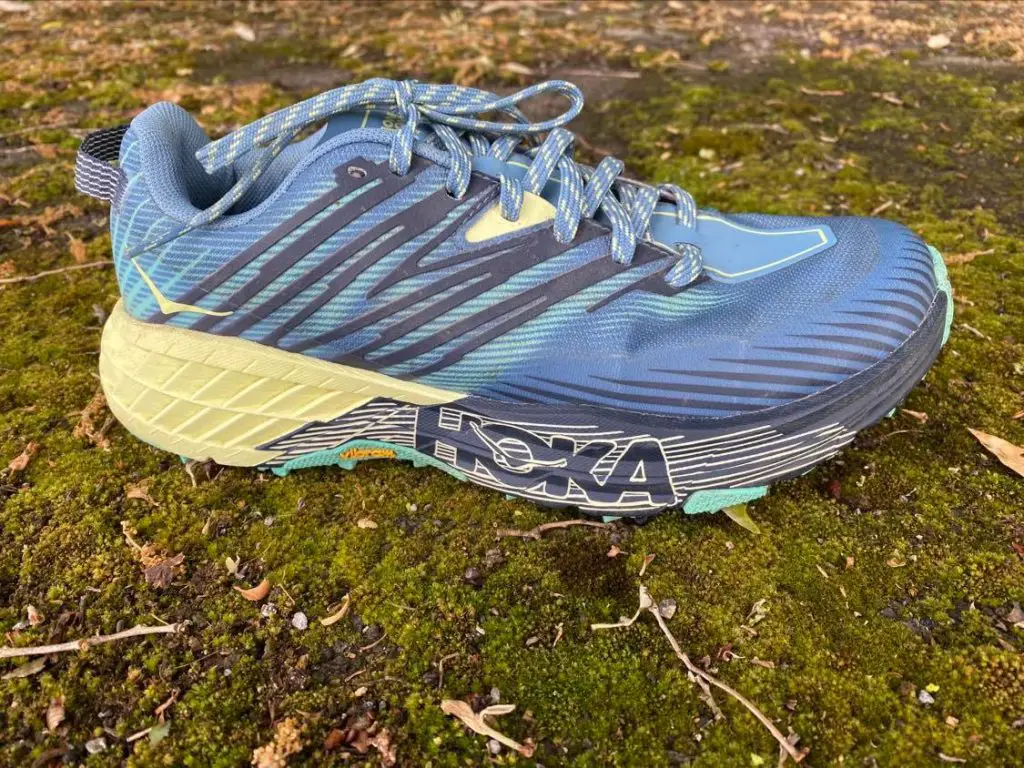 Given I live in Oxfordshire, I often find myself transitioning between trails and roads. The mix is about 60/40 and the Speedgoats had no problem switching between the various surfaces. I can't say the same for many of my other running shoes, most of which seemed to be designed for only one type of surface.
Comfort when I'm running is important and as we all know some shoes simply don't work well when you mix up the terrain. The Speedgoats had no such issue. They felt great – stable and comfortable on all surfaces and in all conditions.
Comfort and fit
Like many of my other Hokas, you can pull the Speedgoats out of the box, onto your feet, and start running. With zero issues – no blisters, no hotspots or rub. Perfect.
In part, this comfort comes from the high stack height of 28mm, which provides protection to the midsole when you're running on rocky terrain, or covering long distances.
One aspect that did concern me at first was the stiffness of the shoes. But my mind was soon put at ease once I started running on more technical, uneven ground. The stiffness gives a good degree of motion control that helps reduce the risk of turning your ankles.
I have broad feet and opted for the wide fit version (EE). This gave my feet enough room to expand during my runs, but not so much to cause blisters.
Another point I'd like to make before moving on is this: even though the Speedgoats look bulky they are a light shoe. Some of my previous trainers felt heavy and cumbersome which is in complete contract to the Speedgoats.
And another point to note: even though they fit well out of the box, they took a little longer to break in than my ATR 6s. But that wasn't a big deal.
Durability
The are incredibly durable. My initial concern was the tread would wear down fast when running on tarmac. Instead, there is almost no noticeable damage to the lugs, even after 30+ miles of road running.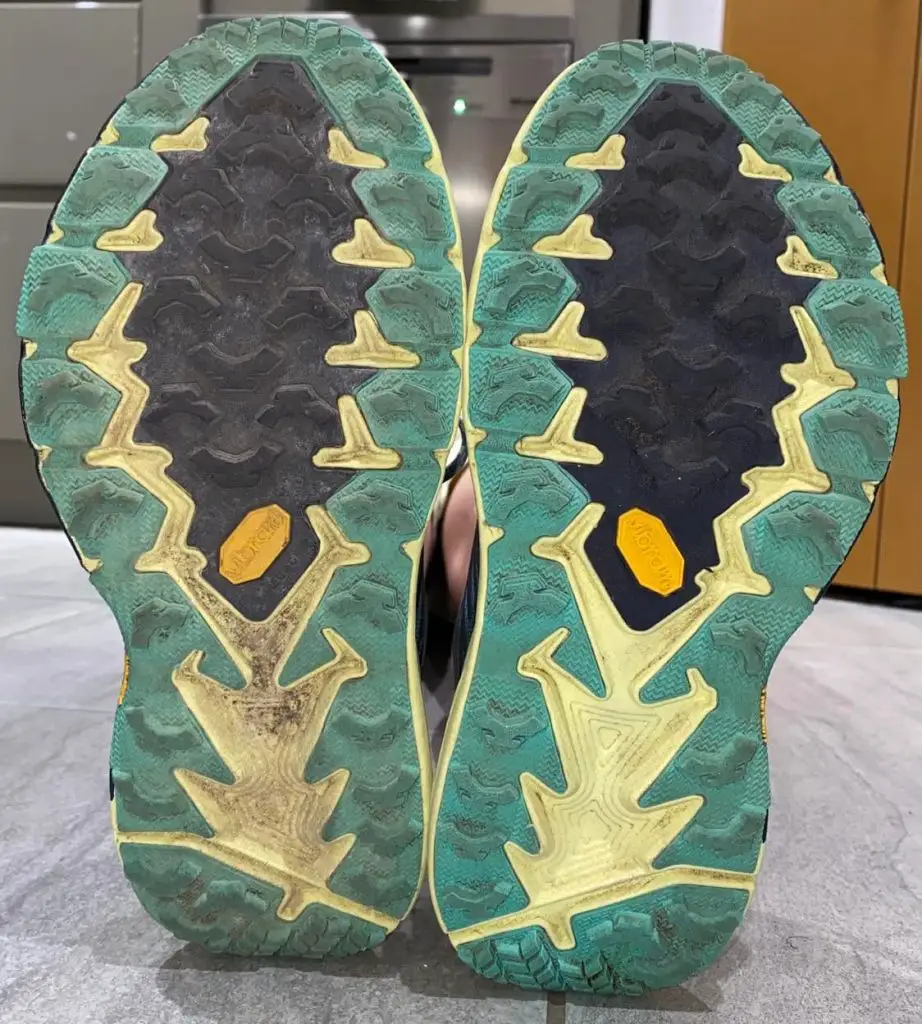 By using Neoprence to construct the upper, Hoka have made this shoe more rugged and durable than previous models. The only issue I have is the Neoprene reduces flexing of the toes as it creates less 'height', or room in the toebox. The result was more creasing in the material. This isn't such a bad thing as I think running shoes absolutely must have that 'worn in' look.
One feature some runners have complained about is the updated tongue. It's partially attached to the insole which great for stopping bits of gravel and stone from reaching your feet. But it's also thinner and less comfortable than the tongue on some other models. For me, this wasn't an issue.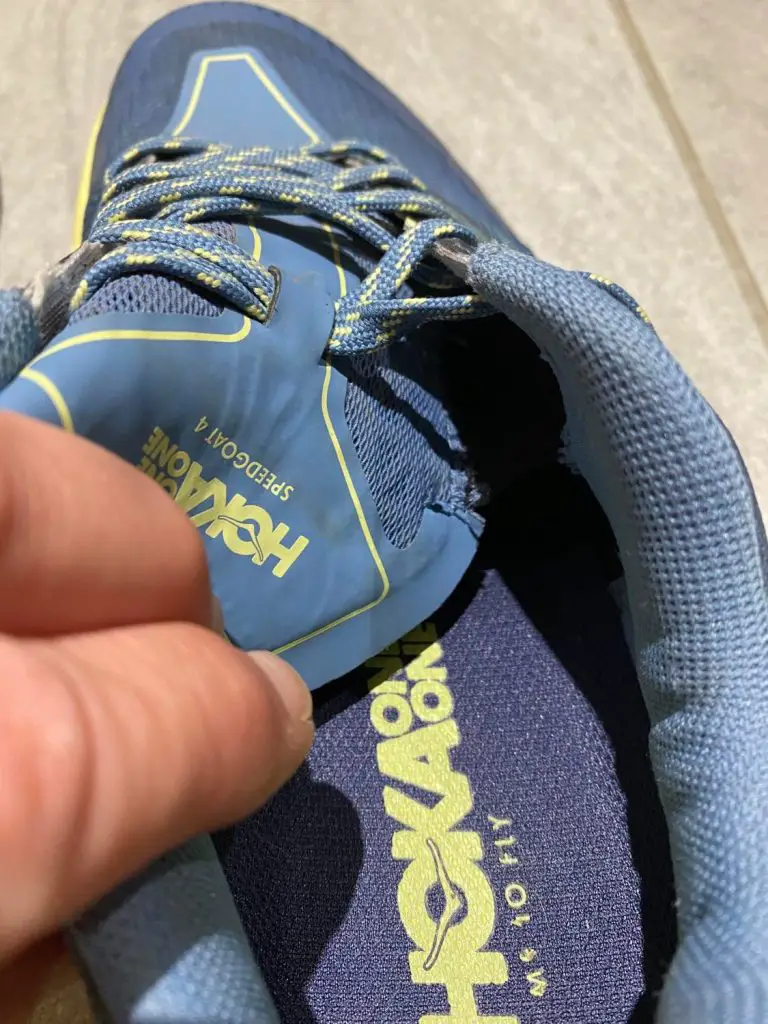 Weatherproofing
The combined stack height and neoprene upper work well to reduce water ingress. Many of my cross-country routes cut across fields and some shoes absorb water fast leaving your feet wet. I don't like wet feet!
The Hoka Speedgoat 4s are far more water resistant than my ATR 6s, and the Speedgoat 3s which I have also owned.
If you're running through long, wet grass the water will find a way in. Likewise, racing through deep puddles means you're probably going to get soggy socks and feet. Yuck! For runners who like being out in torrential downpours (that's you, James), I recommend you buy some running gaiters.
Pros and cons
So far, you've got a pretty good picture of my thoughts. Now let's list out all the pros and cons of the Speedgoat 4s:
Pros
Great cushioning, a hallmark of Hoka quality that had reduced the wear and tear on my knees.
Traction is excellent, in all weather conditions which I was rather pleased about.
At 10.2 ounces per shoe, they're not light compared to dedicated trail running shoes, but remember these are all terrain running shoes.
Like many other Hoka models, they come in wide fit which is perfect for me. I can't begin to tell how depressing it was when the only wider fitting trainers available looked like space boots!
They're great for hiking in and don't need anywhere near as much breaking in as a walking boot.
Cons
They are the narrowest of the wide-fitting models. It would be nice if Hoka offer up a greater range for people like James – his feet are hobbit-like!
Breaking in took longer than other models I've owned.
On the first few runs, there was a little discomfort as the Neoprene took time to stretch. Now they're fine.
Conclusion
I like the Speedgoats a lot. Not as much as my ATR 6s, but I'd definitely buy them again. The combination of good fit, high traction on any surface, and cushioning make them ideal for the places I run.
And they're priced at a point that makes them within reach of most runners.
In total, I give the Hoka Speedgoat 4 trail running shoes a solid 4.5 out 5 stars.
FAQS – general queries about the Speedgoat 4s
Can I use Speedgoat 4 for road running?
Yes, the Speedgoat 4s are designed to be an all terrain shoe that's at equally at home on the road, or trails. And they handle the transitions with ease.
Do they come in wide fit?
Yes, the Speedgoat 4s have a wide fit model, but it's the narrowest of the Hoka range. I recommend you get them fitted in a running store.
Is zero drop a problem?
No, the zero drop is not a problem if you're accustomed to this design featre. James did warn me there might be some tightness in my calf muscles, but so far all good.
What is the difference between Hoka Speedgoat 3 and 4?
The main differences between the Speedgoat 3 and 4 models:
Speedgoats 4 have a thinner, stitched-in tongue, less padding around the heels and ankles, and the upper is made of Neoprene.