Gear Reviews
Iridium GO! review: lightweight satellite comms on the go
This Iridium GO! review delves deep into the workings of a device designed for expeditions, hikers, and mariners
Back in 2012, Iridium announced the launch of the Iridium GO!, a lightweight and portable satellite messenger/communicator offering many of the day-to-day services we take for granted. Although the capabilities were, and still are, limited on the GO! is a capable device that delivers comms when you have no cell coverage.
My first encounter with this device was back in 2016 when I skied to the North Pole. It was used as the primary means of keeping in touch with loved ones as I made progress across the Polar ice. As anyone with even a fleeting knowledge of Iridium devices will tell you – it's a great device, but there are limitations which we'll look at soon.
The promise of mobile satellite communications
On the launch date, the device seemed to hold so very much promise. Iridium's marketing docs highlighted the ability to send SMS and emails, make calls and browse the web from what is a very small piece of kit.
But there were some issues!
Sending emails and SMS is one of the strong points of the GO! as long as you don't try to send uncompressed images as attachments. A photo more than 100k in size could, and did, take hours to send. Whilst apps such as OneMail do an amazing job of compressing data, the bandwidth bottleneck will always be an issue (more on that shortly). If you need SMS only and wondering what other options are available be sure to check out our Iridium GO! vs InReach writeup.
Phone calls were workable as long as you accounted for the delay associated with relaying over a distant, low Earth orbit satellite, and you don't mind hearing a cyclic 'beep-bop' in your ear during the call. This irritation has been addressed and, as I note in our Iridium GO! Exec review, phone calls are now noise-free and don't suffer from lag associated with the relay.
Another feature Iridium seemed pretty proud of is the web browsing function built into the GO. But it was terrible! The service relied on website data being formatted in a way similar to a now ancient format known as 'WAP' – and it was awful. Many sites had done away with this protocol and loading a single page could take as long as 15 mins, all the while eating up your data allowance!
The one feature that did work exceptionally well was the SOS button, which needs no explanation.
Features
Most noticeable is the Iridium GO! is controlled using apps installed on your smartphone and if you don't have these you will be unable to access any of the functionality such as email, SMS, and phone calls. Without the app, the only option you have is to use the SOS button.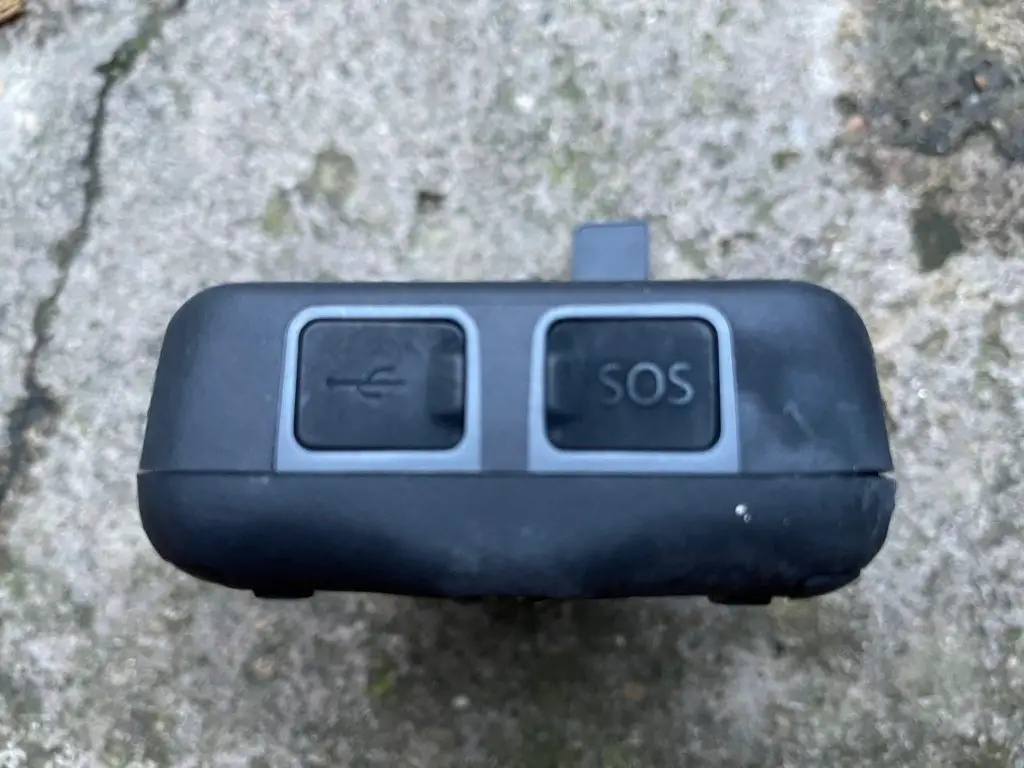 Following the installation of the app and registration with Iridium, communications are enabled only when the external antenna is raised. Fold it away and the device goes into standby mode. I like this simple approach as it does away with the need to remove gloves to find a power button.
The most important features to consider are:
a low-profile body that fits into your hand, or pocket;
a very simple user interface;
dustproof, shock

resistant

(underlined as I did manage to damage mine after dropping it a very long way), and water resistant (IP 65).
The Iridium GO! is small: 114mm x 82mm x 32mm. The perfect dimensions for your pocket and one of the few elements of the design the manufacturer got right.
Bandwidth
Here's where the big issue comes to the fore: the maximum bandwidth of the Iridium GO! is 2.4kbps which is tiny and now gives you an idea of why sending attachments takes a long time.
The Iridium 9100, a maritime satellite communicator, is capable of far higher data rates but only because it uses stacked modems, an option not available on the GO! due to the power requirements.
Weight
The device weighs 305 g, which is less than my down jacket but heavier than a cup of hot chocolate. In all fairness, it's a pretty lightweight unit considering the reasonable communications methods it delivers.
Price
Currently retailing at around £1,000 ($1,200) it's only marginally cheaper than the Iridium GO! Exec, the latest and more capable iteration.
My thoughts
I have to admit, the promise of so many methods of communication was so appealing I put down cash as soon as I saw the Iridium GO! I managed to negotiate an 'all you can eat' data plan to allow me to use the device to its full potential, but I was a little disappointed.
The key irritations for me were:
duration of transmission when even moderate-size files were attached to SMS, or email. And trying to send images over 100k took hours;
connectivity would drop off at random points during transmission, a fact that is attributed to the 'wobble' of the orbiting satellites. This issue can be alleviated by using an external antenna… as long as you have somewhere to mount it.
the delay on the phone calls was frustrating, and the tones irritating.
What Iridium got right
Whilst it might seem doom and gloom, Iridium did hit the mark in a few areas and, if you keep the limitations in mind, these wins easily make up for the cons:
the device is lightweight and highly portable, just what you need in a satellite comms rig;
battery life is exceptional. I charged the GO! 3 times during a three-week ski in temperatures as low as -30 C;
SMS and emails sent without attachments worked as expected with the upload/download taking only a few minutes. This might seem like an unacceptable duration, but when you have many other tasks such as cooking, clearing up the tent, etc, you'll never notice;
the GO! is rugged beyond belief. My unit has taken many serious knocks and keeps going. Well, apart from when it slipped out of my rucksack whilst I was sitting in a helicopter door! But it was repaired fast.
I am aware many users have complained about the GO!'s capabilities, but I can't believe anyone actually thought they'd get internet-like comms over satellite at a time when even the military didn't enjoy this luxury.
Treat the Iridium GO! like any other device – with a degree of doubt in your mind – and keep your expectations low to avoid disappointment. And definitely don't attempt to send 10MB photos over the link!
Buy the Iridium GO! if:
You need a lightweight satellite communicator that can send SMS and email, and make voice calls of varying line quality;
own a boat and need safety comms combined with the features in bullet one;
the likes of Inmarsat and Thuraya don't offer coverage in your region.
Don't buy the Iridium GO! if:
you're expecting to stream Netflix over the link;
you have a couple of hundred £s or $s more to spend on the new Exec;
you don't own a smartphone