In my pre-Christmas post about gift ideas for hikers, I featured the Garmin inReach Mini. While it may initially seem less exciting than one of Garmin's activity watches, or a new down jacket, it's the perfect thing to buy for anyone who likes going on adventures and needs a way that they can both summon help and communicate with people who worry about them while they're away.
Amusingly, and perhaps appropriately, someone ended up buying me a Gamin inReach Mini for Christmas, which I was absolutely delighted about. It's been on my list of kit to buy for some time, and is an item that I had down as 'must-buy' before I attempted a couple of potentially tricky solo adventures that I have in mind over the next year or so.
I'm fairly familiar with the inReach Mini having seen it in action when hiking Section J of the PCT a couple of years ago, and having now got my hands on my own one to play around with, I've been able to pull together this fairly comprehensive review.
It's worth noting as a starting point that all of the features of the inReach mini require a subscription, and these are fairly reasonably priced and include flexible options that can be paused whenever you are not using the device. It is essential that you double-check your subscription is active before setting off on a trip, though, as even the SOS feature will simply not work otherwise.
If you come to the end of this post and you're still looking for more messenger options, then be sure to read our list of the best satellite communicators.
Garmin inReach Mini Review: Overview
Construction
The inReach Mini is, as the name suggests, pretty small. The main body is barely larger than a big watch, although a fair bit thicker, and it has a fat aerial sticking out of the top. It has a deliberately 'rugged' and 'safety-critical' look-and-feel, with the front and back made of vibrant orange plastic and the edges and buttons made of chunky black rubber or rubberised plastic. An all-black version is available, and is far less obtrusive, although I suspect most people will prefer the greater visibility of the orange one given its purpose.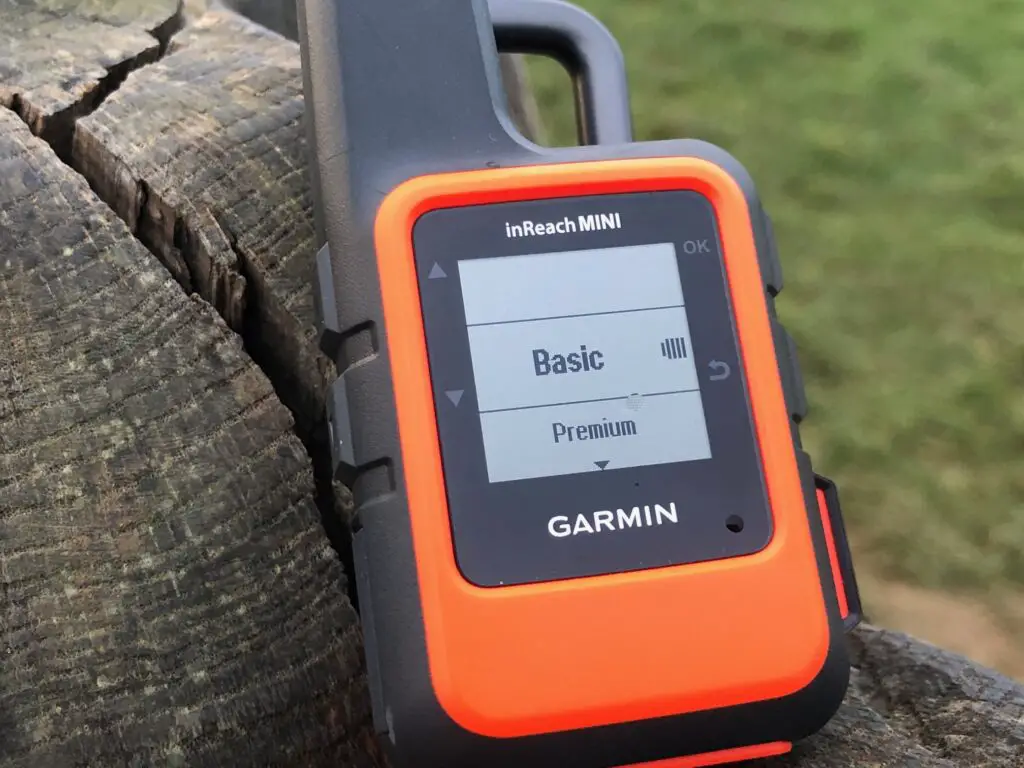 All this makes it extremely robust, and its IPX7 water rating means that it can easily withstand rain or even being dropped in snow or water for a brief period. On its own, however, it's not really suitable for swimming and definitely not for diving but a dive case is available that makes it fully waterproof to 100m. In answer to your question: is the inreach mini waterproof? No.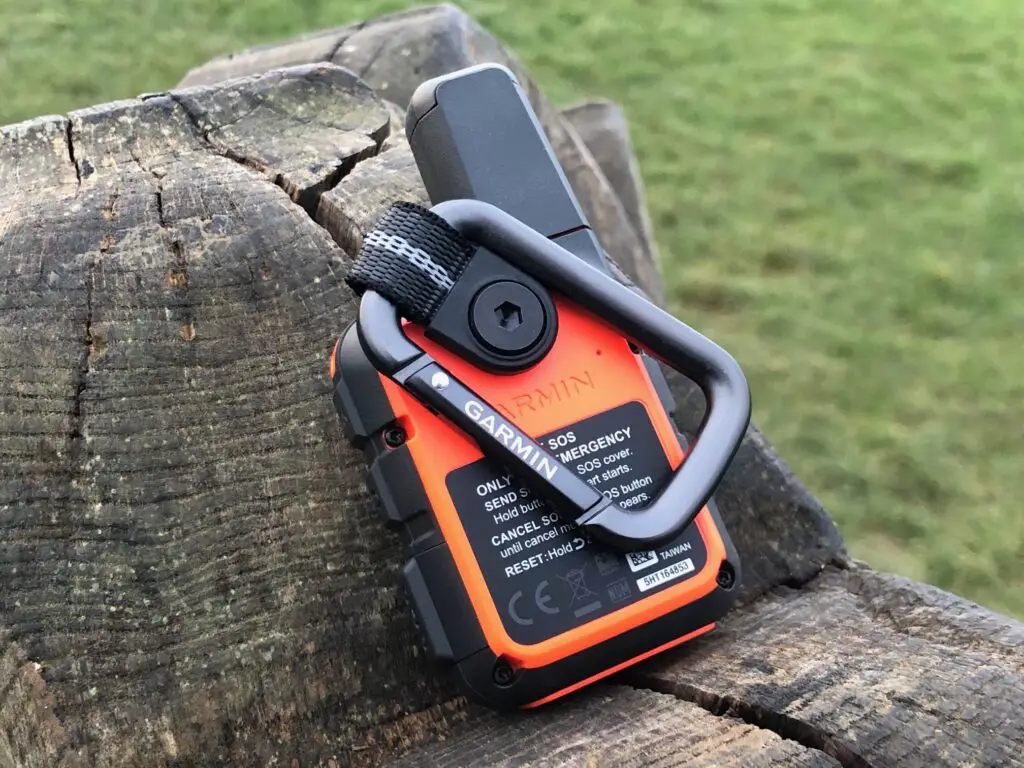 By default, the inReach mini comes with a small loop of webbing screwed to the back of it, through which you can put the included carabiner and clip it to your backpack. Alternatively, the webbing can be unscrewed and replaced with an adapter (also included) which allows it to clip to various mounts that you can buy separately – for example to mount it on your boat or even in the cockpit of your plane.
Using the Garmin inReach Mini
The inReach Mini has a small, black and white screen, and five buttons: up/down buttons, an ok button, and a back button – plus of course the SOS button, protected behind a cover to avoid accidental activation. Navigating through the relatively small number of features and options is easy and intuitive, although with no keyboard and only two-directional selection buttons, composing a message on the device is slow and laborious and most users will find it much easier to do so by linking it to their smartphone via bluetooth – more on which later.
Battery life
Battery life on the Garmin inReach Mini is compromised a little by its very diminutive size, and is therefore somewhat less than its larger counterparts like the inReach Explorer+. How long it will last will depend a lot on whether you are actively using it to track your route and, if so, how often it is logging points. Depending on these variables, battery life will last somewhere between a fairly paltry 35hrs, and a much more impressive 24 days. It will also last a full year if powered off – that may sound like an odd point to make, but leaving it powered off is a perfectly viable option if you are not interested in live-tracking and simply want to power it on occasionally to check messages and weather. And of course if you are willing to have to first power it up before sending an SOS signal in an emergency.
Features
SOS
Probably the main benefit of the Garmin inReach mini is the ability to send an SOS signal in an emergency. This is done by opening the cover of the SOS button, and then pressing and holding it for a few seconds until it shows that the alert has been sent.
The SOS signal, along with all other communications to and from the device, relies on the Iridium satellite network, which provides communication coverage far outside of that covered by regular mobile phone networks, including in highly isolated locations.
In common with most of the inReach's competitors, the SOS signal is sent to GEOS, a private third-party company that runs a 24/7 emergency response coordination centre. This centre, interestingly, has just been bought buy Garmin and will be run by them, although in the short-term this is unlikely to have any impact on how the service runs. Their operators will receive your distress signal and location, as well as basic additional details configured on your account such as emergency contacts and medical information, and can pass this on to appropriate local emergency services. What happens after that is mainly down to the efficiency of the emergency service in question and so is really out of the scope of this review (especially as I have had no opportunity to test it) but it's worth noting that the device will update your location regularly while in alert mode. So if you do need to move having sent the distress signal, your rescuers should receive your new location.
In addition, one benefit of the inReach Mini having two-way communication is that you should receive confirmation from GEOS (giving you reassurance that your message has been received) and, if you are able to, you can follow up with additional details via text which may be extremely helpful.
Messaging
For the vast majority of the time, when it is not being used in an emergency, the great benefit of carrying a satellite communicator like the Garmin inReach Mini is being able to send and receive messages even when not in phone coverage. These work essentially like text messages, and can either be painstakingly entered letter by letter on the device itself or (more likely) typed within the Garmin Earthmate app on your phone. So long as your phone is linked to the inReach via bluetooth, the Earthmate app offers all the mapping and messaging functionality but obviously with a far more convenient interface. As long as you can keep your phone charged for the duration of your trip, this approach works pretty perfectly and more or less eliminates the biggest disadvantage of the inReach Mini – it's lack of large colour screen or full keyboard.
There are two types of messages in the world of inReach – and the difference does matter:
Pre-set messages are pre-defined in the website where, crucially, both the content of the message and the recipient(s) are set in advance. In other words, these are useful for messages you know you will want to send to someone specific, such as letting the person who is picking you up know when you have arrived. You can configure three of these and send an unlimited number even on the cheapest package.
Text messages are either typed into the device (or on your phone) or selected from a list of pre-defined quick messages but, crucially, the recipient is not pre-determined. These are far more flexible, but the basic package only allows ten free ones a month, and any additional are chargeable.
The inReach mini does not have its own phone number that people can text you on directly, although they can reply to a message or contact you through a personalised web form if you send them the link. It's worth noting, however, that these messages count against your limit and are also chargeable if you go over, so unless you are on an unlimited package its probably best to warn people in advance not to over-do it with replying to you.
Unlike its bigger brother the Garmin inReach Explorer+, with its large screen and full-colour mapping, the inReach mini has only the most basic navigation functions and can't be considered an alternative to a dedicated, hiking gps. It can show you a grid reference, display a GPS compass (these rely on your moving, and so are not particularly accurate or helpful in my opinion), and track a number of waypoints.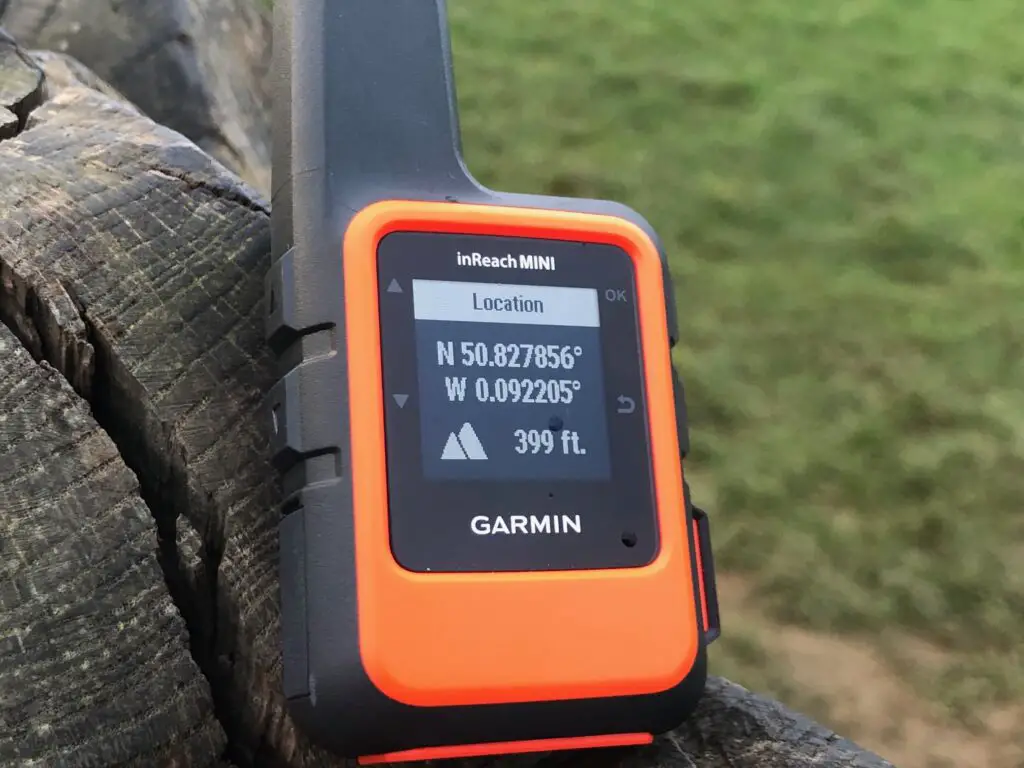 It's worth noting that the available grid reference formats are very limited compared to, say, the Fenix, Tactix, or Garmin Instinct with only lat/long, UTM or MGRS as options and, crucially for UK users, no Ordnance Survey grid reference available. In my opinion this makes it a fairly poor option as a navigation aid within the UK since hikers will almost invariably want to know their location by OS grid reference and not anything else. However, this is less of a problem if the inReach is seen primarily as an emergency device, since Lat/Long and UTM are far more widely applicable and a much more useful reference when at sea or not on mainland Britain, for example.
Most users, I imagine, will in any event have better navigation functionality on their wearable activity tracker, or will be entirely happy with a map and compass, and I certainly wouldn't want to rely on the inReach as my primary navigation tool. However, it is a decent backup and a useful way to get a precise location so long as you have the ability to translate that to a grid reference that makes sense on your map.
Tracking
Another feature that may provide essential added peace-of-mind for some users is the ability of the Garmin inReach Mini to track your location on MapShare, and make that track available to friends and family so they can keep an eye on your progress. It's worth noting that with the most basic Garmin InReach subscription, each tracking point is chargeable (at 10p per point in the UK), and while tracking is free at higher subscription levels, the interval depends on how much you pay, with only the most expensive subscription offering tracking at less than 10 minute intervals. Of course, the benefit of the flexible subscriptions is that if you are on an expedition where you really want people to be able to track you, you can upgrade for one month, and then downgrade again for other activities where only the safety-critical functions really matter to you.
Tracking functionality is available for free on other devices including the Garmin Tactix and Garmin Fenix but the key difference is that those rely on a phone connection to transmit your track, so are unlikely to work in the real wilderness. The inReach, on the other hand, will update your track via the Iridium satellite connection and so your friends and family should be able to keep an eye on your location regardless of where you are.
Weather
The final really useful bit of safety functionality that the inReach offers is the ability to get a weather report via satellite, and therefore receive it even when out of phone signal. This, again, comes at a cost – for the two cheaper tiers a basic forecast uses up one of your allocated text messages – but is literally a potential lifesaver for anyone operating well outside of phone signal and who needs to be able to make smart decisions based on the weather forecast either where they are or where they are going.
The weather forecast is powered by the impressively reliable Dark Sky and includes temperature, precipitation, wind and pressure information. For the basic forecast this a 48hr forecast provided in 2 hourly increments for day 1 and then 6 hourly increments for day 2. The premium forecast includes the same information but for a full 7 days with 1-2hr increments for the first day, decreasing to 3-6hr increments for the second day, and 12hr increments thereafter.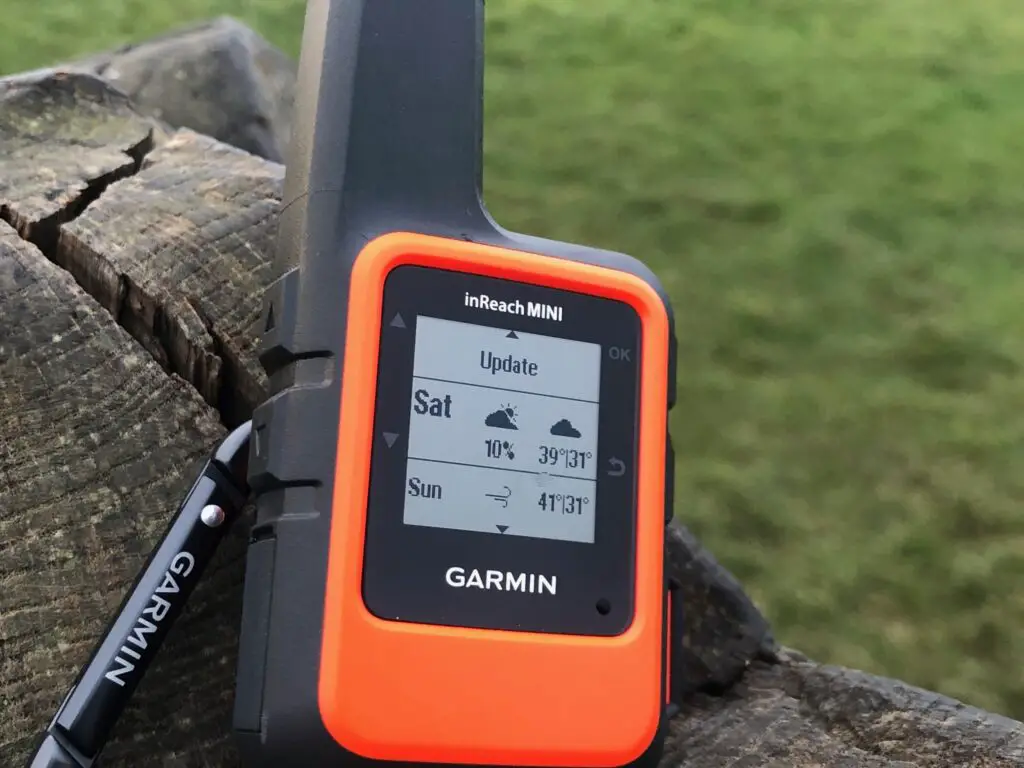 The actual visibility of all of this information is somewhat limited on the device itself due to the small, monochrome screen but if you are using the Garmin Earthmate app, or Garmin Explore app, this will show the full data.
Comparison to competitors
Garmin inReach Mini v Garmin inReach Explorer+
Unsurprisingly, the inReach Mini and the inReach Explorer+ are extremely similar, with many of the same features and the same cost considerations. It's well worth reading James's extremely detailed review of the Garmin inReach Explorer+ but essentially the biggest difference comes down to the large colour screen and full mapping on the Explorer+.
If you want to use your satellite messenger as a fully-featured navigation aid, then the Explorer+ is likely to be for you. If you're more interested in the ability to summon help in an emergency or send the occasional text to a loved one, then you can probably get away with the smaller and cheaper inReach Mini.
Garmin inReach Mini v SPOT Gen3 and SPOT Gen4
The most obvious competitor to the Garmin inReach Mini are the SPOT Gen3 and its recent replacement the SPOT Gen4, which are SPOTs smallest emergency satellite communicators. Exactly like the inReach, they send an SOS message to GEOS in an emergency, so the end result is likely to be much the same.
One notable difference between the two is that SPOT uses the GlobalStar satellite network rather than Iridium. GlobalStar has previously been notorious for spotty coverage and, while this is no doubt improving, it does still have a few holes in its coverage in parts of Africa and much of the Arctic circle. This won't matter in the least to the vast majority of users but if it does matter, it really matters.
The other major difference, and which really is a point of difference for most users, is that the SPOT devices cannot receive incoming messages and can only send pre-configured outgoing text messages. While you may not much care if your friends can text you back, this gap does also have some impact on its utility in an emergency as it means you will not get confirmation that your SOS has been received, and cannot provide updates to emergency responders.
That said, the SPOT devices are substantially cheaper that the Garmin inReach Mini and will mostly do much the same job in an emergency. So for more price-sensitive users or those who aren't really interested in two-way communications, they're worth a look.
Garmin inReach Mini v McMurdo Fast Find Ranger PLB
Another category of devices that you may consider instead of a satellite communicator is a PLB, or personal locator beacon such as the McMurdo Fast Find Ranger PLB. Much like the other devices discussed above, these transmit your location via satellite but have the added feature of a 121.5MHz signal that rescuers can home in on once they get close. The device also includes a high-intensity flashing LED to assist rescuers in finding you.
The key difference between PLBs of this type, and satellite communicators such as inReach and SPOT, is that the PLBs do not offer any communication options other than the distress signal but, as a result, are much simpler and with vastly more battery life (the McMurdo will last six years, for example). They are arguably slightly better at doing the job of getting you rescued in an emergency, but the compromise is that they offer little or no other functionality. Nevertheless, they are certainly worth considering if all you want is to be able to summon help in the absolute worst-case scenario.
Who should get a Garmin inReach Mini?
Although I always thought of the inReach as primarily a tool for hikers and adventurers, once I had one and started reading around the topic for this review, I realised just how many potential use-cases there are. It's impressive that a single item can be used so widely, but it also means that if you do two or three of these activities then the (already fairly reasonable) price looks even better.
Hikers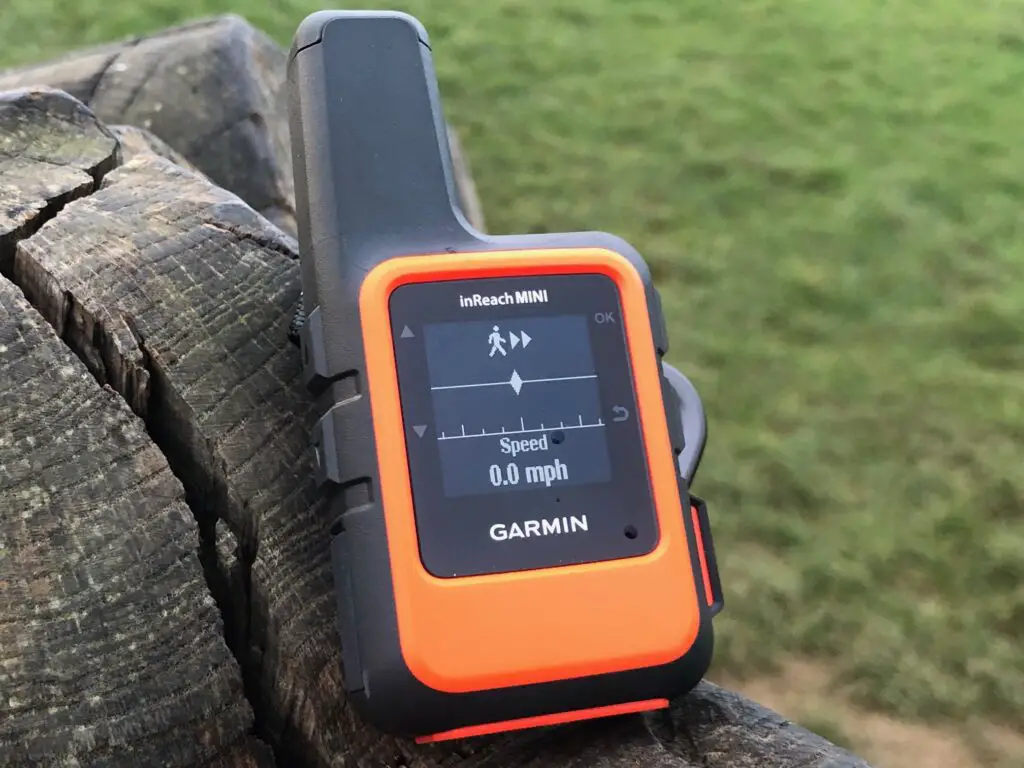 Obviously my main reason for having the inReach Mini, and probably the most common reason for purchasing one, is for hikers going a little bit off the beaten track. But bear in mind that you don't need to consider yourself a serious adventurer to benefit from this: most Scottish mountains I've ever climbed lose phone signal at some point, and it doesn't matter whether you're a few miles from help or a few hundred miles from help if you've broken a leg or are hopelessly lost. Serious situations like that aside, I'm sure there have been times for most hikers where they've been on a perfectly undemanding day out but haven't had phone signal all day and have wished they could just check in with their partner or a friend who is waiting to pick them up. These are just as much valid uses for a device like the inReach Mini as for people trekking into the Arctic circle or taking on the PCT (we saw several inReach Minis as well as SPOT Gen3s on our hike of Section J).
Sailors / Yachters
Although many boats already have radios, personal locator beacons, and other low and high tech methods of signalling distress, Garmin clearly feels there is a market for the inReach Mini among boat-users. I'm not a serious sailor myself so it's tricky to assess the usefulness of the device here, but my suspicion is that it is mainly going to be as a backup on an already fairly well-equipped boat, or as a main safety device on small leisure-craft, even down to one or two-person dinghies, that may not have a radio and a full-range of safety equipment on board.
Canoeists, kayakers, and stand-up-paddleboarders
I can see this being incredibly useful for ocean kayakers or even stand-up paddleboarders who want a small personal device that could be used to summon help if they get in trouble. The inReach Mini – possible with the addition of the fully-waterproof dive case – strikes me as the ideal solution for them. It can easily be clipped to a buoyancy aid and will track their location highly accurately even if they get swept out to sea.
Scuba divers
When I first saw the scuba case accessory I found it a bit baffling as I couldn't imagine any scuba diver carrying this, but then it occurred to me that while the device will not work underwater, it could be extremely useful for a diver who resurfaces and is in distress or separated from their group and/or dive boat. Despite what certain movies might have you think, this is honestly not a common scenario and I don't think this is a useful piece of kit for the vast majority of divers. However for those diving in very strong currents, self-supported from land, or doing long decompression dives in open sea, for example, it's quite possible that this would be a piece of kit worth considering.
Skiers
Like hikers, off-piste skiers are occasionally at risk of getting lost, injured, or trapped by unexpectedly bad weather and requiring rescue. While I can't see a tonne of value in carrying an inReach for anyone staying strictly on-piste, anyone venturing off-piste could well benefit from the added safety assurance and the ability to send a quick update to loved ones, as well as potentially the weather alerts and navigation features.
That said, it's worth noting that this is not marketed as an avalanche beacon and is highly unlikely to be suitable as such: the signal can be easily lost when the device doesn't have a direct view of the sky, so even a small amount of snow could prevent it communicating, and the GPS locator is not pin-point accurate enough to guide rescuers to the precise location of someone buried under snow.
Swimmers
As someone who lives on the south coast of the UK, I often watch the very hardy and serious band of swimmers who enter the water every single day of the year and swim along the coast, with the twin thoughts that I quite fancy joining them but I'm also very aware of the dangers of swimming out at sea even on quite calm days. I'm obviously not suggesting that anyone who goes for a swim off a beach needs to take a satellite communicator with them, but I can absolutely see the value for swimmers who are pushing the edges of what might be safe due to weather conditions, distance from shore, swimming solo, and so on. You could chuck the inReach into your safety buoy, or perhaps clip it to your wetsuit, and have a little extra peace of mind if you did get into difficulty.
Pilots
The idea of the Garmin inReach Mini being for pilots was another use-case that surprised me slightly, but Garmin specifically markets it towards them and even makes a cockpit mount. Much like boats, I suspect, while larger and more well-equipped planes have plenty of communication devices built-in, smaller planes may lack them. And of course no matter how many radios a plane has, if you're high enough to be out of mobile phone signal, there's no easy way to send a quick text to your partner to let them know how your journey is going. The inReach offers that ability, as well as allowing someone to track your progress and, in the worst case scenario of a crash in open water or a remote area, could even be a life-saving tool.
InReach Mini review: Overall summary
I've been really impressed by the Garmin inReach Mini since I first saw it used. It packs a tonne of functionality into a tiny package at a relatively cheap base price and subscription, offering capabilities that vary from life-saving to merely convenient and which not that long ago would only have been available to the most well-funded and well-equipped adventurers. Now, there's really no reason for anyone who is setting off up a Munro, hiking a bit of the PCT, paddling round the coast in a kayak, or just camping in the wilderness for a few nights not to take a device like this. And, while the inReach mini isn't the absolute cheapest option out there, it offers so much more than cheaper competitors that I'd consider it easily the best buy in the category and potentially worth considering over more full-featured devices, particularly if you're using it on shorter trips and are willing to always use it in conjunction with a smartphone.
The bottom line: the Mini is a reliable and easy-to-use GPS-enabled satellite communicator that is far smaller and more affordable than the Explorer+ and SE models.