Last week, my regular hiking-buddy and I completed Section J of the Pacific Crest Trail. The trail itself is an epic route up the West Coast of America from the Mexican to the Canadian border, usually taking around 5 months to complete. Section J, on the other hand, is a relatively tiny 70 mile stretch just East of Seattle distinguished only in being known for its particularly spectacular views, and being one of the longer entirely wild sections. It's ideal for a fairly sedate week of hiking, with both ends easily reachable from Seattle, and is easily completable in 5-6 days with the potential to do it in 4 or perhaps even 3 for those who are especially fit, determine, and willing to sacrifice long afternoons by a mountain lake for long days hiking.
This was the longest (recreational) unsupported hike I had done, but it didn't pose too many problems despite the relatively heavy packs and some demanding terrain a little like this. In part, I'm now pretty good at taking care of myself while wild camping and the prospect of finding a random spot to rig up my tarp doesn't overly bother me. Equally, we were undeniably lucky with the weather, and it's much easier to stay motivated day after day when your kit is dry, the ground is dry, and getting warm in the morning is simply a case of waiting for the sun to peek over the mountains before packing away your down jacket and swapping your trousers for shorts.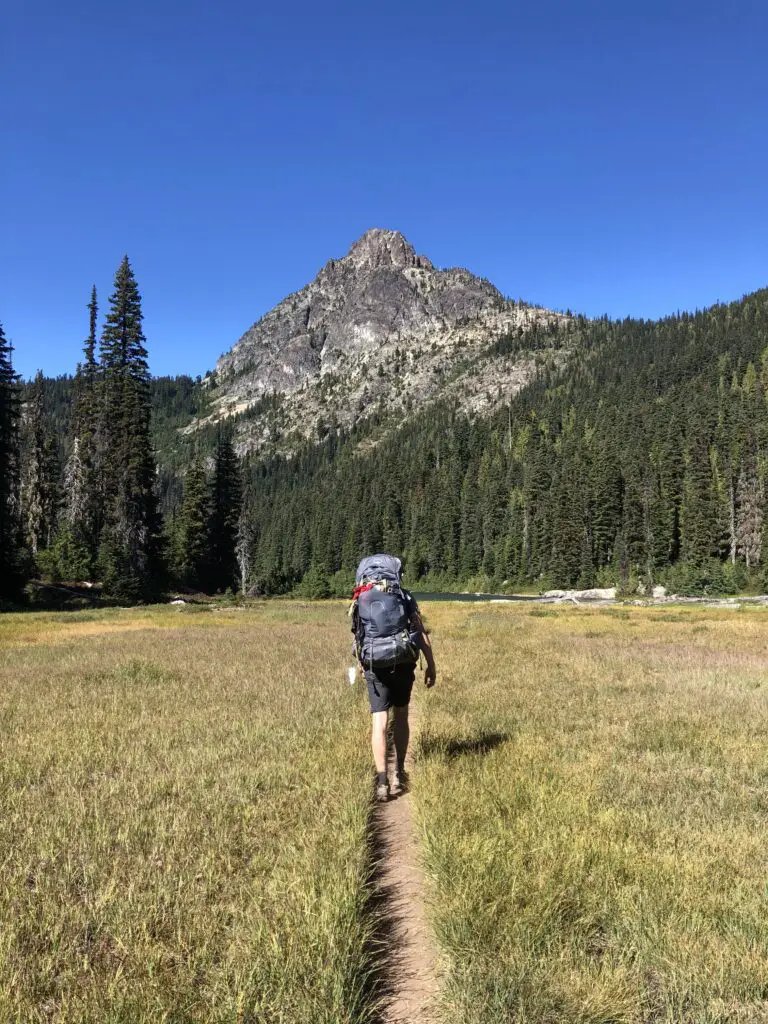 We started with a couple of long days and, especially after the first night, planned our hikes based partly on ticking off the mileage we needed but mostly on finding somewhere good to spend the evening – generally the priority was a quiet spot by a lake where we could swim, cook dinner on a rock overlooking the water, and chat as the sun went down behind the mountains. This approach actually resulted in us consistently doing slightly longer days than we needed to, with the result that our generously-scheduled 6-day hike eventually became a 5-day hike and could easily have been another day or half-day shorter again if that had been our focus.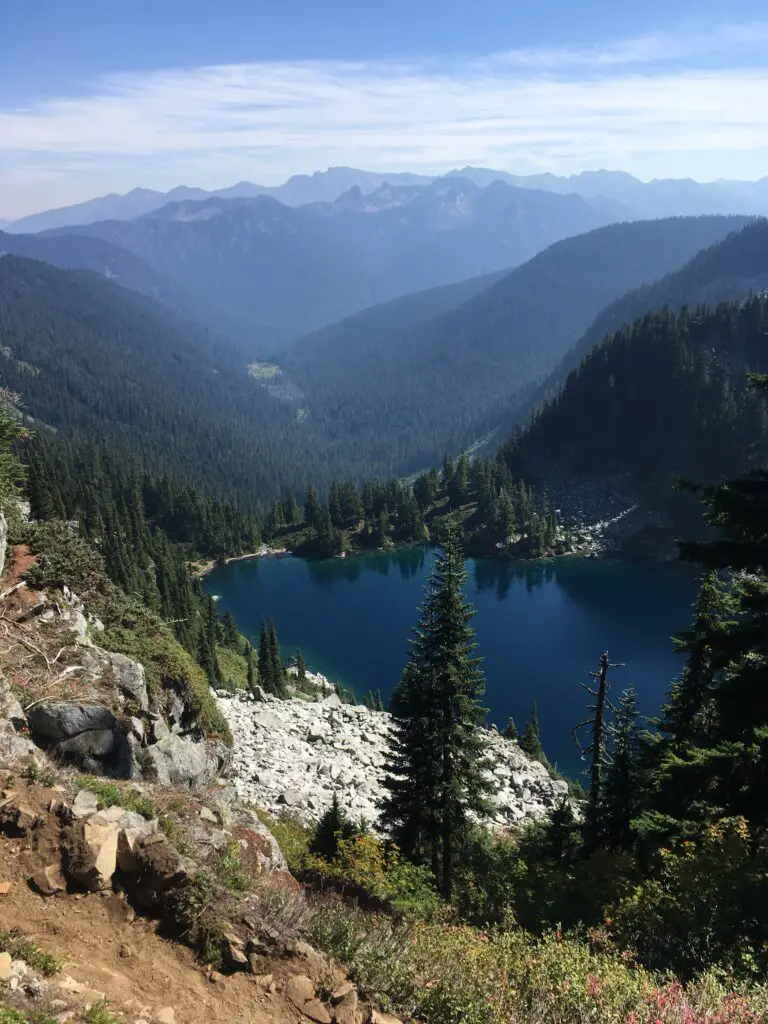 The PCT is well-marked to the point that a map is mainly useful for checking distance and planning stops, and a compass is almost entirely unnecessary (though, to be clear, one should of course still be carried). It's also well-established, generally a decent one-person-wide sand or rock track with a decent walking surface, making it considerably easier to plod along than the rocky paths of the Presidential Traverse or the endless bog of Mull. While the trail is good, however, that doesn't change the fact that it is often steep, with long, draining, climbs up hills. These are, however, always rewarded by utterly stunning views, so don't let this put you off in the least.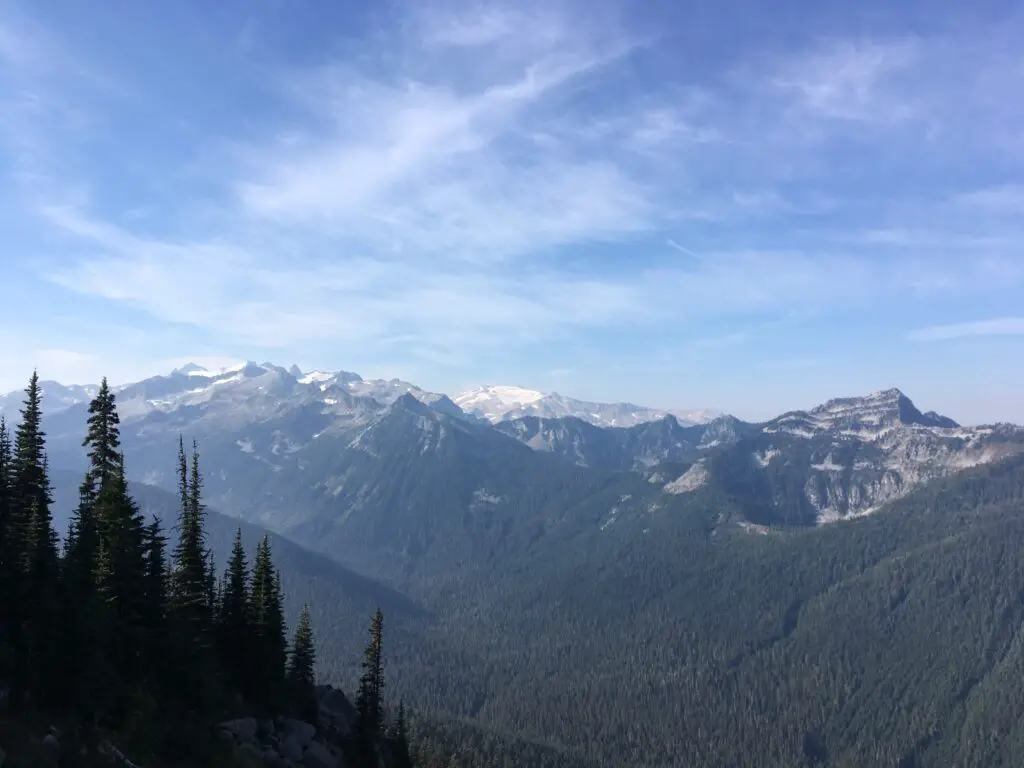 It's worth pointing out, however, that in many places the path is extremely exposed, with long drops on one side and very little to break your fall. There is no reason you should fall, since the path is more than adequate, but if you were to slip the consequences could be extremely serious and, in many locations, almost inevitably fatal. On the first day we were there, we observed a coastguard helicopter manoeuvring to rescue (we later learned) a man who fell from a path and twisted his ankle. Much more tragically, just a day after we walked along the beautiful but incredibly exposed Kendall Catwalk, a woman fell from it and died. Without implying any judgement whatsoever on these two specific incidents (about which I know no more details than what I have given here) the only advice I can offer is a) to be very cautious on the trail in wet, windy or icy conditions and certainly to avoid moving along it in the dark, and b) without fail, to carry some means of summoning help. We carried a Garmin inReach mini and, given the almost total lack of phone signal on the trail, without something like this your only way to summon help could be to literally walk hours or even days to a trailhead. And if you can't walk, or have a buddy with you who can walk, you're relatively 'up the creek' to be honest.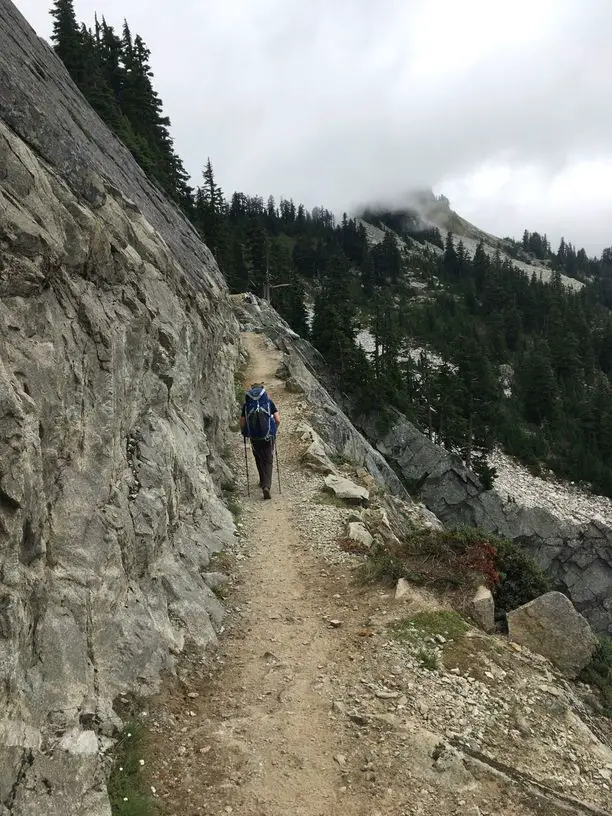 Camping along Section J is easy with lots of well-established camp-sites particularly around lakes. At some of the 'busier' lakes we stopped at, there would be three or four other tents by the late evening, and in theory on a very busy day, especially at the ends closer to trail heads, a lake might become 'full' but it's not something I would be too concerned about. It's more likely to be a case of a slightly irritating lack of isolation and tranquility than actually being unable to find a spot for your tent. Away from the established camping spots, opportunities to rig a conventional tent are often limited due to the slope, although an experienced hiker using either a bivvy bag alone or a hammock could probably find somewhere.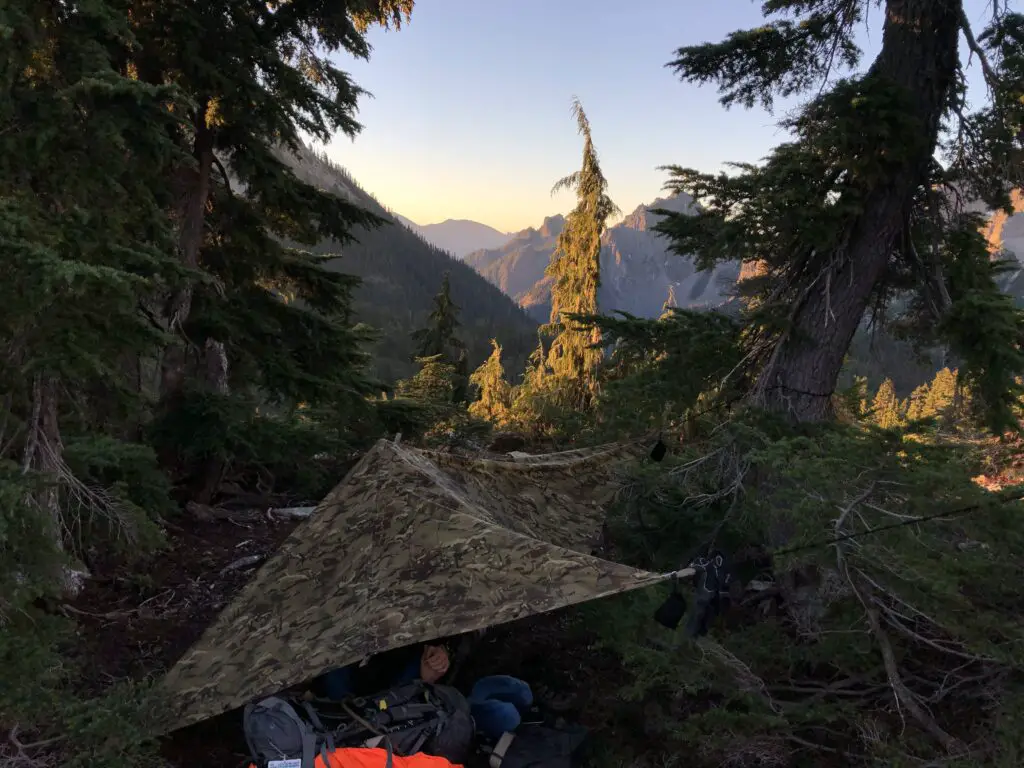 Water-wise, even at the end of a very dry summer, there were plenty of opportunities to refill (using a filter) at either streams or lakes, and my 3 litre carrying capacity was always adequate to get me from refill to refill, even allowing for needing half a litre to rehydrate a meal for lunch. If I was hiking in the height of summer I might be tempted to push that to 4 litres just to be on the safe side, but I don't think it would be a huge problem – just time your refills sensibly so you have plenty of water for the steep climbs.
Overall, the experience honestly couldn't have been better. We were undeniably lucky with weather, but the landscape is so spectacular that I think it would have been an incredible hike regardless, I'd have just had to work a bit harder to keep kit dry. To anyone who wants a crack at a bit of the route, I'd highly recommend Pacific Crest Trail – Section J and, for me, it's only whetted my appetite to attempt a full thru-hike one of these days…