If you've read my report on my recent hike of Section J of the Pacific Crest Trail, you may be interested in what kit to take when hiking a section of the PCT. So here's an overview of what I took.
I should preface this by saying that I'm not going to claim this is the perfect kit list, a mandatory kit list, or necessarily a sufficient kit list to hike Section J of the PCT in all weathers. And it definitely isn't a suitable kit-list for a thru-hike. That said, it's kit assembled through experience of this sort of hiking, and it turned out pretty much perfect for my requirements, with no obvious gaps and very few things that I felt I simply didn't need.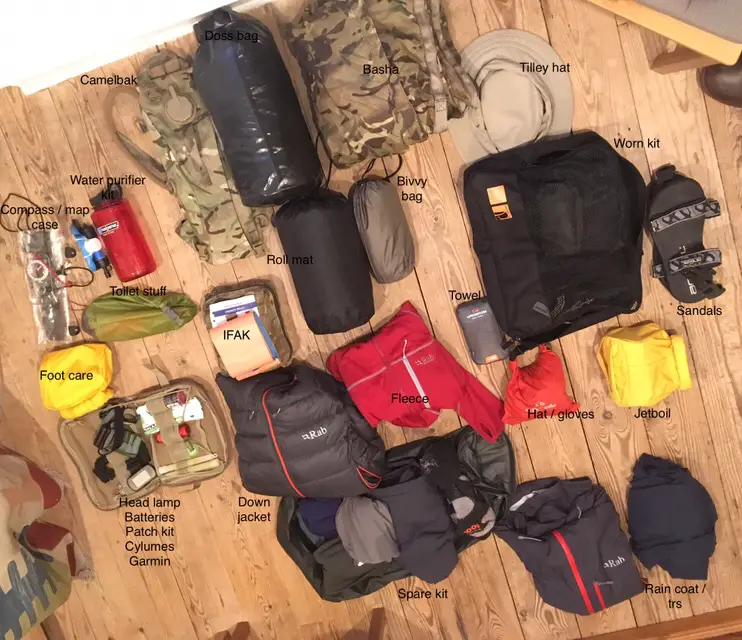 So, without any further ado, here's what I took (not in any sensible order except roughly left-to-right on the photo above, so you can follow along if you wish)
Compass, maps and map case. As I mentioned, navigation is largely a non-issue on the PCT but maps are useful to gauge distance to water and camp-sites, and of course it's always best to have a map and compass in case you get lost. Bear in mind that while the PCT is well-marked and well-travelled, it passes through genuine wilderness so if you get a little bit lost you could end up very lost.
Water purifier. A purifier is a must-have as there's no way you can carry sufficient water for the hike, so you'll be refilling at least once and probably two or three times a day both to drink and cook. I used the Sawyer mini-filter which is small, light and in theory simple to use. In practice, the flexible bag can be a pain to fill, and filtering three litres is time consuming and eventually a little hard on the hands. In future I might take something more substantial for a hike like this and keep the mini-filter for 1- or 2-day hikes and emergency use.
Nalgene. Nice to have a hard-sided water container, and the wide opening is easy to filter into, but otherwise just an easy means to carry a litre of water. Use whatever you like.
Toilet stuff. Small trowel, hand sanitiser, and TP. For obvious reasons.
Foot care kit. One of several things I carry out of my slightly Army "I'd rather have what I need than have a light pack" philosophy that I expect would attract the scorn of serious long-distance hikers. I'll do a separate post on the contents of this, but things like foot powder, Dettol and of course blister care are really useful.
Small items kit. Sometimes I carry essentials in the handy zip-up pack shown here. It contains things like headlamp and torch, cylumes, jacket/thermarest repair kit, multi-tool, etc. In this case I ditched the pack and just distributed the items into various pouches in my pack.
Camelbak. The other 2L of my water-carrying capacity. I'm a fan of being able to sip water on the go but it's by no means mandatory.
Individual First Aid Kit. Another place where I take far more than I need, but this is a fairly robust kit that makes me a lot more comfortable I could deal with a serious, traumatic injury. Given the isolation and also the chances of coming across someone else that's injured, quite apart from looking after my own party, this is a must-have for me but might not be for everyone.
Sleeping bag. In my case the Rab Ascent 700, compressed into a dry-bag so that whatever happens I can be fairly confident my sleeping bag stays dry.
Roll mat. A boring multi-cell roll-mat. Adequate, but I'd take something both lighter and more comfortable next time.
Basha/tarp. I chose to take a tarp and construct a shelter out of this rather than a tent. It's a fairly lightweight solution (though the ex-Army tarp I used is by no means the lightest option out there) and can be rigged almost anywhere, although there are obvious pros and cons versus a tent.
Bivvy bag. Useful when using a tarp to keep wind and rain off. Much less essential if using a tent.
Rab Electron Down Jacket. Potentially a bit of overkill for early Autumn, but in fact I did end up chucking this on some mornings when it was pretty cold, and I always like to have a layer of clothing that is one level heavier than I think I'll need, just in case.
Rab baseline fleece. My primary layer for hiking in when the temperature dropped a bit. This got a fair amount of use (though the majority of the time we were in t-shirts).
Spare kit. One of the areas where I arguably took more than I needed, but it was nice to have two t-shirts to rotate for hiking, plus a long-sleeved anti-mosquito t-shirt for evenings. I also took two pairs of hiking socks plus a thicker pair to wear in the evenings or at night. All contained in an individual dry-bag.
Tiley hat. Great for keeping sun, wind, rain etc off. Mine is a heavier one that is perhaps less breathable, and I was a bit jealous of my companion's one with a breathable mesh around the top, but either way it really did the job.
Towel. A microfiber camping towel – good as we were swimming, but essential even if you don't plan on swimming to so you can dry off if you've been hiking in the rain, especially your feet.
Worn kit. Trousers, t-shirt, and Salomon hiking shoes plus the Arc'Teryx Atom Lt, although in the end that never got worn for hiking and only in the evenings.
Hat and Gloves. Rarely necessary, though I like sleeping in a hat (especially not being in a tent) and the gloves were occasionally nice in the mornings. Contained in an individual dry-bag because that's how I do things.
Jetboil (plus lighter, spork and brew kit). Review here, so I won't explain why I love the jetboil, but some means to heat water is fairly essential. It's not even that hot food is a luxury, but arguably it's a requirement to save weight and space since freeze-dried food is lighter and more compact. All contained in an individual dry-bag of course.
Rain kit. The Rab Xiom plus some generic waterproof trousers. Didn't even get used once, but obviously good to have.
Food. Not shown here, and I'll cover in a separate post.
Backpack. Not shown here, but the Osprey Atmos AG 65, which I have reviewed extensively here.