Advice
Quilts v Sleeping Bags – how to get a good night's sleep on the trail
For most people, if you think of camping you think of sleeping bags. While very hardy souls might make like a cowboy and sleep under a rough woolen blanket, and those not straying far from their car might be able to use a comfy duvet, the vast majority of hikers and trekkers will use a sleeping bag. The only questions will be what type, what filling, how heavy does it need to be, and so on. There is another option, however, and many hikers – especially those concerned with weight – are starting to consider quilts instead of sleeping bags. This post will explore the advantages, and disadvantages, of quilts and why you might choose one.
Looking for something that will keep you warm on those super-chilly nights? Check out our guide to extreme cold weather sleeping bags.
What is a camping quilt?
At its simplest, a camping quilt is simply a quilt; a rectangular blanket made of technical fabric much like a sleeping bag and, like a sleeping bag, filled either with down or an artificial substitute, with baffles sewn in to prevent too much movement of the filling. The camper simply sleeps under the quilt instead of inside the sleeping bag.
In practice, though, the majority of what we consider to be serious camping quilts incorporate a few additional features to make them more suitable for use on the trail. For example:
Most are shaped to ensure they cover the whole person but still minimising excess material and, thus, excess weight.
Straps or clips to secure them to a camping mat and keep cold air out.
Foot-boxes, either permanent or option (via zip or draw-cord) to secure the quilt around the foot of a mat, and to keep your feet warm.
Some have draw-cords around the neck to make them snugger and keep draughts out.
Advantages of a camping quilt
After years of sleeping in sleeping bags, and almost always sleeping pretty badly, I recently bought my first camping quilt and it's been a huge improvement for me. So, what are some of the advantages of a quilt and why did I choose to sell my Rab Ascent 700 and buy a Thermarest Corus 20?
Save weight
The biggest advantage, and the reason quilts have become so popular with fast-and-light hikers, multi-day trail-runners, and thru-hikers is that they reduce weight.
You see, on a typical sleeping bag, a good percentage of the bag (let's say about a third, although that's not particularly scientific) is underneath you. That means that the filling is squashed, and its effectiveness is reduced to almost nothing – instead, it is your sleeping mat that does most of the job of insulating you from the ground. This means that as much as a third of the weight of your sleeping bag may be more or less completely wasted. Quilts essentially do away with almost all of that weight and simply provide the bits of a sleeping bag that do work – the bits on top of you and around the sides.
In addition to that, quilts generally don't require a zip, which further saves weight.
More comfortable, especially for side-sleepers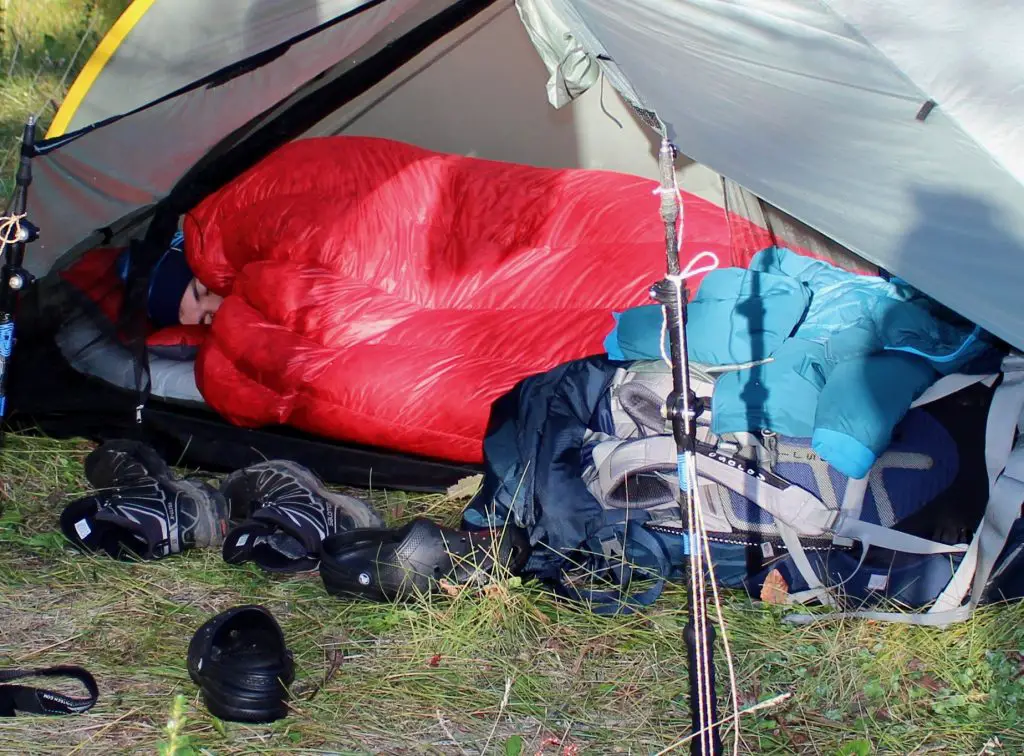 For me, the weight-saving was actually a secondary point compared to the fact that I tend to a) sleep on my side and b) regularly switch from one side to another in my sleep. Most sleeping bags are horribly uncomfortable for people who sleep like that – you almost always end up tangled up, restricted, and with the hood of the sleeping bag somewhere over your face by the end of the night. This seemingly minor inconvenience has been one of the main causes of many, many, many a terrible nights sleep in a sleeping bag and I realised that a quilt could essentally solve the problem.
It is far easier to sleep on your side under a quilt, especially one neatly secured to your sleeping mat, and then to roll over as much as you want while the quilt stays fixed on top of you. So, if you strictly sleep on your back and/or don't find sleeping bags especially uncomfortable then this may not be a concern but for anyone else I'd recommend giving a quilt a go.
Easier to regulate temperature when it's warm
While staying warm is often the main concern when camping, I suspect many readers – especially if you only own one sleeping bag, and it's therefore quite a heavy one – will have had just as many bad nights sleep caused by being too warm in a sleeping bag as from being too cold. It's not impossible to regulate temperature in a sleeping bag, especially one with a zip, but it's far easier in a quilt where you can simply unclip one side of it and let a bit of a breeze in. For the extremely varied temperatures you encounter when camping in the UK, this is a huge selling point on its own.
Disadvantages of a camping quilt
Obviously camping quilts aren't perfect and, if they were the solution to all the world's ills, everyone would be using them. Like most kit decisions in hiking and camping, choosing a quilt over a sleeping bag is a trade-off. So, here are some of the reasons you might be better off with a sleeping bag.
Not as cosy, and less effective in extreme cold
Sleeping bags are, fundamentally, extremely cosy. A good one, with either no zip or a decent baffle over the zip, lets in no cold air and if you snuggle down and pull the hood tight they can keep you very, very warm. It is perfectly possible to buy quilts that are rated for temperatures down into the -10s and even -20s Celcius but ultimately there is always going to be the limitation of how good a seal can you really form around your camping mat? A tiny bit of air penetrating under your quilt might be hardly noticeable when temperatures are hovering around freezing but, if it's -20C, that little draught is going to become pretty unpleasant.
In addition, of course, even squashed down does provide some warmth – as does the soft and comfortable interior fabric of many sleeping bags – and, if it's extremely cold, you may appreciate having some insulation under you as well as on top of you. Lying on a bare camping mat isn't necessarily the most comfortable experience, no matter how thermally efficient it is.
Most important of all, if your sleeping bag or quilt is too loose, you will expend energy heating the empty space around you. Sleeping bags rated for extreme cold need to be relatively tight fitting (thought not so much so that the down is compressed) and this is much harder to achieve with a quilt.
Require a little more set-up
In a pinch, you can wriggle into a sleeping bag just about anywhere and – if it's rated for somewhere even close to the ambient temperature – you'll stay moderately warm. Even not in a pinch, when you're setting up in a tiny tent in the cold and dark, it's nice to be able to just throw your sleeping bag into the tent and know you'll be able to climb into it without worrying too much. Quilts require a little more set up – not a great deal, but enough to be slightly finnicky especially if you're working in a hurry. Most need to be clipped around a camping mat and, if it's very cold and you're worried about draughts, they need some care to make sure you've got a decent seal around your body.
Ideally need a full-length, reasonably comfortable, sleeping mat
Related to the point above, while you can of course just sleep under a quilt as if it was a blanket, most rely on a camping mat to give them something to wrap around and prevent cold air getting in, as well as for all of their insulation from the ground. I've slept plenty of times on bare earth (as well as bare sand, and even bare snow) in a sleeping bag and while it's rarely been comfortable it is at least doable. The same under a quilt isn't quite so straight-forward.
Best camping quilts currently available
Quilts are still quite a niche product and relatively few manufacturers make them, while those that do are often cottage manufacturers making them to order. Don't let that put you off, however – there are plenty available and more coming to market all the time. Here are a few worth taking a look at if you're considering making the switch.
Rab Neutrino Quilt 200
Kudos to Rab for adding a quilt into their well-established sleeping bag range. Disappointingly, however, their only one is the Neutrino 200 Quilt, whose fairly paltry 200g of duck-down means it is only suitable for camping in warmer tempertures. That said, for a summer expedition or as an additional layer on top of a sleeping bag that you're worried isn't quite warm enough for your trip, this could be worth a look.
Enlightened Equipment Revelation
Arguably one of the best quilt-makers out there, Enlightened Equipment only offer a few ready-made and the vast majority are built-to-order. This means that you can customise the inner and outer fabric, the fill weight, the size and (in the case of some quilts such as the Enigma) features such as draught collar . Enlightened Equipment is one of the relatively few quilt manufacturers that offers quilts rated for substantially below freezing (the revelation can go down to -17C) but that will cost you somewhere upwards of $350. It's notable that -17C would barely be the middle of the range for many sleeping bag manufacturers, and it is essentially just not possible to buy a quilt rated for anything close to the sort of temperatures you would encounter on a polar expedition or 8000m peak.
Read our enlightened equipment revelation review.
Therm-a-rest Corus 20
One of the very few off-the-shelf quilts available in the UK that are rated for below freezing, the Corus 20 contains 560g of 650FP down and is rated for 20F (hence the name) or -6C, which makes it similarly specced to the Rab Ascent 700 that I swapped it for. The Rab contained 700g of 650FP down but some, perhaps all, of the difference is accounted for by the fact that quilts don't have a back. Given that I know for a fact my person tolerance for cold is usually well above the actual rating of the bag unless I am wearing a few extra layers, this means it's not quite the bomb-proof, take it anywhere, sleep-in-any-conditions quilt that I would ideally have liked, but it is a reliable three-season bag and four-season at a push in much of the UK, if I sleep in a decent coat.
Therm-a-rest make some of the best sleeping equipment out there; my therm-a-rest sleeping mat is quite literally the best-performing piece of camping kit I own, and this bag is specifically designed to fit nicely with it (although in honesty, quilt to mat compatibility is largely a non-issue). It's an excellent buy for anyone who doesn't want the expense and waiting time for a custom quilt, or who is based in Europe and concerned about shipping and import fees.
Full review coming soon!
Sierra Designs Nitro Quilt 800
The Sierra Designs Nitro Quilt 800 is rated identically to the Corus 20 and contains a slightly lower weight (420g) of slightly higher fill-power (800FP) down, meaning that it performs roughly the same for what ought to be a lower overall weight. In practice, it is almost exactly the same weight as the Corus 20 (depending on which size you buy) which I suspect is attributable to its deliberately over-size design and to having a few additional features. Those features included a hidden hood and hand pockets at the top corner that let you wear it like a bat and, presumably, keep it over you despite stretching out.
If those features appeal to you then this could be a great buy, but for me they added a degree of complexity (and weight) that I just didn't need or want.
Sea to Summit Ember EBIII
At the rather expensive end of the off-the-shelf quilt range (and, in fact, even on the expensive end of the made-to-order range) but, with its 500g of 850FP down, you're getting a lot of warmth for your buck and without hugely increasing the weight.
The Ember EBIII has a large sewn-in footbox, and buttons/straps allowing it to either be wrapped cosily around a sleeping mat in colder weather, or opened up and used more like a blanket on warmer nights. The cost may put some people off but if you want a warm, lightweight quilt and especially if you don't want to wait for one made-to-order, you can't do much better than this.
Buy the Sea to Summit Ember EBIII here.