Why not a sleeping bag?
Sleeping bags are perhaps the most iconic pieces of backpacking gear – as long as I can remember (honestly, not that long) they have been not just the go-to sleeping system, but have dominated the area completely.
As with many dominant ideas, sometimes a concept is so embedded that it seems unthinkable to go a different direction. But conventional sleeping bags are in flawed in a couple of key ways – and a re-examination of their default use in all situations is warranted.
They use down insulation all the way around the body, even though down insulation protects against convective heat loss, and when squished against the ground or a sleeping pad does almost nothing against the resulting conductive heat loss.
The mummy shape of the classic sleeping bag is restrictive and results in poor sleep quality.
Sleeping bags make it difficult to regulate warmth without adding extra (heavy) features.
Why can quilts be the solution?
The emergence of the quilt builds from the objective truth that down insulation crushed underneath a sleeping body is wasted weight. The only thing stopping your body heat from leaching into the ground is the r-value of your sleeping pad.
An argument for a sleeping bag might be that a complete seal is made around the body, from pad to bag. The Enlightened Equipment Revelation gets the best of both worlds through the use of simple clips that keep the quilt securely in place on top of the pad, without stopping you from regulating warmth or sleeping with an arm outside the bag if that's how you like to do it. I keep the clips on one side undone so I can slide easily in (another advantage of the quilt – no pre-bed struggle to get in without kicking the tent down) and then do them up once I'm snug.
Quilts are theoretically:
lighter weight
easier to get into at night
just as warm
better for temperature regulation
more versatile (couch surfing, greater comfortable temperature band, campfire-side blanket, emergency blanket)
easier to air out
My experience with the quilt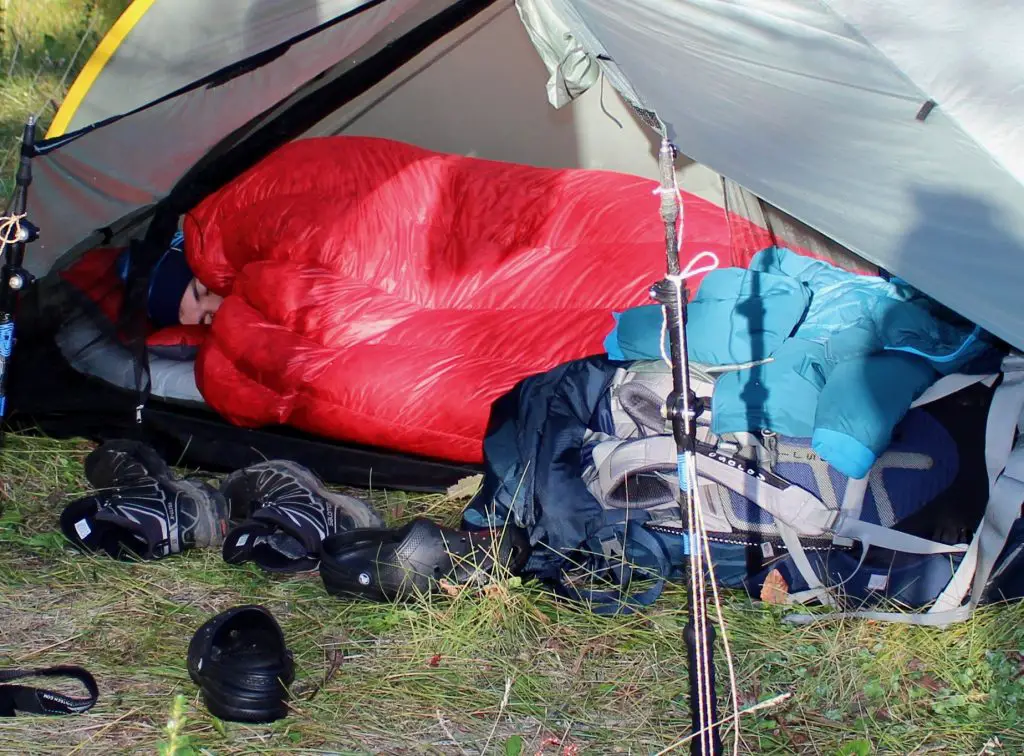 Honestly, I loved it. I made this jump because I was on a week long self-supported backpacking trip in a Chilean wilderness area, and I was ultra concerned about weight, without having a ton of money to spare. The Enlightened Equipment Revelation I got was $300 for a 10 degree (Fahrenheit) quilt, and I feel confident I will get many more trips of use from it. A 10 degree sleeping bag might be limited in late spring/summer/early fall, but the quilt is so easy to regulate sleeping temperatures that I think it will be fine.
It was incredibly light weight and stuffed down in a Sea To Summit compression bag to the size of a large grapefruit, but lofted up very nicely and quickly on opening.
I was a huge fan of the feeling of using a quilt. I would never choose to sleep in a sleeping bag if I didn't have to, so the whole concept appealed to me. As you can see in the photo, I set up the straps so that after slipping in at night (so easy, like a normal bed) I just clipped in the top right corner and felt incredibly cosy.
Warmth wise, I learned quickly to sleep with a hat. Enlightened Equipment does sell a down hood for colder temperatures, but that was overkill here. The nights were frosty, but aside from a chilly nose I had no issues with temperature at all.
In all – I'm a huge fan, and won't be going back to sleeping bags unless I start doing real winter expeditions.