As I discussed in detail in my post about the pros and cons of using a camping quilt instead of a sleeping bag, I've been wanting to make the switch to a camping quilt for most of my adventures. For both reasons of weight and comfort, I'm a huge fan of quilts and I've never much enjoyed sleeping in a sleeping bag. After doing a lot of research and looking at the (relatively few) options on the market, I ended up with the Therm-a-Rest Corus 20. It's by no means the perfect option, and in an ideal world I'd have gone with something a little heavier/warmer, but quilt options are limited, especially in the UK. The Corus 20 is a decent compromise and will be adequate for the majority of my trips. For colder weather, I'm still going to be looking around for something else and, potentially, ordering a custom-made quilt from Enlightened Equipment.
Overview of the Therm-a-Rest Corus 20
Construction and warmth
The Therm-a-rest Corus 20 is a lightweight backpacking quilt made of 20D polyester fabric (the outside facing treated with DWR for some moisture protection) and filled with 530g (in the standard size) of 650 fill power down. This gives it, according to Therm-a-Rest, a 'comfort limit' of 0C (32F), which roughly aligns with my personal experience. I am a naturally 'cold' sleeper, I find, which is one reason why I'd have ideally liked a significantly warmer quilt even when camping in temperatures only around freezing, but the Corus 20 has kept me tolerably comfortable at close to freezing when wearing only a t-shirt and boxer shorts, and I've been able to sleep at somewhat below freezing if I am prepared to layer up a bit.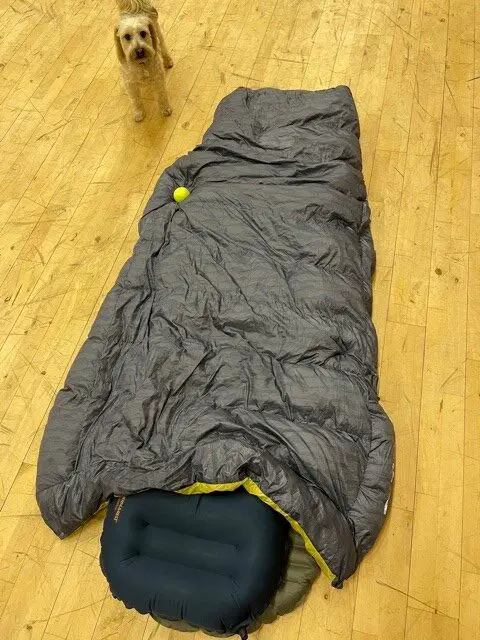 The lower limit, according to Therm-a-Rest is -6C or 20F (hence the name). Clearly they aren't suggesting that would be comfortable (given the 'comfort limit' is 6 degrees warmer) but the standard is that, in the range between the comfort limit and the lower limit, a standard man will be "in a situation of fighting against cold (posture is curled up inside the sleeping bag), but in thermal equilibrium and not shivering". That's fine, and potentially at the higher end of that range you could even get a decent night's sleep, but at the lower end you're likely to wake during the night because of cold and — bearing in mind we are not all 'standard men' — some people are going to be colder than others.
For me, in the knowledge that I get chilly in my sleep, and on the assumption that I don't mind sleeping in a lightweight fleece but I'd rather not be dressed up like the Michelin man, I'd work on the basis that the Corus 20 is suitable for trips where you expect temperatures to drop to around freezing at night, but not too much lower.
Size and weight
One of the main benefits of a quilt over a sleeping bag is that they are lighter and pack down smaller. The Corus 20 is no exception, with the regular size weighing in at just 734g. I bought the long, and this is a little heavier at 824g but still only around 2/3rds of the weight of my Rab Ascent 700 despite having very similar temperature ratings. In its stuff sack, it is the size of a couple of nalgenes, and could easily be squished into a small space in a backpack. One of my ambitions is to make all of my kit for a multi-day hike not only lighter, but also smaller so that rather than being relient on a 60 or 65L pack, I could downscale to 40 or 50L or maybe even smaller. Sleeping bags are one of the main limiting factors when it comes to space, so the size of the Corus 20 is a big step in the right direction.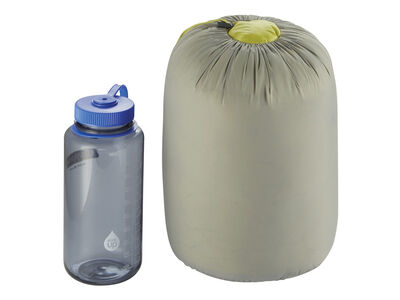 Features
Quilts are, in theory, relatively simple products but most serious camping quilts are a little more complex than a mere rectangle, and the Corus 20 is no exception. Starting from the foot, it has a sewn-in foot box, which is primarily designed so that you can place the foot of your sleeping mat into it. This keeps the quilt in place and eliminates drafts around your feet. Even if you choose not to place your mat inside the quilt, simply being able to put your feet into the footbox makes the quilt extra cosy and makes sure your extremities stay warm in your sleep.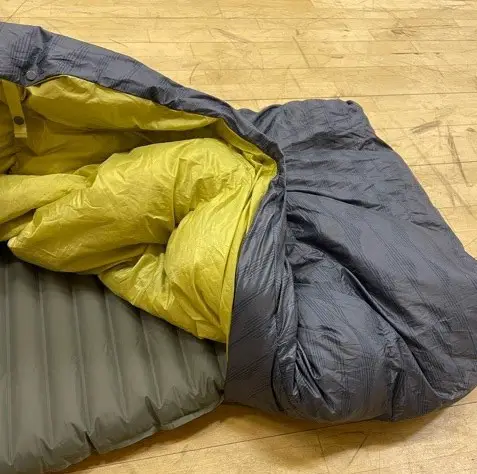 Moving up to the middle of the quilt, there are two straps designed to wrap underneath a sleeping mat and then fasten on the other side. This, again, keeps the quilt in place and pulls the sides around to eliminate drafts. One strap is placed at about thigh level and the other around chest level, so you can make sure you are well tucked in. When it's not especially cold, I tend to fasten only the thigh-level one and leave the other unfastened so I can easily slide in and out of bed, and giving me the option to push some of the quilt off me if I'm overheating. It's that flexibility that makes quilts great in a range of temperatures, of course.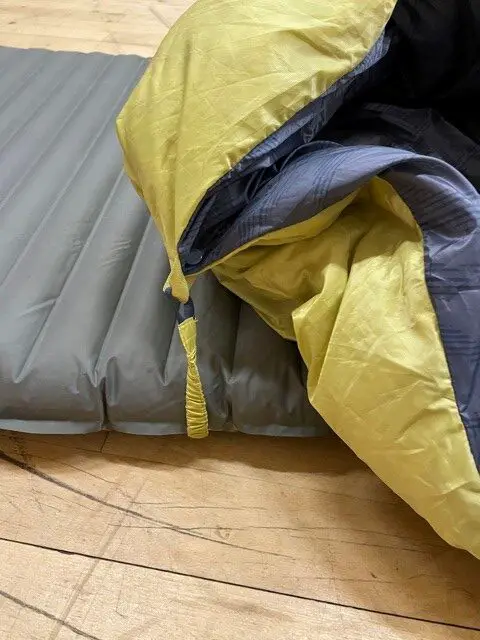 Up at the head end, there is a small zip pocket, useful for keeping a phone or torch in so that it's close at hand. Unlike in a sleeping bag, of course, you're also much less likely to roll over in the night and end up sleeping on top of whatever you put in the pocket…
The two top corners of the quilt also have poppers on so they can be button together. This wraps the top of the quilt around your shoulders, reducing drafts and keeping it in place during the night. I've rarely found this necessary, but it is a nice cosy option and something you might want on an especially cold night.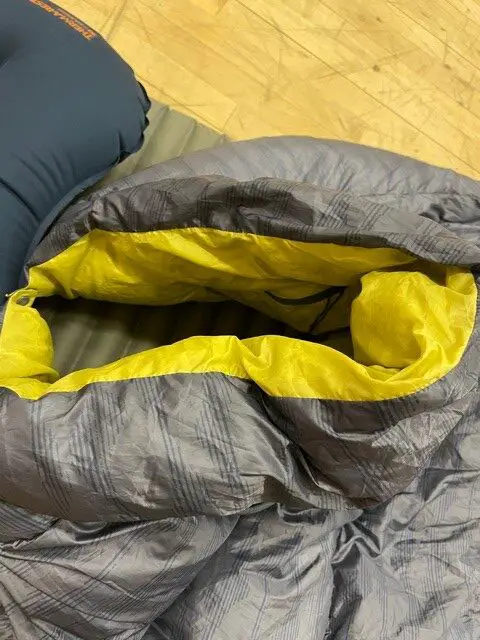 Using the Therm-a-Rest Corus 20 in practice
The Therm-a-Rest Corus is an absolute breeze to set up each night. If you keep the straps fastened, then it can simply be pulled over your sleeping mat a bit like a sock, and it's ready in seconds. For me, as a side-sleeper and someone who moves around a lot in my sleep, I love the fact that I can roll about underneath the quilt and not have it move with me, or feel constrained by it, so I'm an absolute quilt-convert. As someone who also has a tendency to get up in the night (hey, I over-hydrate during the day), I also love how easy it is to get in and out of, without having to unzip or wriggle around. I
I did have concerns that I might be plagued by cold breezes, but the quilt wraps tightly enough around my sleeping mat that this really isn't an issue, and it's just as warm and cosy as my old sleeping bag at a far lower weight.
My one issue with it is less a criticism of this specific model, and more a criticism of Therm-a-Rest's range, and the quilt industry as a whole, which is that this is not the quilt I would have bought if a warmer one had been easily available. I really wanted something that would be a robust four-season sleeping option for hikes in the UK —which in practice really only means a comfort limit of, say, -8 or -10 C — and this absolutely is possible with a quilt, it's just that almost nobody makes them.
Rab makes sleeping bags warm enough for use on Everest, but its only quilt would barely keep you warm sleeping in your garden on a warm summer night. Therm-a-rest actually have a decent range of quilts, the Corus (reviewed here) and the impressively small and light Vesper but both are available only in a 32F or 20F version – nothing warmer. Sea to Summit also make lovely-looking quilts… available in nothing warmed than 20F. And Sierra Designs have an interesting product with a hood/facemask thing going on – it's rated down to, surprise surprise, 20F. It feels like the only real option for warmer quilts is looking at a couple of US manufacturers, most notably Enlightened Equipment, that make quilts to order and are willing to build products with a bit more insulation!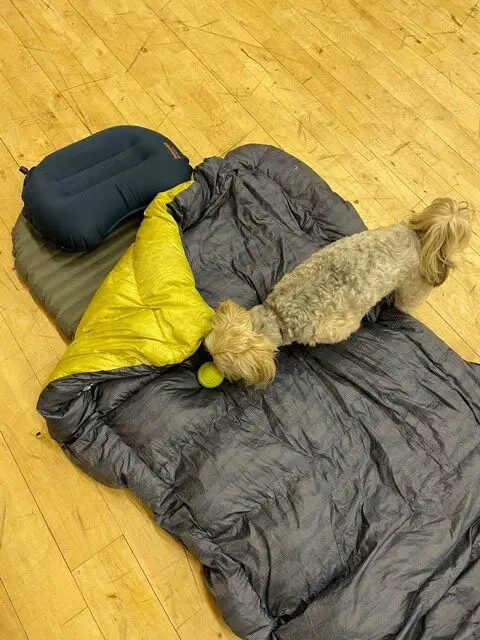 Summary
Buy the Therm-a-Rest Corus 20 if:
You're a side-sleeper and sick of sleeping bags.
You're looking to shave a bit of weight off your pack.
You're mainly hiking in conditions that won't drop far below freezing.
You're keen to try quilt camping without committing to an extremely expensive product, or a made-to-order quilt with a very long lead-time.
Don't buy the Therm-a-Rest Corus 20 if:
You plan to camp in conditions significantly below freezing.
You're looking for the smallest, lightest possible option and every gram counts (the Vesper is the better option then).
You love sleeping bags.