Advice
HOKA walking boots: the complete hiking boots guide
HOKA walking boots: the complete hiking boots guide
This guide is aimed at hikers thinking of dipping their toes into the world of HOKA. If you're looking for more general information on choosing and maintaining boots, foot care, etc then check out our hiking boot guide. Alternatively, you can read our reviews of the best hiking boots
About HOKA
Company details. Known as HOKA, the official company name is HOKA One One (pronounced "Own-ay, Own-ay", a Maori term meaning "fly over the Earth"), which is a bit of a mouthful so we'll stick with the shortened version. Formed in 2009, the company was founded by three French athletes: Nico Mermoud, Jean-Luc Diard, and Christophe Aubonnet. The original location of the company HQ was Chamonix (a stunning, mountainous region of the country bordering Switzerland, and Italy, which I highly recommend you visit if for nothing more than a hard hike in the Alps), but moved to California after HOKA was bought by a US gear manufacturer, Deckers Outdoor Corporation, in 2013.
HOKA still maintain an advanced research department in Annecy, France. The offices are a stone's throw away from Lake Annecy, and an hour's drive away from Lake Geneva, Switzerland.
Where are HOKA shoes made?
HOKA's footwear manufacturing facilities are spread over a number of locations.
What is so special about HOKA shoes?
HOKA's launch into the hiking boot space started in 2019 with the launch of the Sky Kaha, Sky Toa, and Sky Arkali. Incidentally, all three models are still going strong with HOKA making regular updates to the designs, materials and durability.
But what is so special about HOKA's shoes and, more importantly, boots?
Well, as the very first models were designed for runners and ultra marathons, in particular the outdoorsy types who spend much time in the mountains, they are incredibly rugged and supportive. In fact, the original concept behind the HOKA brand was of slip-on overshoes runners could pull on before racing down a steep hill. Brilliant as the idea was, the founders soon realised they had visualized a running shoe, not simply an accessory.
And here's where it gets a little more interesting…
The design and materials used to make HOKA hiking boots and running shoes are so supportive they're now recommended for the treatment of many common foot-related problems, including:
plantar fasciitis (or heel spur syndrome)
iliotibial band syndrome (I've experienced this and it's truly unpleasant!)
metatarsalgia
shin splints
Achilles' tendonitis
bunions
neuromas
flat feet, hammertoes
osteoarthritis
In recent years, and due to the hard knocks my body took during my time in the Armed Forces, I've run the gauntlet of painful knees, ankle injuries, and general joint pain and I decided to visit a podiatrist to get some help. She put me through an intensive programme of exercises to resolve as many of the issues as possible and recommended HOKA shoes to help during the recovery phase. And what an amazing recommendation – the deep cushioning provides amazing comfort and excellent shock absorption which provides a huge degree of protection to my knees and joints, especially when walking on hard surfaces.
My first pair of HOKA shoes were the ATR Challenger 5, and at their 'demise', and an appropriate period of mourning their loss, were replaced with the Challenger ATR 6 shoes.
But we're getting too deep into running. What about HOKA hiking boots?
A few short months after buying my ATR 6s, and on a day when my knees weren't feeling their best, I decided to take a day off running and head out onto the trails for a relaxed hike wearing my running shoes. AND? Wow! I was impressed. My HOKA running shoes were more comfortable than my Karrimor boots so I started researching HOKA's hiking boots.
Summary: HOKA hiking boots and shoes are designed for sports activities, mainly outdoors and on testing routes, but have come to be the go-to footwear for people who experience knee, ankle, and foot pain/conditions.
The lineup
HOKA's rapid expansion into the domain of hiking boots has given hikers even more options for footwear capable of giving a comfortable, cushioned ride when the terrain starts to bite. In the next section, we'll look at the full lineup, and then explore what Jake and I believe are the best HOKA boots available right now.
Hiking boots
Anacapa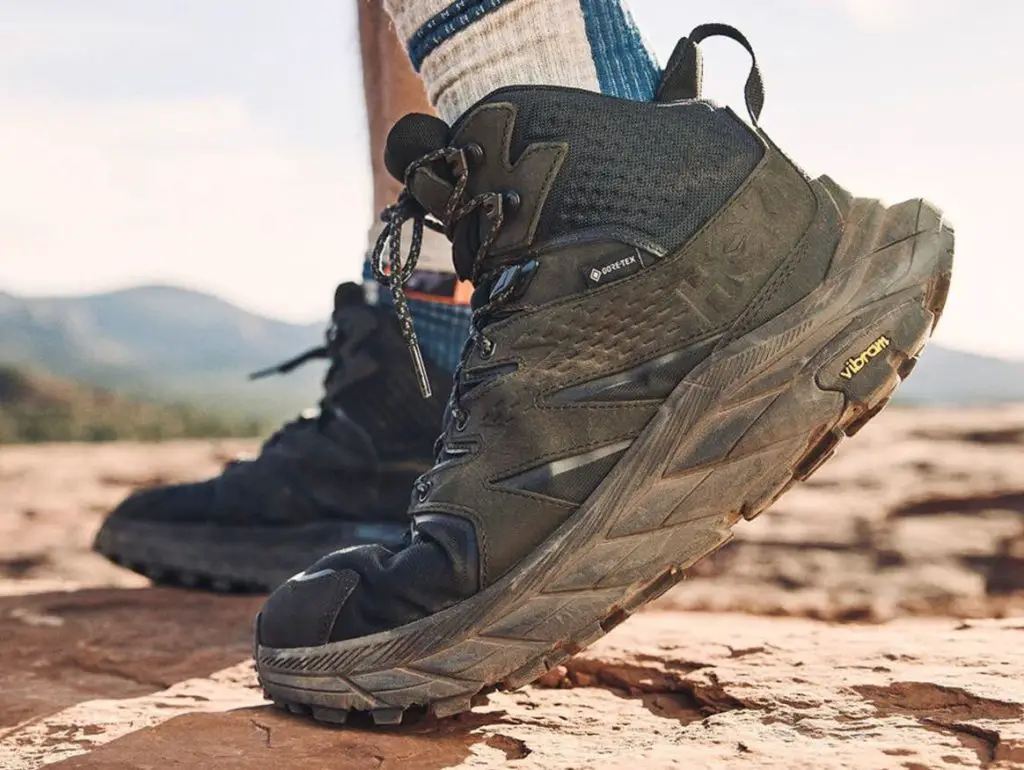 The Anacapa and Anacapa 2 sit low to mid-range of HOKA's pricing, selling for between £140 and £160 respectively. The less pricey model, the Anacapa Mid, can be considered HOKA's most impressive endeavour so far. This boot effectively combines HOKA's legendary smooth ride and excellent cushioning that the company is known for and prides itself on, with a design providing excellent ankle support and protection. Seasoned HOKA fans will nod their heads in agreement when I say, like pretty much all other footwear this company makes, the fit is exceptional: a snug heel and comfortable spacious toe box, whilst maintaining a reasonable weight. The only concern we have about the Anacapa is around durability, with certain areas of the midsole showing premature wear (tip: don't wear these boots if you're walking long sections of road where the tarmac will grind down the sole). Another thought springs to mind – when you see the Anacapa you'd be forgiven for dismissing them purely on aesthetics as the thick cushioning gives them a clunky look. Sure, they might not look the most elegant, or pretty boots, but they are a high-quality option for hikers who want and need to feel comfortable when on the trail.
HOKA sell the Anacapa Breeze Mid and the Anacapa 2 GORE-TEX Mid. The Breeze is marketed as being 'water resistant' which means your feet will likely get wet if you're thrashing around boggy ground or jumping in big puddles whilst giggling like a happy child. And it goes without saying the Anacapa 2 is lined with GORE-TEX… no more to say on that matter. At this point, the question is: do you need a GORE-TEX boot or a boot that can handle light showers and striding through wet grass?
To my mind, the Breeze is better suited to fair weather conditions, not the cold wet months of winter.
Kaha 2 GTX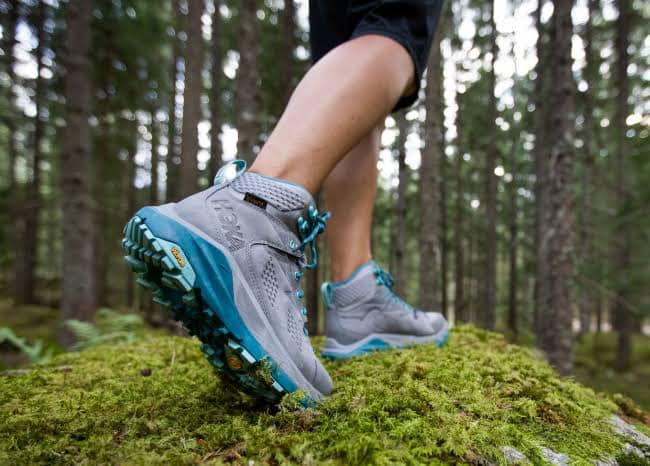 HOKA's Kaha 2 GTX is the most expensive and true hiking boot in their lineup. Offering excellent ankle coverage, Gore-Tex waterproofing, a leather upper, and a deep Vibram tread for traction would appear to be one of the most capable and comfortable you can buy right now. But that's not the case. Whilst we haven't yet had a chance to put the Kaha 2 through its paces (we've only recently written the HOKA Kaha review – a deep dive into the previous model, which I rate high on the scale of good footwear for hikers), there are a number of reports suggesting the Kaha 2's cushioning is below par compared to other models designed and built by this brand. The other grumble I've heard from hiking buddies is focused on the wide heel and huge footprint which, when combined, make this boot less comfortable and lacking that feeling of sure-footedness when hiking on difficult or technical terrain.
I'm pretty surprised at these comments as these walking boots sit at the top end of the price range and I expect more from a company with such a proud heritage.
HOKA Tenine GORE-TEX
HOKA has never been a company to shy away from what some hikers might consider controversial designs, and rightly so. The features that make their way into each pair of hiking boots are there for a reason, as seen with the TenNine Hike GTX walking boots. The distinctive heel is there to give extra grip when travelling downhill and is nothing new – about 20 years ago I owned a pair of Salomon trail running shoes with a similar chunky heel. And this is where it gets a little more interesting… although the hiking community was broadly unimpressed, ultra-lightweight hiking enthusiasts were pretty supportive as the TenNine is built to fit the middle ground between lightweight hiking and trail runners.
By placing emphasis on comfort, speed and usability on longer distance routes, this boot hits the sweet spot.
The only snagging point is the price – at around £230/$295 retail – which puts them firmly in the premium and very specialized tier of hiking boots. Sadly, and strangely given the company is now based in the USA, the TenNine are not available in the United States of America.
Trail shoes
You're probably wondering why we're including this category in a post about hiking boots. Well, Jake and I are runners and hikers, and we've used a number of trail running shoes as hiking boot alternatives (read that post and you'll understand why I love Altra's offerings). On a few rare occasions, we've found running shoes which are a great alternative to both boots and hiking shoes. Here's a quick rundown of HOKA hiking shoes we think make a good alternative to boots.
SpeedGoat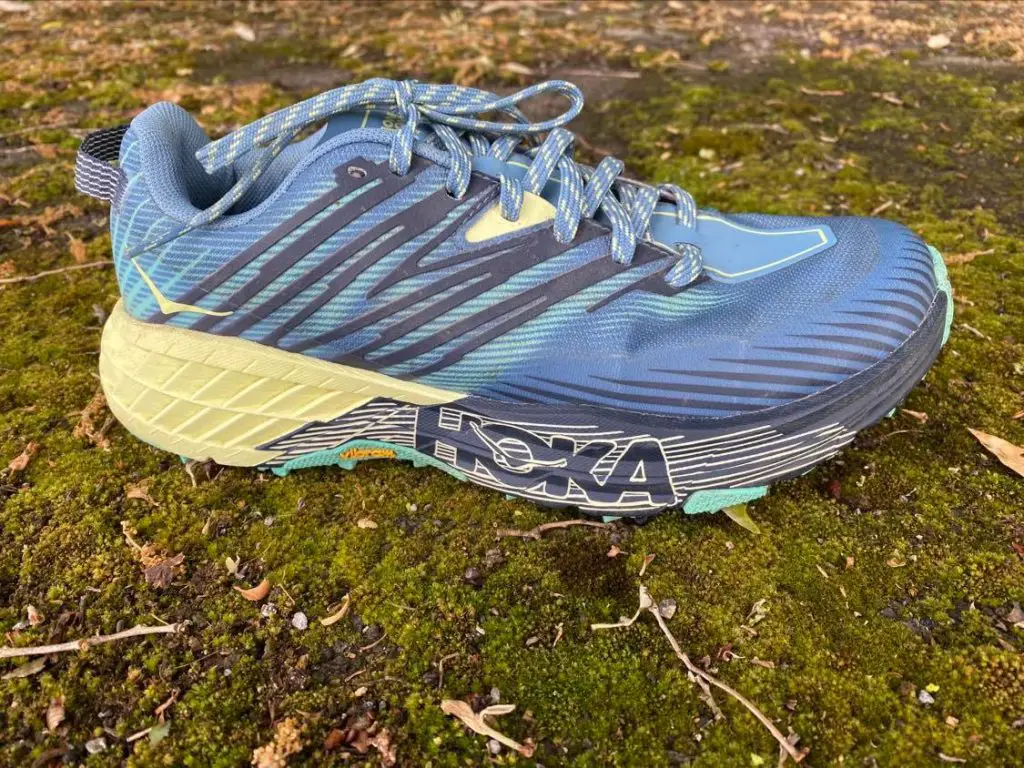 With great traction, superb durability and a comfortable fit these trail shoes are a great option for hikers who feel like adding bursts of speed to their days on the trail. One of our readers, Michelle, wrote a comprehensive women's Speedgoat 4 review and gave them top marks. Although HOKA has since updated this model, you can still pick up a pair for a reasonable price on sites like Amazon and Sportshoes.com.
Challenger ATR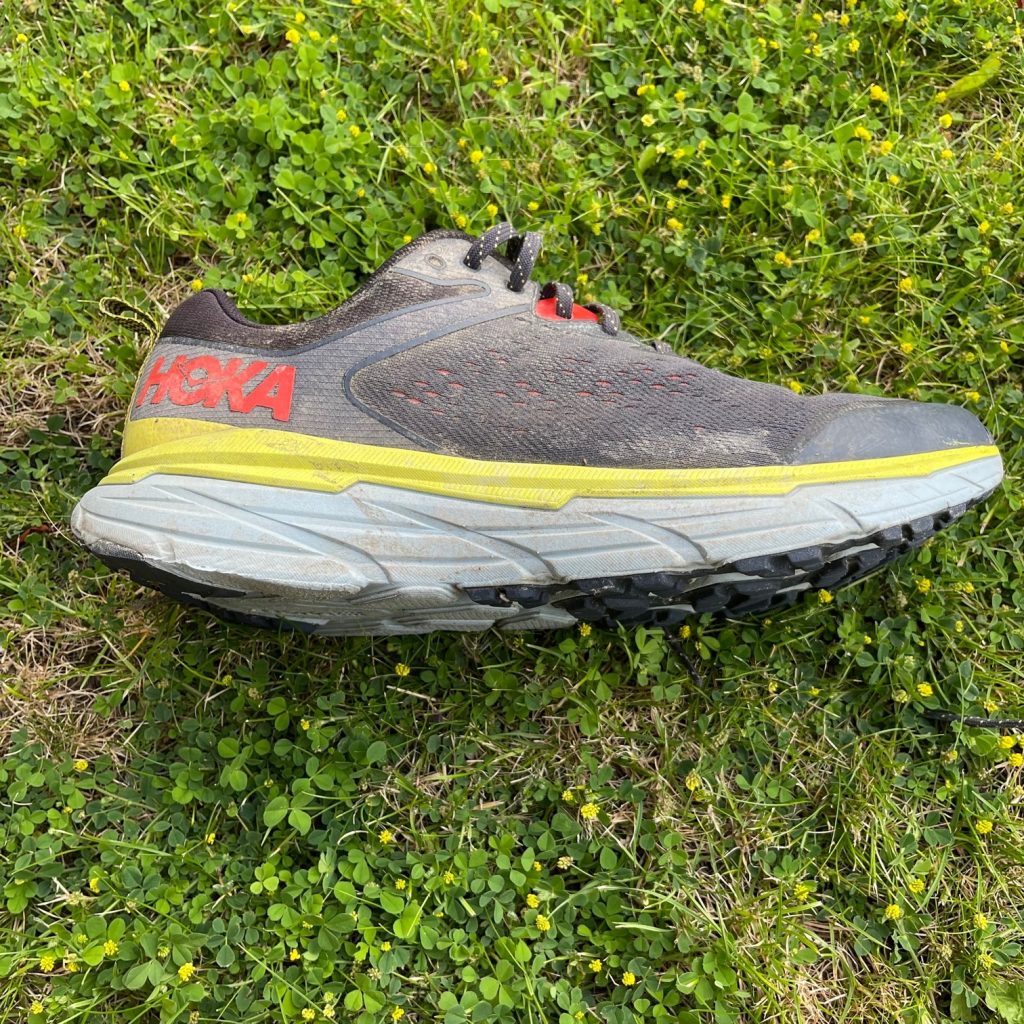 I've been running in the Challenger ATR for about 5 years and I love them. But we're talking hiking now, so how does this fit in? I've owned various pairs of these shoes going back to version 4 and, whilst they're durable and have a long life, at some point they need to be retired from my running gear list, but that doesn't mean they are thrown away. Instead, each pair has become a substitute for hiking boots, in particular when the weather is hot. I've written a HOKA Challenger ATR 6 review that you may find useful. Again, as of the date of this post, the version 6 has been superseded by the 7. Fortunately, you can pick up the previous version for a very reasonable price.
Which HOKA are best for walking?
The best HOKAs for walking are the Speedgoat and Challenger ATR models. They're well-cushioned, supportive and far more durable than some of the dedicated walking shoes I've owned.
Which HOKA are best for hiking
Speedgoat 5 Mid
The Speedgoat boots started life as running shoes designed to trail runners who need zero drop and aggressive lugs capable of handling mud, gravel and true off-road running routes. Still, the first few versions were a bit, well, 'meh!' Then came the overhaul and the Speedgoat 5 Mid was ushered into the spotlight. HOKA's engineers pretty much ripped the original design to shreds and reconstructed the upper to give more flexibility and a roomier fit. Out went the old midsole, and in came one manufactured from a lighter EVA material, similar to the one used in the EVO Speedgoat, yet retaining the legendary Vibram Megagrip outsole that gives glue-like traction. The outsole lugs have been redesigned to further improve grip on slippery slopes and the deep mud we hikers like to throw ourselves into.
Overall, the Speedgoat 5 Mid has been re-made into a lighter, more balanced, responsive, and spacious boot, that retains the durability of previous models.
Kaha
The Kaha, and now Kaha 2 GTX, is another boot with a controversial whiff about it due to the look of the sole which is similar to the TenNine. If you put your churning stomach to one side and at least give them a try you'll find the Kaha retains HOKA's legendary levels of cushioning, support and comfort. Whilst a relatively light boot, it makes easy work of long hikes and extended jaunts such as thru-hikes and treks.
But, as with all outdoor gear, the Kaha has a minor niggling point: the lacing system can feel tricky to navigate when you first use them – in my eyes, the top four eyelets should be open loops, not slide-through as this would provide more ease in tailoring lacing to an individuals needs. But who am I to question HOKA's expertise?
Final thoughts
Before I wrap up this post, there is a lingering question – should you choose GORE-TEX hiking footwear, or go with own brand membranes? Here are a few thoughts that might help you decide:
Walking boots and GTX shoes are never 100% water resistant. Water can lap over the ankle cuffs and, as the footwear ages, the ability to resist moisture ingress decreases so if cost is a key decision point you are better off choosing own brand membranes.
Some membranes are NEARLY as effective as GORE-TEX. That said, there don't seem to be many alternatives to HOKA, but it's worth looking at.
Will you be hiking in winter or summer? In the darkest days of winter, when the rain pours down, you're going to get wet no matter what. However, in the summer the biggest concern you'll have is wearing a pair of boots that allow moisture to exit the boot fast. I don't wear GTX boots in the summer and tend to use light shoes that air fast.