Advice
Akaso Brave 7 vs Brave 7 LE
How does the Akaso Brave 7 compare to the Brave 7 LE?
Although Akaso has moved on from the Brave 7 (the current model of this action camera is the Brave 8 which has a price tag of $279.99, which puts it up there with other action cameras like the mid-range Go Pro 8 HERO camera), the Brave 7 and Brave 7 LE are still popular options for hikers, runners, and pretty much anyone else looking for a camera capable of capturing decent quality imagery outdoors.
That's not to say the Brave 7 and its marginally cheaper sibling, the LE, are the perfect choice, but they do are more than adequate for most outdoor activities. You can get a fuller picture of the capabilities by reading our Brave 7 LE review.
We like the LE.
Okay, the Brave 7 vs Brave 7 LE debate… what are the differences between these two action cameras and is it worth paying the slightly higher price for the 7?
We've listed some of the features most important to us when choosing an action camera, with a table showing a comparison between the two devices.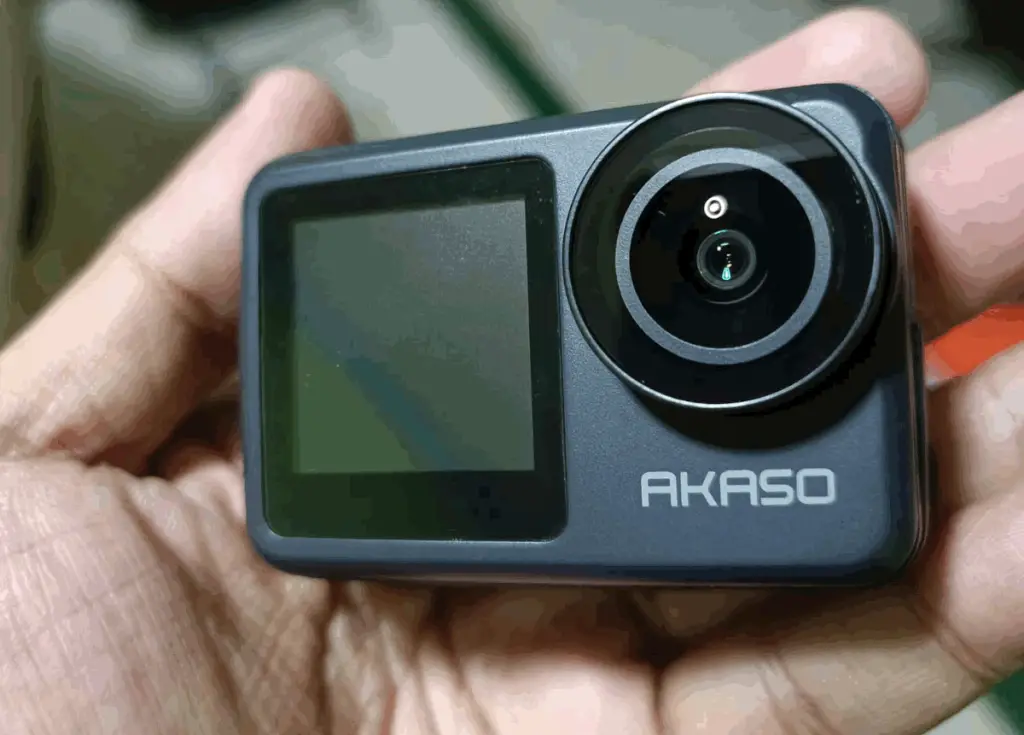 Akaso Brave 7
Dustproof and water-resistant
The first digit of the IP rating indicates the level of protection against dust, whereas the next digit provides an indication of the level of protection against liquid ingress. For example, when the first digit is 6 this signifies complete dustproofing, and a second digit of 7 signifies the device's ability to withstand complete immersion in water.
To give this level of enhanced protection against dust, raindrops, and water splashes, the rated device is equipped with additional seals which minimize the risk of potential failures.
Dedicated bike mount
A dedicated bike mount allows you the convenience of attaching the action camera to your handlebars, providing improved visibility and effortless access to adjust the settings. But pay attention to the trees when you're biking through forests – I've had a few collisions, and they are painful.
Touchscreen
A touchscreen gives you effortless navigation of the settings and functions – swipe and press, take photos, and be happy.
External memory slot
When an action camera is equipped with a standard memory slot (such as an SD or micro SD card slot), you have the option, and convenience, of increasing the built-in internal storage using what are now pretty affordable memory cards. Most memory cards use the FAT 32 file system which makes them compatible with your PC so you can easily retrieve and share data, such as photographs, from the memory card.
Accelerometer
The accelerometer is a sensor that measures the linear acceleration of a device and is used to detect transitions between the vertical and horizontal positions of the device. This helps remove blurring and jarring associated with transitions.
HDMI output
A device fitted with an HDMI, or mini HDMI, port can transmit high-definition (HD) video and audio signals to a compatible display.
Microphone input
When present, the microphone input is used for connecting external, high-end, or specialized mics to the camera.
Gyroscope
A gyroscope is a specialized sensor used to monitor the orientation of a device. This measurement is achieved by measuring the camera's angular rotational velocity. In the old days (back when I was much younger, gyroscopes were built with a spinning rotor to detect changes in orientation, such as twisting or rotation.
Voice commands
Voice-enabled sports cameras give you the utility of using voice commands to control essential functions such as taking photos on the move without having to press any buttons. Pressing buttons is so 2016, we've moved on!
WiFi connectivity
A WiFi-capable sports camera can connect to Wi-Fi networks, enabling seamless wireless connectivity and allowing you to control the device from a smartphone, or transfer data at high speed.
Camera specs and image quality
When it comes to camera specifications and image there is no difference between the Brave 7 and the Brave 7 LE. Both of these action cameras capture identical high-quality 4K video at 30 fps, and still still images at 20MP. Which begs the question – why did Akaso manufacture the Brave 7 LE?
The most likely answer is the LE model gives Akaso a competitive edge. Whilst it's definitely not what you would consider a flagship model, it is a decent halfway house for outdoor enthusiasts looking for a camera that won't break the bank but can take decent video footage.
Akaso Brave 7 vs Brave 7 LE comparison table
| Feature | Akaso Brave 7 | Akaso Brave 7 LE |
| --- | --- | --- |
| Dustproof and water-resistant | Yes (IPX 8) | No (IPX 7 when mounted in housing) |
| Dedicated bike mount | Yes | No |
| Touchscreen | Yes | Yes |
| External memory slot | Yes | Yes |
| Accelerometer | Yes | No |
| HDMI output | No | Yes |
| Microphone input | Yes | No |
| Gyroscope | No | No |
| Voice commands | Yes | No |
| WiFi connectivity | No | Yes |