Gear Reviews
Akaso Brave 7 LE review: a budget action camera with serious grunt
Intro
Okay, let's get this Akaso Brave 7 LE review started!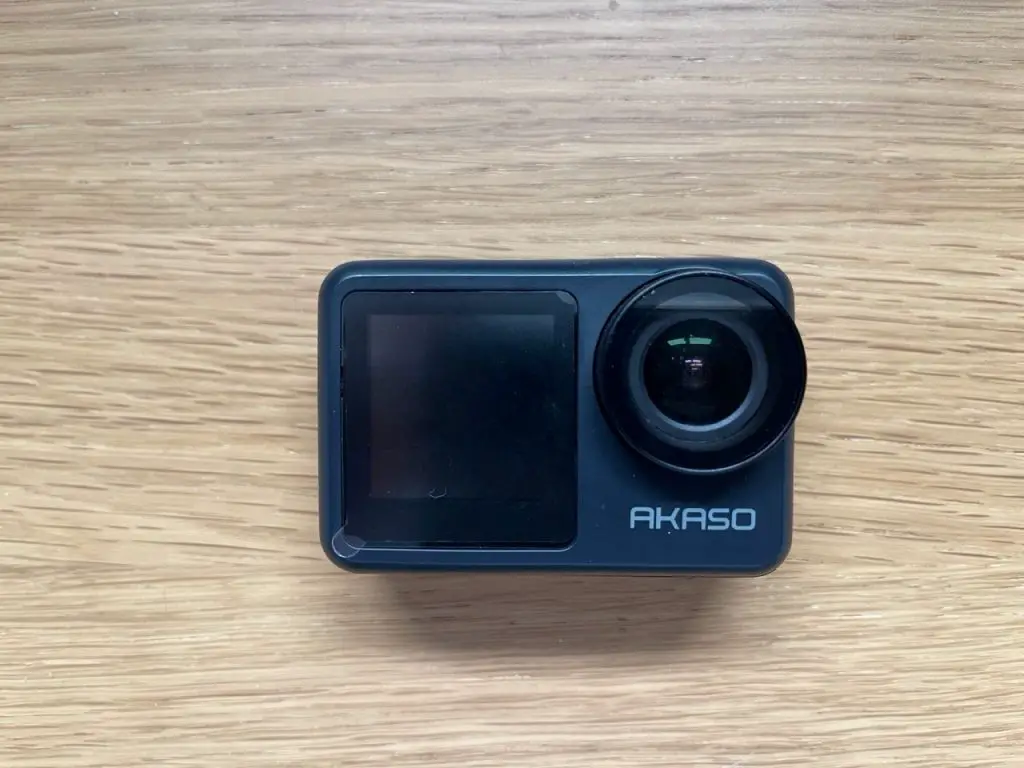 In recent years the action camera market has been flooded with cheap alternatives to the current 'big daddy of them all', GoPro. Take a look in any store, online or bricks and mortar, and you'll be presented with a dizzying array of choices at super prices. There are so many options that spending hours reading the various specifications and reviews gets tedious to the point we skim and then buy a sports camera that's, well, junk!
And I don't mean good junk.
But from time to time you come across a model that, on paper (or a web page) seems like it might be a good fit for your needs. And sells for a reasonable price.
For me, Akaso's Brave 7 LE meets those requirements. It's not ultra-cheap like some other cameras, but it has some serious skills that will be attractive to all but the most demanding of us in the outdoors community.
This brings me to another point. The likes of DGI's Action 2 and the GoPro 10 are way more expensive than the 7 LE for a reason – they are packed with the latest innovations that allow you to take mind-blowing photos and videos. As such, they come with a hefty price tag.
I won't ruin it for you – we'll cover these points later – but let's just say I'm pretty impressed with this offering from Akaso.
Quick facts
The Brave 7 LE:
is manufactured by Akasotech, a Chinese company based in Frederick, MD, United States
was originally launched in 2020
is a far less expensive camera than the DGI Action 2, or GoPro 10
First impressions of the Akaso Brave 7 LE
I like good packaging and have done since I bought my first MacBook Pro way back in 2008. The care and thought that goes into the design of every part of the sales process is hugely attractive and does give you a vibe that screams 'good quality!'
The only irritation I had when opening the box was this: for some reason, Akaso have screwed the Brave 7 LE's case to the box using a crosshead, or Philips, screw. Cue 20 minutes of frustration in the garage trying to find my toolbox.
First world problems, eh?
Inside the box is a technical smorgasbord of attachments and fittings (more on those in the accessories section of this review).
The first thought that struck me was this is a pretty heavy action camera. Definitely bulkier than my old GoPro, it weighs in at a chunky 127g which is heavier than the GoPro 8 (115g) yet lighter than the GoPro 10 (155g).
DGI's Action 2 is a slender 56g (camera unit only).
Putting this aspect to one side, I love the heft of this camera as it gives me a sense of robustness many cheaper options don't have.
Look and feel.
The camera looks and feels you'd expect and simplicity is the key to its attractiveness (as a camera… I have no intention of taking it on a date).
The layout is:
'slide to open' compartment for the battery and memory card
the power button on the right side of the body
'shutter' and 'Memory' buttons on top
USB/HDMI port and microphone on the left side of the body
camera lens front right, dual screen on the left (vital for those all-important selfies you're going to take on the trails)
rear mounted display for reviewing images/videos and system access
That's it, plain and simple. After all, you want to take photos/movies and not have to go through 57 steps to be able to capture those moments.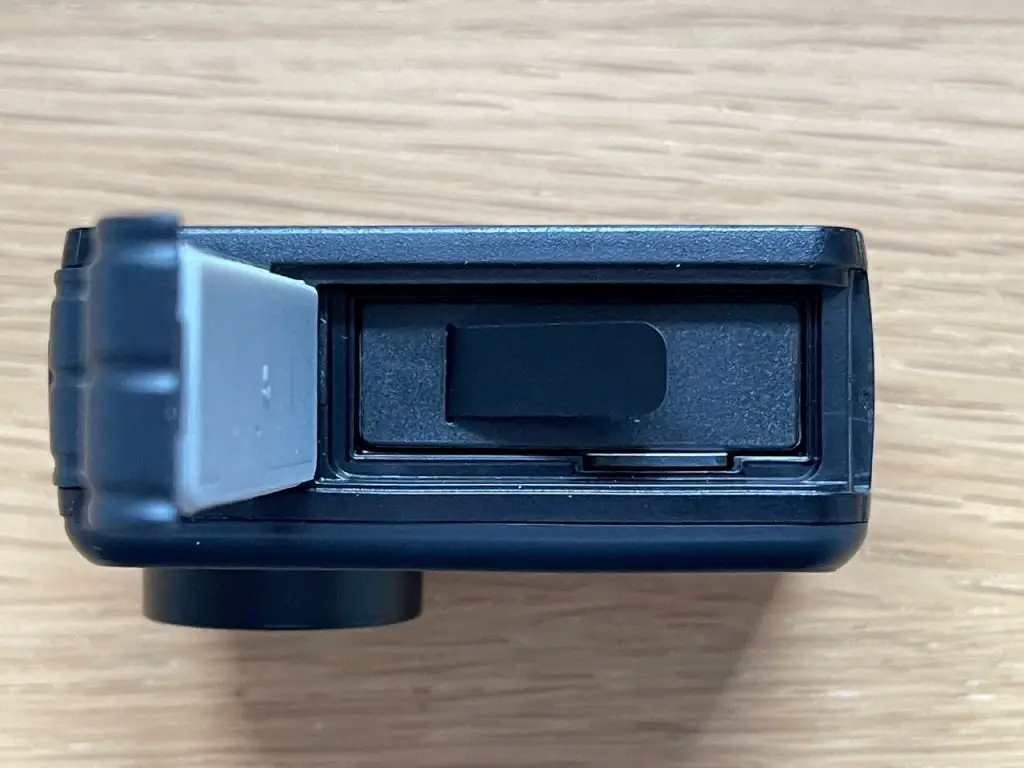 In summary, the camera feels good and doesn't give you a feeling of overwhelm
What's the difference?: the Brave 7 vs Brave 7 LE
The key difference most people notice between the Brave 7 and the Brave 7 LE is price. The LE was cheaper than the previous version, a fact that confused me until I did a little digging.
When the LE was first launched it was a less capable model. Here's a list of features not originally found on the LE:
voice activation
accelerometer
dust and waterproof
Since 2020, Akaso has added upgrades and the 7 LE now has voice activation. It's also dust and waterproof thanks to the clear case. As yet, the accelerometer hasn't been added, but I've never felt the need for one.
Specifications
Time to dig deep into the guts of this action camera!
The first point most people notice is the movie's resolution. 4k 30fps, it's not at the top end of the but it's more than capable of capturing some impressive footage (check out our YouTube channel to see the 7 LE in action). For the price, the quality is good. Sure, it's not on par with the likes of GoPro, but it's a fair trade-off when you consider the most current models retail for £329/$422 and only thanks to a £200 discount when you sign up for a 1 year subscription to GoPro
Camera specifications
Video: 4k30fps, 2.7K60, 1080P120, 720P240
Photo: 20MP
Digital lenses: Super wide, wide, medium, narrow
Burst: 3, 7, 15 and 30 shots
Time-lapse: 3, 5, 10, 30, 60 second intervals
Long exposure: 1, 2, 5, 8, 30 and 60 seconds
Screens: 2-inch rear touchscreen and 1.5-inch front screen
Waterproofing: 1m without a case, or 30m with included case
GPS: No
Voice control: Yes
Stabilisation: 6-axis EIS 2.0
App support: Yes
Other: Driving mode
Note: there are no micro-SD cards in the box. You'll have to buy your own.
When it first launched, the LE shipped with a less capable stabilisation system, which was evident in poor motion control. Thankfully, Akaso gave the camera an upgrade which provides more stable film footage when you're filming on the move.
It's waterproof to the IPX 7 standard which means it you can drop it into water 3ft/1m deep without affecting performance aka digital death by immersion. That might not seem like a lot, but it's the same as my shell is used for my GoPro Hero 3+ which was submerged in far deeper ocean water and coped just fine.
And it's a touchscreen device. Which is new to me. And I'm liking it. So far.
In the box is a fine collection of mounts and fittings. I'll be honest and say I haven't tested them all yet, mainly because I don't think you need so many accessories. What I did notice is the method of attaching clamps, brackets and case is the same as found on GroPro's accessories.
This makes me wonder if GoPro patented the system. If they did they're making a lot of money as their system is pretty much ubiquitous.
Performance
First, let's take a look at the video quality of the 7 LE. Overall I'm pretty impressed. The moving image capture is pretty good (you can check out our YouTube channel for some examples). The maximum resolution of 4k30fps delivers clear, sharp images and it's fair to say the camera will give more expensive competitors a good run for their money.
And, like most actions cameras, you can switch to one of the following lower resolution options:
Note: higher resolution requires more storage and you'll need to check you won't run out of space on the micro-SD card.
I've found the four options to be more than adequate for my needs. 2k and 1080p is fine if you're vlogging, or taking movies that you'll delete at some point. I reserve a 4k recording for YouTube and my blog.
In addition to the resolution options, you'll find four shooting modes:
slow motion (slo-mo)
time lapse
still photo
driving mode
I quite like the driving mode having seen and used a similar feature on the GoPro 10 whilst driving the Dalton Highway in Alaska. Choose this setting and the Brave 7 LE becomes a dash cam. When enabled on the still photo setting, the camera takes photos at set intervals in between recording moving footage
But, as with all good things in life, there are pros and cons. And the main issue I have with this camera is the still quality. Even though Akaso has gifted the 7 LE with a 20 Mpx camera it doesn't really live up to the high standard found in the video settings.
The colour balance could be better, which is a little disappointing. My attempts to use the settings to adjust the balance were frustrating as nothing seemed to quite work. That said, the quality is pretty good considering the low cost of this camera.
There are five still image modes:
Normal – which is… well, normal. You point and click.
Time lapse – in this mode, the camera takes a series of photos over a set period of time. When viewed, the result has that 'high speed car chase' feel.
Burst – a rapid series of photos, ideal for capturing action stills. Settings can be tweaked to take 3, 7, 15, or 30 shots per second.
Long exposure – this option is designed for low light conditions. Keeping the shutter open for longer allows more light to be captured which is essential if you want to take decent quality photos on overcast days, or when daylight starts to fade. Even though I'm not super-impressed by the general quality of the 20 Mpx camera, I have used this mode to take some pretty cool photos.
Self-timer – perfect if you don't have any friends and desperately want to capture a picture of yourself with a panoramic backdrop.
Image stabilisation is pretty good. I've seen some complaints that go like this: at times you experience 'travel' in the videos, it's not as good as GoPro". Which, to me, is a no-brainer. After all, the Akaso Brave 7 LE costs less than half the price of a GoPro 10, a camera built by a company with years of experience and billions in the bank!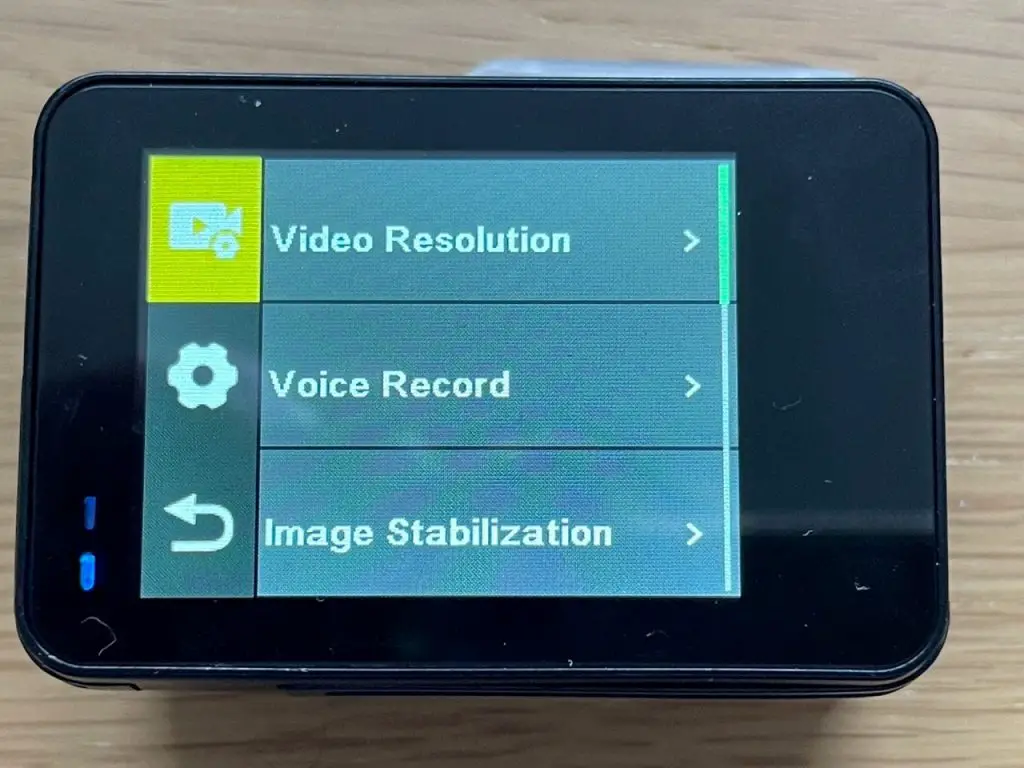 I'll upload some running videos to YouTube and let you make up your mind.
On average, you'll get about 1 hour 50 mins recording time when you crank up the video resolution to 4k. This figure is a little less than a GoPro 8. Fortunately, you get two batteries in the box which resolves this issue.
Although it's a pretty obvious comment, turn the camera off when you're not using it and the charge will last weeks.
Accessories
As mentioned earlier, the Akaso Brave 7 LE comes with an absolute mountain of accessories that will cover you for pretty much every possible outdoor activity you can imagine. In fact, when you open the box it's like an eruption of attachments and fittings (plus a couple of batteries)!
Here's a rundown of what you find inside the package:
AKASO Brave 7 LE
one waterproof housing (attached to the top of the packing, needs a Phillips or crosshead screwdriver to remove, which is annoying!)
2 x rechargeable. I recommend you keep both fulling charged and carry the second in a waterproof case when in the great outdoors.
dual battery USB charger cradle
1 x micro-USB cable
Remote control. I like this. There are only two buttons: one is used to stop and start video recordings; the other is used to activate the camera shutter to take still photos. Simple is beautiful
4 x very light-weight cable ties which I found useful for adding security when mounting the camera on my mountain bike.
light wire tether
2 x self-adhesive pads
2 x helmet mounts
clip mounts and tripod adapters
antistatic cloth for cleaning the lens and screens after you've faceplanted into a bog!
Akaso app for smartphones, which you can download from the Android and Apple app stores
I've said this already, but let's cover it again: the mountings and fittings are GoPro compatible. If you own an older GoPro model and are looking for a less costly alternative, you'll probably have all your accessory needs covered.
Best Settings
The Akaso Brave 7 LE best settings are already configured when you power it on for the first time. I spent a few hours switching between resolution, fps, burst settings, etc and found that in my novice hands, the preconfigured settings were more than adequate for my needs.
Whilst there are many settings available Akaso has made life easy for you. Open the box, power on the Brave 7 LE and start taking photos. It's really that easy.
Price
Big drumroll! And cut. The pricing is very attractive. For only $139 (£115) you get a 4k action camera that is more than capable of taking good quality photos and videos.
Is the Akaso Brave 7 LE worth the money?
Would I say this is the best camera for action shots? No, but it does take some amazing footage especially when you consider it's a pretty low cost camera. You will need to be aware of the limitations such as battery life and the still photos, the quality of which is just fine for my needs.
Is it the best Akaso camera? No, but the latest version, the Akaso 8, is double the price.
If you really need high quality stills you'll have to find more than double the price for one of DGI's or Go Pro's, cameras.
One final note: if you're wondering how this action camera stacks up against the previous model, we've written a brief guide here – Akaso Brave 7 vs Brave 7 LE.
Table could not be displayed.