As discussed in a couple of previous posts, last week I set off on a three-day/three-night self-supported, wild-camping hike around the Isle of Mull, off the West Coast of Scotland. We had a rough plan for a route we wanted to take, but no firm commitments and of course no camp sites or anything booked, leaving us completely free to adapt our plan as and when required. And adapt we did.
I'll write more blog posts about specific elements of the trip, as I think that works better, but here's a quick overview and some photos. If you're interested in wild camping in Scotland yourself, then read our posts on tips for wild camping and selecting the best two-person tent.
Day 1
We drove up from Oxfordshire, after a very early start, and arrived at Oban ferry terminal about 3pm which meant we were on Mull by 5. We'd planned to hike a short distance to a woodblock that, we hoped, would be a good venue for our first night. In the event, the woodblock was a good deal smaller than the map suggested (it being managed, and presumably regularly cut and re-planted) and the terrain… challenging. The difficulty of the terrain was the biggest obstacle we had to overcome whenever selecting a route or choosing a place to camp. The vast majority of the island is extremely marshy, with lumps of grass making an uneven surface that frequently gives way into ankle or even knee-deep muddy water. It requires every step to be taken carefully, and it is of course almost impossible to set up camp on.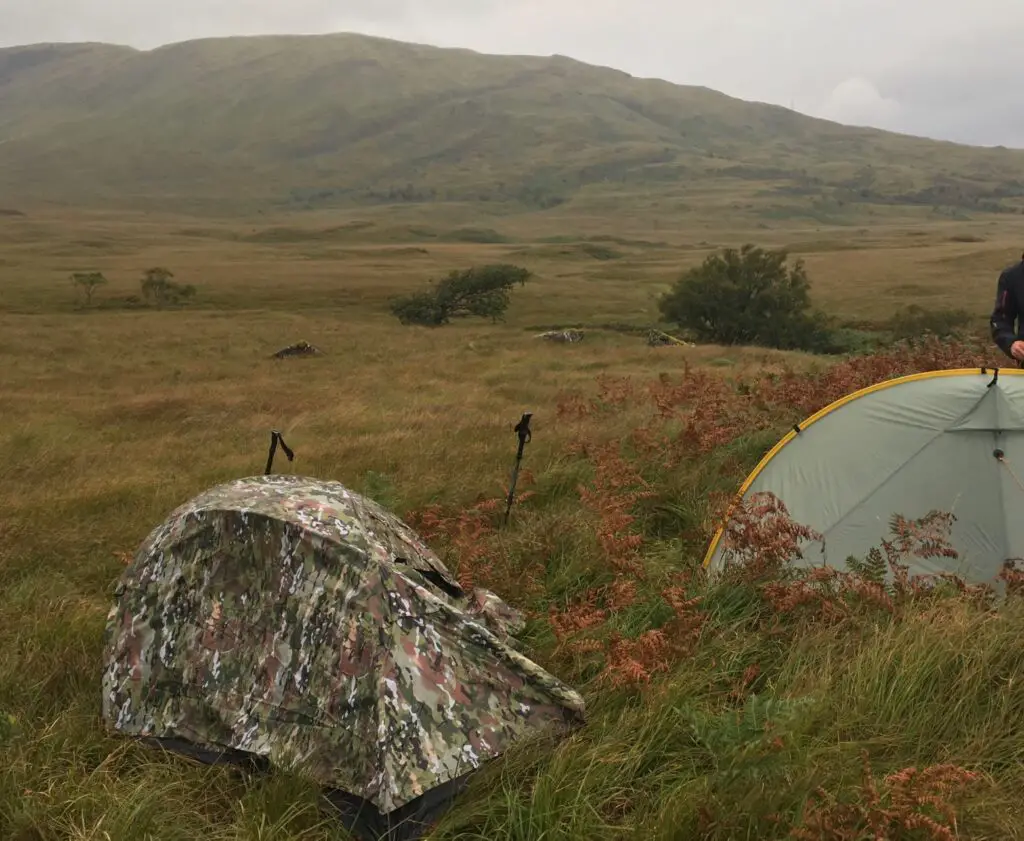 In the end, we pushed further out of the woodblock than we had intended and managed to find some slightly drier and flatter ground on which to pitch our tents on. Just as we did so it started to rain, so I pretty promptly just got into my tent and got my head down.
Day 2
We woke up to pouring rain, and got our tents down and full waterproofs on as quickly as possible. The plan for the day was to make our way over a fairly imposing saddle which represented the 'easiest' path across a near-continuous ridge, and down the other side where we would follow a river to a path, and then onwards to the next campsite.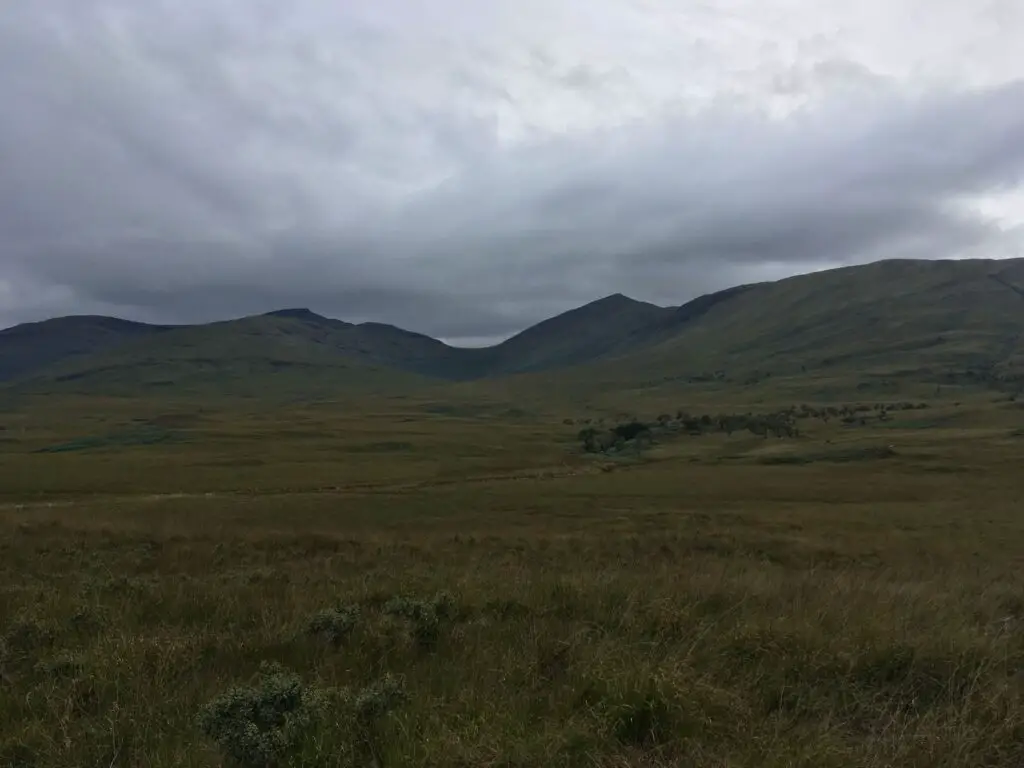 The route to the saddle was tough – while it looks ok in the photos, the whole way was the kind of uneven, unpredictable, marshy ground described above, and the final ascent up the saddle was pretty steep.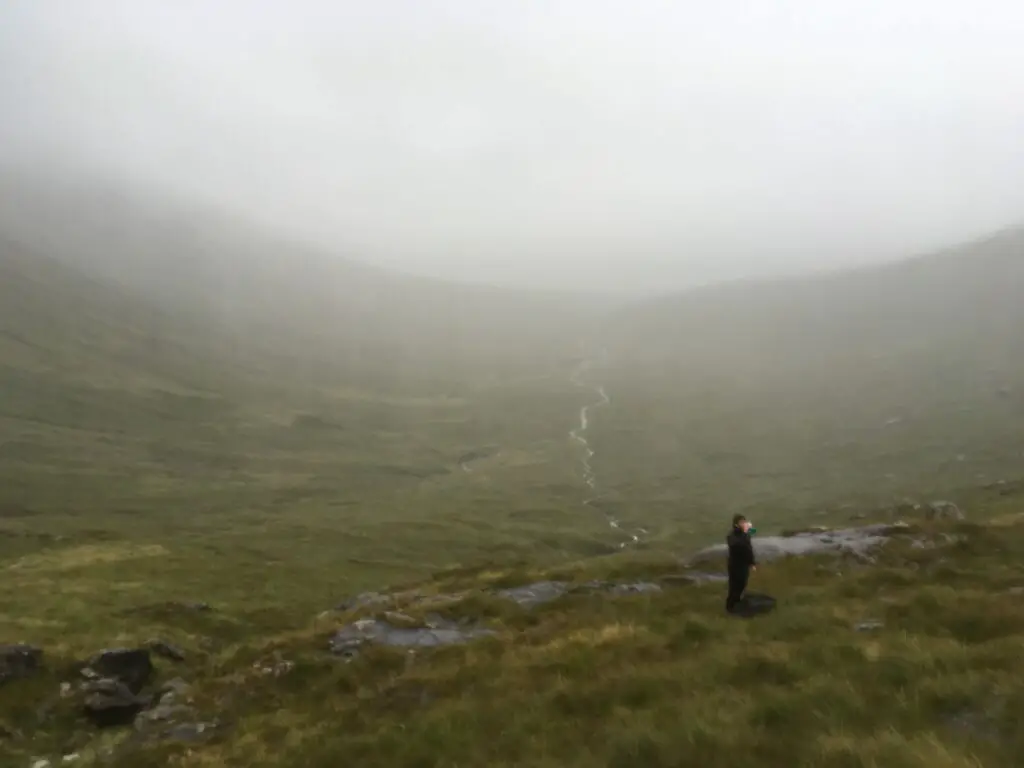 The way down was similar and the driving rain and frequent stumbling into bogs made it less pleasant than it might have been, although my Rab Xiom jacket did it's job so I wasn't totally uncomfortable.
Things started to get really tricky at the bottom. The idea of following the river to the marked path had looked simple on the map, but once it flowed into a woodblock it became extremely difficult to stay close to it; thick trees or extremely marshy ground or, often, a combination of the two made this very very hard-going.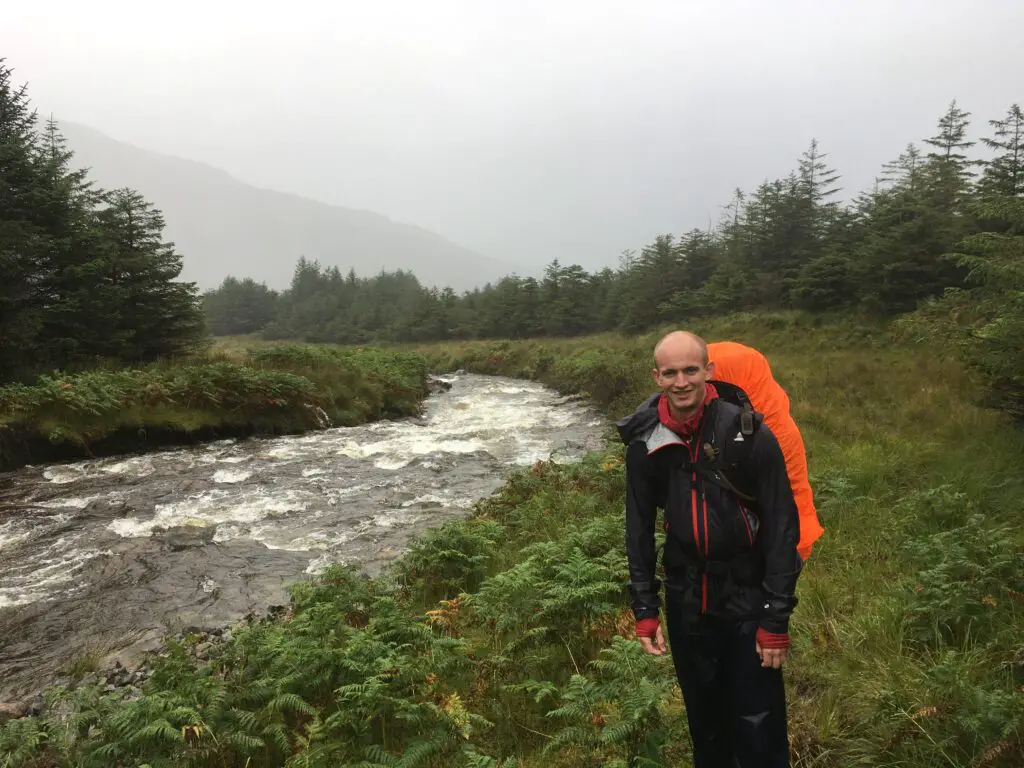 We persevered however, and when we eventually came to the track it was a very, very pleasant feeling to finally be walking on solid ground again.
The track took us up to a main road where we discovered the absolutely lovely Glenforsa hotel and were extremely grateful for a hot coffee, some shortbread, and a chance to sit down and dry off slightly. 
After that we made our way round largely by means of the road, and tracked down a spot to camp. Once again we had the issue that many places that looked pleasant were actually water-logged, but in the end we found somewhere very pretty and, thanks to the fact the rain held off, were able to actually enjoy sitting out, making dinner, and enjoying the view.
Getting some decent food when hiking and especially wild camping is pretty key for morale and ultimately for your health, so selecting a good lightweight camping stove will really improve your experience.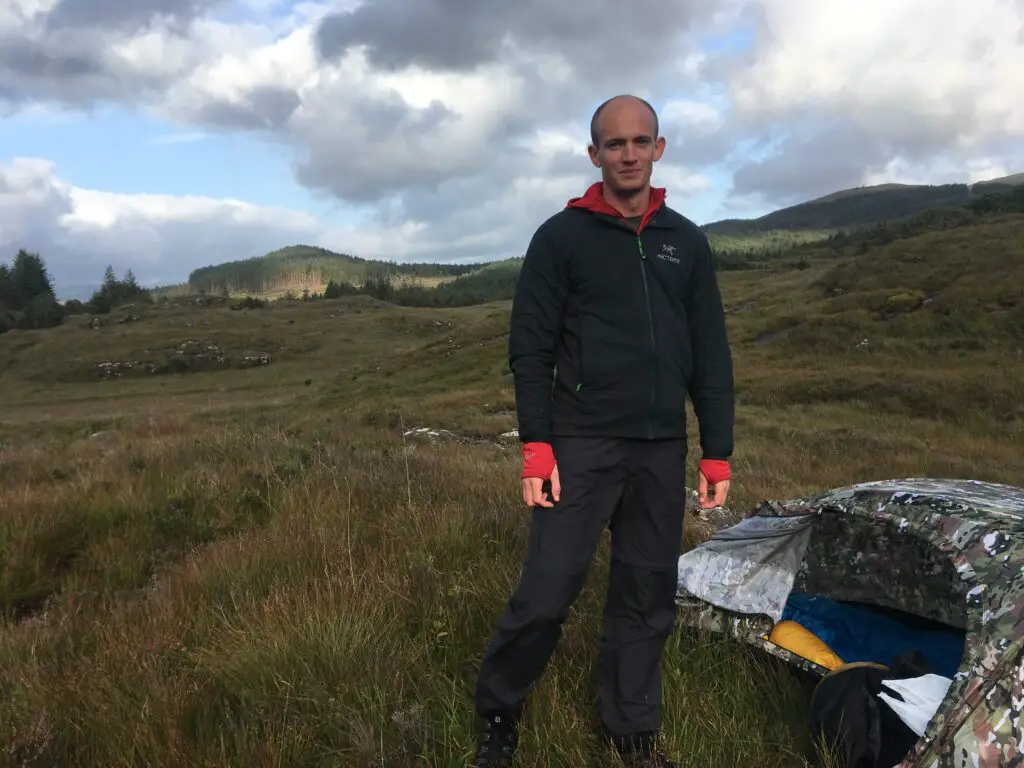 Day 3
After the previous day, and the realisation of how hard-going much of the terrain would be, we slightly re-adjusted our plans and took a track that would go directly across the centre of Mull, over a ridge-line, and down back to the same B-road we had walked along earlier.
This started with a really beautiful walk alongside Loch Ba, on a sturdy track just wide enough for a single 4×4 vehicle.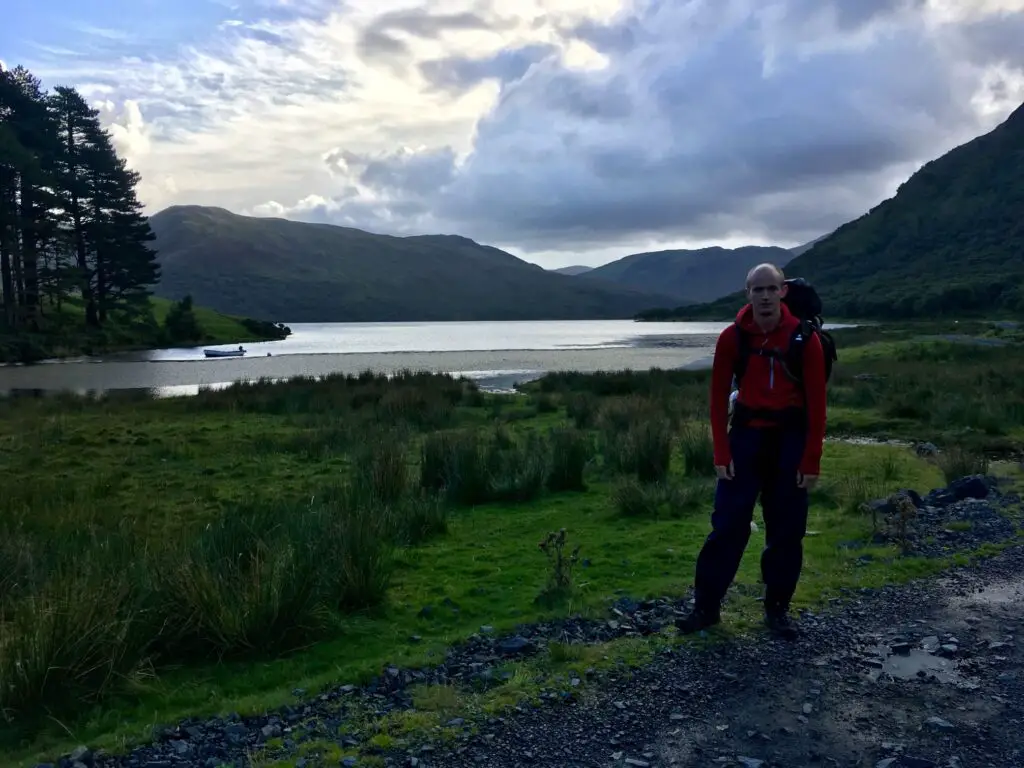 This eventually turned into a single-track path, which eventually became little more than 'a few broken bits of grass indicating someone may have walked this way before' and frequently just as wet and boggy as being off-track. The amazing thing about Mull is that no matter how much you might think 'it's bound to get drier as we gain elevation', it doesn't. There is bog at the bottom of mountains and bog most of the way up mountains as well, so we climbed up the endless bog, via a very pleasant stop to re-fill water at a mountain stream and have lunch, and finally reached the top of the ridge, with spectacular views both sides.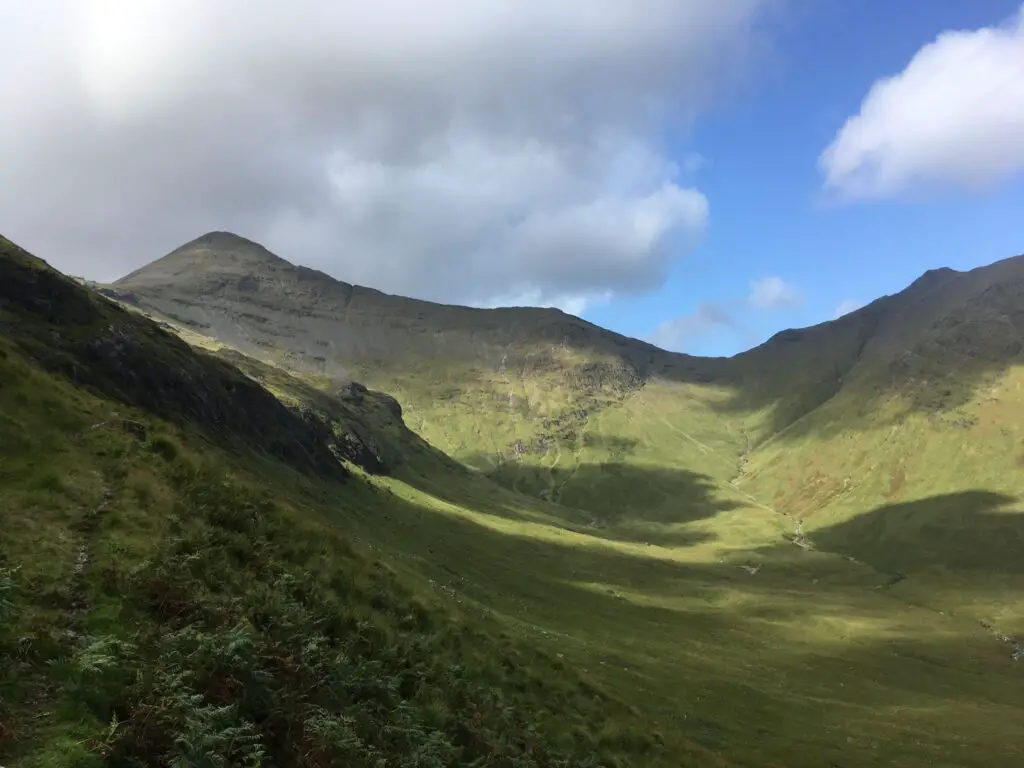 The route back down was similarly unpredictable and boggy for some distance until we finally reached the little one-track road that wraps round much of the island. That would take us all the way back to Craignure, some 18 miles away, so we decided to push along it as far as possible to reduce the hike on the final day (and therefore the rush to get the last ferry).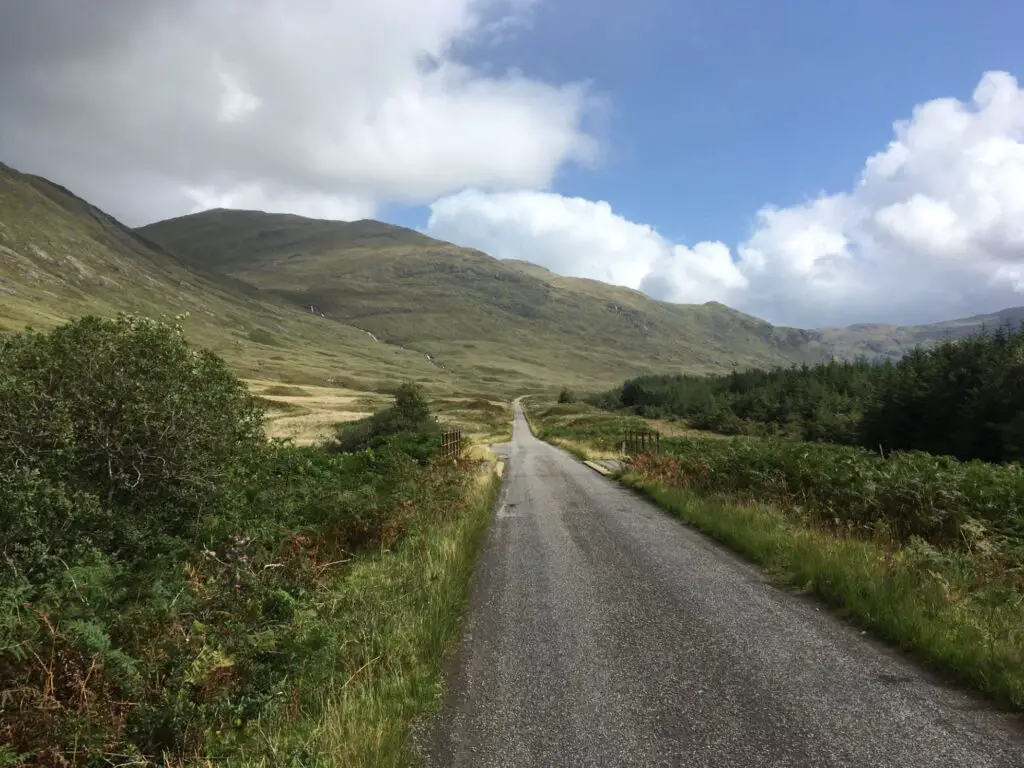 We hiked along for a few miles until tiredness and incipient rain made us decide to find a spot to camp. Once again it wasn't particularly easy, but we managed to track down a spot just about dry enough and flat enough to set up tents on.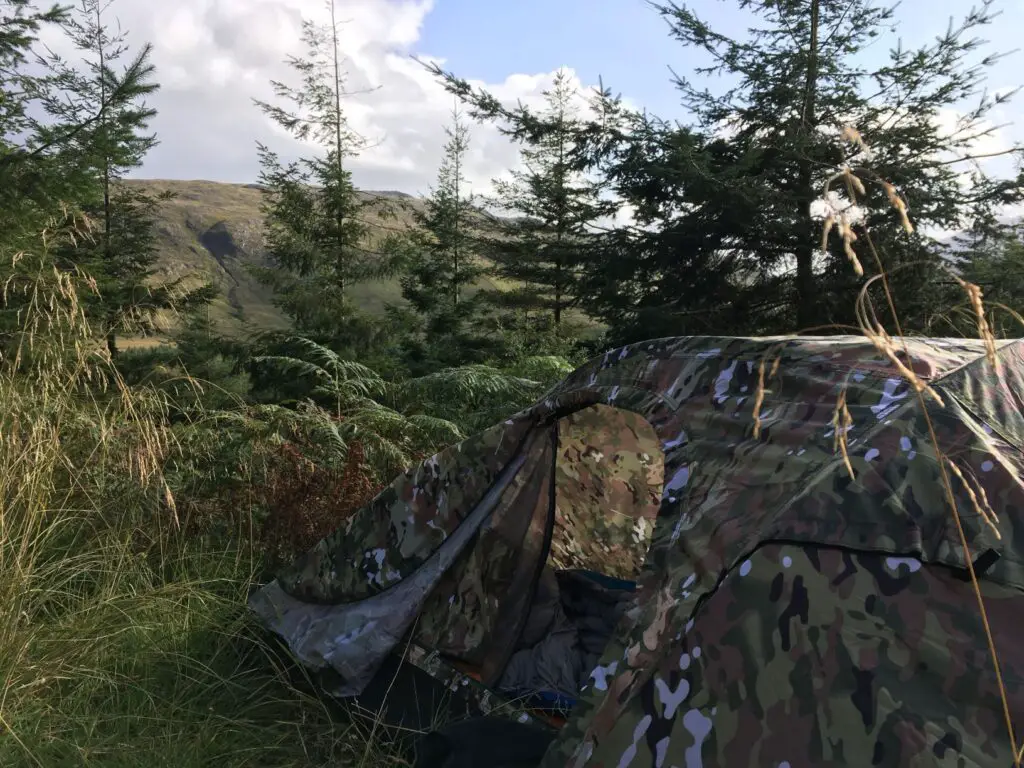 Day 4
The final day was a long but very pretty hike around the little B-road back to Craignure. Towards the end we were chasing for a particular ferry (one I was eager to get because I knew that the ferry after was one that didn't serve hot food, and I had my heart set on a fry-up…) and caught in yet more pouring rain. Under those circumstances, and those circumstances alone, I was very grateful when a friendly New Zealander driving a minibus for a local tour company and on his way to meet a group off the ferry offered us a lift for the last two miles. It seemed churlish to say no, so we gratefully piled in, and made it to the ferry and the long-awaited fry-up.