Roundups
Best Two Person Tent (2023): 8 Roomy Backpacking Tents Reviewed
I'm writing this as winter continues to skulk outside the front door of my house. Frost glistens on the roads and across the fields which means it's time to get some cold weather hiking done. Most of my backpacking trips involve at least one night of camping. Even though I usually hike alone I tend to carry a tent that can accommodate me and all my gear. So today we're going to look at the best two person tent options available in 2023. (I almost wrote about the best two man tent, but a wise woman reminded me that it's not only men who like camping out).
The best two person tents for hiking sit at the crossroads of needs. They are:
Large enough to accommodate two people and all their gear.
Provide protection from the very worst the elements can throw at us.
Light enough to carry, possibly for long distances. Models reviewed need to fit into the 'best backpacking tent' category.
With these criteria in mind, I went in search of a selection of tents that matched the points above. Prices range from affordable to 'ouch'!
For anyone looking to travel light and fast, take a look at my review of the 5 best one-person tent models.
The 8 tents I've reviewed for this post are:
Big Agnes Copper Spur HV UL2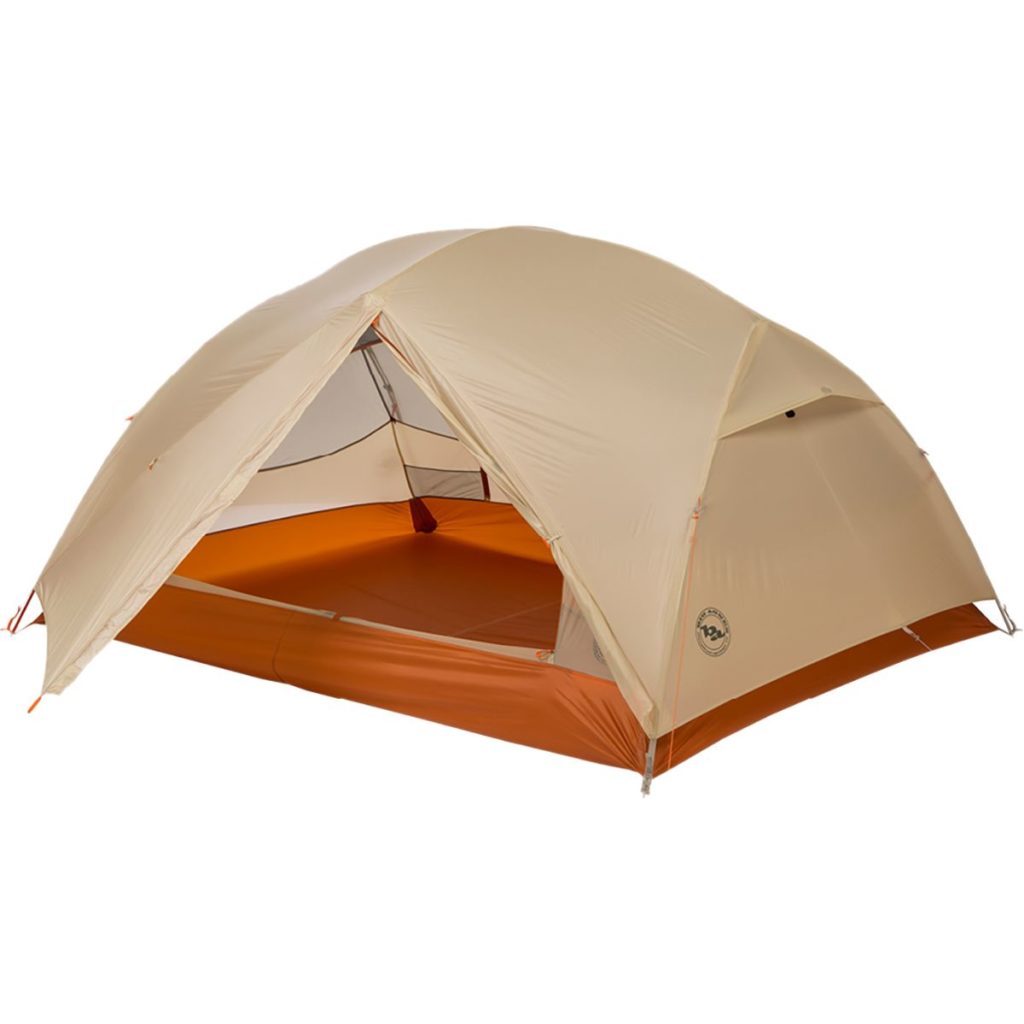 Weight: 1560g
Price: £460/$600
Positives: plenty of space inside, low weight, ample head room.
Negatives: the price.
Score: 7/10
From across the pond, we have the Copper Spur HV UL2. Anyone who's seen or owned an MSR Hubba Hubba 2 will recognise the configuration of the Copper Spur. As designs go, they are very similar which goes to show that MSR is the brand to beat.
This tent's aimed at backpackers. It's easy to pitch and, like the Hubba Hubba, in warm, dry conditions the inner can be pitched as a standalone tent. In an emergency – the kind where you have only minutes to erect a shelter – erecting only the outer can protect you from the worst of the elements.
For anyone looking for that 'home from home' feel, Big Agnes has what you yearn for. The Copper Spur HV UL2 is well proportioned (a phrase I usually reserve for my belly). Not only is there plenty of room for two occupants, the vestibule provides ample space for stowing your outdoor gear. And unlike some other two-person tents, there is plenty of room for you to sit up, or even stand (albeit hunched over).
Weight is not an issue. At a little over 1.5 Kg, the Copper Spur is lighter than one of my one person tents (a Hilleberg Soulo). Backpacking with this tent in your rucksack will not be an issue.
Currently priced at £460/$600, it's not the cheapest two-person tent for hiking and backpacking. But the ease of erection, light weight and spacious interior make it an option worth considering.
Buy the Big Agnes Copper Spur HV UL2 at Amazon UK
Buy the Big Agnes Copper Spur HV UL2 at Amazon US
Marmot Catalyst 2p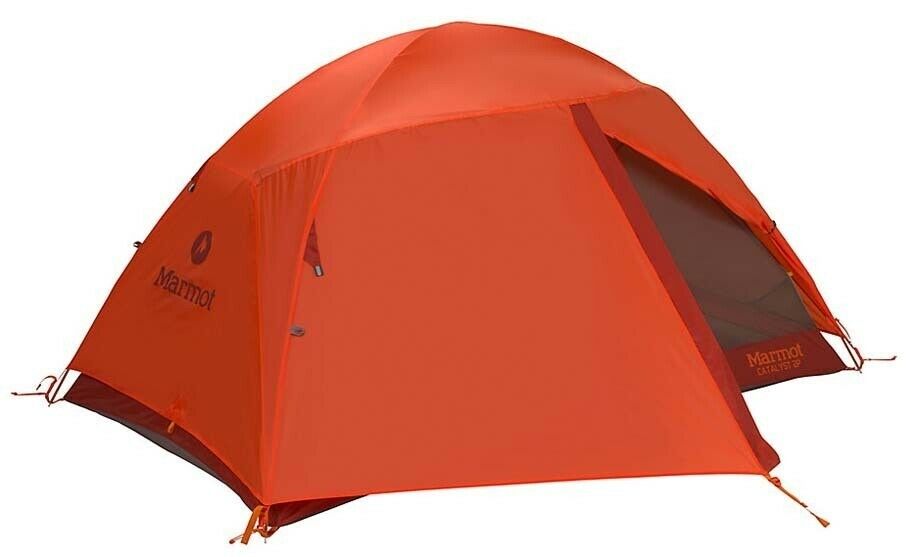 Weight: 2350g
Price: £169/$220
Positives: the low price
Negatives: a little on the heavy side.
Score: 6/10
Marmot's Catalyst 2p is one of those tents that grows on you. Like the Copper Spur HV UL2, the design is a little like the Hubba Hubba. At this point, I will refrain from saying that MSR is the brand to beat!
As with all tents in this review, the Catalyst 2p is a tent designed for backpacking and thru-hiking. Like most of the two-person tents in this review, the inner can act as a standalone shelter. One common grumble is that the pole and clip system is not the most intuitive. But seasoned campers should have no issues.
Measuring 9.5 square feet and 6.7 square feet respectively, the front and rear vestibules provide a decent amount of space for storing equipment. Any gear you leave in either vestibule should be waterproof or sealed. The large gap between the flysheet and the ground allows dew to settle on the inside.
Rather pleasing is the peak height of 44 inches. Having ample headroom is the perfect antidote to hunching over inside the tent. The length should be fine unless you are exceptionally tall – 88 inches converts to over 7'. I don't know many backpackers and campers that tall!
This is one of the weightier tents in the line-up. At 2.35 Kg it's definitely not designed for the ultra-lightweight hiking community. To be fair, it's nowhere near spine smashing 4 Kg of some of the expedition tents you can buy which is reassuring.
At around £169/$168, the Catalyst 2p is a low-cost tent that is easy to construct and has a spacious interior.
Buy the Marmot Catalyst 2p at Amazon UK
Buy the Marmot Catalyst 2p at Amazon US
Coleman Coastline Compact Tent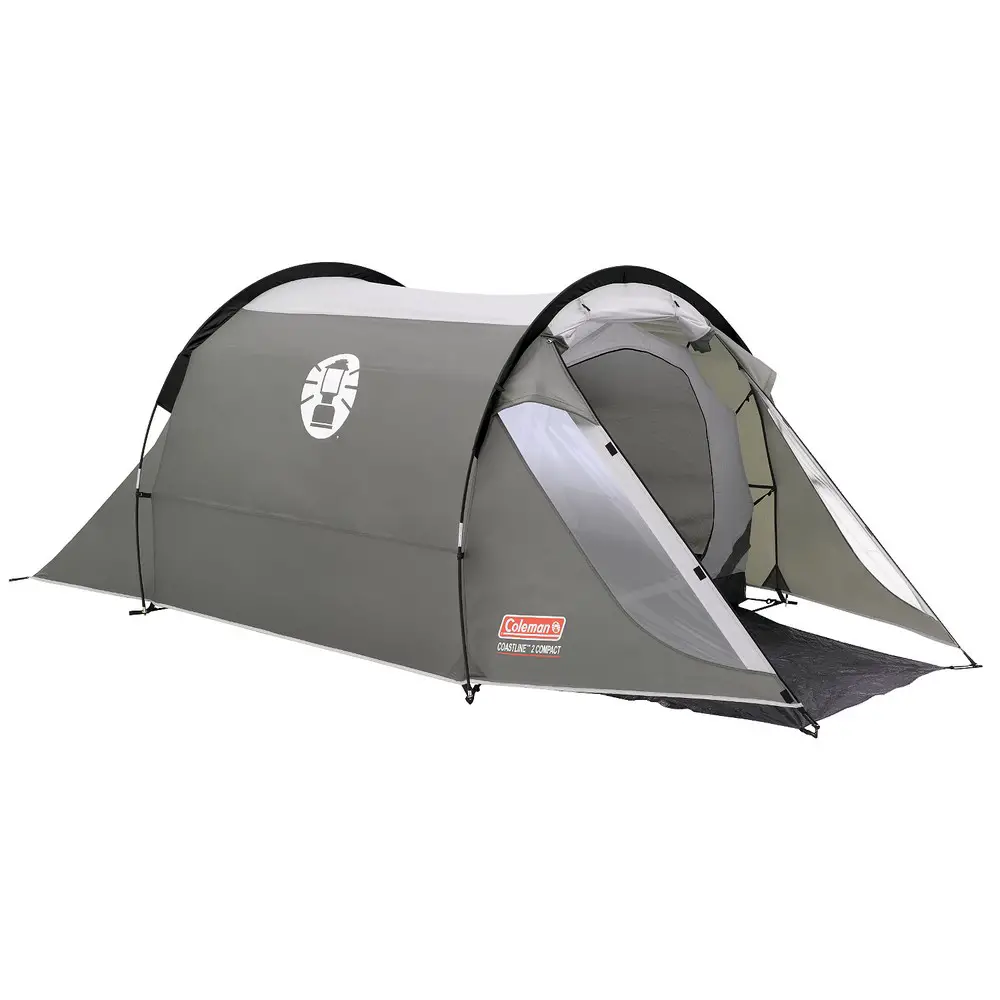 Weight: 3600g
Price: £69.99 (UK only)
Positives: the low price, large sleeping area
Negatives: this tent needs to go on a diet!
Score: 7/10
Coleman's Coastline Compact tunnel tent has been available in the UK since 2012. That makes it one of the granddaddies of the camping and backpacking world. So why review a tent that's relatively old and, as you can see above, heavy? Because people are still raving about it.
This is the type of tent made for temperate conditions. I would never consider taking it to the Cairngorms, or to more extreme environments like the wilds of Norway, and beyond. And that's fine for some people. After all, not all hikers want to test their resolve and gear to the limits. My friend Mark recommended this tent, although he did acknowledge that it is a bit heavy.
A spacious interior provides ample room for two occupants and their gear. Side pockets stitched into the inner have an almost blackhole quality about them. Deep and wide, they are able to absorb vast quantities of equipment (not my words, those are from Mark).
Taller hikers will be pleased with the lofty 110cm of headroom, at the tent's highest point.
One piece of negative feedback relates to the fibreglass poles, which aren't the most durable. A quick fix is to buy aluminium replacements from eBay, or Aliexpress.
Coleman has said this is a tent for backpackers and thru-hikers, but the weight might be a negative for some. At 3.6 Kg, it's quite heavy.
In terms of price, you can't go wrong with the Coastline Compact 2. I dare you all to try finding a decent quality tent for £69!
Buy the Coleman Coastline at Amazon UK
Berghaus Grampian 2 Person Tent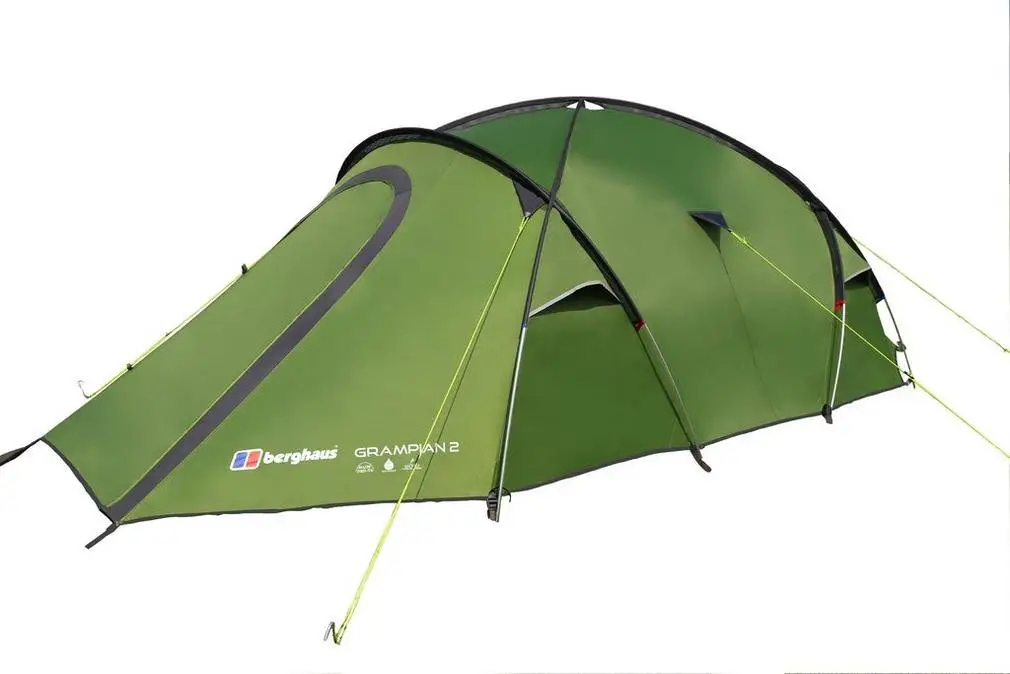 Weight: 4200g
Price: £173 (UK only, although available on international sites like eBay).
Positives: the low price, large sleeping area.
Negatives: this tent needs to go on a diet!
Score: 7/10
UK outdoor gear company, Berghaus has been at the forefront of outdoor gear technology for many years. And the Berghaus Grampian 2-person geodesic tent is a continuation of that pedigree.
The Grampian 2 is best suited to friendlier climates. But it is capable is providing protection when the weather turns cold and wet (courtesy of the 3000mm hydrostatic head).
The sizeable front and rear vestibules leave plenty of room for equipment stowage. The roomy vestibule works as a great seating area. Head height inside the tent is good – 100 cm at the highest point.
At 210cm x 140cm, the inner tent is huge. There's plenty of room for two inflatable mattresses with room for an 'air gap' between you and your tent mate.
Other handy features include the mesh pockets sewn into the inner and a strap from which to hang a tent lantern.
The price is good, there's oodles of room inside and now we come to the negatives. The top of the list is the weight. A whopping 4.2 Kg, to be exact. For some hikers, this might not be your first choice of tent until you take the price into consideration.
Roomy, cheap and able to handle heavy rain, the Grampian 2 is perfect if you don't mind the extra kilos.
Buy the Berghaus Grampian 2 at Tiso
MSR Elixir 2 Backpacking Tent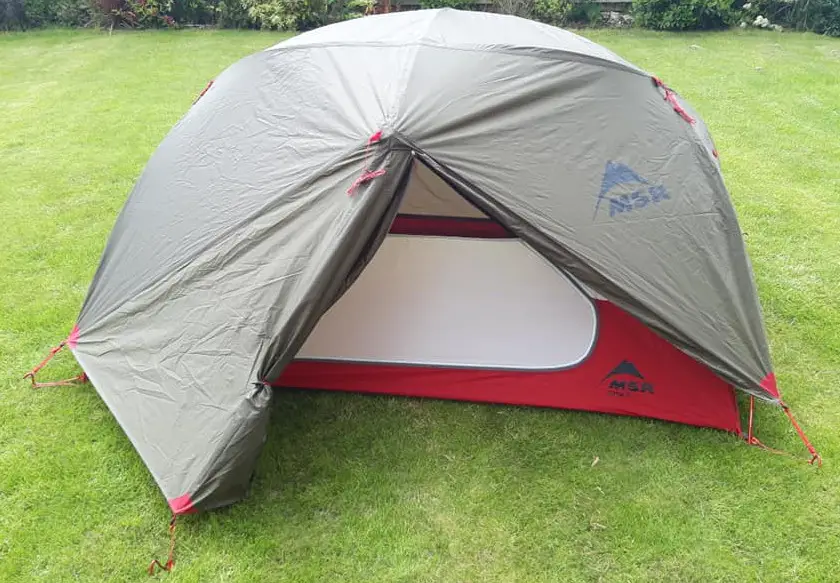 Weight: 2600g
Price: £225/$293
Positives: large sleeping area, a decent amount of space in the vestibules, good headroom.
Negatives: not really any I can see unless you want to quibble over the weight.
Score: 8/10
Mountain Safety Research: the name says it all. I've been using MSR products for about 4 years. My first piece of equipment was an MSR Dragonfly, a lightweight camping stove. And it is awesome.
Discovering MSR's range of tents was a pleasant surprise. And the Elixir 2 backpacking tent is no exception.
The Elixir 2 is a geodesic tent capable of handling the worst of the elements hikers and backpackers can encounter. Although this tent would probably survive in the mountains, or the real extremes, I wouldn't be tempted to try. MSR have built this with backpackers and hikers in mind.
Whilst not quite as spacious as Berghaus Grampian, the Elixir 2 does ample storage. The vestibules are large enough for backpacks. If you're hiking alone, you'll find there's room to stow your gear inside the inner tent. At 1m high, the tent provides plenty of headroom.
There is a large gap between the seam of the tent and the ground when pitched, which might concern some buyers. But worry not – MSR has created an ingenious system that guides rainwater along the seams and onto the ground, not into the tent.
Extra storage comes by way of the mesh pockets located as key points inside the tent.
What many hikers like about this tent is the weight: MSR's stats say 2.24 Kg, but I'd say It's closer to 2.6 Kg when packed. Either way, it's not much to carry.
Another light and spacious tent at a moderate price. There are cheaper options, but with MSR you get that fluffy feeling that comes from the company's name.
Buy the MSR Elixir 2 at Amazon UK
Buy the at Amazon US
Snugpak Journey Duo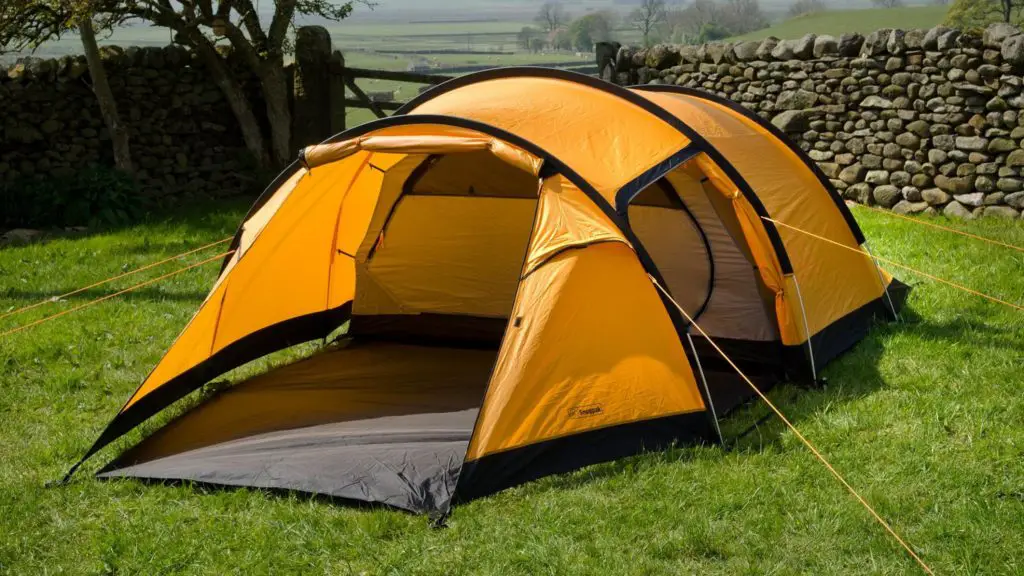 Weight: 3200g
Price: £171/$199
Positives: good weatherproofing, decent price.
Negatives: not a tent for long distance hikers due to the weight, a little cramped for some hikers, limited storage for gear.
Score: 6/10
Sungpak has a history of making military grade equipment that can withstand real hardships. I bought my first Snugpak Softie puffer jacket back in 1998 and it's still in use. Unfortunately, the shelter I bought from them has long since disappeared.
Image x. This is me, wearing my now 22 year old Softie
The Snugpak Journey Duo is a two person, tunnel tent. It's a capable, well-priced tent, though not quite the right fit for long-distance backpacking. Don't get me wrong, it performs well. The low-profile design reduces the risk of being battered by high winds. And the 4000mm hydrostatic head flysheet prevents rain from penetrating the interior of the tent.
Snugpak hasn't been so generous with the amount of internal space. At 220cm x 120cm, it's not as spacious as the Grampian 2. Two people can lie side by side, although there's minimal room for any gear you want to bring inside. All is not lost: the vestibule provides a decent sized storage space.
Maximum head height is 1m, in line with most of the other two person tents in this review.
I do remember Snugpak making lightweight equipment. The Journey Duo isn't the lightest offering available. At 3.2 Kg, it's a quite heavy tent to be hauling around on your adventures. Maybe that's why it not marketed at long-distance hikers.
Buy the Snugpak Journey Duo at Amazon UK
Buy the Snugpak Journey Duo at Amazon US
Terra Nova Laser Compact 2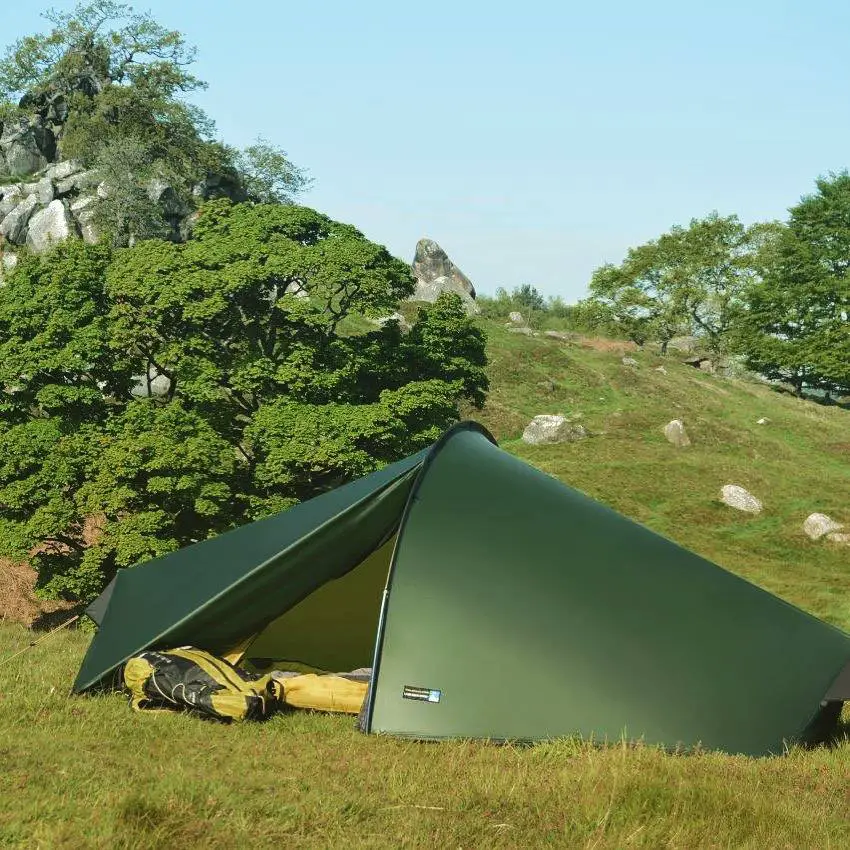 Weight: 1230g
Price: £500/$650
Positives: very lightweight, handles extremes well.
Negatives: sleeping space could be more generous, and a little pricey compared to similar offerings.
Score: 6/10
Terra Nova has been on my radar for some time now. I first came across them when preparing to ski to the North Pole and was looking for a solid expedition tent. I trialled the Laser 2.
Sadly, it wasn't large enough for me and my teammate plus all our gear. On that occasion, we took a Hilleberg Keron 3 GT, a massive tunnel tent that was more than adequate for our needs.
On that occasion, Terra Nova lost out, only because of the demands of the environment. But if you're a backpacker who needs a robust 2-person tent that doesn't weigh the same as a blue whale and doesn't cost the Earth, then definitely take a look at the Terra Nova Laser Compact 2.
This is a tent for backpackers and long distance walkers. It's compact and light (more on that at the end of this review). Terra Nova has rated this a three-season tent. But it really can handle extremes: the flysheet has a 6000mm waterproof rating. Perfect for a bit of trekking in the mountains.
At 230cm x 90cm, sleeping space is adequate. If you're claustrophobic you might want to give this tent a miss. 
The two vestibules each have doors and can be used as storage areas. The larger will hold two rucksacks. The smaller one will accommodate a couple of pairs of walking boots and a few pieces of gear.
The maximum headspace in this tunnel tent is 95cm. Pretty good when you consider how lightweight and compact this tent is.
What most people notice about the Laser Compact 2 is the weight: a mere 1.23 Kg. This is the perfect tent for anyone wanting to reduce the weight on their back. There are lighter tents available, but few are as tough as this one. And they're way more expensive too.
Buy the Terra Nova Laser Compact 2 at Amazon UK
Buy the Terra Nova Laser Compact 2 at Amazon US
MSR Hubba Hubba NX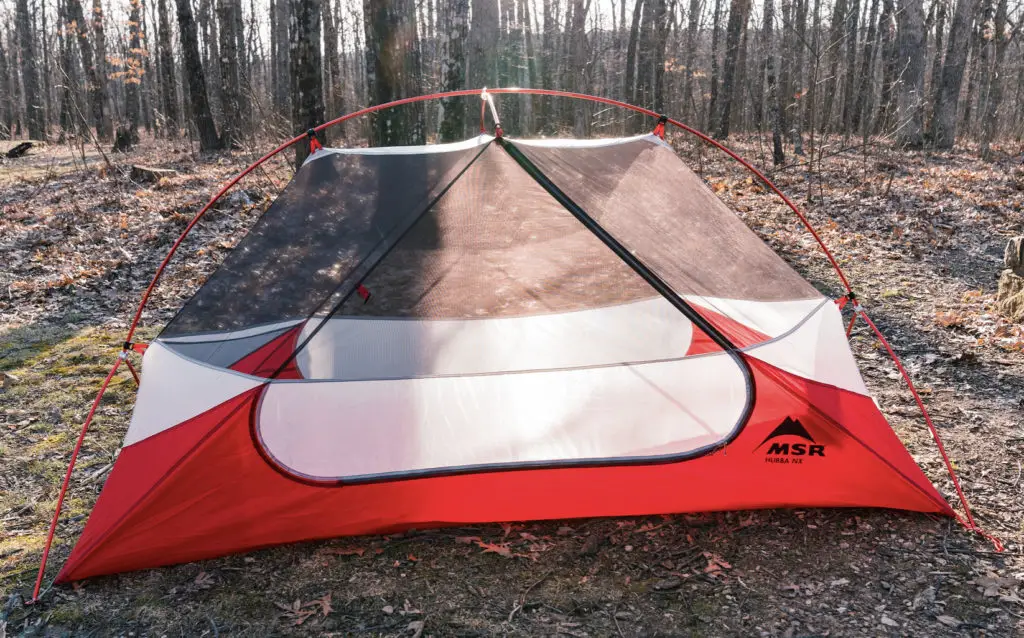 Weight: 1.7Kg
Price: £445/$580
Positives: spacious, copes well beyond rated 3 seasons, reasonable price.
Negatives: not any I can find.
Score: 7/10
Another Mountain Safety Research offering to add to the list of the best two person tents for hiking and backpacking: is the Hubba Hubba NX.
If you're into big, luxurious yet lightweight camping then this is one tent you should consider. Inside the tent, there is heaps of space, and I mean heaps. Two people plus gear are easily accommodated.
Before we go on, let me say that I don't own a Hubba Hubba NX. I did dabble with buying one but chose a Keron 3 GT for that particular journey. However, I did take some time do some testing and have learned a lot about this tent.
It's not as light as the Terra Nova Laser 2, but much lighter than the Elixir 2. Some hikers have argued that the Hubba Hubba NX is not suitable for extremes of weather. And I agree, to a point. MSR has designated this a 3-season tent, but there are reports of it performing well in pretty wild conditions.
Like some other tents in this review, the inner can act as a standalone shelter. Great news for a spot of star watching on those balmy Northumbrian evenings!
Now let's talk about space: it's like the black hole of the backpacking world, in a good way. The interior brags a massive 213 cm x 127 cm, plenty of room for two people, their gear and a small car.
Vestibule space is generous. There are oodles of space for pretty much all but the largest of backpacks.
More lofty hikers will find the headroom more than enough – at 100 cm high there should be no need to hunch over. Unless you're abnormally tall.
One grumble that did raise its head again and again concerns the weight of the Hubba Hubba NX. Apparently, 1.7 Kg is a little on the heavy side. I disagree. My Hilleberg Soulo is 2.2 Kg and I carried it on a 640 Km hike across Lake Baikal.
MSR has once again delivered quality at a reasonable price. The Hubba Hubba NX dome tent is not best suited to mountaineering, but it's more than capable of handling some pretty epic weather. In fact, it's probably a good candidate for the best 3 season tent
Buy the MSR Hubba Hubba NX at Amazon UK
Buy the MSR Hubba Hubba NX at Amazon US
How To Choose the Best Two Person Tent
To be honest, your route to finding the best fit tent for your needs is a series of personal questions you need to ask yourself. We all have different needs.
From my point of view, the most important aspects to consider when choosing your tent are:
Protection. A tent is useless if it can't protect you from all that Mother Nature has to throw at you.
Sleeping space. Being cramped and uncomfortable is no fun. Think about the size requirements:

Will you stow your gear inside, or in a vestibule?
Where will you do day to day admin?
How much space does your body take up?
Tent Height. Do you need to be able to sit, or possibly crouch inside the tent? How tall are you and how will your height affect your experience of using a particular tent?
Weight. Low priority on my list, but still important. Ask yourself what a reasonable weight for a tent is. Pay particular attention to the distance you'll be hiking.
How easy is it to erect the tent? Fast and simple works best, especially if you need to pitch in an emergency.
Verdict: Which Is Best Two Person Tent?
For us, the crown of the best two person tent of 2023 goes to the MSR Elixir 2. It's a lightweight tent with plenty of space inside and a lot less expensive than many of the contenders in the marketplace. And it's made by MSR, a name associated with quality gear that will keep you safe.