Best softshell jacket – the 6 best softshell jackets for men
A softshell jacket is a must for any hiker needing a protective midlayer – here's our review of the top 6
The softshell jacket is one of those curiosities we often find hard to define. Sitting between a fleece and a hardshell jacket, this highly versatile garment has so many applications as to be a Swiss Army knife of hiking gear. Usually made with durable material capable of keeping the wind and rain out, and the heat in, they're often used to provide protection against weather that isn't quite extreme enough to a warrant heavy shell.
Jake and I spend a  lot of time testing and writing up our reviews and this is one piece of gear we particularly enjoy getting our hands on. We find the softshell an excellent layer for high energy activities where a fleece is too warm and a waterproof jacket too cumbersome, or restrictive. The breathable and stretchy fabric provides excellent performance and the right kind of comfortable fit that doesn't restrict your movement, instead working with the natural flow of your body to give maximum mobility. The only downside we can think of is this: a softshell jacket isn't designed to be used in heavy rain – some manufacturers have built their softshell offerings with 'hardshell-like' features (durable, water-resistant shells capable of withstanding showers), but they're never going to compete with a well-designed GORE-TEX shell layer.
We've listed our favourite softshell jackets of 2023 below, with a link below each which will take you to a full review. Each jacket is categorised based on the activity we feel best matches the use case (sorry, that's a bit of my day to day techie speak slipping in…)
Our list of the 6 best softshell options
Here's our lilst of what we feel are the best softshell jackets you can buy right now. Each piece of gear is owned by either Jake or me and has been tested in range of environment varying from temperate conditions to the wild mountains of Scotland, and through to the chilly depths of Greenland.
Rab Borealis softshell
Price: £85/$100
Weight: 300g/10 oz
Best for: Hiking, hillwalking, general outdoor use
Key attributes: Stretchy, well-articulated arms, excellent hood and collar
No gear review page would be complete without Rab featuring at least once and the Rab Borealis softshell is an excellent example of a jacket well-made. Jake and I are big fans of Rab and we've reviewed a number of pieces of gear made by this UK company (more on that below). Overall, we've been impressed by the performance of this softshell which is more than capable of shielding you from the harshest of winds, which is pretty impressive for a jacket that weighs a dainty 10.5 ounces. To put it simply, the Borealis is made to offer superb wind protection whilst giving maximum breathability. 
Designed for the climbing market, it features two chest pockets, one of which doubles as a stuff sack, and a snug hood over which you can fit a helmet. In keeping with the minimalist construction, the hem adjuster is a simple toggle system.
The obvious question is: can it be used by hikers, too? Well, yes. Although we've broken out each category and chosen what we believe is the best corresponding softshell each and every one of these jackets can be used pretty much how you choose. That's the beauty of a good softshell and the Rab Borealis is an excellent all-rounder.
Rab Kinetic 2.0 Alpine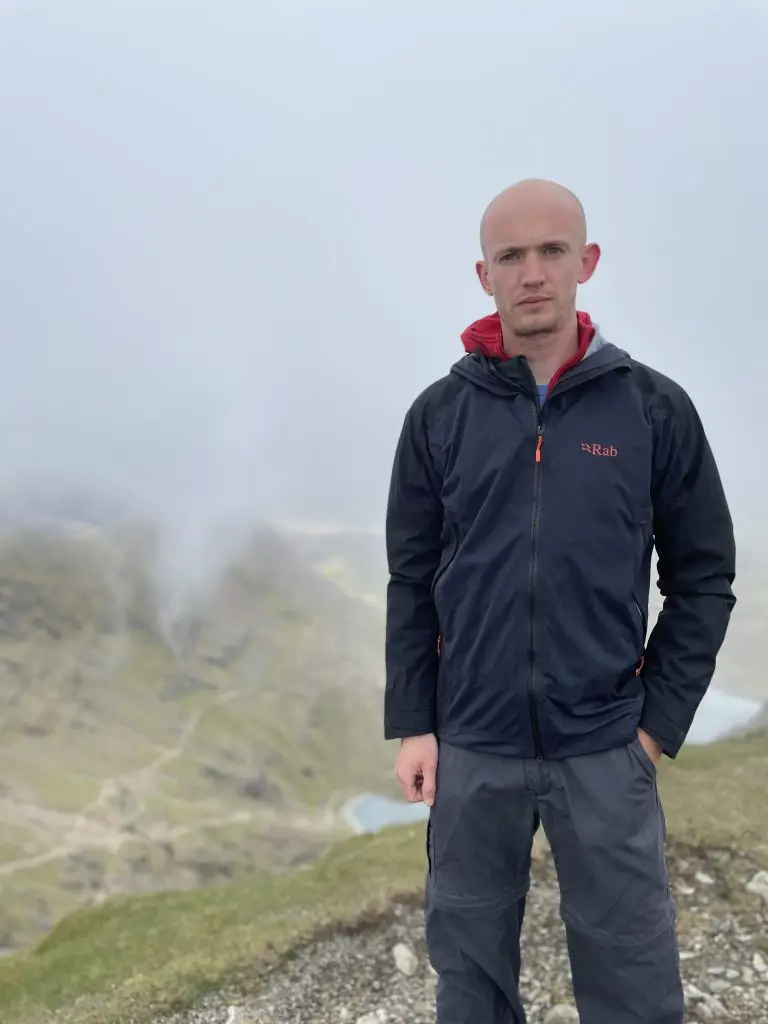 Price: £135/$168
Weight: 336g/11.8 oz
Best for: Hiking, hillwalking, general outdoor use
Key attributes: Stretchy, well-articulated arms, excellent hood and collar
Jake wrote this Rab Kinetic 2.0 Alpine review and I get the feeling he was pretty impressed with it (he was, he told me). Whilst not a true softshell jacket, the Rab Kinetic fabric is an interesting hybrid that straddles soft and hard shell jackets (what Rab call a 'soft hardshell), one that delivers a good mix of breathability, stretch and waterproofing qualities. Aimed at hikers and mountaineers who don't want to own a wardrobe full of hard and softshell jackets, it does a surprisingly good job of being a jack of all trades and is one of Jake's must-have pieces of gear he packs for wet weather.
Storage is minimal yet adquate – there are a total of three pockets – one inner and two handwarmer pockets, all of which are spacious and zippered for that little extra you security you need for any small, but important tech gear you need to carry. A point to note – most jackets in this category can be packed into one or more of their own pockets, but the bulkier material used in teh construction of the Kinetic 2.0 Alpine doesn't faciliate this feature (Rab could make this happen by enlarging the pockets, but I doubt this will happen. Maybe in the nest version…)
What Jake did find surprising about the Rab Kinetic Alpine 2.0 is the weight, which is incredibly light when you consider this is not only a softshell, but it's also far more water resistant than any of the other jackets on this list. Make sure you read Jake's full review – it's well worth your time, especially if you're on the verge of buying but haven't quite committed, yet.
Mammut TAISS IN hybrid hooded softshell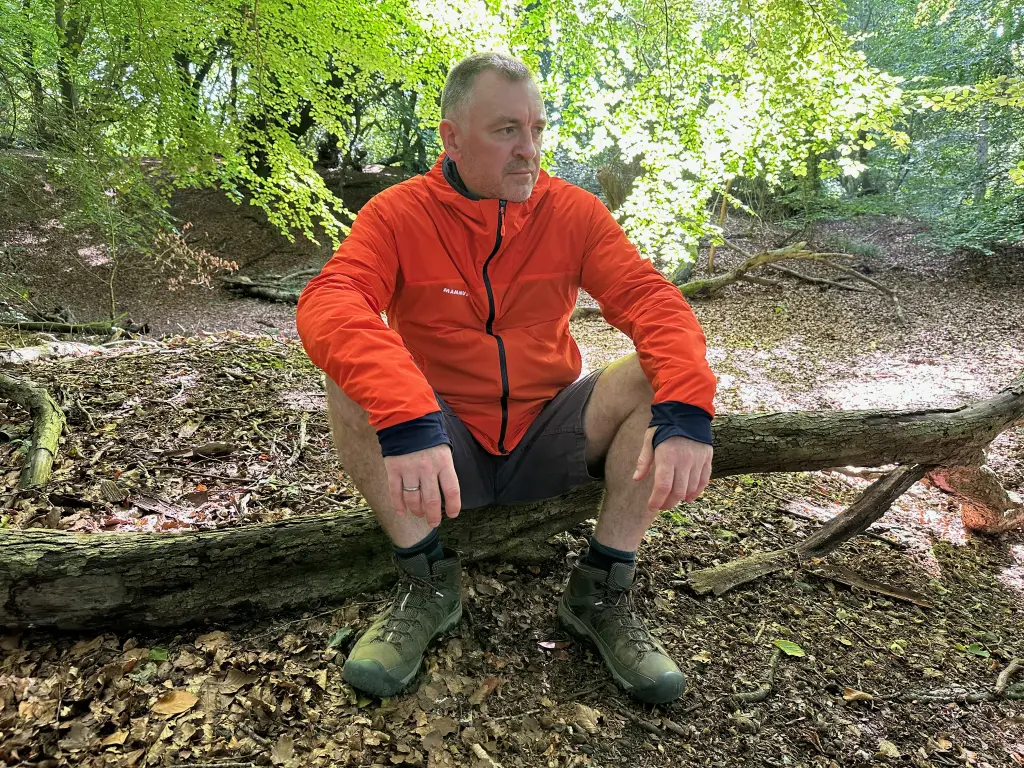 Price: £xxx
Weight: 350g/12.3 oz
Best for: Cold weather hiking, skiing expeditions
Key attributes: Stretchy, well-articulated arms, excellent hood and collar
One of my more recent acquisitions, the Mammut TAISS softshell was added to my collection of outdoor gear based on a recommendation, and I'm glad I followed the advice. Released in late 2022, this jacket, designed for ski mountaineering, feels to me like the perfect balance of what a softshell should be. Whilst it's one of the heavier jackets we tested, the TAISS offers high degree of protection from the elements although it's more suited to high winds and mountainous regions, but that's not to say it won't keep you dry in the rain. The shell of this jacket is water resistant and is more than capable of keeping you dry during a light shower, or short downpour of rain
One of my more recent acquisitions, the Mammut TAISS softshell was added to my collection of outdoor gear based on a recommendation, and I'm glad I followed the advice. Released in late 2022, this jacket, designed for ski mountaineering, feels to me like the perfect balance of what a softshell should be. Whilst it's one of the heavier jackets we tested, the TAISS offers high degree of protection from the elements although it's more suited to high winds and mountainous regions, but that's not to say it won't keep you dry in the rain. The shell of this jacket is water resistant and is more than capable of keeping you dry during a light shower, or short downpour of rain
In terms of storage, the TAISS IN goes ultra-minimal with only two pockets which are large, zippered and, in a nod to its mountain inspired heritage , insluated which makes them perfect for both storarge and keeping your hands frost-free on thos extra chilly days. If you need more pockets this isn't the jacket for you. Personally I find the storage ample although a zippered inner pocket would be useful.
The only issue I can find with this jacket is the weight. If you're an ultra lightweight backpacker and you primary concern is removing every possible ounce from your rucksack this may not be the best option for you. For everyone else the extra few grams, or ounce, of weight is insignificant.
Read our full Mammut TAISS IN hybrid softshell review to get a full picture of how it performed.
Falling somewhere between a waterproof jacket and a fleece, softshells offer versatile and weatherproof comfort. Here's what to look for and the best options out there
A softshell is THE everyday jacket, no matter what outdoor activity you choose – walking the dog, scaling epic mountains, hiking  the great wilderness, or simply ambling about town (yes, shopping sometimes requires good quality clothing – it gets cold in the chiller aisle!) Why? Well, when you put aside all the technology and design features, you get to this point: a softshell is a plain comfortable jacket and is one piece of gear we recommend you invest in.
They're stretchy, breathable, and durable – they're like a warm embrace on a cold day. With those rather poetic thoughts in mind, and with so many options available, what should you look for when you're searching for a softshell?
Good, we were hoping you'd ask… here's a full rundown, starting with…
What are softshell jackets?
A softshell jacket is a type of outdoor garment – part of an overall layer system – designed to straddle the middle ground of insulation, breathability, and weather protection. It serves as a versatile layer for various outdoor activities, including hiking, climbing, skiing, and everyday wear.
Unlike a hardshell jacket, the best of which offers almost 100% waterproofing, a softshell jacket is built to offer a high degree of flexibility and breathability while still offering some level of water resistance (note: the water repellency varies from manufacturer to manufacturer with the most the effective we've trialled so far being the Rab Kinetic 2.0. Most softshell fabrics don't offer full waterproofing, but some feature a durable water-repellent (DWR) coating, which helps shed light rain or snow). Additionally, this type of jacket is typically constructed with a combination of stretchy materials, such as polyester or nylon blends, so as to give you freedom of movement and comfort during physical activities.
Breathability is one of the cornerstones of a softshell jacket, allowing moisture and excess heat to escape while preventing overheating. 
Going back to my point about layering – these jackets are designed to be worn as a standalone outer layer in milder weather conditions or as a mid-layer under a hardshell jacket in colder or wetter environments.
In terms of styling, these jackets come in a variety of forms, including hooded jackets, pullovers, and full-zip options, each of which caters to different preferences and needs. In addition, their lightweight nature and comfortable fit make them a popular choice for pretty much every outdoor activity you can think of and they're one piece of gear we feel every outdoor enthusiast should have cllose to hand.
What kind of fabric is a softshell made of?
The most common material used to make softshell jackets is a weave of synthetic materials, which are incredibly lightweight, very pliant, and super-versatile. In many cases, elastane is woven into the fabric to give a fit that stretches and doesn't restrict movement.
To add an additional layer of warmth, some softshell manufacturers add a fleece lining, or other materials such as down or a synthetic fill. In temperate climates, my preference is a brushed cotton lining which provides a good mix of ventilation and wind resistance.
Where does a softshell fit in the layer system?
A softshell jacket is a versatile piece of hiking apparel, offering you a range of uses. Unlike its hardshell, waterproof cousins (GORE-TEX, eVent, etc), softshell materials offer a high degree of flexibility that makes them particularly well-suited for a diverse range of outdoor activities. No matter where you're heading – along the trails, into the mountains, or over windswept hills – a jacket is a must-have addition to your gear packing list.
In colder conditions, a softshell jacket serves as an ideal middle layer, providing both insulation and breathability. Its inherent stretchiness allows for ease of movement, enabling hikers to tackle challenging trails or engage in rigorous activities without feeling restricted. The wind-resistant properties of the jacket offer an additional layer of protection against chilling gusts, effectively retaining body heat.
When venturing into mountainous terrain, where weather conditions can swiftly shift and pose various challenges, a softshell remains an invaluable asset. It acts as a versatile outer layer, shielding hikers from light rain or snow while maintaining breathability to prevent overheating during strenuous ascents. The ability of a softshell jacket to strike a balance between water resistance and breathability makes it an optimal choice for traversing variable mountain climates.
Overall, a softshell jacket excels as a go-to garment for outdoor enthusiasts in cold weather and mountainous terrain. Its versatility, flexibility, and balance of protection and breathability make it a trusted companion, ensuring comfort and performance throughout your hiking endeavors.
Key features
We've covered some of the key features already, albeit in a roundabout way so let's distill them into one, easy-to-digest group. The key features of a softshell are:
Made with a lightweight fabric
it should be made with a fabric that has a good degree of stretch
it should be windproof
it should be water resistant
it should, ideally, have a hood.
Stretch materials
Pick up any good quality softshell, play around with it, and you'll notice something about the fit – there is a lot of stretch built into the fabric. But why? Because they're designed with maximum flexibility in mind – think of them as a multi-tool garment that can best used for any and every activity. Need a mid-layer for climbing, one made with a fabric that will shift with your body as you ascend a rock face? Then pick a softshell. What about backcountry skiing (an activity where your arms frequently extend as you propel yourself through layers of snow)? A softshell gives you the flex you need. Even hiking, in particular when the weather is cold, you need to keep the wind and cold at bay and this type of jacket, one with a high degree of stretchiness, allows you a high degree of mobility and extension
Being able to stretch the material is a vital ingredient in the mix. If the jacket doesn't give you this kind of flexibility, avoid it.
Weather proofing
Keeping the weather at bay is important for a number of reasons:
cold, biting winds drain your energy and leave you at risk of hypothermia or worse;
water ingress (aka getting soaked on the trails) is unpleasant and can put you at the mercy of cold weather injuries;
being wet for long periods of time is unpleasant for most people.
Wind resistance
Unless you're opting for a full-blown hard shell jacket, there are few other options that give a high degree of wind resistance. Most softshell jackets are formed of a tight-weave fabric that reduces, or eliminates, the flow of are through the material to provide excellent wind-proofing qualities. The one question remaining is this – do you need a mid-layer that's 100% windproof?
It depends. One of the softshell layers I own is the RAB Rampage – a jacket designed for mountaineers, in particular for people who belay and need a high degree of protection from the elements – and I can say with confidence it's incredibly windproof. But, on a warm, breezy day it can be TOO windproof to the point that, when I've used it on a hike I often find myself peeling off this layer after a short time as I'm simply too warm as there is very little air circulating inside the jacket.
A good amount of wind resistance is important but you need to be aware of the type of activity you're engaging in and if you need a fully windproof jacket or one that provides protection from the worst weather conditions whilst allowing a reasonable amount of airflow through the fabric.
Water resistance
Weather resistance, or waterproofing, is a more interesting question – does the jacket need to be 100% waterproof? No. That's one of the key benefits of a good hardshell jacket and creating a softshell that mimics the qualities of GORE-TEX, eVent, etc. is a step too far for me. Yes, RAB's Kinetic 2.0 is an excellent example of this type of hybrid jacket done well, but it's not a true replacement for a dedicated hardshell.
In short, you should always look for a softshell with a good degree of water resistance and full waterproofing as most of the current offerings available in this category lack the flexible fabric found in  a true softshell.
Hood
To hoody, or not to hoody? That is the question! And it's one that's actively debated in the outdoor community. To be honest, there is no absolute answer and for this reason you can buy a soft shell jacket with and without hoods. Rather than attempt to steer you down the wrong path, here are a few pros and cons of hoods:
A hood offers protection from the elements.

Most of the body heat draining from your body exits through the top of your head – it's a design feature and, like the venting properties of most softshell fabrics, it's an effective way of allowing you to cool off fast. The problem comes when you're in a cold environment where there's a risk of hypothermia. A hooded jacket will help retain heat when the temperatures dip low, and you can easily vent by pulling down the hood. Whats more, a DWR coated hood will keep your head dry which is important as moisture wicks away even more heat.
In addition to the above, a rolled up hood also provides some protection to your neck and back. Nobody likes feeling really cold for long periods of time… Oh, Wim Hoff does… and to my mind having a cold neck is torture. Yes, a high collar give you some protection from the weather, but nowhere near that of a full hood.

Hoods can flap around in high winds. Unless they can be stowed inside a zippered collar. Have you ever been hiking in gales and felt the slap of your hood on your face? It can be painful if the gusts are strong enough and the obvious answer is to have a hood that can be zipped into the collar, but the issue here is you often need someone to help you or you need to take off you jacket to ensure its properly stowed and not snagged in the zipper.
And then there's the expense. Hooded softshell jackets tend to be more expensive than their hoodless cousins as the design requires additional work, considerations and material. And as softshell fabric is still evolving in both quality and durability the prices fluctuate with newer technologies selling at a premium whereas older, less effective softshell jackets, sell for a more reasonable price.
The use of the word hoody is, to my mind, a bit of a fashion statement and can put some people off when looking at their buying options. After all, would you want to be caught wearing a hoody when the phrase in no longer en vogue? Probably not which is why we try to stay away from using this phrase in our reviews (unless of course when we test a piece of gear like the gamma hoody).
Hoods made from material that don't articulate well (move with you head) can cause block your peripheral vision when you turn your head.
When made from a dense material, a hood can act as a sound barrier which is fine if you're trying to block out your hiking partner's snoring, but not helpful when you need to listen out for those telltale signs of an avalanche. If you're hiking in the mountains DON'T wear your hood up when you're on the move.
Note: we use hoody and hooded interchangeably as they are identical unlike a smock which has either a short zipper, or no zipper at all and is what most people consider a hoody.
Other jackets we rate
In our quest review gear and find the best softshell jacket we often find ourselves buying and reviewing many different makes and models, but we are in a constant state of 'catch up'. The list below represents what we feel are the best softshell jackets we haven't yet written up… they're in the pipeline.
Rab Rampage jacket
Price: £60
Weight: 468g/16.9 oz
Best for: Hiking, hillwalking, general outdoor use
Key attributes: Stretchy, well-articulated arms, excellent hood and collar
The Rab Rampage softshell was designed for mountaineers, according to the manufacturer's website, but it's also an excellent option for hiking and camping expeditions hence why it features on our 'best softshell' list. Constructed from PERTEX, the Rampage has truly exceptional at keeping the wind away from your body, as you'd expect from a jacket designed to be worn in the mountains, and moderate water repellency. I've been using this jacket for about 3 years now and have to say I'm pretty impressed given it was a snap buying decision with no research, or review hunting, to back up my buying decision.
So what's so great about it?
It's a rugged softshell jacket
I've used the Rampage in many environments including my crossing of Lake Baikal, Russia, and the performance has been exceptional. The windproof Pertex® Microlight stretch outer fabric was the perfect second layer and proved to be more than adequate at coping with the brutal Siberian winds belching out of the north and racing along the lake's surface. In fact, at times, I was so warm I had to peel open the zip to let some of the warm air out.
The only issue is that Rab seemed to have ditched this softshell in favour of more modern designs, which is great news as you can now pick one up for around half the price I paid for it (which was around £120/$xxx at the time). For me, this really is one of the top softshell jackets still available to buy, especially if keeping the wind and cold out and the heat in is important to you.
One final note about the weight – on paper the Rab Rampage looks heavy and some might say it's too weighty, but you need to consider it's really windproof. I tested on a warm day and found myself stripping it off as the wind simply didn't seem to permeate through the material.
OEX Stratosphere softshell jacket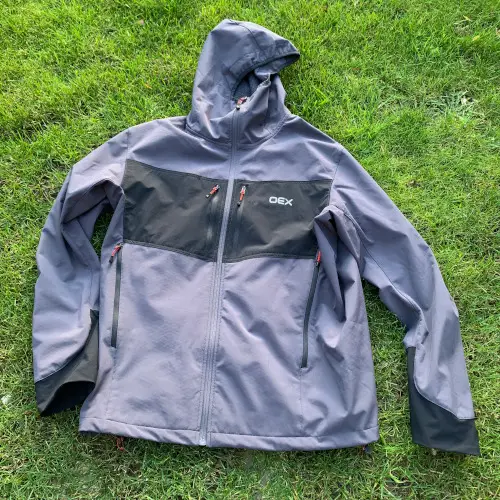 Price: £60/$80
Weight: xxxg
Best for: Walking, general outdoor use
Key attributes: Stretchy, well-articulated arms, excellent hood and collar
A rather surprising addition to our list of softshell jackets, the OEX Stratosphere is actually rather good. If you're in the US you've likely not heard of this brand as it's one of the low-cost options made for Go Outdoors, a UK hiking gear store. I bought the Stratosphere about 18 months ago and the model is still current which is good news for any UK hikers who want a tough, capable jacket at what is a very reasonable price.
Whilst it's not the lightest jacket on our list (the weight is xxx grammes ) it packs down fairly small. In addition, the windproofing and insulation qualities are excellent. The tough, water-resistant shell makes light work of all but the most extreme of weather conditions – water seems to roll off the material, but only up to a point. Once the rain taps are opened full throttle water seeps in and, in a high wind, this can be a risk. But that's fine because the OEX wasn't designed to be an adverse weather jacket.
Storage is huge with a total of four pockets. Two deep handwarmer pockets are set  fairly low on the body and are insulated with the same hexagonal fleece material used in the lining. Another two external chest pockets set high on the chest provide additional storage, and they're large enough for my big hands to fit into, which is a bonus.
Instead, the design team at OEX created a softshell jacket that is rugged (apart from the hanger hook which snapped on day three), well-insulated, and priced to be affordable to all. I'm so impressed by the overall performance (well, apart from the weight), that I'd go so far as to say it's the one best of a mix of low-cost softshell jackets available right now.
How does it stack up against other softshell jackets?
Surprisingly well given it's the kind of jacket many people turn their noses up at! To my mind, OEX has done careful research and designed a jacket that, whilst not what you would call 'top tier', actually does what it should do – protect you from the wind and cold weather, allow you to move freely, and not break the bank. To sum it up, this is a well-designed jacket that's suitable for most conditions which is why we've added it to our list of best softshell options.
As you can imagine, it's not the very best softshell jacket you can buy but it's the near-perfect layer for the money-conscious hiker (as long as you like grey!)
For more details, check out our OEX Stratosphere review.
Montane Dyno Stretch Jacket
Price: £100
Weight: 523g
Best for: Hiking, hillwalking, running, general outdoor use
Key attributes: Stretchy, well-articulated arms, excellent hood and collar
I love Montane gear so it comes as no surprise to find the Dyno Stretch softshell on the list of jackets we rate, but why? Well, this is what I consider to be a classic, well-thought-out jacket – the material is thin and has plenty of stretch making it a great option as a mid-layer that can be doubled up with a hardshell to provide extra protection from the elements. I have heard tales of runners using the Dyno Stretch in the mountains and I'll have to take their word for it.
The long sleeves provide plenty of scope for articulation which is great for mountaineers and climbers, and the hood can easily accommodate a helmet. One nice touch I do like is that the zipper closes right the way up to your lips leaving only a small aperture for your face which is critical when you're working in cold, windy environments.
In terms of other design features, the Montane Dyno Stretch is famously minimal. But that can't be said of the four pockets – there are two handwarmer pockets and two on the outer chest material (and the two OS map-sized A-Line mesh lined hand pockets and two chest pockets are huge!)
. The hood has a stiffened peak with a simple drawcord on the back that allows you to cinch it down for a perfect fit. And, like my Montane Icarus, , the hood has enough articulation that it moves with your head – goodbye blindspots on a windy day!
How does it stack up against other softshell jackets?
In all honesty, this is one of the best jackets you can buy right now. Lightweight with plenty of breathability, it's a fantastic 3-season option for the cost conscious hiker. The only negative we found is this – it's not the warmest of jackets when you're inactive. If you need more insulation, look for a different option.
Mammut Ultimate VII SO hooded jacket
Price: £100
Weight: 523g
Best for: Hiking, hillwalking, running, general outdoor use
Key attributes: Stretchy, well-articulated arms, excellent hood and collar
Price: £100
Weight: 523g
Best for: Hiking, hillwalking, running, general outdoor use
Key attributes: Stretchy, well-articulated arms, excellent hood and collar
If you guessed I have a current love affair with Mammut, and you'd be right. Another of the German outdoor gear manufacturer's gear we like is the Ultimate VII SO Hooded jacket which delivers an excellent bonding of features and performance. When you pull it on you get that old-school feel that comes with a dedicated softshell jacket but with a sleeker fit and useful addons not found in older softshell jackets. Built with Windstopper Infinium fabric, this jacket keeps even the harshest of wind at bay, and huge underarm vents allow you to shed excess heat and cool off fast when you start to feel a little too warm.
The only issue I have with the Ultimate VII SO is 'just a touch too snug fit' which makes adding more layers hard work unless you're layering up with clothing made of a very thin fabric. Don't let that put you off – the Ultimate VII SO is, in my opinion, an excellent jacket that has appeal for just about every kind of outdoor activity.
How does it stack up against other jackets?
One simple way to explain is: think of the Ultimate VII SO jacket as the near-perfect fusing of design, fabric and technology to create a shell that can handle pretty much anything a hard hike can throw at it (especially the wind!). So isn't this one of our 'best softshell' recommendations? When Jake and I write our reviews one of the big considerations is price and the Mammut Ultimate VII SO is at the upper end of the range for a softshell. Right now, I can think of other gear that is equally effective but costs far less. Oh, and the slightly restrictive means it may not be the best choice of gear if you need plenty of articulation for high energy activities.
Arc'Teryx Atom LT Midlayer Jacket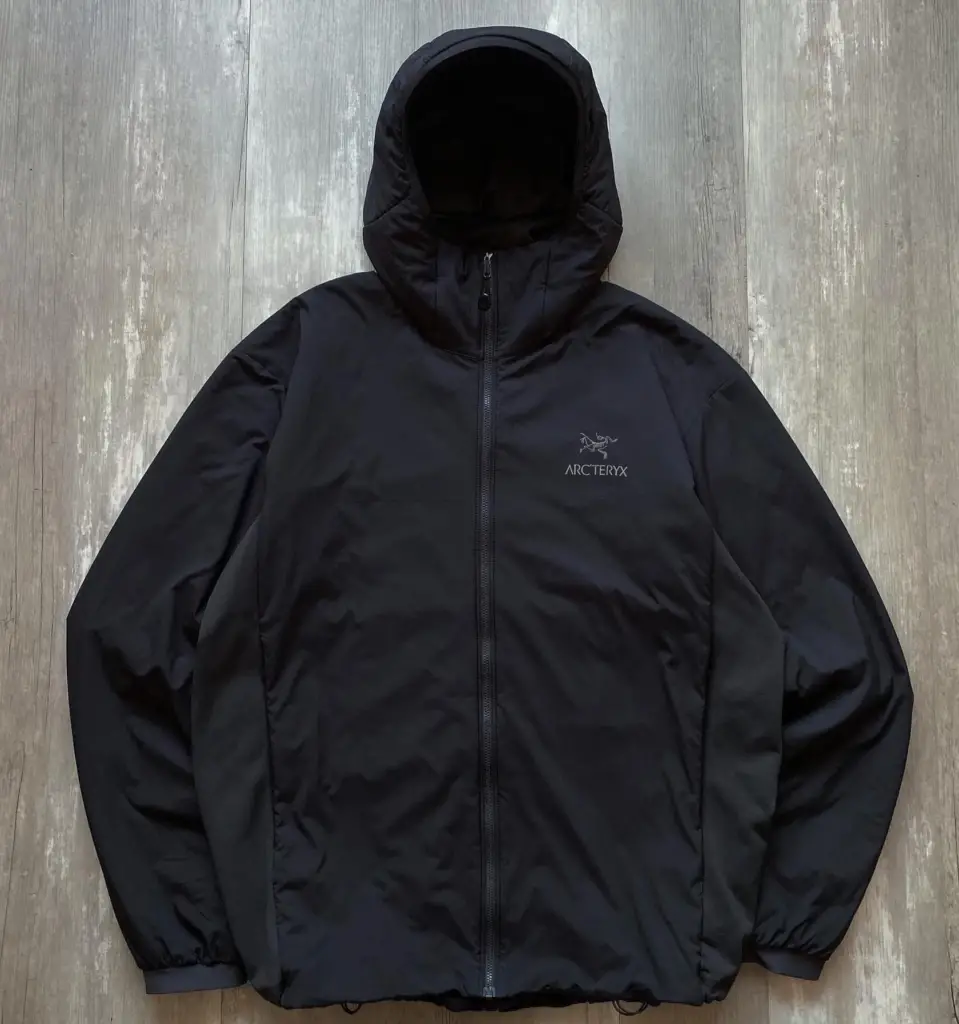 Price: £240
Weight: 360g/12.7 oz
Best for: Hiking, hillwalking, running, general outdoor use
Key attributes: Stretchy, well-articulated arms, excellent hood and collar
Jake wrote his Arc'Teryx Atom LT review about four years ago and he highly recommended what we consider to be one of Arc/Teryx's best softshell offerings money at the time. And whilst we're on the topic of purchasing decisions, like the Mammut Ultimate above, this softshell is priced in the upper range of what we consider reasonable with prices ranging from anywhere between £185/$xxx to £240/$xxx, depending on where you shop and the version you choose (if you're looking to save money, we recommend buying an older model like the one Jake reviewed as they a very capable piece of gear). Some might say good quality costs big coin, and we'll simply have to disagree on this point.
Whilst this jacket is marginally less expensive than the Arc'teryx gamma, it does have a number of features that will appeal to hikers. Jake describes it a good jack-of-all-trades that works well as a standalone layer on warmer days, and provides excellent protection in cold climates and as part of a multi-layer system. Warm, durable and with the just the right amount of storage it's a good addition to your list of possible softshells to buy.
There are many jackets available. Which is best for you?
As with any piece of outdoor gear, there is a huge range of options available to you. Picking the right softshell is a question of personal taste and requirements – some of you enjoy hiking in the coldest, wetest weather and demand gear that has a tiny weight and damn the cost. Other hikers are less concerned about weight and instead focus on the degree of protection, the number of pockets, or if the softshell they're interested in has a fully adjustable hood under which a helmet can be worn (there are plenty of alpine hikers who demand this). Or maybe you're looking for maximum breathability in the fabric?
Every item on this page has been reviewed by Jake and I. In some cases, we haven't yet been able to write up the test results and have added small summaries to give you an insight into our thoughts, and we'll be getting round to finishing off those outstanding reviews.
All we can say is, in our opinion, that the various softshell options listed above represent the best softshell options we believe you can buy right now.