The OEX Stratosphere: big-name softshell quality at a price you'll like.
Hi, today we're going to run through an OEX Stratosphere review.
Softshell jackets became a fetish of mine after I tried on a North Face during a ski to the North Pole. I was hooked. The fit and flexibility were like a second skin, unlike some of the hard shells you can buy. But what I really liked most was how windproof the jacket was.
My journeys take me to cold places. Really cold. So for me, keeping the wind at bay is one of the most important consider when choosing hiking and expedition clothing.
The OEX Stratosphere Softshell Jacket Construction
The Stratosphere has two layers. Stretchy nylon gives the jacket the flex that allows for freedom of movement when you're out on the trails. The inside of the jacket features a grid-style fleece layer that actually provides a decent amount of insulation.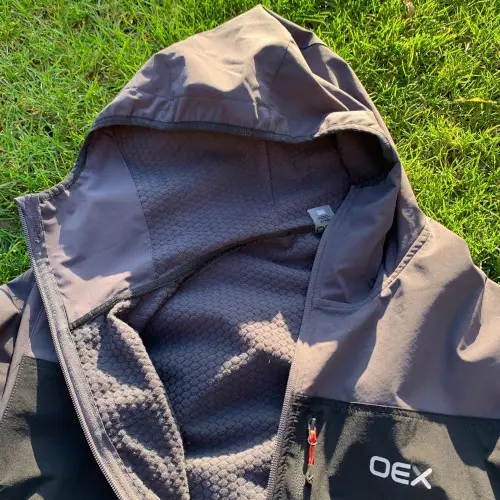 What I do like about this jacket is that it's made from Durable Water Resistant (DWR) fabric. It's not waterproof, but it keeps light rain out for a time.
And it's breathable. More on this point in a while. Let's take a look at the rest of the jacket and see how it measures up.
The Hood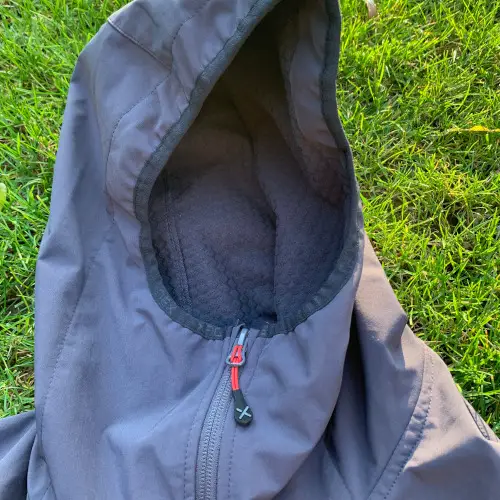 The hood configuration is pretty standard. What did baffle me was that the Go Outdoors website suggests the jacket has a wired peak, but there isn't! I can live with that. It's a one size fits all hood with an elasticated fringe designed to keep the weather out.
What would make this 100% better would be the addition of a wired peak and some way of adjusting the hood size.
General Fit of the Jacket
For a long time, when I looked for any kind of shell layer clothing, I aimed big! My first consideration was always this: can I fit a heavy down jacket underneath the shell? But in recent years the advances in technology and the lessons learned on many trips have made me look at sizing in a different way.
Lightweight down jackets are now ridiculously thin, but incredibly warm. This means your shell layer doesn't need to be huge and spacious inside.
And the Stratosphere is far from spacious. It's snug, as it should be.
You can fit a Rab Microlight Alpine, or similar, under the Stratosphere and still be able to move unrestricted. This is in part due to the stretchiness of the shell and in part due to the fairly generous sizing. Even at the full range of movement, there is little restriction, or tension in the material
Storage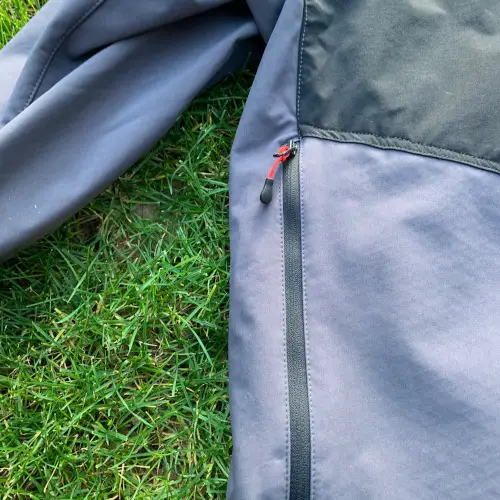 In total, the Stratosphere has four pockets.
The two, small handwarmer-style pockets sit mid-chest are great for stowing items you need easy access to – compass, GPS, etc. What's missing from these pockets is a stitched-in lanyard and clip for securing your gear.
Below the hand chest pockets are two large cargo pockets. These are huge. I'm sure my hamster got lost in one of them for about a week. Joking aside, these pockets are probably too massive because they make it easy to fill them up with important gadgets and equipment, the kind of stuff easily lost if you don't fasten the zip shut.
And that's it for storage.
There are no internal pockets, which is disappointing as I like to store important items like my Garmin InReach inside my jacket, close to my body and away from the cold.
Takeaways
The good:
OEX Stratosphere fit is snug and comfortable, with plenty of room for movement and almost no restriction.
The hood can accommodate my huge head which means you should have no issues.
Ample storage in the four pockets.
Windproof.
The not so good:
Needs a wired peak and adjusters for the hood.
Go Outdoors should take the Stratosphere back to the design board and add some internal pockets.
It's water resistant which is a positive, but you need to understand that the jacket will only keep out water for a short period of time. Don't rely on the DWR to keep you bone dry (more on that further down this review).
Performance
When Jake and I look at any piece of outdoor gear clothing we zero in on the following attributes:
Weatherproofing
Comfort
Functionality
Durability
Versatility
Weatherproofing
I touched on weatherproofing earlier and feel the need to expand on this topic. First, OEX has made a jacket that is incredibly windproof. My intention is to take the Stratosphere to Siberia and give it a thorough test, but recently I took it to Dartmoor on what Devonians call 'a breezy day' (gale force winds).
How did it perform?
Rather well. Even when those southwest winds blasted up from the coast, I felt snug and warm. The only improvement I can suggest is the addition of an inner storm flap.
Comfort
I've worn many jackets over the years and have never had one that was comfortable out of the box. The OEX Stratosphere isn't perfect, but it is one of the most comfortable fits I've had.
The key to the very pleasing fit is the stretch engineered into the nylon body of the jacket. But there's more to it than that. OEX decided to make the Stratosphere roomy enough that wearing a mid-layer underneath doesn't restrict movement.
I like to keep my buttocks warm! Good news – the Stratosphere hem reaches far enough down to keep my nether region sheltered from the worst of Mother Nature's moments of spite!
Got broad shoulders? I have and the fit is fine. Likewise, if you have long arms you'll be delighted to know the sleeves don't stop halfway up your forearm.
The only minor (very minor) irritation is that the cuffs are not adjustable.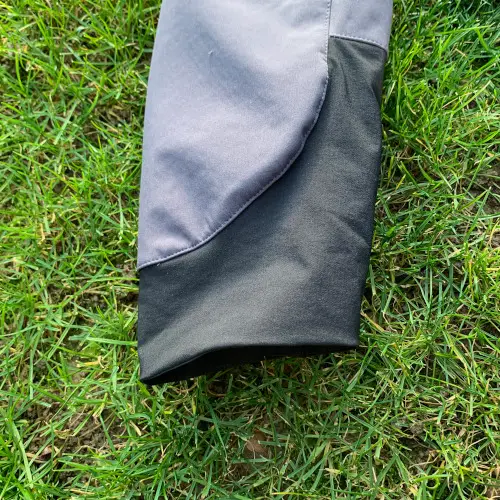 Functionality
This is where OEX has stumbled. As jackets go, it's great. As you've seen, the windproof design is more than a match for the powerful winds that rip across Dartmoor. Light rain is shrugged off with ease thanks to the DWR layer.
But… to be up there on the podium, collecting at least a silver medal for the best softshell jacket, it needs an inner pocket. Or two.
And attachment points stitched into at least two of the pockets.
Put those points aside and you have a very functional garment.
Durability
I've only owned this jacket for a few months and, so far, have not experienced any issues with its durability.
No burst stitches (well, not on the jacket… but the deep gouge on the back of my hand is another matter. Don't chop wood when you have sutures!). No signs of premature wearing. No de-fleecing of the inner lining (I'm not sure if de-fleecing is a real term, but let's run with it).
It feels durable.
Versatility
So far I've only used it for hiking and it's performed well. Wind and rain don't phase this jacket, but don't expect it to keep out the worst of the weather. The next test comes soon when my Stratosphere and I dip my toes into Siberia (I'm off to break the record for crossing Lake Baikal… again).
When I return from the big chill of Russia you'll be reading either rave reviews, or hearing how my Stratosphere has been palmed off to a Russian local.
Watch this space.
Price
This is the part you've been looking for, but I'm going to keep you in suspense for a little longer. You see, the price can be deceptive. I've had cheap jackets that have lasted years. Expensive jackets that survived only one season.
The price of the Stratosphere softshell jacket is a tiny £55. I picked up my jacket for about £45 courtesy of the Go Outdoors discount combined with my Defence Discount Card.
Conclusion
It's a great jacket for temperate climates. I will take this jacket to Russia next year and give it a proper test run on Lake Baikal. Given that I've owned a number of softshell jackets and have a good feel for how they perform, I think the Stratosphere will be fine.
But, if it's not, I'm going to get very cold!
Top tip: buy this jacket if you're looking for a softshell that provides a snug fit with enough room for a light down jacket underneath. Buy this jacket if you want a solid garment that keeps howling winds at bay.
Final thoughts: are OEX jackets any good?
OEX jackets are excellent value for money. The material is durable and the build quality is excellent considering you can pay far more for a similar jacket from the likes of Arc 'Teryx.
If you're looking for a lighter, or more capable, softshell and don't mind paying a premium price we recommend you look at other options such as the Mammut TAISS IN hybrid, or the Rab Kinetic Alpine 2.0.
Click here to get it at Go Outdoors!