The Rab Kinetic 2.0 jacket (Alpine) is an interesting mix of softshell comfort and hardshell waterproof functionality. But how well does it perform in cold, wet conditions?
I find it a little hard to get really excited about waterproof jackets – I've had many from different brands in the past; some have been good and some haven't but, ultimately, they do a job and every so often I buy a new one and that's it. The new Kinetic Alpine 2.0 Jacket from Rab is an exception though – it claims to be (and, as this review will show, genuinely is) using fabric technology to do something a bit new and interesting that stands out from the many other waterproof jackets on the market.
The Kinetic Alpine 2.0, in common with the slightly cheaper Kinetic 2.0, uses Stretch Knit Proflex™ fabric to create a jacket that largely feels and wears like a softshell, but is as waterproof as a conventional hardshell. In this review of the Kinetic Alpine 2.0 we'll go into what that means, how successful it is, and in general how much we liked the jacket.
If you're looking for a softshell jacket without the waterproofing found in the Kinetic Alpline 2.0 you might be interested in our Mammut TAISS IN hybrid review. Designed for ski mountaineering it's proved more than capable of keeping James warm on his winter hikes.
Rab Kinetic Alpine 2.0 overview
I always like to start my reviews by looking at 'what is this product for' and 'how does it fit into the range'. There's no point criticising a lightweight, breathable waterproof jacket for not standing up well in driving rain on alpine peaks, for example.
So, from Rab's own description, the Kinetic Alpine 2.0 is "the perfect all-round waterproof shell for hikers, climbers and mountaineers". That actually makes it a little harder to assess than a very niche jacket because we can probably assume that it will do a lot of things quite well, but none of them perfectly, so it's tricky to really know what standard we're measuring it against.
As a starting point, you can see from the table below how the Rab Kinetic Alpine 2.0 stacks up against some other jackets in Rab's range, although there are so many variations that I've not been able to include all of them in this table. As with all things in hiking, the table illustrates the trade-offs to be made between waterproofness, breathability, and weight. The Kinetic Alpine 2.0 leans more towards breathability, with a level of waterproofing that is certainly decent but not even close that what's available from, say, GORE-TEX Pro and only half that of the far cheaper Downpour jacket.
Jacket
Most breathable
Kinetic Alpine 2.0
Material
Stretch Knit Proflex™ fabric
Overview
Versatile and comfortable, but not the lightest or most waterproof jacket in the range.
Most breathable
Material
Stretch Knit Proflex™ fabric
Overview
Versatile and comfortable, but not the lightest or most waterproof jacket in the range.
I think it's fair to say that the Kinetic Alpine 2.0 is most particularly aimed at people either who only own one or two waterproof jackets and therefore need something that fulfils a lot of purposes, or who are on long hikes with changeable conditions and need to take a single jacket that will suit them all. As Rab themselves say, it's "built to help you pare back your kit on remote multi-day expeditions".
The focus on comfort and wearing like a soft shell also makes it ideal for people hiking in on-and-off wet conditions and who therefore would appreciate a waterproof that can be worn all day. And of course it's probably for people who don't expect to be out for hours in torrential rain and driving wind so don't necessarily need 28,000 mm of hydrostatic head. The reinforced points (the main difference between this and the regular Rab Kinetic 2.0) also make it ideal for anyone carrying a pack, especially a fairly heavy one.
It's primarily against those use-cases, then, that we'll be assessing it although we'll also consider how well it would serve in other scenarios, if only to warn you against using it in conditions it's not designed for!
The fabric
The fabric is the main unique selling point of the jacket, billed as being a 'soft' hardshell, with much more stretch and comfort than your average waterproof. I was a little skeptical about this, not because I didn't believe it was possible, but just because I wasn't convinced this was a problem that needed solving; when wearing a waterproof in the past I've rarely been particularly concerned about the fabric not being soft or stretchy enough. However, I feel I'm slightly proven wrong on this as having tried the Kinetic Alpine 2.0 I absolutely can see the benefit in this new Proflex fabric.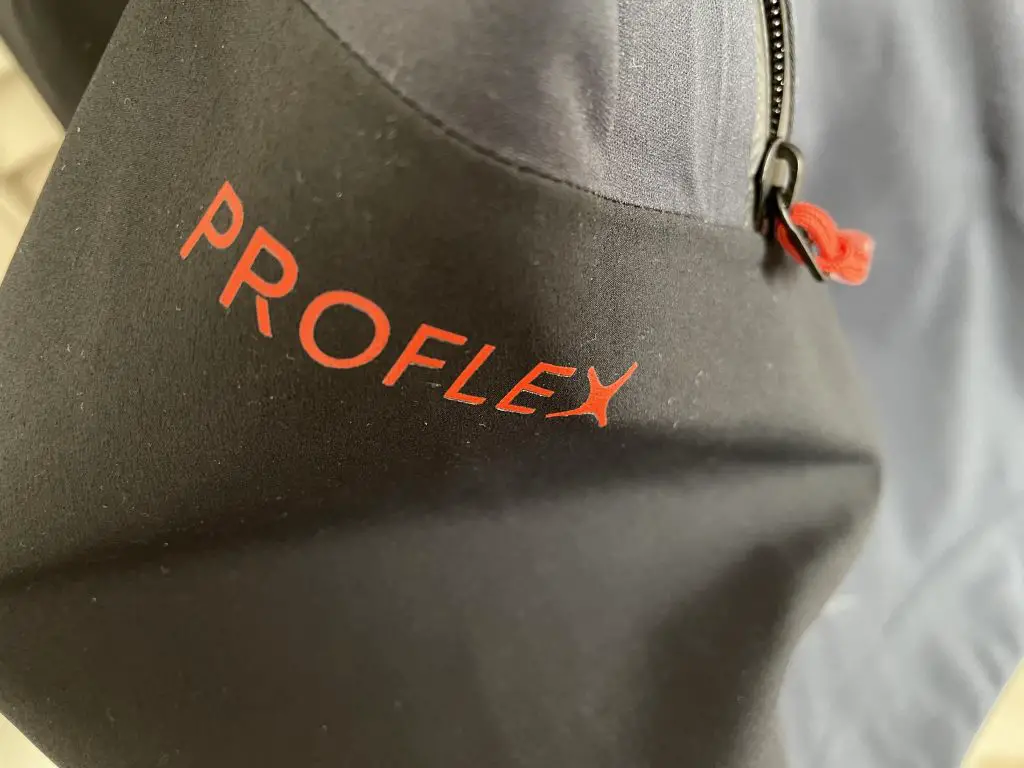 Firstly, the small amount of added stretchiness does genuinely make a difference with comfort, particularly when carrying a backpack and using your hands either to carry hiking poles or to climb up rocks. Despite the relatively slim fit, I had all the freedom of movement I am used to in my most comfy softshells such as the Arc'Teryx Atom Lt, and that made a big difference over a long day of hiking. The lack of 'raincoat noise' was also a benefit and there is also the more minor point that the jacket doesn't look like a waterproof. That might not matter when climbing a mountain, but I can absolutely see this coat being popular for, say, travellers and tourists on a city-break or even with plain-clothes police or military where there's a real benefit to having a jacket that you can wear all day without it looking like a raincoat, but still be happy that it'll keep you dry if you do get caught in wet weather.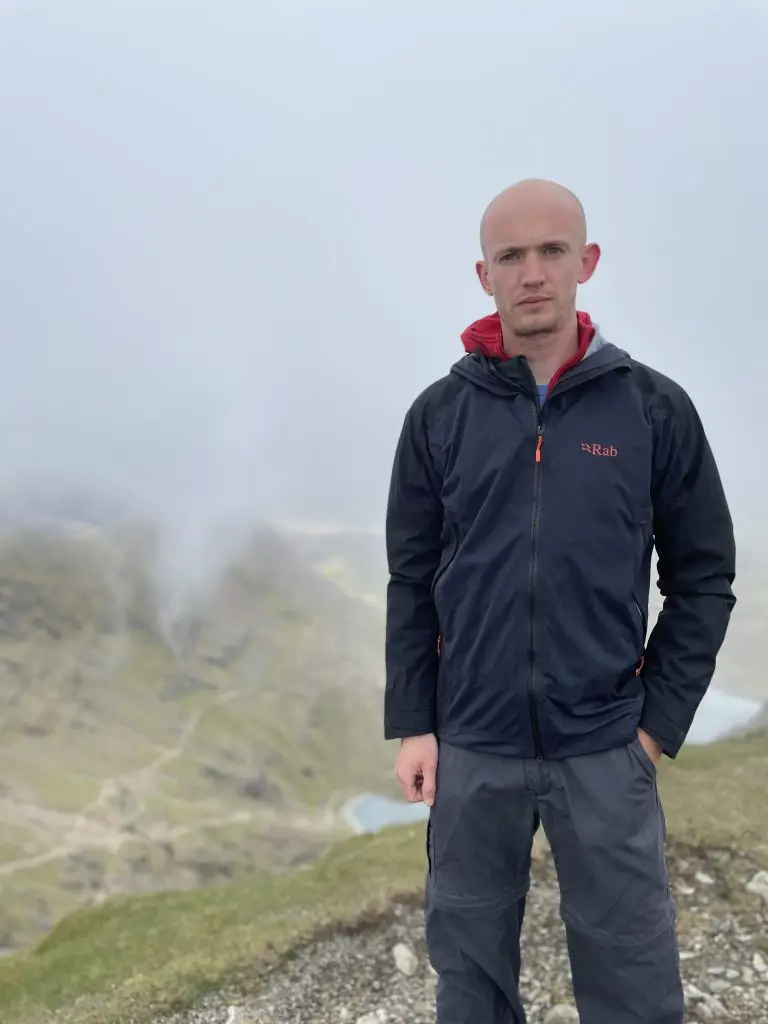 The Kinetic Alpine 2.0 has reinforcements across the shoulders and upper arms, and around the hips where a backpack could rub. These are points both of wear, but also wear water can get forced into fabric by the movement of a backpack strap, so the extra reinforcement is welcome. It's a little less soft than the main body, but still doesn't feel quite like a raincoat. If this doesn't appeal or isn't necessary, the Rab Kinetic 2.0 is very similar but without these areas of reinforced fabric.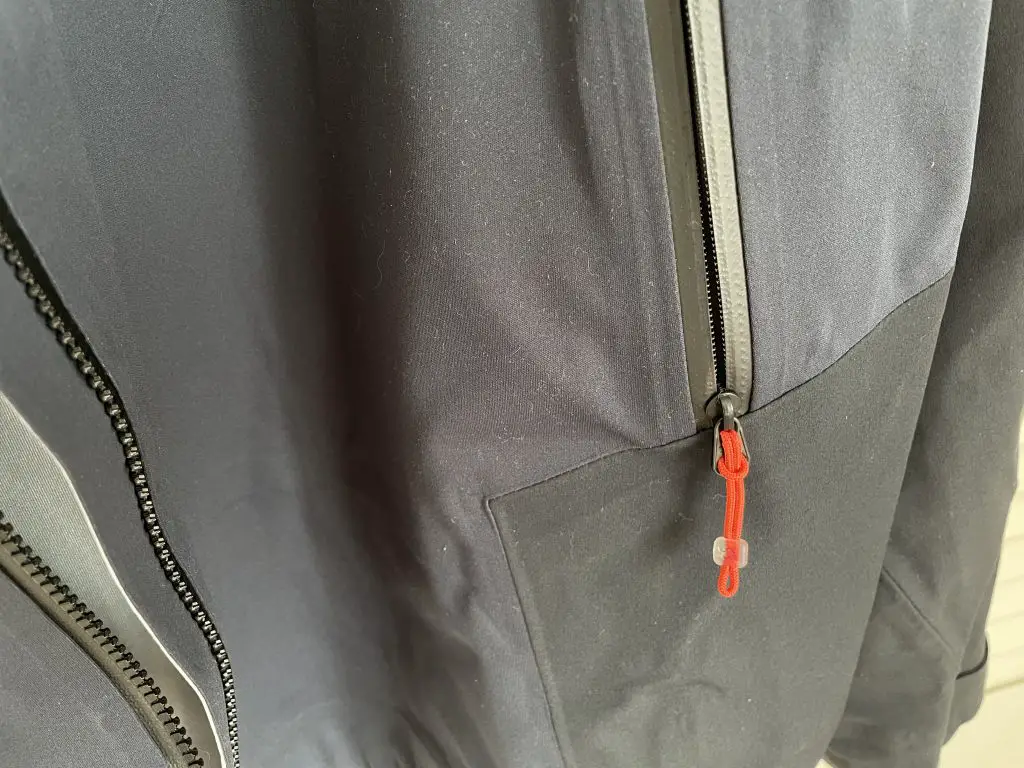 How waterproof is the Kinetic Alpine 2.0?
The headline figure for how waterproof the Kinetic Alpine 2.0 is, is simple: 10,000mm of hydrostatic head. For those who don't know what that means, that means in essence that the jacket can hold up 10,000mm (10 metres) of water before it starts to seep through. If that seems like a baffling measure (when would you ever have ten metres of standing water on the jacket?!) the point is that this is a measure of how much water pressure the jacket can take, and this is really what matters since what differentiates an ok waterproof from a great waterproof is not just whether it keeps you dry when water is falling from the sky but whether it keeps you dry when vast quantities of water are being blown into your jacket by gale-force winds, and the movement of your backpack straps is forcing that water into the fabric. So, it's pretty hard to simply visualise whether 10,000mm of hydrostatic head is 'good' or not. Instead let's say this: 10,000mm HH is properly waterproof, and it will stay properly waterproof even in reasonably tough conditions but it's not the most waterproof fabric out there, and it probably wouldn't cut it for sailing, or hiking in extremely wet and windy conditions over extended periods.
So much for the facts and figures, but how did the jacket perform in practice in our testing? Well, I've owned several jackets with ostensible 10,000mm HHs and, even allowing for the fact that this one was brand new with the freshest possible DWR coating, it performed extremely well. We got caught in torrential rain and even hail, and I never felt even the slightest dampness on the inside of the coat.
In light and even quite heavy rain, water visible beads on the surface. This is the DWR doing its job, and is something to watch out for as when this stops happening (or stops in areas where the DWR is likely to get worn away more quickly) it's important to refresh it. But for now, this showed a good level of waterproofing.
As more and more water built up, the visible beads eventually disappear but water still essentially stays on the surface although, I was pleased to find, without the obvious run-off onto your upper thighs that is the frustration with some short waterproof coats if not warn with waterproof trousers.
What impressed me most though, was how rapidly the coat dried once the rain stopped. In probably less than 30 minutes it did not feel at all wet, which is greater for a hiker as it means it can more easily be stowed back into a bag or put in the corner of a tent without worrying about other kit getting wet as a result. Again, I suspect this is partly the result of so much of the waterproofing job being down to the DWR coating, meaning that water barely even touches the surface of the fabric. Long-term that could be an issue as relying on DWR means that, as the DWR diminishes, the coat may lose pretty much all of its waterproof qualities. However, pretty much all raincoats rely on DWR to some extent and the solution is simply to care for them properly and regularly refresh the coating.
How breathable is the Kinetic Alpine 2.0?
After waterproofness, breathability is the next key measure for a waterproof. Contrary to what people often believe, breathability isn't really about how warm the jacket is or how well it expels warmth when the wearer is working hard, it's more about how effectively the jacket allows moisture vapour to escape from inside the jacket rather than forming droplets of condensation on the inside – which can make the wearer just as wet as allowing the rain in. It's difficult to be both extremely waterproof and extremely breathable since the two are essentially opposite requirements: one is about blocking water moving through the fabric while the other is about allowing it through. However, modern multi-layer fabrics and copious use of DWR do enable surprising levels of breathability.
The most common measure of breathability is MVTR, or Moisture Vapor Transmission Rate, which is how much moisture vapor can get through the fabric in a given period. In the case of the Kinetic Alpine 2.0, that amount is 35,000g/m2/24 hrs which is extremely good. This excellent breathability figure translated into reality in my tests as well, and I believe was part of the reason why the jacket continued to feel so dry even though I was moving quite quickly up a mountain and sweating a fair bit. It also meant that it never developed that slightly clammy feeling inside, that a couple of my cheaper and less breathable coats are prone to.
Build and construction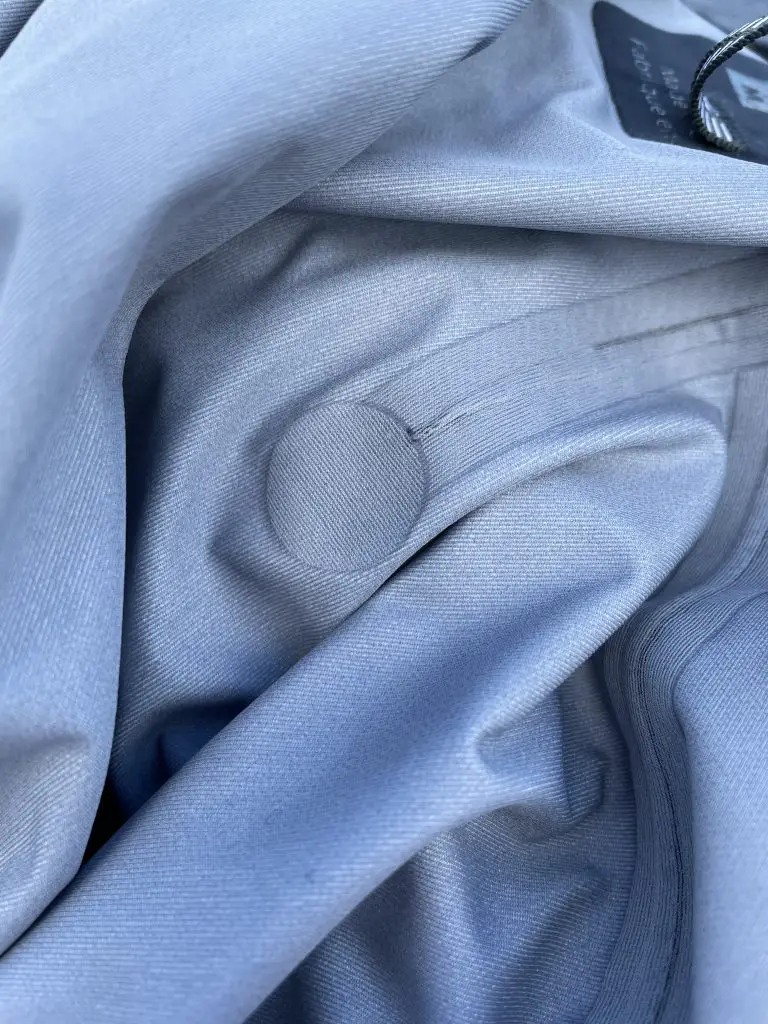 As with just about all Rab products I've ever had, the build quality is excellent with taped and reinforced seams, including extra reinforcement at joins, YKK AquaGuard zips, and well-thought-through fit. There are no obvious points of failure and I'd have a lot of confidence bundling this up in a bag without worrying too much about damage.
Features and details
The Kinetic Alpine 2.0 has a helmet compatible hood with a single adjustment at the back. I found the hood extremely impressive, as they're surprisingly hard to get right; either prone to blowing straight off in a breath of wind or (as is the case with my Rab Downpour jacket) with a tendency to block all of my peripheral vision. The hood on the Kinetic Alpine stays securely on with a small adjustment of the elastic at the back, and is shaped with decent cut-outs at both sides, meaning pretty much no loss in peripheral vision. This made it much more pleasant to wear on the mountain but would also make it feel much safer to wear around town, where I find other jackets' hoods can cut out my awareness of cars behind me.
Other nice features include adjustable hem and cuffs, and the fleecy neck-panel at the top of the zip to reduce abrasion if you have the zip closed all the way up.
There are two large side-pockets and one chest pocket although it is internal rather than external. For me this is a slightly odd choice – it does presumably slightly improve waterproofing but since you're unlikely to want to open the main zip of your waterproof when it's raining, having the chest pocket on the outside would seem more logical. That said, I personally rarely use chest pockets so I'd have been just as happy for the coat not to have one at all.
Summary
In my opinion, this is an impressive bit of kit – one of those rare items that has set out deliberately to be an 'all-rounder' and has actually succeeded in making a coat that works in a wide range of scenarios, rather than simply one that is mediocre at everything. Its ability to shed water was superb, it is without a doubt the most comfortable and breathable waterproof coat I have ever worn, and it's hardwearing enough to stand up to tough use over an extended period. It's an obvious choice to take on a multi-day hike where you can't take two or three coats to allow for different conditions, but it would also be my go-to coat for general travel or taking with me anywhere that the weather was likely to be a little unreliable.
At TrekSumo we don't have a formal system for rating gear, preferring to explain the pros and cons and let people make up their own mind. Nor do we generally editorialise with 'picks' or 'favourites'. However, I will say that the Rab Kinetic Alpine 2.0 is one of the best softshell jackets or bits of gear I've reviewed in a while and should be seriously considered by anyone in the market for a new waterproof jacket.
Buy the Rab Kinetic Alpine 2.0 if:
You need a really great all-rounder to use in a whole range of conditions.
You want something you could wear all day, even when it's not raining.
You're looking for a coat to wear for a citybreak somewhere rainy, going backpacking, inter-railing, or doing plain-clothes duty in London…
Don't buy the Rab Kinetic Alpine 2.0 if:
You need an ultralight coat.
You don't want to spend £200+ on a waterproof jacket.
You need a coat that is going to stay waterproof, without fail, in just about any conditions on the planet.
If you're looking for something a little more lightweight, be sure to check out our review of the Rab Phantom jacket.