A video version of this review is available on our YouTube channel, and below. It covers most of the same ground as the text review but they are not word-for-word identical. If you're a fan of the blog, it would really help us if you could like the video and maybe even subscribe to the channel.
One of my principles for making sure I maintain my running training is having a comprehensive gear wardrobe that means I can run in just about any conditions. Whether it's the superb lightweight windproof Arc'Teryx Squamish, hats and gloves, or even micro-spikes for running on ice, I like having the perfect gear for the weather so I can just get out and run no matter what. Recently, though, I've been wanting a new really lightweight waterproof to run in. A lot of the time I just run in the rain and accept getting wet, but as I'm into marathon training and runs could be several hours, that's less attractive. I wanted something very light, very packable (so it could fit into my hydration vest) but with at least a 10,000mm hydrostatic head. I did a load of research and decided on the Rab Phantom pullover waterproof, an impressive piece of kit – as I'll explain in this review.
Rab Phantom overview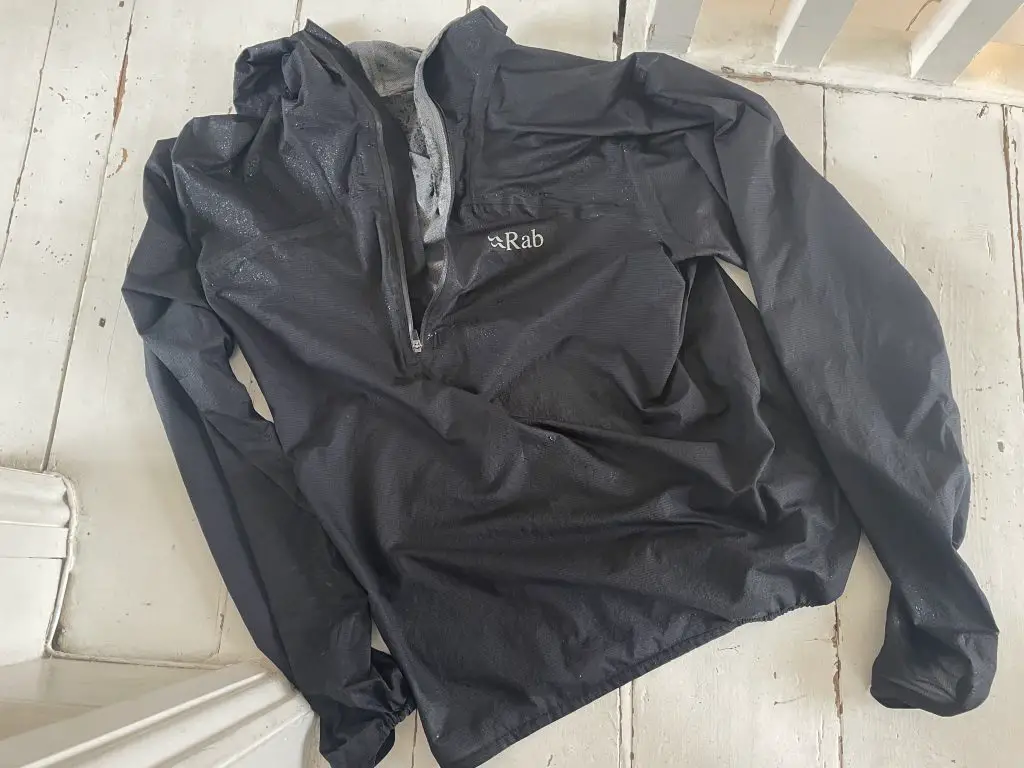 Even knowing that the Rab Phatom was a 'lightweight' and 'packable' jacket, I wasn't really prepared for just how light it is. The best way I can describe the fabric is that it feels more like those paper suits you might have worn to protect your clothes while painting a room (or at a crime scene, if you happen to be a police officer or crime scene investigator…). The whole jacket weighs in at 90g, which, considering my other waterproof jacket weighs over 300g, is tiny, and that along with how compactly it packs down means the jacket will be ideal for it's intended use – wearing or carrying on long runs in case of rain, but without unduly weighing you down or requiring an unecessarily large pack.
Along with the fabric, that weight saving is achieved through real minimalism – no pockets, adjusters or velcro, and just a half-zip – but I like that about it, it's simple, does what's required, and doesn't add extraneous features that compromise its purpose.
The fabric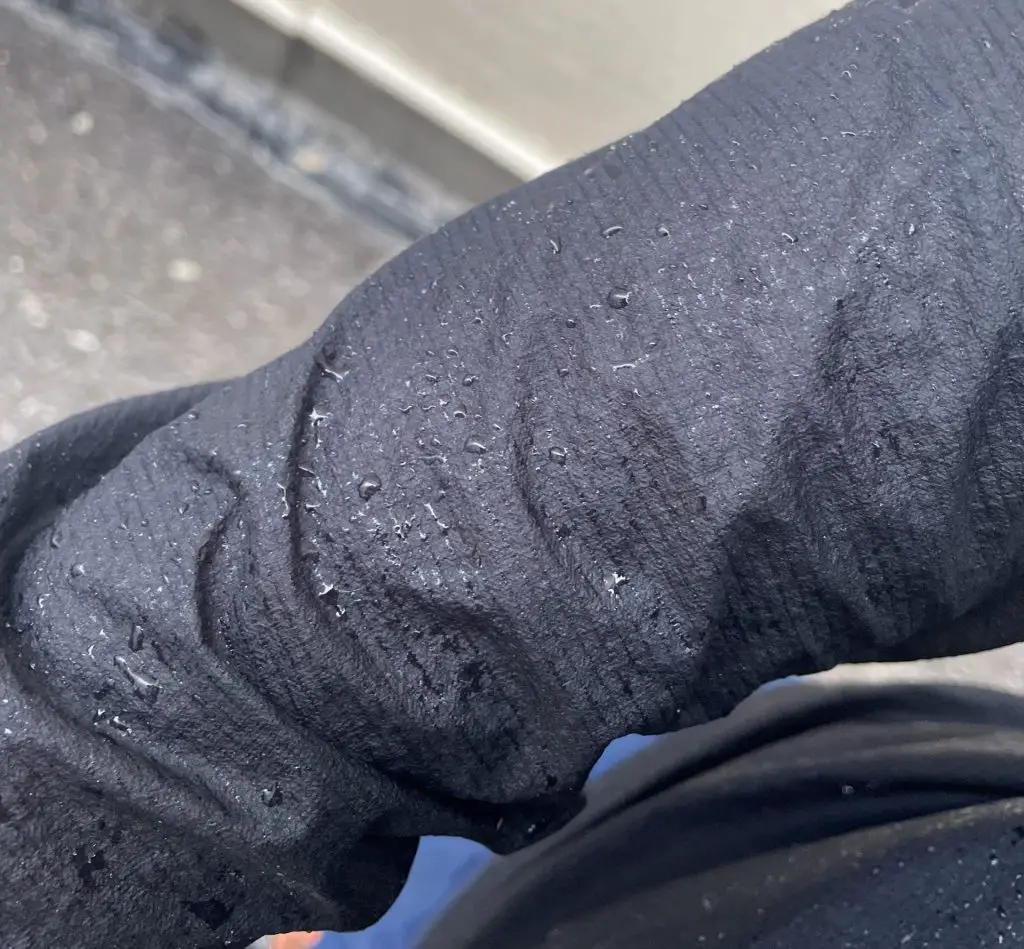 The Rab Phantom waterproof pull-on is made from 7D Pertex Shield 2.5L, a lightweight and extremely packable fabric with a DWR coating. It's worth bearing in mind that 7D is pretty thin, and while the jacket can be worn with a lightweight pack or a hydration vest, it's not designed to be worn with a heavy hiking backpack and doing so would certainly cause wear to the fabric. Honestly. this just isn't a hiking raincoat and if that's what you want there are better options out there.
How waterproof is the Rab Phantom?
Rab doesn't in fact quote a hydrostatic head value for the jacket, but they very rapidly answered a question I posted on their product page and confirmed that it is 20,000mm. Numbers can be a bit meaningless but 20,000mm is a good level of waterproofing. You'd happily go hiking all day in the rain in a raincoat with a 20,000mm hydrostatic head and be pretty happy that it would keep you dry. Of course, more waterproof jackets are available, and Rab's top-end Gore-tex Pro mountaineering jackets would have a HH of at least 30,000mm and possibly higher. However, honestly, it would take fairly extreme weather to notice the difference, and for any runner I'd argue that 20,000 is more than adequate, with plenty of competitors offering much less (see below).
Numbers aside, then, subjectively how waterproof is the Rab Phantom pull-on? Well, I wore it in the extremely heavy summer rainstorms we've had in the UK over the last week or so, and it kept me bone-dry. I also wore it with a hydration vest over the top and saw no sign of water being worked into the fabric around the shoulders or chest where the running vest was rubbing.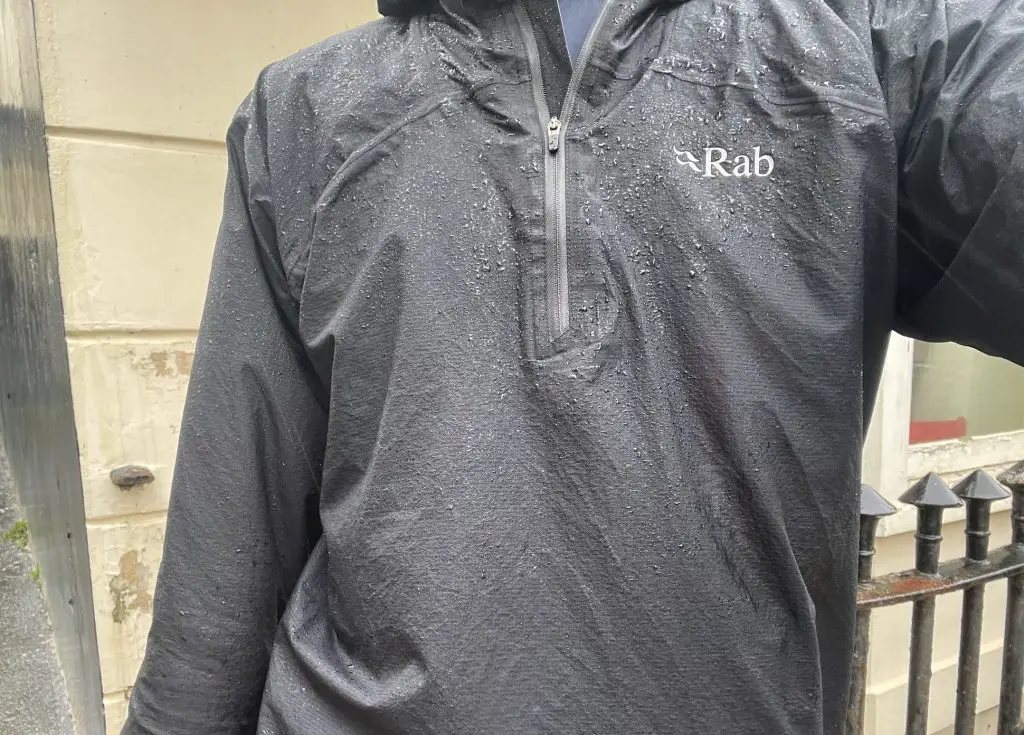 How breathable is the Rab Phantom?
With a jacket designed for running, breathability really matters, and fortunately the Rab Phantom doesn't disappoint here. This is the only waterproof jacket I've ever worn where I've felt like 'breathable' was anything other than a relative term; the Phantom is genuinely surprisingly comfortable to run in, even for quite long periods and on warm days (the aforementioned summer storms) without becoming clammy with condensation, although inevitably there's going to be a build-up of sweat inside it and being waterproof and non-wicking that's harder to get rid of.
In terms of numbers, the jacket is quoted as having a Moisture Vapor Transmission Rate (MVTR) of 40,000, which is truly impressive for a waterproof jacket. For comparison, even the highly breathable Kinetic jackets only have an MVTR of 35,000 and a lower hydrostatic head. This is the trait that makes the Rab jacket stand out from some of its competitors, and if you think you're likely to want to run in the jacket (as opposed to just using it to wear while walking home after a run) then this could be a good reason to choose the Rab Phantom over cheaper jackets.
Build and construction
Perhaps unsurprisingly the jacket can feel a little delicate, purely because of how light the material is. You're certainly not in any danger of tearing it through rough handling, but I'd be cautious of stuffing it into a bag with potentially sharp items. That's not a criticism of the construction, though, which is top-notch and makes the jacket feel as robust as it possibly can given the material. The material itself is slightly stretchy, making it comfortable and easy to pull on, and meaning that it moves easily and doesn't feel constricting, especially if worn under a hydration vest or backpack.
Features and details
As discussed above, features are kept to a minimum on this jacket purely to reduce weight. That's not to say it's lacking in well-thought-through details though.
The hood has no adjuster but does have a lightweight wire in the brim and elastic sides that help to keep it in place. I didn't find it hugely comfortable to run in, if I'm honest, as it tended to come down too low over my eyes and there wasn't really any way to keep it back, but if it was absolutely hammering down I'd be grateful for the option to keep my head dry. It works a lot better over a peaked cap, in my opinion.
I was pleased that they haven't skimped on providing a loop to tie the hood back when rolled away. Lightweight fabrics like this are particularly prone to flapping around in the wind, and there's nothing more irritating than having a hood that keeps hitting you in the face as you run – a problem on one of my other jackets.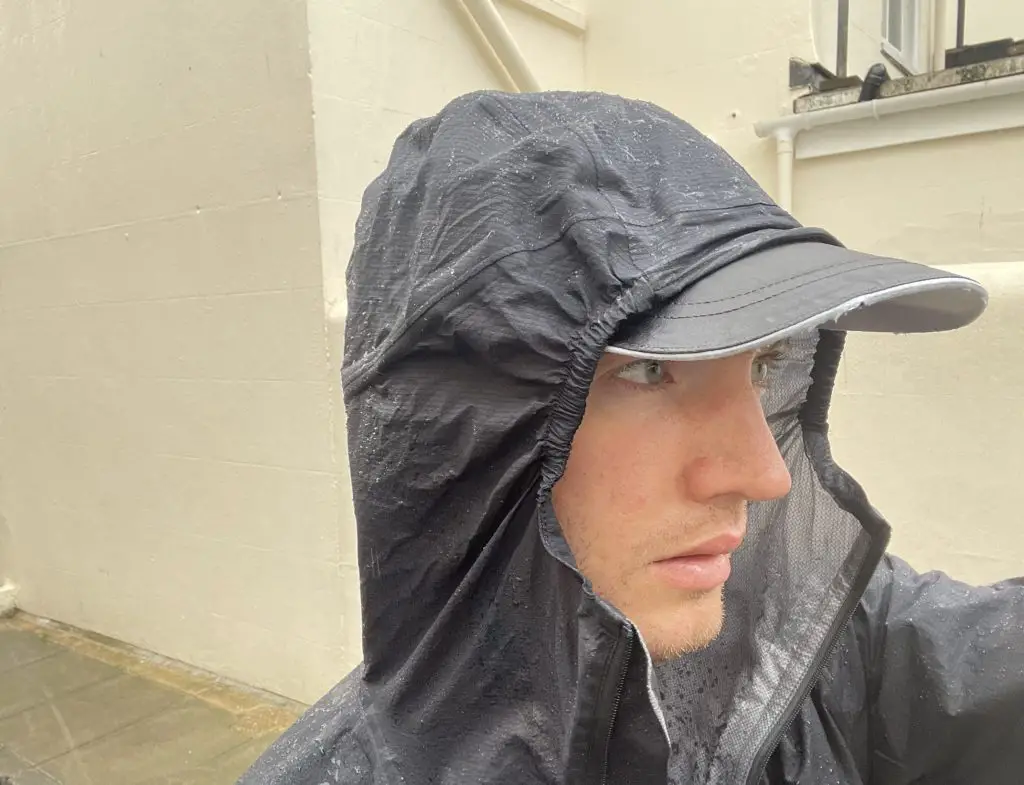 The cuffs are half-elasticated, while the backs are extended slightly to come over the knuckles, helping to keep your hands dry and water out of your gloves if you're wearing them. The hem is similarly partially-elasticated, and neither cuffs nor hem have (or really need) adjusters. The back of the hem is slightly rounded and comes down a little below the waist, keeping water run-off away from the top of your shorts, especially if you bend over or lean forward.
The front zip is half-length, again to keep weight down and, rather than the integrated polyurethane tape on the outside of the zipper that most waterproof jackets now have, the zip on the Phantom is simply backed with a sizeable waterproof fly to ensure it's not a weak point for water to get in to the jacket.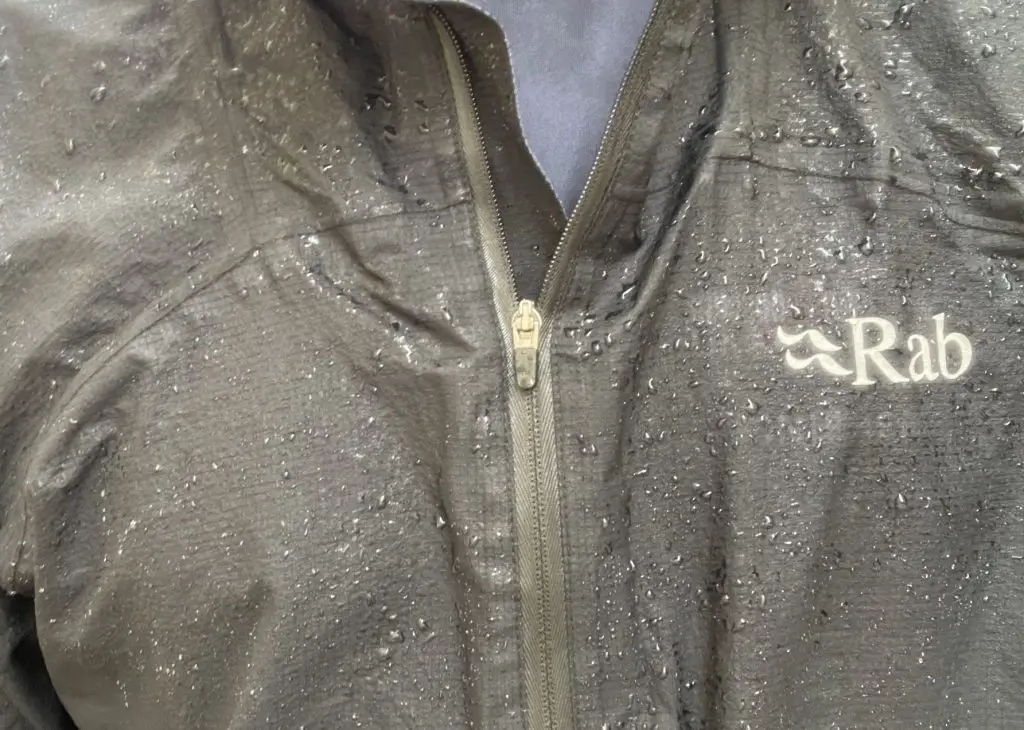 Comparison to other options
Normally when I'm comparing a Rab product, I first look at the equivalent item from Patagonia and Arc'Teryx. The closest offering is Arc'Teryx's Norvan SL (super-light) hoody; a similarly minimalist waterproof aimed at trail runners that has gained impressive reviews for its water-resistance and breathability and which uses Gore-tex 'shakedry' fabric that doesn't rely on a DWR coating and is therefore likely to last longer, especially if worn under a rucksack or hydration vest that could degrade DWR. That said, it is a little heavier than the Phantom and eye-wateringly expensive.
Patagonia's equivalent, on the other hand, is the Storm Racer; a rather off-the-wall jacket that focuses on a unique design style making it easier to wear over a hydration vest and still access your drinks. If that's important to you then this jacket could be great, but for most people we think this will be one to avoid.
The other two potential alternatives we looked at are a Montane lightweight jacket and an OMM jacket, both of which are a little cheaper than the Rab Phantom although also slightly heavier and with less impressive numbers of waterproofing and breathability. It may be that 5,000 or even 10,000mm of HH isn't a great concern to you and certainly a few extra grams won't be noticed by most people so we'd definitely give these a second look if you want to save a bit of money. Overall, though, we think the Rab is the standout jacket in this selection; the lightest we could find, but still one of the most waterproof and most breathable, and a good £100 less than the admittedly impressive Arc'Teryx Norvan.
Summary
I tend to avoid giving 'grades' or points, instead relying on my 'buy if / don't buy if' to help you make your mind up. However, for once, I'm going to give this a new category as a "Jake's favourite". I buy a lot of gear, most of it is decent and it's rare for me to be particularly disappointed. But it's also fairly rare for me to buy something that so perfectly meets exactly the requirements I had for it, which performs better than I could reasonably have expected, and for which there is nothing obviously massively better on the market – even at much higher prices. The Rab Phantom pull-on waterproof is an excellent buy for any runner, and I can give it a firm recommendation.
If you're looking for a heavier waterproof option for hiking, check out our Rab Kinetic 2.0 review.
Buy the Rab Phantom if:
You want a lightweight raincoat that you can wear while running, or stuff into a backpack, hydration vest or even running belt in case of a sudden storm.
Low weight and high waterproofing is important to you.
You can't afford the Arc'Teryx Norvan SL (or think you can find something better to spend that extra £100 on).
Don't buy the Rab Phantom if:
You need a waterproof for hiking.
You want something for under £100 – there are other good options in that price bracket.
Weight doesn't matter to you, and you mostly want something to wear on your way home after your run.