Intro
Hi, today I'm going to review the Montane Icarus jacket which I bought a few weeks back. First, a little story of how we came to meet…
It's not often I buy a new lightweight insulated jacket – they tend to be worn until they disintegrate or are lost on one my expeds (farewell Rab microlight, I will miss you and hope you found a caring new home with whoever picked you up from the fringes of that frozen Russian lake).
So, as the recent weather turned from balmy to flipping freezing, I decided to renew some parts of my hiking wardrobe, courtesy of some great discounts from Go Outdoors. As I prowled their Oxford store, searching for my quarry I spied the Montane Icarus lightweight jacket.
The moment I tried it on I was hooked. Oh, I think you already know where this review is going… But before you rush off to buy one, let's take a deep dive and see if this insulated jacket is worth the money.
Out thoughts
Snuggly, even in the minuses!
Adding a dash of colour to your hikes.
Grey jacket for those grey days, but still looking trim
Out thoughts
Snuggly, even in the minuses!
Out thoughts
Adding a dash of colour to your hikes.
Out thoughts
Grey jacket for those grey days, but still looking trim
Where does the Montane Icarus jacket sit in the range?
As you've worked out from the price, the Montane Icarus is an inexpensive jacket not a top end model although in my opinions it's a warmer alternative to the likes of the Rab Cirrus Flex Hoody (review by Jake), and some of the other lightweight mid layers you can buy right now.
In my opinion, the Icarus is a mid-range jacket. I've tested it to temperatures around -3 Celsius and the insulating material had no trouble retaining heat close to my body. Which is just what you need it to do otherwise it wouldn't be worth the money I paid for it.
Like many other manufacturers, Montane claim the Primaloft Thermaplume (that's the fancy-pants name for the fill material used in the construction of the jacket) has similar insulating qualities to those of natural down. Sorry ducks and geese, I disagree. Although the jacket is super-warm I wouldn't make it my go-to in the extreme cold environments I often travel through.
That said, it's still a very warm jacket. If it couldn't stand up to the elements I wouldn't be writing this review.
Montane Icarus features
The Icarus is a very simple jacket, a fact you'll appreciate if you're looking for a piece of gear that does exactly what it's supposed to do, and nothing more. Montane certainly haven't designed this to be a cross-over jacket: trying to fit the hood over a climbing helmet will be uncomfortable. And you'll look like the Quasi Modo.
It has all the basics you'll need for hiking. The two hand warmer pockets are deep which means you can cram your hands deep enough to cover your wrists, an important consideration when trying to stay warm.
The chest pocket is fitted to the outside of the jacket – there's no internal 'poacher's pocket' – which I prefer. Unless you're venting heat, the last thing you want to do in the cold is open your jacket to access gear stowed inside. If you really must have internal storage then you either need to buy a shell that meets your needs, or stop reading now and find a mid layer that's right for you.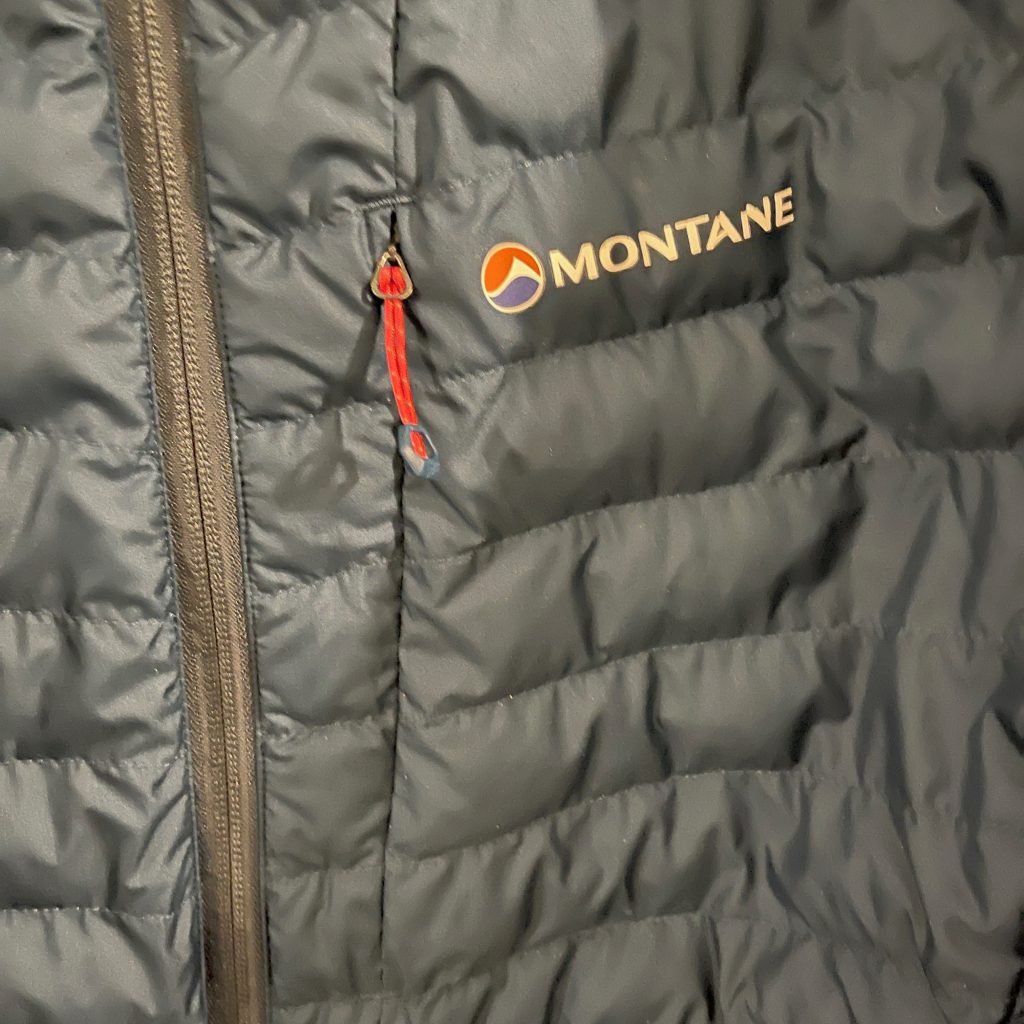 But if you stop, you'll miss the rest of this review…
Pertex has been used to build the shell and the aim is to make the Icarus showerproof. And it is, to a point. Please, bear that last comment in mind. This jacket is by no means a substitute for a waterproof which I tested by going for a 10 minute walk in a near-storm!
The front zipper is one way only. Even if you are happy pulling the hood over your climbing helmet and lumbering around shouting, 'The bells! The bell!' it still won't make a good belay option.
Elasticated cuffs fitted with a band of lycra give a snug fit that helps keep cold winds from racing up the sleeves and tickling your unmentionables… The hood construction is near-identical, but not quite so snug.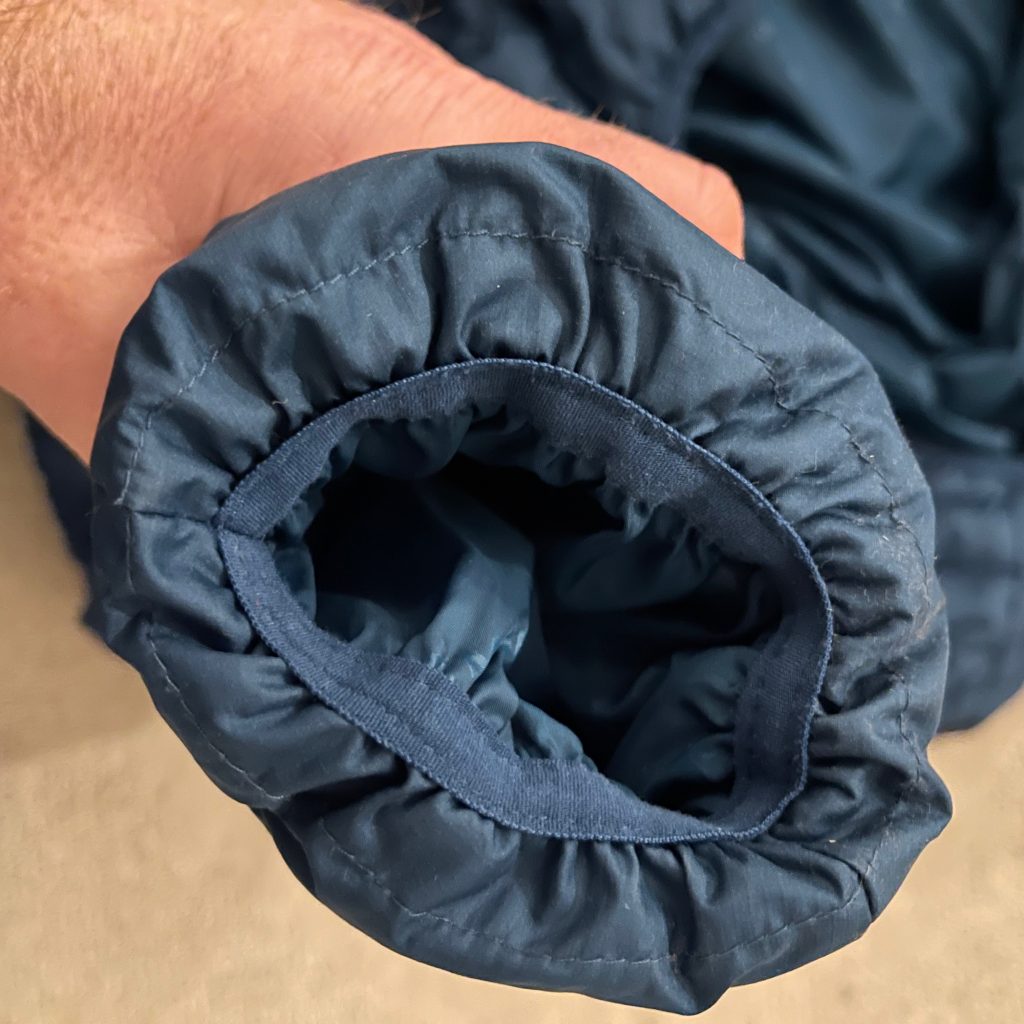 In addition to the elasticated hem, there's a small press stub that's handy if you're trying to close the zip in high winds.
Basically, it's built with everything a hiker needs. For me, the only feature that's missing is the same deep pocket found on the Cirrus Flex which, when reversed, turns into a packing bag).
Montane Icarus specifications
It's not the lightest jacket you can buy, but at 508g it's by no means porky! There are lighter options available, but to my mind you don't get the same level of insulation and protection unless you're prepared to spend some serious cash.
The Quantum Eco shell does a great job of repelling a moderate amount rain, but no more. A downpour will (and did for me) soak through the Pertex and leave you feeling a little damp. I feel grateful my body was engineered with its own waterproof shell layer!
I will give this jacket some brownies – even wet, this jacket it will keep you warm.
Montane's Thermaplume, the insulating material, is effective and will you stay warm on those nippy winter days in the wilds. I tested the jacket during a recent cold snap when temperatures dropped to around -3 C and not once did I feel Jack Frost's bite.
Review criteria
Jake and I apply the same testing criteria to this type of clothing. The are:
Does it work as lightweight insulation, in particular when the wearer is very active?
Can it be used as part of a layering system with other clothes when static or in very cold conditions?
How does it perform in wet weather?
How comfortable is the garment, and are the features live up to the promise made by the manufacturers?
Field testing conditions
I bought this jacket as the season slipped from mid to late-Autumn and I've owned it for a couple of months now. In that time the Icarus has been worn in various temperatures ranging from a warm day in late October to a chilly day in late November whilst thrashing about on Dartmoor.
Apart from summer conditions, it's been used across the range of temperatures you'd expect to find in a temperate environment. In early 2022 I'll be taking it to Alaska to see how it performs in seriously cold temperatures. Obviously, that's not the main reason I'm going there, but the planned crossing of the north slope gives me a great opportunity to do further trials.
TL/DR
tested temperatures of about minus 3 degrees Celsius.
if you need a jacket for extremely warm weather (below -10C), this isn't the one for you.
Performance
So far, my Montane Icarus has been used in a variety of situations. In most cases, I throw it on when the temperature dips and there's a need for more warmth than a shell/base layer combination can give me. There have been a few occasions where the jacket was used as a standalone, including my previous test during a very wet day. Okay, it wasn't really a test… I made a bad call!
TL/DR
the Montane Icarus is a capable mid-layer that will protect you keep you warm in some pretty cold temperatures.
makes a great standalone jacket, as long as you don't intend to wear it in the pouring rain.
Weather resistance
As I said earlier this jacket has pretty good weather resistance, although it is not fully waterproof. The Pertex shall does an excellent job of keeping light rain from permeating through to the insulated layer. However, don't expect it to keep you dry extreme conditions. After all, it is a lightweight jacket and is not fully waterproof.
What I do like is that the montane Icarus is incredibly windproof. I've worn it on the hills in some very windy weather and did an awesome job of keeping me warm no matter how hard the wind hammered me.
To be honest, most decent jackets will keep you warm and relatively dry unless you take them to extreme environments. You lie
For weather resistance I'll give the Icarus at 8 out of 10.
TL/DR
Pertex shell provides a decent amount of protection from rain.
shell is highly windproof and the small storm flap helps keep cold wind out.
be warned: rain will soak through during a downpour.
Fit and construction
I'm a pretty big guy and often find it difficult to find a jacket that fits comfortably over a couple of layers of additional clothing. The Icarus has a comfortable fit whilst giving me enough room for 2 thin layers without restricting movement.
One thing to note here for anyone with slightly larger hips is that the elasticated ham might feel a little bit restrictive when you're wearing it. You may also find the jacket rides up over your hips when you want to move.
Overall, the construction is excellent. The hem and cuffs are double stitched to give them that extra strength and durability. The sleeves of the jackets all "articulated" to prevent them from riding up when you extend your arms.
The zippers have being fitted with fairly coarse zip which I really like as they helps to reduce that irritating cloggin and snagging caused by dirt and grit.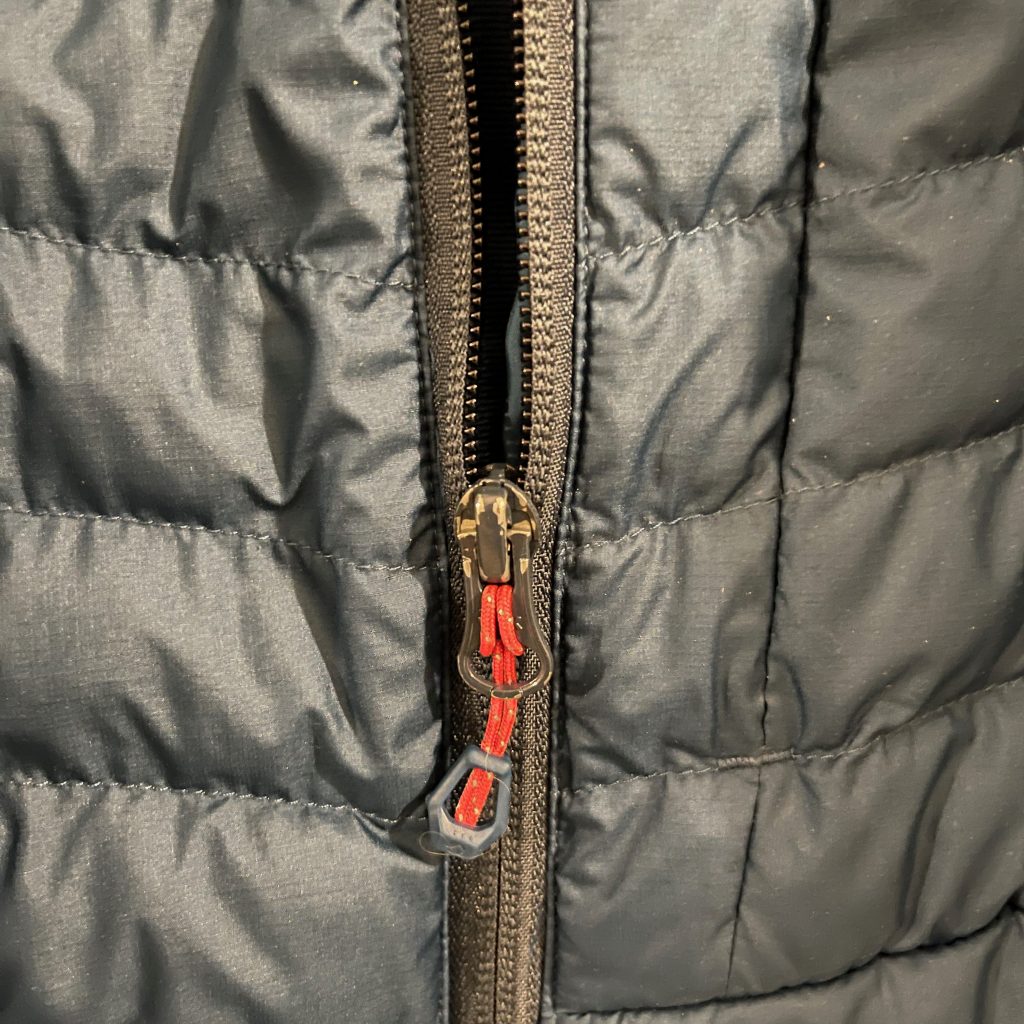 Montane created this jacket using what's known as micro baffle construction. What this means is the insulation is contained in small, stitched pockets spread over the entire body, sleeves and hood. The baffles ensure even distribution and positioning of the insulations, which is really important when you wash your jacket as is prevents fill from clumping together.
Another benefit of the micro baffles is that sleek look they give you when you set up a jacket (I've put on a little bit of weight over the years, so looking that little bit more slender is always appreciated).
Montane have added a small fleece panel at the top of the zip. I love this feature as it reduces the inevitable irritation that comes when the jacket rubs against my chin (especially when you got a few days stubble when your face).
TL/DR
excellent construction with double stitching helps to improve the overall strength of the jacket.
fairly coarse zips that's don't easily clog up with dirt and grit.
micro baffles keep insulation evenly distributed and prevent clumping when washing.
fleecy chin guard that's oh so smooth!
articulated body and sleeves give you plenty of range of movement whilst preventing the jackets, or sleeves, from riding up.
plenty of room for a couple of additional layers without restricting movement.
Summary
Buy the Montane Icarus if:
you need a jacket that is relatively inexpensive that can stand up cold temperatures.
you need a jacket that can be used without the need for a shell.
you need a good all-round mid-layer suitable for most outdoor activities.
Don't buy the Montane Icarus if:
you need a top end jacket that can keep you warm in real extremes of temperature.
you need a super-lightweight jacket for the summer evenings around a campfire.
You want a jacket that is fully weather resistant.
Out thoughts
Snuggly, even in the minuses!
Adding a dash of colour to your hikes.
Grey jacket for those grey days, but still looking trim
Out thoughts
Snuggly, even in the minuses!
Out thoughts
Adding a dash of colour to your hikes.
Out thoughts
Grey jacket for those grey days, but still looking trim
<