Gear Reviews
Rab Cirrus Flex Hoody Review: Lightweight, Synthetically-insulated Jacket
The last few times I've bought insulated jackets I've tended to go for real down. It's warm, compressible, and it just felt like the 'superior' option versus artificial insulation. Fleeces aside, my only synthetically insulated jacket prior to buying the Rab Cirrus Flex was the very lightweight Arc'teryx Atom LT. However, on a trip to the Cairngorms a couple of years ago, down jackets were strongly discouraged and I ended up borrowing a synthetic jacket. The reason, simply, is that even the very best hydrophobic down just does not perform well when wet. And it's almost always wet in Scotland. Wet down clumps together and loses its loft, and suddenly what you thought was bombproof insulation is about as effective as wrapping yourself in damp newspaper. You can read more about what makes a down jacket warm here. So perhaps it's no wonder that, for a lot of hikers and climbers in the UK – where it pretty much rains all the time – synthetic insulation is seen as a better choice. In other parts of the world, where cold but very dry conditions can be guaranteed for weeks at a time, real goose down is of course an excellent choice.
Anyway, this thought process made me decide that the next time I bought an insulated jacket it might be time to mix up my collection with a synthetic one, and so I ended up with the Cirrus Flex hoody – a lightweight insulated jacket ideal for 'active' use on cold days, as an additional layer, or general wear as a top-layer for much of spring and autumn. 
Intro
Where the Rab Cirrus Flex Hoody sit in the range?
As always, I like to start my reviews by establishing what niche the jacket is supposed to fill, and where it sits in the wider range by that manufacturer. After all, there's no point criticising Rab's lightest jacket for not being warm enough, or its most highly-insulated for being too heavy and non-breathable; it's a question of 'what is it for?' and then 'how good is it for that?'
So, first off, this is insulated with Rab's synthetic 'Cirrus' insulation. What is Cirrus Insulation? It's a proprietary synthetic down made from water-resistant fibres designed to mimic the properties of goose down, and which Rab claims is broadly comparable in warmth with 600 fill power down. Rab has essentially two parallel ranges; the synthetic Cirrus range, and the real down range, and it doesn't make a tonne of sense to make comparisons between the two. The down jackets are typically more expensive, more compressible, a bit warmer for their weight, and less suitable in the wet. Synthetic jackets are, of course, the opposite of all that. So, we want to see where the Cirrus Flex hoody sits within the rest of the synthetic range. If you're more interested in what is the best down jacket for men, check out our article on that.
First off, the Rab Cirrus Flex hoody (and it's otherwise identical, non-hooded equivalent) are the cheapest synthetic jackets in the range at £130 with hood and £115 without. That's hardly surprising because they are also the lightest, with the hoody weighing just 404g, and deliberately designed to be the most suitable for active use – with breathable, stretchy fleece down the sides of the torso and the insides of the arms. 
Next up are the Altus and Nimbus, two very similar jackets except that the Nimbus has a hood, making it the better comparison with the Cirrus Flex hoody. They have insulation across the whole jacket, and the Nimbus weighs in at 502g, so around 25% more than the Cirrus Flex hoody. They're less suitable as a midlayer, and less suitable for very active use except on extremely cold days, but will obviously be much better when standing still or moving slowly. The Nimbus costs £150
At the top of the range is the Nebula pro, costing £175 and weighing 586g. It's a bulkier fit to accommodate layers underneath it, and is perfect for very cold or windy days. 
Finally, there is the waterproof Photon Pro, and the more lightweight Xenon. Both are designed primarily as a belay jacket, where warmth is more important than breathability, and so they aren't really comparable to the Cirrus Flex.
So, the Cirrus Flex is the lightest-weight synthetically insulated jacket in Rab's range. Intended as a midlayer or for active use, or on milder days.
Rab Cirrus Flex Features
The Rab Cirrus flex is a relatively simple jacket, which neither needs nor has a load of complex features. A fairly close-fitting hood, specifically designed to be worn under a helmet, has no adjusters or elastic. Stretchy panels on the side ensure a comfortable fit under a helmet and prevent it from getting in the way or flopping about. The bottom hem of the jacket has elastic drawcords so it can be tightened up, and these are held neatly out of the way up inside the jacket.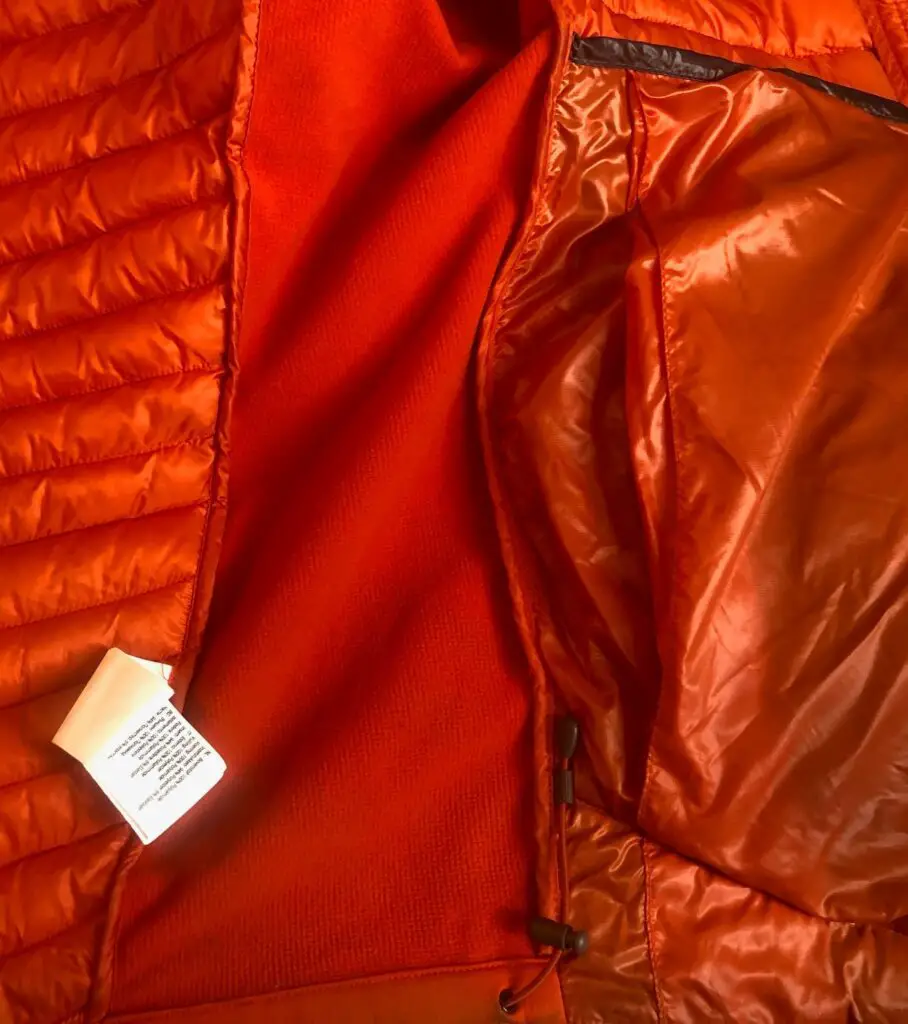 Other than that, there are just two external zip pockets and, inside, two 'poachers' pockets created by the presence of the external pockets. I like those inner poachers pockets – they're ideal for quickly tucking a map into while you hold something else, or could even be used for keeping some wet clothes next to your body to dry. The external zip pockets are big enough for a phone, a wallet, snacks, or other small items you'll want to have on you person.
One of the external zip pockets is designed so that it can turn inside out and have the entire jacket stored in it. It doesn't go quite as small as you could probably get it in a compression bag, but it's pretty neat and compact and definitely makes for a nice easy way to organise your bag and find the jacket when you need it.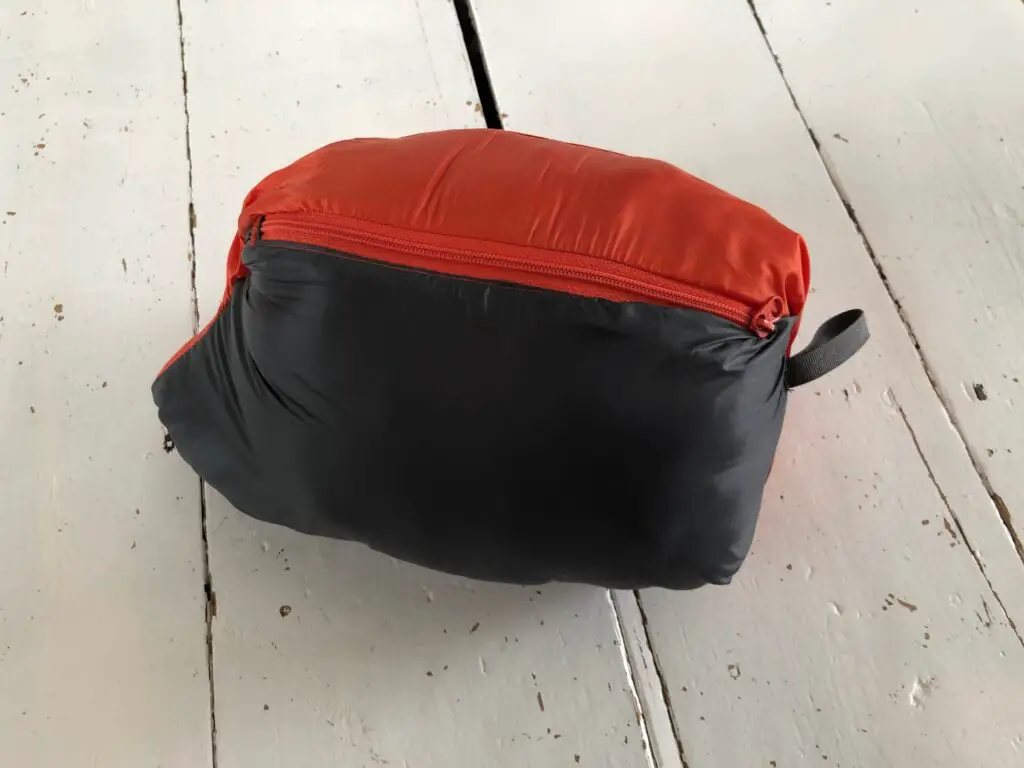 The cuffs are stretchy and ringed with Lycra, keeping them snugly closed, and the top of the zip has a fleecy chin-guard, making it more comfortable and warm when zipped all of the way up. It's worth noting that the jacket does not have a two-way zip, so it's not really suitable as a belay jacket.
The other main 'feature' is the large fleece panels down the sides of the body and inside the arms, making the jacket far more breathable and suitable for active use than an all-insulated jacket, and also providing much greater wicking in these higher-perspiration areas. 
Rab Cirrus Flex Specifications
As discussed above, the Cirrus Flex hoody weighs in at a fairly floaty-light 404g – in fact mine is just 398, a difference that can probably be attributed to being a smaller size than the benchmark one.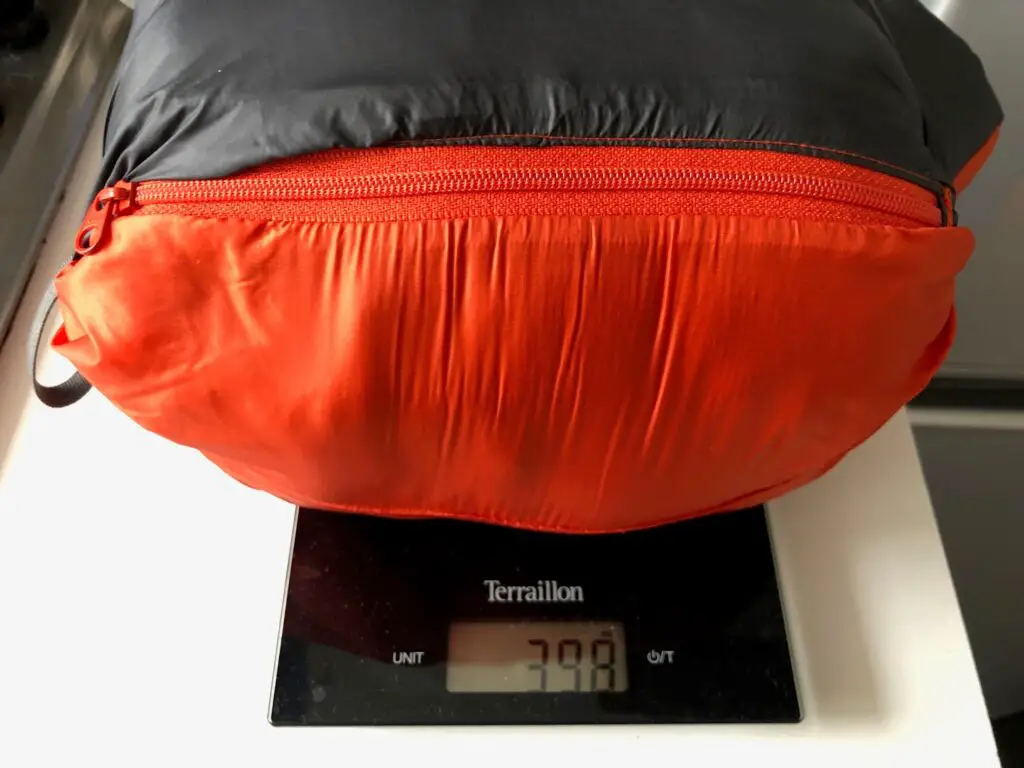 The jacket is filled with 117g of Cirrus 3M synthetic insulation (this compares to 100g in the non-hooded version, leading to the inevitable conclusion that around 17g of insulation is in the hood). The outer and liner is made of Atmos rip-stop fabric, which is tough, durable and very lightly hydrophobic but by no means waterproof. The fleecy panels are Thermic stretch fleece – the same stuff as in my Rab Baseline jacket; soft, warm and comfortable. 
Review Criteria
In assessing the Cirrus, I'm interesting in how it performs in the conditions its realistically intended for:
Does it work as lightweight insulation for active use?
Does it work for layering with other clothes when static or in very cold conditions?
How does it perform in the wet?
Is it comfortable, and are the features suitable for the use for which it's intended?
Field Testing Details
I've had this jacket for over six months of testing, in conditions ranging from mild spring days to temperatures well below freezing. I've used it for active hiking and as a layer when stopped to rest or eat/drink, as a warm layer to carry with me on long trail runs, and for day-to-day use when commuting and traveling. Over the course of that, I've used it in wet and dry conditions both on its own and layered with rain shells and heavier insulating layers.
Overall, its been used in a pretty wide range conditions you could realistically expect to face in the UK over four seasons. Unfortunately, due in large part to covid-related travel restrictions, I wasn't able to take it to more extreme climates but given this is intended as a fairly lightweight layer, I don't think that sort of testing would necessarily have been especially relevant anyway.
Performance
My perfect use-case for the Cirrus Flex Hoody has tended to be chucking it on while I'm still moving, but the temperature has dropped either because I'm getting to higher altitude, the wind has picked up, the sun has dropped, or it's just getting colder. It's perfect for that scenario where you've been hiking most of the day in just a shirt or a light fleece, keeping warm through exertion alone, but now that's not enough to keep you comfortable any more and you need to get another layer on to stay warm.
What I love about the Cirrus Flex in this scenario is that it makes you feel cosy but not over-hot – the perfect combination when you've made it to the top of a ridgeline and realised there's a biting wind, but you're still going to be moving fast. The ability to pull the hood up just adds to that cosiness, but the breathable fleecy layers meant that I never worried about overheating.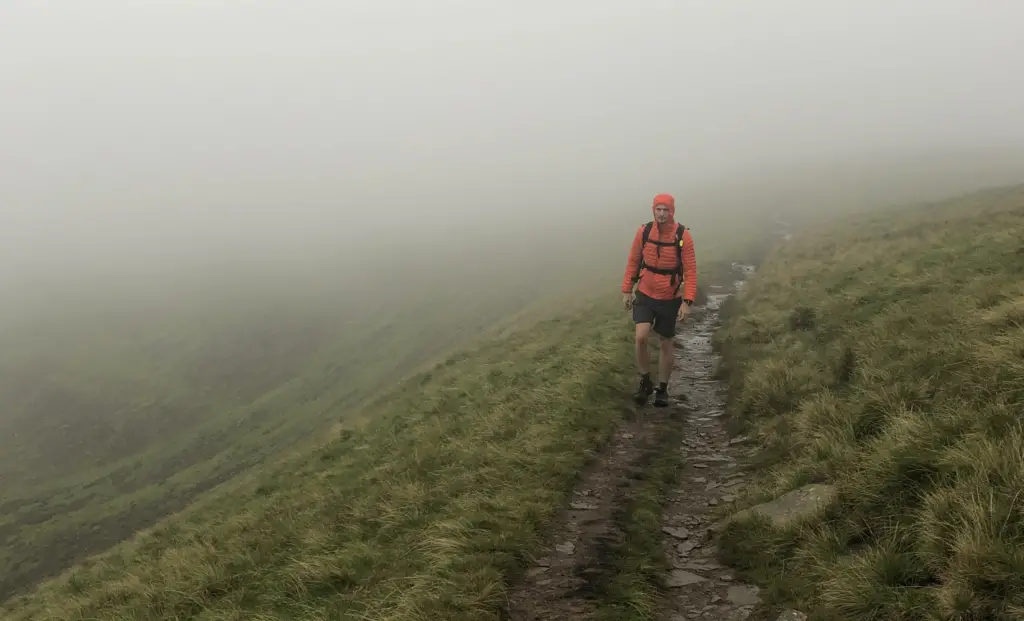 Other times, it makes for a good layer to put on when you stop for a break on a milder day, although there are plenty of other jackets that work just as well in that scenario so I'm not sure it's worth buying for that alone. It also works great underneath a rainproof although the nature of the down-style compartmentalised construction means that it's more bulky than a fleece or even something like the otherwise fairly similar Arc'Teryx Atom Lt so it can be a bit of a squeeze if your rain shell isn't sized slightly large.
Weather-resistance
The Atmos outer fabric of the Cirrus Flex does a superb job of blocking the wind. On a few occasions I've worn it in bitterly cold winds and as soon as I've put it on, I can barely feel them anymore. You might expect to feel some wind at the stitching points but I never found that to be an issue, and I think the nature of the construction and the outer fabric means it does a better job of blocking wind than, again, the Atom Lt.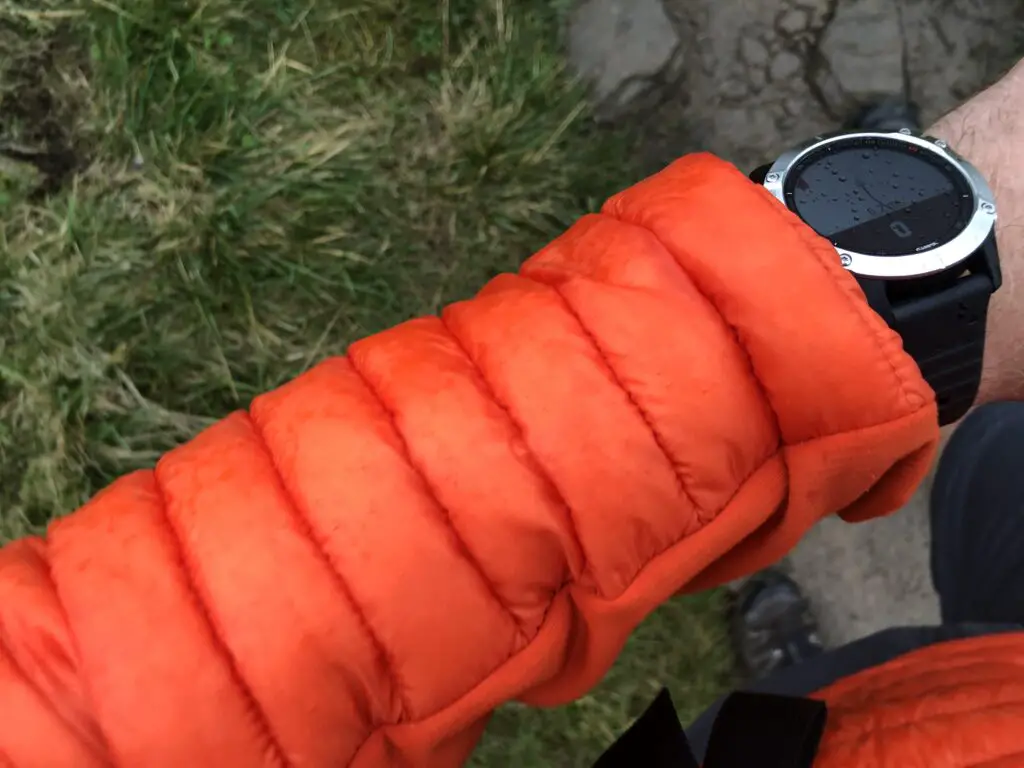 Rain-resistance is also surprisingly good, with the obvious caveat that this is not designed or sold to be waterproof, and should not be treated as such. Light rain beads on the surface and it takes a fairly strong downpour or rain combined with driving winds to start the outer fabric wetting out and let water penetrate. Even when it does, it's the stitched areas where water comes through first, and the synthetic insulation does a remarkably good job of staying warm even then. Clearly, in heavy rain, you're better off putting a proper waterproof shell over the top but if you're caught out, or experience a brief shower of light rain, you'll probably be able to get away with just the Cirrus Flex for a decent length of time.
Fit and Construction
The jacket is intentionally cut fairly slim, with the expectation that it's likely to be worn as an active layer, underneath other layers, or under a rain shell. Unless you deliberately buy large – which I wouldn't recommend – you probably won't be able to fit much under it except perhaps a light fleece, but that's the intention. It goes nicely over a t-shirt either for hiking or for casual wear, or a light jumper if you want to add an extra layer.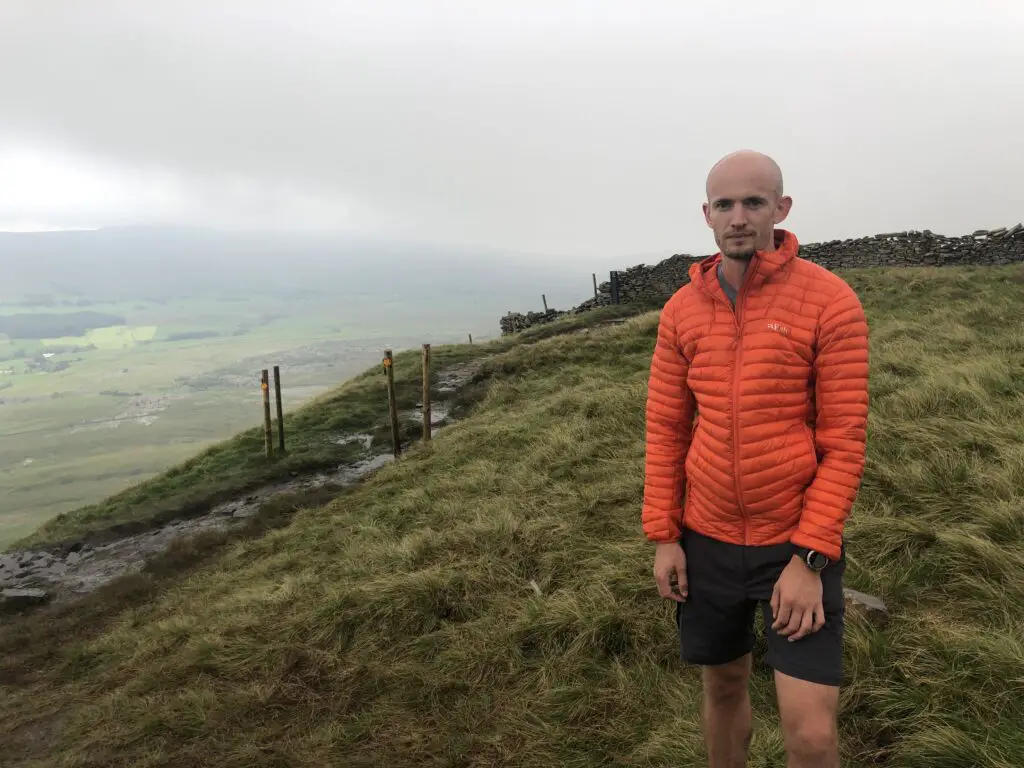 Summary
Overall, the Cirrus Flex offers a lot of value for the relatively cheap price it's available for. It's light, versatile, and looks good (as long as you like the slightly shiny, very 'technical' outer fabric). Because of it's low weight and the way it packs down small, it's a very easy jacket to chuck in your kit or clip to your harness 'just-in-case' without really adding much weight or bulk. And it genuinely works brilliantly for what it's intended – an active but insulated layer.
Buy the Rab Cirrus Flex if:
You need a lightweight insulated jacket for mild days, or an extra layer in very cold conditions.
You need something to keep you warm but not over-heated while active on colder days.
You want a jacket that still performs when wet.
Don't buy the Rab Cirrus Flex if:
You want a real down jacket.
You need a properly warm jacket for conditions below freezing or for when stopped.
You need a belay jacket.
You don't like the shiny look of the outer fabric.