Do you know how to choose hiking boots? Well, the process is a little like entering into a long and committed relationship: you're going to travel long distances together, on journeys that may take many years. Along the way there will be friction, fun and occasional boot envy when you're hiking the wilds.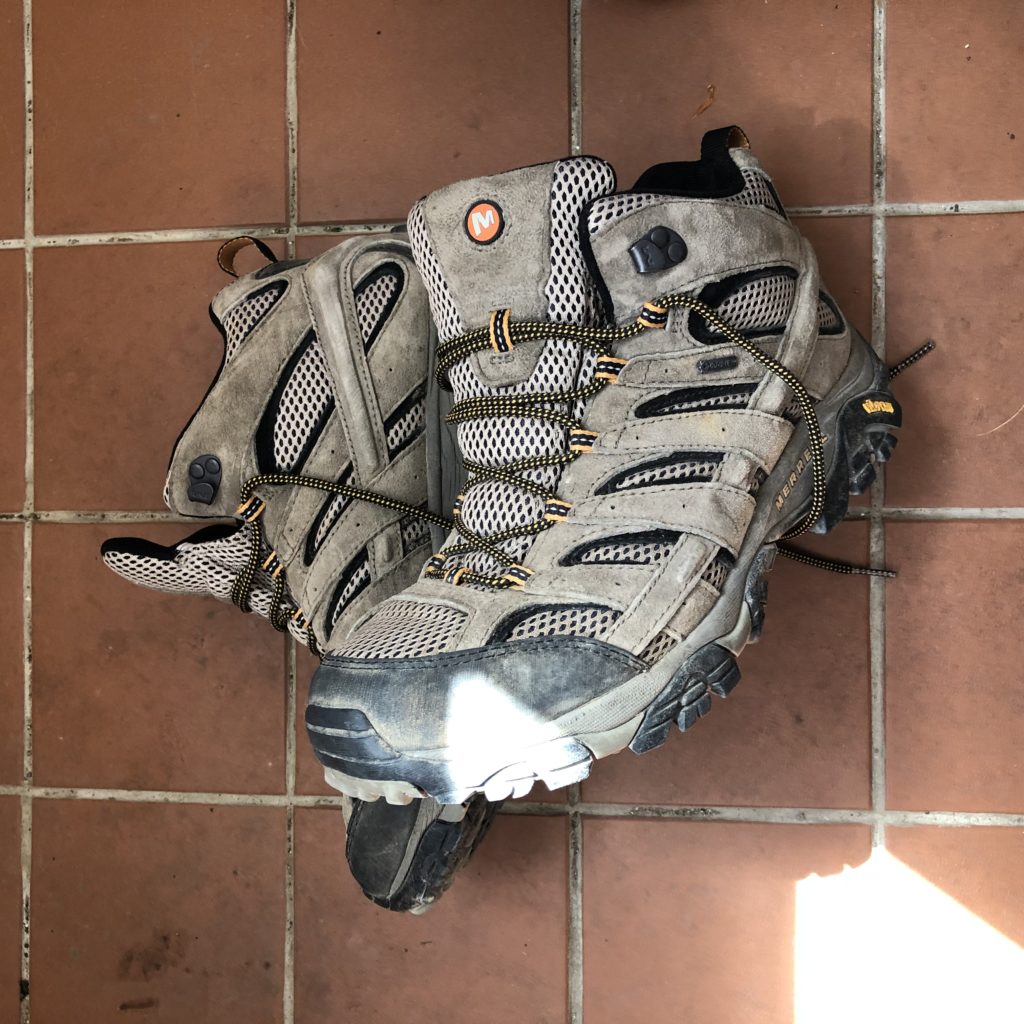 Most important of all, you'll care and protect one another. Mutual respect will grow, and in time you'll feel comfortable with each other, no matter where you adventures take you both. How to choose hiking boots that you'll cherish in a way that will make your bobble hat green with envy is a dizzying process.
But don't worry! This post is part of a new series of article that will bring together all you need to know about hiking boots. Let's get this love affair on the trail!
Before you finally commit to a match made in hikers heaven, you need to be sure the two of you are compatible.
Here's how:
Type of hiking boot
The three types of hiking boot you can buy are:
Hiking shoes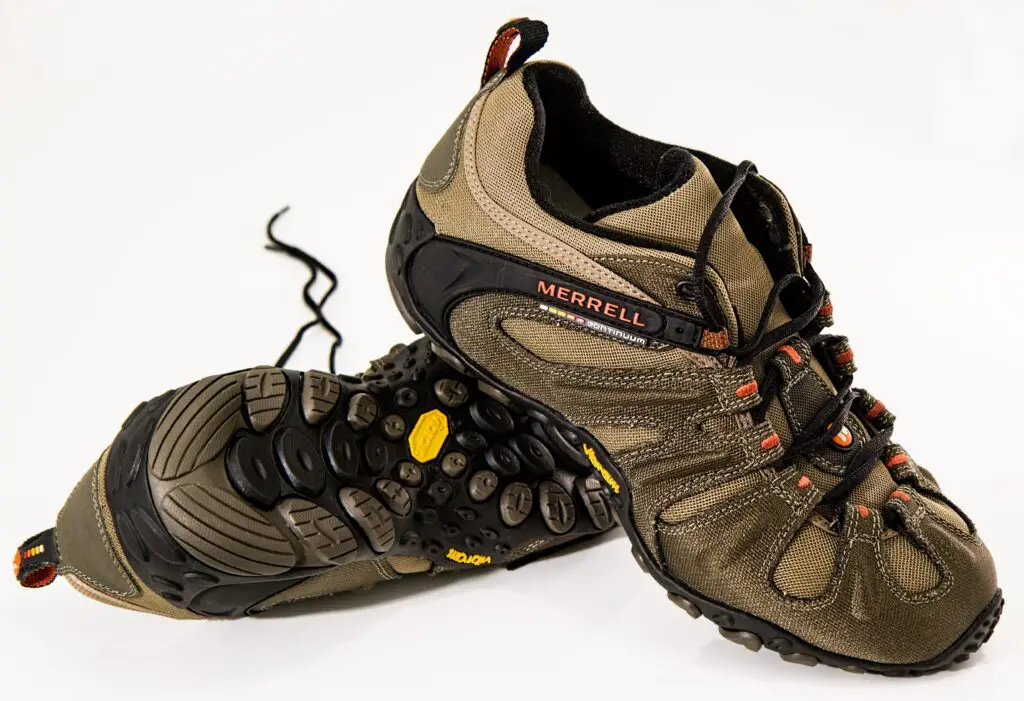 Whilst not true hiking boots (the name kind of gave it away), the best hiking shoes give you most of the benefits of full-size boots. The key difference is that hiking shoes tend to be better suited to short hikes.
Hiking shoes have a lower profile – by this, I mean they don't have the full ankle support you find in boots. They also tend to be lighter and more flexible that full-sized boots.
If you've read my hiking boots vs trail runners post, you'll know that I've used trail running shoes a replacement for boots when I ran/hiked Lake Baikal.
Day Hiking Boots
Day hiking boots have a higher cut than shoes. Like hiking shoes, they are best suited for use on medium distance walks that don't involve you carrying heavy weights. Day hiking boots tend to be lightweight and flexible (check out my review of the Merrell Moab 2 GTX for an example of a great pair of boots).
Although this type of boot gives more support than shoes, they can be significantly less durable than a hefty pair of backpacking boots
Backpacking Boots
If you're heading out on a multi-day trip and carrying a heavy load, you'll need some heavy duty backpacking boots. My first pair were Scarpa Attack. I used them for hillwalking and completing the Ten Tors event on Dartmoor. The Attacks were brilliant.
This type of hiking footwear is highly durable, has a lot of support and tend to have fairly stiff midsoles. If you need boots capable of carrying you over multi-days treks, especially cross country, you'll need a pair of these.
Hiking Boot Build Components
The materials used in the build of your hiking boots affect features such as durability, water resistance, breathability and the weight. And so, it's important to know exactly what demands your hikes will place on your boots (and mind).
Hiking Boot Uppers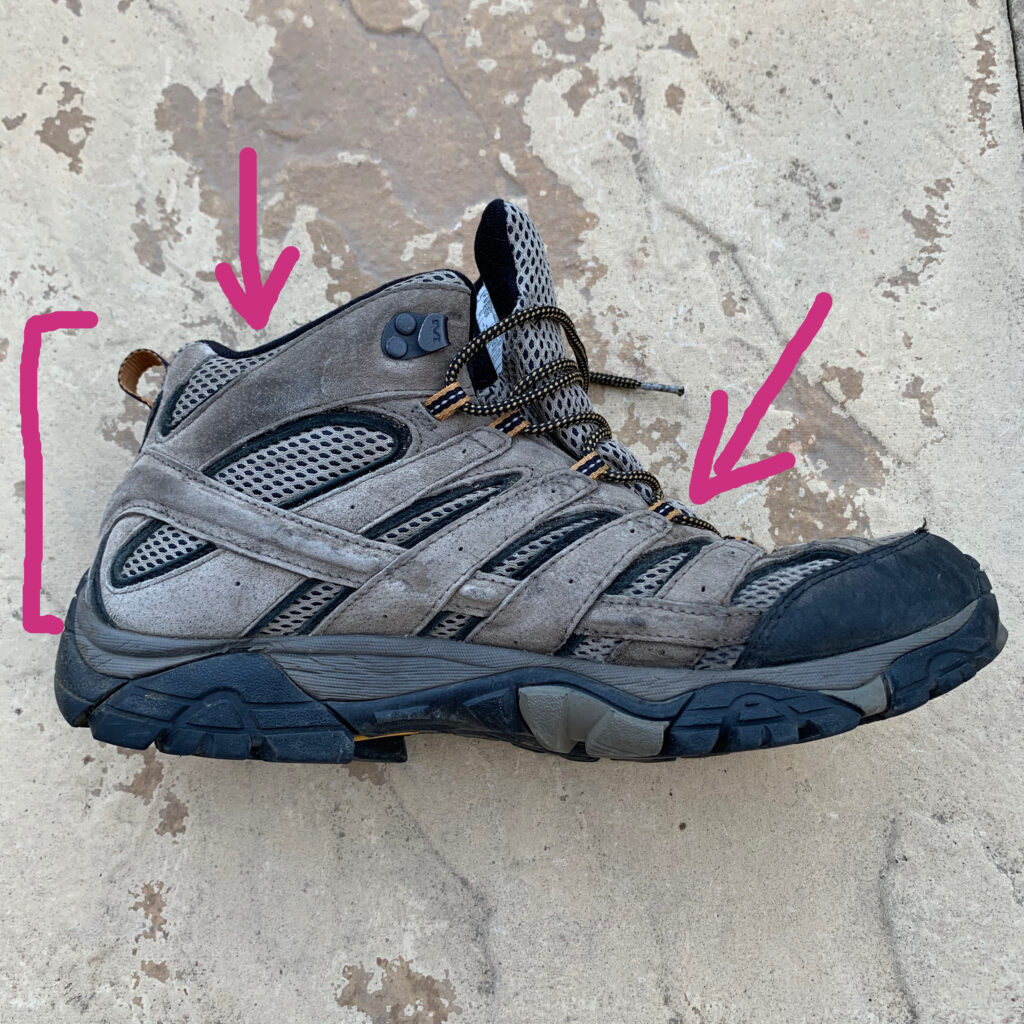 The uppers of a hiking boot are all the parts above the soles. The materials used to construct your hiking boot uppers directly affect flexibility, water resistance and ruggedness (by this I mean the boot's ability to withstand the hardships of hiking, not the rugged looks of a youthful Marlon Brando).
Full-grain Leather
Scuff and tear resistant, full grain leather hiking boots are the most durable and weather resistant option of hikers. Mainly used to make backpacking boots, the leather is heavier and less breathable than split-grain.
If you choose full-grain leather boots be aware they'll need breaking in before you hit the trails. Blister prevention is better than cure!
Split-grain Leather
Normally associated with a more lightweight hiking boot, split-grain leather is a combination of natural and man-made materials. The Merrell Moab 2 boots are a great example of this type of construction: the boot has a number of sections, or panels, made of nylon.
Split-grain leather boots tend to be lightweight, breathable and have very flexible soles which makes them ideal for shorter, faster hikers.
Synthetic Materials
This category covers a number of different materials. Synthetic materials are regularly used in the construction of hiking shoes and boots (some brands of full-grain leather boot have Gore-Tex layers that helps prevent water reaching your feet).
Hiking footwear with a high percentage of synthetic components tend to be lighter weight options for hikers. They're also quicker to dry and normally less expensive that all-leather options. But they do show signs of wear and tear much faster.
Here are a few examples of man-made materials you might find when trying to choose the best hiking boots for your needs:
Nylon
Polyester
Gore-Tex
eVent (similar to Gore-Tex)
Midsoles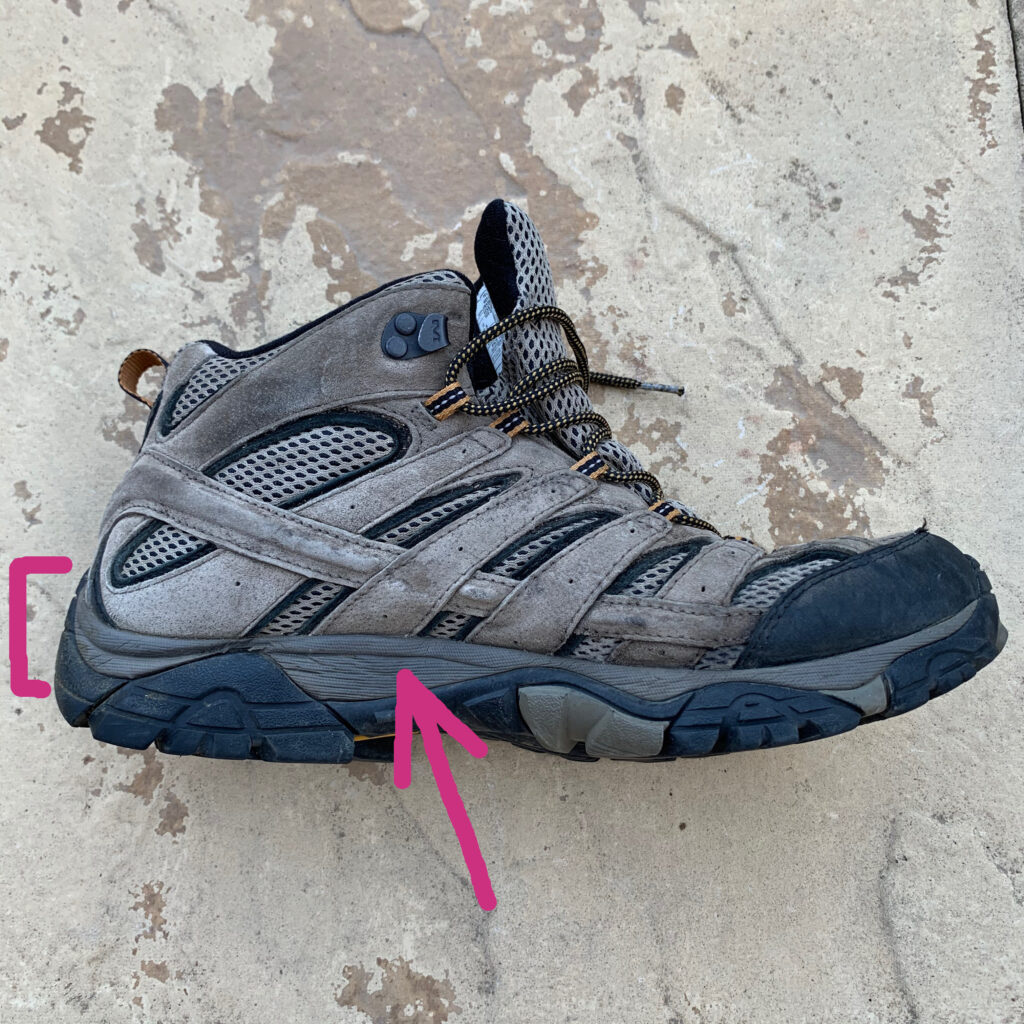 When you think about buying a pair of hiking boots you need to where you'll be using them. The terrain you'll travel will directly influence your choice of footwear, in particular the hiking boot midsole. Midsole construction, and the material used, cushions your feet to reduce the jarring effects that come with walking over uneven ground.
Having a stiff midsole that doesn't flex much might not seem like a great idea, but when you've moving over uneven ground, you'll be glad of the stability and support.
Another function of the midsole is to protect your feet from the not so joyous experience of feeling your feet shape themselves around rocks and ruts. Soft midsoles increase the likelihood of this happening.
The two most common materials used to make midsoles are:
EVA
EVA is the lighter and cheaper of the two options. Most boots made from this material tend to be aimed at the lightweight hiker and are normally the less expensive choice. The EVA density can vary to provide more protection to specific regions of the foot e.g. the forefoot.
Polyurethane
Firmer than EVA, polyurethane is normally found in backpacking boots.
Takeaway:
Midsoles are designed to protect the soles of your feet from the inevitable wear and tear of hiking hard trails.
Firmer midsoles made from polyurethane are better suited to hikers looking for a durable pair of boots suitable for backpacking.
Outsoles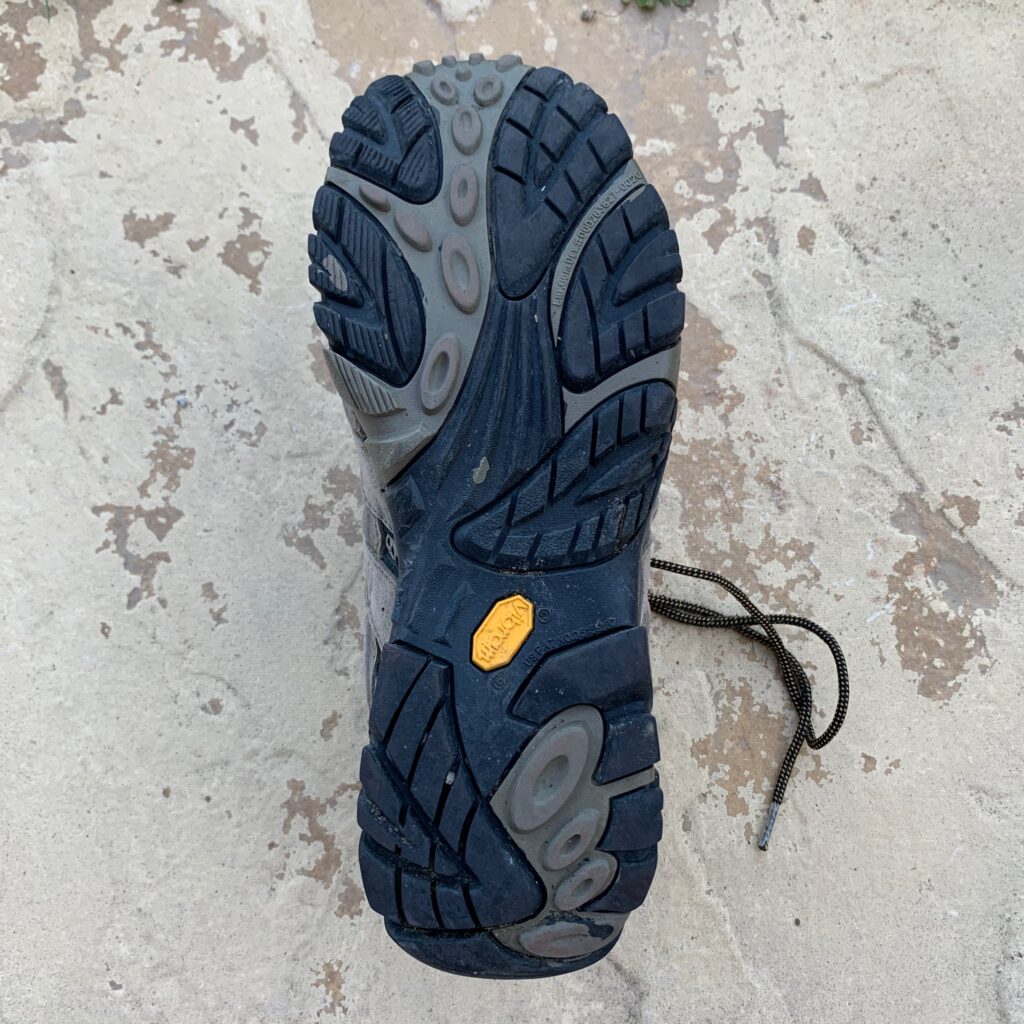 I haven't yet found a pair of hiking boots that don't have rubber outsoles. Rubber is versatile and can be mixed with other materials to provide greater levels of 'stickiness', or to harden them. The material most commonly used to make outsoles is Vibram.
Internal
This consists of:
Shanks
A piece of material inserted between the midsole and outsole, a shank is designed to add stiffen the boot and give support your feet. The thickness can vary with thicker inserts giving more protection.
Some shanks run the whole length of the boot's midsole, whilst others stretch only halfway.
My Attacks had a metal shank which made them great for my long-distance hikes. But they took a long time to become accustomed to.
Plates
Plates also sit a boot's midsole and outsole. They can be in addition to a shank. This component is designed to reduce the risk of injury to your feet by cushioning them from hard, uneven terrain.
Toe Box
The width of your feet will determine the size of toe box. I have huge, splayed feet not unlike a hobbit which means the toe box in my boots is pretty wide. If your feet are slender and elf-like you're going to need a narrower box.
Takeaways:
Buy hiking boots with fitted shanks if you need stiff boots that provide lot of support.
Plates will reduce the risk of injury to the soles of your feet.
Let the sales assistant guide on the right type of toe box for your body and hiking needs.
Ankle Support
Ankle support is a key consideration when choosing any kind of hiking footwear. Even low-cut hiking shoes provide some support to that most vital area of you foot. Attempting to travel with a sprain hurts!
Boots with higher ankles are best suited to hiking across uneven ground and steep inclines.
Fitting
This is trickier to define, partly because we all have our own preferences. The key message here is to ensure your hiking boots are comfortable to wear. An ocean of advice exists on how to fit your hiking boots and it can be overwhelming.
Here's what I've learned:
Know your foot size, but also know what feels comfortable to you.
When trying on a new pair of boots use the socks you intend to wear on the trail.
Break them in before you set off on a major hike by wearing them around the house, on short walks and maybe even to your local shops and stores. Nothing says 'rugged outdoors type' more than a pair of hiking boots whilst you're loading on groceries.
You may want to wear thinner socks at times and if you do you should use a thicker insole. This will help reduce movement of your foot and blisters that come with friction.
When you find a pair of boots that work well for you consider buying a second pair.
How To Choose A Replacement Pair of Hiking Boots: Sending Old Faithful to the Bootmaker in the Sky
After many years of faithful service, there will come the inevitable despatching of your hiking boots. Before they go to the 'Great Cobbler in the Sky', take a note of the brand and model. If they've served you well, buy the same pair again.
Choosing hiking boots is not a simple task. Let your feet be your guide and enjoy the journey.
This post is part of our guide to hiking boots.