Gear Reviews
Merrell Moab 2 Review: The Ultimate Beginner's Hiking Boot?
Are you having trouble finding the perfect hiking boots to fit with your hiking activities? It can be pretty hard making the right choice, there are so many options out there. Today we are going to kick off our voyage into the mysterious world hiking boots with a Merrell Moab 2 review post. Let's see what you get for your money.
Unlike some websites I buy, borrow or steal the equipment reviewed (apart from the piece I wrote about the best hiking watch of 2022). Everything I wear, everything I use and everything I review is owned by me. Regardless of whether it's hiking gear or trekking kit – it's all mine.
Okay, let's get this review on the trail.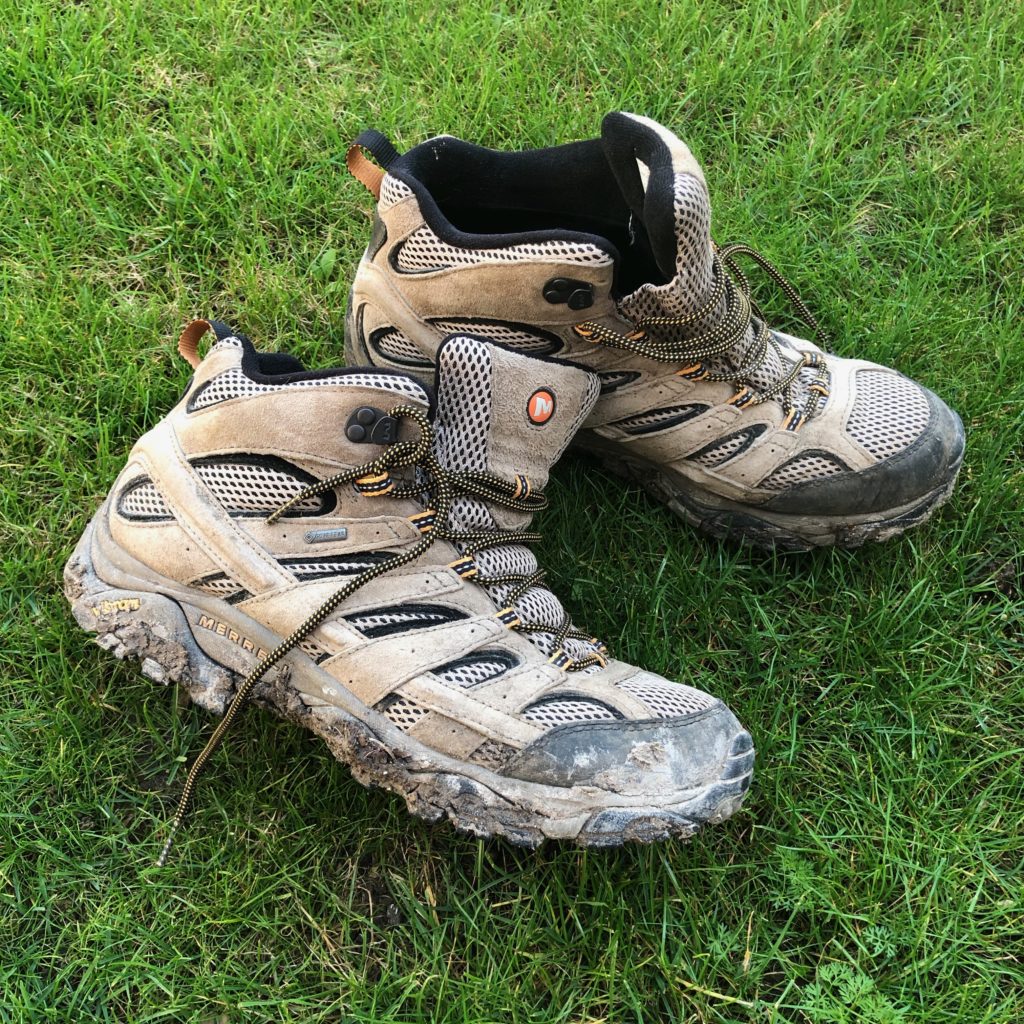 I've been using one form or another of Merrell hiking boot models since the late 90s. My experiences of their hiking gear can only be described as varied. Since I first pulled on a pair of their Trail running shoes I'm happy to say that overall quality has improved massively.
My travels and hikes with the Merrell Moab 2 walking boots as companions came about as a result of indecision. I've been looking for a new pair of walking boots for some time and my default setting was to fall back to a brand named scarper. The only problem was that Karrimor suffered what can only be described as a catastrophic quality failure!
Back in the 90s, while serving in UK Armed Forces, I owned a pair of Karrimor KSB boots. For the time, these hiking boots were lightweight and incredibly hard wearing. I quite literally pulled them out of the box, put them on my feet and I went on selection. I didn't get a single blister.
Those boots have only just reached, as a technologist would say, end of life. I got over 20 years of hiking and hillwalking from my Karrimor KSBs.
However, when I went to buy a new pair of Karrimor boots I found that, since the company outsourced their footwear manufacturing to the Far East, the fit and quality is far below what it used to be.
So, I went in search of something better and my eyes alighted upon the Merrell Moab 2. The models that I bought, and the shoes that I'm reviewing today, are the mid GTX (GORE-TEX) version. I've never been a huge fan of GORE-TEX, especially in hiking boots. But, as you will discover later, I have absolutely no issues with these boots.
The Merrell Moab 2 Mid GTX Review: Construction
The uppers of this hiking boots are a combination of suede and mesh. You'd think this would make the boots relatively light, but that's not the case (more on this in the weight section below). They are still far lighter than my old KSBs which is why, when I first picked up a pair of Moab 2s from the display at Ellis Brigham I was amazed at how light they felt. The upper body of the boot provides a decent amount of support for your ankles. Ankle padding keeps the boot snug when the laces are tight.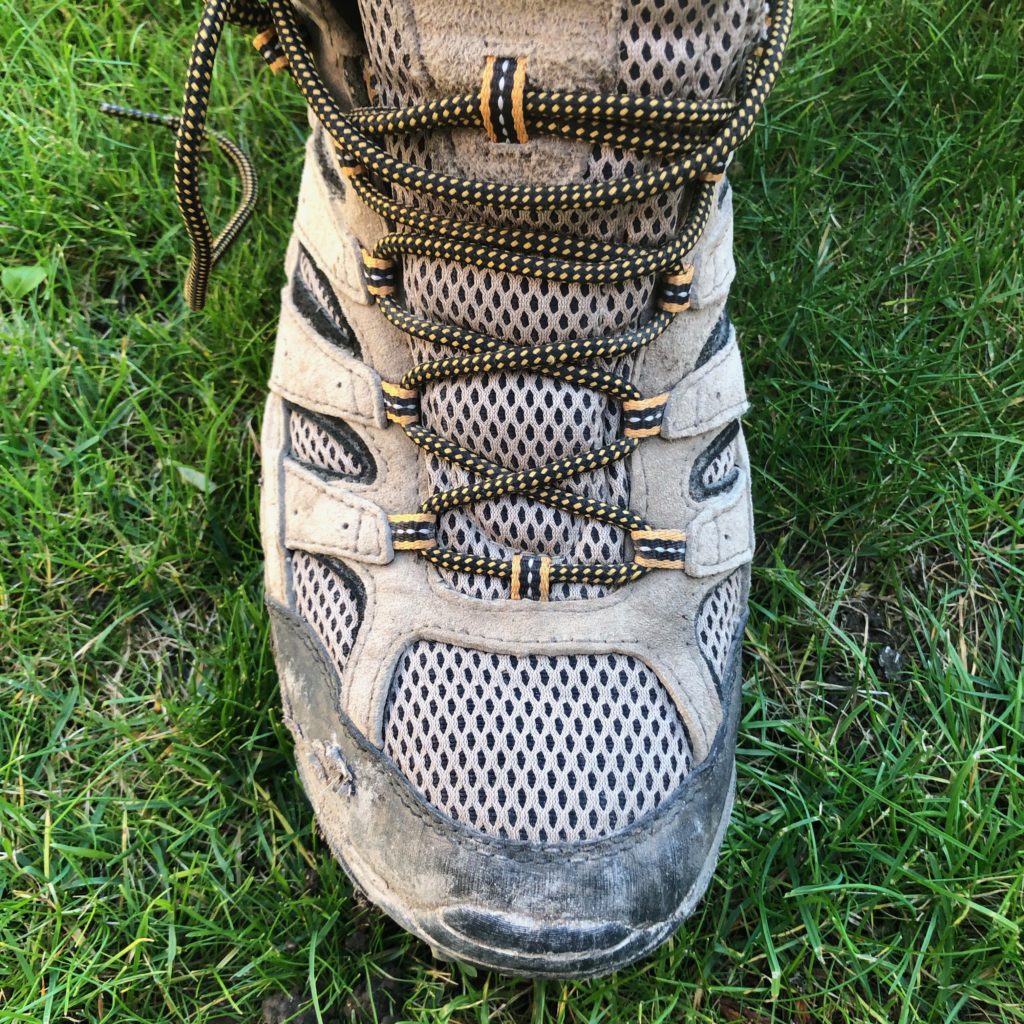 The sole is made from Vibram rubber, a good move on Merrell's part as this is the same material used in the first model and, in my eyes, the one of the best options for hiking boots. There is enough rigidity in the soles to give added support to your feet and prevent a loss of sensation when walking. What I mean by this is that the soles provide the flexibility necessary to give you an almost natural feeling when walking in them.
In addition, the soles have excellent grip and a high degree of stickiness which is super useful when scrambling over rocks and loose surfaces.
The toe box of the Moab 2 has ample room for wider feet which is one of the reasons why I really like this boot. Even when I'm wearing the very thick socks my toes don't feel uncomfortable or pinched. The heel has a comfortable fit and a nice feel about it, gripping the foot in a way that is not too tight that I lose my will to live. At 11mm, the heel drop is high and in a similar range to most other boots of this type. All in all the boot allows for a good deal of flex whilst walking.
The lacing system is a combination of heavy nylon duty loops and four hooks at the top of each boot, two on either side. I know some people don't like these types of systems, but it's one I've used for a very long time and, overall, I'm pretty happy with it. The layout and construction make it easy to pull your boots on and get a nice tight fit with just a couple of tugs.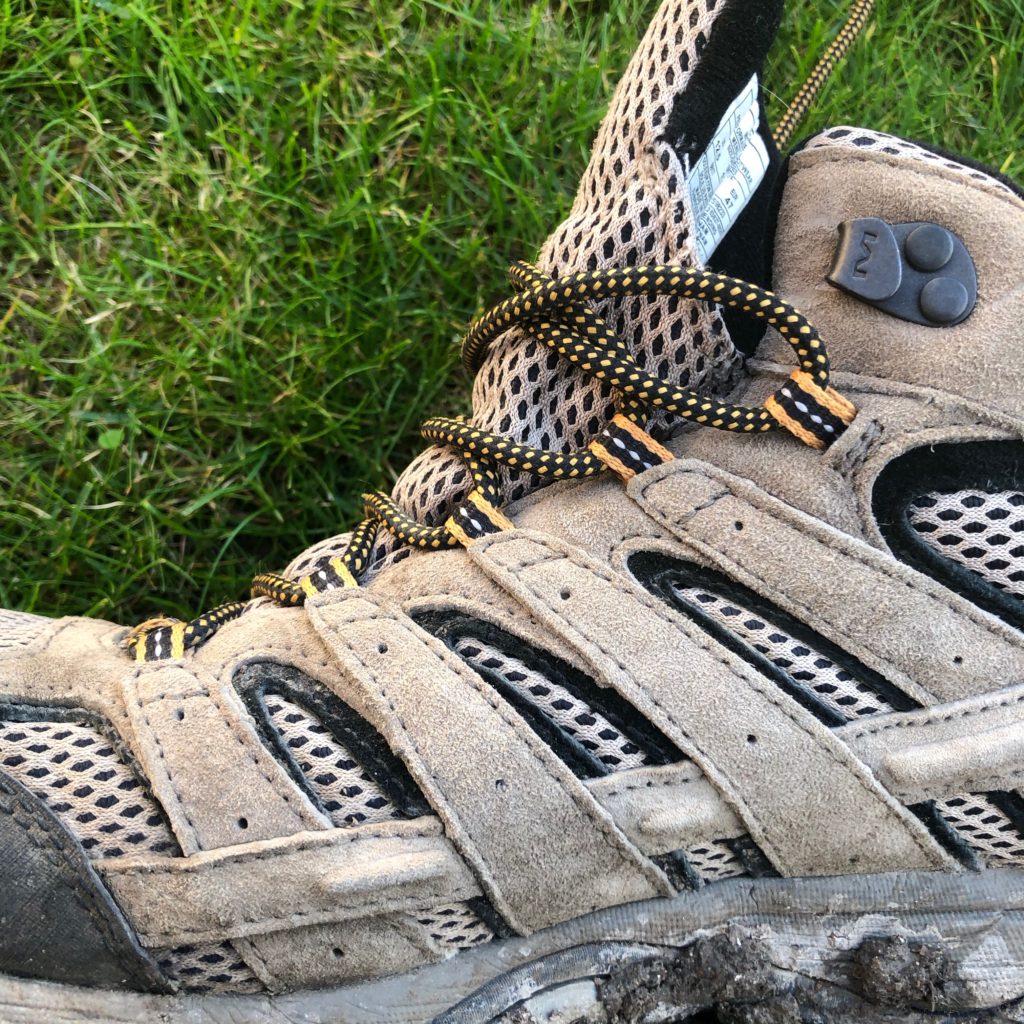 The Merrell Moab 2 GTX boots have extra padding and support around the ankles. The footbed is fitted with a thick latex like insert that absorbs a lot of the shock we experience when walking. I use my Moab 2 GTX is for a mix of hiking and speed marching, which involves quite a lot of running or jogging in my boots. The cushioning in the soul is truly fantastic it's almost like wearing a pair of running trainers or shoes.
Weight
As mentioned earlier, the Moab 2 isn't the lightest hiking boot, a fact that's easy to forget once you're wearing them. 2lbs might seem like a lot of weight to carry on your feet, and there definitely lighter options available (such as the Merrell MQM Ace), but the performance you get from the Moab 2 is a fair trade-off.
If you're not too concerned about the weight of you boots consider the Keen Venture Mid WP, which offer more stability and fantastic support for marginal increase in weight (a few ounces).
Comfort Rating
My hikes and treks have taken me to some pretty extreme destinations, and my Moabs have travelled with me. On most terrain, the cushioning has proven more than adequate. The padded tongue is very effective for preventing the discomfort that comes when the laces are pulled in tight.
What I really like about these boots is that they needed no breaking in. Like my now departed KSBs, I pulled them out of the box and went on a 12-mile hike. At the end of that training session I had no blisters or hotspots.
The wide toe box and flexible sole are great for running. On my hikes, in particular the training days, I like to up the tempo and run for between ½ and 1 mile. Alternating between running and walking allows me to cover more distance and is a great way to improve cardio conditioning. These Merrell boots are not designed as an alternative to cross country running shoes, but they are a great halfway house for anyone looking to add some speed work to their hiking and training.
One minor issue I do have with the Moab 2 is that the cushioning in the soles is a little too thing for some terrain. Stepping on sharp, pointed rocks can be an uncomfortable experience.
Some boots can feel restrictive to wear when the laces are pulled tight. The lacing system on the Moab 2 mid is comprised of 5 pairs of nylon loops with a pair of metal hooks at the top of the upper. The laces are thick and easy to tighten.
Weather Resistance
When we hear the name 'GORE TEX' we tend to think waterproof. This isn't always the case. Unless your feet are encased in rubber there will be some inevitable water ingress. To really test the Merrell Moab 2 waterproof claims I wore them on a four hour hike – in pouring rain (the best weather to hike in!). For the first three hours my feet remained dry. By the end of the day's hiking booth my feet were damp, though not soaked.
Some of the moisture build up was sweat, so I can grumble too much. To add this, much of damp came from water splashed up over the top of the cuff as I wasn't wearing gaiters.
The GORE-TEX version of these Merrell boots fared better than Merrell's own brand M-Select Dry which, according some reviews, failed to keep out water for more than two minutes.
My Merrell Moab 2 boots get 9 out of 10 for water resistance.
Durability of the Moab 2 GTX boots
As I mentioned earlier the souls of these boots are rubberised, but that doesn't mean they wear out easily. I've been using the GT axis front rear now, walking cross country, up and down hills and all Road. As you expect the souls are starting to show a little bit aware, but no way near as much as I would've thought this stage.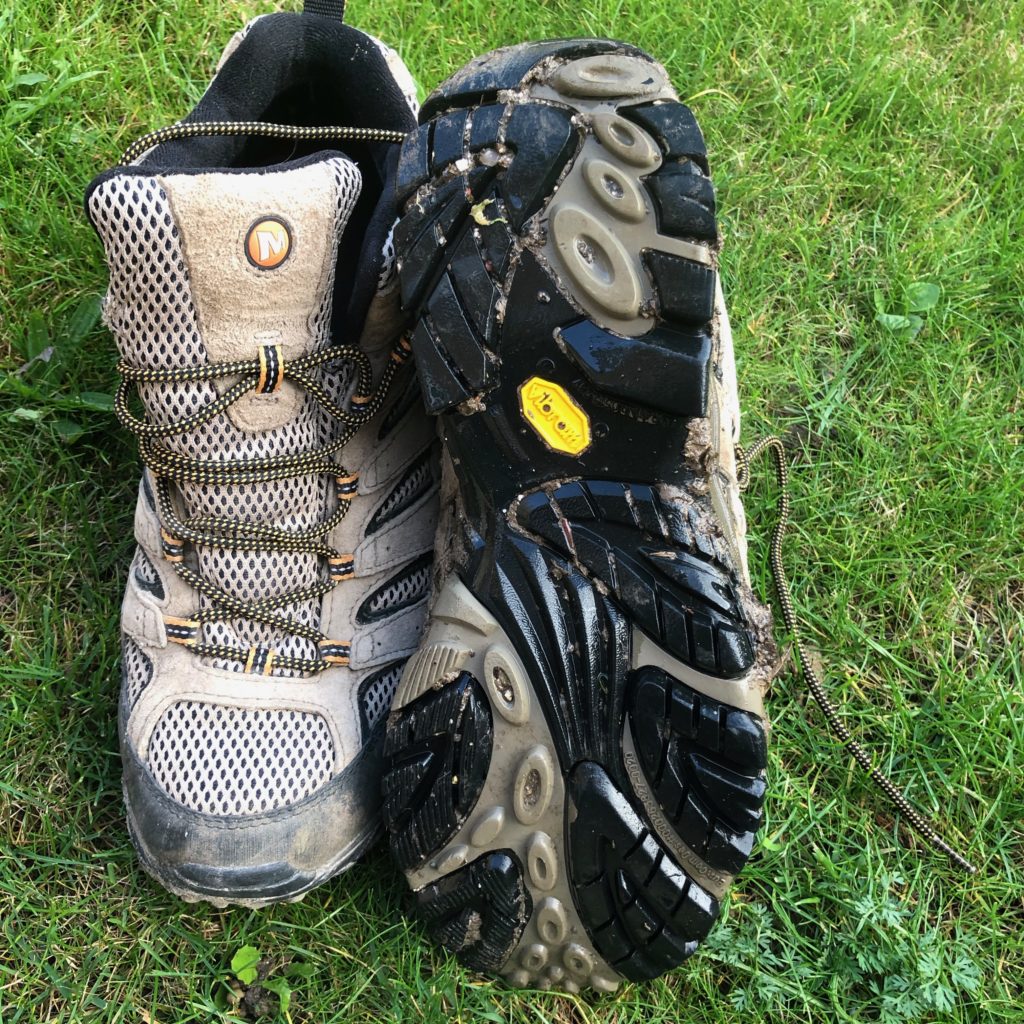 I average about 20 to 30 miles a week in these boots. To some people, in particular through hikers, this might not seem like a big deal. But I work my boots hard, but I put it in more than average mileage on a weekly basis and my GTXs are still going strong.
The uppers of the boots, like the soles, aren't really showing much wear at the moment. I do take care of my footwear and regularly treat the suede to prevent it from going brittle, or cracking. There is a nice mix of durability and comfort that comes with the Moab 2 even after one year that balance is still there. I think my boots are getting into the "comfortable pair of slippers" stage of life.
So far none of them lacing eyes have come loose. The top hook is made from a rust-proof metal.
 The souls of my boots have lost a little cushioning and the ability to absorb shock, that's not really a big issue. But they were used for over a before I'm starting to detect a little less give in the sole, and a bit more hardness in the ride. This is a minor issue, one that can easily remedied by me (note to self: buy new insoles next week).
Pricing
I think you'll agree that, so far, these boots get a huge thumbs up. I need the right and you're right, they do. Now let's get down to a really important factor: the price.
Given the quality of build, durability and the comfort of the Moab 2 GTX boots I was amazed at how The relatively low price. Some manufacturers some retailers are selling similar boots similar capabilities and durability for upwards of £200 (257 dollars).
When you consider the quality of the Merrell Moab 2 boots it's fair to say they are ridiculously inexpensive – you can pick them up for as little as £79.99 (about $103 for readers in the US).
In terms of cost to longevity ratio this is amazing price. Take my boots as an example.
I bought them 18 months ago and at the time they cost me £129.99. Looking on that as an investment that's the cost of under 7 pounds a month to protect my feet and my knees from the hard knocks and injuries that come with extreme hiking and hillwalking. And running on roads with a way to pack!.
Conclusion: Merrell Moab 2 Review
A great boot for beginner and intermediate hikers. If you're going on more technical routes and to mountainous destinations, you might want to consider a heavier boot with a thicker sole. Feeling hardy? Then this is the option for you.
If you're after a fair-weather boot that stacks up pretty well when the weather turns wet this is the option for you.
This is currently my favourite all-around boot, but the Merrell Accentor (which we reviewed) is a very close second. I'm a fickle hiker and no doubt, at some point I'll switch my allegiance.
Name
Men's Merrell Moab 2 GTX (brown)
Men's Merrell Moab 2 GTX (grey)
Women's Merrell Moab 2 GTX (black)
Name
Men's Merrell Moab 2 GTX (brown)
Name
Men's Merrell Moab 2 GTX (grey)
Name
Women's Merrell Moab 2 GTX (black)
Thanks for dropping by. If you've found the Merrell Moab 2 review useful then please share it via social media, or link to from your own site, or blog. Thanks and happy trails.