Regular readers who've read our thoughts on quilts, and my review of the superb Therm-a-Rest Corus 20 quilt, will know that I'm not a huge fan of sleeping bags, and a big believer in quilts as optimal for a good night's sleep and a lightweight hike. So why am I writing a review of the Therm-a-Rest Saros, a decidedly heavy sleeping bag, not a quilt.
Well, there is one big problem with quilts and that's that it's extremely difficult in the UK and Europe to buy a quilt rated to temperatures much below -10C, the point at which I start to consider an extreme cold weather sleeping bag. Heavier quilts are available especially in the US, the custom builds from Enlightened Equipment are one example, but they have a long lead time and are expensive to ship to the UK. You might say, does that really matter? Even in Scotland it would be fairly rare for me to be sleeping out in temperatures below the -6C that the Corus is theoretically rated for. Well, true, but I've done enough hiking (and, in fact, enough sleeping) to know that I sleep cold, and that no matter what a given sleeping bag or quilt is theoretically rated to, I'm extremely unlikely to be comfortable at anything close to that temperature. The Corus 20 is a great piece of kit – lightweight and compressible, but speaking purely for myself, I couldn't sleep in it even on a 0C night and hope to be comfortable.
So, now that winter is approaching and I'm planning some overnight trips in the mountains when temperatures will definitely drop well below freezing and frankly I just want to be warm and snug even at the expense of having to carry some heavier and bulkier gear, I decided it was time to splash out on something new. I'm a huge fan of Therm-a-Rest kit and the Saros 0F is not hugely expensive for its warmth, so I decided to give it a try.
Overview
The Saros 0F is made with synthetic insulation, which, though a little heavier and less compressible than real down, dries faster and performs better when wet. That makes it generally a better choice for a bag to be used in the Scottish winter, although with a bag thjs warm, the extra weight and bulk of synthetic insulation is all the more noticeable.
It's designed to emphasise warmth and comfort over weight-reduction, and that shows in decisions such as providing a little more space to suit a range of sleeping positions. Again that adds weight but, as a side-sleeper who find a lot of sleeping bags pretty uncomfortable, it's worth the trade-off for me.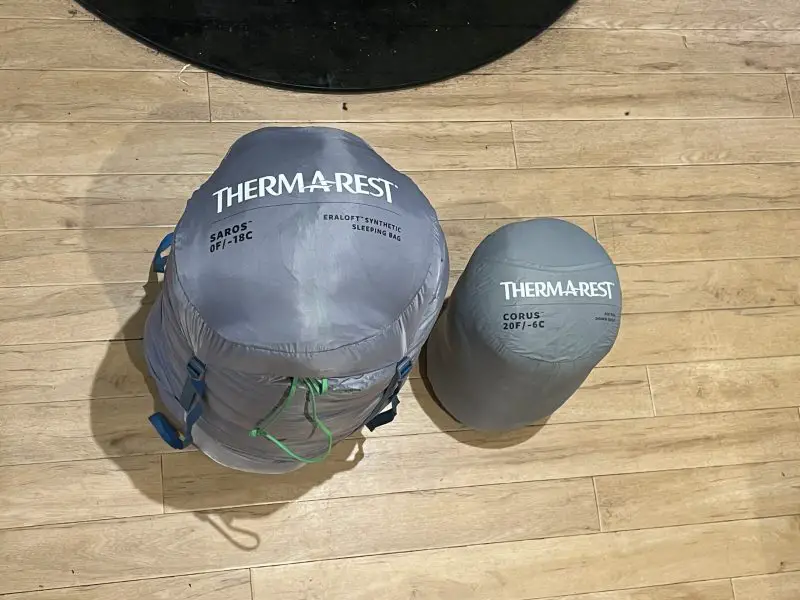 The bag weighs in at a relatively heavy 2.24kg in the regular size, although it's the bulk that really gave me pause. In its compression sack it's big and, even when squeezed into a drybag for a hike, it took up around 3/4 of the space in my Gossamer Gear 42l lightweight bag. I could *just* fit in the remainder of my hiking gear (including a roll-matt, tent, warm and wet kit, and small stove) through careful use of the side-pouches but if I'd had more than two days of food I'm honestly not sure where I'd have put it all. It would be a shame to be forced to use a larger bag just to fit the sleeping bag in but that may just be the reality of winter camping.
Features
The Saros 0F has a bunch of features aimed at warmth and comfort: carefully-placed insulation zones including a warm foot-box; a warm baffle around the neck to keep warm air in; and a lovely hood with a bit of elastic that can be worn almost like a hat so it stays in place.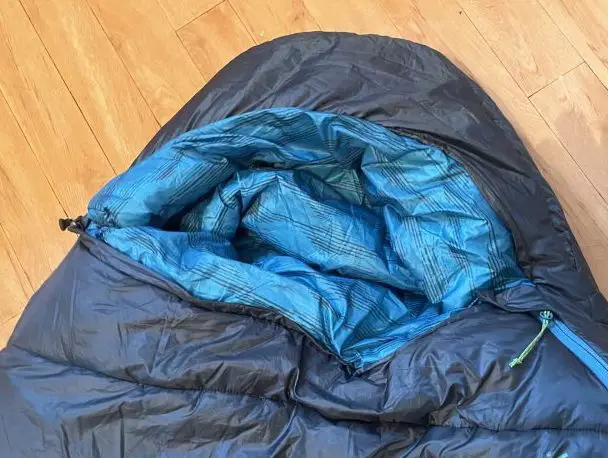 There's also a nice long 3/4-length zip, and a small zipper pouch on the outside of the bag for a phone or torch. The most unusual feature, though, is the two elastic straps on the bottom of the bag that allow it to be strapped around a mat. Especially, of course, a Therm-a-Rest mat like the Neo XTherm. At the cost of a little extra weight, these enhance comfort by keeping the mat in place and ensuring you don't slide off it and onto cold ground during the night. For someone like me who tends to switch from side to side during the night, this also means you move inside the bag instead of the bag moving with you. That avoids the (usually less-insulated) bottom of the bag ending up on top, or waking up with the hood over your face. This simple feature made for a far more comfortable night than I am used to in a sleeping bag.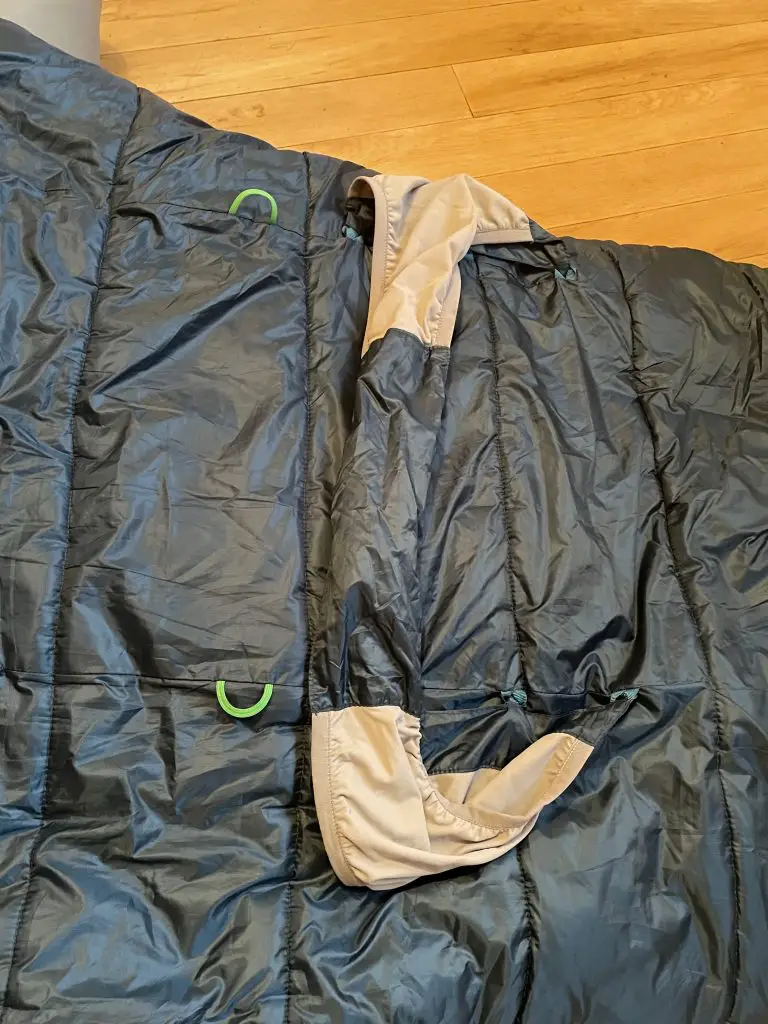 Build and construction
Like all Therm-a-Rest gear I've ever owned (and I own a fair bit now), the Saros is well-made. The shell is 20D rip-stop with a DWR coating that helps to shed small amounts of water such as from condensation or bumping up against other wet gear. It contains 1875g of eraLoft insulation in a 65/35 configuration. i.e. 65% of the insulation is on top, with less underneath where it gets compressed and has less impact – hence the benefits of making sure your sleeping bag doesn't rotate as you sleep.
In use
I slept in the Saros 0 on a cold (but not sub-freezing, I suspect) night on a hillside in Scotland, combined with my Therm-a-Rest Neo Air XTherm mat.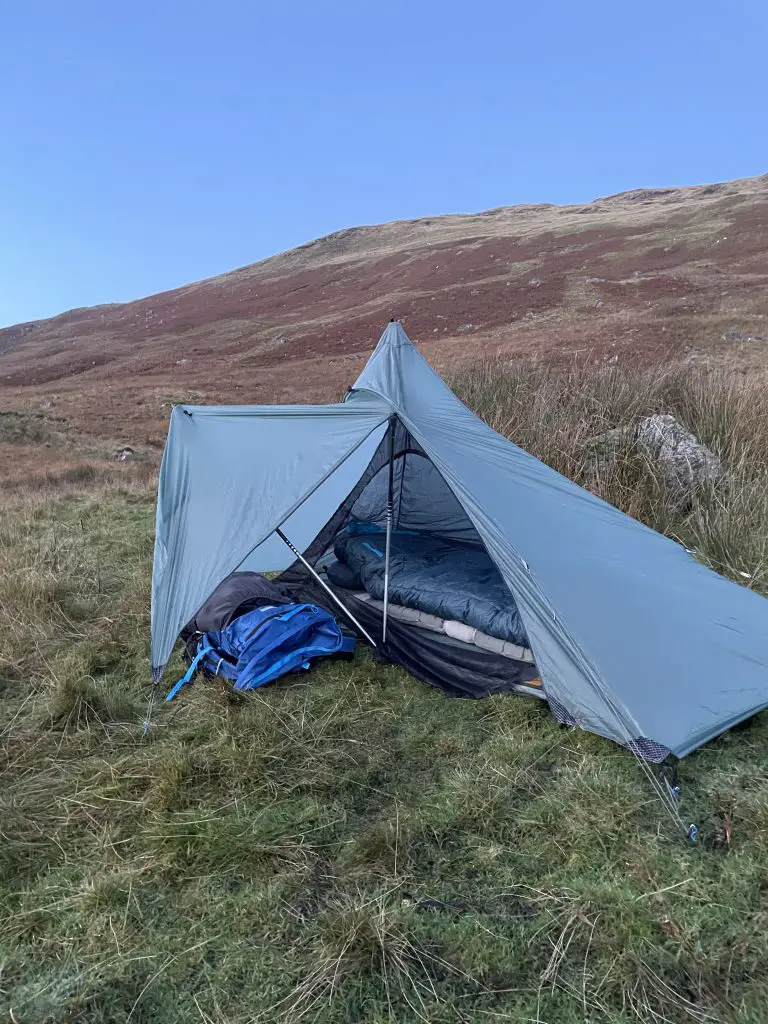 As discussed above, I found the sheer bulk of the sleeping bag something of a challenge, as it only barely fits in my largest drybag (this being my preferred way to carry sleeping bags – on the basis that you really can't afford for them to get wet) and was a real struggle to fit into my Gossamer Gear 42L bag. However, it did fit and I was able to carry tent, mat, stove and fuel, food and water, and various pieces of warm and dry kit sufficient for the two-day hike.
The bag is easy to get in and out of, being fairly roomy and with a decent zip. The regular is arguably a little on the short side for me (at 6'2″ / 187cm) and I probably should have gone for the large, as my feet were slightly pressed against the end which reduces the efficiency of the insulation. However, it was still comfortable and didn't feel too short to sleep in. I particularly liked the hood, which was easy to secure around my head, and the baffle around the collar noticeable helped to keep warm air in.
As far as warmth goes, I was very comfortable in long-johns and a lightweight fleece, as the temperature dropped close to 0°C. I woke up slightly chilly, but not unbearably so, in the morning and put on my Acr'Teryx Atom Lt to stay warm for the last hour or so of sleep. Now, in my opinion, that means that for me this bag probably wouldn't be comfortable at the advertised comfort level of -10°C / 14°F, at least not unless I was wearing an extra couple of layers of clothes. That is largely a personal thing though, as discussed above, I sleep cold. I suspect the bag could do me nicely in temperatures around and below freezing, with the option to chuck on a down jacket to stay warm as needed. Approaching -10°C I suspect I'd be uncomfortably, but not dangerously, cold. That's good enough for me, I think.
As a side note, a lot of Therm-a-Rest gear is compatible so if I really wanted to go on a hike where I thought temperatures well below freezing were likely, I'd have the option to take my Corus 20 quilt as an additional layer. It can also strap around the mat, which would keep it nicely in place on top of the sleeping bag, and provide plenty of extra warmth.
The attachment of the bag itself to the mat was particularly revolutionary for me. As is so often the way, I was camping on a very slightly slope, and that often means you end up regularly sliding off your mat and finding that half your body is lying on freezing cold floor. The straps almost entirely prevent that, and made the slope much less annoying than it would otherwise have been. In addition, the straps combined with the comfortable, roomy, fit meant I was able to change position and roll over without turning the sleeping bag upside-down. That's a huge improvement, in my book.
Summary
Buy the Therm-a-Rest Saros 0°F if:
You want a warm, comfortable bag
You like the idea of being able to secure your sleeping bag to your mat
You can live with carrying a little extra weight and bulk
You carry a bag around 45L
Don't buy the Therm-a-Rest Saros 0°F if:
You want ultra-light, ultra-packable kit
You're mainly hiking in temperatures well above freezing
You really, really like quilts and can't imagine sleeping with anything else
You're carrying a pack much below 40L and/or need lots of space for food