Advice
Running vs Walking Shoes
Running vs walking shoes – are they interchangeable?
Over the years, Jake and I have met many people who swear using running shoes on long walks, or hikes, is perfectably reasonable. And, in some rare cases this may be true. A prime example of where this belief rings true is the use of specialised trail running shoes on hikes – which we covered in our post on alternatives to hiking boots (the Altra Lone Peaks do a very good job of catering to the demands of ultra lighweight hikers and fastpacking).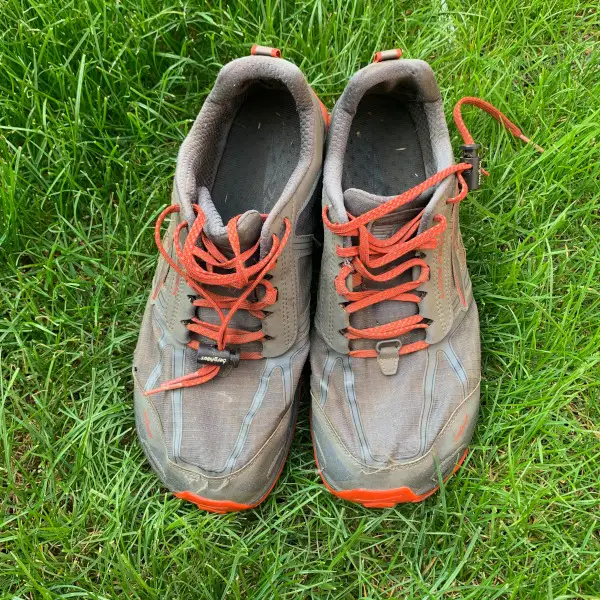 And if you're interested in extending this debate to boots, you'll want to read our post where we talk about hiking shoes vs boots.
But in many cases, your average running shoe simply isn't suitable for hiking. Let's explore some thoughts and see why this is the case.
Walk or run? Or a bit of both?
The first and most obvious question in the running vs walking shoes debate is this: are you a walker, a runner of a bit of both i.e. you love fastpacking? The type of activity you participate in will largely dictate the type of footwear you need.
As a general rule of thumb, the following points will dictate your choice of shoe:
Do walk at a constant pace with little to no running?
If the answer is yes, you need to buy hiking shoes which are designed to cushion your feet and provide adequate support for medium to long distance activities. In most cases, the soles and strucutre of this type of footwear are designed to reduce fatigue and cushion your feet from rugged, unforgiving terrain.
Do you prefer to run more than walk?
This is where your choice becomes a little more tricky, but for the most part you'll want to consider buying trail running shoes which provide a high degree of flexibility, a good amount of support and a lacing system that can cope with difficult terrain. The key differencee between trail runners and walking shoes is the flexibility – trail shoes have more flexible soles that allow ease of movement at a higher speed.
What kinds of shoes do you need for fastpacking?
Fastpacking is an activity closely aligned with ultra lightweight backpacking. In both cases you'll be moving at a faster than average pace, one that is a big step up from a walking pace and yuo'll need footwear than cope with the ground you'll cover whilst providing both support and a flexible sole. We recommend the likes of the Altra Lone Peak and the Hoka One One ATR 6 Challenger, or Hoka SpeedGoat shoes as they're both very capable and designed for off-road travel.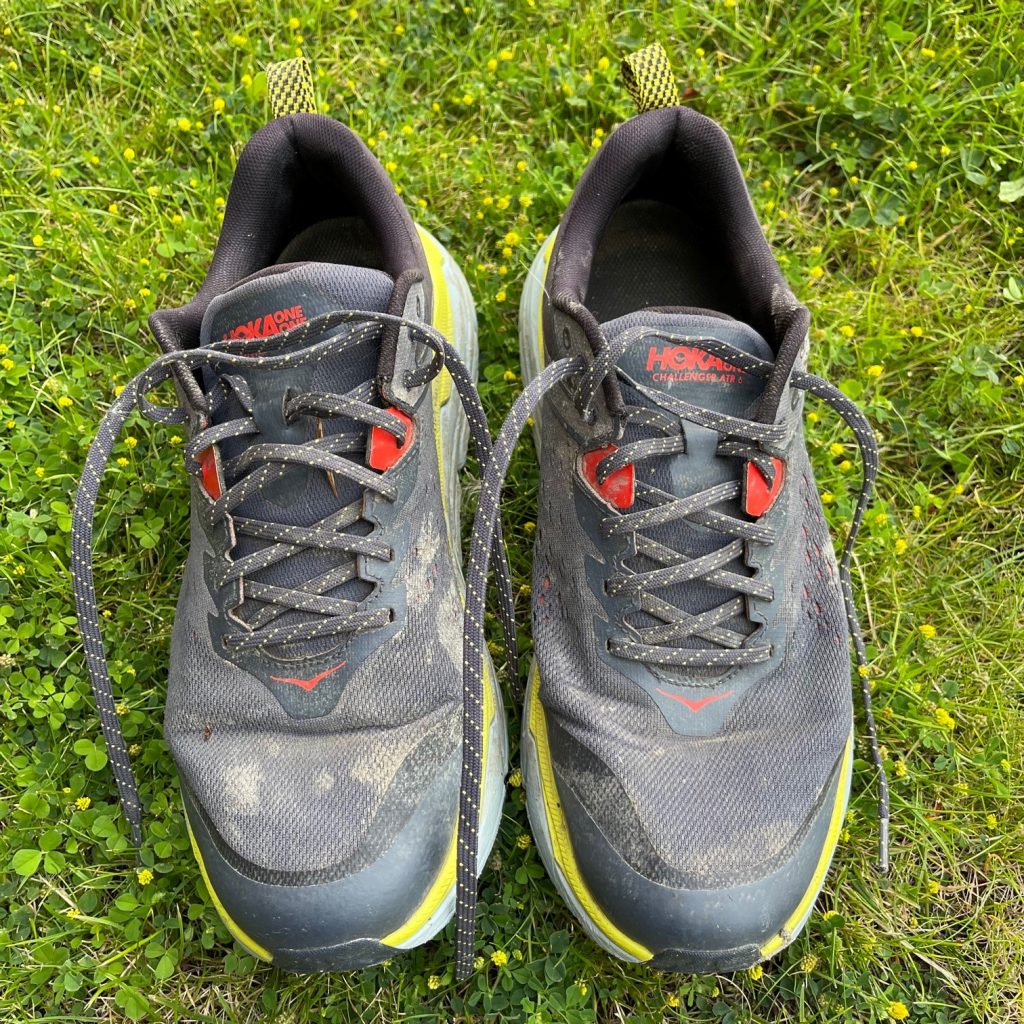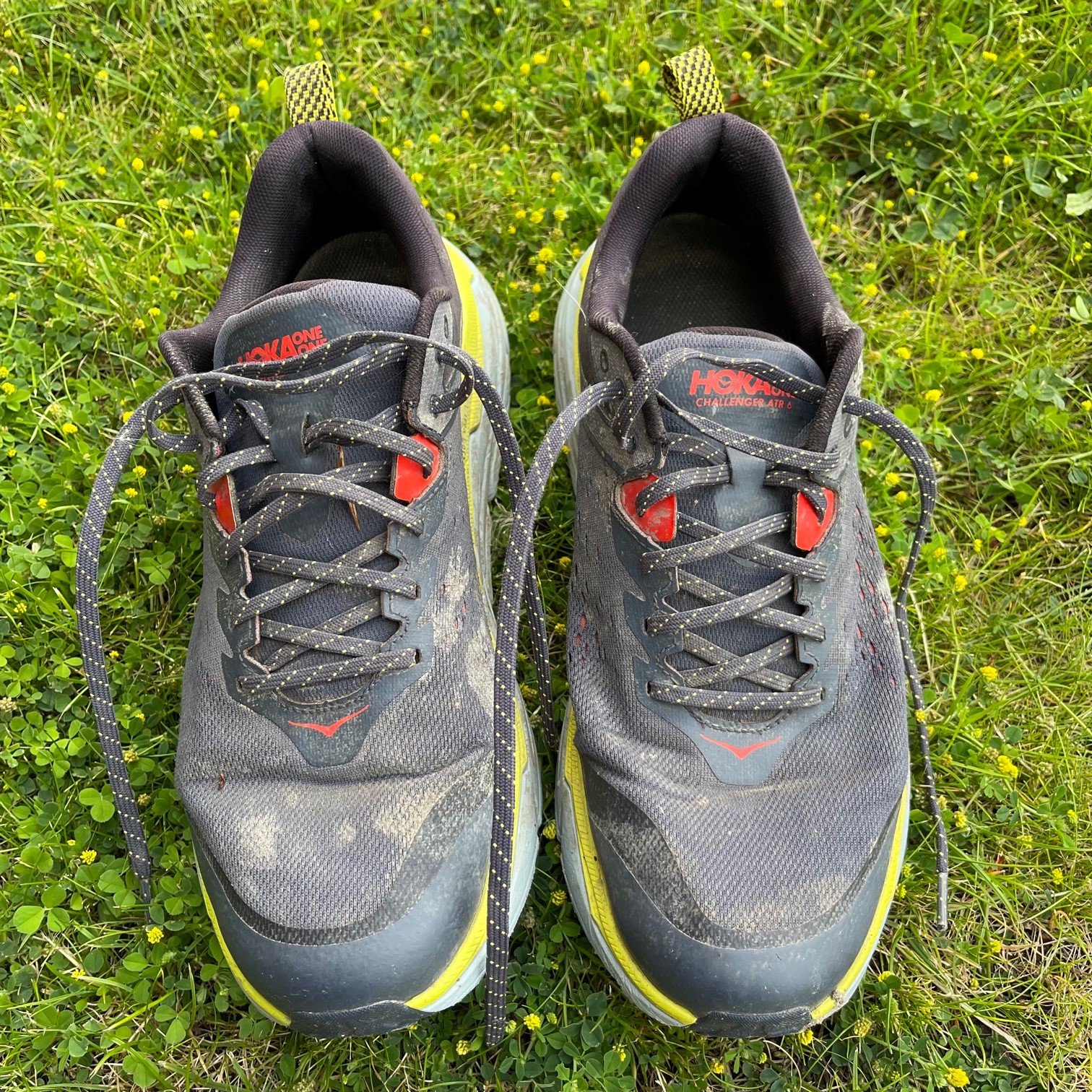 We'll cover off the above points further on in this post.
Next, let's take a look at the different types of shoes incouding more in-depth considersations you need to make when choosing an appropriate pair.
Running shoes
The first and most obvious comment we need to make about running shoes is this: you should avoid them if they're designed for road running only. The likes of Nike's ZoomX Vaporfly Next 2 are made for moving fast on hard surface and have almost none of the design features required by hikers (when you read the above review you may notice they performed well on short stretches of trails and that's the key point: short segements of trail running only.) Attempt to use them on long cross country runs and you risk an injury.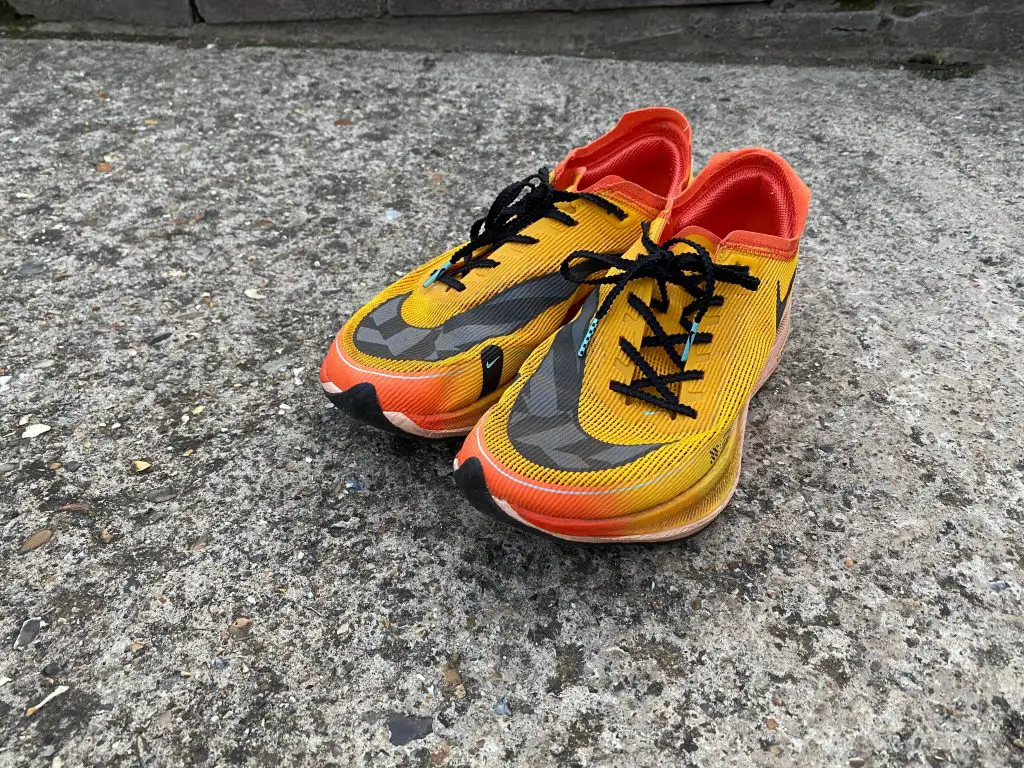 Nike running shoes – the worst choice a hiker can make
So we've established that Nike running shoes are not the best choice a hiker can make. But does this company offer any alternatives?
Yes. Nike have a pretty good range of hiking shoes that easily cope with the rigours of difficult terrain. The Nike ACG Air Mada is one of example which appears to have a large number of positive reviews. We haven't tried them yet, but will do in the near future.
Tip: avoid dedicated road running shoes as they are not suitable for hiking, or hillwalking.
Trail running shoes – your next best choice
Before we get into the ins and outs of hiking shoes, let's look at an alternative: trail running shoes.
I've used trail shoes on a number of longer distance hikes – mainly fastpacking – (see the link above for a breakdown of the Altra Lone Peak) because they're designed for rough terrain, which is the main box to tick off when considering your choice of footwear. On less arduous routes I've used my Hoka Challenger ATR 6, or Salomon XT Rush shoes which are a good compromise when the going is a little less hard.
What do you need to consider when choosing trail running shoes for a hike?
To be honest, not much. Here's a rundown…
Soles
The soles need to be up to the job. By this, I mean the lugs need to be deep in order to handle the wet, slippery terrain that comes after even a light shower. And if you're going to move fast they need to be flexible enough to allow to travel at speed whilst giving you sufficient protection from rocks and uneven ground.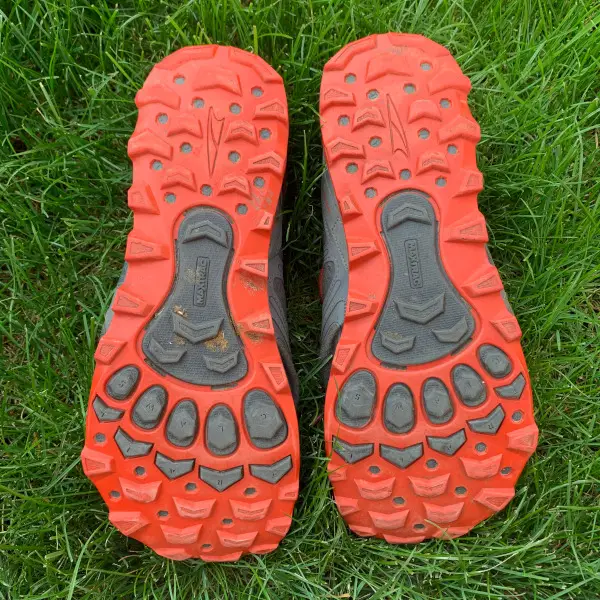 Ankle support
Getting this part right can be a little tricky. Hiking shoes typically have far more ankle support than trail shoes, but the lack of flexibility will force you to move at a slow pace. The Lone Peak shoes have minimal ankle support. In fact, they have less than most other trail runners available right now and you need to evaluate your shoes based on your own needs.
Tip: unless you're confident in your body's ability to soak up the effects of difficult terrain pick a pair of trail runners that offer a medium level of ankle support. Here are a few examples:
Salomon X Ultra GTX shoes (great review by Jake, highly recommended)
Hoka One One Challenger ATR 6
La Sportiva Spire (pricey, but an excellent pair of shoes)
Merrell Moab 2 shoes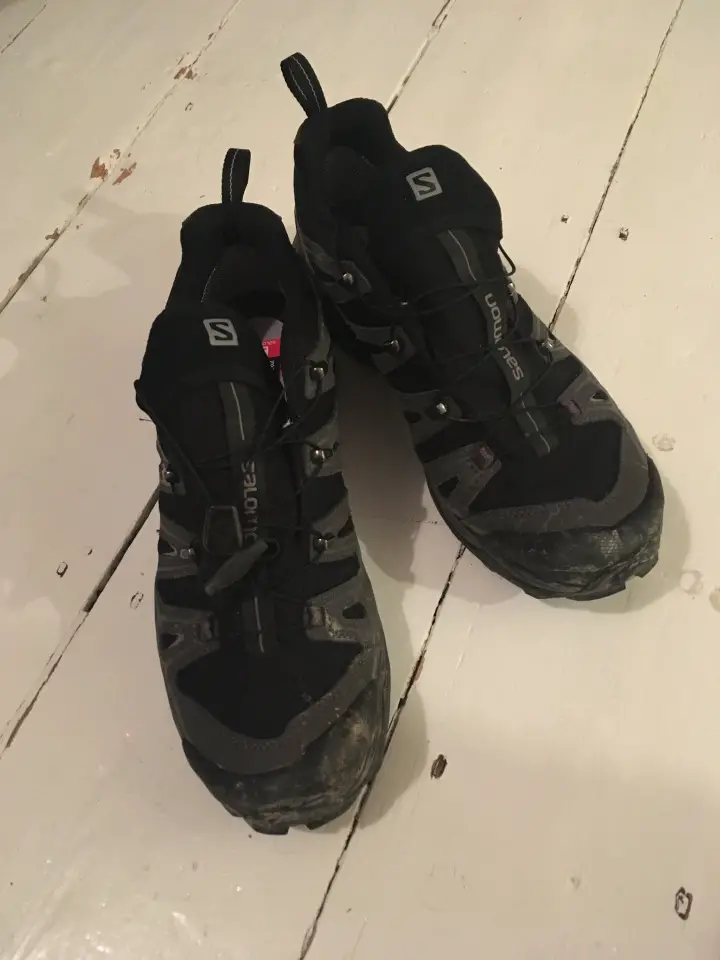 Weather resistance
The easies way to answer this question is: do you really need footwear that is 100% weather resistant? If you're using your shoes for short, or one day hikes, the answer is likely no. Sure, having wet feet for the entire time you're hiking isn't for some people, but is it essential you keep your feet dry?
I prefer to use shoes made from lightweight, unproofed material that will dry fast.
Hiking shoes
How to choose hiking shoes. Although you may have some specific requirements such as podiatry recommendations, the general formula is pretty much uniform. Here's what you need to consider:
Terrain
The type of terrain you hike, or walk on, will be of huge significance when it comes to choosing your footwear. Will you be walking on…
Easy terrain. Wide open plains and areas of land with few, if any hills. This also includes easy to navigate tracks and trails.
Technical terrain. This covers mountains and areas where you'll likely to moving up and down significant hills. Cross-graining (moving across countour lines at an angle, rather than at 90 degrees) places a strain on your ankles and joints and you'll need a good supportive cuff.
Cross country, or off-trail. These routes are ventures into the true outdoors, places where the terrain is at its most difficult. Rarely, if ever, will you find a track unless it's been beaten by herds of livestock. Your route will likely include scrambling over boulders and fording streams. This is where the real beauty of hiking lives!
The right shoes for each type of terrain
Once you know where you'll be walking it's time to choose the right shoes.
Easy terrain gives you more option, but I'd suggest the following:
Lightweight walking, or trail running, shoes that allow you to move fast when required;
Your footwear can have flexible soles as you're less likely to encounter issues associated wtih tehcnical, or off-trail routes;
A moderate degree of cushioning rather than the thick insoles found in footwear designed for other types of terrain.
For technical terrain, consider:
A stiffer sole that will cushion and protect your feet from rocks and ankle-jarring potholes, and undulations;
Choosing a higher cuff that gives support to your ankles;
If your route is a multi-day hike, choose an appropriate amount of weather proofing (GORE-TEX boots are expensive, and at the pinnnacle of the waterproof materials you can choose from).
For cross country (off-trail):
All of the above considerations for technical routes;
shoes with toe bumpers to protect you from injuries such as hiker's black toenail;
thicker outsoles and instep protection (hawthorn will punch a hole through a soft instep and into your foot, which is a somewhat unpleasant experience)
Your feet: pink, wriggly and sensitive to your choices
Above all, find shoes that feel comfortable. Your feet are sensitive and the constant pounding that comes with long walks in tight-fitting footwear makes them very unhappy. And when your feet are feeling grumpy then so are you.
Considerations you need to make when picking the right shoes
What considerations do you need to make when choosing hiking shoes? The general rules are:
Foot width
They need to be width enough to accommodate your feet and at least a thick pair of socks. And if you wear two pairs (a thin base layer with a thcker sock over the top), then have your shoes fitted when you're wearing both socks.
Tip: choose a pair of shoes a half size larger than you everyday footwear. This will allow space for your feet to swell.
Drop
Heel drop – a measure of the difference between the height of the shoe heel and toe. Zero drop shoes and boots have many benefits, which we'll cover off in another post, and are also called barefoot as the drop mimics the movement of unclad human feet.
I prefer a low drop as this gives my hikes a more natural feel. Ask a specialist if you're interested in zero drop. If in doubt, stick to the same drop you have in your everyday shoes.
Tip: zero drop shoes do have a number of benefits, but they take getting used to. In the early days you may experience cramps and calf pain if you're transitioned straight to zero drop and I recommend you move down through the scale until you feel comfortable.
Support
Another personal choice and once influenced by the speed you walk at, and the terrain you'll cover. In the early days of using hiking shoes I recommend you go for maximum support and keep your pace slower than a run. Once you're ready to jump into fastpacking, feel free to choose shoes with less support.
Resources
https://www.spine-health.com/wellness/exercise/guidelines-buying-walking-shoes
https://www.cotswoldoutdoor.com/the-knowledge/walking/boot-fitting-guide.html
https://www.gore-tex.com/en_uk/resource/waterproof-water-resistant-difference