Gear Reviews
Montane Alpine Endurance Review: Worth The Money?
A few years ago, polar explorer and legend Conrad Dickson and I were discussing how to choose a winter shell jacket for expeditions and hiking. The conversation came off the back of my frugal approach to hikes and treks: having one option that works in all environments. We settled on one manufacturer – Montane, a UK outdoor gear company without whose amazing products I wouldn't be writing this Montane eVent Alpine Endurance review.
As you've probably guessed, Montane have been one of my favourite equipment manufacturers for some time now. I first used one of their eVent shell jackets back in 2015 when I did a short ski in the Finse area of Norway.
Now you have the history of my involvement, let's get into the review…
The Montane eVent Alpine Endurance Construction
As the name suggests, the Montane is made from material called eVent. Like Gore-Tex, eVent is a three-layer system. Some critics have pointed out that this material is not as waterproof as Gore-Tex and it's actually more of a showerproof shell jacket. In my opinion, and having used the Alpine Endurance on many trips, it's more than capable at holding back the rain whilst providing excellent ventilation capabilities. In fact, in my opinion the eVent system is far more effective at allowing sweat to ventilate away from your body.
In addition to the breathability the eVent range of shell jackets are windproof. This makes it ideal in windswept environments and cold places, in particular where there is zero rainfall, such as the North and South Pole.
The let's start working from the top down:
The Montane Hood
To be honest there's not much that can go wrong with a hood. And Montane has made this system incredibly simple. The rim of the hood is wired, which is pretty much essential feature of any hiking jacket. Montane has designed the hood to accommodate headgear such as the climbing helmet. This makes the Montane Alpine Endurance a little bit more versatile than many of the others I have come across. Whilst not as complex as some jackets, the sizing straps work well.
There is a total of four adjustments points as well captive cords. The latter allow you to pull the hood tight around your face for those days when you really wouldn't want to wind and rain slashing at your skin.
General Fit Of The jacket
Ordinarily the advice I've been given is to buy a jacket couple of sizes too large in order to accommodate the various layers you might need to add when hiking, or trekking. The sizing of the Alpine Endurance takes into consideration the fact you might need to add a fleece or down jacket underneath shall later.
Overall the fit feels good. This is a mid-length jacket with a drop-tail that doubles as protection and a waterproof seat.
The wrist straps are simple Velcro affair that slip through a lop and fold back on themselves to secure. In stormy weather the straps can be pulled really tight to keep out the brute force of the conditions. One minor issue I have with the fasteners is that that can snag on gear and pull open. A simple solution is to pull a pair of gloves of the cufss.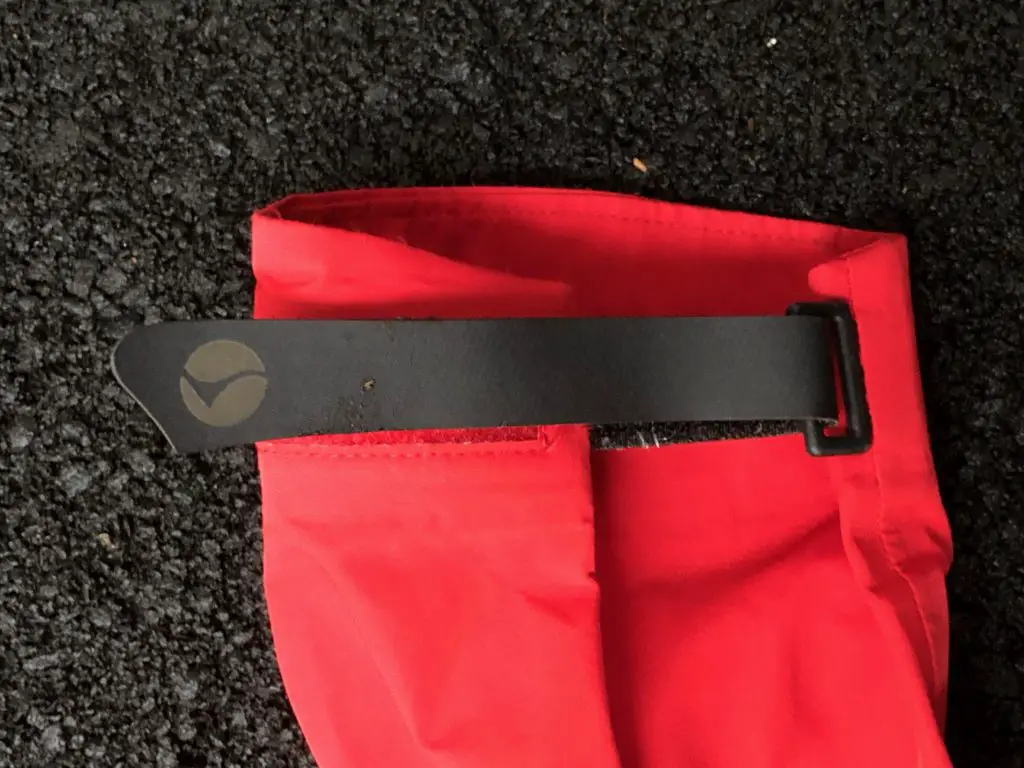 The jacket has some pretty sizeable underarm zips which extend from the elbow on the sleeve to mid torso on the body of the jacket. These 'pit zips' are designed to give maximum ventilation. On the warmest of days, when you're engaged in a really high energy activity, the eVent system, like every other, simply can't cope with the amount of heat being generated and you need to cool off. Simply open up the pit zips to the fullest extent and you get all the cool air you need. These were an absolute lifesaver on my crossing of Greenland, when the temperatures reached as 'high' as -10° C!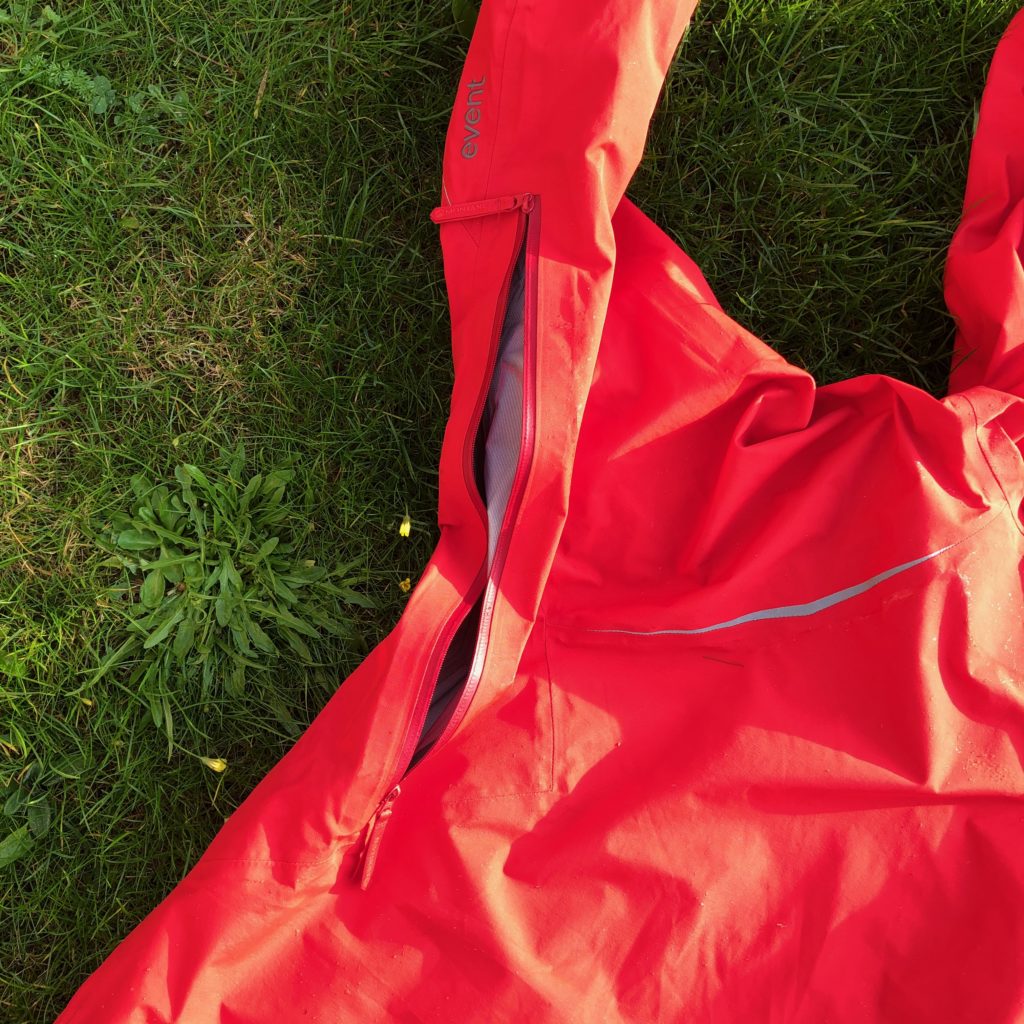 Unlike some jackets, the main zipper doesn't have a built-in sealing system (the thin layer of rubber between each of the teeth). And that's not an issue as the interior of jacket has a storm flat that does an excellent job of keeping out the weather. And in all my experiences, the rain has never found a way through.
But what about carrying capacity of the Montane? It's got 7 pockets in total. What I particularly like is that they've done away with those two low pockets are normally sit just above your thighs. As far as I'm concerned those were the most useless additions you could ever have had on a shell layer.
The Montane Alpine Endurance jacket has two internal pockets, both made of a mesh-like material. One can be zipped closed, the other features an elasticated collar. Both of them have a pretty decent capacity and ideal for carrying items like a compass, or Garmin InReach Explorer plus. 
The exterior of the heavy coat has 5 pockets in total. Two of the pockets are designed more as hand warmers. Thanks for to their large capacity, they're also great places to store gear and food. These first two pockets are rarely used to carry anything more than items that are frequently accessed., And the reasons why I will become obvious in a minute. On the inside of each pocket is a small loop which can be used for securing important items such as GPS, compass, or whatever you want.
The two larger of the four pockets are accessed via angled zips (Napoleon-style). Nice pockets, they are large and deep. For some reason Montane didn't see fit to add securing loops into these pockets, so I stitched in my own. These pockets are large enough to contain items such as maps and packs of trail food and hiking gadgetry.
The Montane Alpine Endurance Shell Jacket Performance
Here's a quick rundown of how I rate performance of the jacket:
Weatherproofing
Comfort.
Functionality.
Durability.
Versatility.
Weatherproofing
eVent is waterproof yet so much less expensive than a similar specification jacket made of Goretex. It's not perfect, but neither are some of premium materials used in the manufacture of shell layers.
The Alpine Endurance does a great job of dealing with showers. The only time I experienced water ingress was a few years ago. I was caught in a snowstorm and soon had a heavy layer so snow on my shoulder. Then the temperatures quickly warmed, and the snow melted and seeped through the material. I wasn't soaked, just a little bit damp. This is by no means an issue unique to eVent – if moisture sits in one place for long enough it will eventually find a way through.
What the eVent material is good at, exceptionally good at, is keeping out the wind. Over the years I've used jackets made from various materials and eVent is absolutely one of the best especially when you consider it's relatively low cost. I've worn this jacket in storms where the windows been gusting over 80 miles an hour and never once felt effects of the wind on my body.
Don't be put off by my story of water ingress – this jacket is exceptional at keeping out both the wind and rain. You just need to be aware of the limitations – just as you would with any gear you buy.
Comfort
And as mentioned earlier, Montane have taken some time to consider the needs of their customers. This means you get a jacket that is both comfortable and adjustable in a way that caters to all of your needs. One point to note here is that this is what you could term relatively short shell jacket. I'm 6 foot one inch tall and my jacket is size XXL (UK sizing). The hem of the jacket sits just below my waist, about 4 inches above my groin (yeah, I know that you don't want that image in your head!) For me this fit is ideal as I don't like the jacket trailing halfway down my thighs.
At 640g it is a little heavier than many other similar offerings, but the durability, functionality and capacity more than make up for this meagre 100g of extra weight.
The Montane eVent shell jacket has plenty of room to expand insulating layers.
The only issue I had when I first bought the jacket was that the sleeves were a little bit tight, back when I lifted a lot of weight and had pretty big biceps. Now I focus more on cardio and stamina and this problem has gone away.
Functionality
When I started writing this Alpine Endurance review, I did wonder if it would be worth digging into the functionality because it's incredibly basic! Then I asked myself, "What more do you really need?"
I know that some hikers will insist on buying clothing that can be adjusted every which way you can imagine and then down to the last millimetre. The problem is that taking this approach to gear will cost you a lot of money, but it doesn't need to. The Montane Alpine Endurance Shell jacket gives you just enough and that's fine by me.
The 7 pockets can easily accommodate all the items you expect to carry on your journeys. And that's the way it should be; why load up your jacket pockets with equipment you rarely use and that can be easily lost? Minimal is best.
The attachment points in the pockets are robust and well secured.
Durability
A number of years ago before I bought this jacket the only option for me was Gore-Tex, but over the course of about a year, I used it so often that I managed to wear a hole in the material. I was a little bit disappointed to say the least. Replacing, or even repairing, Gore-Tex is quite expensive.
What I found with Montane jackets is that they are incredibly robust and very durable. The particular model of this jacket that I'm reviewing here is a few years old, it's been across Greenland, on several big ski trips across Norway and on numerous hikes and hill walks around the UK. On each of those trips I've either been strapped into a harness or wearing a heavy rucksack. To date, I haven't detected any significant damage, or wear and tear to the material.
Regular use is made of the anchor points in the jacket – I've used them over and over again to secure important equipment and they haven't failed.
One flaw in this jacket, like most others, is the pocket zippers. Over time the metal stresses and the tab can come off. This has happened once. I repaired the zip with a huge blob of epoxy. So far, fingers crossed, the rest of the zips haven't snapped or broken although I'm sure that at some point they eventually will.
The elastic adjusters in the waist and hood haven't become brittle or started to crumble. What I have noticed is the crimping effect created by the fasteners, which are a reminder that the elasticated cords will eventually become breakpoints.
Versatility
My personal experience of this jacket has been positive – it's protected me on many journeys from hiking short distances to long-distance skiing expedition of 600+ kilometres. Whilst it would be nice to have a specialised jacket each of those activities, I've been more satisfied with the Alpine Endurance's ability to handle pretty much all that I can throw at it. Plus, having a jacket for every occasion is a guaranteed way to empty your bank account!
If you want an all-round jacket suitable for but the most technical of activities, then the Alpine Endurance is the one for you.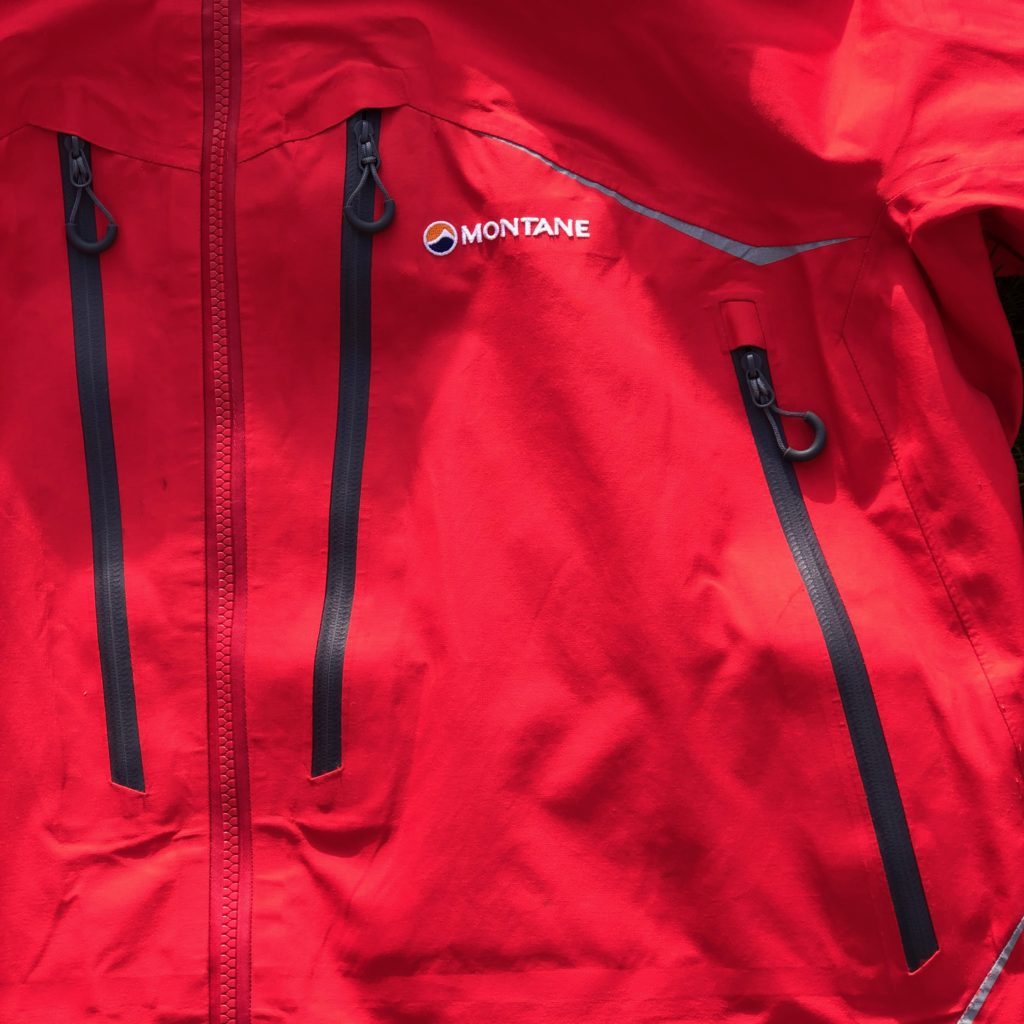 Montane Alpine Endurance Price
Any eVent shell jacket is way less expensive than many other similar jackets designed for outdoor activities. This model cost me about £150 (about $190). That's a good price when compared to a similar Goretex offering which can cost you anything up to about £500 ($650) .
It's not a specialist jacket. It probably won't have absolutely every need for your very specific outdoor activity. But it is phenomenal jacket for the price.
Check out the two versions:
Gore-tex Montane Alpine Endurance
eVent Montane Alpine Endurance
Conclusion
I hope you find this Montane Alpine Endurance review useful. I'd be really grateful if you could help spread the word – share on social media or let your own website visitors know about this review. See you all soon.
Update: Jake and I have started testing out more shell options, including the Rab Kinetic Alpine 2.0, reviewed here. Well worth a look.