Earlier in the year, I was sent a pack for testing by Lowe Alpine. The reason I mention how I came by it is because the Lowe Alpine AirZone Trail 35 isn't a pack that I would have bought myself right now. To be clear, that's not because it's not a good pack (it is – I'll say that now), but simply because it's not what I most needed for the way I hike and the types of hike I do.
That made it interesting to review, and hopefully allows for an even more balanced review than normal because instead of reviewing something I've chosen to buy because I already think it will be useful, I'm looking at this particular pack with a relatively unbiased eye.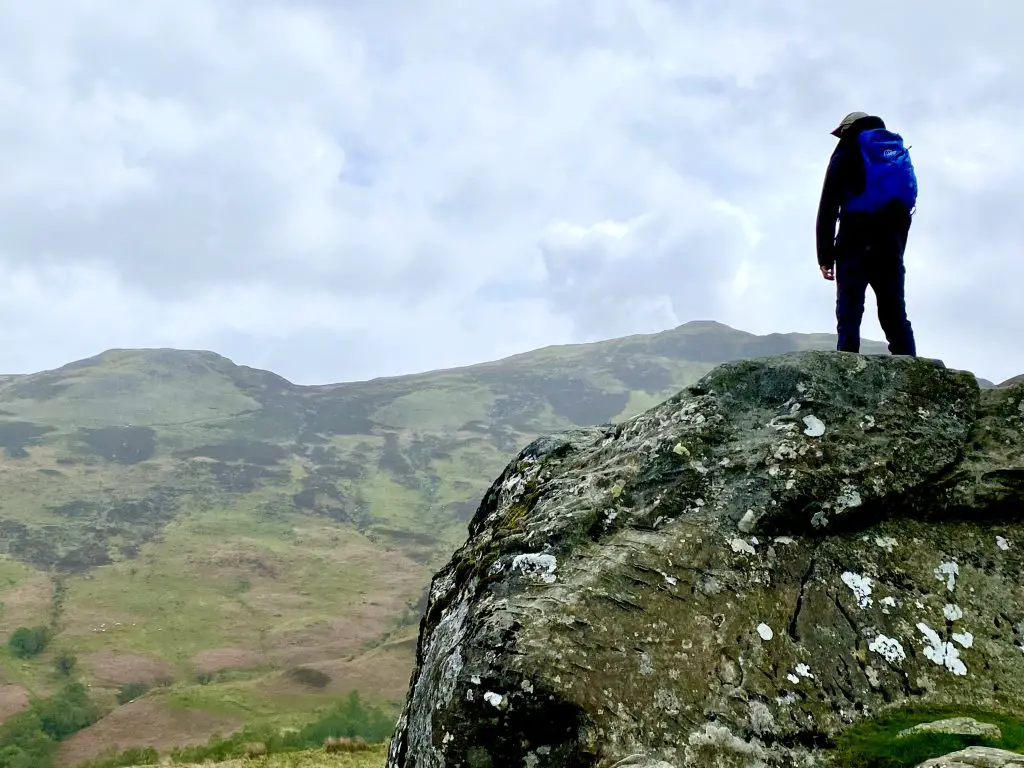 Despite not specifically wanting or needing the pack, I did take the time to use it on several trips of different lengths, including some long day hikes and some overnight wild camping, so I think I have a good sense of it and can hopefully give you an idea of whether this is the bag for you.
Overview
As with all my reviews, I like to start by understanding what the manufacturer thinks the item is for, as the review should really assess it against how well it meets that stated purpose. As ever, there's no point assessing this pack in terms of how well it does a job it was never designed for.
The brief intro description on the Rab website (Lowe Alpine is now owned by Rab) states:
On a long day when you're making your way through the hills, the AirZone Trail 35 will keep you cool and comfortable from your first step to your last.
That actually reveals a lot already about what this pack is for and how it sits against other bags I own. To begin with, it's for a 'long day'; the bag is primarily intended for day hiking and not for overnight camping. After all, 35 litres isn't enough for most people to fit a tent, a sleeping bag, and assorted other gear. As it happens, I only use a 42 litre pack (the excellent Gossamer Gear G4-20) for most camping trips, and it's rarely full, so I suspect I – and no doubt most other ultralight hikers – easily could use this bag for multi-day hikes but it would be an odd use for it. If you can fit all your overnight camping gear into 35L then you've probably got your kit down to such a weight that you want a far lighter pack than this. So, use for day hikes where weight is less of a concern, and by people less weight-focused in their kit selection, makes far more sense.
That brings us to, why use a heavier pack if lighter ones are available? And that is answered by the second half of Rab's description: the AirZone Trail 35 will keep you 'cool and comfortable'. Ultralight packs, like the G4-20, generally ditch weight by having far more simple structures with less padding, less rigidity and structure, and backs that at best might consist of some simple foam. That contrasts with more classic bags that have well-padded straps, semi-rigid hip belts and backs that help bear weight, and usually contoured padding of some kind on the back.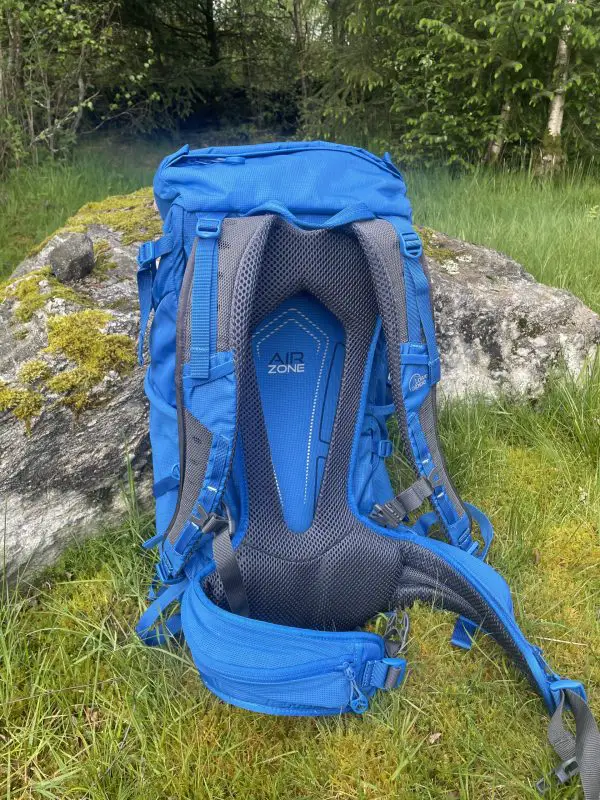 Contrast that to the majority of the Lowe Alpine range, which has well-padded shoulder-straps, weight-bearing rigid hip-straps, and the patented AirZone™ system that gives the pack its name and which consists of breathable mesh that sits away from the body of the pack and allows air to flow between your back and the pack. Systems like this make a huge different to comfort, especially on warm days, so for many hikers the extra weight is well worth the trade-off: it's just important to understand what trade-off you're making, and why.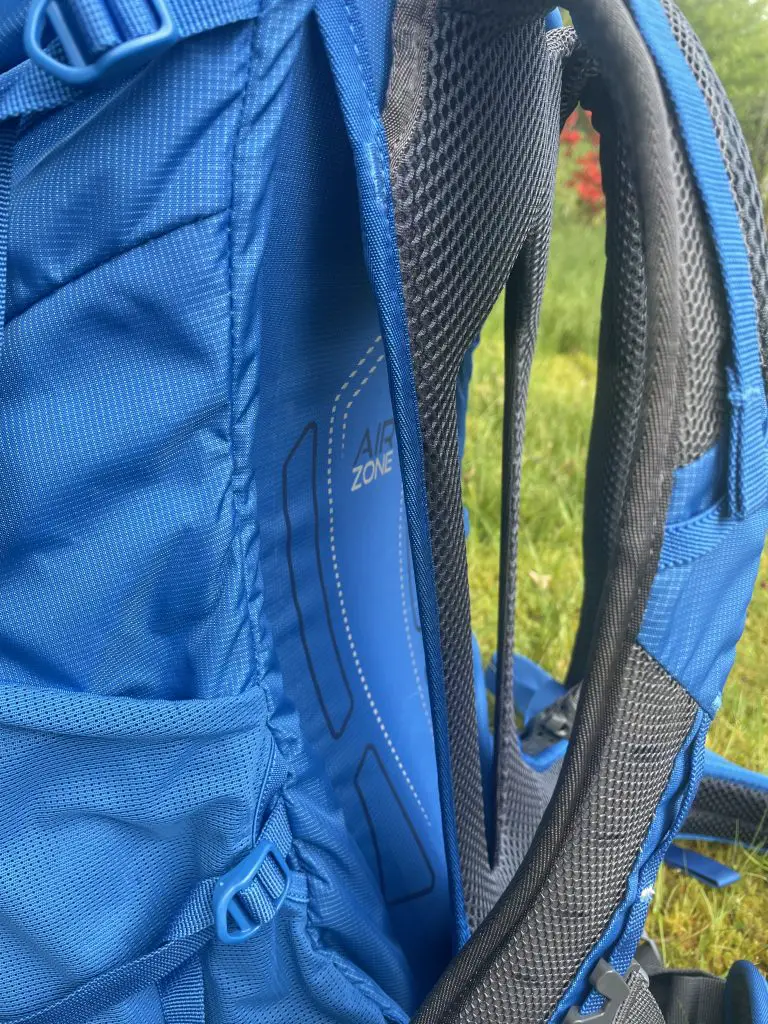 Where the AirZone Trail 35 fits in the range
Lowe Alpine has a few different ranges of packs and most, but not quite all of these, have AirZone in the name – meaning that they feature the cooling structure discussed above. They are sub-branded by activity. AirZone Trek, for example, are hiking backpacks with slightly larger capacities; while AirZone Spirit is a commuter pack with laptop storage.
The AirZone Trail range that this pack is part of comprises 3 unisex and 3 women's backpacks. The unisex packs come in 35, 30 and 25L versions, while the women's come in 32, 28 and 24L equivalents. In other words, the range is clearly aimed at day hikers – as discussed above – and the 35L is the largest in the range, which is why it is perhaps (in my opinion) just a little on the 'too large' size for most day hikers. That's fine, though, the 30L and 25L variants are there for anyone who doesn't need that extra 5L of space.
Weight, materials and construction
The standard sized AirZone Trail 35 weighs in at 1,070g, which is by no means heavy, but unsurprisingly much heavier than the 650-750g (depending on size) of the Gossamer Gear G4-20. I say that not to suggest that the AirZone Trail is unreasonably heavy – it isn't – but just to demonstrate the trade-off between weight and comfort that is made when choosing a pack.
The materials are a little tougher and heavier that the very thin fabrics used by lighter packs, and that likely makes it a bit more robust which may be a benefit – especially if you're likely to be using it for winter hiking when you may be carrying an ice axe and crampons. Otherwise, construction is as excellent as you'd expect from a brand like Lowe Alpine, with everything securely stitched and no obvious flaws, weak points or poorly-aligned components.
Features
The AirZone Trail 35 has a sensible, but not excessive, range of features, pouches and attachments. I actually quite like fairly simple packs, but being able to keep a few key items separated and easily accessible is useful, so it's a trade-off. Starting from the top, there is a fairly standard top-flap with the usual externally-accessible and internally-accessible pockets within. The internal pocket features emergency signally information, which is a nice detail, and has a clip inside it that is useful for keys or similar essential items.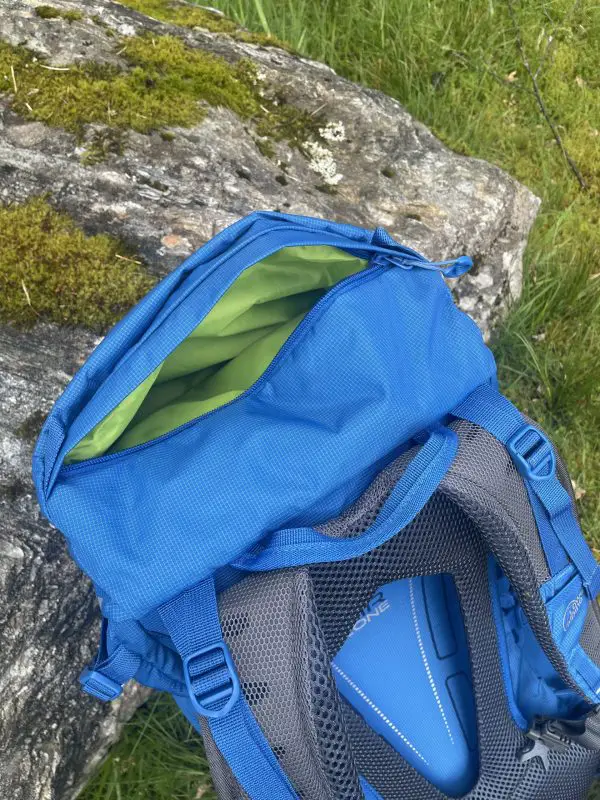 On the front of the pack there is a single zipped pouch, large enough for a folded map, a water bottle, some snacks, or other similar items that you might want to access without opening the main compartment. Unlike other larger packs, there isn't a zipped pouch on both sides, which I think is a good decision. Both sides of the pack do have stretchy water bottle holders, which are always a bonus – if you're reasonably flexible you can access these without even taking the pack off, which is great. They're also good for stuffing clothes into if you are taking wet or warm kit off in a hurry and don't want to pack it away. I do slightly miss the huge stretchy front compartment that both my larger Osprey Atmos 65 and my Gossamer Gear G4-20 have, but the two decent side compartments are a reasonable compromise.
Both sides also have straps that could help to hold hiking poles, a tent, or other long items that could be tucked into a stretchy pouch and then secured with the straps. On the right hip is an attachment specifically designed to hold the tips of folded hiking poles, making them extra easy to stow here.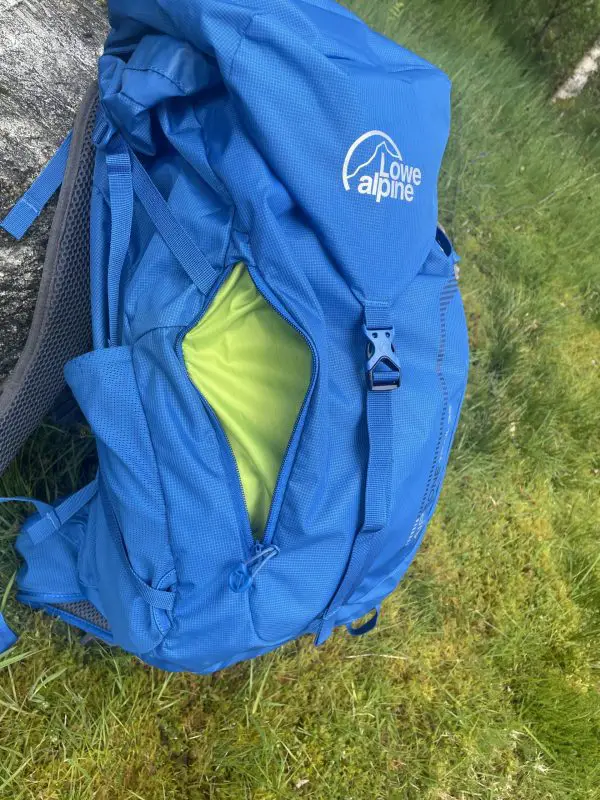 Finally, at the bottom is another small pouch, with the zip facing inwards, containing a rain cover. Although I'm an advocate of waterproofing items within a bag using dry bags, some hikers prefer to save weight by focusing on keeping the bag dry. And, either way, there's something to be said for a belt-and-braces approach, and keeping water out of your your bag is a bonus regardless of whether or not items inside it are dry. The rain cover itself is quick to pull out, already secured at the bottom with a velcro strap, and then simply loops around the bag – staying fairly secure even in high winds through the use of elastic side adjusters.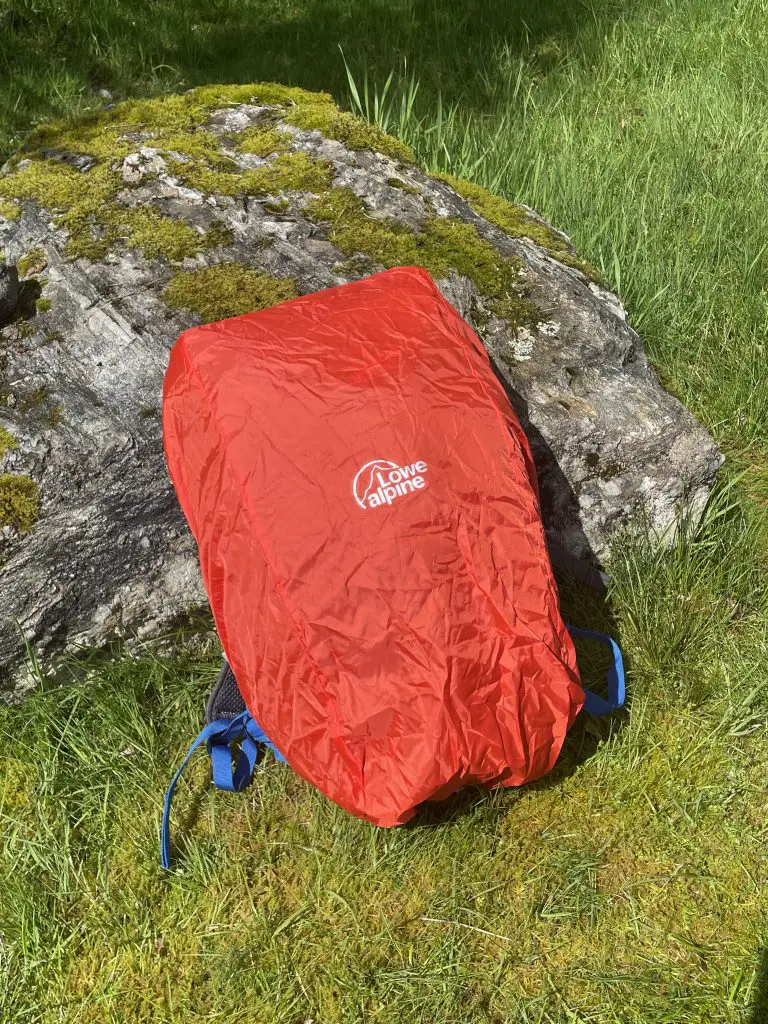 The hip belt is relatively firm, though not quite as rigid as on larger backpacking packs, giving good support when carrying heavy weights. It also makes good use of mesh to avoid too much padding pressing against the wearer's body. Both sides have small pouches – they looked a bit small at first glance, but there's enough material built into them that in practice they can accommodate a fair bit: a large iPhone or smaller camera with ease, plenty of food, a hat or gloves, or even a very compressible waterproof jacket like the Rab Phantom.
Using the AirZone Trail 35
As I discussed a bit earlier on, for me personally (and everyone will be different), the Trail 35 fits into a slightly awkward grey zone. It's just about large enough to be used for ultralight backpacking, but is too heavy. It's nice to have a pack for day hiking but, for me, 35 litres would be too much 90% of the time, so if I'd bought this myself I suspect I'd have gone for the 30 or even 25 litre option.
That said, I'm going to keep the pack and accept that on a lot of hikes it won't be completely full, which is no bad thing, while also appreciating that if I do go off on a long winter hike and want to take a whole lot of spare clothes, an emergency sleeping bag, a stove, food, and so on – then I'll have the space to do so. And, crucially, to do so in a bag that I can load up with all the weight of heavy winter gear and it'll remain more comfortable (and less likely to be damaged) than a bag like the Gossamer Gear G4-20.
For the various trips I did take the AirZone Trail 35 on, I found it comfortable and well-suited to day hikes or quick overnights. The extra weight relative to the G4-20 is noticeable when you pick it up, but less so on the back because of the extra hip support and the 'floaty' nature of the AirZone panel. On very warm days, especially hiking with just a t-shirt, the AirZone feature is a godsend, and even on colder days with lots of kit in the pack its nice not feeling it all pressed against your back.
Overall, I have no hesitation in recommending the AirZone Trail range overall – although my personal view is that for most people, the 35 litre may be larger than you realistically need.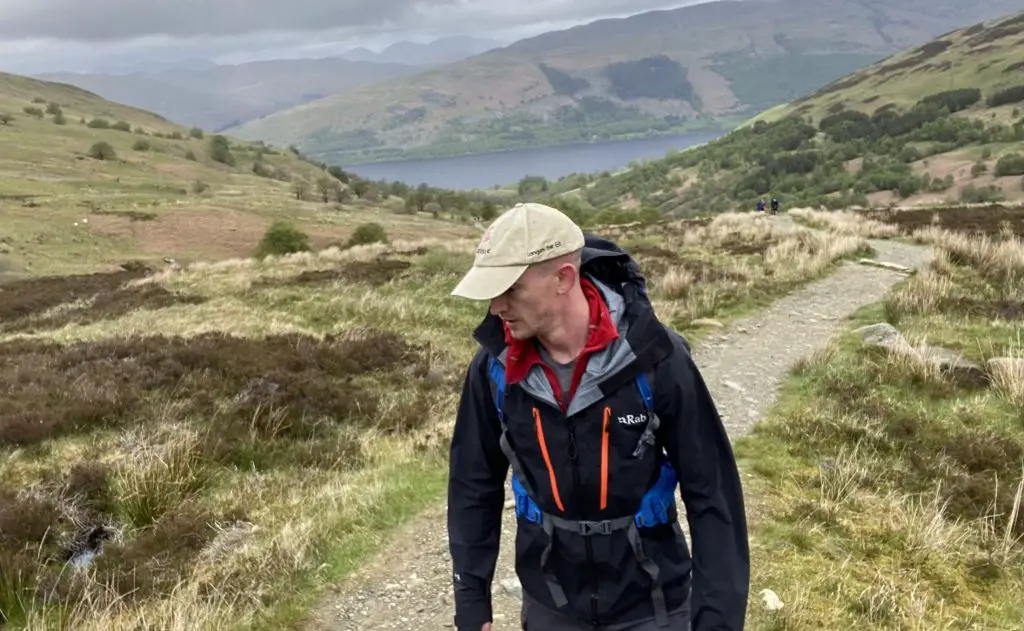 Summary
Buy the Lowe Alpine AirZone Trail 35L if:
You want a robust, comfy pack for day hiking where you'll be carrying a fair amount of gear.
You want a pack large enough to cover all bases, and are happy that a lot of the time it'll only be half-full.
You're doing a long day hike in winter, and need plenty of capacity for spare gear, warm kit and food.
You're leading a hike, either with a group or with family, and expect to be carrying more than just your own kit.
Don't buy the Lowe Alpine AirZone Trail 35L if:
You're into ultralight hiking.
You want a pack for multi-day camping, unless you've really managed to dial your kit volume down – in which case you probably want an ultralight pack, so still don't buy it!
You only ever do straightforward day hikes, especially in the summer, and don't need anything like 35L capacity.