As part of my effort to reduce the weight and bulk of my hiking kit, I recently invested in the Gossamer Gear G4-20. It's one of the lightest hiking packs available at that capacity, and very different in style and construction to the likes of the Osprey Atmos 65 (see review here), and Deuter Guide 35+ (reviewed here), that I'm used to. I gave it a thorough test with a weekend in the Cairngorms, a 22 mile hike covering four Munros and just about every weather condition from snow to pouring rain, howling gales, and glorious sunshine. That's enabled me to offer my thoughts and review of the Gossamer Gear G4-20. I've also done a video review, which is embedded below. It covers most of the same ground, but as always the text review isn't a 1:1 transcript of the video.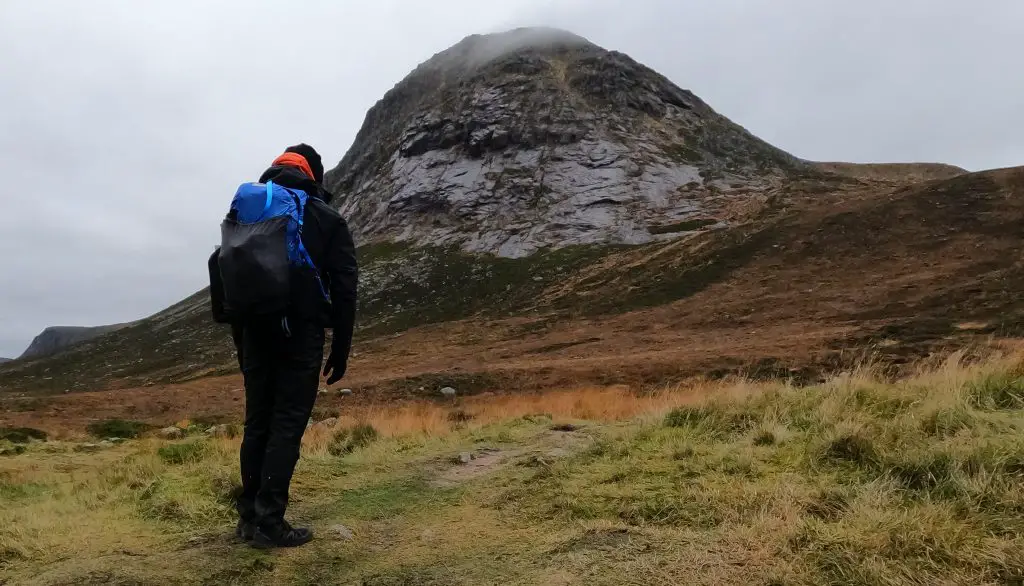 Overview of the Gossamer Gear G4-20
The Gossamer Gear G4-20 is, as the name suggests, a 42 litre lightweight hiking back. I'll talk more about the capacity in the section below, but focusing more on its styling as a 'lightweight' hiking pack, that means it's going to differ quite a lot from more conventional packs. In particular, ultralight packs tend to have less padding in shoulder straps and waistbelts, fewer compartments and straps, simple roll-tops or flap closures, and non-rigid frames supported by something simple like foam.
The Gossamer Gear G4-20 is not as stripped back as some ultralight packs I've seen, but nevertheless it broadly aligns with the construction and styling you'd expect from a bag that weighs only around 700g.
It's available in three sizes, meaning you can fit it somewhat to your height – which is important as, unlike something like the Osprey Atmos, there is very little scope for adjustment of the shoulder straps or waist belt. Essentially, you can tighten or loosen them and that's it. It's also available in two colours, the (I think) very attractive blue that I purchased it in, or a more plain silver/grey if you don't like joy.
Interestingly, if you buy direct from Gossamer Gear, there are also three additional options: a shoulder-strap pocket (which could be useful for a phone or, more likely, a GPS device) as well as a hiking umbrella and umbrella clamp. I've not really got into the whole concept of hiking umbrellas, but I know they're a popular item with thru-hikers as a way to reduce weight and resolve the whole issue of temperature/breathability while remaining dry. The addition of those options is further evidence that this Gossamer Gear have the thru-hiker market clearly in mind for this pack.
Despite that, though, I see this as extremely suitable for users more like me; going on overnight hikes of two days up to a week or so, usually wild camping, and who just want to be able to enjoy the hike more without being weighed down by excessive kit. So, whether you're a thru-hiker or just a hiker, this could well be the bag for you.
Capacity – is 42 litres enough for hiking?
The Gossamer Gear G4-20 has a 30 litre main compartment, with the other 12 litres made up from the mesh front and side pockets.
I'm sure many purchasers of this bag will not give the capacity a second thought – you may already own a similarly sized bag, or be well-used to getting all your kit into this sort of capacity. But some people might be, like me, moving from a much larger pack and wondering if losing around 20 litres of capacity is a step too far.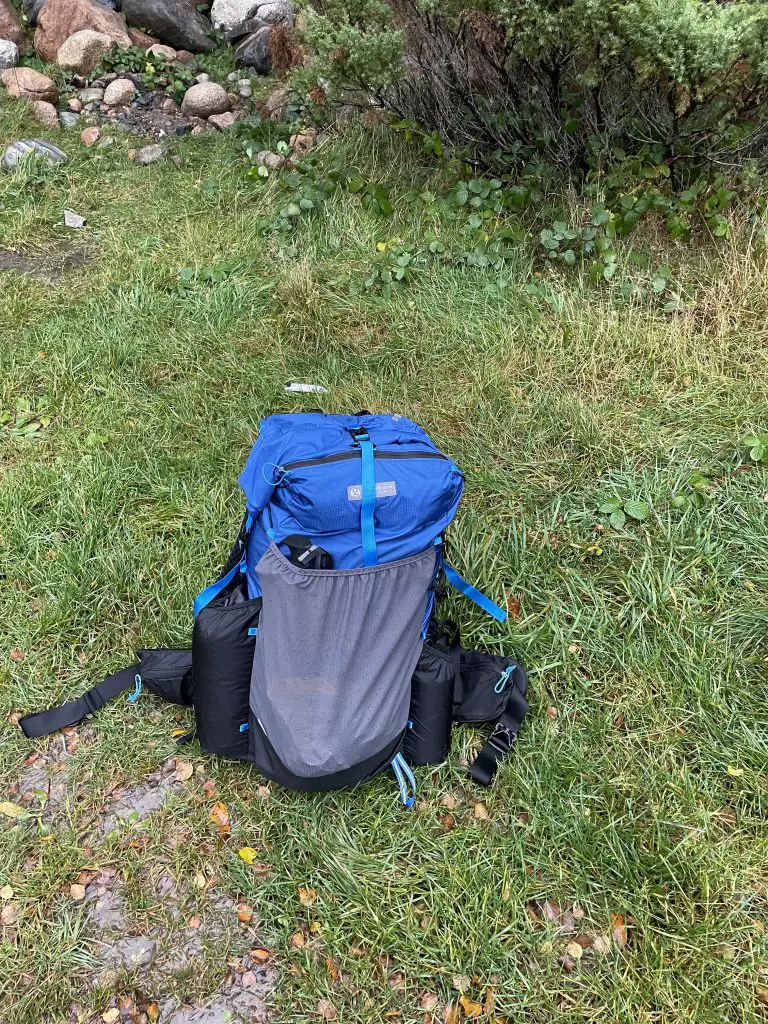 Of course, that's not really a point for this review since (with some caveats, which I'll mention below) a 42-litre pack is a 42-litre pack, and it's really down to you as a buyer to decide if that capacity is suitable for you. If it isn't, then that's hardly a criticism of this product – just buy a bigger bag.
But still, if you are wondering whether to make the same jump that I did, what I would say is that 42-litres should be more than sufficient for hiking and wild camping unless you need to carry something like an especially large tent, a very bulky sleeping bag, lots of food (especially fresh food) or a lot of spare clothes and especially spare shoes.
Even then, a lot of those items *could* still be fitted in here with careful packing. For reference, on my hike, I carried the following:
A lightweight one-person tent.
A quilt (Therm-a-rest Corus 20)
A roll-mat (Therm-a-rest Neo XTherm)
Stove, and a large fuel canister
Two days of food
3 litres of water
Large down jacket, spare gloves, spare thermal long-johns
Hiking poles
Waterproof jacket and trousers
First aid kit
I was even carrying three logs on the first day of the hike – allowing us to build a fire at the bothy.
And I had loads of room left. I could have stuffed a week's worth of more food and an extra change of clothes in without any difficulty, meaning that it's hard to see many circumstances when a bag this size really wouldn't do the job.
Build and construction
The bag is largely made of 70D nylon, with some reinforcing of 100D nylon along the base. This is light and, particularly the 70D nylon, not necessarily as strong as other more standard bags. By way of a comparison, for example, the Osprey Atmos is made from 100D nylon throughout, with areas of reinforcing of 420D nylon. On the one hand, this does mean you'll need to be a bit more careful about damaging the Gossamer Gear bag, and especially if you carry sharp items in it. That said, as I'll discuss more below, if you're carrying a lightweight pack the gear in it should also be more lightweight, and this makes it less prone to damage and create less need for strong materials.
Materials aside, the construction is top-notch, with everything double-stitched and no obvious weak points or areas where you feel there's been any compromise on construction.
Features
Like any good ultralight pack, the bag is relatively free of features, since by and large features just add weight.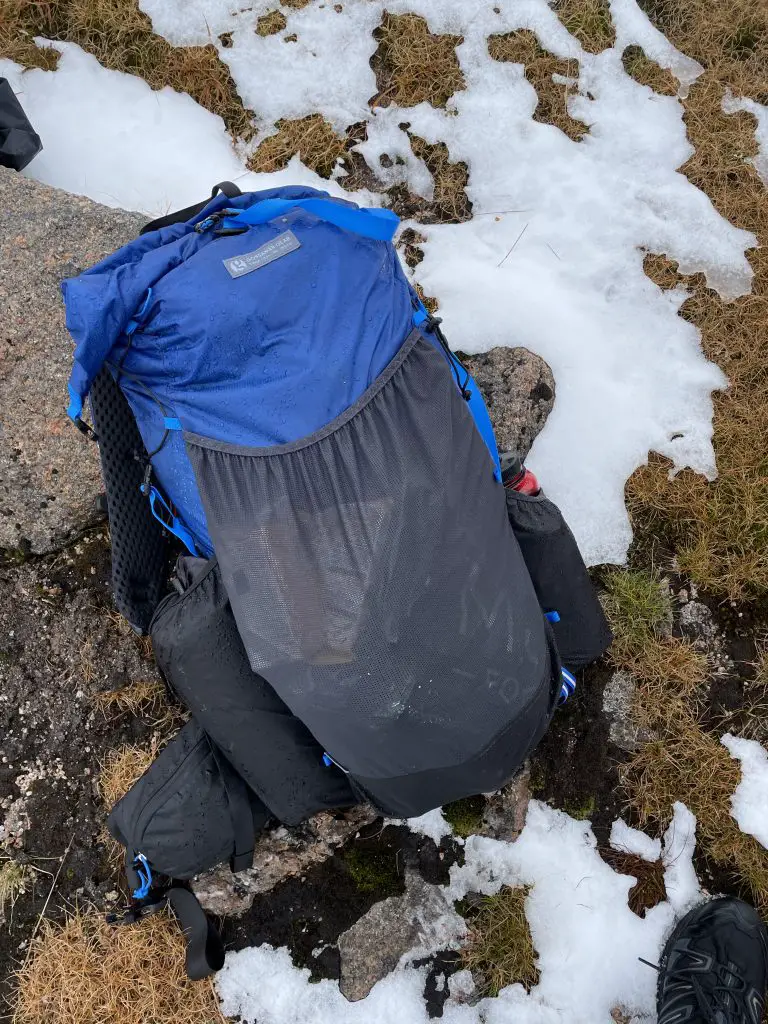 What it does have are:
A roll-top closure at the top, similar to BTS's X1, which allows some extra capacity, or to squash the bag right down. There is a strap that closes across the top, and then the twisted ends of the roll-top can either be secured to straps at each side, or connected to each other across the top, like a typical canoe-bag. If you do the latter, the straps at the side can be removed, saving a tiny amount of weight and avoiding them flapping around.
A small zipper compartment at the top. Good for securing small items that you might want quick access to, like a first aid kit, or maybe a set of keys or similar.
Routing for a hydration pack tube.
Elastic compression straps at the side, which are also useful for securing long items like hiking poles. These can also be removed to save weight and simplify the pack.
Two elastic pouches at the side. One is longer, and the other shorter. I found the long one perfect for securely carrying my roll-mat, while the shorter one neatly fitted both a nalgene and a little thermos flask.
A large stretchy pouch on the back. This is my absolute favourite feature, as it's perfect for dropping items in that you either want easy access to, or want to keep out of the main pack, or both. Particularly waterproof clothes, for example, that you might be taking off and putting on as the weather changes. It also works nicely for food, and I could easily have fitted my whole cooking kit into it if I'd wanted to.
Padded hip straps, with quite large zip pouches on each. A good place for a phone, snacks, quick-access items like a flashlight or headtorch, etc.
A simple foam mat which provides padding and some stiffness to the back of the bag, and is removable to sit on if you wish.
One point I did note is that the main body compartment is relatively narrow, meaning that large items (and especially large, round items) sort of wedge in and end up creating empty spaces within the compartment, making it quite difficult to actually use the full 30L efficiently. That didn't bother me as I had so much spare capacity anyway, but if I was really up against it on space, you'd have to pack very carefully with a mix of smaller and larger items. Of course, all bags have this problem to a certain degree, but I noticed it especially with the G4-20 because it is very flat.
How waterproof is the Gossamer Gear G4-20?
Despite the roll-top perhaps giving the impression of a backpack that is almost a canoe bag, the G4-20 is not explicitly designed to be waterproof. The 70D nylon that makes up the bulk of the bag material is not inherently particularly waterproof, though it is coated with a DWR coating that helps to avoid it wetting out. In addition, the bag is not seam-taped or sealed as a waterproof jacket would be, and there are a few holes such as the hydration tube routing that would allow water ingress, especially if the bag was actually submerged in water.
All that said, though, I was surprised by how waterproof the bag proved to be. Unlike everybody else hiking with me, I didn't bother with a waterproof cover as I prefer to use canoe-bags / dry-bags internally to both organise my gear and make sure that critical items are kept dry no matter what happens. Despite that, and despite the torrential rain, I found that very little water got into the bag and what little dampness did get through was probably at least partially down to me simply opening the bag up at lunch time and digging around in it with wet gloves on.
I don't actually think that a fully waterproof rucksack is a particularly good or useful idea in any case. I'd rather use dry-bags for items that need to stay dry, a rucksack cover if I really want extra help to keep the bag dry, and otherwise just accept that the bag and some of the contents will get wet.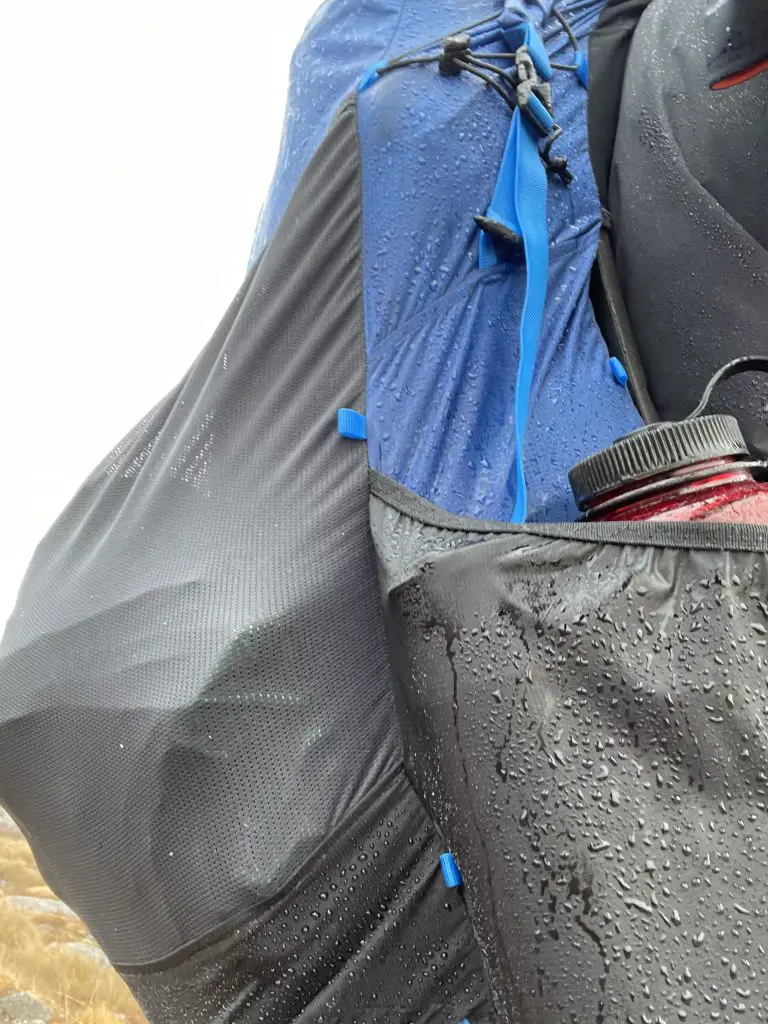 Comfort
One of the key considerations with an ultralight pack is that the contents also need to be light. If you're going to be lugging 15 morekg of kit, you're going to want a pack that is both more robust and more comfortable with a stiff back, rigid hip straps, higher levels of padding, and so on.
But, if you can get your overall pack weight down to closer to 10kg then there's no reason a pack like this can't be extremely comfortable. The manufacturer specifies a maximum weight of 13kg for the G4-20, and recommends 11kg for comfort. Considering that ultralight hikers work to a base pack weight of around 5kg (and even allowing an extra 3-4kg for food, fuel and water) that actually still leaves you a fair bit of leeway, and I'd be surprised if most of the type of hikers who buy this pack are getting anywhere very close to 10kg even when fully loaded.
I reckon that on day one, with 3 litres of water, all my food, and three logs, my total kit weight might have got close to 8kg, and the bag never stopped being comfortable. There is more than enough padding on the shoulder straps and hips for that kind of weight, and the simple foam back of the pack was sufficiently comfortable hiking all day up hills.
I suspect that, on a very warm day and if I was wearing fewer layers, the lack of real ventilation of the pack against my back might have become uncomfortable, but when wearing a midlayer and a waterproof it simply wasn't an issue.
Final thoughts
To anyone who either regularly hikes with a base weight in the sub-5kg region, or is interested in making the kit changes necessary to get down to that weight, I cannot recommend this bag highly enough. It's extremely light, but still very comfortable with lower weight loads, and has all the storage space you could realistically need for ultralight hiking and wild camping.
I also think it could make a great day pack – although the capacity is higher than you'd really need, you'd still benefit from how light the bag is, and it's easy to compress down and use with just 20L or so filled.
That said, this is definitely not a bag for someone operating with a base weight close to 10kg, as once you add fuel/food/water the bag is going to become uncomfortable heavy. It's also not really a 'backpacking' bag, in the sense of travellers staying in hostels. I don't think it has the capacity for several changes of clothes, and I'm also not sure it's robust enough for regularly being thrown into luggage racks etc.
Buy the Gossamer Gear G4-20 if:
You want a smaller, lightweight pack
You're happy to lose some of the adjustability and support of a rigid-framed pack
You can get away with a base weight of around 5kg
Don't buy the Gossamer Gear G4-20 if:
You're looking for a bag for backpacking
You tend to carry a fairly heavy base weight, especially anything close to 10kg
You need a lot of space, for example for a 2-person tent, changes of clothes, or more cooking equipment than a simple stove and dehydrated food