Gear Reviews
Deuter Guide 35+ review | An awesome Alpine and hiking rucksack
Introduction
This week we're going to review the Deuter Guide 35+ rucksack, one of my 'go to' pieces of gear for hiking and expeditions. Before we delve into the ins and outs of this pack, let's take a quick look at the company to understand why they get their outdoor gear manufacturing process right.
Born in 1898, the company was founded by German Hans Deuter (are you really surprised?). From the outset, their gear has been made for climbing enthusiasts who valued quality, and their own lives. Which is always good to know. I mean, would you trust equipment the manufacturer who had no interest in your safety?
The company started supplying the Bavarian Post Office with postal bags. They're best known for building backpacks for demanding outdoor activities. Their main claim to fame is they built ultra-comfortable packs for just about every outdoor activity.
A quick note: the Guide 35+ has been around since 2017. And yet many of the features that come as standard as still streets ahead of some of its more recent competitors.
One point to note before we move on – if you looking for a big ruck this isn't for you (check out the Osprey Atmos 65+ here).
Design
The design is simple – no bells and whistles. What you get is a pack that's slimline, rugged and does exactly what it says on the in.
Let's dive deeper…
Deuter Apline Back system
Contrary to popular belief this isn't some strange affliction suffered by mountaineers and hikers! DABS is an adjustable system that allows you to tailor the fit to your body shape. It's very comfortable and I had no issues tweaking the system to sit comfortably on my tall, wide frame.
As a vigorous hiker, one of the most irritating sensations is that of a sea of sweat squeezed between my back and ruck. Most rucksack manufacturers have proprietary systems designed to provide maximum ventilation, and Deuter's 3D air mesh does a pretty good job of keeping you dry on those long hauls. It's not perfect, but no system is.
Systems similar to DABS and the air mesh are normally only found together on high-end (aka expensive) rucksacks and it's good to see these features trickling down to mid-range gear.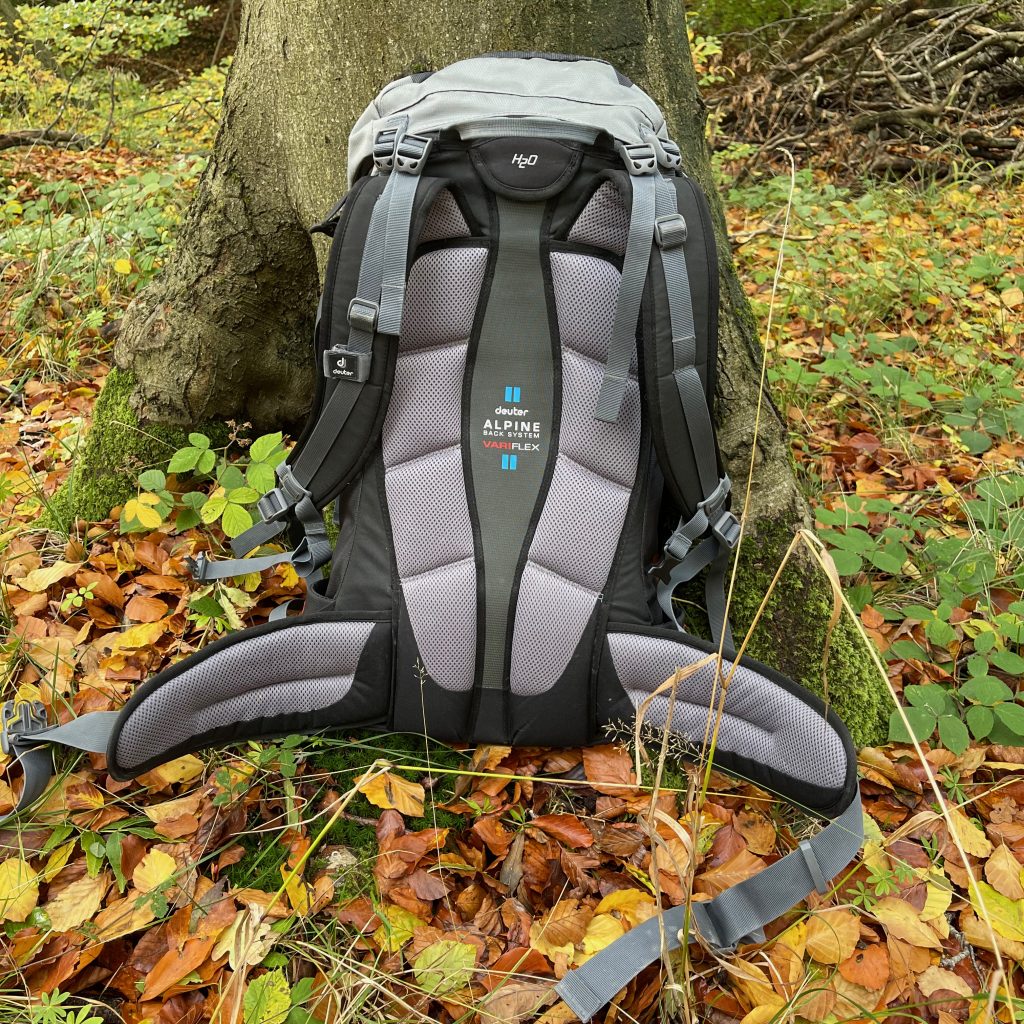 Shape and fitting
The body of the Deuter Guide 35+ is narrow and long – a bit like a skinny sausage. This makes it an ideal choice for activities where you need to move without restriction. I ski cross country and when hiking I use a large range of arm movement and the Guide's design really is appreciated.
I'm not a mountaineer and will assume the restriction-free range of arm movement will be a point of interest for climbers.
One more feature to note: like most of Deuter's rucksacks, the Guide 35+ hugs the wearer to keep load close to centre of mass. If you're the kind of outdoors person who likes to move fast, jumping from rock to rock, you'll come to appreciate this fit.
The rigid back is contoured, and, for some hikers, it might be too uncomfortable. I recommend you test this out in store before you buy (if you're buying online, make sure you get free returns). I do like the fact the insulating mat that helps cushion your back can be removed and used as a sitting pad to prevent bruising in those tender places.
Hip and shoulder straps
Nice and broad! When you set up the DABS to suit your body shape, the straps can be adjusted to suit your personal tastes. Deuter have designed the hip strap in a way that allows it pivot, moving with your body to ensure the rucksack remains centred when you're moving, fast or slow. It's this kind of attention to detail that makes the Guide stand out from some of the lesser offerings in the outdoor gear marketplace.
I have wide shoulders. The Guide's broad, well-padded shoulder straps provide excellent shock absorption and help spread the load when the pack is heavy. The chest strap helps reduce strain on your pecs and heart, as well as improving the overall fitting.
Weatherproofing
Made of Super Polytex, a very durable material that can take a real beating before it rips, or tears, the Guide is pretty waterproof out of the box. Like any other ruck, I recommend you use a dry bag inside if you're going to be travelling in the rain. Why? Because of this: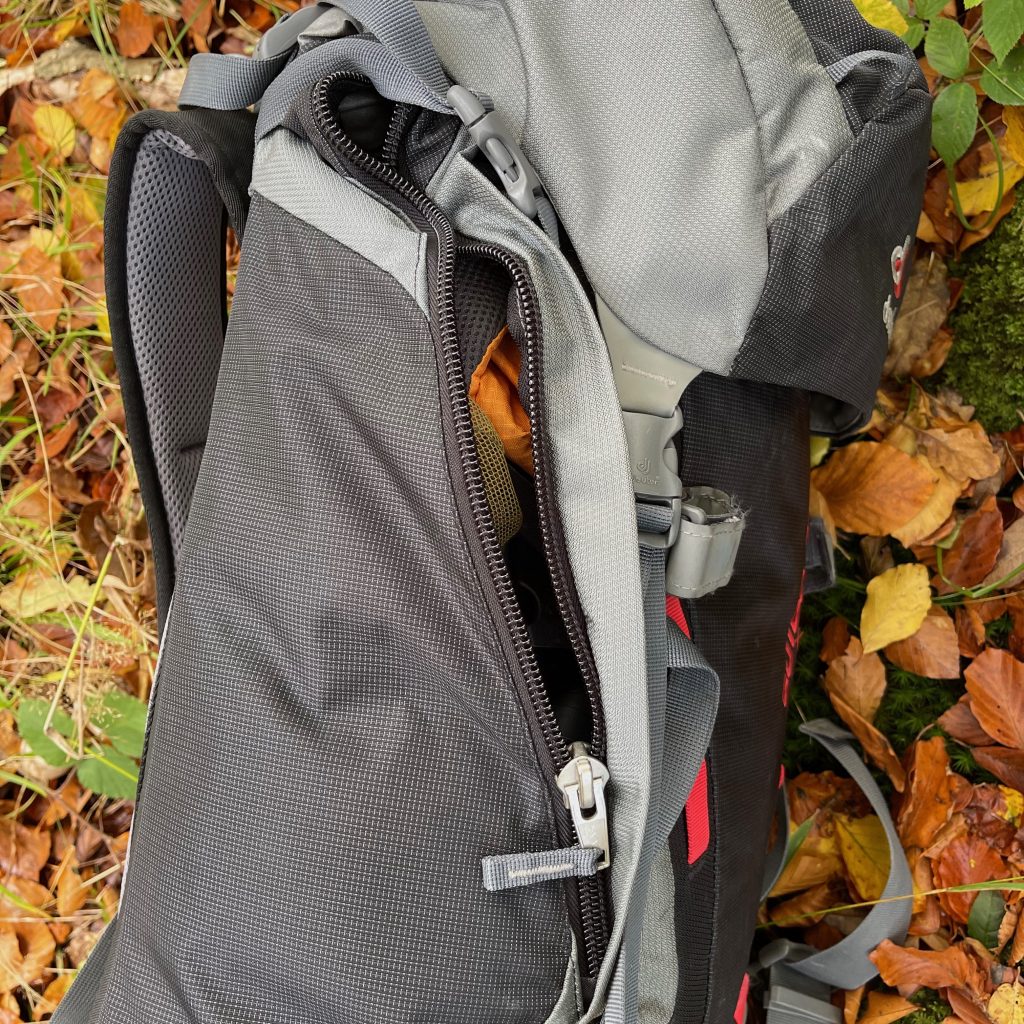 The long, coarse side zip is a great design feature that allows you access to your gear without having to open the lid. Useful as the zip is, it's not waterproof and water will find a way into your ruck when you're caught in a downpour.
Normally, I like to do a 'soak test' in my bath (image below is of the Built to Send X1 Alpine, reviewed here), but due to side zip the results were a foregone conclusion!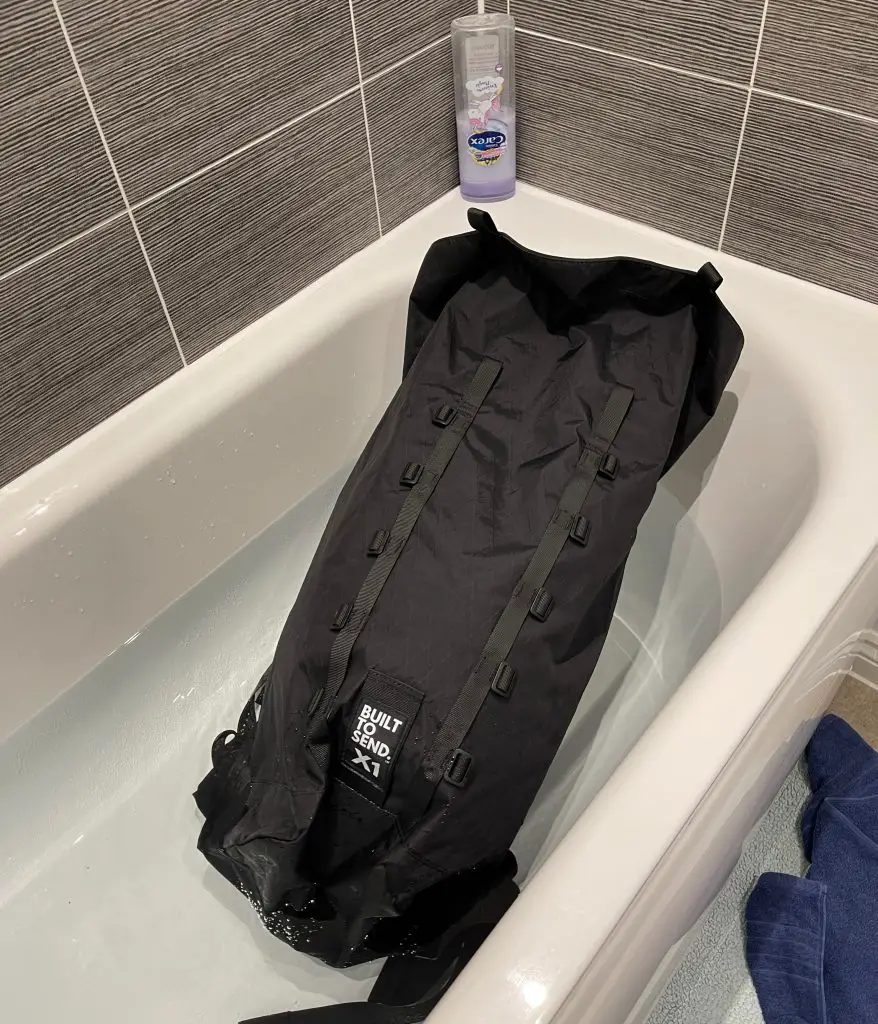 The lid is adjustable and does a great job of preventing water ingress into the top of the ruck. One point to note – the lid is not removable, which isn't an issue for me. If you feel you need one that's detachable this isn't the ruck for you.
Another point to note – on the inside of the lid is a removable SOS panel and a guide to emergency procedures, including instructions showing how to guide a helicopter into a landing zone. Very cool!
Before we move on, I feel the urge to mention the clasps. My model has the plastic 'snap' fittings that have been standard for a very long time whereas more recent versions come with near-indestructible G-clasps.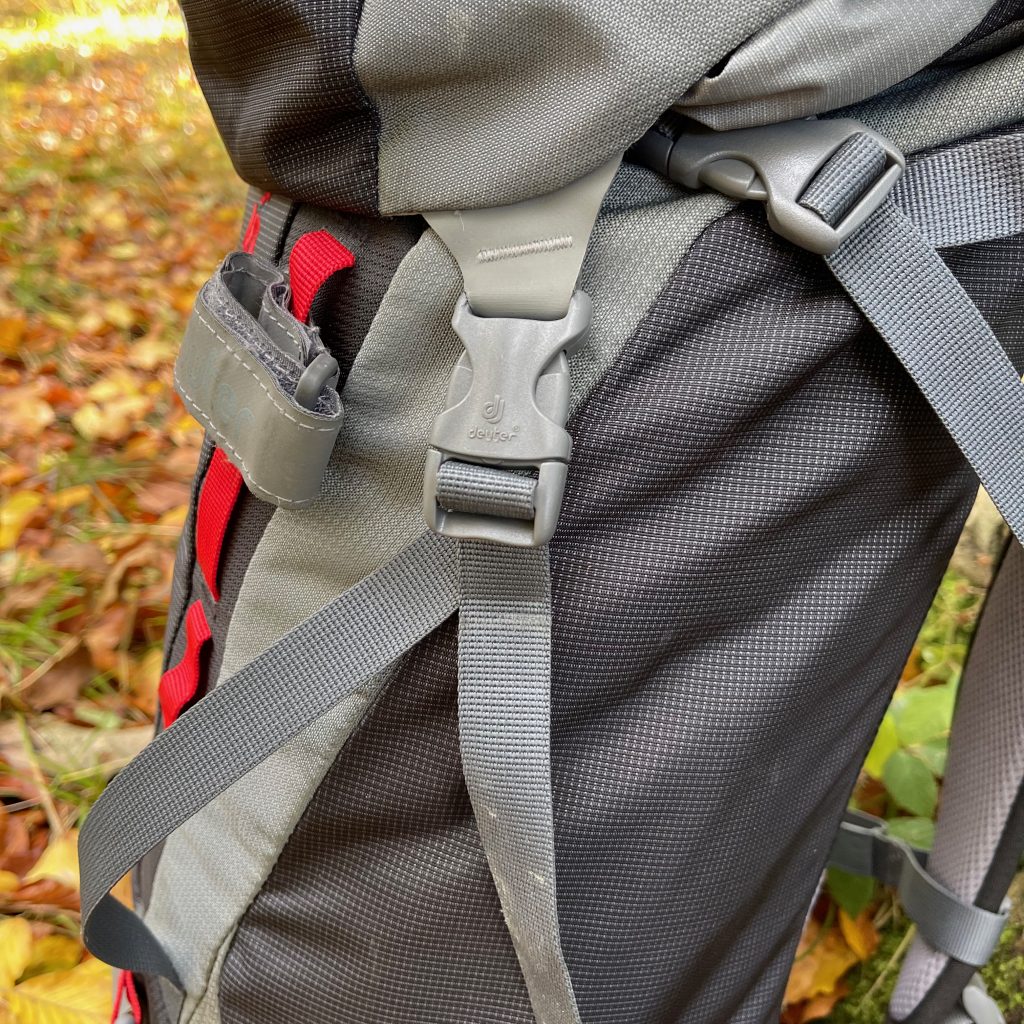 Carrying capacity
The total capacity of this model is 45 litres. The base capacity is 35 litres with +10 thanks to the massively adjustable lid. What does this mean for you? It's not designed for multi-day, or thru-hikes. The Guide 35+ is more than adequate for a couple of days. Beyond that you're going to need a bigger alternative.
There are only a couple of extra pockets – both on the lid, one inside and one outside. Both top pockets are a reasonable size, perfect for gear that needs to be close to hand, such as a GPS or more food. Extra food is always good.
As you'd expect of an alpine rucksack, there are a number of fastenings for gear such as ice axes, skis and a removeable rope fixing strap.
And that's all. Like I said at the start, this is a no-thrills ruck.
Pricing
Excellent. Right now, you can pick up one of these rucksacks for around £100 ($150 US) which is a very good price for what you get. I think I paid £160 about 2 years ago.
Thoughts
Buy the Deuter 35+ Guide if:
You're looking a no-thrills, rugged rucksack suitable for harsh conditions;
You don't want to break the bank;
You're going on short hikes, or joining in short duration activities.
Don't buy this rucksack if:
You're planning a long distance, or thru-hike;
If you need lots of external fittings.