Built to Send X1 Alpine Rucksack Review
Looking for a pack that provides a decent crossover between traditional rucksack and an alpine/mountaineering pack? You know, the kind of gear that's equally at home on the rockface or the trails that meander the wild countryside. If so, maybe now's the time for you to take a look at the Built to Send X1 Alpine rucksack… hopefully this review will answer any questions you have. If not, feel free to shoot us an email with any other questions you have.
I've owned the X1 Alpine for about three months now and have used it for many activities, including long, weighted runs. In all this time there have been none of the failures that we see all too often in products that are mass produced by the big brands. Quality is essential when you're working in a dangerous environment and the X1 delivers on the promise.
But you want to know more, right?
Cool, let's do this review…
Who are Built to Send?
Yeah, it's an unusual name. The company is based in the UK and there a great team behind the brand – I've spoken to Tom, the owner, several times, and he is a helpful guy. He's passionate about climbing and quality, something we'll demonstrate soon when we start delving into this BTS X1 rucksack review.
And unlike some companies that ship their manufacturing process overseas, BTS's rucksacks and conceived and born in either their Oxfordshire, or Devonshire, workshops.  Big Brownie points for having a homegrown outdoor gear business.
The BTS X1 rucksack – an outline
Now you know a little about the company, it's time to dig deep into this rucksack.
Look and feel
When my X1 arrived I couldn't help but noticed the design and engineering that has gone into producing what I think is a beautiful rucksack. It simply looks good! Really good.
Now, for the most seasoned alpinist, or hiker, this might not mean much. After all, function over form is what's important. But when you get aesthetics rolled into the mix you have to agree it's a definite bonus. Can you honestly say the admiring looks and comments of your fellow climbers and hikers go over your head?
Nah! You're like me – you love it.
The only part of this ruck I find a little unusual is the roll top and the 'G-hooks' used to secure it. To be fair, this rucksack is aimed at climbers, although I have found it to be a great addition to my hiking rucksacks. If you're a hiker and you're planning on buying one of BTS's rucks consider buying a sealable dry bag to keep rain out.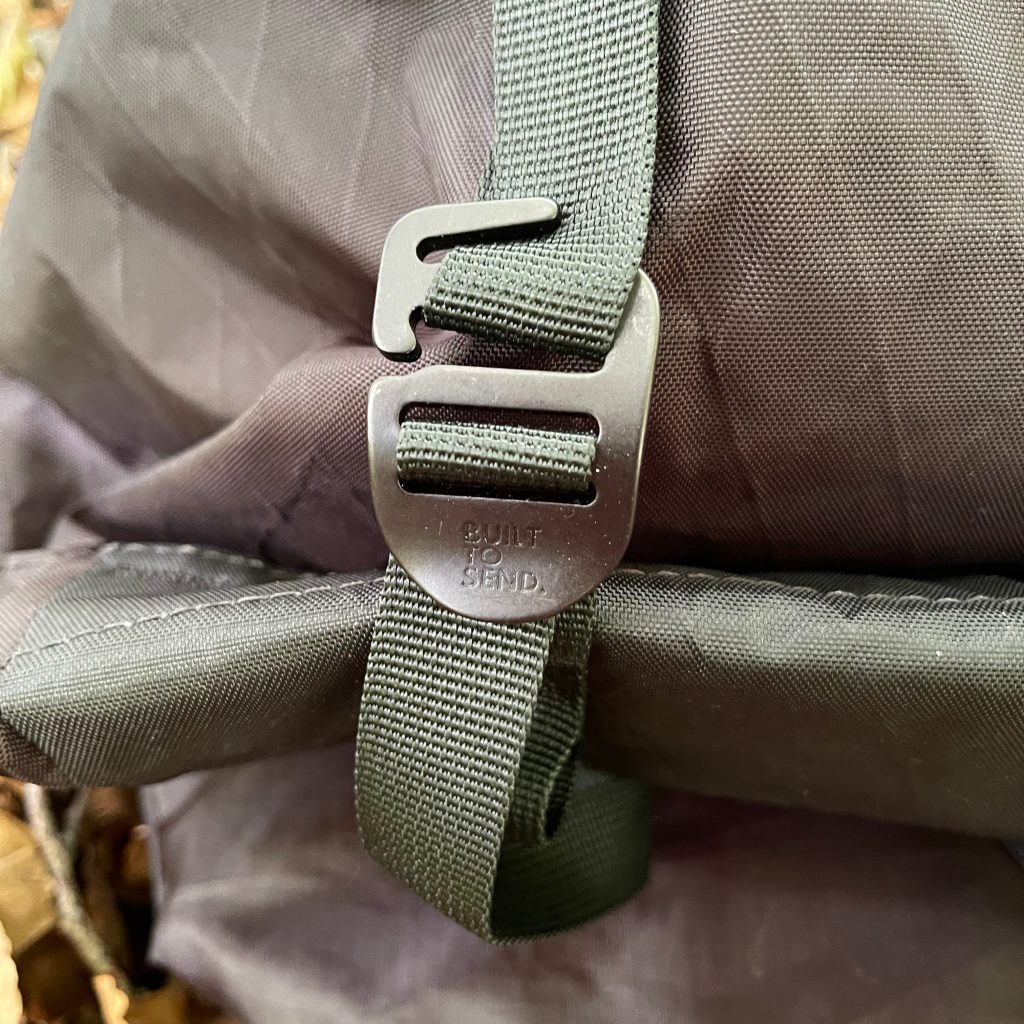 Shoulder and waist straps
Broad, thick and comfortable. Made from 10mm polyethylene foam, the straps give an even spread of the load and reduce pressure on your shoulders when carrying a heavy weight. Most of you will remember the old days when straps where thin and contained little padding – not a pleasant experience when you're on a multi-day event.
The waist strap is basic, made from nylon but with option to fit padding and fitted with a BIG quick release buckle. What I really like about this is the ease with which the buckle can be opened and closed, even when wearing heavy cold weather mittens (yes, I tested this… in the summer heat!).
Another important feature  is the chest strap. There's nothing more irritating than the discomfort that comes from having your shoulders pulled back by a heavy rucksack. The strap is stitched in place and is low-profile to reduce snagging on harnesses and gear.
My personal preference is an adjustable chest strap. Just saying.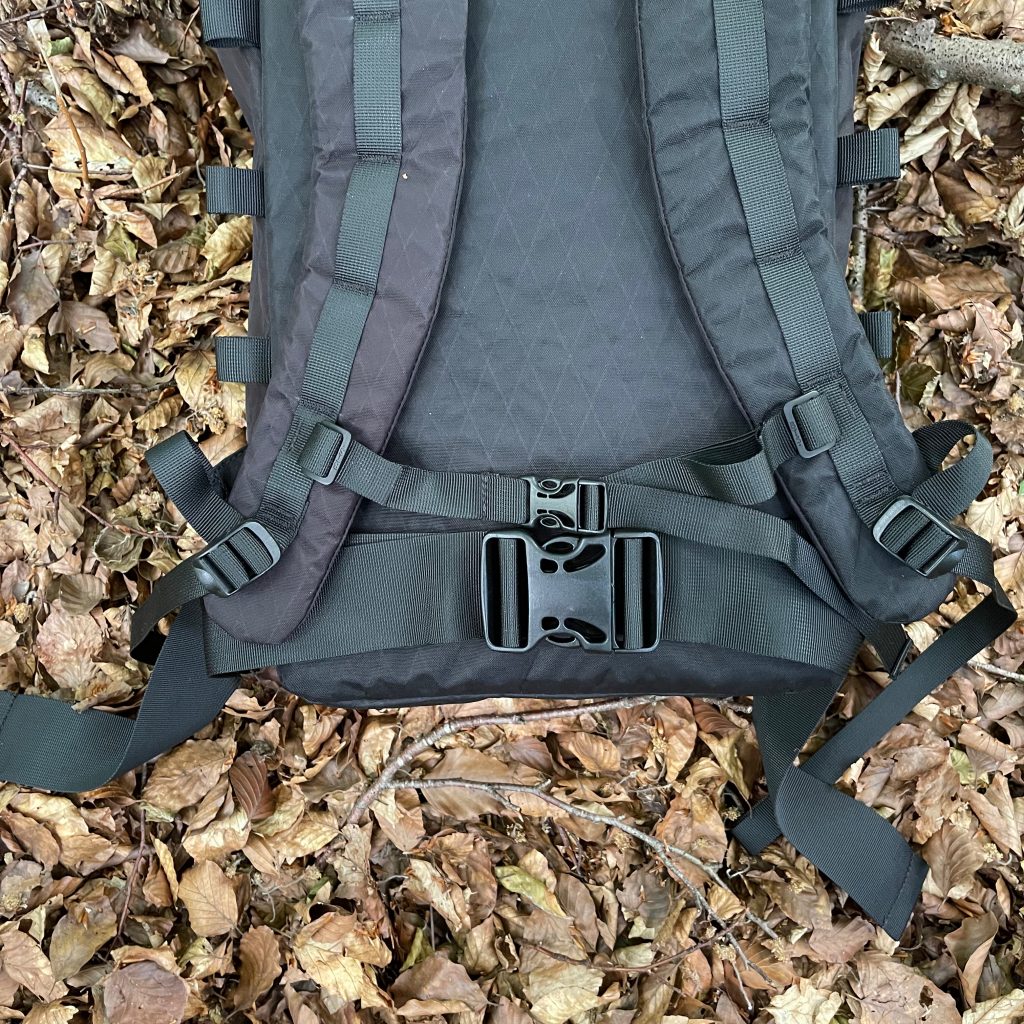 Durability
Jake and I like to test gear to destruction. In this case, we decided not to. At £289 (about $400) the X1 is a little too pricey to break just for the sake of a good review.
Built to Send have the following to say about the durability of this ruck:
The only way of breaking a BUILT TO SEND pack is to tear though one of the toughest materials on the planet.

Tom, owner of Built to Send
Whilst I took the decision to not test this claim, I will admit the material feels incredibly tough. You know how a good quality, rugged piece of gear feels… by running your fingers over the material you get a good vibe. And in the X1 Alpine's case it's a tingly vibe.
One of the major points of failure on any rucksack is the clips and buckles. When you put your trust in the X1 you can rest assured you're in safe hands. Made from aerospace grade, anodized aluminium, the hardware is, well, hard! A couple of my smaller hiking rucksacks are manufactured with the same material and the only time I managed to break one of the buckles was by using a hammer brought down with an overhead blow (long story!)
That's rugged!
Load carrying and comfort
We touched on a couple of these points when we looked at the shoulder and waist straps. Now we're going to dive a little deeper.
Capacity
The base capacity of the X1 Alpine is 30L. Not huge, but more than enough for your climbing gear, or a decent hike. For me, this rucksack is the perfect size for my ski tours and longer expeditions. I wore a 35L ruck when crossing Lake Baikal. This was the perfect size for all the gear I needed to for my regular pauses: heavy down jacket, snacks and a flask of *ahem* 'not water'!
If you need something a little larger, the X1 delivers. The stretch capacity of 42L is near ideal. In the past, I've used a Deuter 45L +10 and have never really needed that extra.
My personal opinion is this: the X1 Alpine has all the capacity you need for a medium distance, multi-day hike or a short trip into the mountains. Likewise, it provides ample storage for ski touring and longer expeditions where it can used for carrying the food and clothing you need to fuel up and stay warm on your rest breaks.
Comfort
Being comfortable is a subjective matter. I'm a former soldier, and I served in an era when military rucksacks were heavy and uncomfortable. The scars at the base of my spine, etched by my pack as I raced across the Brecon Beacons, are a testament to how un-user friendly military gear used to be. Even now, pulling on my ruck brings back painful memories.
The X1 Alpine has a good feel. Inserted into the body of the rucksack is a panel formed to follow the contours of your back, which helps improve the shape and comfort. I like this. I don't like saggy rucksacks.
Weather resistance
The body of X1 Alpine is formed from a single piece of VX42 X-Pac fabric. Basically, what you get is tube of waterproof material with very few seams and this helps make the rucksack incredibly weather resistant. As long as rain doesn't ingress through the seams.
I decided to see how waterproof the X1 is – take a look at the image below: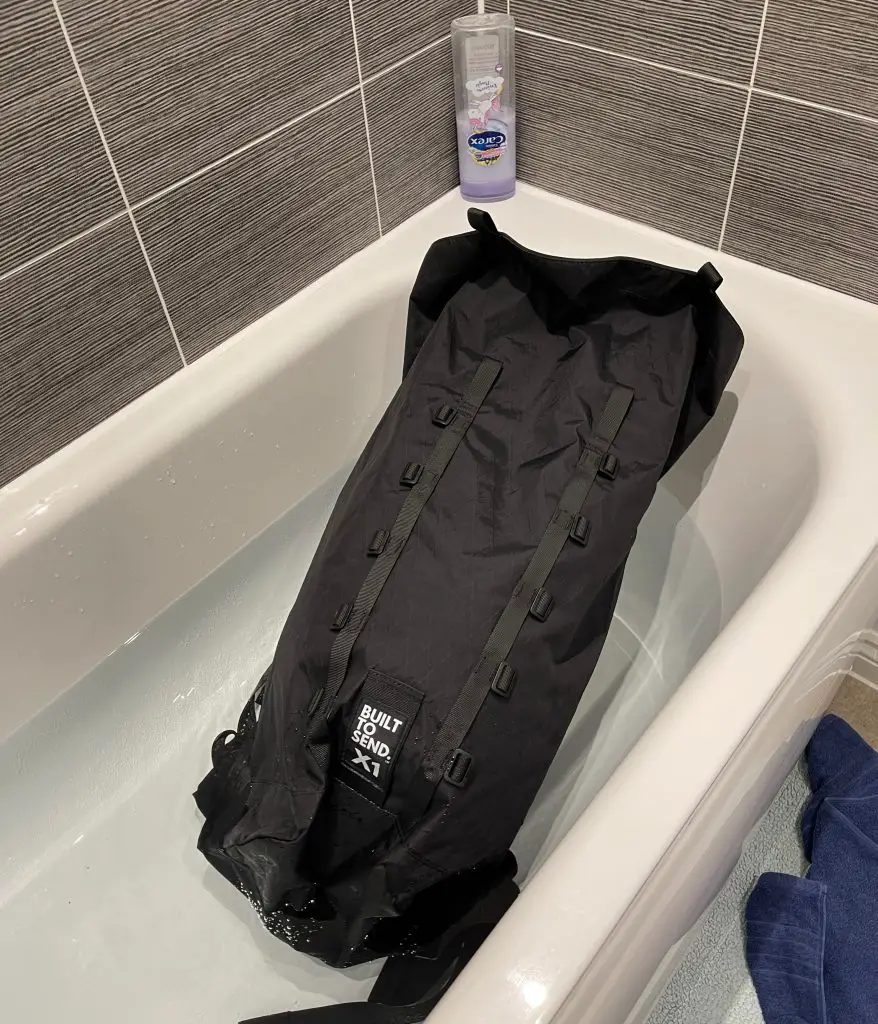 I put a down jacket inside the X1 and dropped it in the bath for a couple of hours. Later in the day I came back, pulled out my jacket and here is the result: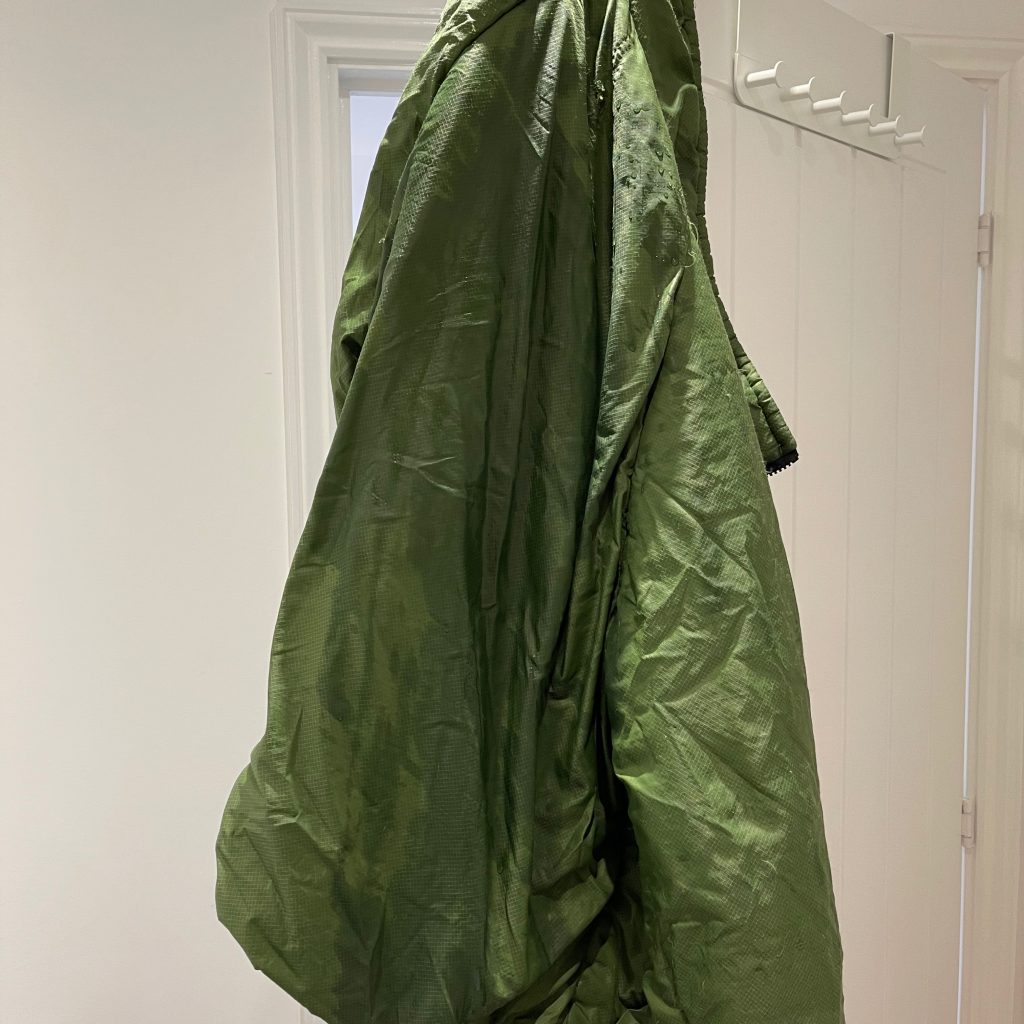 As you can see, water did penetrate through the seams, but this is not a major issue as they can be weatherproofed. In fact, looking at my soggy jacket proofing the rucksack first might have been a better idea!
It seems to me that, once the seams are treated, this rucksack will do an awesome job of keeing the weather out and your gear dry.
As mentioned earlier, if you're going to take this ruck on hikes in wet conditions and you need to keep your gear dry, then buy some like an Ortlieb bag. Although the rolltop does a pretty good job of keeping light rain out, I'm yet to be convinced it will withstand a heavy downpour.
If BTS ever go down the route of building a version with a standard lid I'd definitely buy it.
Other points
The X1 comes with pretty much all the features you'd expect on a specialist rucksack, and then some:
Ladder system that allows you to fit side straps according to your personal needs.
Attachment points for ice axes, crampons and skis.
Lattice system and plenty of spare shock cords that can be used to further customise the rucksack.
Large inner pocket that easily accommodates essential items such a GPS, maps and huge quantities of chocolate!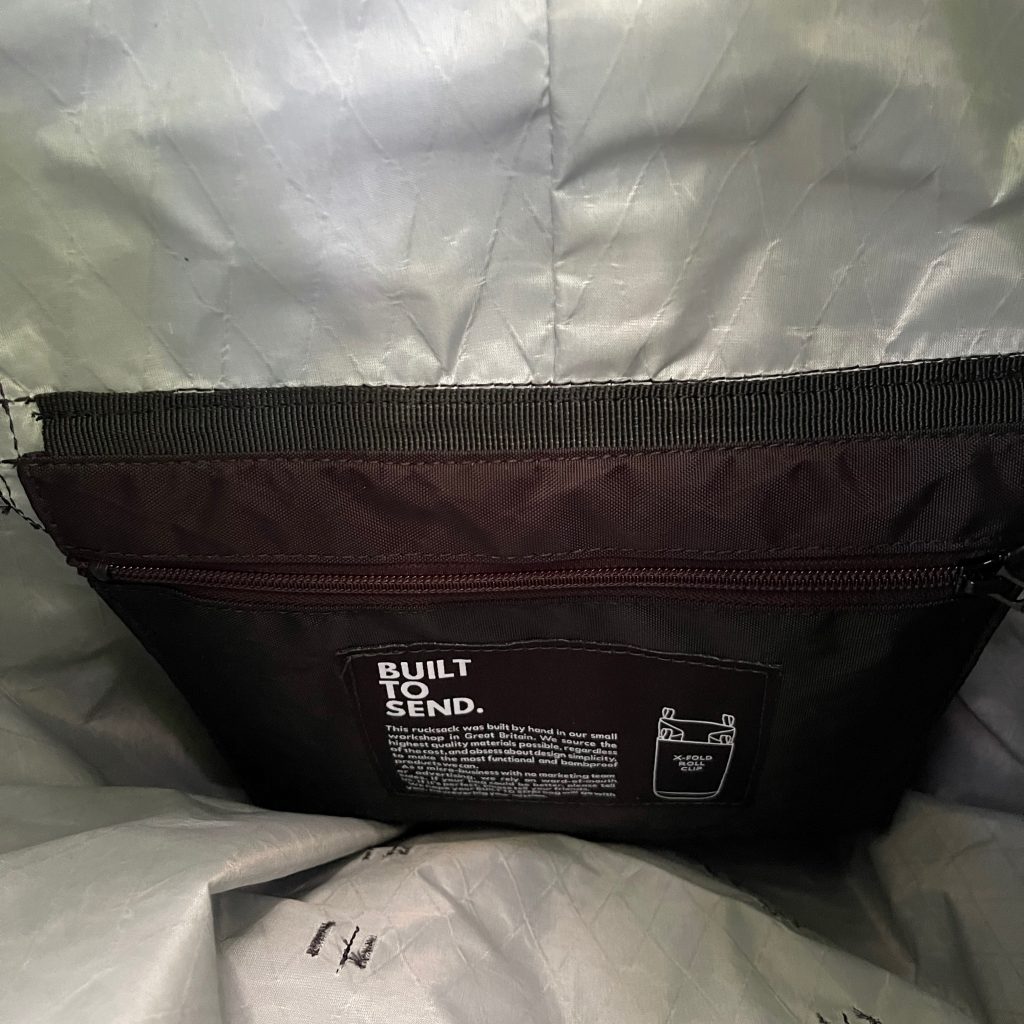 Improvements
Now comes the trickier question: what would I do to improve the X1 Alpine?
To be honest, there's not much I think can be improved on, but let's give it a shot…
It would be really cool if BTS could manufacture a version with a traditional lid.
Whilst I understand the ruggedised approach, for some buyers the use of quick release buckles on the rolltop will be more appealing.
A little tweaking of the price would be good, although I do accept that quality comes at a price (and this is a seriously good quality piece of gear)
Pros
Weatherproof, to a point.
Ladder system gives plenty of options for attaching gear in a way that suits your personal needs.
Rugged in a way many of my other rucksacks aren't.
Plenty of storage space for my hikes and ski expeditions
Cons
Pricing, but we've already spoken about that.
Some additional colours in the range would be good – I like red!
BTS X1 Alpine: final thoughts
Definitely one to take on my next ski tour (South Pole, maybe). So far, after several months the X1 Alpine has proved more than adequate for my demands. It's comfortable, accommodating, and simple. And I think that last point is key to any gear that I value. Simplicity in design is essential.
Up to this point, the X1 has proven durable in a way many or previous rucks haven't – I have many stories of broken straps and ripped material.
This is a serious rucksack for serious outdoors people. Ignore the price and see for yourself.
Looking for a larger ruck? Then check out our Osprey Atmos 65 review.