You're keen and diligent, you're looking for the best hiking app that will keep you alive when the manure hits the whirling thing. But finding a decent app is, well, tedious. Can you really be bothered installing and comparing multiple apps on your smartphone? If not, then read on.
A word of warning before we move on: never, ever come to rely 100% on apps as navigation devices. First learn the essentials of hillwalking and hiking – like how to map read well. Use your smartphone as a backup, or confirmation, only. TrekSumo accepts no responsibility for you walking in a foul-smelling bog.
I've put together a list of what I and my fellow hikers consider to the best smartphone apps for hiking. Without further ado, let's see what's on the list for 2020.
Gaia GPS
Gaia has been top of the list for many of my colleagues over the past year, or so. The app comes packed with features that backpackers and hikers will find useful. Aimed at users in the US, Gaia GPS tracks wildfire reports, find community-sourced camping sites and gives users the option of various map views.
You also print off maps direct from inside the app. Brilliant, but I'm a bit old-school and love the feel of a physical map. 
How much does it cost? Gaia GPS is free, but only if you can live with minimal features and functionality. In order to get the most out of this hiking app you'll need to cough up a measly $19.99 per year. Peace of mind and a smorgasbord of features for less than $20 (£2 in the app stores as it seems the developers want to get the money's worth from UK buyers) – seems reasonable to me.
Rating courtesy of Simon, who recommended this app: 9 out of 10.
Yonder
If you're looking for a talking shop – a place where you can showcase your hikes and share thoughts – then Yonder is the app for you. Built with social interaction in mind, this app has several functions designed to make sharing easy.
Backpacking, cycling or for the real outdoors types (aka hikers); Yonder is an excellent.
Yonder has another component – the exploration features. One very useful function is the ability to view the experiences close to your current location. If you're looking for something a little further afield you can follow Yonder users regardless of where they are in the world. Once followed, you can view their routes, photos and ratings.
There is a big but! Yonder is very much focussed on the US (this review came from one of my friends based in America). UK users have given the app poor reviews due to little relevant data being available.
Cairn
I've used Cairn, it's brilliant. Yonder and Gaia are great if you're looking for social media/mapping hybrids, but Cairn goes one step beyond. Functions that I find useful are notifications and connectivity features. Let me explain…
Live tracking is great and should be a staple function in every app. But Cairn has an added 'overdue' notification feature which send an automatic message to nominated contacts in the event you're past due at a destination. What's more, those contacts are sent key information that will be of use in the event of a rescue situation.
Cairn has the usual other features you'd expect: map downloads, status updates, recording of routes, etc. But the safety features in this app make it the one for me.
Note: Maps, trail/track details and mobile (cell) coverage are free, but for the good stuff you'll need to subscribe.
SAS Survival Guide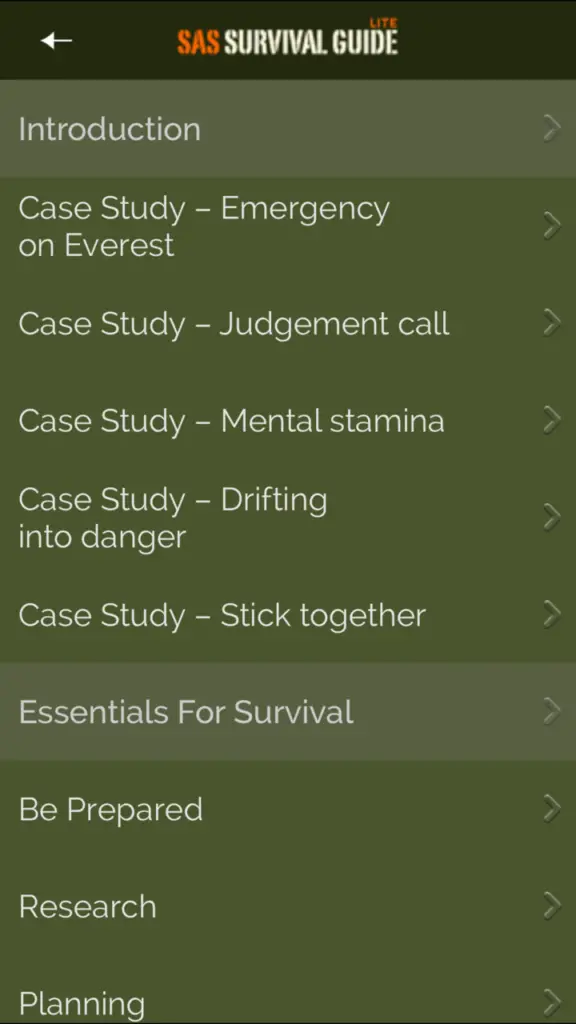 John 'Lofty' Wiseman is a former British Special Forces soldier. Not only is he the youngest person to have ever passed SAS selection, aged 18, he's also responsible for creating and shaping many of the Regiment's functions. Amongst his accolades are the founding of the Counter-Terrorist Team, counter hijack team and heading up the Operational Research element of 22 SAS.
Now he's a respected member of the team at Trueways Survival School and author of numerous books. So, it comes as no surprise that he's also launched an app for Android, iOS and Windows Phone 7… for anyone that might still have one of the latter. Unlike Cairn and the other apps, the SAS Survival Guide is intended to give you a good grounding in the skills you'll need in an emergency situation.
I recommend this app as a primer for your expeditions and hikes.
Garmin Earthmate
Another excellent app, although to get the best from the app it needs to be paired with a Garmin GPS device (sadly the eTrex 10 can't be paired with this app). Earthmate uses OpenStreetMap which is free. Garmin Earthmate is free. Connecting your Garmin InReach to the app is free. You don't even need to own an InReach to benefit from this app.
Routes can be uploaded via the Garmin Connect console in .gpx or .kml format. Once you synch your account the route is available in the Earthmate app on your smartphone. From here you can use the built-in compass feature to provide bearings and distances between each of the waypoints on your route.
For me, Garmin Earthmate is indispensable. I own an InReach Explorer+ (link will take you to a side-by-side comparison with the Iridium GO!) and, for me, it's the perfect companion on my hikes and expeditions. But I'll use Earthmate as a quick reference when out in the wilds.
Which Is The Best Hiking App For Smartphones?
For me it's Earthmate. The app gives you plenty of flexibility and doesn't tie you into contracts. The mapping is free and accurate. Most important, you can use the app independently of any Garmin device.
That's my list of the 5 best hiking apps for smartphones. Got more? If so, send your recommendations to me, or write a post and I'll host it on my website.