Every time I think it's going to start getting properly cold, we have another beautiful, mild, day. Winters in Southern England often aren't all that cold to be honest, and as a runner I find that most of my winter running kit is only needed to get me out of the door and through the first chilly half-mile, and then comes off. However, even if that's all I use it for it's still useful, and then occasionally you do want to run on a really freezing day and you'll need all this kit. Here are a few bits worth investing in so you have them ready for winter:
Yaxtrax
These are an amazing bit of kit that basically consist of springs that hook round your boots or trainers, providing masses of extra grip on ice. You can easily run in them, although they take a little bit of getting used to, after a while you won't even notice. To be honest, I don't use these all that often – it was a very rare day in London if there was enough ice to make these worthwhile. However, as I now plan to do more running in the South Downs I suspect they will come in more and more handy. More to the point, they mean that I never have an excuse not to run, even if it is incredibly slippery outside.
A Hat
I can't run in a hat for too long – I overheat quickly. However, on a really cold day there is nothing like a fleecy hat to help you get over the initial "oh my god this is unpleasant why don't I just go back inside" bit of the run. Even if a few minutes later it comes off and gets tucked in a pocket, it was still worth it.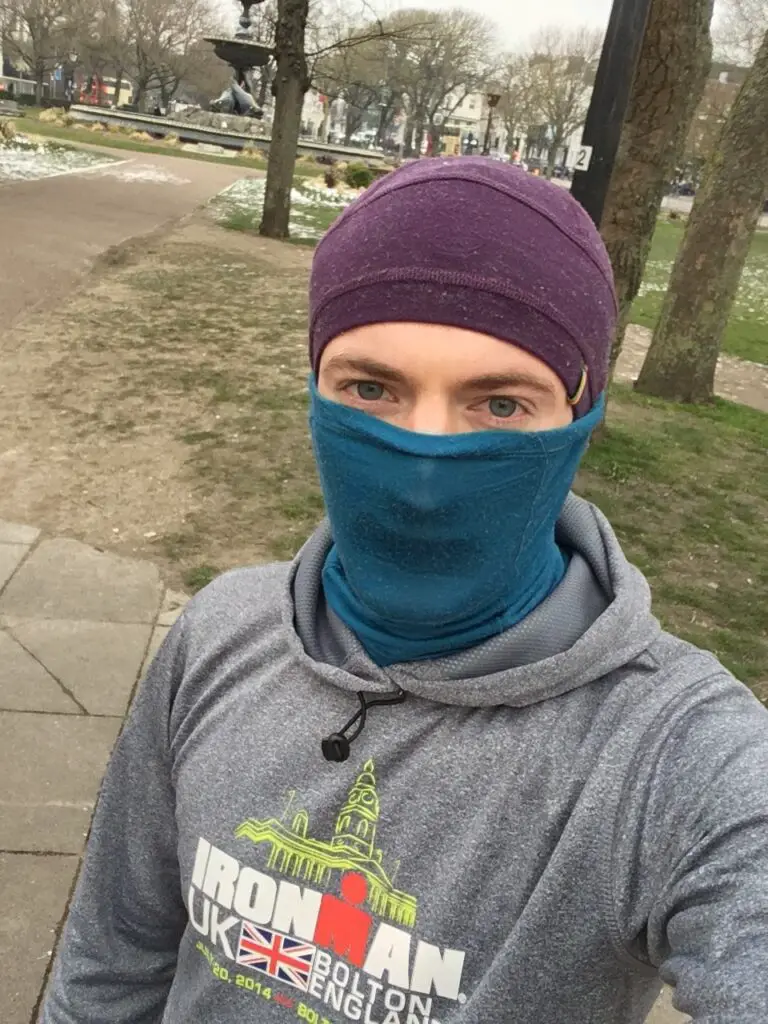 I have a couple, one is a nice construction that is relatively lightweight on top but with more fleece around the brim and ears, which is ideal for runners. The other is a very cool one by Iffley road which is light enough that I do actually sometimes wear it for the whole run, and which I particularly like for long trail runs or in light rain.
Gloves
You can get all sorts of runners gloves – the main thing is you'll want them to be light, to keep the bite of cold wind at bar but to stop you overheating. Even my hands tend to warm up surprisingly quickly when I'm running, despite the fact I'm barely using them. I like the style with conductive finger tips so you can still use your smartphone while wearing them…
There are lots of options out there so it's worth thinking about how heavy you want them to be, whether they need to be windproof, waterproof, or just an extra layer. One feature I quite like on the ones above is the absorbent material on the back of the hands to help wipe away sweat. Just means you have to wash them every run of course.
The Trailhead Gore-tex gloves (available at Amazon) have served me pretty well, and James used a similar pair on his journey up Lake Baikal.
Leggings
Love 'em or hate 'em, there are some days where you'll want 'em. I personally find them pretty uncomfortable so a) I only wear them on the coldest days and b) I think it's well worth investing in some good ones, designed for running, so they are tailored properly to fit and stretch right while you're running, and not be any more uncomfortable than they have to be.
Shell
This is an absolute must-have. In fact, in the UK, it's a must-have pretty much any day of the year if you're running somewhere where you can't easily get shelter if it pours down. I take mine on trail runs even in August because you can never guarantee it won't rain…
The key with a running shell is for it to be as lightweight as possible, and you can get some seriously lightweight ones now, and for it to be as breathable as it can be without compromising on waterproof qualities. Running in something like a Montane Alpine Endurance is hard work!
That's a tricky trade off and one that different companies solve in different ways. There is some controversy about the environmental impact of both the materials and the waterproofing sprays that are an integral part of the process, and some companies are starting to look at alternatives, such as using recycled plastics. If that matter to you (and to be fair, it probably should) then it's worth researching that a bit yourself.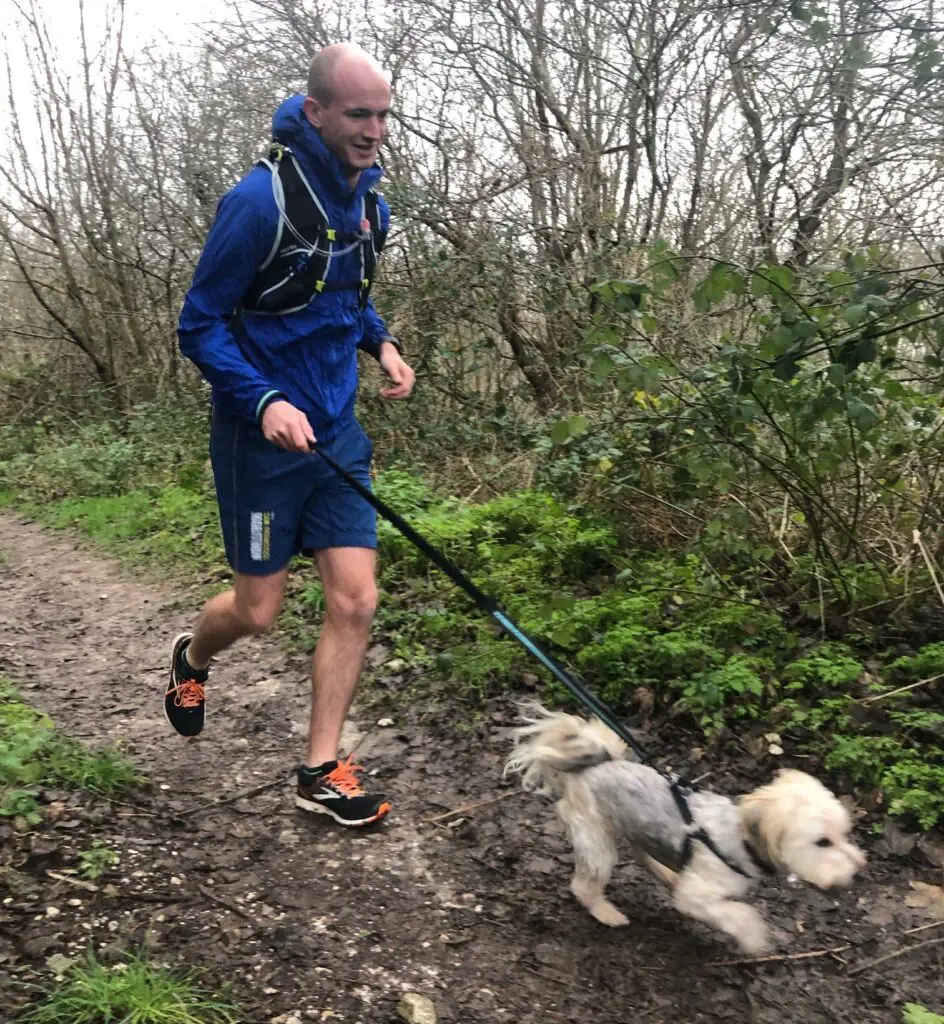 My own shell is a fantastic Arc'Teryx Squamish lightweight shell – it's super light, so you hardly notice you're wearing it while running, and is highly adjustable for different conditions, which is a plus: in high winds or heavy rain you can seal up the wrists, do the zip up to the top, and pull the hood down over your eyes. If you're just trying to keep off a bit of light rain but are otherwise quite warm, you can easily loosen off the sleeves and vent the jacket a bit.
Headtorch
As it starts to get dark before you even finish work, the chances of you running in the dark increases. In London or other towns and cities this isn't much of an issue, I could always run all the way home without needing a headtorch as there's street lighting the whole way. On the other hand, if your favoured route takes you onto country roads, riverside paths or other areas away from street lighting, you're going to want a headtorch. These can be very cheap, in fact for years I used a free one I got in my Paris Marathon goodie bag (best goodie bag I've ever had at a race, by the way, except maybe London which included a can of beer…) but sometimes it's worth investing a little bit more for one which is comfortable, light, and adjustable. I now use a petzl headlamp which has various different brightness settings (beneficial for conserving battery if you don't need full beam on).
Buff
On a really cold day, when elephants lumber across the river Thames, there's something very comforting about having something round your neck. Scarves are totally impractical for running of course, but a buff is absolutely fantastic. You can buy fleecy ones, but they are probably too warm most of the time, so a standard cotton one will do the job and keep the chill air off the back of your neck without overheating you. The advantage is that if it's really cold it can be pulled up over the face and ears, or pulled down if it's warmer. In fact, the burning in your throat you get by breathing cold air as you run can be mitigated by pulling the buff over your mouth like a bank robber. Some might find that a bit claustrophobic, but it might be worth it if you're suffering.
What's on your list of winter running kit? Any good ones I've missed?