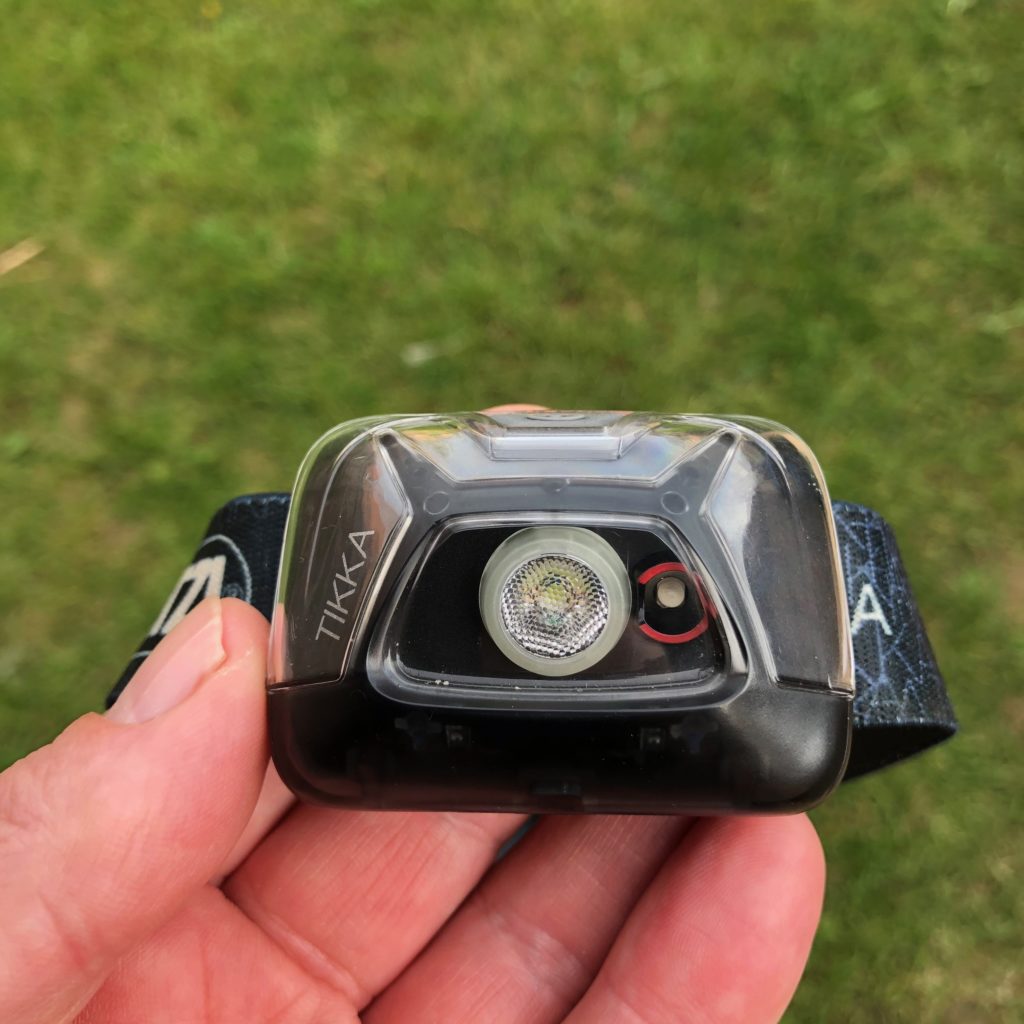 Can you ever recall a time when someone asked to name a decent brand of headlamp and your mind didn't go to Petzl? Nor me. Over the years I've used a number of models, all of which performed admirably (which is why I'm writing this Petzl Tikka headlamp review for you).
The Tikka I own is a couple of years old now, but the basic design principles and functionality still apply. Newer models boast over 300 lumens of output, whereas my headlamp creaks at about 200. I'm not going to get 'Lumen jealousy' as my Petzl provides more than enough light output for my needs.
Right now, there are a number of different Tikka models available at Amazon and outdoor gear stores. I'm reviewing the Tikka 200 in this post.
Petzl Tikka Features
The Tikka has a couple of notable features which, although not unique, are a bonus in what is a low-cost headlamp.
Specifications
Light output: 200 lumens.
Weight: 86 g.
Beam pattern: wide.
Power supply: three AAA batteries (included), or CORE rechargeable battery (purchased separately.
Battery compatibility: rechargeable Ni-MH.
IP X4 (weather resistant).
Glow-in-the-dark locator.
Guarantee: 5 years.
Housing box colours: black, green, red, blue.
Beam Length
At 60m, the beam length should be more than adequate for most outdoor activities. If you need a more powerful beam that reaches further and gives more clarity – maybe for an advanced route – you'll need to look at more expensive options such as the xxx.
Lantern Fitting
Petzl have made a useful design decision which allows the Tikka to be used with the NOCTILIGHT fitting. Once connected, the two components form a lantern that can be hung in your tent, or outdoors. The Tikka 'lantern mode' is activated via a single button. I like that Petzl have made this facility available on all models, not just the premium range.
Phoporescent Reflector
How many times have you found yourself fumbling for a torch whilst cocooned in the dark of you tent? How many times have you cursed yourself for not placing that same source of light an easy to remember and access place?
Petzl may well have solved your self-loathing. Built into the unit, next to the bulb, is a phosphorescent reflector. Charged when the Tikka is switched on, the reflector produces an easy to spot green glow making it easy to find in the dark.
Whistle for Emergency Use
Petzl have built a whilste into the Tikka's headstrap. This might seem like it's not a big deal, but how many times have you forgotten to pack a whistle into your backpack? It might seem trivial, but the linclusion reminds me why Peztl are my preferred choice of headlamp.
Temperature Range
Petzl's documentation states the Tikka can operate between the temperatures -30C and +60C. On paper that looks pretty impressive. Have a lamp that works in extreme cold is great, but only if the batteires can handle the icy depths. To get the best out of this headlamp you'll need to use lithium battires.
Lighting Modes
Three modes of white light are built into the Tikka:
Proximity – 5 lumens brightness with a distance of 5m visibility;
Movement – 100 lumens brightness with a distance of 40m visibility;
Distance vision – 200 lumens brightness with a distance of 60 visibiilty
The red light (activated by a long press of the power button) has the following modes:
Proximity – 2 lumens brightnress with a distance of 5m visibility;
Strobe – visible for 700m, emergency beacon use.
Batteries
Unlike the more expensive Petzl lamps, the Tikka does not use a rechargeable battery. Which is great news, as far as I'm concerned – one less cable to lose. Standard Ni-Cad batteries work fine in temperate climates, as do removable rechargeable cells (you should get at least 240 hours of lighting from a new set).
If you're going to travel to seriously cold destinations, such as the Arctic, you should really consider taking lithium batteries. When travelling through Siberia, in temperatures of -18C, lithium batteries in my Tikka were still going strong after 12 days. I was using the headlamp for around 1 ½ hours per night.
Petzl's CORE rechargeable battery pack is compatible with the Tikka. If you're going on a long trip and have the facility to charge whilst travelling, then consider this more environmentally friendly power supply option.
Fitting and Comfort
Some hikers might find the headstrap a little uncomofortable. It lacks the soft embrace of straps found on Black Diamond's offerings, but that's not a big issue. You can either were the Petzl over a beanie, or buy one of Third Eye's super soft replacement straps.
Fitting couldn't be simpler: place the strap around your head and use the adjusters to tailor to your preference. The strap doesn't slip, even when running long distances.
Is the Petzl Tikka Waterproof?
No, not completely. The Tikka is designed to be weather resistant – the seal inside the battery compartment does a good job of keeping moisture at bay. It does a great job of keeping rain, snow and, as I discovered on Lake Baikal, mist at bay. But if immersed you need to dry it out fast.
If you're looking for a fully waterproof headlamp you'll need to shop around for other models and expect to pay a heftier price for a feature most us will enver need.
Takeaway:
Petzl Tikka In A Nutshell
Lightweight
Excellent value for money
Emergency whistle built into headstrap
Works well in both extreme hot and cold climates
Reliable burn time
Com
Compatible with Petzl Noctilight Lantern.
Hybrid model.
Designed for working in extreme conditions.
Final Thoughts
It's not the most powerful headlamp, but the Petzl Tikka should be more than adequate for all but the most extreme environments. Over the years the company has continually refined and improved this range of headlamps and every iteration is an improvement on the last.
No matter which model you choose, you're buying a product that can stand up to extremes whilst continuing to perform. Taking care of you Tikka can only increase the likelihood of its long and effective life.
Thanks for dropping ny. If you've found this petzl Tikka headlamp review useful then please link to it, or share via social mead.