Gear Reviews
Rab 50l Kit Bag Review: The ideal travel and carry-on bag
I've started to do a lot of travelling for work and am regularly away from home Monday – Friday, sometimes staying in a couple of different places during the week. I needed a bag that could comfortably contain everything I needed for the week, including trainers and at least five sets of gym/running kit. I had previously been using a 40l Mountain Equipment duffel / kit bag, very similar to the famous North Face ones. With a wide opening that unzips on three sides, a boxy interior that does a reasonable job of keeping clothes flat and neat, and a hardwearing waterproof construction, this was not a bad solution for living out of a bag for a week.
However, I had two issues with it. Firstly it can be carried only in the hand or with a shoulder strap, neither of which are especially comfortable for long periods, especially if it's heavy. I really wanted something that could function as a backpack.
Secondly, 40l was just a little bit tight for a full week's worth of clothes and phys kit, plus wash kit, books, chargers and so on. Especially so if I need a towel, which I frequently do either for the gym or because of the type of places I'm staying.
So I decided I needed something a bit different. I'm a big fan of Rab equipment, owning a number of Rab jackets and a Rab Ascent 700 sleeping bag. I'd also seen someone previously with a Rab 50L kit bag and really liked the look of it – the advantages of the Mountain Equipment bag but with added backpack straps. And, as it happens, available in 50L, giving me that bit of extra space to make packing easier.
The Rab Kitbag: construction and materials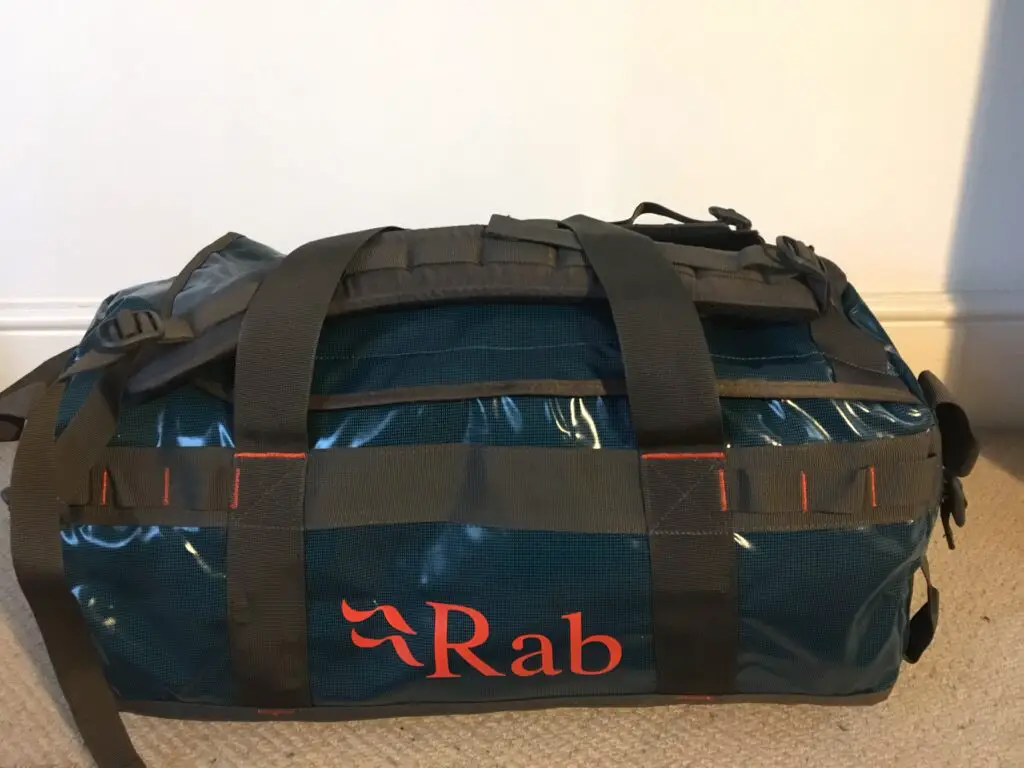 Aka the Rab duffel bag, it's made from tough 600 denier polyester fabric, with a TPU film laminate and a double thickness base, and has triple-stitched seams and bar-tacked straps. All this means that it is extremely hard-wearing, water-resistant, stain resistant, and more than up to the task of lugging around heavy loads without straps breaking or stitching coming loose.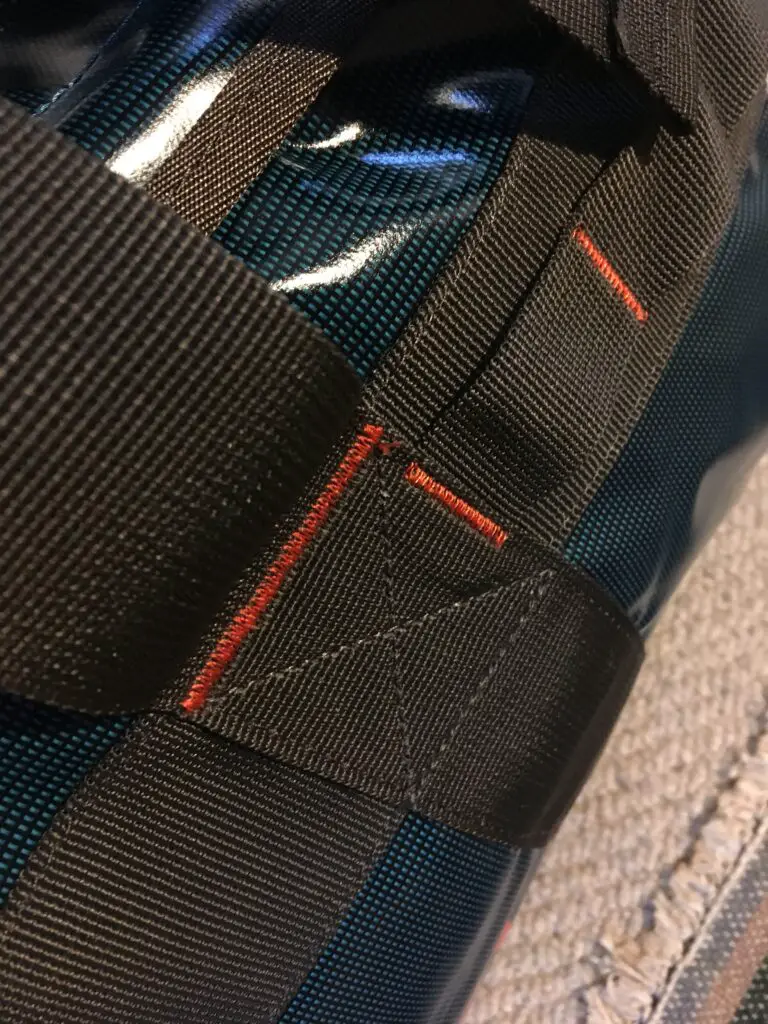 The inside of the bag is pretty simple, a big, roughly cuboid hole into which you can pack anything you like. The only real 'feature' internally are two zipped pockets in the mesh on the inside of the lid, which are handy for passports or anything else that needs to be kept accessible. Any other internal division is up to you to do, if you wish; I personally like the individual zipped containers to help keep my clothes organised, but that's a matter of taste.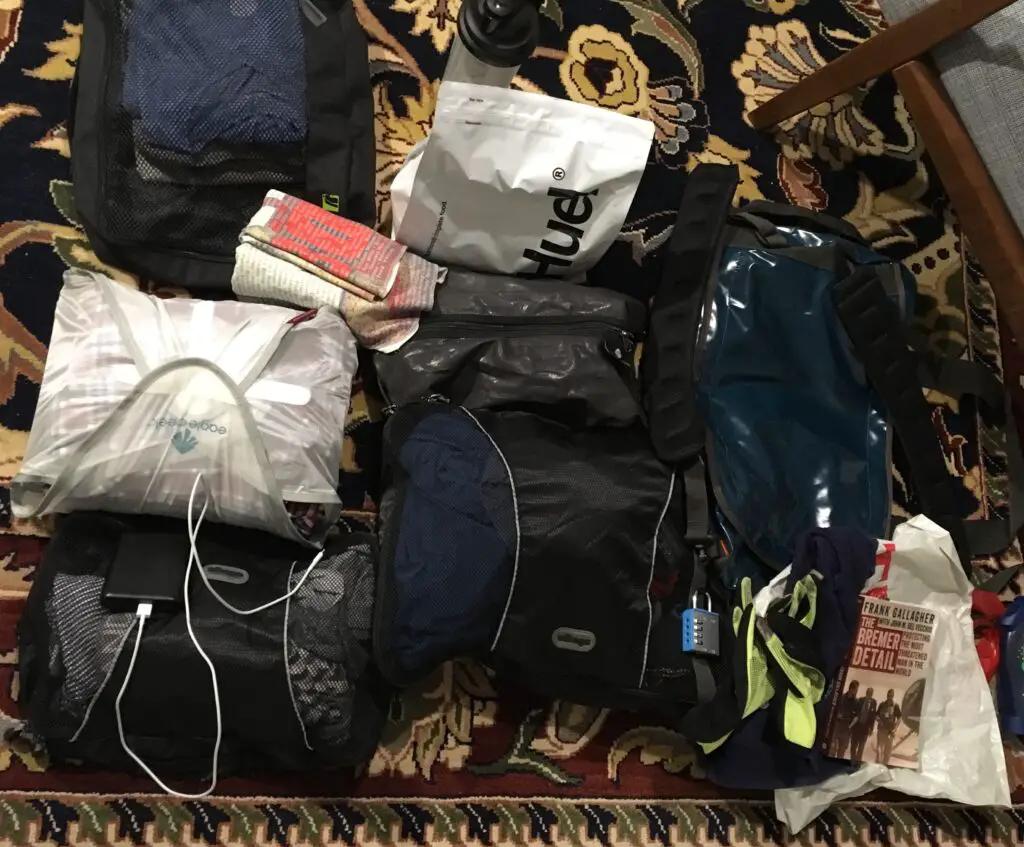 On the outside, there are a few more features – standard carry handles as well as the two backpack straps. The backpack straps are adjustable at top and bottom, and fully removable which could be useful for air travel. At each end of the bag is a big handle which I know from experience is a massive help for manhandling it in and out of luggage racks, or just quickly grabbing and moving it in a hurry.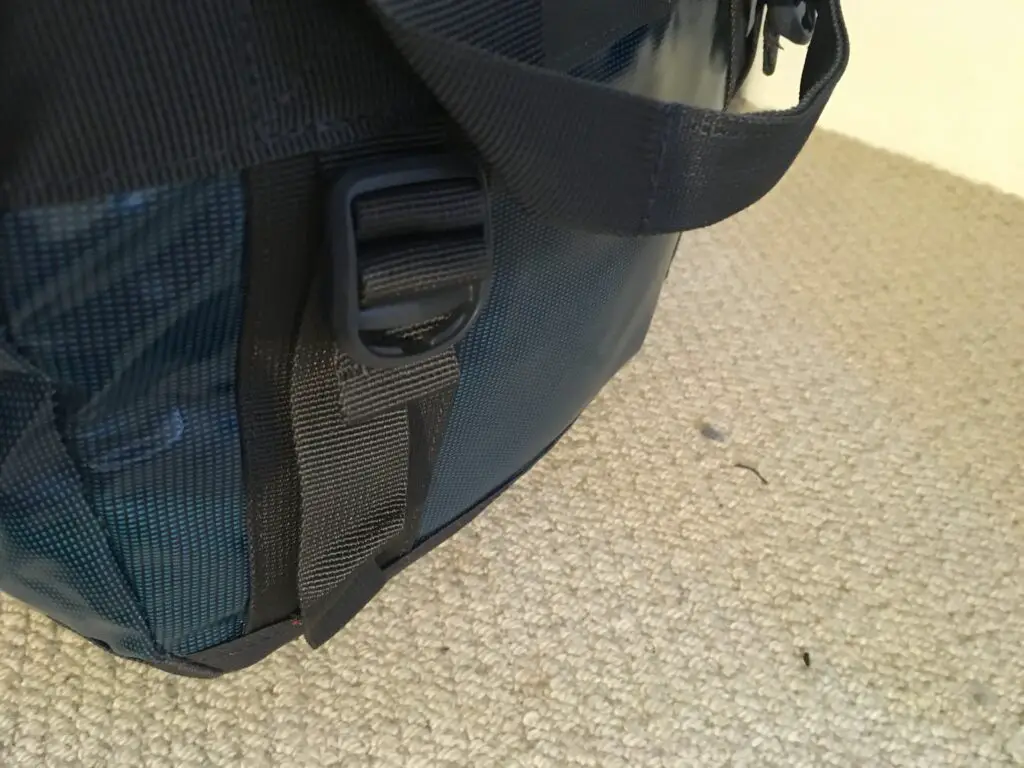 Each end also has compression straps to make the bag a bit neater when it's not completely full, and on the side are tie-in loops to help in securing the bag to a vehicle.
Despite all this, and the rugged material, the bag feels light at only 1160g, so it doesn't add a lot of weight to whatever you put in it. It's relatively comfortable to carry even when heavy, but of course bear in mind that it's not a 'proper' backback so a) it doesn't have a mesh back, and will get sweaty as hell if you start lugging it around for a long distance and b) any lumpy/hard/sharp items at the top of the pack will dig directly into your back.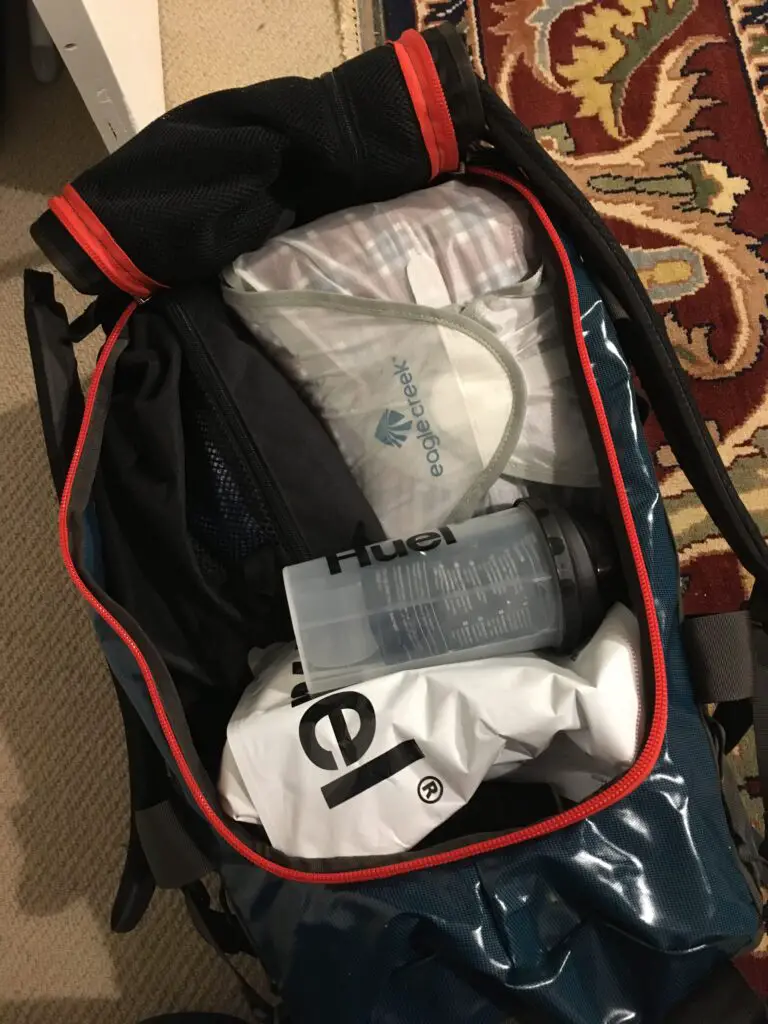 Overall I'm delighted with the bag. 50l is plenty of room for a week of clothes plus gym kit, a towel, other bits and pieces and even a full bag of Huel… It could easily do for a two-week holiday or personal kit for a longer adventure where daily changes of clothes and lots of fresh gym kit is less of a priority.
Using the Rab 50L kit bag for carry-on
People may want to check the dimensions of the Rab 50l Kit bag, to know if it's suitable for airline carry on. I've measured it as best I can, and it seems to be 31cm wide, 29cm high, and 55cm long. Anecdotally, I can tell you that I've taken it as carry-on on BA, Air Canada, Alaskan Airlines and Norwegian without issues, although in some cases it wasn't packed absolutely full, so it could be squashed down a bit. It actually makes for a brilliant carry-on bag because it's compressible, robust, and easy to put on your back when getting on and off the plane.
Get the Rab 50l kitbag at Amazon.