I absolutely love Rab kit and I've owned a couple of Rab sleeping bags. The issue I have is that, like most outdoors companies, all their gear comes in multiple ranges, and then usually a few different weights within the ranges. While their online shop is reasonably good at explaining each item, and giving you a 'heavier' and a 'lighter' option, it's not great at providing a clear overview of what the differences between everything are. Nowhere is this more apparent than with the sleeping bag range, which is initially a bit baffling until you really start reading into it. To hopefully help out people who found it as confusing as I did, here is the most comprehensive summary I can manage of their range.
So, Rab sleeping bags come in eight varieties, and within each variety are various models which refer to the weight of down fill in grams (except for the last two, which are done differently, and I think refer to 'seasons'). All things being equal, of course, more down equals more warmth and the same amount of down equals the same amount of warmth. Clearly that is not the case, however, and different ranges emphasise different factors, whether that's warmth, weight, price, or weatherproofness, leading to the variation that makes selection so tricky.
All the temperatures given are the 'Rab Sleep Limit'. Rab helpfully provides various temperatures, including in many cases the new European Standard Comfort/Limit/Extreme ratings. Which one you take note of will depend on your use and experience, but it doesn't matter as for comparing bags you just need to use the same figure for all of them. I picked the Rab Sleep Limit because it is available for almost all of the bags, whereas the European Standards aren't.
Anyway, first of all a simple graph showing the different ranges and how they cover various warmth/weight options. Bear in mind, as I said above, that weight and warmth is only part of the story, however it nicely illustrates where the different ranges sit. The further left they are, the warmer they are, and the lower down they are, the lighter they are. You can see how the Expedition, Andes and Summit ranges sort of follow on from each other, and you can also easily see how much lighter the Neutrino range is, and that the Infinity is lighter still.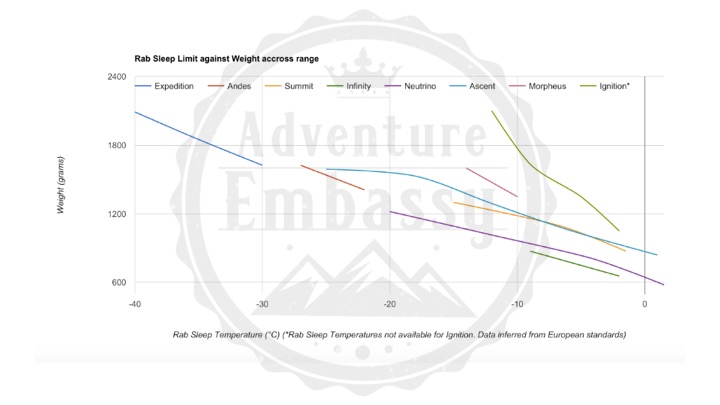 And, for more detail, here is an overview of the ranges.
Expedition.

Models: 1400, 1200 and 1000
Fill: Down
Outer fabric: Pertex Endurance (Good water resistance but breathable)
Price range: £800 – £650
Sleeping temp range: -40°C to -30°C
Weight range: 2,090g to 1,625g
Designed, unsurprisingly, for serious expeditions. Relatively heavy (though not that bad considering the temperatures it can be used in) and slightly oversized to allow for wearing of expedition clothes.

Andes.

Models: 1000 and 800
Fill: Down
Outer fabric: Pertex Endurance (Good water resistance but breathable)
Price range: £620 – £560
Sleeping temp range: -27°C to -22°C
Weight range: 1,625g to 1,410g
Similar to the Expedition range, and more or less starts where that range stops, as on paper the difference between the Expedition 1000 and Andes 1000 is tiny. However the key difference is these bags are closer fitting, so less room to wear clothing in them.

Summit:

Models: 800, 600 and 400.
Fill: Down.
Outer fabric: Pertex Endurance (Good water resistance but breathable)
Price range: £310 to £250
Sleeping temp range: -15°C to -1.5°C
Weight range: 1300g to 875g
Sort of picks up where the Andes leaves off, although the Andes gets a lot more warmth for a given fill weight. This is a designed as a good all-round bag for mountain use.

Neutrino.

Models: 800, 600, 400 and 200
Fill: Down.
Outer fabric: Pertex Quantum (Very lightweight, windproof but not waterproof)
Price range: £450 to £220
Sleeping temp range: -20°C to 1.5°C
Weight range: 1,220g to 580g
Designed as a lightweight and minimalist bag, so the Neutrino 800 is almost as warm as the Andes 800 but a good deal lighter. Fewer features but much lighter for a given warmth. Trade off is price and weather-resistance. However, also available at each level is the Neutrino Endurance, which uses Pertex Endurance rather than Pertex Quantum fabric, making it somewhat more weatherproof at a little more weight.

Infinity

Models: 500 and 300
Fill: Down.
Outer fabric: Pertex Quantum GL (Extremely lightweight, but at some loss of strength and resiliance)
Price range: £500 to £420
Sleeping temp range: -9°C to -2°C
Weight range: 874g to 656g
Extremely lightweight bag, though not suitable for extremely cold conditions, and much more expensive per gram of down, due to the technology used to keep weight down.

Ascent

Models: 1100, 900, 700, 500 and 300
Fill: Down.
Outer fabric: Pertex Endurance (Good water resistance but breathable) for the 1100, Pertex Microlight (Windproof and somewhat water resistant) for the rest. That said, it is possible that the website saying the 1100 has Pertex Endurance is a mistake, since it is inconsistent with the rest of the range. I'll try to confirm.
Price range: £290 to £200
Sleeping temp range: -25°C to 1°C
Weight range: 1,590g to 840g
A more mass-market bag available in a wide range of fill weights for general outdoor use, made (mostly) with the lighter but robust Pertex Microlight fabric. It is a little more spacious than the summit, rather cheaper, but slightly less weatherproof. Check out my full review of the Rab Ascent 700 here.

Morpheus:

Models: 3 and 4
Fill: Down upper and synthetic base
Outer fabric: 30D ripstop
Price range: £230 to £210
Sleeping temp range: -14°C to -10°C
Weight range: 1,600g to 1,350g
Relatively heavy for their warmth, but cheaper than the all-down bags. They are probably more suitable as comfortable bags for camping, especially from a vehicle, than for serious expedition use.

Ignition:

Models: 5, 4, 3 and 2
Fill: Pyrotec™ polyester microfibre
Outer fabric: 30D ripstop
Price range: £170 to £140
Sleeping temp range: -12°C to (Not given, but probably around 0)
Weight range: 2,100g to 1,050
Rab's only fully synthetic bags, these are pretty heavy, but the cheapest in the whole range. Not really suitable for serious hiking, they would be ideal for use in a camper van or camping from a vehicle.
Note: Featured image in this article is by Vasenka Photography, source here. Used under the terms of CC BY 2.0.