Last year, shortly before doing a really great two-day hike in the Cairngorms, I decided it was time to invest in a new waterproof. For many years I relied on the excellent Rab Xiom Jacket (review here – though it's no longer made, sadly) and then more recently I trialled the great Kinetic Alpine 2.0, though I only had that for a short time while I reviewed it. What I wanted was a really robust jacket for myself, one that could stand up to the worst weather that Scotland could throw at it, while still being light and comfortable enough for hiking. The Rab Muztag GORE-TEX® Pro is just such a jacket.
Overview
The Muztag is one of the more expensive waterproof jackets that Rab makes, with the Latok the only straightforward waterproof mountaineering shell that costs more (the other more expensive jackets are either ski jackets, or waterproof down jackets that are useful only in extremely cold environments). Price isn't everything, of course, but this does give you a clue that it's at the top end of the range performance-wise. The Latok, at about £70 more expensive, is made from the same type of GORE-TEX and has the same hydrostatic head (i.e. is equally waterproof), but is optimised for additional ruggedness especially when carrying a heavy pack, with stronger fabric. It is, on the other hand, around 80g heavier, meaning that there was little incentive for me – as someone who primarily does shorter hikes with an emphasis on lightweight kit – to spend the extra money.
The Muztag, along with some of the other jackets in this seasons range, are the first that Rab has made using GORE-TEX rather than Pertex. I suspect this is a step in the right direction. GORE-TEX has a reputation for being heavier and less comfortable, albeit more waterproof, but the technology is improving all the time. The latest versions, combined with Rab's expertise, are as light and comfortable as any similarly waterproof competitor, and rather more than many.
The Muztag and the Latok together are the only hiking shells made from GORE-TEX Pro, with the next step down being jackets like the Ladakh and Kangri made from regular GORE-TEX. These advertise the same hydrostatic head as the 'pro' jackets — 28,000mm — but the difference between GORE-TEX and GORE-TEX Pro is that the latter uses harder materials for the outer layer, and has a micro-grid backer. This makes it lighter, more hard-wearing, less prone to snagging (and therefore more comfortable when wearing over other clothing), and more breathable. The differences aren't enormous, but for long days hiking, it may be worth the extra investment.
Weight and construction
As discussed above, the Muztag is constructed to be hardy and hard-wearing. While not *quite* as robust as the Latok, it's more than suitable for wearing with a backpack or harness over the top, and can stand up to a bit of a battering. At just a hair shy of 500g, it's not the lightest jacket out there, but it's not absurdly heavy either. Whether it's *too* heavy for you depends a lot on your use case. If you're hiking in Scotland, even if you're an ultralight higher, I'd say this is well worth the weight as you're almost bound to end up wearing it at some point.
If you're in a much more reliably dry location then you could probably get away with something that's considerably less waterproof but much lighter.
Despite its waterproof qualities, the Muztag is decently breathable. Big pit zips allow you to vent when hiking hard up a hill or in warmer weather, and in cooler weather the coat was extremely comfortable. On warmer days, it does start to overheat a little and if I was hiking somewhere very warm and rainy I might look out for a slightly more breathable coat even if that meant compromising a bit on its waterproofing.
Crucially, the GORE-TEX Pro fabric moves easily over mid-layers, and that, along with the careful placement of panels, means it has none of the restrictiveness you might associate with waterproofs. On a cold day, you could comfortably wear it all day as your top layer and barely even notice the difference.
Features
Starting from the top: the Muztag has a truly excellent hood. A hood this good adds weight — wire in the brim, velcro at the back, two sets of elastic adjusters — so ultralight jackets usually have much simpler hoods, but a good one is worth the weight. The wired brim and various adjusters allow you to keep the hood up even in the strongest winds, which is essential for a coat like this that needs to shrug off some really unpleasant weather. It's big enough for a helmet, but not so big that it flaps around annoyingly when worn helmet-less, and the front zip pulls up high enough that in particularly bad weather you can cinch the hood tight and leave only your eyes exposed.
All of the zips are fully waterproofed, with excellent seals. These can be a little more prone to damage or sticking if dirt or fabric gets caught in them, but overall I've found them pretty reliable. I actually think they're often easier to do up, especially one-handed, as they're a little more rigid and don't have a piece of backing fabric to snag on. All the zips have nice big pull tabs that are easy to use while wearing heavy gloves.
The two external pockets are high on the chest – a position that avoids them getting blocked by either a harness or the waist-strap on a backpack. This is, undeniably, the 'right' place for the pockets, and when hiking with a heavy pack and a waist-strap you'll be glad that they remain very accessible. For day-to-day use I find this position a little irritating as I like to a) put my hands in my jacket pockets while I walk and b) put treats in one pocket for the dog. Neither is quite as easy as with pockets at the waist – however that's fine, this isn't a jacket primarily intended for regular everyday use and I have other waterproofs for that.
Internally, there is an zip pocket for valuables, and little else to get in the way. Three pockets is about right for me, I'm not a fan of jackets with too many pockets but the Muztag makes it easy to keep essentials like a map and compass, some snacks, and my phone all to-hand.
The bottom of the jacket has adjustable elastic allowing you to pull it tight around you, while the cuffs have big pieces of velcro that are easy to manipulate while wearing gloves. They also have a nicely angled cuff that extends a little over the back of the hand, helping to keep your hands dry and mitigate water getting up the sleeve, or creeping into the gap that can open up between gloves and jacket as you bend your wrist.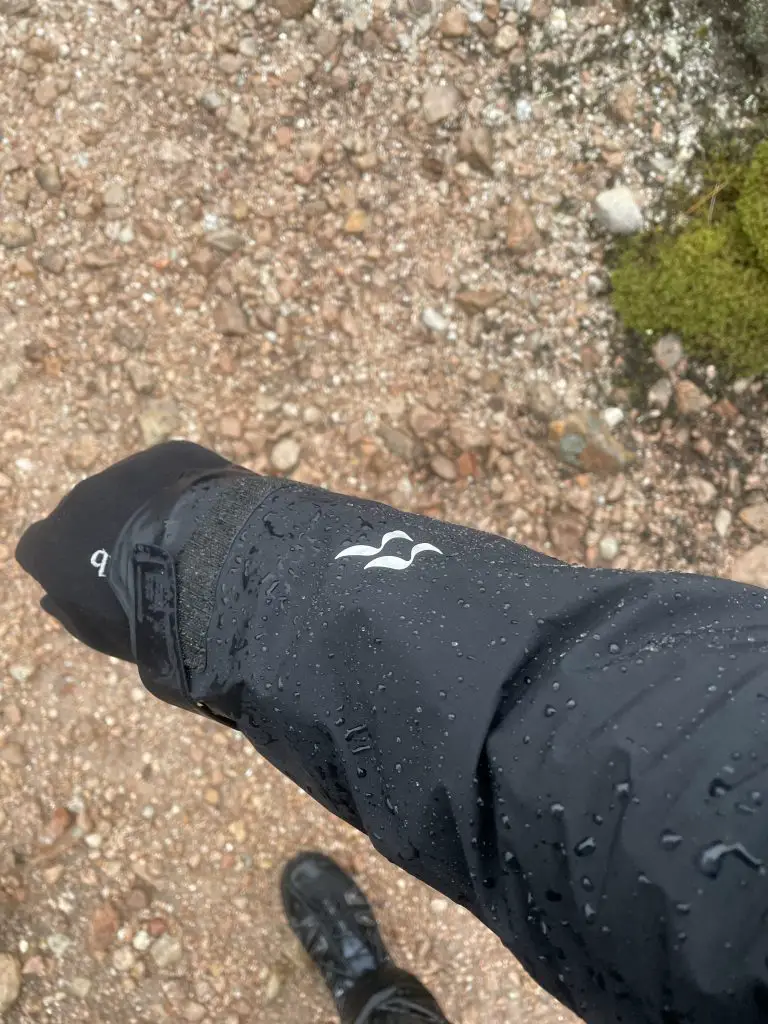 Under each arm is a long pit-zip that allows you to open up half the length of the jacket if you need to vent. These are always a trade-off as they can become a weak-point, but for me they are essential on a hiking waterproof as there will be countless times when you're hiking hard uphill and generating a lot of heat, or the day just isn't particularly cold, but it's pouring with rain and you still need to stay dry. Being able to vent is critical, and well worth the risk of needing some repairs in a few years time. The jacket is well-constructed enough, and Rab's aftercare is so good, that this shouldn't be a huge concern.
How waterproof is it?
The Muztag advertised a hydrostatic head of 28,000mm. If you're not familiar with that measure, it measures the length of a column of water that could be placed above the fabric before it seeps through. If the idea of being able to have 28 metres of water on your jacket sounds pointlessly waterproof – it isn't, the thing is that when hiking water doesn't just rest, static, on your jacket. Rather, it's blown in by high winds, driven in by the movement of your packpack and other gear, and may be forced in by your own movement if you sit/fall/slide/lie in snow, amongst other things. So, a high hydrostatic head helps you to stay dry even in terrible conditions, while carrying other gear, and so on.
Above 20,000mm HH is considered suitable for use in heavy rain, heavy and 'wet' snow, and under high pressure such as that caused by strong winds. So 28,000mm is objectively 'very waterproof', and even most offshore sailing jackets don't have a HH much higher than this.
That's the scientific, objective view – but what about my subjective experience? Well, on the hike last year in the Cairngorms when I first wore this, on the second day I hiked for around five hours through non-stop torrential rain and high winds. You can get some idea of the conditions from the gif below although, trust me, it does not do justice to how bad it was.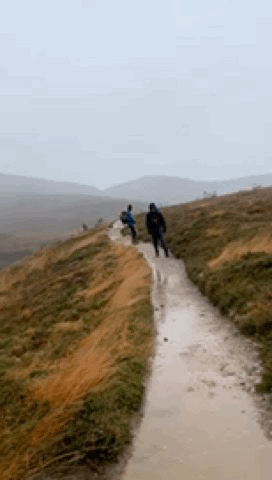 At the end of those five hours, I finally got to the car and took my wet coat off. My three companions, all in perfectly decent jackets from respectable manufacturers, had wet mid-layers to a greater or lesser extent – especially around the shoulders, where rain tends to be forced in by backpack straps. My fleece was so dry that I took a photo of it as proof…
As I say, that's just my non-scientific experience of one hike, but it should give you some idea of just how good this jacket is. And bear in mind, being that dry isn't just testament to how waterproof it is, but also how breathable it is, as moisture also wasn't building up inside the jacket – albeit it was by no means I got day, we were hiking hard for several hours so I was certainly building up some heat.
Conclusions
Buy the Rab Muztag GORE-TEX® Pro Jacket if:
You need a really waterproof jacket for hiking in places that are typically very wet, like Scotland.
Weight isn't your primary concern, but you don't want to overburden yourself with a heavier jacket just to get harder-wearing fabric.
Don't buy the Rab Muztag GORE-TEX® Pro Jacket if:
You need an ultralight jacket for trail running, or fast-packing somewhere that's not prone to a lot of rain.
You want an everyday jacket for mooching around with your hands in your coat pockets.