The Mountain Equipment Redline sleeping bag is a recent addition to my extreme camping gear stash, and I've decided it's time to review it.
Before we launch into this review, it's useful for you to understand why I chose this bag.
In January 2022 I set off to ski 600 miles across the north slope of Alaska. At that time of year, temperature sit at around -30C. When the thermometer hits those lows you need to stock up on camping equipment capable of coping with extremes.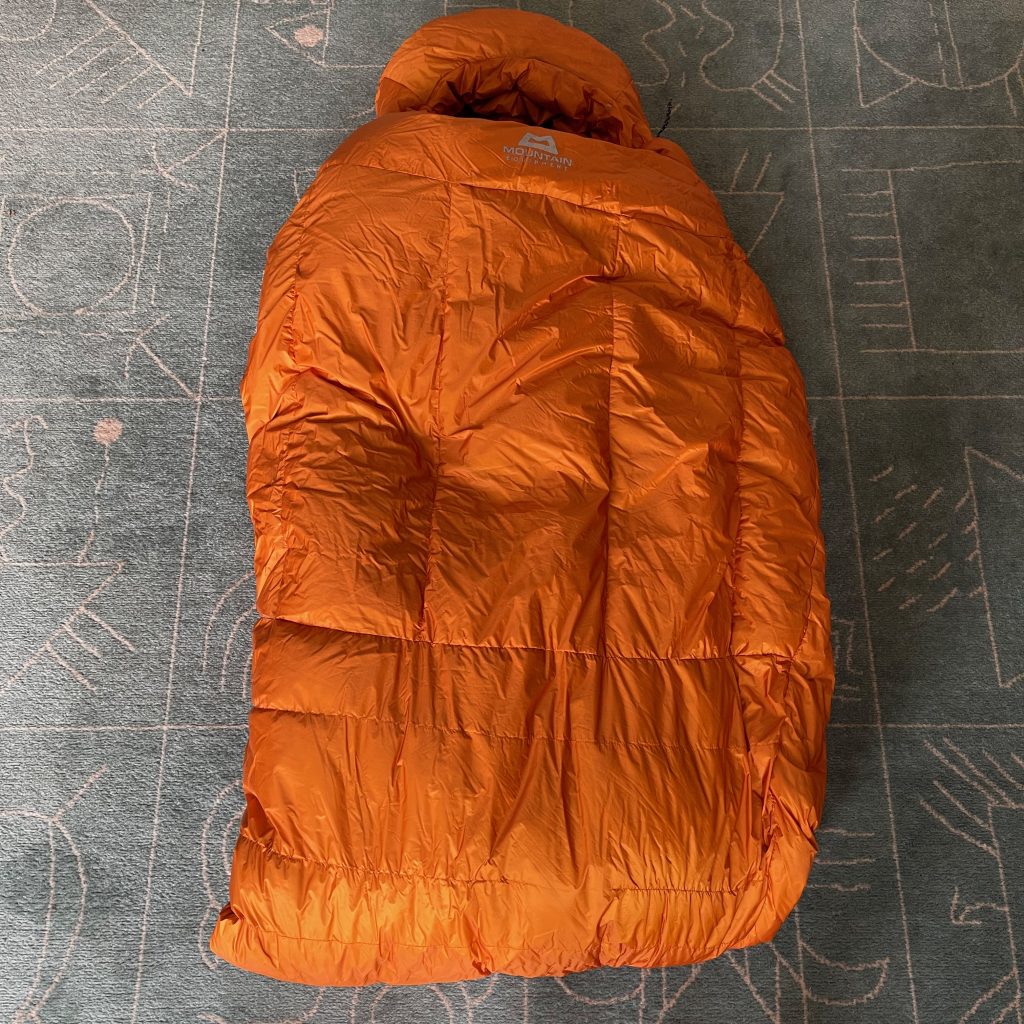 Due to several unfortuante events, the trip wasn't completed, but I used the Redline in temperatures of around -35C. And never once felt cold.
Overview of the Moutain Equipment Redline
This sleeping bag straddles the top end of Mountain Equipment's range of gear and sleeping bags for very cold environments. Rated to -45C, the design team built it with mountaineers in mind. Which means you're guaranteed a night of comfort and deep sleep (unless your teammate snores like a locomotive!)
Now that we've got those key points out of the way, you can understand why this is an expensive bag (about £800+). Only choose this option if you're going to be sleeping in ultra-cold environments.
Like any down sleeping bag, the Redline has it's pros and cons. We'll talk more about those later. For now, bear in mind this is not a suitable option for ultralightweight hikers. Or for use in damp places.
Construction and insulation
Mountain Equipment leaned on GORE Thermium to create outer shell of the Redline . Invented by GORE-TEX, the material is soft and very lightweight which helps reduce the overall weight of this bag. Like its big brother, or sister… take your pick, Thermium is water resistant and breathable. To a point, which is important when you consider how you'll use this sleeping bag.
The key point to note here is the shell was not intended to keep you dry. Instead, the all important down fill has to remain moisture-free to minimise the risk of 'death by cold'. A very real prosect when you plunge headfirst into tempereatures 40 below zero.
Even though Mountain Equipment have worked had to keep the weight down, at a little under 2kg the Redline is 'chunky'. Which is fine when you pause to remind yourself it wasn't made for lightweight backpacking.
Part of the reason for the size and heft is the nearly 1.3kg of Russian goose down packed into the bag. When you consider this number, then combine it with a fill power of 800 you know you've got a cosy bed to crawl into.
Unlike many bags where the down seems to disproportionally spread, the down in the Redline is evenly packed. And this is an important factor when you camp in the extreme cold. Every part of your body needs to be well insulated and protected from frost injuries. An even spread of down is key to preventing the likes of frostnip, forstbite or hypothermia.
It's worth noting the bag comes in two sizes: regular (204cm/80in) and large (219cm/86in). I'm 6′ 1″ and have broad shoulders and chose the large model, which has a maximum user height of 210cm and is large enough to accommodate my frame. That extra length allows me to burrow down inside when the weather is super cold.
One other choice you get when selecting a Redline is the zipper length: regular, or long. I chose a long zipper that allows me open up the bag and roll into it before zipping shut. There's nothing more irritating than having to shuffle your way into a sleeping bag fitted with a short zip.
The slot fastener at the top of the zip is a pretty cool feature. Designed with one-handed operation in mind, the mechanism reduces the chances of the zipper opening and letting those fingers of icy air into the bag.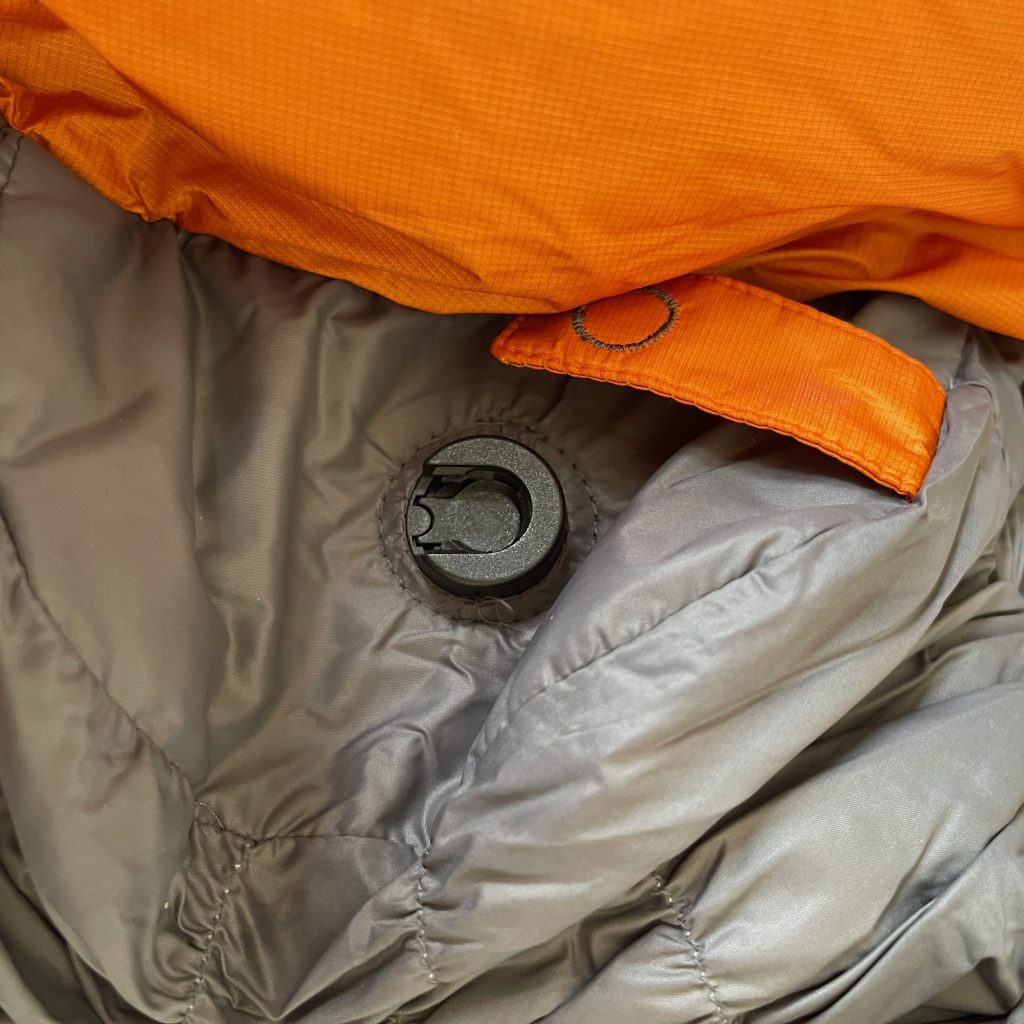 The Mountain Equipment Redline temperature ratings
I did some research on the temperature range of the Redline, but there seems to be only one figure: -45°C. No minimum, or extreme. Mountain Equipment's rating is one that defines a good night's sleep.
From personal experience, I can say using the Redline above -10°C will be a sweaty experience. One you want to avoid at all costs unless you want to risk a cold injury, or moisture seeping into the down and reducing the insulation properties.
Obviously, you'll need to use a good quality sleeping mat to prevent the cold from 'seeping' up from the ground. In Alaska, I slept on two mats which was more than adequate.
Redline features
The Redline comes with a compression sac for when you're on the move and a storage cube for, well… storage. This is an important consideration and I've lost count of the times I've seen down bags stored in compression sac. Don't do this! Prolonged storage in a compressed state damages the down, reducing the loft and insulation.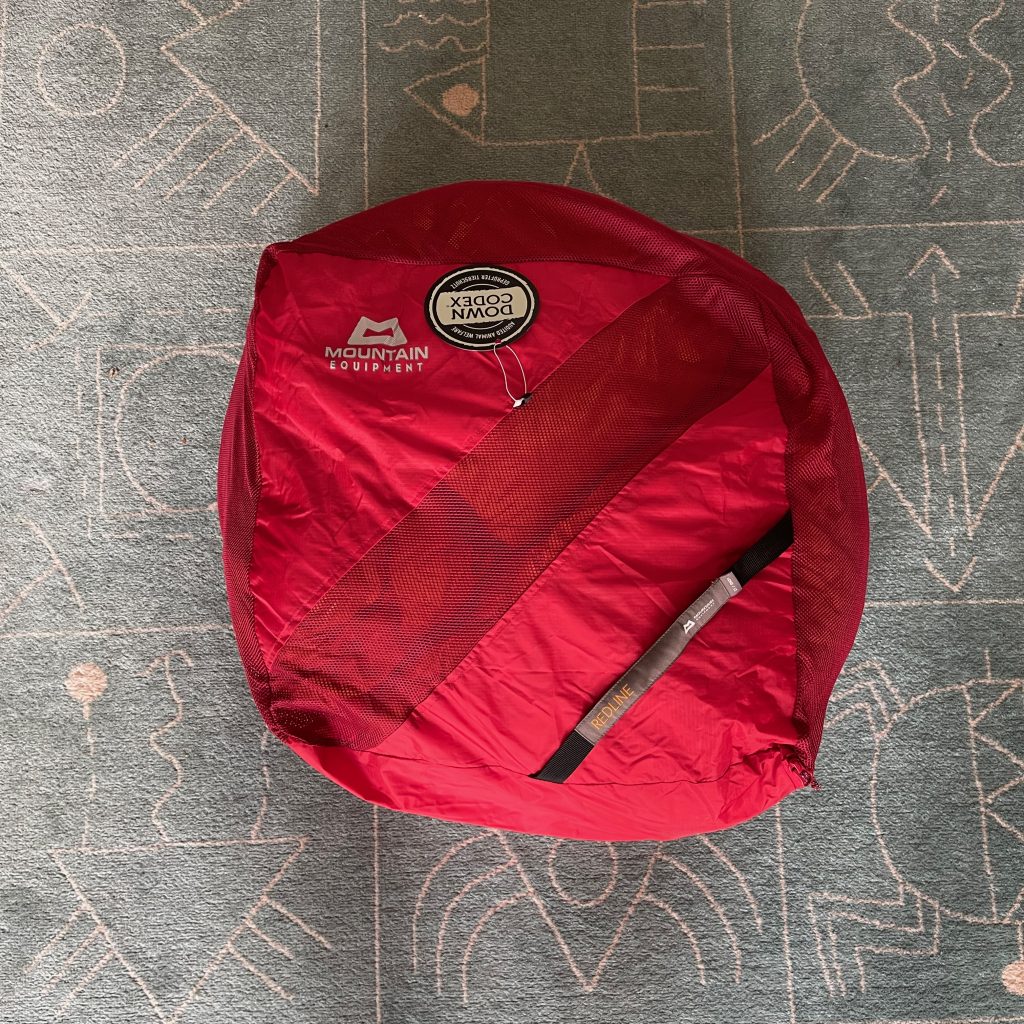 In his Rab Ascent 700 review, Jake recommends carrying your sleeping inside a canoe bag to prevent moisture ingress. A good idea, and the choice is yours.
There's plenty of room in the hood for people like me who have giant heads! Fitted with an elasticated drawcord and toggle, the hood pulls tight leaving only a 'blow hole' for breathing.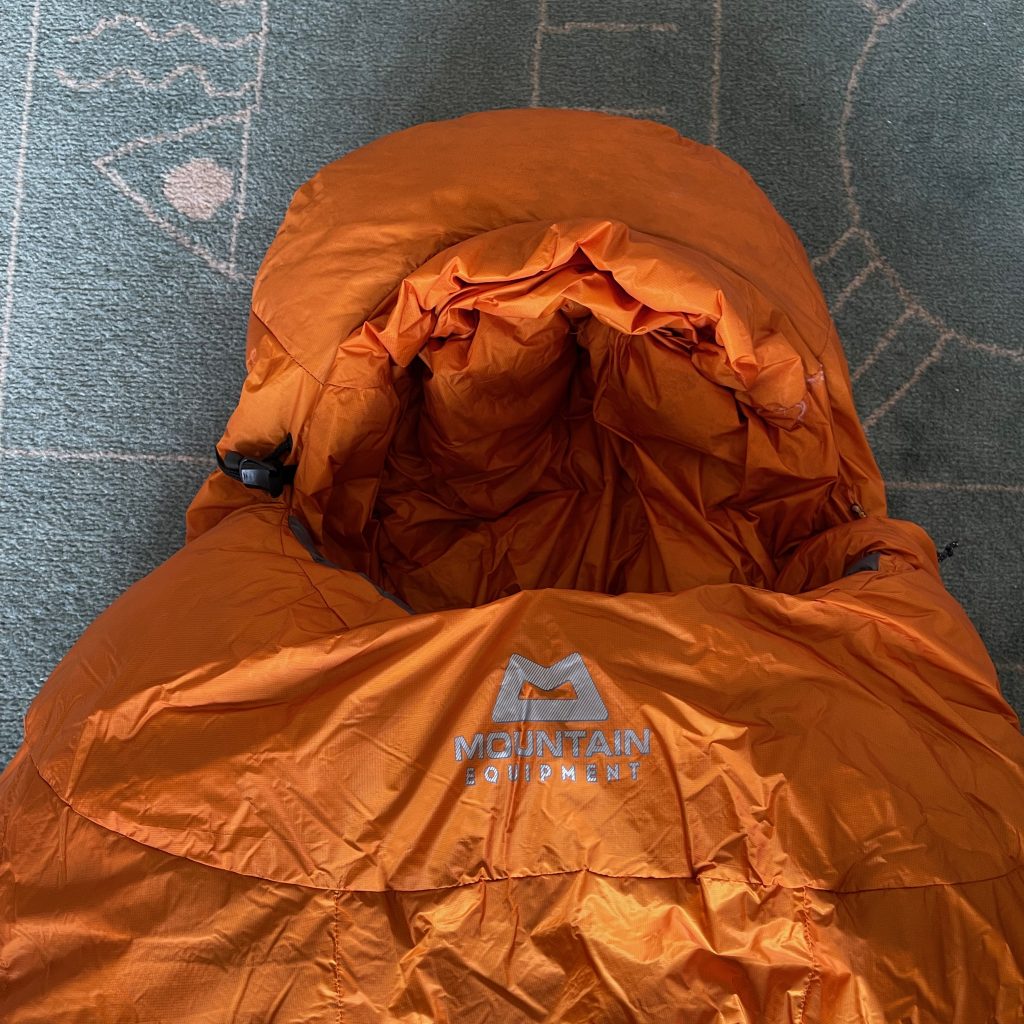 At neck height is a narrow baffle designed to keep the heat deep in the bag so that you aren't woken by draughts of cold air rushing into the bag.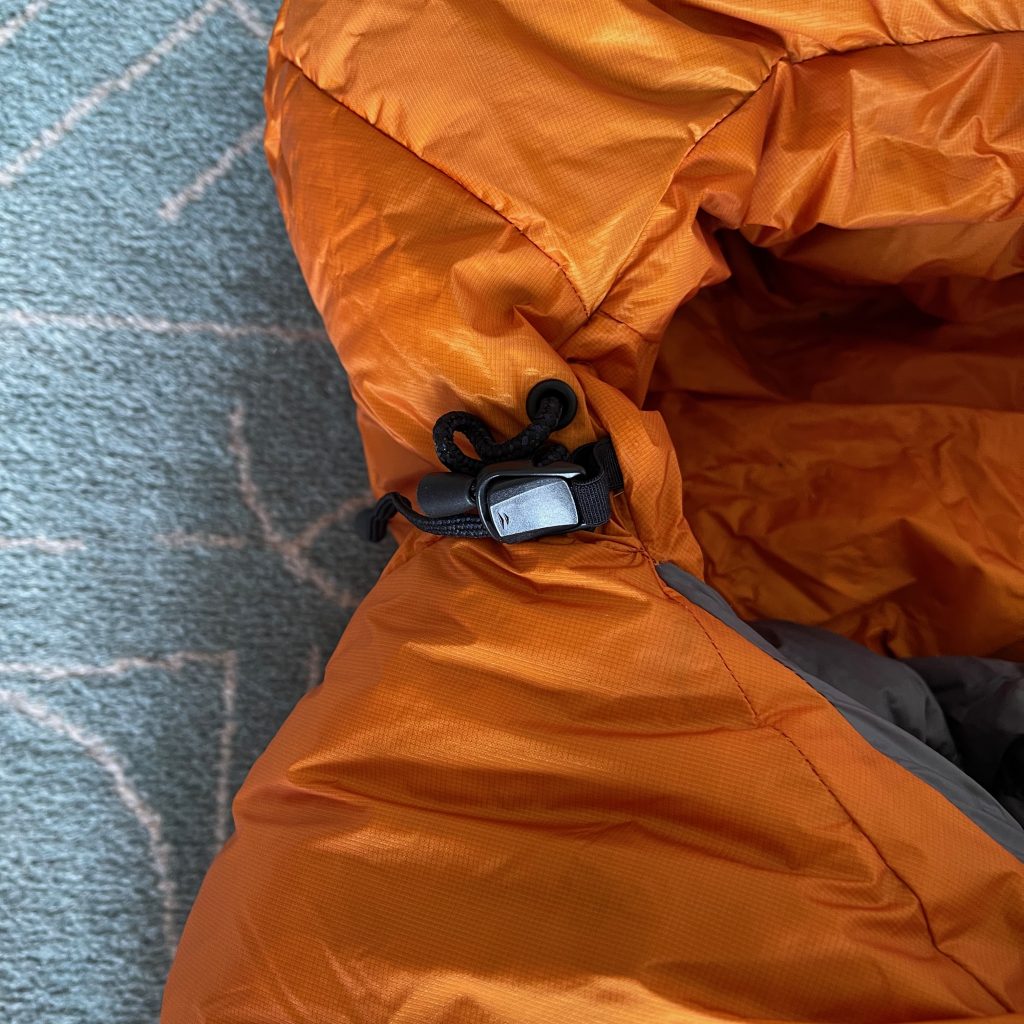 Likewise, a baffle runs the full length of the zipper to prevent the zip becoming a cold spot.
Inside the bag, at chest height, is a large mesh pocket. Fitted with a zip, this pocket is a useful place to store items I need to get to during the night. Stuff such as a torch, my iPod and maybe some food for if I wake up hungry. You know, the important gear.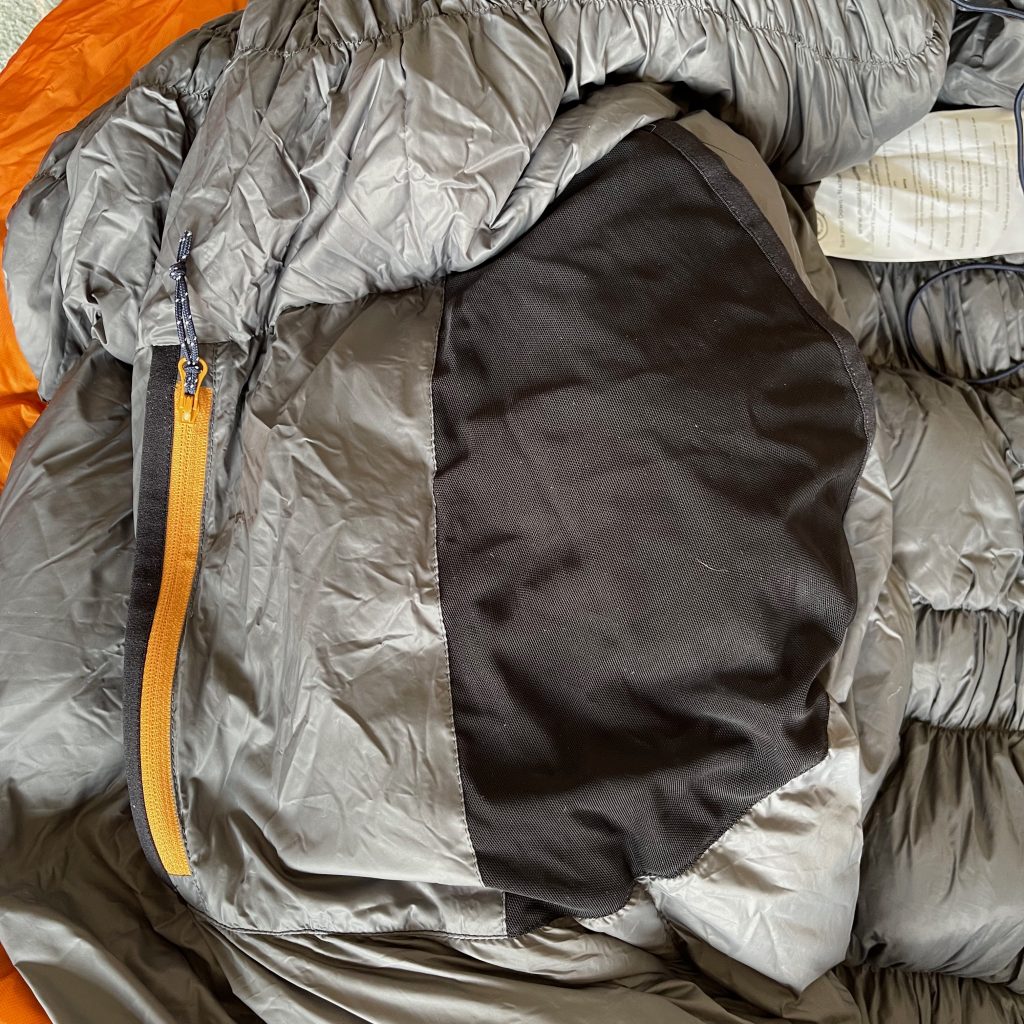 Summing it up
Mountain Equipment have done an amazing job building a sleeping bag that can cope with the coldest of environments. And they've managed to keep the weight down, unlike some sleeping bag manufacturers who seem to think heavier = warmer!
There are no superfluous features. The Redline is a simple, yet effective, sleeping bag designed to do on thing: keep you warm and alive in extreme cold.
And it does a stellar job.
Sure, there are other sleeping bags available with more fill power and down packed into them, but you'll pay a high premium in the form of your hard earned cash. If you're looking for a solid sleeping bag that can cope in harsh weather, and at a decent price, the Mountain Equipment Redline has to be one of your options.