Time to review the Montane Pac Plus GORE-TEX jacket, a pricey yet capable shell layer for hikers and mountaineers
The Montane Pac Plus GORE-TEX jacket is a waterproof shell layer designed to keep you dry and comfortable in the harshest weather. Made from Paclite, the jacket is lightweight and packable and the 2-layer gore-tex material makes the Pac Plus a must have for hikers wanting to keep the load light and leave plenty of space in their rucksack.
One of Montane's range of shell jackets, The Pac Plus has been a popular option for hikers and trekkers since its launch in 2018. Over the years, there have been modifications and improvements to create what is now a fantastic option for anyone needing a supremely water resistant outer layer for outdoor activities.
Although lightweight and flexible, the Pac Plus is a hardshell, but you'd be forgiven for thinking otherwise given the weight and level of waterproofing. But is it a candidate for one the best waterproof hiking jackets? Let's find out…
Features
Personally, I love the simplicity that goes into many of Montane's pieces of gear. Although I'm a relative newcomer to their range of waterproof shell layers, I have to admit to being well on my way to becoming a convert.
Let's take a look at the features…
Basic design
When it comes to the design of the Pac Plus, you really can't get more simple. Many shell layers come with bold claims around packabaility, size, shape, etc. This GORE-TEX jacket makes only a few a claims, which we'll look at soon, and none of them are exagerated.
The first point to note is there are only two places to store gear – the 'hand warmer' style pockets on the front of the body, and these are huge. More than adequate for people with gigantic hands, like me, and spacious enough for storing folded maps.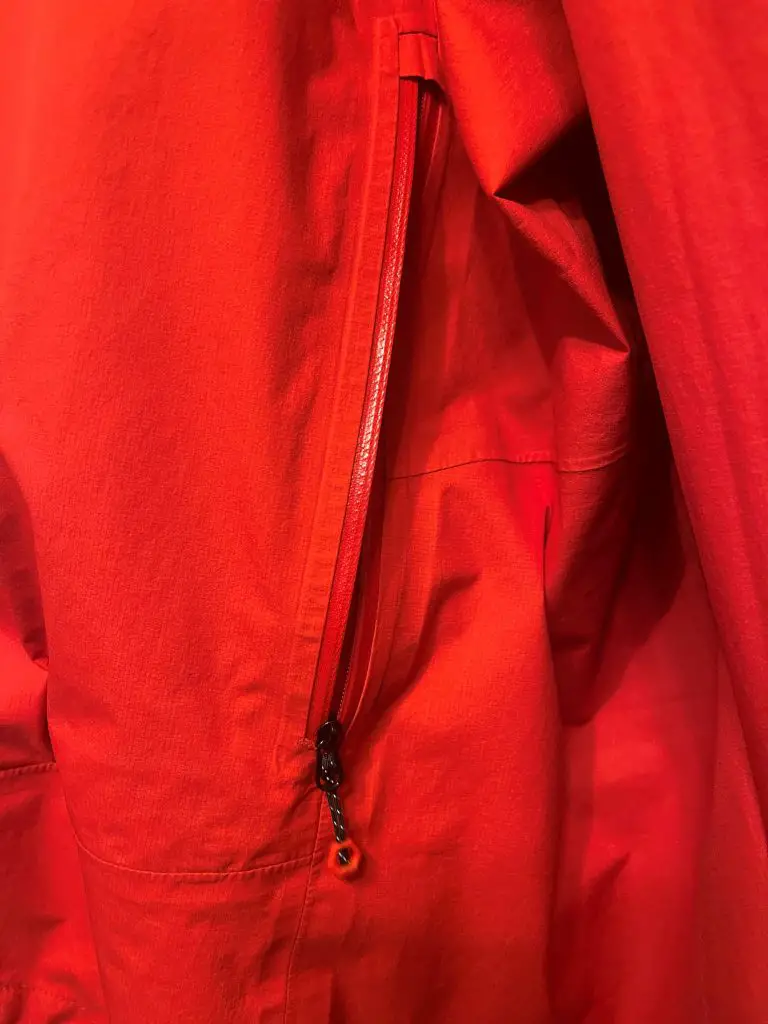 Wired hood
The half-wired hood is pretty much a standard for any decent shell jacket, soft or hard. The wiring is easy to shape to give a custom fit aound your face, but remains rigid even when buffeted by strong winds. One point to note – you may find the wire needs to be reshaped if you pack the jacket down inside your ruck. This isn't an issue as the process takes only a few seconds.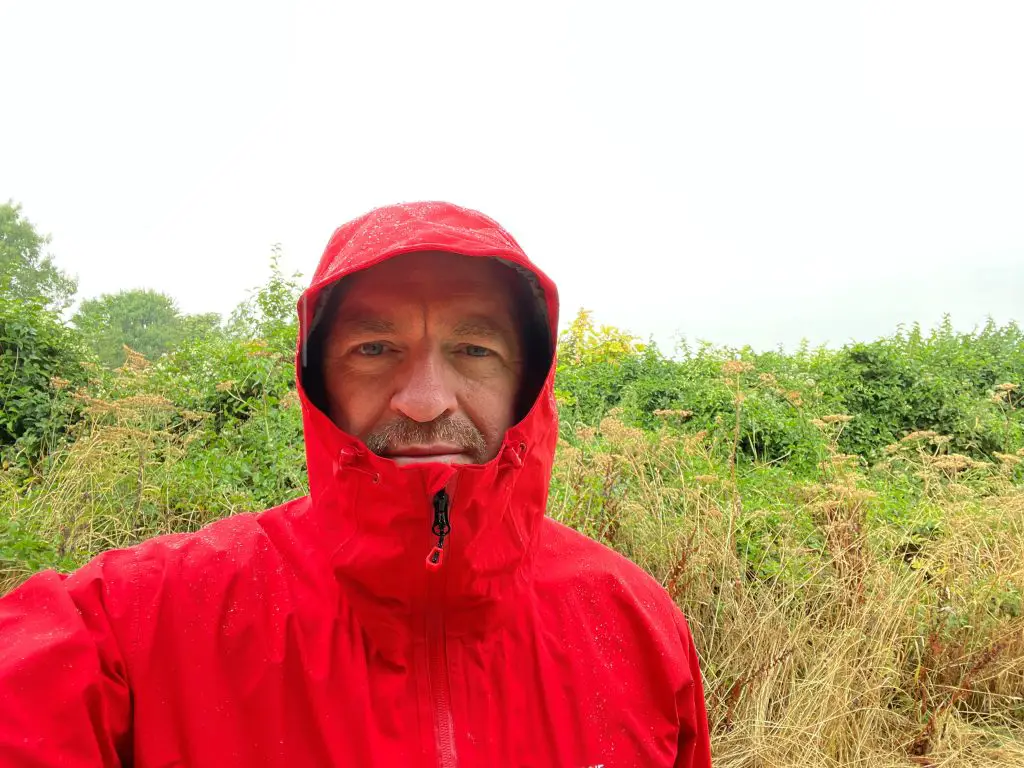 Before we move on, another point to note is this: the Pac Plus Lite is aimed at many types of outdoor activity, including mountaineers. The helmet-compatible hood is easily adjusted to fit the largest of helmets, and heads like mine, without restricting your range of movement.
Cuff and Waist Adjustment
Another plain and simple to use feature is the adjusters. The cuffs have a simple velcro fastener used to alter the fitting. I wear Black Diamond mittens, or thick gloves, in extreme cold environments and the Pac Plus jacket can accommodate the bulky design with ease.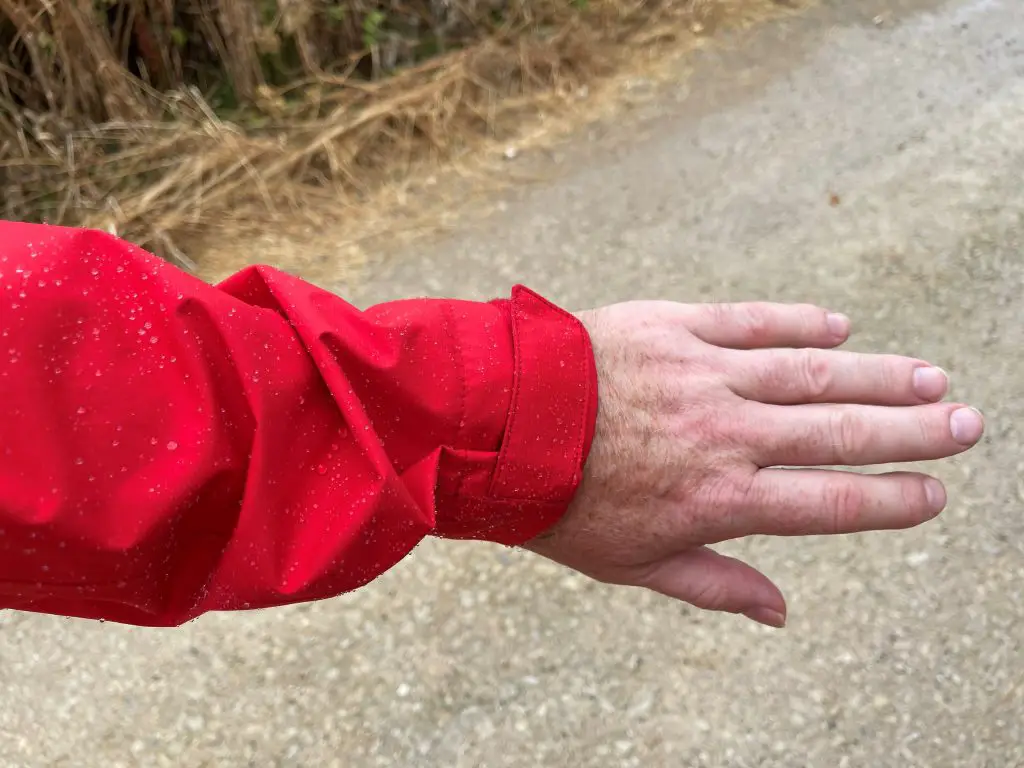 The waist and hem are fitted with a simple drawcord system that can, in theory, be adjusted using only one hand. Apparently. I found this tricky, but it's not an issue as any required adjustment can be made in matter of seconds, which is useful in you're hiking, or working, in the cold and there's a risk associated with heat lost from exposed hands.
Packing size
Although this isn't an ultralightweight shell jacket it's an incredily low weight item (306g for the XL version I'm wearing) AND it packs down into a pretty small space. Montane have engineered the Pac Plus to use one of the pockets as a stuff pack and it can be pressed down to 25 cm x 18cm x 10cm (according to my measurements). Now, if you want to take this a little further, you can use a small compression sack to further squeeze those dimensions down further.
Montane recommend you only use the pocket to stuff the jacket, unless you want to risk damaging the material. But, to be honest, I've used my own compression bag on a few occasions with zero impact on waterproofing or other funtionality. The only, minor, irritation is having the reshape the wired hood each time I decompress the jacket.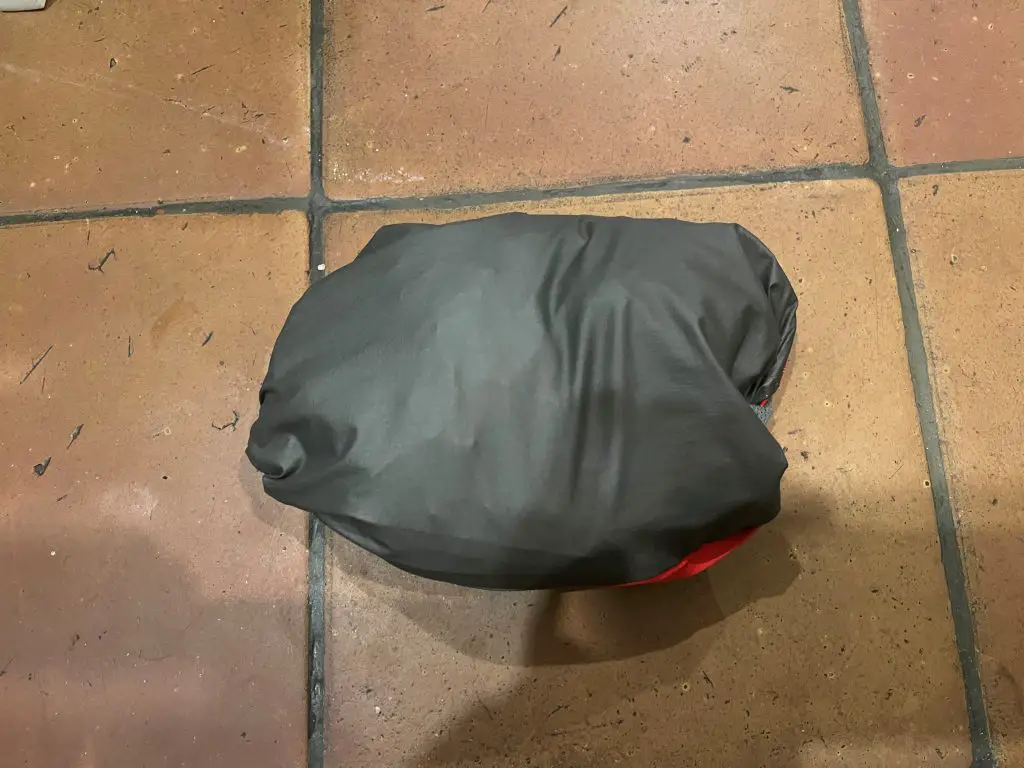 To my mind, the incredibly small packing size makes this an ideal candidate for ultralightweight hiking jacket.
Materials
The Pac Plus is made of "2.5 layer" Paclite GORE-TEX, nothing else. Well, apart from the stitching, elasticated hood, waist and hem adjusters. Built using 30 denier material, the jacket is pretty tough and retains shape well. That said, I haven't yet put it to the 'babred wire' tested, as I did with my NFTO jacket (a heavier waterproof shell donated to me by one of my sponors) and which now has a small tear in the right sleeve.
One concern I do have is loss of resilience in the elastic drawcords in the hood, but this issue affects pretty much every jacket of a similar design and specification. Over the years, the elasticity will wane and the cords will snap, but that's a fact of life and one I'm prepared for.
Fit
The sizing isn't super-generous as the Pac Plus has what I consider to be a 'true fit'. What I mean is, if you're a 44 inch chest the Pac Plus will fit with sufficient space to add a couple of thin layers without restricting movment. If you need to add thick layers under the jacket you need to opt for one size up.
There's ample length in the sleeves and the cuffs don't end up halfway up your forearms when you artiuclate you arms, so there's little risk of your wrists being exposed to the elements when you need to extend your arms. And when the cuff adjusters are tightened, they create a good seal against the elements.
If you prefer a jacket wil a long skirt that can be used as a waterproof barrier when you sit down, this isn't the one for you. The hem of the Pac Plus circles mid-buttock around to your upper thigh and when you sit it rides up. Perfect for hiking, trekking and expeds, but not so great if you feel you need a waterproof seat.
Weight
At 283g, this jacket isn't the lightest you can buy, but it's an excellent option considering the weight to water resistance ratio.
Weather-sealing
I'm going to break this down into two compoments: waterproofing and windproofing. Most review tends to focus on only the water resistance, with is a major issue. Keeping water out is important, but if cold wind finds a way into your jacket there will be issues.
Waterproofing
The GORE-TEX shell is highly effective at keeping you dry. With a hydrostatic head of 28,000mm (what this mean is, you would need to stand a 28m column of water on any given part of the shell before moisture penetrates through the material), the jacket does an exceptional job of keeping you dry.
I've used the Pac Plus in torrential rain, and light showers with good results. There was some moisture build up but this was in the form of sweat as I was moving fast and jacket was unable to wick away all the excess moisture. But my body runs incredibly warm and your results will likely vary.
Recently, I wore jacket on a long walk in heavy rain and it kept me dry for the whole two hours. There was sSome moisture build up, but it came from sweat not being able to evaporate through back of jacket due to rucksack om my back.
Windproofing
Windproofing is also an important consideration when choosing a shell jacket suitable for your trips, especially in very cold environments. Wind chill can draw heat away from your body fast and you leave you at risk of hypothermia, or worse.
GORE-TEX makes an excellent windorproof layer so the Pac Plus get 10 out of 10 here. But you alson need think about other factors and, fortunately, Montane have put huge effort in this thought process.
The main zipper is a YKK AQUAGUARD, which not only keeps out all but the hardest rainfall and, when zipped closed, seals tight to prevent drafts coming through the zipper teeth. Additionally, the mid-height collar acts a strom shield to protect your neck from the scouring effects of cold winds, and keep heat inside the jacket. And to provide you with another layer of protection, there's a storm flap fitted inside the zipper – it may look narrow, but it's highly effecitve.
But how does it stack up against other shell layers? Given this jacket is made from two-layer GORE-TEX, rather than three, and considering some of Jake's reviews, we'd say it's more weather resistant than the Rab Kinetic 2.0 and little less so than the Rab Mustag Pro jacket.
Cost
£220 ($259). Yes, it is pretty pricey for a lightweight GORE-TEX jacket and the cost may put you off until you consider the strengths:
It's incredidly waterproof and simple, just how a hiking shell should be;
The windproofing is excellent and there's little risk you'll catch a chill once you're zipped inside;
It's lightweight and packs down small which leaves more room in your rucsack for food and other essentials;
In terms of durability, it's a tough cookie!
Less costly competitors are cheaper for a reason – they don't match the specs, or promise Montane make.
Conclusion
Great jacket. Lightweight, packs down small. Pricey, but effective.
Buy the Montane Pac Plus if:
you need a waterproof jacket that can handle torrents of rain with ease;
being lightweight and supremely packable is one of your key concerns;
simplicity is high on your list of requirements.
Don't Buy the Montane Pac Plus if:
You can't justify the cost;
having a shell layer that is 100% waterproof, no matter what the conditions, is vital;
more than two pockets are needed.
Buy the Pac Plus Lite at Amazon